When designing your child's nursery you probably had a crib, diaper changing station, and a glider on the must-have list. Did you think to add an essential oil diffuser to that list as well? A diffuser will break down the oils into millions of particles and release them into the air. Not only do the oils provide a pleasant aroma but they will also provide a calm and relaxing environment for your baby. The calm environment will allow you and your baby to sleep better as it reduces irritability. Once you have picked out an essential oil for the nursery, it is time to pick out a diffuser. When deciding on a diffuser think about the size of your nursery. With a larger nursery, you will want a diffuser that provides a wider span of coverage. Diffusers that are noiseless and that are equipped with an automatic shut-down feature are perfect as they will let your baby sleep soundly. We have compiled a list of the 10 best essential oil diffusers to make your decision a little easier. These diffusers come in all shapes, sizes, and designs thus we're confident that the perfect one for your family is on this list.
Our Top 3 Picks
InnoGear Aromatherapy Essential Oil Diffuser

Our rating
7 Colors LED Lights
Price:

See Here

VicTsing Ultrasonic Aroma Essential Oil Diffuser

Our rating
Wood Grain
Price:

See Here

InnoGear Oil Diffuser Cool Mist Humidifier

Our rating
With Timer
Price:

See Here

The Top Essential Oil Diffusers in 2018
InnoGear Upgraded 200ml Portable
VicTsing 300ml Cool Mist – Wood Grain
InnoGear 2nd Generation 300ml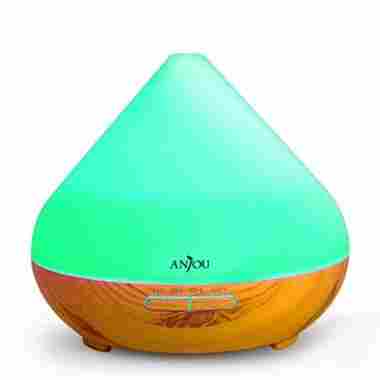 TomCare 700ml Square Large Capacity
QUOOZ Lull, High Capacity with Auto Shut-Off
WonderEsque – 400 ML "8 Hours of Sleep" Capacity
Criteria Used in Evaluation of the Best Essential Oil Diffusers
Humidifiers and Diffusers
Humidifiers have taken on a whole new meaning in 2018. It seemed like just a few years ago everyone was using plain ol' humidifiers to keep a room lightly moist. And a candle was used to disperse fragranced oils into the air. But now we have humidifiers and diffusers that can work simultaneously and look great on just about any surface. There are all sorts of humidifying and diffusing products out there. And each of them has a unique feature that sets them apart from the rest. Some are meant to be pretty household displays while others look ugly but do a better job of keeping a room as sterile as possible.
Essential Oils
The aromatherapy devices on our list only have the capacity to diffuse essential oils. This is because essential oils are a healthy choice for families. They are usually made from all-natural ingredients and no dangerous chemicals. And its contents won't damage the machines that are being used to diffuse the oils.
Many of the companies that sell diffusers on Amazon also include their essential oils product line on their list of sellable items. They make it easy to continue purchasing their essential oils on Amazon.
Some essential oils can be touched directly. But never assume which essential oil is safe to touch. Ask a professional before using an essential oil as a massage oil. Some of these oils can cause skin irritation and can cause a burning sensation. Family members have been sent to the hospital because they used essential oils incorrectly. So always check with the right people to make sure it is safe to directly come into contact with essential oils. It is best for parent to be in charge with handling the oils so you can be sure they are not being misused.
FAQs
Frequently Asked Questions
Q: Why do families need an essential oil diffuser?
A: There are several reasons why families use oil diffusers. They help people sleep, relieve stress, fight off illnesses, repel insects, relieve allergies, and are safer than candles or incense, to name a few. Oil diffusers have become a popular household commodity because of the plethora of benefits. They don't just help a house smell nice, but they clean the air and keep families breathing right.
Q: Why do people have oil diffusers?
A: Oil diffuser devices are a part of the natural living movement. It is a healthier way to keep the air clean in the house without using real flames or harsh chemicals. Essential oils help people relax and sleep. The wonderful scents help elevate the mood by periodically spritzing a natural earthy scent. Its safe to use around kids, dogs, and even people who have breathing problems like asthma.
Q: What are the benefits of using oil diffusers?
A: With just a few drops of specialized oil, it can completely change a room's atmosphere. Diffusers disperse oils into the air as fine wisps of vapor. Once the scent is inhaled, it releases signals in a person's nervous system that trigger various physiological functions. A person can start feeling relief from stress and pain because they are inhaling all-natural essential oils.
Q: Are there any hidden benefits of using essential oil diffusers?
A: Essential oil diffusers are also mosquito repellant. Mosquitos don't like the smell of certain essential oils like citrinol. Electronic diffusers are safer to use because they don't pose a fire risk as candles do. Smelling essential oils is also thought to help control appetite; diffused peppermint oil may help curb appetite and increase energy.
Q: How does aromatherapy help people?
A: The benefits depends on each oil. Lavender oil is shown to improve pain tolerance and ginger oil lowers the symptoms of nausea post-surgery. Whether smell indeed helps people overcome their illnesses is commonly debated within the science community. Some doctors believe that aromatherapy causes placebo effects. Other have sworn they've seen significant improvement in their patients.
Q: How do people use oil diffusers?
A: Some people use their essential oil diffusers to control their wheezing associated with allergies. Their oil diffuser is set up with antispasmodic properties that help soothe lungs. Other people use it to deodorize their home a few times a week. A few parents use their diffuser set up with calming scents that help deodorize their home and help calm their kids down. They can also be used to clean the air by mixing a few different oils like tea tree, lemon and others.
Q: What is there to know about oil diffusers?
A: Seek professional advice when using oils. Kids and adults have been hospitalized because they got bad advice from an untrained aromatherapist. Essential oils spoil when they are exposed to light and air. So, they should be kept in dark glass containers and stored away from light. Oil names are based on the Latin names of plants from which they are derived. When it comes to buying oils, don't always select the least expensive. Buy100 percent pure therapeutic grade essential oils. This will help you get the full medicinal or clean chemical content of the oil.
Q: How do families use oil diffusers safely?
A: Many people believe that if it is natural then it is safe. But that is not the case with essential oils. These oils can be a hazard to a family's health if not used appropriately. Some oils are meant to be used lightly while others can be used in heavier doses. Some oils are not meant to be touched and others can be used on hands and feet. Some oils can be used by adults and not by kids. It's important to double check to make sure each oil is being used the way it is meant to be used.