It seems like every winter for the past few years has come with more extreme weather, more extreme colds, and more snow and ice than it ever has in the past. Research suggests that as climate change begins to warm the Arctic parts of our planet more and more, that same global shift will cause the polar vortex to dip lower and bring deeper pockets of cold temperatures across much of the US. Now, more than ever, it is important to make sure that your child is properly prepared with appropriate apparel before heading out into the freezing temperatures of the winter season.
Coats, scarves, hats, and boots are in order. Even snow pants depending on your child's age and the desired activity. These are the typical types of accessories that your little one may require this winter. One of the most important, and often overlooked, pieces of cold weather clothing are the gloves. Without a properly insulated and waterproofed pair of mittens or gloves, your little one could experience symptoms of eczema, chapping, and dry skin. There is always the concern of frostbite if their extremities are exposed to extreme cold for too long as well.
When it comes to finding the perfect gloves for your child, there are several key factors to consider. The better the waterproofing, the dryer and warmer their hands will stay. Most winter gloves use some form of a waterproof coating to prevent water from seeping inside and reaching your little one's fingers. Another important feature to look for is temperature rating. While not all kids gloves will provide an exact range of temperatures they are approved for, finding a pair with a thick layer of insulation will ensure that your child's playtime is not cut short due to the cold. Breathability and comfortability can also make a big difference in whether your child will keep their mittens on. They can provide no protection if they are not worn!
We have gathered a selection of unique snow gloves and sets from across the internet that have been designed to meet a variety of cold-weather needs. Some are designed for infants to protect their arms as well as their hands or prevent the gloves from being easily pulled off. Others are more appropriate for toddlers or older children who may need more versatility in how they manipulate their fingers while wearing gloves. We hope that one of our Top 10 Best Snow & Winter Gloves will be the perfect fit for your little one's wintertime fun!
Our Top 3 Picks
KX GEAR Zelda Matilda

Our rating
Waterproof & Breathable
Price:

See Here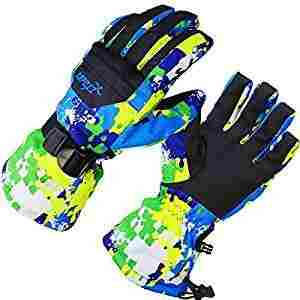 COPOZZ Ski Snowboard Gloves

Our rating
Weatherproof Material
Price:

See Here

DG Home Goods Thinsulate 3M

Our rating
Convertible Gloves
Price:

See Here

The Best Snow Gloves for Kids and Toddlers Reviewed in 2018
Zelda Matilda KX GEAR Winter Waterproof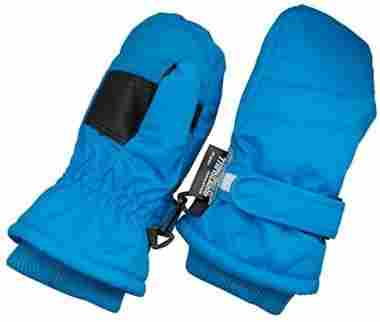 Twinklebelle Winter Ear-Flap Beanie/Mittens Set
SnowStoppers Kids Waterproof Mittens
Peach Couture Double Layered Winter Gloves/Hat Set
N'Ice Caps Kids Magical Color Changing Gloves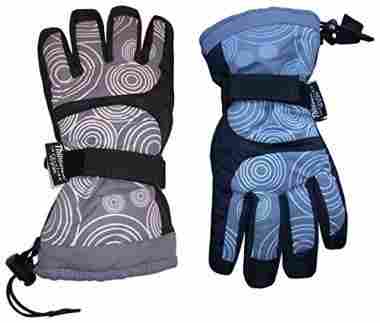 Yidomto Waterproof Kids Gloves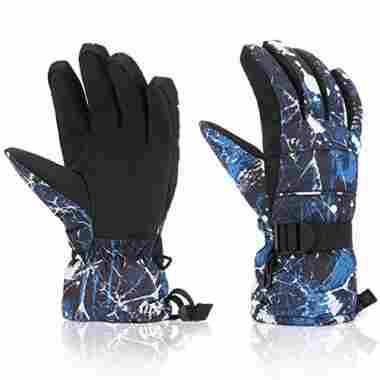 N'Ice Caps Camo Print Ski Gloves
N'Ice Caps Girls Ombre Ski Gloves
SimpliKids Winter Ski Mittens
Flashing Colorful LED Light Up Show Gloves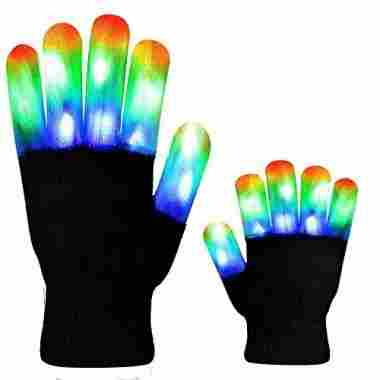 Criteria Used in Evaluation of the Best Snow & Winter Gloves for Kids and Toddlers
No snow outfit is complete without a proper pair of snow gloves. For kids, this also holds true, especially since as parents we want to make certain our child will have the right winter gear to get through whatever Mother Nature may throw at them. When coming up with this list we took into consideration the criteria that are vital to any pair of good snow gloves and some elements that will make these something a child will want to wear. Here are the criteria in which we followed for selecting the best snow gloves for kids.
Protection
This is the main priority with any pair of kid gloves to protect the hands from the cold. In snow, this is especially important because of the fact that fingers are more susceptible to frostbite than other parts of the body. So, finding the right pair of snow gloves with the proper protection to keep a kid's precious hands safe regardless of what snow activity that they part in, is a concern for any parent.
Waterproof/Breathable/Insulated
Unlike the standard pair of gloves that can be worn in cold weather in areas not prone to snow, it is recommended that in snowy climates gloves that are waterproof and breathable be worn instead. Proper snow gloves have these two components covered. These will be waterproof which means regardless of what a child may do in the snow, be it playing in the snow or participating in winter sports, the gloves need to be able to repel water on the outside. The gloves also need to be breathable, because otherwise, these could start to make the hand sweat and have the gloves become wet on the inside. This is where good proper insulation comes into play. The right insulation will not only help to keep the cold out but also help to keep the hand comfortable by absorbing any sweat.
Durable
Snow gloves for kids need to provide optimal protection but also need to be built to last. Kids can provide much wear and tear to their articles of clothing, including snow gloves, especially if the child is quite active while wearing the gloves. So, having a pair of gloves that are durable and able to withstand not only what Mother Nature dishes out but what a kid will dish out as well, is something that a parent will need to consider.
Fashionable/Fun
Getting kids to wear cold weather gear can be a challenge, especially with younger kids who still don't understand the dangers involved in not dressing appropriately for snow conditions. So, finding gloves that would appeal to the child is also addressed. This will include thinking about what the child may like in the way of colors and styles. It could also mean incorporating things such as cool elements such as the gloves changing colors or actually having features that light up or glow in the dark.
FAQs
Frequently Asked Questions
Q: Which is best. long cuff or short cuff snow gloves for kids?
A: Both of these types of snow gloves have their advantages. The shorter cuff can be less restrictive when it comes to moving your wrist and will also be less constrictive with other winter clothing such as the warm coat that will also be worn. However, the longer-cuff gloves give added protection from the elements and in some cases are easier to put on and take off. Why? Because unlike the short-cuff gloves, these won't be tight around the wrist to prevent them from slipping off. So, it would come down to personal preference and what kind of activity the child will be participating in while wearing the snow gloves.
Q: Which is best, snow gloves or mittens?
A: This is another debatable question that would come down to preference because there is a valid argument for both. Gloves give more hand freedom since all the fingers are able to be mobile. This helps kids grab hold of a shovel when clearing a path from snow. Gloves give them more mobility to create snowballs or to build snowmen while playing in the snow. However, mittens have their own advantages as well and some would actually say are better to wear than gloves. Why? Because these allow individuals to use their own body heat as well as the warmth provided by the mittens to stay warm because four fingers of the hand can rub together
Q: Is it best to buy snow gloves that are a size bigger so a child can grow into them?
A: Although gloves shouldn't be too tight because they need to be comfortable enough for winter activities, snow gloves should also not be too loose. The fit needs to be right for the child at that given time. Yes, there is an issue with kids continuing to grow but remember that winter is the season in the year where snow comes into play. So, if a new pair of gloves needs to be bought the next year that fit the child well, then so be it. Remember when it comes to gloves like, with any article of clothing, fit is key. Another thing to remember is that at first, a pair of snow gloves may seem tight even if they are the proper size because like a pair of shoes, gloves may need to be broken in, actually getting used to the hand they are covering.
Q: Can snow gloves be passed down from one child to another?
A: If the gloves are still in good condition, yes, they can be passed down. Like other articles of clothing, snow gloves are an ideal thing to put away to keep for younger siblings. Keep in mind though that this will include making sure that the inner lining of the snow glove that provides insulation is also still in good shape. This is the element that will keep the hands warm.
Q: What if my child refuses to wear snow gloves because of how padded they are?
A: This can definitely be an issue, for although kids love to play in the snow, they may not always like bundling up to do so. This would include not liking putting on the bulky gloves or mittens they need to wear. Kids may find such clothing hot or restrictive. One way around this is to have the child try on the gloves for a short amount of time to help them get used to them before they head out into the snow. This is why it could also help to buy snow gloves that appeal to the child, either in bright colors they like or with some cool fun elements to them. Perhaps even let the child pick out what pair of snow gloves they would like to have themselves.
Q: Why are there no heated gloves on this list?
A: There are two basic reasons why heated gloves didn't make this list although these are types of gloves that are powered by lithium batteries and provide various levels of heating. However, the first reason is these tend to be a bit bulkier to handle than the standard snow gloves. Second, these can be quite costly and therefore not too practical to buy for a younger child.