Although many doctors recommend that toddlers remain barefooted as much as possible while learning to walk, there is a certain amount of support and protection that is required once they take their first steps outdoors. When your little one is still an infant, shoes really only serve a purpose to look adorable or perhaps to keep their little teeny toes warm. Once they have progressed to the walking and toddling stage, shoes now need to provide a support and protection system that can help encourage their natural movements and allow for their feet to grow.
Beyond the obvious need for protection, there are a number of health and developmental benefits that can be reaped through providing your child with appropriately supportive footwear. Most children's shoes are designed to be cute or fashionable but taking the time to find one with adequate arch support and traction can give your little one a "leg up," so to speak, on their outdoor walking skills. Flexible soles are one of the most important features that a child's shoe should have as this will allow their feet to shift and lift with their own movement without constraint. This will encourage gross-motor-skill development while also protecting their fragile musculature from injury.
Whether your little one started to walk at 6 months or 16 months, one thing is universal with all children's shoes…they will outgrow them. All. The. Time. In fact, one well-known shoemaker, Stride Rite, recommends that you check your child's shoe sizing every three months to make sure that they are still properly fitted! Unlike toddler clothing which tends to be sized in such a way that they will most likely be worn for 6 to 12 months before needing to size up, shoes are more rigid and true to size. From birth to age 4, your little one will most likely change shoe sizes at least twice a year if not more often and shoes that are too small can cause pinching as well as walking confidence issues.
Affordability is more important with children's shoes than with most other purchases due to their frequency of being outgrown. When we gathered this list of best children's shoes we took their price points into consideration and formulated a list of the Top 10 Best Kid and Toddler Shoes that combine functionality with fashion at a reasonable price point. We hope that one of these footwear options can inspire your little track star and provide them with a sense of confidence in walking.
Our Top 3 Picks
New Balance Kids' KL574 Sneaker

Our rating
Rubber Sole
Price:

See Here

HOFISH LED Light Up Luminous Shoes

Our rating
USB Charged
Price:

See Here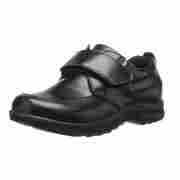 French Toast Cole Oxford Shoe

Our rating
Grippy Outsole
Price:

See Here

The Best Toddler and Kids Shoes in 2018
New Balance Kids KL574 Sneaker
Stride Rite Soft Motion Kellen
Dream Pairs Mary Jane Rhinestone Embelishment
Oakiwear Kids Rubber Rain Boots – Easy-On Handles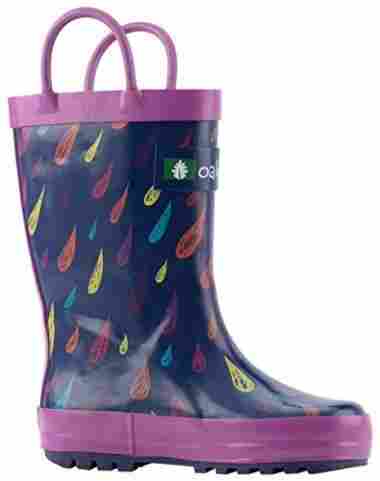 CPS Kids Light up Roller Wheels
Teva Tidepool Sport Sandal
Silver Lilly Animal Slippers – Plush Pug Dog Slippers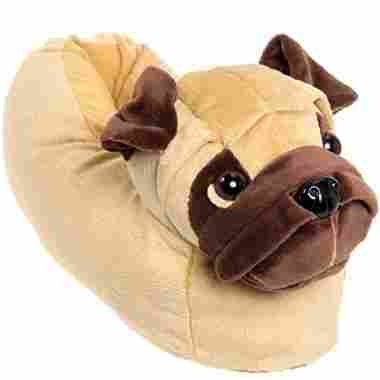 Hush Puppies Lexi Uniform Mary Jane
Northside Frosty Winter Boot
Criteria Used in Evaluation of the Best Toddler and Kids Shoes
Shoes are an essential part of a child's overall wardrobe. Not only do kids like to make a fashion statement coordinating their shoes with their outfit, but they also want shoes that will fit their other needs. If a child is athletic and into sports, they want a good sports shoe. Parents also know that kids will need shoes that will help protect them from the elements. Parents also want shoes that are built to last. So, shoes can be a wardrobe in themselves, serving various needs. When creating this list, we wanted to not only address these components on our list but also find toddler and kid's shoes that will meet certain criteria as well.
Protection
This is the main reason why all of us wear shoes. To protect our feet from the harsh elements of the outdoors. For a young child, this protection is vitally important since young feet can be quite delicate. So, finding shoes that will provide good protection, covering the entire foot and supporting the ankle is important. These components lead to a child having extra added support when walking and can help prevent falls.
Comfort
When it comes to footwear no matter the age, this is the main thing we look for. We want a shoe that will not only fit well but also be comfortable. For a child, this is vitally important, because we want our kids to not have shoes that pinch them or hurt their feet in any way. Also, it's important to make sure that a shoe isn't causing friction on a child's foot which will lead to pain and even blisters or that the toes have enough room so they aren't pinching. In other words, not only is it a good idea to see how much cushioning the shoe has to offer to but to also make sure the shoes fit well since a good fit will also provide comfort while wearing the show. The comfort of a kid's shoe is an important factor otherwise a child may not want to wear the shoes and this could also be a problem since the parent invested in getting the footwear for the child.
Durability and Flexibility
Although it is important for a toddler and kids' shoes to be flexible to promote movement, it is also important that the shoe be well-made. A kid can be hard on their footwear and shoes that are built to take the hard knocks are essential to ensure that a shoe will withstand the wear and tear a kid puts it through. So, quality material that is durable enough to take whatever the youngster encounters during the day is important to look for.
Fashionable
This is perhaps the thing that a young girl wants in footwear–for the shoes to match her outfit. For a boy, it would be having the kind of cool shoes that their friends have. In other words, they want to make a fashion statement no matter what kind of the shoes they have. So, finding shoes that fit this parameter will give a child a desire to wear the shoes. For kids, beautiful, fun or cool shoes can be a key component in footwear.
FAQs
Frequently Asked Questions
Q: Should a toddlers foot be professionally fitted for shoes?
A: There is no denying that some experts feel it's best to have a child's foot professionally sized. But unfortunately, we don't live in a perfect world where this is always financially possible. The best course of action though whenever possible is to at least take a child to the shoe store that specializes in kids footwear the first time to have their foot sized there.
Q: Which one is more advisable in a shoe, Velcro closures or laces?
A: With a younger kid, Velcro is easier to handle. A child could easily put the shoes on and remove them with little help. Velcro also makes it easy for the child to adjust the shoe during the day. However, laces do have advantages as well. Learning to tie a shoe is a skill in itself and something a kid could benefit from learning as they get older. So, with a younger kid, Velcro is probably more desirable, but when a kid starts to mature, shoes with laces will also be a great idea. Just make sure that the child learns how to tie their laces themselves.
Q: Can kids shoes be purchased online, such as the ones on this list?
A: There are many wonderful shoes for kids that can be found online, as we have illustrated here. But this option is only best when a child's shoe size is known and it hasn't changed due to growth. Online shopping is convenient but there are some things that can be challenging to purchase online and shoes are one of them. It is always a good idea to be able to try a shoe on first in a shoe store or athletic store, not just to ensure the fit, but to also ensure that the shoe is comfortable.
Q: Can a toddler's shoe be bought a bit bigger so they could grow into them?
A: That would depend on whether the shoes were going to be put away till when the child properly fits in them. A common mistake that parents make is buying a shoe for their toddler that is a bit bigger than the child's actual foot size. There is a common misconception that kids need larger shoes for room to grow. Yes, footwear at a young age is challenging in the fact that a kids foot is still growing, but it's important that a shoe fits a child's actual foot well. Safety wise, this isn't a good idea, because a child is more likely to trip or fall if a shoe is even just half a size bigger than their feet. Also, a kid could be prone to blisters and calluses if shoes are too big just as if a shoe is too small. So, when it comes to toddlers and even preschoolers, it's not a good idea to buy a pair of shoes that are bigger than the child's actual foot size. The only notable exception to this are shoes such as a few on this list that tend to run a bit small when the child's actual shoe size, which is quite common in boots.
Q: Is it possible to keep shoes a child outgrew and pass on to a younger sibling to wear?
A: This is something that no doubt a parent will be tempted to do. With good reason, at a younger age a kid's foot can always be changing, so buying footwear can be a costly proposition. However, some experts feel that it's not a good idea to do this, because the pair of shoes has been conformed to the other child's foot. However, there are also experts who say it's alright to buy shoes that are second-hand. The best course of action is to see if the shoes actually fit the feet of the younger sibling and that they are comfortable on the child's foot.
Q: Isn't a stiffer shoe better for a toddler to protect their feet at this stage in development?
A: Actually, a stiffer shoe isn't beneficial to a toddler's foot, in fact, it's just the opposite. A stiffer shoe actually weakens the muscles in a child's foot and can cause more accidents. So, even at a young age, a flexible, pliable shoe is more beneficial.
Q: When is it time to buy a kid a new pair of shoes?
A: Sometimes a child will complain about the shoe hurting, maybe displaying blisters or red areas on their feet. This is a sign that kids need a new pair of shoes. Another thing to do if the child isn't complaining but you know some time has gone by since the shoes were bought is to look at the shape of the shoes. If they seem to be showing signs of wear and tear, then it could be time for a new pair.