Under Armour is one of the most popular brands of shoes for kids and we gladly feature the best-rated, most-purchased models that they offer for you to review. Getting shoes that fit well, look great, and are comfortable is quite a challenge. With all of the choices parents and kids have today of the many brands and styles of shoes on the market, it is like a maze trying to find the right ones for your child's feet.
We have researched the top items that parents are buying and we highlight them for you here. There are certain things to look for when buying shoes for kids, such as making sure there is enough room at the toe and that the shoe bends at the ball of the foot. Feet should not slide back and forth when starting or stopping in walking.
Whether the shoes are for sports, running, or just everyday use they should have a supportive arch, stable heel support, a flexible forefoot, and a sole that can absorb shock. These are all necessary qualities of great shoes. These selections are for boys and girls as they are named accordingly, but girls may be comfortable in some of the boys' selections too.
Here are our top picks for the best-rated, most-bought Under Armour shoes for boys and girls in 2018.
Under Armour Women's Charged Bandit 2 Running Shoes
Under Armour Boys' Grade School Micro G Assert 6
Under Armour Women's Charged Bandit 3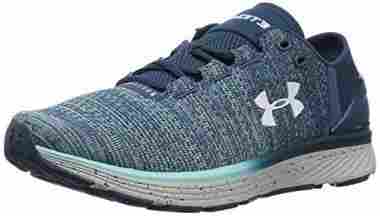 Under Armour Leadoff Low RM Jr
Under Armour Grade School Jet Mid
Under Armour Pre School Assert 6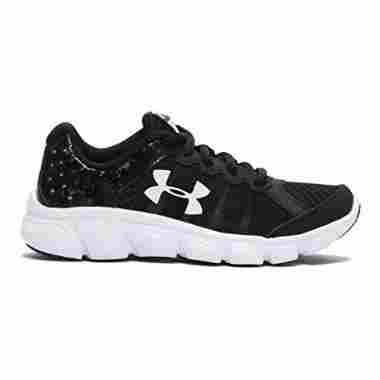 Under Armour Grade School Pace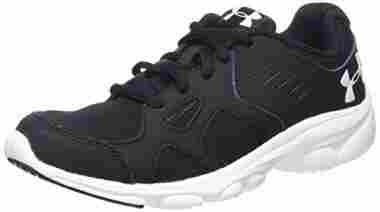 Under Armour Grade School Jet
3
Criteria Used In Evaluation of the Best Kids Under Armour Shoes for Boys & Girls
They are comfortable
Shoes for anyone must be first and foremost comfortable. If they are not comfortable, then the wearer will not want to wear them no matter how great they look. All of these shoes by Under Armour were made for comfort with most having added cushioning and stitching to aid with long usage. Kids will want to wear these shoes for everything they do from running and playing to competing in sports and during school. Whether they are built for running, sports, or just a regular sneaker, these shoes will be very comfortable to wear for your child.
Shoes come in sizes perfect for kids' feet
Each item comes in an assortment of sizes that would fit most kids. The manufacturers state specifically that these shoes are for kids and they will give support where kids need it the most. For jumping, they will provide support for jumps and landing when kids run for pleasure or for sport, and they will give long-lasting coziness when worn for long periods.
Stylish colors and patterns are available that appeal to kids
All of the shoes for boys and girls come in a variety of colors that should please any child. They can pick their favorite colors or the ones that are the most popular among their friends. Some offer multi-colored patterns and color schemes that would please even the choosiest kid. It will be hard to pick just one pair from a large number of colors available.
Well-made, quality products that are the best-rated and most-purchased items
Every item we feature on this page meets our standards for quality because they are the best-rated and most frequently purchased shoes online. Many parents and buyers have already overwhelmingly voted these items the best among the offerings on the market. With these positive reviews, you will be pleased with your purchase of an excellent product.
FAQ
Frequently Asked Questions
Q: Do the soles come out of the shoes so they can be aired out or changed?
A: Yes, most of the shoes have soles that come out for hygiene purposes. We state if the manufacturer specifically states it in the product description.
Q: Are the shoes true to size?
A: Yes, these shoes are true to size, so if you wear a 6, you would do well to buy a 6 or a 6 ½ for the best fit.
Q: Are the soles non-marking for any of these shoes?
A: Yes, most of the shoes have completely rubber soles that will not mark up floors. Some that mention is specifically in the description of the shoes are the Boys' Grade School Micro G, Women's Micro G Assert, Women's Charged Bandit 2, and the Kids Boys' Assert Sneaker.
Q: Would they fit boys or girls even though they are specifically for one or the other?
A: For boys, the girls' shoes would probably not fit because they tend to have wider and bigger feet than girls of the same age. Girls, however, would be comfortable in the boys' shoes, if the next smaller size is purchased. Some female reviewers commented that they bought the male shoes and they are very satisfied with them.
Q: Do the sizes generally run big or small for this brand of shoe?
A: Most of the reviewers state to buy at least a half-size larger than normal because they do typically run a bit smaller than a regular size shoe.
Q: Does Under Armour make shoes for wide feet?
A: Yes, they do. You will have to look for the special W in front of the size number to be ensured a wide shoe.
Q: What is the difference between US sizes and regular sizes for these shoes?
A: None, they mean the same size shoe. A regular size 6 would be a US size 6 too.
Q: Do any of the shoes highlighted have Velcro strips to close them or do they all have shoestrings to tie?
A: They all have shoestrings that must be laced and tied to wear. None of these have Velcro closures.