Getting your kids ready for school can be challenging enough without having to worry about them complaining about their shoes. Many shoes fit well, look good, or have a durable design. Well, we have found the school shoes that are the best of all those worlds. This provides you with a variety of school shoes are listed with designs that work well with uniforms or no uniforms. They are classically designed shoes that are great for any school aged kid. Picking out shoes for the school year will never be so easy.
Best School Shoes for Kids Reviewed
1. Merrell Jungle Moc 2
The Kids' Jungle Moc is a slip-on shoe without laces or Velcro straps. It has elastic inset panels on each side for the flexibility in dressing in the shoe. The collar is lightly padded for comfort, and the EVA footbed is removable. It includes M-Select Fresh to eliminate odors and M-Select Grip for an outsole that is grippy and durable.
Expand to see more
This amazing style is tough, sleek, and goes with almost any outfit and wardrobe. The Jungle Moc is a parent and kid favorite of many years and is offered in seven traditional solid colors. We highlight the black model for school uniform purposes, as it comes in toddler, little kid, and big kid sizes. It features a sturdy leather sole and a soft suede upper, plus the company logo is embossed on the upper and the outsole for brand recognition.
Benefits
The elastic insert panels in shoes instead of laces or Velcro straps allow children to put their shoes on and take them off themselves. They build the confidence level in getting dressed alone.
What We Like About It
Whether you are looking for school shoes or everyday shoes for your child, these Jungle Mocs are perfect for both. Kids love them, and parents appreciate their simple style.
Cost and Value
Having a cost well above the average, but not the highest, these excellent Jungle Mocs are prized for their easy closure,
tough materials
, and super comfortable fit.
Has elastic inset panels on each side
Collar is lightly padded for comfort
A parent and kid favorite for many years
Offered in seven traditional solid colors
Made of leather and suede materials
Some kids had problems with sizes
These may show wear easily
2. Keds Daphne T-Strap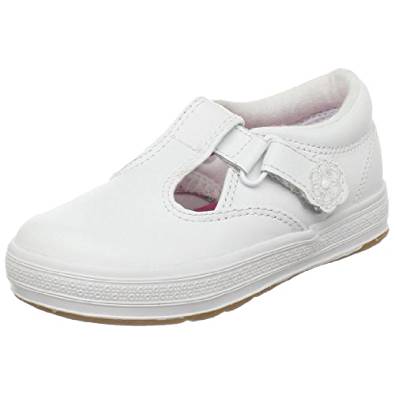 Featuring a rubber sole and a footbed of memory foam, the Daphne T-Strap Sneaker from Keds will be supportive and comfortable all day long. Keds has been in the shoe business since 1916 making high-quality footwear you can trust and love.
Expand to see more
Their excellent craftsmanship is visible in fabulous creations such as this one for little girls. This grand model has twice the customer feedback online from highly satisfied customers with over 1,000 reviews. It is offered in toddler and little kid sizes and available in fourteen solid colors and mixed patterns. The most popular color for school in this style is white. The wonderful Daphne shoe includes a T-strap closure that is so easy to take off, put on, and adjust. It has flex grooves that are deep for the most flexibility in movement, and the traction is superb because of the rubber outsoles. This incredible sneaker has a delicate little flower of the same color as the shoe on the closure strap. The buckle and strap are very sturdy and long-lasting, and this ideal shoe includes a padded collar. The upper is made of a high-quality leather material for the best comfort level and all-day support.

Benefits
Because these cute shoes come in so many color variations, you will want to get more than one pair for your child. They go with almost anything she will wear formally or casually.

What We Like About It
We love this simple decorative closure on these adorable shoes! The little tiny flower on the strap just set the whole shoe off, but the closure is so easy for kids to maneuver themselves.

Cost and Value
Just below the average price, these Keds for girls get their value from the cute design, top-quality rubber and leather materials, and the unique and easy T-strap Velcro closure.


Features a rubber sole and foam footbed
Comes with a T-strap closure
Has flex grooves that are deep
Includes a padded collar
Upper is made of high-quality leather
Sizes may run small and narrow
The leather upper did not clean well for some parents
3. Reebok Classic Leather
Available in fifteen various bold and bright colors, the Reebok Classic Leather Shoe includes a soft leather upper and a durable rubber sole. The black model is most useful for school and
formal event purposes
, and this outstanding shoe is offered in just little kid sizes.
Expand to see more
Reebok has been making running shoes and other types since 1895, so their brand is one that is reliable and suitable for everyday wear. This excellent shoe has terrific support, comfort, and cushioning for long-term use. The EVA midsole has a die-cut making it lightweight and comfortable, and the outsole is constructed for high abrasions and durability.

Benefits
Reebok has been around a long, long time making great shoes for every age in the high-quality style that we all depend on. Their trusted reputation speaks for itself and is backed up by grand products like this one.

What We Like About It
It is a Reebok model – what is there not to love? These classic shoes for kids have a huge range of bright and even neon colors for everyday purposes and the solid black for school and formal events.

Cost and Value
This is the most average in price among these school shoes for kids. You know it is top-quality because of the Reebok name, plus the numerous choices of colors and the fabulously comfortable materials used.


Available in fifteen bold and bright colors
The black color is used for formal wear and school
Has a leather upper and a rubber sole
Features terrific support, comfort, and cushioning
EVA midsole is lightweight and comfortable
A few people said the sizes were a bit off – had to reorder
The shoe tongue was long for some kids
4. Stride Rite Claire Mary Jane
Stride Rite has more than 85 years of experience in making top-quality shoes, such as these Claire Mary Jane shoes that are perfect for
little girls
to use for school. Made just for girls in toddler, little kid, and big kid sizes, they are made of soft comfortable leather and durable tough rubber. This outstanding model is long-lasting, versatile, and offered in three solid dark colors of black, navy, and brown.
Expand to see more
The collar is padded for comfort, and the outsole is made of rubber, flexible, lightweight, and non-marking. Such an outsole provides great traction and support. These superb Mary Jane shoes can be put on and taken off easily by the child or the adult because of the easy closure. They have a simple Velcro strap for quick adjustments, and the insoles are made of cushiony memory foam. These are easy to keep clean, as most soil just brushes or wipes off with a damp cloth.

Benefits
The simple closure of this shoe model will be much appreciated by parents and children alike. Kids will love that they can put them on themselves without problems, and parents will like their kids having some independence.

What We Like About It
Products are only as good as the materials they are made of and the craftsmanship that made them. These ideal shoes are top-notch in both of these categories according to customers.

Cost and Value
On the higher end of the price range, these adorable shoes for girls come in a wide range of sizes, have an easy durable closure, and is made of top-quality materials for comfort and stability.

Made of comfortable leather and sturdy rubber
Outsole provides traction, flexibility, and support
Company has more than 85 years of experience
Has a simple Velcro strap
Insole is made of cushiony memory foam
Colors may fade quickly
The overall quality disappointed some parents
5. New Balance KX624 Uniform
These splendid uniform sneakers from New Balance include a cushioned sockliner and textile lining. They also have an all-rubber durable sole and an upper of comfortable leather.
Expand to see more
The shaft is about two inches from the arch, and they are perforated to provide great ventilation in the shoe. The stitching is long-lasting and strong, plus the tongue and collar are padded for longer wear. They come in solid black and solid white for school purposes and are offered in little kid and big kid sizes.

Benefits
While some customers had very active kids who seemed to wear the stitching right off of these shoes, the craftsmanship of these is quite durable and reliable. They are built tough for school purposes.

What We Like About It
Shoes with padding in the tongue and collar are needed for kids to wear all day long at school. They will be so comfortable with these because of the extra care from the manufacturer.

Cost and Value
These fabulous shoes from New Balance are a bit above the average price, but they are worth it because of the strong stitching, padded tongue and collar, and the cushioned sockliner.


Includes a cushioned sockliner
Is perforated to provide great ventilation
Stitching is long-lasting and strong
Has a padded tongue and collar
Offered in little kid and big kid sizes
Some parents said the stitching does not last long
A few complained of the sizes being larger than normal
6. adidas Performance Stan Smith J
The Stan Smith Tennis Shoe from Adidas has been a popular court shoe since the early 1970s. It is a dependable model that is perfect for everyday use with a shaft that is low-top from the arch. It features an inside lining of terry and breathable mesh in addition to the antimicrobial OrthoLite sock liner that will absorb moistures
to limit odors
.
Expand to see more
This incredible footwear provides fantastic traction because of the rubber cupsole and comes in big kid sizes. Eleven different colors are offered including solid white and solid black for school use. It is perforated on the sides for wonderful ventilation inside and has a thick all-rubber sole for cushion and flexibility. The wonderful Stan Smith model includes the adidas logo on the tongue and outsole and has strong laces and eyelets that are long-lasting. This reliable adidas product is made of sturdy rubber and full-grain leather materials.

Benefits
The company of adidas has been crafting this amazing model of shoe for almost fifty years straight. That longevity tells you of its top-quality, need, and loyalty from adidas buyers.

What We Like About It
Kids must wear their school shoes more than any other type of shoes when classes are in session. Because of this, they must be comfortable to wear such as this model with the perforations for great breathability.

Cost and Value
Because of the adidas name and the high-quality of the model, these are the most expensive shoes on our list. They are valued also for the excellent features of the cupsole, sockliner, and full-grain leather.


Inside lining is terry and breathable mesh
Has an OrthoLite sockliner to fight odors
Has been created and popular since the 1970s
Is a dependable model perfect for everyday
Is perforated on the sides for ventilation
Sizing can be a problem
Some said the logo faded in their shoes
7. Keds School Days II
Matching those school uniforms or just finding a simple pair of shoes can be a challenge for parents, but not with these shoes. They are sure to match any of their outfits. They are a dress shoe look with a sneaker feel.
Expand to see more
The upper part of the shoe has been constructed from leather and features a classic black and white design. The front toe part of the upper is white, with a black strap across where the strings ties then followed up in the rear with the white. The closure systems for these shoes are the classic lace up design. They lace up to provide a secure and tight fit. Inside the shoe, there are memory foam insoles that provide the kids with a footbed that is comfortable for all day wear. The collar has been padded for extra comfort and featured with the memory foam insole is a terry cloth lining that also adds to the comfort level. Matching their clothes to their shoes will be easy with this traditionally designed lace up shoe. It is comfortable, easy to lace up, and looks great with anything.

Benefits
Leather shoes provide kids with a shoe that is durable and easy to clean up. With as rough as kids are on their shoes you want to provide them with a shoe that will last and can be cleaned up from time to time. These shoes are constructed from 100 % leather and will provide all that and more.

What We Like About It
Great classic designed shoes that makes getting ready for school in the morning easy. They match just about anything and work great with school uniforms.

Cost and Value
This comes right in at the average price for a name brand shoe of this quality.

Classic designed dress shoe with sneaker feel
100 % leather upper design
Featured memory foam for comfort and support
Traditional lace up closure system
Durable and easy to wipe up
Terry cloth lining makes it hard for the little ones to easily slip the shoe on
Sizes run small
8. French Toast Cole Oxford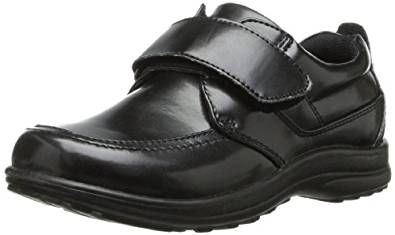 These French Toast Cole Oxfords include an outsole with excellent grip and a heel that is almost an inch thick. This is an Oxford shoe model with a wide Velcro strap on top and strong tonal stitching all around.
Expand to see more
The helpful Velcro strap makes putting on shoes simple and easy. These include a rubber sole and a leather upper and a pull-tab to make pulling them on easy. Perfect for school or any formal occasion, they are offered in little kid and big kid sizes.

Benefits
Oxfords with a Velcro strap have got to be one of the best models possible for boys. They not only look fabulous, but they are extremely easy to fasten and adjust as you need.

What We Like About It
Outstanding in style and appearance, these Oxfords will match your child's school uniform or formal wear well. They have a professional quality about them that is simply stunning.

Cost and Value
These Oxford shoes are one of the more economical shoes on our list. They are valued for their professional appearance, easy Velcro strap, and durable tonal stitching.

Includes an outsole with excellent grip
Includes a rubber sole and a leather upper
Has a pull-tab to make pulling on easy
Perfect for school or any formal occasion
Offered in little kid and big kid sizes
These did not last long for a few kids
The sizes may run a bit large
9. Dream Pairs 160479-K
These Dream Pairs School Loafers for boys are available in nine color variations, but we feature the solid black for school purposes. The design is comfortable, lightweight, supportive, and soft, plus has added support from the cushioned insole.
Expand to see more
The upper is made of DP premium textile material, and the closure is a simple Velcro strap across the top of the foot. This wonderful boys' school shoe includes a durable rubber non-skid outsole and a padded collar for high comfort. The rounded edges will help prevent falls and stumbles, especially for younger kids.

Benefits
It may not seem like something that would be very important for shoes, but the rounded edges on these will keep kids from having so many falls and spills that normally happen with more squared-edge shoes.

What We Like About It
For smaller kids, Velcro closures are the best. They can wait to learn how to tie shoes when they get a bit older, as those take some delicate fine motor skills to manipulate.

Cost and Value
These are the lowest in price on this list of school shoes. The terrific value comes from the rounded edges, easy Velcro strap, and the highly comfortable feel when they are worn.


The design is comfortable and lightweight
Has added support from the cushioned insole
Includes a durable rubber non-skid outsole
Closure is a simple Velcro strap across the foot
Includes a padded collar for comfort
Velcro was too short for a few kids
Some smaller kids found these to be heavy
10. K-Swiss Kids' Classic VN Sneaker
A pair of shoes that provides a timeless design with endless possibilities to match to a cute outfit for any kid. The shoes have been constructed with both synthetic and leather materials. This makes the design durable and easy to care for. On the bottom, you will find a rubber sole that has been made durable and last.
Expand to see more
It is a design that supports a low top and is very supportive in the arch area. This gives the kids great support and provides them with a shoe that allows them to run and play. The inside of the collar has been constructed with a textile. The textile is durable and adds a level of comfort around the ankle. Each liner of these shoes features a Die-Cut EVA design. This design has been created by this company for advanced comfort and breathability. It also features a classic lace up design for the closure system. On the side of the shoe, you will notice the brand design with the five strips and the d-rings that have been placed in the lace up system along with the three piece design on the toe. These details to the design make this shoe a complete head turner for the kids. Get your kids into a stylish pair of shoes that provide them with comfort and match just about anything.

Benefits
The designs of these shoes are stylish. They provide kids with a great quality shoe that has been made by a well-known brand and is as durable as they look. Often kids shoes are either durable or look cool and this pair has both.

What We Like About It
These shoes really take parents back to their childhood when this design was in style. The design in back in style and is a great addition to any kids school shoe collection.

Cost and Value
This is an average priced shoe depending on the size that you need. Larger sizes were on the above average price.


Classic brand name designed a shoe with a traditional design
Features classic five strip design on the side with three piece toe design
Lace up closure system with featured branded D-rings
Molded non-marking rubber sole
Durable design with classic style
Sizes run large
No glued well, glue spots on lots of shoes
Criteria Used in Evaluating the Best School Shoes for Kids
Top-rated and most-purchased items
This buying guide highlights the best school shoes for kids that manufacturers currently are offering online. We choose only the top items in a category to put in our informative guides for your shopping pleasure. We only want the best for our families, just as you do for yours. Our helpful lists will show you all of the best choices in one terrific place. The school shoe that has the most reviews is the Keds Daphne T-Strap shoe, and the shoe with the highest rating from customers is the Reebok Classic Leather shoe. Consumers are overwhelmingly pleased with these two selections and the other eight shoe models on this list.
Durable
Although some customers claimed that their kids went through some of these models rather quickly, they are the best shoes that manufacturers have on the market right now. Like we said before, children can be quite hard on shoes because they run and jump in sometime unfavorable places, such as mud puddles, rough sidewalks, or gravelly areas that can tear shoes apart. The stitching on these kids' shoes is top-quality and sturdy meant for extended wear on kids. The other materials of the leather and rubber are long-lasting as well. Any of these fantastic shoe models should last kids at least five or six months of everyday wear, depending on the care from the user.
High-quality
Made of only the best materials, each one of these models is constructed with superior craftsmanship. Only the highest level of rubber, leather, and mesh materials were used to create these highly durable shoes. Everyday shoes must be trustworthy because they need to be worn every day for school, church, or other formal functions. Kids can be quite harsh on shoes because the feet are not always in the most ideal situations. The high-quality of these great shoes is a reflection on the great producers who created them.
Stylish
Kids today want to wear the shoe brands and styles that are the most popular and the ones that are currently trending. All of these great shoes for school come from the top name brands of today. We feature products from Adidas, Merrell, Keds, Reebok, Stride Rite, New Balance, and Deer stags to name a few. These are long-time manufacturers who have decades of experience in making shoes that are popular, fashionable, and stylish. Your child will be glad to wear any of these terrific models to school and any other formal setting.
Cost and Value Section
Stride Rite, Adidas, and Merrell have the most expensive shoes here with the vast majority of the others being priced under the average. Because of the huge variance in prices, it is wise to consider the brand names when looking at each item. The more popular brands will, of course, be the most expensive. These higher-priced shoes throw off the average range quite a bit. We list the value base for every item here in its own Cost and Value section for your convenience.
FAQ
Frequently Asked Questions
Q: Can both girls and boys wear the shoes that do not state one gender or the other?
A: Yes, for the models that did not specify gender, it would be good for both sexes to wear them. Boys will not want to wear the styles for girls, such as the Mary Jane model or the Daphne T-Strap, but girls could wear some of the boys' shoe models quite comfortably. Girls and women often wear boys' and men's shoes because they have a more comfortable fit. Male shoes are often wider, so they fit women and girls who have wide feet very well. If your little girl has wide feet, then it would be advisable to get a model that was intended for boys for the best fit.
Q: Do these come in other colors than just the black for school uniforms?
A: Yes, almost all of the models were offered in other colors that could be used for normal everyday wear. Some even had bright neon colors that would match regular casual clothes. If the shoes are comfortable enough for wearing all the time at school, then it would be a great idea to buy another pair for the child to wear with his or her regular wardrobe in a favorite color.
Q: What is the most common complaint of these shoes online?
A: When it comes to clothing, shoes, or anything that must fit the body, sizing is always the biggest problem. Especially when ordering items online, trying them on first is not an option. The sizing issue is not a reflection on the manufacturer because customers for the same model complained of the same shoe is too big and too small. The only way this is possible is that the sizes do not match the size that the child normally wears, or the parents ordered a size up or down. It is best to order the size that the child wears to avoid returning the shoes. If they then do not fit, you will know which way to go on the sizing chart – up or down. Buying a size up or down only creates a bigger problem if you are wrong. For then, you do not know which size will fit and may have to return the various sizes several times.
Q: Which shoe did customers like the best and which one has the most reviews online?
A: The Keds Daphne T-Strap is the most reviewed shoe with over 1,000 reviews, and the Reebok Classic Leather shoe has the highest rating of all models from consumers. These are the best of the best that customers would overwhelmingly purchase again for their children.
Q: What is the best way to clean these shoes for school?
A: You would have to follow the manufacturers suggestions for cleaning the particular brand and model that you purchase, but in general, most of them should just wipe clean with a damp cloth. Most of them have leather uppers, which cleans fairly easy of mud and dirt. It is possible that they can be machine-washed and then air-dried, but it is best to follow the instructions that come with the shoes.
Q: Are these shoes more durable and long-lasting than regular shoes, or will they perform just as normal shoes would?
A: This really depends on the types of shoe you compare them to. With the grand manufacturers we feature here, it will be hard to impossible to find shoes with better endurance or quality because these are the best. Customers have rated them according to how they performed for their kids. These top producers put their all into making these ideal shoes that are perfect for formal wear, such as school uniforms.