10 Best Deodorants for Kids Reviewed in 2019
last updated
May 24, 2019
Let's talk about smells. Every parent has one thing in common: we all want our kids smelling nothing but fresh and clean all the time. Especially if you're a parent who has teens whose hormones are now creating a lot of mixtures that can lead to foul body odor. Let's just say that your children have certainly lost that nice baby smell and it has turned into something a bit more feminine or masculine. Also, if you have a child who is hyperactive or sweats a lot then you know how awfully smelly children can get at the end of the day. Fear not, for we have created a list of the best deodorants for your children so they can stay smelling fresh and clean all day.
In a Hurry? The test winner after 27 hrs of research
Crystal Mineral Stick, Unscented
Why is it better?
Prevents odor for up to 24 hours
No fragrance
Free from harmful chemicals and forms of aluminum
One simple ingredient: mineral salt
Dermatologically tested
No animal cruelty, completely vegan
In a
Hurry? Editors choice:
Test Winner: Crystal Mineral Stick, Unscented
31
Researched Sources
27
Hours Researching
14
Products Evaluated
Design
Effectiveness
Value
By Default
In Depth Review Top 10
Crystal Mineral Stick, Unscented
Organic Island Probiotic
Tom's of Maine Wicked Cool
Magsol Magnesium
Natural Organic
Bali Secrets– Organic & Vegan
Degree Girl Just Dance
Truly's – All Natural, Long Lasting Organic Cream
Each & Every All Natural
Green Tidings Organic All Natural
Table of contents
Criteria Used for Evaluation
Other Factors to Consider
Frequently Asked Questions
Sources
10 Best Deodorants for Kids Reviewed
1

. Crystal Mineral Stick, Unscented
Prevents odor for up to 24 hours
No fragrance
Free from harmful chemicals and forms of aluminum
One simple ingredient: mineral salt
Dermatologically tested
No animal cruelty, completely vegan
Will sting if you use directly after shaving your armpits (salt in the wound, anyone?)
Breaks easily upon impact
If you're looking for all natural options that still keep body odor at bay, the Unscented Crystal Deodorant stick should be first on your list. It's dermatologically tested, cruelty-free, vegan, and doesn't use animals in its trial stages.
Read more
Design
Composed of just one ingredient, mineral salt, it's free of aluminum chloride, chlorohydrates, zirconium and parabens. It's unscented, so you don't have to worry about the weird way certain scents mix with our chemical make-up. Your little one can smell fresh and purely like themselves without you stressing over toxins and harmful residue.
Effectiveness
It's all natural. No chemicals, no ingredients that will clog pores and cause health problems. Your child will smell good, and you'll feel good about the product you've invested in.
Value
You can pronounce the names of all the ingredients since there's only one. It's natural, guilt-free, and won't leave weird white residue or stains behind on clothing. Fresher smells all around, and less work in the laundry room? Yes, please.
2

. Organic Island Probiotic
24-48 hours of odor protection
Vegan
Free of BPA and aluminum
Fragrance-free
Contains coconut oil to soothe skin
Thicker and a little difficult to put on, make sure you warm it up and rub it in
Some people have had rashes/allergic reactions after repeated us
You've probably read about probiotics in relation to gut health, but they serve multiple purposes when it comes to maintaining natural health.
Read more
Design
This Organic Island Deodorant puts them to work in maintaining odor, along with organic coconut oil, organic corn starch, organic jojoba oil, aluminum-free baking soda, and wildcrafted candelilla wax. It's BPA free, gluten free, alcohol free, and fragrance free. This is a great product for expectant mothers as well as for young children. It's Vegan as well, so you can feel good about the process by which your product is made. The company offers a moneyback guarantee, so if this isn't quite the right fit for you, contact them at no cost to yourself.
Effectiveness
Completely comprised of natural ingredients, this can put your fears of harmful toxins and sticky clogged pores at rest. The coconut oil is a nice touch as it helps to moisturize and soothe irritated skin.
Value
It's free of any strong fragrances but utilizes a few oils to help comfort and moisturize the skin. This is especially nice if you're someone who gets razor burn easily.
3

. Tom's of Maine Wicked Cool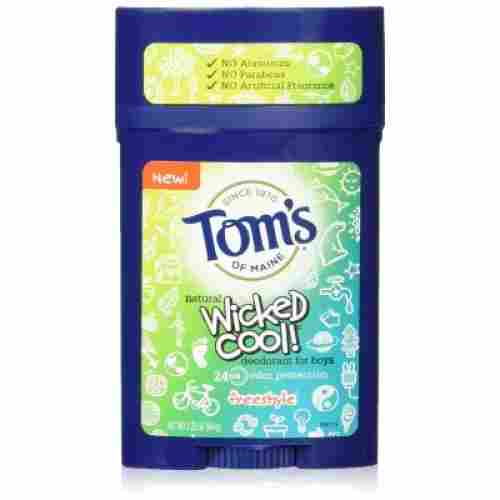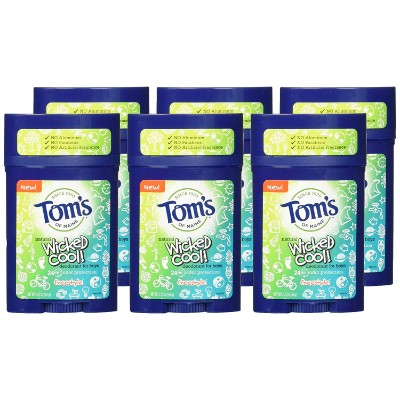 Cruelty-free
Clinically tested
24 hours of odor protection
All natural ingredients
Fragrance-free
Doesn't last as long on heavier/more active days
Long-lasting formula contains zinc, which many people have allergies to
Whether you're looking for toothpaste, body and hair care, or baby care, Tom's is an ethically sustained company providing all natural alternatives to its market competitors.
Read more
Design
Clinically proven to provide 24 hour protection, this deodorant stick is free of aluminum, parabens, phthalates, and artificial fragrances. No animal ingredients are present, and no animals were used for testing.
Effectiveness
Tom's not only provides quality products, but does so while being mindful of their environmental footprint and the ethics of the process by which they manufacture their goods. Feel good about buying from a company that is trying to do good.
Value
Tom's is a trusted brand, and offers a variety of scents that will appeal to girls, boys, moms, and dads. This stick has been clinically tested for success, and was sourced ethically.
Neutralizes odors and nourishes skin
Glides on smooth and easy
Composed of all natural ingredients
Made in the USA
With the Magsol Magneium Deodorant, your child can smell good without the use of harmful chemicals.
Read more
Design
Free of aluminum, this deodorant is composed of all natural ingredients. The formula is a mixture of almond oil, essential oils, beeswax,and magnesium oxide. Along with being aluminum free there is also no parabens, phthalates, baking soda, or triclosan in the deodorant. When purchasing you can choose from twelve different scents. Sandalwood, rose, and sweet orange are just a few examples. This 3.2 ounce bottle is easy to transport, which makes it easy for your child to keep one in their backpack. Not only is it made in the USA but it has also not been tested on animals.
Effectiveness
The blend of therapeutic essential oils will reduce your child's stress levels. The natural ingredients work together to neutralize odor while nourishing your child's skin.
Value
On the pore-clogging rating scale of 0-5, all the ingredients in this formula rate a 2 or lower, thus making this great for people with sensitive skin. Application is super easy, as this deodorant glides on smoothly.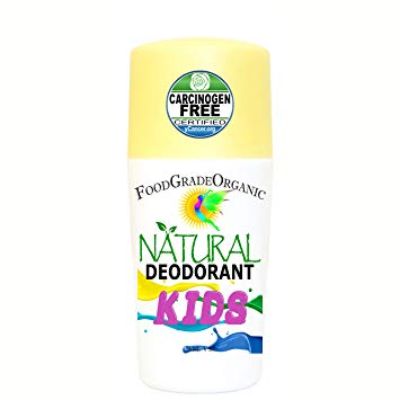 100% natural and organic
Leaves no residue on clothes
Easy to apply
Prevents odor and heals skin
Some reviewers do not like the smell
While wearing the Natural Organic Deodorant for kids, your child can play confidently throughout the day.
Read more
Design
Made in the USA, this deodorant is 100% natural and organic. There are no carcinogens or toxic substances found in the formula. Applying this to your child will be stress free as it is designed to simply roll on.
Effectiveness
The water-based formula is lightweight and easy to apply. Not only will the deodorant keep odor under control but it will also heal broken or irritated skin. With the formula staying on for hours, your child won't need to reapply until the next day.
Value
Your child's clothes are completely safe as the deodorant will not leave behind any residue or grease. The all natural ingredients makes this great for people of all ages especially those with sensitive skin.
6

. Bali Secrets– Organic & Vegan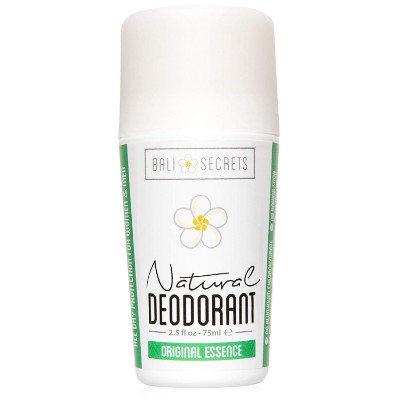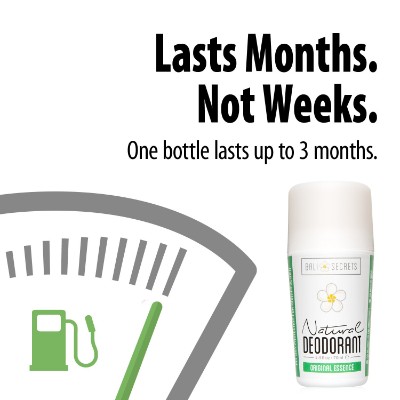 Skin friendly, non-GMO, safe and free from toxic chemicals
Cruelty free and certified vegan - not tested on animals
Sandalwood scent - made in Bali
Lasts up to 3 months
No stickiness or stains - rolls on easy
Some say the protection does not last all day long
Scent can be overpowering for a few people
Made in fabulous Bali, this vegan and organic deodorant for kids, and even adults, is free from toxic chemicals and safe for your skin and the environment. It rolls on easily and does not leave any stickiness on the skin or stains on your clothes.
Read more
Design
Having a pleasant sandalwood scent, the protection lasts all day long, even during sports. No worries about rashes or itchiness like some other natural deodorants, because these ingredients are pure and made to help the body. This non-GMO deodorant has the ingredients of sandalwood oils, aloe vera, coconut oil, seaweed extract, alcohol, distilled water, and mineral salt. For a natural deodorant that outlasts most regular deodorants, try Bali Secrets for your child.
Effectiveness
The ingredient list for this deodorant is refreshing and welcomed. All natural ingredients make up this wonderful product for underarm protection.
Value
Beauty products that have not been tested on animals are wonderful to find on the market. No one that is conscious of our planet and its meek inhabitants would buy anything but earth-friendly products like this one.
7

. Degree Girl Just Dance
At least 24 hours of odor and sweat protection
Good for athletes and people who sweat more throughout their day
Light, citrus scent appeals to young girls
Won't leave stains on your clothes
Dries clear
Not all natural/organic
Sometimes clumps
All natural deodorants are a great alternative for some of us, but others fare better with a standard antiperspirant. Degree Girl offers twenty-four hour sweat and odor protection, in a scent that is light, fun, and keeps you feeling fresh.
Read more
Design
It goes on smooth and clear, and won't leave nasty sweat stains on your clothes. Degree Girl Just Dance offers all of the tried-and-true power of Degree Women, but with a citrus-based scent that is likely to appeal to younger audiences. If your girl is headed to class, or to the school gymansium to dance the night away, this is a product she won't have to sweat.
Effectiveness
Antiperspirants are a popular option for people who are highly active or who sweat profusely. This will keep you from staining your clothes on heavy physical days, and feeling fresh throughout.
Value
It's a good introductory deodorant for young girls, especially athletic or active ones. It smells nice, it helps to control sweat and odor for long periods of time, and it won't stain clothes. At a time when they are fragile and still figuring out their bodies, this product will help keep them from any embarrassing mishaps.
8

. Truly's – All Natural, Long Lasting Organic Cream
Made with all natural and organic ingredients like beeswax, coconut oil, powdered sugar, and baking soda
Free of fragrance, GMOs, propylene glycol, aluminum, and parabens
Specially formulated for kids and tweens with sensitive skin
One swipe application! Just apply over the underarms once and your child is odor free all day long
This product goes on clear, so no pesky white stains or streaks on your kid's favorite clothes
This is a cream product that doesn't roll on like regular deodorants, making it less convenient than regular deodorant
If you don't like a roll-on or even a deodorant stick for your kid, maybe a cream would interest your kid. The Truly's All Natural Long Lasting Cream Deodorant for Kids is a one of a kind personal hygiene product designed specifically for kids.
Read more
Design
It's essentially made of coconut oil, beeswax, baking soda, and powdered sugar all of which are certified organic. Baking soda is a well-known household ingredient which has a superb hygroscopic property as well as the ability to absorb odors and scents in the air. Powdered sugar, on the other hand, provides the very fine crystals that will help clean your kid's armpits so that they will be removed of dirt and debris which can exacerbate the offensive odor. Coconut oil is rich in medium chain triglycerides that have many exciting health effects on the body, giving your kid skin health unlike what he or she has been accustomed to. Plus, it has modest effects on certain bacteria so your kid will be able to effectively manage the source of offensive body odors. While Truly's doesn't offer a 24-hour protection like the Fresh Kidz, it does provide adequate freshness to last the whole day.
Effectiveness
We love the all natural, 100% organic ingredient list of this product. You know exactly what's going onto your kid's bodies, so there's no guess work or concern if an allergy or rash pops up. While some children have issues with the powdered sugar in this deodorant, most children and parents find that it smoothens the skin naturally with a fresh scent. And the ingredient list is so small! Really, this deodorant was made with sensitive and changing skin in mind, making it more than easy to identify and correct any issues clients might have with this product.
Value
The use of natural and organic ingredients is exceptional. And while it does not provide 24 hour protection, it can nevertheless, provide your kid the freshness he or she needs for 12 hours which, for us, is more than sufficient.
9

. Each & Every All Natural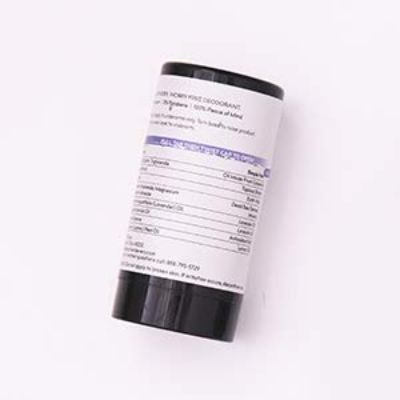 Available in three unique scents
Easy to transport
Composed of eight simple ingredients
Designed to last all day
Some reviewers feel it is expensive for a small amount
Having sensitive skin isn't a problem with the Each and Every All Natural Deodorant.
Read more
Design
With only eight ingredients, you won't feel any confusion about what you're putting on your body. You won't find any baking soda, aluminum, or parabens in this formula. Instead, you will find coconut oil, earth wax, dead sea minerals, salt, lavender oil, lemon oil, and lavandin oil. When purchasing you can choose between three unique scents; Lavender Lemon, Citrus Vetivert, or Cedarwood. Lavender Lemon is a sweet but soothing scent that will leave you feeling fresh. The uplifting citrus essential oils in the Citrus Vetivert will make you feel clean and refreshed no matter how much you sweat. Cedarwood gives off a spicy woody scent that both boys and girls seem to enjoy. All of the scents are cruelty free and vegan.
Effectiveness
While this deodorant is composed of only eight ingredients, they come together to form a high-quality long lasting product. Odor doesn't stand a chance against this deodorant. In fact, each scent will eliminate odor all day so there will be no need to reapply.
Value
No matter what fun scent you choose, each deodorant is designed to glide on smoothly and formulated to be gentle on skin. Arriving in a 2.5 ounce tube, this deodorant can easily be slipped in any purse, duffle bag, or backpack.
10

. Green Tidings Organic All Natural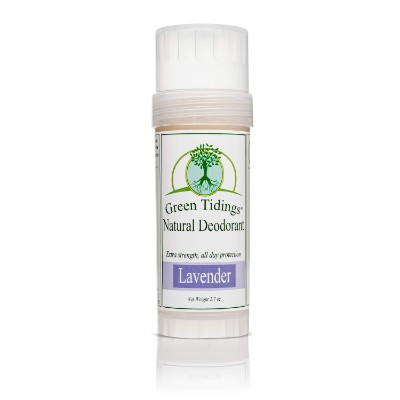 The top selling and most highly rated natural deodorant on Amazon! Now that's an accomplishment
This product is not only 100% vegan, but it's also cruelty free, gluten free, paraben free, paraffin free, aluminum free, and phthalate free
Made directly in the USA in Southern California
Manufactured in a 100% solar powered factory
The tube itself is BPA free and recyclable. So not only is this product great for your kids, but it's also great for the environment
This product is not stain resistant and will leave residue on your clothes
Your skin might break out if you've never used an all natural and vegan product before
For the complete health buff who doesn't want anything artificial or synthetic in the products he or she uses, the Green Tidings All Natural Deodorant should be a very welcome surprise. While it's only available in lavender and unscented versions, Green Tidings is perfect for everyone whether you're a boy or a girl or even a kid or a grownup.
Read more
Design
Made of only the most natural organic ingredients, Green Tidings promises to be an excellent product for those who would like to have a much fresher and cleaner smell all day long. It contains tapioca starch which is rich in essential fatty acids to keep your kid's skin soft and smooth while also providing adequate moisture; though it also acts as an absorbent. The antimicrobial properties of coconut oil will also help neutralize microorganisms that produce gases which, in turn, are what causes the offensive odor. There's also baking soda, an ingredient that is so common in our homes that we often overlook its usefulness in a variety of situations. Green Tidings also come with unrefined shea butter which is particularly useful for its Vitamins A and E contents leading to a much healthier skin. Candelila wax extracted from Euphorbia cerifera is important for stimulating skin growth particularly in the armpits to provide an additional layer of protection. There's also magnesium and the essential oil of organic lavender. Among the many essential oils, lavender is best known for its calming and antiseptic properties further enhancing the body odor-fighting abilities of Green Tidings.
Effectiveness
If you're a vegan family, then this product is perfect for you and your children! It's so hard to find vegan products, but's it's even more difficult to find vegan products that work. The Green Tidings Organic All Natural Deodorant was designed with health and earth conscious families in mind, as shown by their commitment to sustainability in their products. Not only is the formula free of harsh chemicals and additives, but the bottle itself can be recycled and reused safely. So if you want a product that not only benefits your health but the health of the environment as well, pick up a pack of Green Tidings Organic All Natural Deodorant.
Value
With so many natural ingredients contained into one convenient packing, the Green Tidings truly deserves a spot in this list of the 5 best deodorants for kids.
Criteria Used for Evaluation
Design
There are some deodorants in today's market that might fight off odor with harsh products like aluminum. Our list above only uses natural ingredients. Most items on our list are made with ingredients like citrus oils, lavender extracts or probiotic-infused waxes to keep underarms odor-free and healthy.

Effectiveness
Children in that awkward tween and some teen ages are experiencing intense hormonal changes during that awkward stage known as puberty. Parents are going to want a children's deodorant with a very short ingredient list. The smaller amount of chemicals in your deodorant limits the cocktail of additives that your child will be exposed too, resulting in a semi-less stressful but much more manageable puberty that your child has to go through.
Value
When coming up with our list, we took a lot of things into consideration. A deodorant needs to be able to fight off unwanted odor all day, every day and should never be able to take a break from the job. We also researched and observed the health benefits and concerns of deodorants on the general health for children and tweens experiencing puberty. Your child's body is going through great changes and it's important to factor in chemicals of these deodorants and the effects they have on growing bodies. Finally, we took special stock of deodorants seeking to change the world with sustainability and natural ingredients. Every single deodorant on our list is made with 100 percent natural or organic materials to not only benefit your child but the world as well.
Most Important Criteria
(According to our experts opinion)
Experts Opinion
Editors Opinion
Users Opinion
By Default

Parents, Did you Know?
When your child is about to go into the stages of adolescence their body will change and it is time to start to talk to them about wearing deodorant. If they are starting to smell be the first to tell them instead of their friends.
Parents, Did you Know?
Always make sure that any deodorant that your child is using does not contain any harsh chemicals. Things that you always want to avoid are: triclosan, aluminum, parabens, and artificial dyes and smells.
Other Factors to Consider
Materials
We've mentioned several times the natural and organic ingredients of these deodorants but it's such a crucial and important part of the deodorant-picking process. Organic ingredients are not only good for the planet, but they're a great health benefit for your child. Not only do you limit the number of harsh chemicals that they are exposed to but you will also know exactly what is going on your child's body without having to worry.

Logic
We looked at three specific things when it came to choosing the best children's deodorants: length of effectiveness, ease of application and safety of the product. Of course, other factors were considered as well. For example, the deodorant had to be designed specifically for children and not adults. This is mainly because of the unique anatomy of children which is very different from adults. Another point is customers reviews. We decided to include only products that have no less than a 4-star rating so that parents will feel a lot more confident about giving this particular deodorant to their child.
Deodorants must have very long-lasting effects. At the very least, its effectiveness should last the whole day. Otherwise, your kid will have to reapply it every now and then. This can lead to skin irritation as even natural ingredients are known to cause skin problems if applied very frequently and for a prolonged period of time. This brings us to our second point. These products will be applied to the skin of our children. And you know that their skin is not yet as thick as ours. It is thus, important that deodorants don't contain chemicals that can abrade, irritate, or even dry the skin. The hydration status of the skin should be maintained at all times. That's why we had to be particularly selective in our product list.
Obviously, the ease of application was also considered, although it's more a matter of personal preference. There are those who prefer roll-ons while there are also individuals who prefer using sticks. Whatever the case, we did away with the spray type of deodorants as these are considered unsafe, not only for the environment but also for kids as the aerosol can be inhaled.

Ease of Use
Older children and teenagers are at a point in their lives when image matters a lot. While body odor cannot be seen, a foul-smelling scent can sometimes be off-putting. As parents, we need to know how to manage our kid's body odor, especially if it's the really offensive type. Here are some ways to help manage foul odor coming from our children's and teens' bodies.
Age Range
Body odor is almost always associated with the onset of puberty. As such, it is to be expected that your child will be emitting this particular scent by the time he or she reaches a certain age, usually 10 for girls and 11 for boys. However, if your child is not yet in puberty and he or she is already emitting an offensive smell, then it's best to understand the causes of body odor in children. It can be because of food, a rare metabolic problem, or even metal toxicities. Whatever the case, it's best to consult your doctor.
Frequently Asked Questions
q:

At what age do kids start wearing deodorant?

a:

There really is no set age for children to start wearing deodorant. If you noticed your children smelling a bit stronger than usual, or they've started a physical activity like a sport, then you might want to consider getting them a gentle deodorant.
q:

Should I push for my child to use deodorant?

a:

Well, this depends on the child. If the smell is abhorrent or affecting their life, then you really want to drill in the importance of these types of products to your child. They should understand that deodorant is mainly to keep them smelling fresh and sooth their underarms. If they show hesitation, go to the store with them and have them pick out their own. This will help them feel like they have control over the situation and makes them more likely to use the product.
q:

What's the benefit for natural/organic deodorant?

a:

Besides all the environmental benefits, natural and organic deodorants have small ingredient lists. A small ingredient list means two things. 1) You're more likely to know what every single ingredient is and what the effects of that ingredient are on your child. And 2) Fewer ingredients mean fewer additives and chemicals get absorbed into your child's body. Because they are going through puberty most likely, their bodies are already chock full of imbalanced hormones. The slightest change could cause a breakout or a rash, so keeping a number of introduced chemicals to a minimum is great.
q:

Should I look for an antiperspirant?

a:

We generally advise against antiperspirants. Typically, antiperspirants clog up the sweat glands located inside the underarms, leading to irritated skin and inflamed underarms. If you're noticing a severe amount of sweating, go to your doctor and discuss with them plans of action. They might prescribe a special kind of deodorant, or recommend a small procedure.
q:

Are antiperspirants healthy?

a:

Typically, antiperspirants are not the healthiest option for anybody. Unless you or your child is prescribed one by a doctor, then it's recommended that you avoid antiperspirants. Not only will they clog up your sweat glands and cause irritation to your underarm area, but they can also cause lasting damage over periods of prolonged usage.
q:

Are boy's deodorants different than girl's deodorants?

a:

Unless prescribed by a doctor, commercial deodorants don't differ too much between the sexes. While a deodorant for boys might be formulated for more strenuous activity, a girl's clinical strength or "strong" deodorant will do the same thing. A girl's deodorant might just come in a cute bottle.
q:

Is adult deodorant different from kid's deodorant?

a:

Yes. Typically, adult deodorant is stronger and isn't formulated to handle puberty or other hormonal changes experienced by children and teens. Unless stated otherwise on the product or packaging, you should always buy deodorant for the designated age group.
q:

What is clinical strength deodorant?

a:

A clinical strength deodorant means that every single ingredient within that product is maxed out for the strongest results imaginable. So if you're considering buying a clinical strength anything, make sure the purchase has been recommended by a physician.
q:

How do I know if my child needs clinical strength deodorant?

a:

If they have excessive sweating or odor that appears to be out of the norm, then they most likely need clinical strength deodorant. Before purchasing, however, please speak with a doctor about the possible options for your child's health. Because these deodorants are so strong, your child might have an adverse reaction or experience some changes to their bodies.
q:

My kid doesn't want to wear deodorant. What should I do?

a:

First, ask your child why they don't want to wear deodorant. Once you've established their fears with the product, you can assess further. Most children don't like the added step in their daily routine. They feel the task is cumbersome, and therefore don't want to take extra time out of their day for it. If you explain to your child the benefits of deodorant and what it means for their health and happiness, they typically see the value in the practice.