10 Best Kids Alarm Clocks
last updated
Sep 06, 2019
Waking most children up so early in the morning can be a real headache. This is particularly true if kids have been accustomed to going to bed so late at night. While you can shake them to wake them up, you just might want to get them a children's alarm clock that they'll love. As such, we're sharing with you ten of the best kids' alarm clocks in 2019.
In a Hurry? The test winner after 19 hrs of research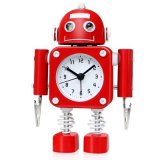 Non-Ticking Robot
Why is it better?
Adorable robot design
Three colors to choose from
Hands hold notes or photos
Analog clock
Quiet/silent ticking
In a
Hurry? Editors choice: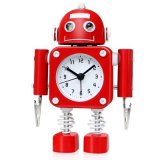 Test Winner: Non-Ticking Robot
25
Researched Sources
143
Reviews Considered
19
Hours Researching
13
Products Evaluated
Effectiveness
Design
Entertainment Value
Educational Value
By Default
Top 10 Picks
Adorable robot design
Three colors to choose from
Hands hold notes or photos
Analog clock
Quiet/silent ticking
Some customers had trouble programming the clock in increments other than full hours
Give your little one a super sleep companion with the Non-Ticking Robot Alarm Clock by Betus. This clock keeps track of time silently so it's guaranteed not to irritate restless or light sleepers. It comes in red/white, white/blue, and yellow/black styles so you can choose the color palette that bests suits your child's room. It's easy to set via an old-fashioned knob in the back and features an analog interface. The robot's little arms end in clamps so you can even leave morning notes or put up pictures for your child to wake to!
Read more
Effectiveness
The Betis Robot Alarm Clock has a two-fold approach to waking the sleeping giant. An audible alarm goes off at the appointed time and in case the user has hearing impairments, the lights will also flash. They're especially visible in a dark room and help to gently wake and rouse kids. Some customers did complain that the alarm can only be set in hour increments (i.e. if you set it at 7:50, it will go off at 8), so make sure you do your research and consider your family's usual schedule.
Design
This robot is too stinkin' cute. Kids will love having a little bedside buddy to see them through the night. Besides that, the hands can hold notes and photos, so you can leave reminders or communicate with your sleepyheads as soon as they wake up and roll over, or pin fun family photos in so they wake up to fun memories each and every morning! It's available in three different color palettes: a red base with white detailing, a white base with light blue detailing, and a yellow base with black detailing.
Entertainment Value
A normal alarm clock can make waking up seem like just another dull part of the day. If you want something a little more exciting, this robot is unique and fun! He's not built for rough play but he's a decent size for little hands to hold, so if your child can be gentle, he can even make a fun toy to tote around and play with.
Educational Value
Getting children into a routine is an important part of their development, but it can be tough. Consistency helps them to feel safe and to understand the dynamics of the world around them. Simultaneously, many are bored quickly by repeating the same activities over and over again. This alarm clock makes waking up and starting the day fun! And the ability to leave notes for the morning is an awesome tool in helping to remind children of what they need to get done as soon as they're up.
2

. Lego Kids' Mini Darth Vader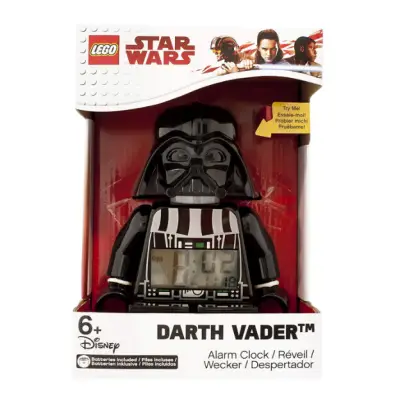 Darth Vader is a sturdy and good looking clock figure at nearly 9.5 inches tall.
Children love Darth Vader, so he's a fun guy to wake up to in the morning.
This clock is a great teaching tool to learn how to tell time.
Some use this to teach their kids to stay in bed longer
For ages 6 and up
Darth Vader Clock doesn't come with a cape, but there is a suggestion of a cape on his upper arms.
The Backlight may turn off too quickly.
No matter how we look at it, no matter how bad he is portrayed in the saga, Darth Vader remains one of the most iconic characters in the Star Wars franchise. Just look at a variety of costume parties as well as comic conventions. If not the Darth Vader mask and getup, you'd have plenty of people donning costumes of Stormtroopers. Seldom do we get a Luke Skywalker or even an Obi-Wan costume? Now, if you're a midget, you might consider R2D2 or even BB8. But the point is, Darth Vader remains as iconic as ever regardless of how evil he is portrayed on the screen.
Read more
Effectiveness
With the LEGO Kids' Star Wars Darth Vader Mini-Figure Light Up Alarm Clock your kid will now be able to add to his or her collection of Star Wars figures, albeit, just like the Batman timekeeper, a bit tall at 9.5 inches. Nevertheless, the LCD backlight glows an eerily familiar red glow that mimics Darth Vader's signature lightsaber.
Design
The details on the figurine are also superb right down to the mask that has been worn by millions during costume parties. Just like the LEGO Batman, the Darth Vader children's alarm clock is activated by pushing down on the figure's helmet.
Entertainment Value
Even though Darth Vader is on the dark side since he turned to the good side, we're good with him, and he's now an iconic kids' favorite in the movie world.
Educational Value
A toy as well as a clock, Darth is interactive for kids who want to play and turn him to the good side, as he is positionable. This is true to LEGOs mission to support child development. Waking up is so much fun when Vader is there to greet you!
Sings, tell bedtime stories, and plays "wake up music"
Pretty clock interface that's soothing to kids
Changes color according to the time of day
Kid-friendly look with less emphasis on the digital display time
Kids will definitely outgrow this clock after several years
Alarm clocks aren't just for kids in elementary school and sleep-loving middle school students, they're also made for toddlers! The Tot Clock is truly one of a kind of toddler clock system and brings a plethora of great qualities that brought it to our Top Ten list. Color-changing lights to alert kids to whether it's naptime, bedtime, or time to wake up is something we love. It's hard enough as a parent getting your kids to fall asleep, and this clock is a huge help in the way of making nap time fun!
Read more
Effectiveness
While this clock is targeted more towards parents of children who are just learning about naptime, proper bedtime, wake-up cycles, etc., it offers fun for the kids waking up to it as well.
Design
This smart clock changes colors according to which sleep cycle your child is in -- for example, it'll function with a blue hue for bedtime, a yellow hue for wakeup, and so on
Entertainment Value
This clock tops out as the friendliest clock for a toddler that you can get. With a soothing but fun interface and songs to lull your child to sleep, the help you'll get during naptime because of this clock is priceless.
Educational Value
This is great to teach your children a routine and get them into a schedule, but the best part is that this clock also doubles as their personal bedtime story reader, sing-along partner, and lullabies to whisk them off to a peaceful sleep
4

. LEGO Star Wars Light-Up Stormtrooper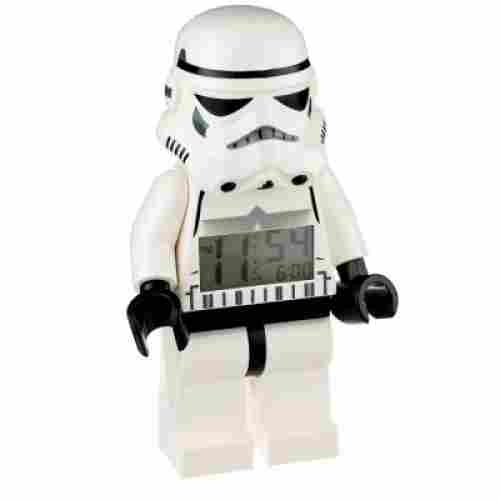 From the popular LEGO Star Wars movies
Posable arms and legs
Easy to read digital display
Fully functioning alarm clock with snooze feature
Lights up at night
Easily unbalanced and knocked over because of height
A long time ago, in a galaxy far, far away, an army of Stormtroopers proved to have a laughable aim, making them an immediate favorite for many kids. This light-up Stormtrooper clock displays the time digitally, which is a welcome tool for children who haven't yet learned how to read an analog clock. It has posable arms and legs, just like its miniature LEGO counterparts, and can be programmed to help keep kids on a schedule. It also features a snooze button and lights up at night to ease little ones who might not like the dark.
Read more
Effectiveness
It functions as a full alarm clock, with an alarm and snooze setting, but looks way more awesome while doing it! Not only will kids love waking up to this clock, but they'll love the decorative aspect it gives to their room.
Design
LEGO created this Stormtrooper with movable arms and legs for easy posing and a more realistic feel, as well as a light to brighten any dark night. A must-have for any Star Wars lovers!
Entertainment Value
Stormtroopers are iconic in the world of Star Wars, and now your child can have their favorite figure right next to them on their own nightstand. No matter the age, this clock will bring flair and excitement to your child's bedroom.
Educational Value
Teaches your child how to tell time and how to read a clock.
5

. Peakeep 4-Inch Twin Bell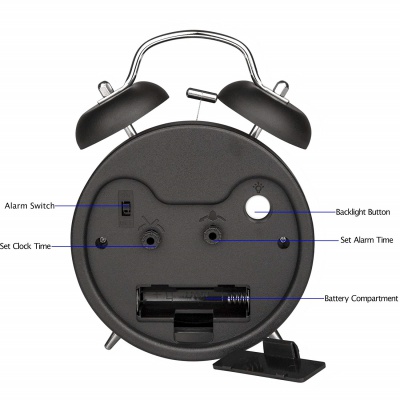 This clock has a very classic look and feel
Less expensive than digital clocks
Has backlight button so you can see the time in the dark
Teaches kids to tell time on a clock face
Loud wake up ring and no snooze button for heavy sleepers
You have to have the correct voltage battery or clock doesn't keep time correctly.
Some people miss the ticking sound.
Everyone loves the classic. When we talk about timepieces that are designed to wake us up early in the morning with its signature bell, we're always reminded of that iconic clock face with two legs and two bells being struck by a hammer mechanism on top. That's exactly what the Peakeep 4" Twin Bell Alarm Clock is. While fully analog, it does make for a very interesting children's alarm clock.
Read more
Effectiveness
This is perfect for heavy sleepers who simply don't wake up to any form of digital ringing. It doesn't have any snooze function so your kid will really have to reach for it and stop the ringing.
Design
What a cute classic, minimalist design. This clock has a vintage look to it, so it will fit nicely in a room with retro decor. For any child who is a heavy sleeper, this clock should be able to wake him up nicely.
Entertainment Value
Your child will be able to push a button to see the time at night and learn how to tell time on the face of the clock.
Educational Value
Great for teaching discipline.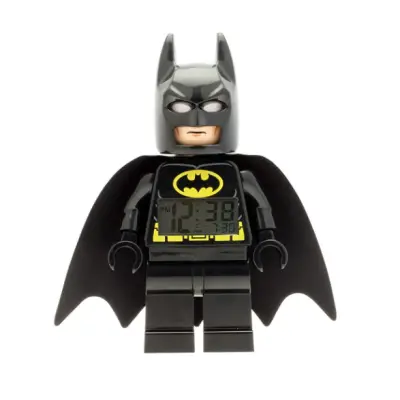 In keeping with LEGO's mission, this clock has movable parts, so your child can interact with it.
Light can be turned off to keep the room dark at night
Alarm is easy to set
Has a snooze function
For older kids, over 6 years old
Batman doesn't talk, just emits a beeping sound
To see the time, you have to push the head down
For kids who have an extensive collection of LEGO building and construction playsets, the LEGO Kids' DC Super Heroes Batman mini Figure Light Up Alarm Clock should really be a fantastic addition to the collection. Wait a minute! Did you say LEGO? If you're thinking that this kid's digital alarm clock is as small as the iconic bricks or building blocks of LEGO, then you're grossly mistaken. This Batman timepiece stands a full 9.5 inches tall which makes it very ideal as a desktop or table décor or even a bedside table décor for your child's bedroom.
Read more
Effectiveness
This clock has a digital time display. Push down on Batman's head to snooze or turn the backlight on. While the caped crusader's mask and cape do nothing in timekeeping, it does provide a more realistic impersonation of the real Bruce Wayne inside the mask.
Design
The figure is designed to be just like the classic mini-doll figures of LEGO, only it's 9.5 inches tall. The superb detail put into the design makes for a fantastic collector's item while its yellow backlit display can be easily accessed by simply pressing on Batman's head.
Entertainment Value
Swoop in and save the city! Batman is looking good in his cape with the yellow backlighted timepiece. What a great addition to your DC Super Heroes collection or your LEGO kits.
Educational Value
Having a clock you can build is a wonderful activity for children to learn and have their own clock also will help your child tell time.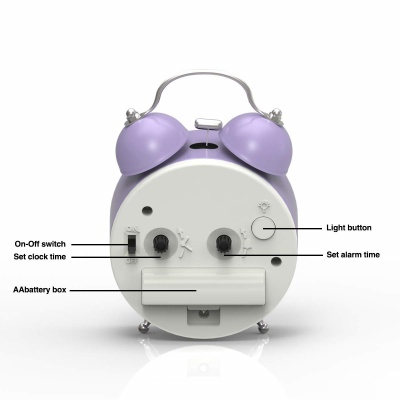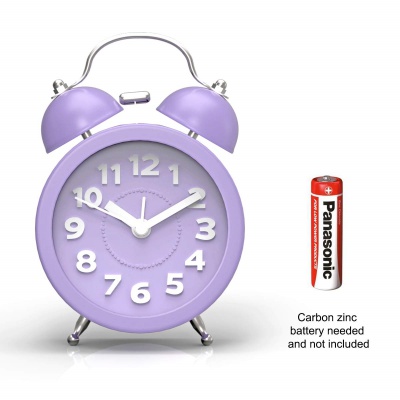 Loud bells to wake up heavier sleepers
LED backlight for reading time in the dark
Easy to use dials and functions
No ticking noise; silent and peaceful
Vintage analog design in six different colors
Light does not stay on itself; have to hold the button down
This adorable vintage analog clock from PiLife is great for both light sleepers and heavy sleepers alike! It comes in six different colors and features a classic analog face. The silent second-hand moves continuously around the clock without making any noise that might disturb restless sleepers. Loud bells sound at the programmed time and there is no snooze button so heavy sleepers will be forced to actually roll their little tushes out of bed and into the start of their day. A backlight makes the clock easy to read even at night, so your child will always know exactly where they are in their day.
Read more
Effectiveness
The clock is non-ticking, but certain to wake even the heaviest of sleepers up when those loud bells ring in the morning.
Design
Simply flip the clock over. On the left side is the on and off switch and the dial to set the clock's time. On the right side is the light button (the clock's interface has a tiny LED light to help read time late at night), and the dial to set the alarm. In the center is the pocket for one AA battery.
Entertainment Value
It's simple, stylish, and functional. There's no real trick to setting the alarm; kids can do it all on their own. And the vintage analog look is fashionable right now.
Educational Value
Start your child's morning right. Teach them responsibility and time management by helping them to set their own alarms and plan their mornings out.
Projects stars onto ceilings
Soothing nature sounds to help encourage sleep
A cute little egg shape
Good size and shape for small hands
Three LED light colors
Have to scroll through nature sounds each time to pick the desired one
Light up your child's room with this combination alarm clock and night light. This creative alternative to the usual night lights projects stars onto the child's ceiling so they can stargaze as they doze off peacefully for the night. It features three different colors and a variety of soothing nature sounds.
Read more
Effectiveness
You'll need to help little ones with this clock, as you have to scroll to find the sound you like, and young ones might get frustrated by this task.
Design
The clock is well-made and easily transportable. One mom even commented that she feels safe with them sleeping with it in their beds like a little space pod buddy.
Entertainment Value
It's a fun shape, size, and the stars are just plain awesome. This is great for kids who love the outdoors and nature, or who are highly interested in space and the universe.
Educational Value
For young space explorers, this one is a no-brainer. Its soothing sounds and pretty star projections will leave kids feeling warm and comfortable in the midst of nature as they drift off to sleep.
9

. Big Red Rooster BRRC105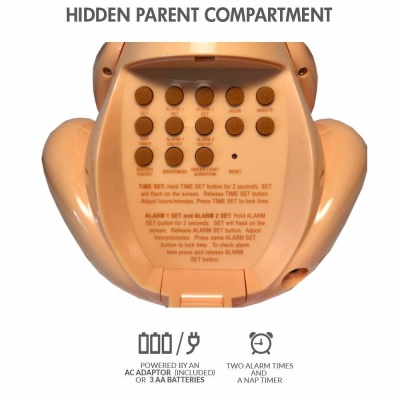 Secret parent compartment; no tricky kids changing their alarms
Color-changing ball signals kids when it's time to get up
Battery operated or powered through wall adapter
Two different alarm settings and a nap timer
Adorable puppy pal design
The red color of the ball keeps some kids up if they're used to totally dark rooms
This puppy and its glowing ball help signal children when it's time to sleep and when it's time to go bug the parents. No more waddling into the room at five in the morning, thinking it's time to play; when the ball is red, children know it's time to sleep, and when it turns green, kids know it's time to get up and start their day. The clock allows you to set two alarms and features a nap timer.
Read more
Effectiveness
It's a cute design and employs very basic concepts. Most kids already understand "red means stop, green means go," and this clock reinforces that but applies the knowledge to when it's time for bed, or time to go wake mom and/or dad up.
Design
If you're a family that has different start times on weekdays vs weekends, this is the perfect option for you. A secret compartment just for parents means kids can't change the settings or alarms.
Entertainment Value
They can, however, turn a backlight on for ten seconds at a time, or stop the alarm and green light in the morning by hitting one of two buttons on puppy's paws. This clock runs on three AA batteries or can remain stationary with the power adapter included in the set.
Educational Value
Children are often still learning the concept of time as they develop. This red-light, green-light system helps them understand when it's appropriate to get up and wander the house, and when they need to roll over and try to go back to sleep
10

. LittleHippo Mella Ready to Rise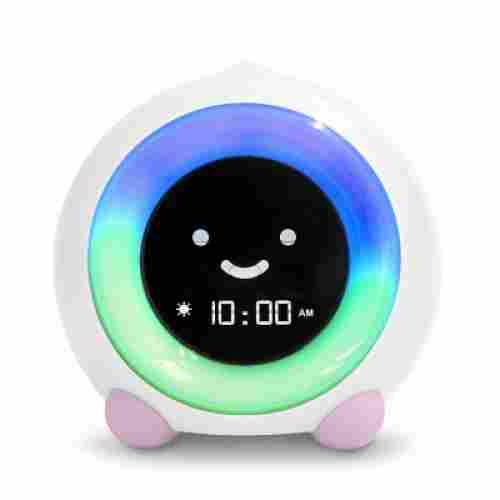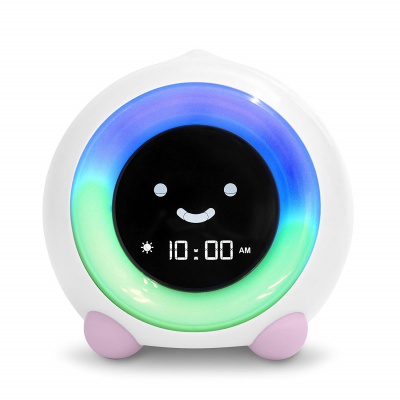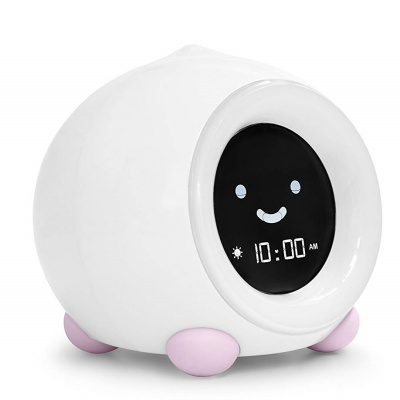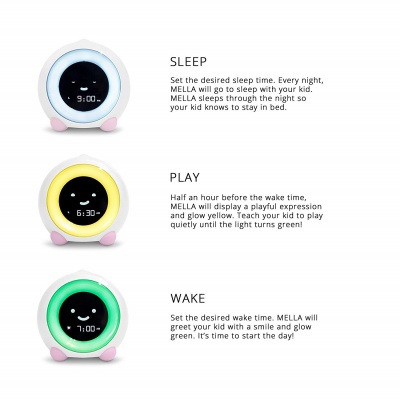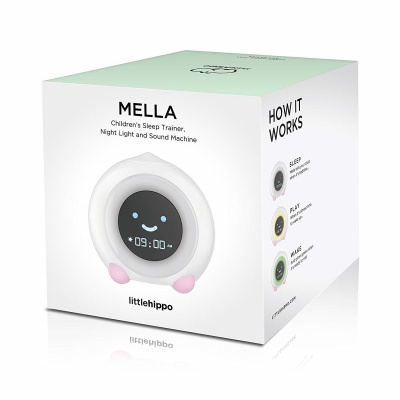 Nightlight color options
Three modes with matching colors and expressions
Countdown functions with or without sounds
Sleep sound options and alarm sound options
Will start to gently transition your child 30 minutes before alarm time
Can't change the playtime setting from its 30-minute mode
Mella is the perfect buddy for teaching your children about time management. She comes with three different modes/faces, and the color of her LED lights match the activity in which children are currently engaged. And when it's finally time to wake up and start the day, she turns green to go, go, go! She features three sleep sound options and five optional night light colors.
Read more
Effectiveness
Mella's shifting colors and expressions help kids transition throughout their nighttime and morning rituals. The clock is perfect for families trying to teach their children about scheduling and daily routines.
Design
When it's time to sleep, she turns a faint blue and closes her eyes. When it's nearly time to wake up, she adopts a playful expression and turns yellow thirty minutes before the alarm will go off.
Entertainment Value
Children can choose from three different alarm sounds, and she has a countdown function (both silent and alarmed) to help kids with time management throughout their day.
Educational Value
Several parents of autistic children commented on how useful this is for their children. It's a great clock for all families; its design is gentle and playful, not too over-stimulating, and it helps teach kids about scheduling and routine.
Criteria Used for Evaluation
Most Important Criteria
(According to our experts opinion)
Experts Opinion
Editors Opinion
Users Opinion
By Default

Parents should know
Choosing an alarm clock is like choosing a wristwatch, a wall clock, or any other timepiece for that matter. You'd really have to go for the brand of the watchmaker, or in this case the clockmaker, as reputation always guarantees quality workmanship albeit a little pricey. But if we're really going to consider the difference between a really branded and poorly manufactured alarm clock, the price variation is quite negligible considering that the branded one will typically last a longer period of time. Hence, one of our primary screening parameters was company reputation. Of course, we didn't aim for those ultra-expensive ones.
Parents should know
Next, since it's kids that we're talking about here, it's imperative that the alarm clock does have kiddie features whether it is in its color scheme or even its unique styling that is patterned after a popular cartoon or anime character that kids love. We believe that a kid's digital alarm clock should both be functional and very pleasing and entertaining to the eyes of children.
Other Factors to Consider
Frequently Asked Questions
q:

How can I use a clock to teach my child to tell time?

a:

You may first wish to use an analog clock that has a clock face to teach the concept of time. This can help your little one picture the time on the clock face. She can see the second-hand sweep around the face of the clock to get a sense of how the clock works and how the other hands move while moving more slowly. Your child can see time advancing in one direction. This helps develop the concepts that are more abstract. Time is abstract. So are special images.

Another thing you can do is time for her activities. Show her how long it took her to brush her teeth or eat her lunch. Use the alarm to help her know when the activity is over. When your child masters telling time on the clock face, you can teach her the digital clock.
q:

How do I teach my kid to be responsible for getting up on time?

a:

Your child's alarm clock is a great tool for teaching responsibility. Some kids just need an extra push to get them out of bed. Alarm clocks teach children that they are responsible for getting themselves up and ready for their day.

The alarm is a signal for children that they should get out of bed without you as the parent nagging them to do it. When they can do this on their own, they have a sense of owning the action. This leads to a sense of accomplishment and being more independent.
q:

How can I choose a safe alarm clock?

a:

It depends on the age of your child and their development. Choose a clock that is right for the age range and is durable enough that it won't break easily. Clocks and toys made of heavier plastic and/or silicone work well as they tend to be less breakable.
q:

My daughter gets up at the crack of dawn or before. How can I get her to stay in bed longer?

a:

Many children's clocks are made for this. They give your child a signal, like a stop and go light, or even just a green light that tells her when she can get up in the morning. This teaches your child when it is too early to rise.
q:

Besides just telling time and getting up in the morning, how else can I use my alarm clock?

a:

You could use the alarm clock for potty training by setting it for intervals at which time you put your child on the toilet. Don't miss a time interval. Of course, lots of praise helps.
q:

At what age should I buy my child an alarm clock?

a:

If your child is one to stay in bed in the morning until you get up, then many people start their kids around kindergarten age. This way they get used to getting and being ready by the time you leave for school. Some kids get up in the really early hours and wake up their parents too early, so they can get a clock that teaches their child about staying in bed until it's time to get up.