Waking most children up so early in the morning can be a real headache. This is particularly true if kids have been accustomed to going to bed so late at night. While you can shake them to wake them up, you just might want to get them a children's alarm clock that they'll love. As such, we're sharing with you ten of the best kids' alarm clocks in 2018.
Our Top 3 Picks
Ok to Wake!

Our rating
Color Changing
Price:

See Here
Batman Light-Up

Our rating
Snooze Functions
Price:

See Here

Blue Cube

Our rating
Date & Alarm
Price:

See Here

Our Picks Of The Best Alarm Clocks For Kids
Patch Products OK to Wake! Alarm Clock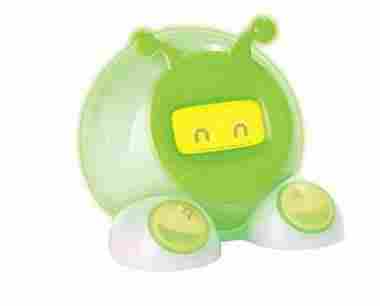 Lego Kids' Batman Alarm Clock
Lego Kids' Mini Darth Vader Alarm Clock
LEGO Star Wars Stormtrooper Light Up Alarm Clock
Peakeep 4-Inch Twin Bell Alarm Clock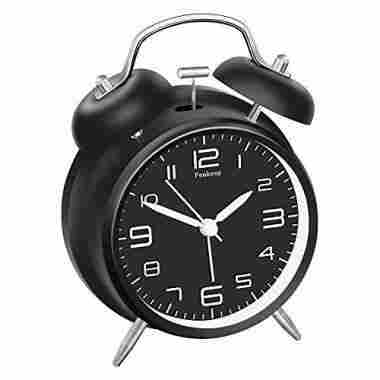 LittleHippo Mella Ready to Rise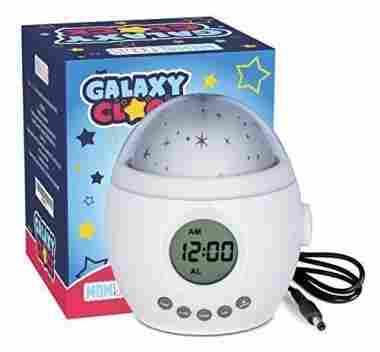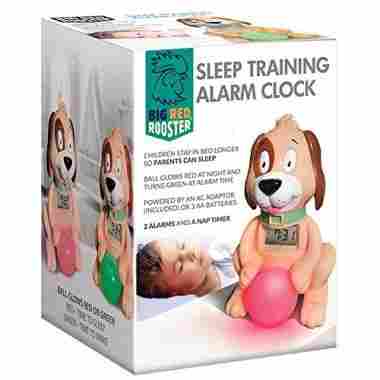 Criteria Used in Evaluation of the Best Kids Alarm Clocks
How do we choose which alarm clocks for kids should be on our list of suggestions for you? Here are some qualities we look for when picking our clocks.
It is important to research the reputation of the manufacturer of these timepieces. We look to see what customers say about their experience with the product and the company. Are there any serious complaints about the product and how many?
Any company should stand behind its products. If you as the customer have a problem with the clock you purchased, the company should have good enough customer service to satisfy your needs. This may mean allowing a return with a refund or replacing a defective clock. You consider your problem important and so should the company you purchased from. Customer service representatives need to be friendly, helpful, and skilled at finding the answers to all of your questions.
Easy to Use
We try to choose clocks that are top rated for ease of use and child safety. The best clocks have big buttons for kids to be able to set the alarm themselves if they are old enough and to set the correct time. This can help teach the little ones how to tell time.
Clock durability
Will your clock stand up to being played with and banged around? Kids are hard on toys. Even with clocks, they get dropped, pounded on, stepped on, or get wet with the spilling of a drink. Can the clock you buy for your child take punishment like that? In choosing a clock, we ask, how long will this clock last?
The alarm clock needs to be made of material durable enough that it won't break in the first few weeks of owning it. This may be an example of "You get what you pay for." Choosing the cheapest clock may not be in your child's best interest. However, we do include products in the lower price ranges to help fit your family budget.
Child-Friendly
Is the product child-friendly? What does that mean?
Is it safe? Kids play with toys all the time. It's their job to play. It's the job of parents and product manufacturers to make sure kids are safe when they play.
An entire tabletop timepiece, of course, would not be a choking hazard, but if it breaks, will there be small pieces that a child can swallow? This is something to consider if you are buying a clock for a child under 3 years old.
Toys should be labeled with the age range it is intended for. But not all clocks are intended for children. We do our best to recommend child-centered clocks, but some adult clocks are appropriate for kids if they are made of strong materials and are simple to use.
Does the clock teach a concept?
If a clock teaches the child something, that is a bonus in many cases. All clocks can help teach a child how to tell time just by showing the time in the display. This is a teachable moment for parents to have some quality teaching time with their kids.
Many kids' clocks are meant to teach kids how to get up in the morning at the right time. Parents often don't like being awakened in the wee hours of the morning. Clocks that teach kids to stay in bed until it's ok to get up are popular and trendy.
Kid clocks should be fun.
Can a clock be fun? Alarm clocks can be of many shapes, sizes, and colors. They should be at least a little entertaining. Clocks shaped like space figures or action heroes are very popular, and they often provide a child a friend they can talk to and tell stories to.
Kids like colorful toys, so we like to choose alarms that come in a variety of colors for every personality. If the clock lights up, even better. Which would your child choose? Many kids are attracted to bright, happy colors in the red, pink, or yellow ranges. What is your child's favorite color?
We want your child's clock to be as simple to use as possible so that they can use it without your supervision. This gets easier for your boy or girls as they grow. So, for smaller children, we try to include alarm clocks with only simple functions. It's best if your child only has one or two buttons to push to operate the clock when they get up in the morning.
For very small kids just learning when to get up, perhaps the clock should be settable only by you, the parent, and should work automatically without interaction from your child. All they need to do is look at the clock and they will know what to do. This is where lights and colors come in, as a signal for the little one.
Alarm clocks for kids need to be durable and easy to use, provide a fun way to wake up in the morning and a relaxing way to fall asleep, and facilitate teaching children about telling time and being responsible for when they get up. Safety is of primary importance, and all of this connects back to the reputation of the manufacturer. We try to make your list of choices measure up to these guidelines.
What Determined the Top Children's Alarm Clocks in Our List
Choosing an alarm clock is like choosing a wristwatch, a wall clock, or any other timepiece for that matter. You'd really have to go for the brand of the watchmaker, or in this case the clockmaker, as reputation always guarantees quality workmanship albeit a little pricey. But if we're really going to consider the difference between a really branded and poorly manufactured alarm clock, the price variation is quite negligible considering that the branded one will typically last a longer period of time. Hence, one of our primary screening parameters was company reputation. Of course, we didn't aim for those ultra-expensive ones.
Next, since it's kids that we're talking about here, it's imperative that the alarm clock does have kiddie features whether it is in its color scheme or even its unique styling that is patterned after a popular cartoon or anime character that kids love. We believe that a kid's digital alarm clock should both be functional and very pleasing and entertaining to the eyes of children.
If the children's alarm clock comes with other features aside from the standard alarm and snooze functions, then we had to examine these as well. For instance, we had a few products that provided a fully integrated night lamp function and even Bluetooth speaker. While these are not your ordinary toddler alarm clock, we believe them to be quite interesting and particularly appealing to older children especially those who love music or who like to turn their bedrooms into a cozier place to rest.
We also considered the current consumer ranking status of the product. We correlated the product ratings with the reviews and feedback provided by customers who have already a first-hand experience with these children's alarm clocks. At any rate, we can say that we are not alone in our assessment of these products that we have just shared with you as our top 10 kids alarm clocks.
The Value of Alarm Clocks in Children's Development
All of the products that are now designed for children provide a certain benefit to their development. If you're thinking that timepieces that wake us up in the morning don't have any kids' developmental benefits at all, then you'd be surprised to learn that it does provide quite a number of advantages for children of all ages.
First, these devices teach children about the concept of time. We need to understand that, while saying 4 o'clock means precisely that to adults, for young children like toddlers and preschoolers, the concept is as vague as the clouds on a stormy day. We may say tomorrow but they will often have no idea of what tomorrow really is. They may understand the concepts of "now" but if you're going to say "later" or "in a while", then they get lost in its meaning. At any rate, timepieces teach our kids what it means to say "later". For instance, they know the value of 4. Later means it can be 5 or 6 or even 10. Of course, for an older child, this may no longer be an issue.
Alarm clocks also help instill discipline in children. They know that if the bell rings, it's usually taken as a sign to stop doing what they are presently engaged in and start performing their next task. For instance, they know that somehow they have to stay in bed all night long. Once the bell rings in their devices, it is their sign that they now need to get up and perform their early morning rituals. We're not saying that this is the only way we can teach children self-discipline. The point is that it helps.
So, the next time you're buying something for your child, just remember that there is always a benefit to him or her even though it may not be readily apparent at first.
FAQ
Frequently Asked Questions
Q: How can I use a clock to teach my child to tell time?
A: You may first wish to use an analog clock that has a clock face to teach the concept of time. This can help your little one picture the time on the clock face. She can see the second-hand sweep around the face of the clock to get a sense of how the clock works and how the other hands move while moving more slowly. Your child can see time advancing in one direction. This helps develop the concepts that are more abstract. Time is abstract. So are special images.
Another thing you can do is time her activities. Show her how long it took her to brush her teeth or eat her lunch. Use the alarm to help her know when the activity is over.
When your child masters telling time on the clock face, you can teach her the digital clock.
Q: How do I teach my kid to be responsible for getting up on time?
A: Your child's alarm clock is a great tool for teaching responsibility. Some kids just need an extra push to get them out of bed. Alarm clocks teach children that they are responsible for getting themselves up and ready for their day.
The alarm is a signal for children that they should get out of bed without you as the parent nagging them to do it. When they can do this on their own, they have a sense of owning the action. This leads to a sense of accomplishment and being more independent.
Q: How can I choose a safe alarm clock?
A: It depends on the age of your child and their development. Choose a clock that is right for age range and is durable enough that it won't break easily. Clocks and toys made of heavier plastic and/or silicone work well as they tend to be less breakable.
Q: My daughter gets up at the crack of dawn or before. How can I get her to stay in bed longer?
A: Many children's clocks are made for this. They give your child a signal, like a stop and go light, or even just a green light that tells her when she can get up in the morning. This teaches your child when it is too early to rise.
Q: Besides just telling time and getting up in the morning, how else can I use my alarm clock?
A: You could use the alarm clock for potty training by setting it for intervals at which time you put your child on the toilet. Don't miss a time interval. Of course, lots of praise helps.
Q: At what age should I buy my child an alarm clock?
A: If your child is one to stay in bed in the morning until you get up, then many people start their kids around kindergarten age. This way they get used to getting and being ready by the time you leave for school. Some kids get up in the really early hours and wake up their parents too early, so they can get a clock that teaches their child about staying in bed until it's time to get up.
The Bottom Line
Alarm clocks are valuable devices not only for kids but also for us adults. With the 10 best kids alarm clocks, you're now more empowered to help your child learn more about the concept of time and help define his or her state of self-discipline.
Sources