Electric toothbrushes may be the best way to get reluctant children to brush their teeth regularly. It has been scientifically proven that these brushes are more effective than manual brushes. This may be because children generally lack the dexterity to clean their teeth properly until they are about 7 years old.
An electric toothbrush can help in this regard because the rotating bristles will catch those hard-to-reach places, remove plaque better, and gently massage the child's gums more effectively than a manual one.
Electric brushes may be more comfortable and easier to use for some kids, especially the ones who do not like to brush their teeth. Getting your child involved as much as possible in the care of their teeth is best. Have them pick out their own brush. This may make the experience more exciting for them. Many electric brushes now come with movie and cartoon characters on the handles, so kids will want to use them for their hygiene care.
Keeping more than one toothbrush on hand will give them a choice when it is time to brush. They will be happy to clean their teeth because they can switch up the personalities or colors of the brushes. Teaching good habits early is vital to setting the lifelong pattern of great oral hygiene care. Problems of forcing kids to brush their teeth will not occur with habits that are established early because the child will know that this procedure is a requirement. When children have at least six teeth, it is the best time for them to have their own brush and to not rely on the parents to brush for them.
Gum disease is a huge health risk that can be the precursor to major health conditions such as diabetes and heart disease. To keep your child from these harmful conditions, instill in him or her the importance of brushing regularly. We highlight some of the most popular children's electric toothbrushes on the market today. There are many styles and designs that you and your child can choose from the best manufacturers of these vital health products. Join us now for a breakdown of the best-rated, most-reviewed electric toothbrushes for kids and toddlers in 2018.
Our Top 3 Picks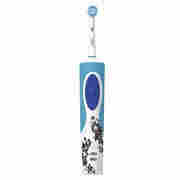 Oral-B Frozen Kids Electric Toothbrush

Our rating
Rechargeable
Price:

See Here

Philips Sonicare Kids Electric

Our rating
Bluetooth Rechargeable
Price:

See Here

Philips Sonicare Sonic Toothbrush

Our rating
+ 2 Sticker Sheets
Price:

See Here

Frozen Kids Electric Toothbrush
Disney Princess Kids Battery Powered Toothbrush by Oral-B
Philips Sonicare Rechargeable Toothbrush
Essence 5600 Sonic Electric Toothbrush
Oral-B Vitality Floss Action Toothbrush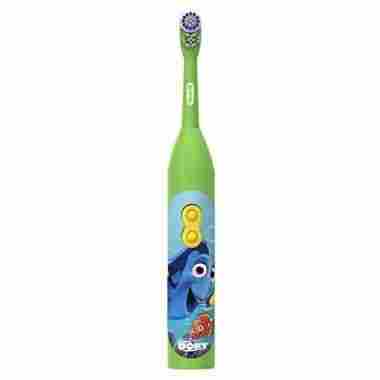 Star Wars Electric Toothbrush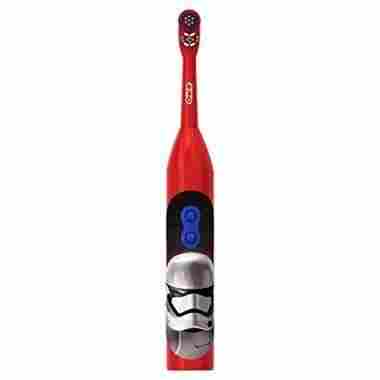 Brusheez Electronic Toothbrush
Philips Sonicare 2 Series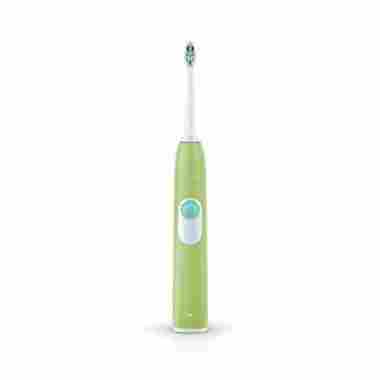 Philips Sonicare Healthy White
Criteria Used to Evaluate the Best Electric Toothbrushes for Kids and Toddlers
The 10 Best Electric Toothbrushes for Kids and Toddlers criteria are the best toothbrushes our experts could find that fit the criteria of soft bristles, the effectiveness of removing plaque, and were easy to hold for little hands. Toddlers and kids temporary or baby teeth have a much softer finish than adult teeth and it is very important for their toothbrushes not to harm their teeth or gums. The soft bristles and plaque-removing effectiveness are very important features of a good toothbrush for a kid or toddler along with an easy-to-hold handle. Making sure this criterion was met for all the brushes on the list was very important to our experts.
Each of the electric toothbrushes on this list meets this criterion along with the consumer requirements of our expert panel. The expert panel requires that each of the products meet the 4.0-star rating or better. Then once the reviews have been considered, the experts review the consumer experiences for each of the products. We always want to make sure that the product works in real life and that it meets the consumer expectations as well. We don't want the list to have only great products with features that don't actually work in real life.
Benefits promoting personal hygiene routine at young age
Teaching children a personal hygiene routine at a young age is beneficial throughout their lives. When you teach good oral hygiene at a young age, you help their temporary or "milk" teeth to fall out and in turn prevent this from happening to their adult teeth. It is important to demonstrate good brushing form, how often to brush, and what tools (different styles of toothbrushes) to use as they grow. This helps establish a positive personal hygiene experience.
Having great oral hygiene at a young age also affects their dietary development as well. Having strong teeth helps them eat well and chew food properly. This is vital to their digestive systems and makes absorbing nutrients through the digestive process easier on their systems. Practicing good oral hygiene also includes teaching toddlers and kids habits that are better for their teeth, like helping them make better choices than eating too many sweet treats or drinking soda. Encouraging kids to practice good personal hygiene has many benefits that will help kids with decisions throughout their lives.
Caring for toddlers' and kids' teeth
It is very important to start to care for toddlers' and babies' teeth at a very young age. When babies are born, they don't have teeth yet (most of them) but the tooth buds are already formed right under their gums. To care for their developing teeth and their newly erupted teeth is pretty simple. It is important to start dental care from the beginning and also make sure you use the correct products when caring for them. While babies are toothless, it is good to use a warm, wet washcloth to clean their gums. This removes debris and also prevents gum disease.
Once the teeth have poked through the gums, now it is time to up the oral care game. It is time to buy their first toothbrush. There are brushes on the market that are specially designed for them along with baby-safe toothpaste that has a small and safe amount of fluoride when used as recommended. Gently bushing is important as you don't want to damage the teeth or gums. Their mouths are very sensitive and breaking the skin can cause infection. Caring for your toddler's and kid's teeth is very important and should be started at a very young age.
Encouraging toddlers and kids to learn to brush their teeth on their own
It is important to encourage toddler and kids to learn to brush their own teeth. To help them learn to brush their own teeth at a young age will encourage them to use good personal hygiene throughout their lives. When they are younger, having them brush their own teeth, then following up with some help to finish is a good way to get them started doing it all on their own.
Once they have moved to an appropriate age for the sole responsibility (this varies for each child), it is time to hand the duty over to them. When they are responsible for brushing their own teeth, it promotes a positive personal hygiene routine, encourages development of gross- and fine-motor skills, along with creating a great sensory developmental skill. Encouraging kids and toddlers to brush on their own teeth will teach them lessons that will last them a lifetime.
What Determined The Top Kiddie Electric Toothbrushes in Our List
Kids' dental health is a lot trickier than that of adults. This is because of the unique structure of the milk or the deciduous teeth. These are also known as baby teeth or temporary teeth and as such have a composition that is much softer than what we have as adults. With this knowledge, we had to look for toothbrushes that have softer bristles so that kids' gums won't be hurt in the process. Additionally, because of the different anatomical structure of children's dentition, a softer bristle will help remove tartar- and plaque-causing debris without necessarily degrading the protective layer of the young buds. This comprised our primary consideration in the kids' electric toothbrushes that we have to include in this list.
Another consideration was the effectiveness of the toothbrush as a system. Not only should it be able to clean kids' teeth, but it also must be able to help them learn the value of brushing by giving them a more pleasant experience. Different features of the product were also examined and evaluated as to how they can help keep the teeth clean and free from plaque and tartar.
Next, the product must be easy to hold. Unless you can guarantee that you'll be brushing your kid's teeth until he or she has fully grown, then children must learn how to properly hold such toothbrushes. Likewise, since these products are powered by some form of electric current supplied by a battery, it is imperative that these products have been duly tested and have been certified by the appropriate agencies to be safe for kids. This pertains both to electrical safety and the safety of the materials used in its manufacture.
Since there are a great number of products that meet these requirements, we had to consider consumer ratings. At the very minimum, only those products that have 4.0 stars or better were included in the final listing. We also considered the experiences of consumers as these gave us an idea of how well the product works in real life. There will always be gaps or inconsistencies between what is advertised and what consumers actually experience. We knew we had to look into such inconsistencies, if any.
Caring for Your Baby's Teeth
Oral and dental care needs to start at a young age. While it is true that our young babies don't necessarily have teeth yet, tooth buds are already present right under their gums. That is why we need to know how to properly care for young infants' teeth. Here are some helpful tips for effective baby tooth care.
Most of us think that since babies don't have teeth yet they don't need meticulous oral care. On the contrary, dental experts actually recommend initiating oral care right from the very beginning. After every feeding, we need to wipe our babies' gums using a soft and warm, moistened washcloth. It's also possible to wrap a moist gauze pad around our fingers and use this to clean baby's gums. This helps provide the appropriate stimulation for the buds to erupt while also removing debris from feeding.
Choose appropriate oral and dental care products.
Once your baby's first tooth has erupted, dental care has to be revved up a bit. You'll need toothbrushes that are specifically designed for babies. Always use a fair amount of fluoridated baby toothpaste to help reinforce the structural integrity of baby teeth. When brushing your baby's teeth, it is important to be gentle as too much pressure can inadvertently bruise the tissues of the oral cavity. Any breaks in mucosal integrity can increase the risk of infection. That's why it is very important to choose oral and dental care products that are appropriate and proven safe for babies of this age.
It's never too early to visit the dentist.
While there are no clear-cut rules as to when you should bring your baby to the dentist, it's always a lot better to visit within 6 months after your baby's first tooth eruption. You can also take this opportunity to ask questions from your dentist as to how you can effectively care for your baby's teeth. More importantly, exposing your baby to dentists at such an early age can help reduce dentist phobia later in life.
Watch what your baby eats.
Sweet and starchy foods should never be given as snacks to babies as these can get stuck in between teeth which can lead to the formation of cavities. These types of foods can be given or served at mealtimes because the other food types will help dislodge these food particles from the teeth. Giving them plenty of water to wash off the sweet and starchy molecules can also help.
The Bottom Line
There is a growing body of evidence showing the direct relationship between general health and the state of oral and dental health. And while the health effects of severely neglected dentition is typically seen among adults, it pays to start good oral health habits at a young age. With our 10 best electric toothbrushes for kids, you can now feel more confident in caring for your kid's dentition.
FAQs
Frequently Asked Questions
Q: Which brushes have timers to help kids know how long to brush their teeth?
A: The Star Wars brush from Disney, Sonicare 2 Series, Disney Frozen, Philips Sonicare, Oral-B Vitality, and the Brusheez Tooth Set are among the brushes that have a two-minute timer either installed in the handle or one that can be activated with a downloadable app from the manufacturer.
Q: Which brushes have replaceable heads that can be bought separately? Which ones must be thrown away after the head they come with is used up?
A: Among the brushes that come with replaceable brush heads are the Disney's Frozen and Oral-B Vitality products. The Brusheez Tooth Set has replaceable heads that can be purchased separately. It comes with an extra bristle head with the set purchase.
The Oral-B Finding Dory and Star Wars toothbrushes must be thrown away after the head is used up (usually around three months) because it does not detach and there are no replacement heads to purchase for this brush. Sonicare Essence does not come with replaceable brush heads.
Q: For the brushes with replaceable heads, can two children use the same brush if they swap the heads when using?
A: Yes, this is tedious but possible. A good buy would be the Brusheez Tooth Set for this because the extra brush head could be kept in the rinse glass to keep them clean and separate. The extra head that comes with the set is of a different color which would make keeping track of which brush belongs to whom easy.
Q: What is the recommended time frame to replace the bristle heads or get a new toothbrush for the ones that do not have removable heads?
A: Three months is the recommended time to change out toothbrushes or the replaceable heads for the best hygiene. Most of the brushes come with indicator bristles that will change color when it is time to replace the heads or get a new brush.
Q: Are these electric brushes small enough and manageable enough for a very young child to hold and use (like a 3 year old)?
A: Yes, a 3 year old should be able to hold and manipulate these brushes because they have small handles and a good grip. Plus, the bristles are very soft to get their tender mouths accustomed to daily brushing.
Q: Are these electric brushes waterproof, meaning can they be used in the shower?
A: Yes, even the rechargeable toothbrushes may be used in the shower. The one that mentions specifically that the handle is waterproof is the Oral-B Disney Frozen brush.
Q: Do any of the brushes listed require extra cleaning or special cleansers other than just rinsing out the toothpaste suds and any particles with water?
A: No, extra cleansers are not needed with any of the electric toothbrushes. However, if you want an extra level of germ-fighting cleaner for the brush, you can dip the head of bristles in mouthwash or soak it for a few minutes. This would kill any lingering bacteria that would happen to stay on the brush after rinsing.
Q: If the description or the name of the electric toothbrush does not say rechargeable, does this mean that it runs on batteries alone? Do any of them operate on electric current?
A: All of the electric toothbrushes we feature on this page are either operated by batteries or a rechargeable unit that is charged with an included charging base. None of them are plug-in types of brushes that use electric house currents. This makes them portable for trips and away from home visits. The charges can last for almost two weeks on some of the rechargeable toothbrushes. The battery-operated ones last much longer.