10 Best Electric Toothbrushes for Kids & Toddlers
last updated
May 16, 2019
It can be tricky to get your child excited about brushing their teeth. One way that parents can get their children to get excited about keeping their shiny teeth clean is by gifting them an electric toothbrush. Electric tooth brushes can help make keeping your child's teeth clean exciting and help by getting them involved. Many of these brushes come in their favorite styles or characters and some even light up.
Teaching everyday habits to your child is wonderful at a young age because it also will reflect in the future how they care for their hygiene. It's recommended that when children form at least six teeth, that it's the best time to start and not have to rely on parents brushing for them. We're sure that you will find one of the brushes on our list that your child will love and will match their unique personality.
In a Hurry? The test winner after 14 hrs of research
Disney Princess Kids by Oral-B
Why is it better?
Features a rotating brush head to surround and clean teeth
Soft bristles are gentle for delicate baby teeth and gums
Recommended for children 3 years or older
Compatible with Disney Magic Timer app for brushing fun
In a
Hurry? Editors choice:
Test Winner: Disney Princess Kids by Oral-B
27
Researched Sources
93
Reviews Considered
14
Hours Researching
17
Products Evaluated
Design
Effectiveness
Protection
Ease of Use
By Default
In depth review top 10
Disney Princess Kids by Oral-B
Oral-B Kids Frozen
Philips Sonicare Healthy White
Finding Dory by Oral B
Star Wars by Oral-B
Philips Sonicare Rechargeable
Oral-B Vitality Floss Action
Brusheez Snappy the Croc
Philips Sonicare 2 Series
Essence 5600 Sonic Electric
Table of contents
Criteria Used for Evaluation
Other Factors to Consider
Frequently Asked Questions
Sources
10 Best Electric Toothbrushes Reviewed
1

. Disney Princess Kids by Oral-B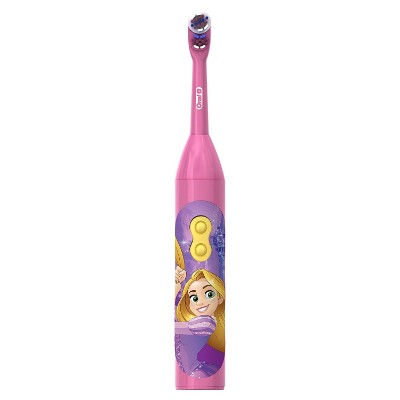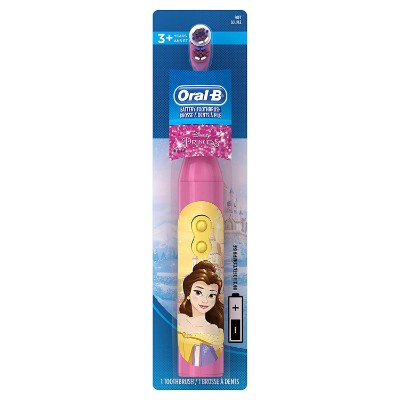 Features a rotating brush head to surround and clean teeth
Soft bristles are gentle for delicate baby teeth and gums
Recommended for children 3 years or older
Compatible with Disney Magic Timer app for brushing fun
Brush head may be too large to properly reach back teeth without discomfort
Vibration may be loud or overstimulating for some children
From Ariel to Rapunzel, every little girl is enraptured by Disney Princess and believes that they truly are one of them. Now you can use this love of all things Disney to help your little one learn how to brush their teeth! The Disney Princess Kids Battery Powered Toothbrush by Oral-B brings your daughter's favorite characters to life! Download the Disney Magic Timer app to bring even more enchantment to your child's daily routine.
Read more
Design
Simply scan the code on the toothbrush packaging and your little girl will be able to brush, brush, brush the cavity germ away with her favorite Disney Princess while listening to the some of the Princess's songs and phrases! This is an ideal way to make sure that she brushes for the entire 2 minutes as recommended by the American Dental Association, and keeps those beautiful pearly whites shining clean!
Effectiveness
The extra-soft bristles are as gentle as a manual toothbrush and will not harm your little one's delicate baby teeth or gums.
Protection
A raised center row of bristles evenly brushes the surfaces of your child's teeth that do the most chewing, ensuring an even and thorough cleaning.
Ease of use
This brush utilizes both a traditional stationary brush head as well as a circular rotating head that can clean multiple surfaces at once. This electric toothbrush is battery powered so there is no worry about hanging cords or finding a free outlet to plug in yet another device.
Rechargeable electric toothbrush with a waterproof handle
Scan product to reveal app download for Disney Magic Timer
Creates positive personal hygiene routine
Encourages fine-motor skills
Creates sensory stimulation for development
Hole is back and front of brush head which traps water
Very little graphics included on actual toothbrush
For the little ones who love the personalities of Disney's Frozen movies, Oral-B has this fabulous electric toothbrush with their images. A Sensitive Clean head is used with this item for gentle brushing that won't be hard on the gums.
Read more
Design
The waterproof handle is specially made for small hands, so they can grip the brush well. Included are the power toothbrush, a charging station, and two refill toothbrush heads. Running on rechargeable, built-in batteries, this toothbrush will also negate the need to keep buying batteries.
Effectiveness
The longer the child brushes their teeth each time, the more secret images they can unlock with the app. It has a personal calendar to track the child's brushing progress where they can earn rewardsIt is a fantastic way to encourage good brushing habits while having fun too.
Protection
With this brush, kids will want to brush their teeth every day and do it for the required amount of time to get all of their teeth clean. This toothbrush features a round head designed to get into tooth crevices that children tend to miss. Research shows that proper oral health requires at least two minutes of continuous brushing and the music app included with this toothbrush will keep your child entertained with their favorite Frozen songs to keep them brushing
Ease of use
The beauty of this electric toothbrush is that the Disney Magic Timer App comes with the purchase of the brush. With this app, kids can brush along with their favorite Frozen characters.
3

. Philips Sonicare Healthy White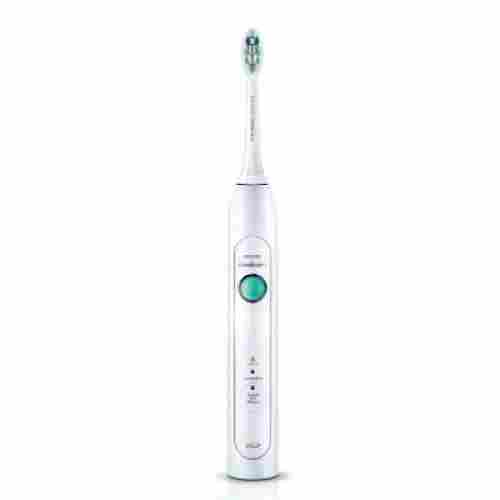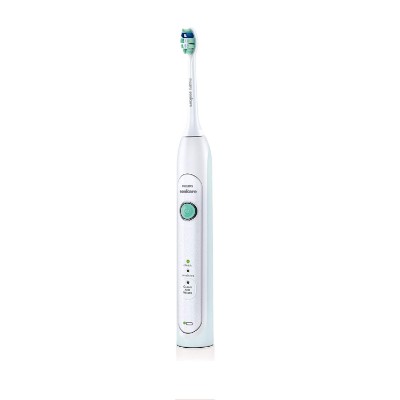 Available in four various colors
Includes Sonic Technology
Contains three separate modes of brushing
Has a two-minute timer
Some buyers say it did not hold the charge long
A few had bristles come out of the brush after a few uses
This electric toothbrush can be used in the systematic routine cleaning of braces, sensitive mouths, and to fight the battle of gum disease.
Read more
Design
Multiple voltage options allow you to customize the amount of vibration that your child is comfortable with and slowly work up to the maximum which provides more than 62,000 brush movements per minute. It has three separate modes of brushing. They are the white mode, the clean mode, and the sensitive mode.
Effectiveness
This toothbrush is perfect for children with overly sensitive teeth or those who have never used an electric toothbrush before. With the Sonic Technology of the manufacturer, the fluid action will clean along the gum line and in-between teeth every time your child uses this brush for the recommended two minutes. A timer is included to ensure an adequate brushing time. This electric brush performs soothing teeth and gum cleaning plus tender daily whitening. It is available in four different colors and will increase the whiteness of teeth in just two weeks.
Protection
This brush also features a special sensitive mode to give your little one a softer brush if needed. This Sonicare brush from Philips boasts that it can increase the whiteness of your teeth by two shades in as little as two weeks of regular use. This is wonderful, especially for those kids that are very reluctant to brush. Good results will be had in a short amount of time.
Ease of use
It will also automatically build the power from a low voltage to a higher one over the course of the first week or 14 uses, allowing your child to get used to it gradually. A travel case and charger are supplied with this item, so it can be used on-the-go or away from home with ease. If your child has sensitive mouth issues, then this may be the perfect electric toothbrush for them.
4

. Finding Dory by Oral B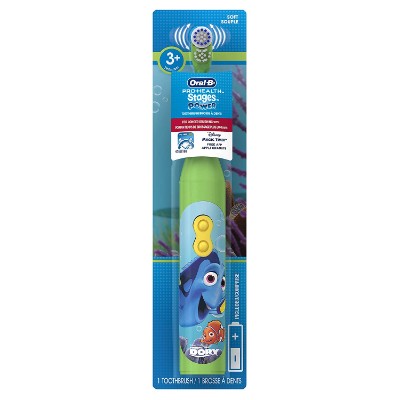 Has extra-soft bristles
Perfect for kids three-years-old and older
Handle fits small hands wonderfully
One of the leading brands nationwide
Battery is not replaceable (replace brush when battery dies)
Larger toothbrush head not suitable for smaller mouths
Finding Nemo fans will be excited to brush their teeth every day with this dory themed toothbrush.
Read more
Design
This toothbrush features the fun character from the popular movie Finding Dory. It is also compatible with the Disney Magic Timer App which plays music and phrases from your child's favorite Disney movies.
Effectiveness
Combining familiar characters with music is the perfect way to ensure that your little one is brushing for the entire recommended two minutes. The powerful rotating head surrounds, reaches, and thoroughly cleans the teeth and gums for a wonderfully clean feeling.
Protection
It has very soft bristles that clean as gently as any manual soft toothbrush, so kids will not be put off by hard bristles on their teeth and gums.
Ease of use
Sometimes electric toothbrushes are not always the most comfortable in the mouth because the bristles are harder than a manual brush. This brush from Oral-B has very soft bristles that are not hard on the teeth and gums yet cleans the mouth very well. This can help instill proper oral care habits at a young age. It is perfect for kids three-years-old and older to begin their lifetime regimen of brushing their teeth daily. The handle fits small hands well because it is specifically made for young children. The required battery for operation is included, so kids can begin using the toothbrush right away.The handle has a colorful image of the Finding Dory characters from the Disney movie to encourage regular brushing and good hygiene habits.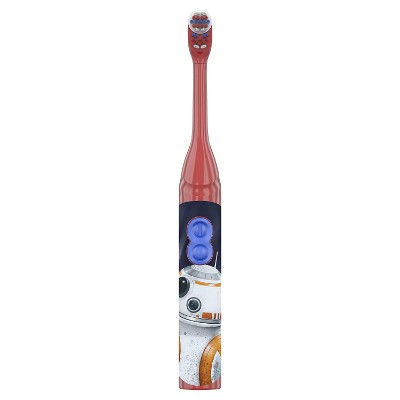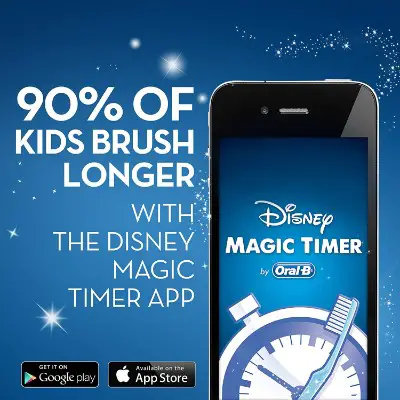 Includes a Disney Magic Timer
Has very soft bristles
Contains powerful rotating heads
Has a raised row of bristles in the center
Characters on the handle may vary with purchase
Children can brush with the force of the Star Wars characters of Darth Vader, Yoda, or the Stormtrooper with this great brush from Oral-B.
Read more
Design
One of these images is on each electric toothbrush of red or green. The choice of character is random, but a downloadable App that comes with the Oral-B or Crest purchase will give kids a chance to guess the secret personalities of Star Wars. When your child chews food, the flat, top surfaces of their teeth not only accumulate food particles that can turn into plaque but also wear and tear. Boys and girls will both love these Star Wars-themed electric toothbrushes to make brushing teeth more enjoyable.
Effectiveness
Over time, the enamel on these parts of the tooth can be worn down causing it to be more susceptible to cavities. This toothbrush utilizes a raised center row of bristles designed specifically for these flatter tooth surfaces.
Protection
These bristles dig into the nooks and crannies in the center of your little one's teeth to remove food particles and plaque and helps prevent enamel degradation.
Ease of use
The powerful rotating heads of the brush surrounds and thoroughly cleans the gums and teeth. Very soft bristles clean so much better than regular manual toothbrushes. The raised row of bristles in the center help clean the well-used chewing surfaces of the mouth. To make sure kids are brushing the recommended two minutes each time they brush, an included Disney Magic Timer will time them.
6

. Philips Sonicare Rechargeable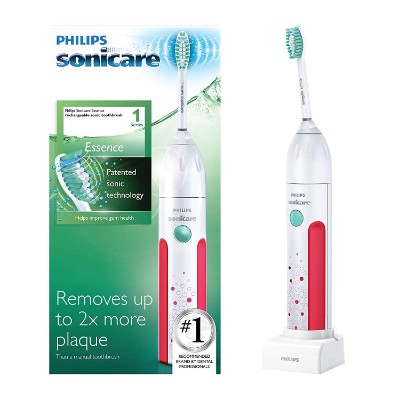 Includes patented Sonic Technology
Has a two-minute timer
Has reminder bristles in the head
Includes a travel cap and travel case
Charge may not last very long
Does not come with replacement heads
The Sonic Technology of this brush is what sets it apart from the rest of the electric toothbrushes on the market. It has fluid action that cleans along the gum line and between teeth for a better clean.
Read more
Design
The contoured bristles and angled neck provide comfort while brushing. Reminder bristles in the head fade away when the head needs to be replaced, so you do not have to remember to change it yourself. The toothbrush is rechargeable with a two-week life in-between charges. An included two-minute timer will help with the recommended brushing time, and the bristles are soft enough for those with braces or sensitive teeth. The base for charging the brush is included, as well as a travel cap and case for on-the-go brushing. The manufacturer offers a two-year warranty on this product.
Effectiveness
The sweeping motion of the bristles drive the fluids deep into the hard to reach places in the mouth. This toothbrush even has a blinking indicator light to notify you when it needs recharging.
Protection
Each minute of brushing cleans your teeth with 31,000 brush strokes to remove all harmful bacteria and particles
Ease of use
Electric toothbrushes are an ideal way to help instill proper oral health habits in children. Manual brushes can take a long time to thoroughly clean your little one's teeth and with toddlers, patience and attention span are often virtues...not reality. By employing an electric toothbrush such as the Philips Sonicate, your kiddo receives twice the brushing power in half the time.
7

. Oral-B Vitality Floss Action
Inspired by professional dental tools
Includes a two-minute timer signal
Comes with charger, handle, and two brush heads
Has replacement indicator bristles
Full charges will last up to five days
Problems with the on/off switch are possible
Issues with the length of charges and performance level
Oral-B's Vitality toothbrush is one of the best rechargeable brushes on the market currently. It provides an individual tooth cleaning because of the round brush head, which was inspired by professional dental tools. All Oral-B brush heads fit any of the company's handles of this fabulous #1 dentist-used toothbrush brand. The MicroPlus Bristles and floss action provides a deep cleaning of teeth with wonderful plaque removal.
Read more
Design
Included with the rechargeable toothbrush are the charger, handle, and two brush heads. A full charge will last up to five days with regular daily brushing. For one of the best brushing experiences, try the Vitality from Oral-B.
Effectiveness
Replacement indicator bristles let you know when to change the brush head, and a two-minute timer signal in the handle helps guide proper brushing time.
Protection
These MicroPulse bristles are soft enough not cause discomfort to your little one but have been designed to deep clean around the edges of each tooth.
Ease of use
While this specialized brush head is guaranteed to remove more plaque than manual toothbrushes, it does not replace traditional flossing methods.
8

. Brusheez Snappy the Croc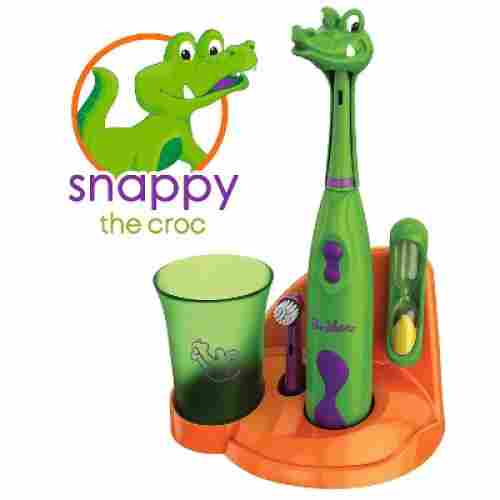 Includes battery-powered toothbrush, two heads, brush head cover, timer, rinse cup, and stand
Fun croc theme designed to make teeth brushing time fun
Promotes healthy brushing habits
Encourages maintenance of a bright smile and healthy gums
Boosts hand-eye coordination
Battery powered toothbrush requires two AA that are not included
Bristles are not extra-soft, not for sensitive teeth and gums
Making brushing fun and exciting, these animal-themed brushes will make kids want to brush often.
Read more
Design
The best part about this adorable crocodile-themed toothbrush is that it is just one part of a whole oral care set. Kids can choose from a green crocodile, blue bear, purple pony, or a yellow giraffe for the animal they want on their electric toothbrush from Brusheez. By including additional toothbrush heads, a cup, and a timer, your child has all of the tools they need to start learning proper oral hygiene habits. An extra brush head comes with the item in another color to provide variation to keep the child interested in brushing their teeth. This brushing set includes a stand and storage base, a two-minute sand timer, a rinse cup, a brushing chart, and a replacement head. The base keeps all parts organized and neat, plus it can be mounted to the wall with the included hardware. This is a wonderful set to encourage a good brushing regimen for kids three and older. The rinse cup promotes thorough rinsing before and after brushing, and the brushing chart tracks a child's brushing for the week. Additional brushing charts can be downloaded from the Brusheez website.
Effectiveness
The sand-timer flows for exactly two minutes which is the recommended length of time, as per the American Dental Association, to receive a proper cleaning. With the two-minute sand timer, children will know when the proper brushing time of two minutes ends.
Protection
Your little one will also get a chance to practice the all-important "swish and spit" with the included water cup which can help prepare them to transition to a fluoride-containing toothpaste. The animal cover protects the brush head from bacteria, dust, and other various germs when not in use.
Ease of use
The Brusheez set comes in four choices of fun, colorful animal themes to get your child excited about brushing their teeth. All four animals have a different color replacement head to further the joy of a clean, healthy set of teeth.
9

. Philips Sonicare 2 Series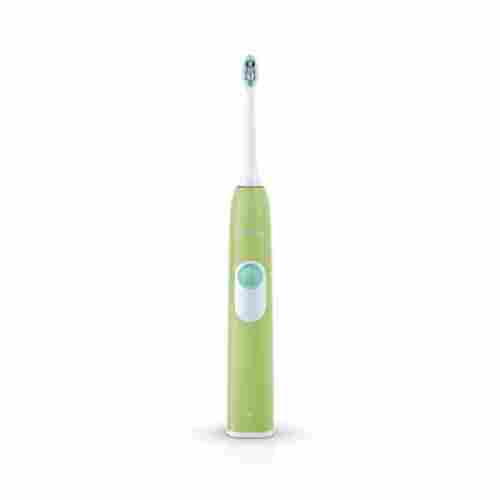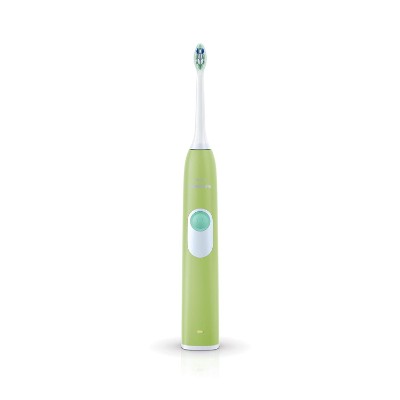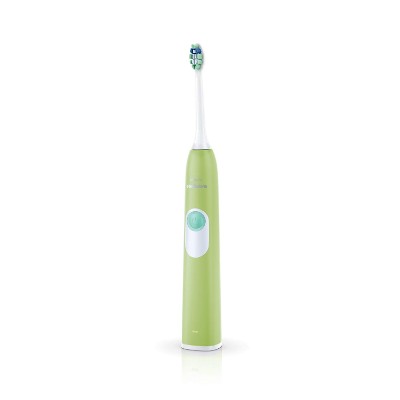 Available in eight different colors
Includes a two-minute timer
Has a two-week battery life in-between charges
Has an intrinsic grip for best comfort
Includes curved bristles in the head and long bristles at the top
Some buyers say the charger does not last long
A few were missing the head part when received
With eight different color choices possible, the Sonicare 2 is one of the most tech-savvy electronic toothbrushes for kids around.
Read more
Design
The design of this electric toothbrush is different than most because of the curved bristles and the long tuft of bristles at the top of the brush. These modifications ensure that your brushing experience is effective and efficient. The included patented Sonic technology gives 31,000 strokes of the brush each minute. It has a two-minute timer to ensure proper time length of each brushing, and the toothbrush is safe for sensitive mouths and those with braces. A two-color indicator on the battery charger will alert you when it is time to recharge the brush, and the item will last for up to two weeks in-between charges.
Effectiveness
Switching to an electric toothbrush can be a frightening experience for some children. These toothbrushes are loud, they move, and they shake, all of which are very new concepts for your child. It removes up to six times as much plaque as a regular, manual toothbrush, plus it has an intrinsic grip for the best comfort.
Protection
For the first week or the first 14 uses, this toothbrush will slowly amp up the power and vibration levels allowing your child time to get used to the new sensations.
Ease of use
Fortunately, the Sonicare 2 series toothbrush has taken this into account and provided an easy-start method to help wean your child into using this new type of brush. Bristle heads replace with just a simple snap, and the materials are easy to clean for both the handle and the head. A large bristle count on the brush ensures constant contact with teeth as you brush. Kids will love the feel and comfort of this electric toothbrush and parents will love the fabulous results.
10

. Essence 5600 Sonic Electric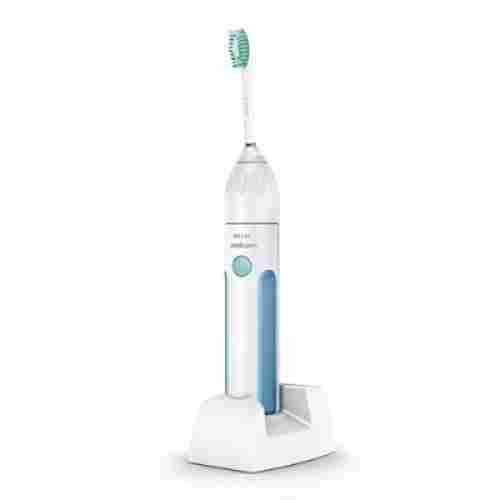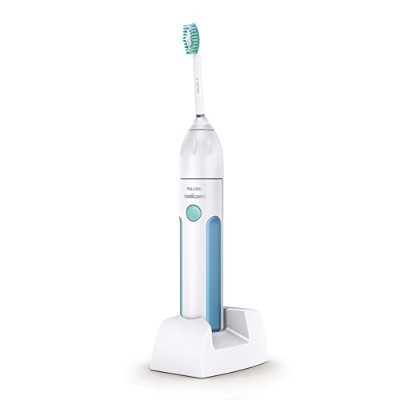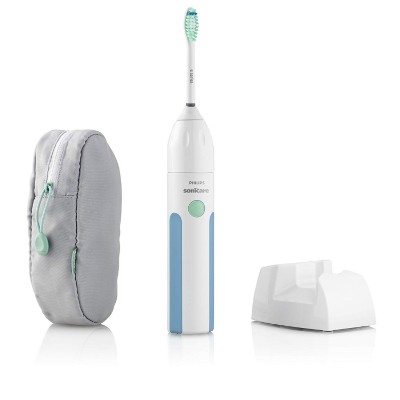 Features easy-start and smart time to make brushing time simpler
Rechargeable electric toothbrush can last up to two weeks on single charge
Reinforces a positive personal hygiene routine
Encourages hand-eye coordination
Protects against disease-causing germs
Hard to clean under battery chamber
Does not feature a 30-second timer that lets them know when to move around in your mouth
So, the HX6321 has a great app that teaches kids how to properly care for their oral cavities and their dentition and the HX6311 has the KidPacer feature that helps notify kids to move on to the next quadrant when brushing. But what if you don't want any of those and you only need a good old kid's electric toothbrush? The answer is quite simple – get the Philips Sonicare Essence 5600. Yup, we've got another Sonicare product in our list; proof of Philips' unparalleled expertise in electronic dental care products. But what separates the Essence 5600 from the other models, you ask? Well, let's just say that this is the Granddaddy of the Sonicare family.
Read more
Design
It has the same powerful sonic technology that allows it to dislodge plaque and tartar from the surface of the teeth as well as debris from the gums and in between dentition.
Effectiveness
This toothbrush utilizes specialized sonic technology to provide your child with a gentle and thorough cleaning. As your child brushes, fluid is driven between the teeth and along the gum line similar to professional cleaning.
Protection
This smooth fluid movement helps remove plaque that can often be missed by beginners and prevents cavities from forming. The technology put into the Essence 5600 is one of the foundations of Philips' success in electronic dental care products. While it is the one of the basic models, it is still very effective in terms of cleaning the teeth.
Ease of use
It also has the same KidTimer feature although they call it the 2-minute Smartimer. So, should you get the Essence 5600? Or the HX6311 or the HX6321 instead? Whichever model you'll choose, you can bet Philips' Sonicare products will care for the oral health of your children.
Criteria Used for Evaluation
Design
For our top ten list of the best electric toothbrushes in today's market one thing we looked at carefully were the toothbrushes that were made specifically for children and toddlers. We wanted to make sure that we found brushes that had soft bristles, how effective they were with removing plaque, and if they were easy to hold for little hands.

Effectiveness
Another consideration was the effectiveness of the toothbrush as a system. Not only should it be able to clean kids' teeth, but it also must be able to help them learn the value of brushing by giving them a more pleasant experience. Different features of the product were also examined and evaluated as to how they can help keep the teeth clean and free from plaque and tartar Parents know how important it is to teach their children about personal hygiene and to get them started into a good routine at a young age. It's important for parents to show their children good brushing technique and to teach them when they should brush their teeth and how. While there are many different styles of toothbrushes that their children could choose from electric toothbrushes have soft bristles to them that won't harm their teeth and remove plaque quicker as well.
Protection
For parents it's important to teach your child how to care for their teeth at an extremely young age. Some children are capable of starting when their toddlers just to help form the habit to help instill why good hygiene is important. You can even start caring for your babies' teeth when they haven't started developing yet. In order to care for your infant who doesn't quite have teeth, yet you could start simply with just a warm, wet washcloth which will help clean their gums and prevent any kind of gum disease in the future.
Ease of Use
It's known that baby teeth have a much softer finish to them vs adult teeth and it's extremely important that toothbrushes don't harm these teeth or the gums. Having soft bristles and plaque removing is crucially an important feature in a good toothbrush for your children and toddler especially one that they'll be able to grip with easily.
Most Important Criteria
(According to our experts opinion)
Experts Opinion
Editors Opinion
Users Opinion
By Default

Parents should know
While teething is one of the worst thing's parents have to deal with when it comes to toddlers, it's also an important time for parents to start bringing up the topic of oral care. It's recommended that when it comes to your child's first toothbrush that you find something specifically designed for them along with baby-safe toothpaste.
Parents should know
We can't stress enough how important gentle brushing is as it will prevent damaging your child's teeth or gums. Starting to care for your child's teeth should start while they're young so that they will have an easier time practicing good oral hygiene and learn these everyday habits.
Other Factors to Consider
Support
Kids' dental health is a lot trickier than that of adults. This is because of the unique structure of the milk or the deciduous teeth. These are also known as baby teeth or temporary teeth and as such have a composition that is much softer than what we have as adults. With this knowledge, we had to look for toothbrushes that have softer bristles so that kids' gums won't be hurt in the process. Additionally, because of the different anatomical structure of children's dentition, a softer bristle will help remove tartar- and plaque-causing debris without necessarily degrading the protective layer of the young buds. This comprised our primary consideration in the kids' electric toothbrushes that we have to include in this list.
Age Range
Next, the product must be easy to hold. Unless you can guarantee that you'll be brushing your kid's teeth until he or she has fully grown, then children must learn how to properly hold such toothbrushes. Likewise, since these products are powered by some form of electric current supplied by a battery, it is imperative that these products have been duly tested and have been certified by the appropriate agencies to be safe for kids. This pertains both to electrical safety and the safety of the materials used in its manufacture.
Since there are a great number of products that meet these requirements, we had to consider consumer ratings. At the very minimum, only those products that have 4.0 stars or better were included in the final listing. We also considered the experiences of consumers as these gave us an idea of how well the product works in real life. There will always be gaps or inconsistencies between what is advertised and what consumers actually experience. We knew we had to look into such inconsistencies if any.
Maintenance
Oral and dental care needs to start at a young age. While it is true that our young babies don't necessarily have teeth yet, tooth buds are already present right under their gums. That is why we need to know how to properly care for young infants' teeth. Here are some helpful tips for effective baby tooth care.

Educational Value
Most of us think that since babies don't have teeth yet they don't need meticulous oral care. On the contrary, dental experts actually recommend initiating oral care right from the very beginning. After every feeding, we need to wipe our babies' gums using a soft and warm, moistened washcloth. It's also possible to wrap a moist gauze pad around our fingers and use this to clean baby's gums. This helps provide the appropriate stimulation for the buds to erupt while also removing debris from feeding.
Once your baby's first tooth has erupted, dental care has to be revved up a bit. You'll need toothbrushes that are specifically designed for babies. Always use a fair amount of fluoridated baby toothpaste to help reinforce the structural integrity of baby teeth. When brushing your baby's teeth, it is important to be gentle as too much pressure can inadvertently bruise the tissues of the oral cavity. Any breaks in mucosal integrity can increase the risk of infection. That's why it is very important to choose oral and dental care products that are appropriate and proven safe for babies of this age.

Logic
It's never too early to visit the dentist.While there are no clear-cut rules as to when you should bring your baby to the dentist, it's always a lot better to visit within 6 months after your baby's first tooth eruption. You can also take this opportunity to ask questions from your dentist as to how you can effectively care for your baby's teeth. More importantly, exposing your baby to dentists at such an early age can help reduce dentist phobia later in life.
Frequently Asked Questions
q:

Which brushes have timers to help kids know how long to brush their teeth?

a:

The Star Wars brush from Disney, Sonicare 2 Series, Disney Frozen, Philips Sonicare, Oral-B Vitality, and the Brusheez Tooth Set are among the brushes that have a two-minute timer either installed in the handle or one that can be activated with a downloadable app from the manufacturer.
q:

Which brushes have replaceable heads that can be bought separately? Which ones must be thrown away after the head they come with is used up?

a:

Among the brushes that come with replaceable brush heads are the Disney's Frozen and Oral-B Vitality products. The Brusheez Tooth Set has replaceable heads that can be purchased separately. It comes with an extra bristle head with the set purchase.

The Oral-B Finding Dory and Star Wars toothbrushes must be thrown away after the head is used up (usually around three months) because it does not detach and there are no replacement heads to purchase for this brush. Sonicare Essence does not come with replaceable brush heads.
q:

For the brushes with replaceable heads, can two children use the same brush if they swap the heads when using?

a:

Yes, this is tedious but possible. A good buy would be the Brusheez Tooth Set for this because the extra brush head could be kept in the rinse glass to keep them clean and separate. The extra head that comes with the set is of a different color which would make keeping track of which brush belongs to whom easy.<
q:

What is the recommended time frame to replace the bristle heads or get a new toothbrush for the ones that do not have removable heads?

a:

hree months is the recommended time to change out toothbrushes or the replaceable heads for the best hygiene. Most of the brushes come with indicator bristles that will change color when it is time to replace the heads or get a new brush.
q:

Are these electric brushes small enough and manageable enough for a very young child to hold and use (like a 3 year old)?

a:

Yes, a 3 year old should be able to hold and manipulate these brushes because they have small handles and a good grip. Plus, the bristles are very soft to get their tender mouths accustomed to daily brushing.
q:

Are these electric brushes waterproof, meaning can they be used in the shower?

a:

Yes, even the rechargeable toothbrushes may be used in the shower. The one that mentions specifically that the handle is waterproof is the Oral-B Disney Frozen brush.
q:

Do any of the brushes listed require extra cleaning or special cleansers other than just rinsing out the toothpaste suds and any particles with water?

a:

No, extra cleansers are not needed with any of the electric toothbrushes. However, if you want an extra level of germ-fighting cleaner for the brush, you can dip the head of bristles in mouthwash or soak it for a few minutes. This would kill any lingering bacteria that would happen to stay on the brush after rinsing.
q:

If the description or the name of the electric toothbrush does not say rechargeable, does this mean that it runs on batteries alone? Do any of them operate on electric current?

a:

All of the electric toothbrushes we feature on this page are either operated by batteries or a rechargeable unit that is charged with an included charging base. None of them are plug-in types of brushes that use electric house currents. This makes them portable for trips and away from home visits. The charges can last for almost two weeks on some of the rechargeable toothbrushes. The battery-operated ones last much longer.