10 Best Basketball Shoes for Kids Reviewed in 2019
last updated
Apr 28, 2019
Having the right kicks isn't just about looking cool. Proper footwear can truly help to protect and athlete's body as well as elevate their game. Shoes for soccer, football, baseball, and basketball all have different features and designs for a reason. The demands of each game are different and it's important to provide your child with the equipment necessary for them to not only play their best but feel their most secure. Basketball shoes come in many shapes, sizes, and colors. We've listed ten of our favorites below. Lace up and get out there!
In a Hurry? The test winner after 13 hrs of research
Jordan Girl's True Flight
Why is it better?
Plenty of big kids sizes and half sizes
Has pull tab on the back of heels
Full-length Air-Sole
Dynamic Fit inner sleeve
Made from rubber, suede, and leather materials
In a
Hurry? Editors choice:
Test Winner: Jordan Girl's True Flight
11
Researched Sources
13
Hours Researching
15
Products Evaluated
Brand
Materials
Fit
By Default
In depth review top 10
Jordan Girl's True Flight
adidas Originals Superstar Foundation
Under Armour Boys Pre School Jet
Under Armour Grade School Jet
Champion Boys' Inferno
adidas Unisex Pro Spark
NIKE Boy's Air Force One High
NIKE KD Eight Inch OKC Thunder
Hawkwell Casual Outdoor
AND1 Show Out
Table of contents
Criteria Used for Evaluation
Other Factors to Consider
Frequently Asked Questions
Sources
10 Best Basketball Shoes for Kids Reviewed
1

. Jordan Girl's True Flight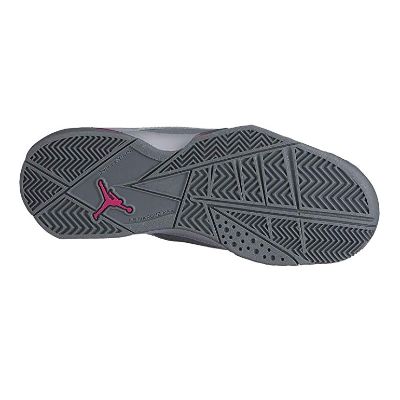 Plenty of big kids sizes and half sizes
Has pull tab on the back of heels
Full-length Air-Sole
Dynamic Fit inner sleeve
Made from rubber, suede, and leather materials
Not much color selections
Sizes may run bigger than regular shoes
It is always nice to see products especially for girls, even in the sports dominated by men and boys. A girls basketball shoe by Nike shows that the company wants to provide quality footwear for all basketball players that fit their feet specifically. Girls tend to have feet that are more narrow than boys, so having a shoe made to fit their foot type is especially nice.
Read more
Brand
For the girls, Nike created the True Flight model in their foot shape and color style. Made exclusively for big kids, these comfortable basketball shoes have the signature Air-Sole for the full-length of the shoe.
Materials
This Nike basketball shoe boasts a Dynamic Fit inner sleeve for the foot, the full-length Air-Sole, and a suede inner sole. This is a lot of protection, shock absorbency, and comfort for the foot. These shoes have to be the most comfortable footwear available for your little girl while playing her favorite sport.
Fit
This gives the foot, ankles, and knees the support and comfort that they require for the extended time at play. If the body aches from poor foot equipment, then the basketball experience will not be much fun. Made with the best materials of suede and leather for the uppers and rubber for the soles, This True Flight offering is perfect for the little female basketball enthusiast. There are plenty of big kids sizes and even half sizes, but maybe order a size smaller than normal because sizes can run a bit large. A pull tab on the back heel compliments this Nike shoe for girls quite nicely and will be the fashion statement on the court.
2

. adidas Originals Superstar Foundation
Rubber shell toe and sole
Upper made of leather and synthetic
Mesh lining (breathability)
Velcro straps instead of laces
Several colors from which to choose
Not many sizes available
Sizes run small (buy a larger size)
Probably the best thing about these basketball shoes for toddlers that parents will love is the fact that they are easy to clean. They will keep their great look for a long time, most likely long after your child outgrows them. The quality rubber and leather materials will not hold stains or dirt and can easily be wiped clean.
Read more
Brand
This is the original Adidas for toddler feet with the reputable all-rubber toe and a herringbone traction pattern on the soles. So adorable, yet so durable and safe for those tiny feet!
Materials
There is a mesh inner lining for moisture to expel quickly, plus the velcro straps make for easy put on and take off without the fuss of laces. Your toddler will look so cute in these original Adidas basketball shoes, and there are several color patterns from which to pick. Because of the all rubber toe shell and sole and the leather upper, these toddler shoes are very easy to clean. They are super durable and can take any rough and tumble that your little one can dish out.
Fit
Velcro straps instead of shoelaces for toddlers is a huge plus for footwear. Velcro ensures a tight, but not too tight, fit on the foot, which makes it safer for your child when they walk and run. Laces can quickly come undone, tripping the child who might not yet know how to retie the laces, whereas the velcro straps will not. This option is the best for a great fit and safety.
3

. Under Armour Boys Pre School Jet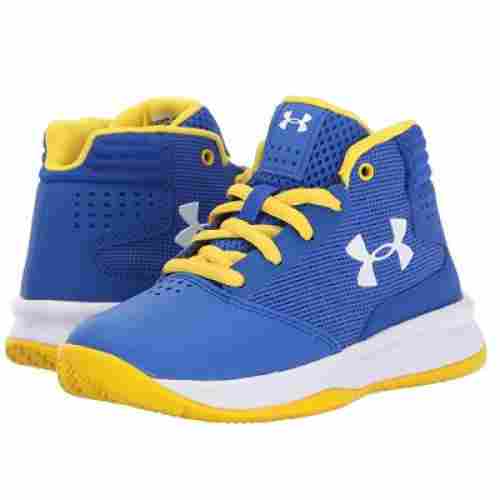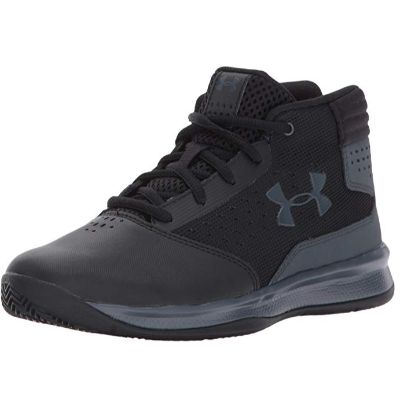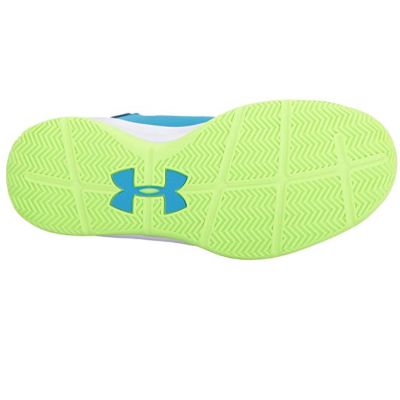 Lightweight
Rubber soles provide a high level of grip control
Designed with an EVA sockliner and an antimicrobial top cloth
Available in a wide variety of colors.
The lightweight material will not hinder your child's mobility as they go in for layups or run down the court. The rubber soles will help them stick the landing after every shot.
Read more
Brand
With the Under Armour Kids Jet shoes, your child will look like a pro athlete on the court. These shoes are available in over ten different colors so your child can represent their team or sport their favorite colors.
Materials
The combination of leather and mesh in the design of the shoe is not only practical but also super stylish. The leather on the toes will protect your child's feet if they're accidentally stepped on. The molded leather quarter panels will provide support to your child's ankles as they run up and down the court. The mesh material gives these shoes a high level of breathability. In fact, the material also makes them super lightweight thus allowing your child to get down the court quickly.
Fit
The rubber sole is designed with a herringbone pattern that will provide your child with a high level of grip control on and off the court. The inside of the shoe is equipped with an EVA sockliner and an antimicrobial top cloth that will help reduce the risk of odor-causing bacteria from growing. These sneakers are designed to be laced up to provide your child with a more secure and comfortable fit.
4

. Under Armour Grade School Jet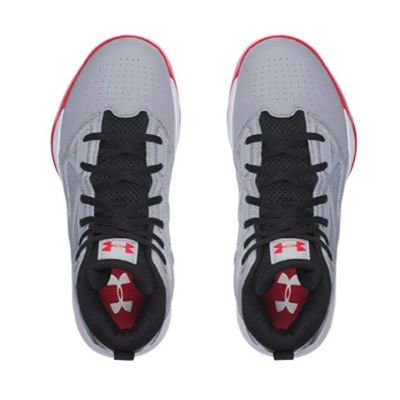 EVA sockliner
EVA midsole support
Perforations, side panels, and mesh tongue provide breathability
Anti-odor technology
Rubber sole for traction
Rear pull tab may fray with rough use
These feel lightweight on kids' feet so they won't be complaining about heavy, clunky shoes. But don't let that fool you; they're also incredibly supportive, especially in the arch region. The design is unisex and the odor control is just a cherry on top.
Read more
Brand
The Under Armour Grade School Jet is a fully engineered design meant to make practice the best it can be for your player. Die-cut EVA sockliner provides added support with a full-length EVA midsole delivers lightweight comfort.
Materials
Perforations and the mesh tongue increase the ventilation to your child's foot and a leather upper with quarter panels adds yet another layer of breathability while still keeping the foot locked firmly in place and secured in the shoe. They even utilize an anti-odor technology to prevent microbes from stinking up your little one's sneakers (and subsequently your car and home). These high-tops are available in six different colors and both little and big kids sizes.
Fit
These shoes will keep your child's foot secure while also allowing ventilation and breathability. This aids in the additional technology meant to help control odors so your sneakers will last for much longer.
5

. Champion Boys' Inferno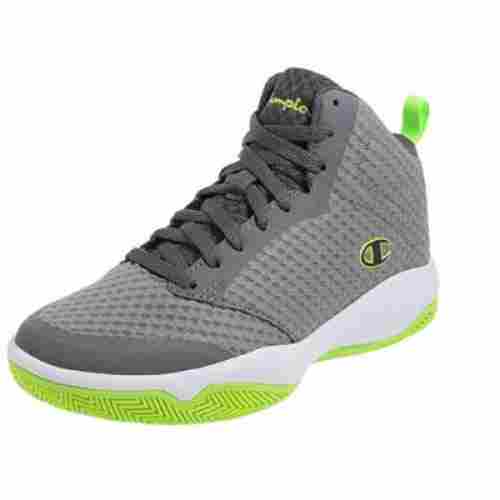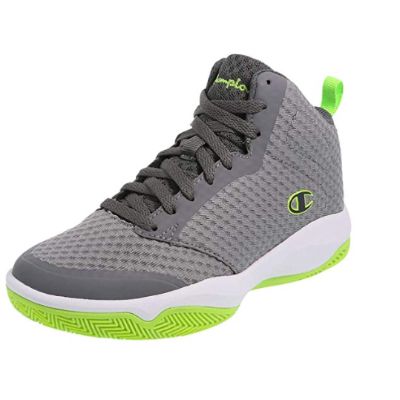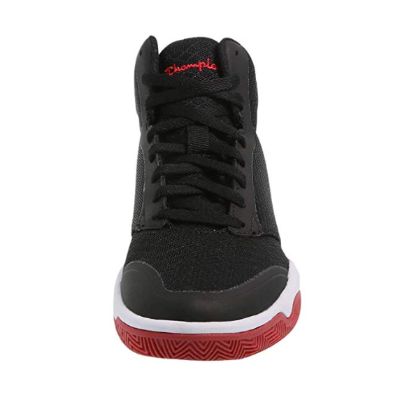 Plenty of big kid and little kid sizes
Made of faux leather and mesh (breathable materials)
Has non-skid rubber soles
Padded insole and collar
Pull tab on the ankle
This basketball shoe from Champion is a well-built piece of basketball equipment that comes in many sizes for kids and little kids. It is appropriate for girls or boys to wear and is made of the most durable materials of faux leather, mesh, and rubber.
Read more
Brand
The extra padding in the insole and collar show that Champion wanted to make comfort the top priority of this basketball shoe for children. Comfortable shoes help little ones enjoy what they are doing longer as they learn the wonderful sport of basketball. The pull tab on the ankles is a welcome aspect that helps them get the shoes on and off easily. When looking for the best shoe, these small extras really help with the best shoe decision.
Materials
These super lightweight fabrics create a shoe that will not hinder the legs and feet with added weight, yet support the feet and ankles with padded cushioning. The thick laces go all the way to the ankle for added support, plus there is a pull tab on the back of the ankle to aid in putting the shoes on. Unfortunately, there are not many colors to choose from with the Inferno basketball shoe, but the comfortable fit and durability more than make up for that small issue. Being that this shoe does not have as much traction as some other basketball shoes, it would be best suited for outdoor games and practices rather than for indoor activities where the floor surfaces can be somewhat slick.
Fit
The Inferno for kids is made of fantastic lightweight materials to ensure that legs and feet do not tire easily from heavy, weighty shoes. Basketball practice and games require so much running and fast footwork that the shoes must be super light and not a hindrance to the activity.
6

. adidas Unisex Pro Spark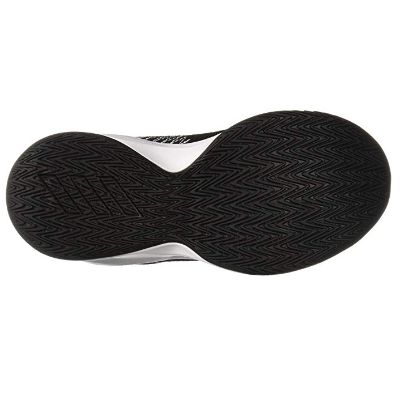 OrthoLite sockliner
Cloudfoam midsole
Seven different colors
Unisex
Rubber outsole
These say they fit medium but they are a wider shoe
A wider fit offers added comfort and increased range and stability when children are moving their feet side to side. The color scheme and design is a solid unisex look and the soles don't leave skid marks on the floor.
Read more
Brand
The Adidas Pro Spark features a rubber outsole for heightened traction and grip, cloudfoam midsole for superior comfort and cushioning, and reinforced stitch for longevity. This durable duo comes in seven different colors, all of them equipped with the OrthoLite sockliner. Lace closure and internal webbing eyelets make sure the foot is snug and secure inside the shoe.
Materials
The reinforced stitching and high-quality materials mean these won't wear out quickly. If you have little ones that are growing fast, take comfort that these shoes are unisex and you can pass them between siblings if your eldest outgrows them in a short period of time.
Fit
These shoes are truly built for comfort and support. Playing basketball in a regular pair of sneakers is fine and fun when it's done recreationally and infrequently, but if your child is playing seriously or consistently, they'll wind up with knee, ankle, and foot pain. These shoes are built to counteract that.
7

. NIKE Boy's Air Force One High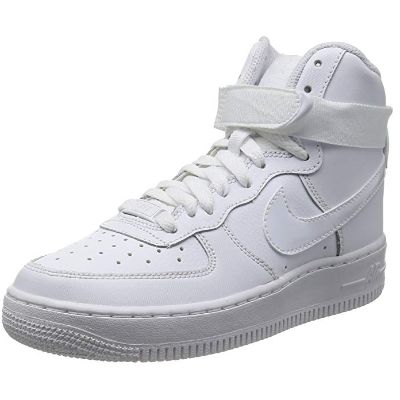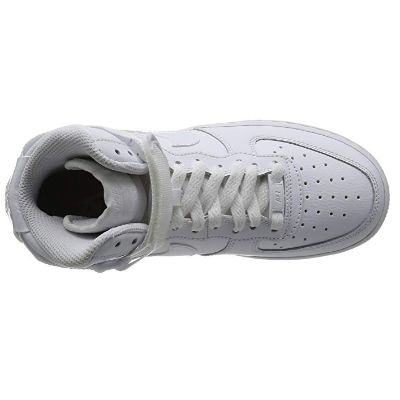 Nice selection of color patterns and sizes for big and little kids
Has a velcro ankle strap for added support
Has leather upper and rubber sole
Pivot point on the rubber outsole
Full-length Air-Sole unit for the midsole
A few complaints about arch support
The Air Force 1 High basketball shoe has a pivot point on the rubber outsole for added traction to the already grooved pattern on the bottom. The sole is made completely of rubber, no synthetic here, and the upper section is all leather for true comfort.
Read more
Brand
A full-length Air-Sole unit, unique to Nike, gives great support and cushioning for the heel, arch, and forefront. To aid the ankle, a velcro strap can be fastened over the laces when needed. Air holes in the upper leather provide adequate evaporation of moisture, and the superior stitching ensures a durable shoe that will last a long time. Abundant color choices and sizes for big and little kids are available for the little basketball fan in your family.
Materials
Pivot points on athletic shoes give the wearer added traction, agility, and flexibility in their foot movements. This allows better playing ability and enjoyment in the game. Better, quicker movements in basketball can make a good player great, and possibly the star of the team.
Fit
When feet take hard punishment from work or play, they deserve the best footwear that we can give them. Nike provides such great products for feet, especially ones with their Air-Sole units like this one. A full-length Air-Sole means that the whole foot will enjoy the "walking on air" feeling the whole time they are on. What could be better than a shoe that can provide this kind of comfort for prolonged periods?
8

. NIKE KD Eight Inch OKC Thunder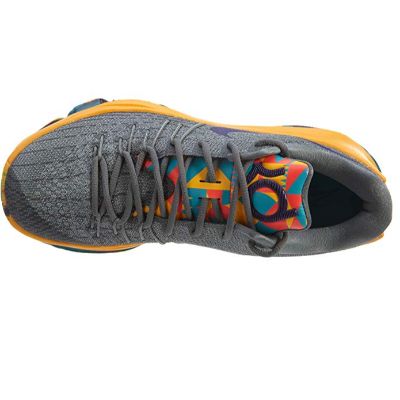 Mesh-upper section
Lightweight Flyweave construction
Rubber sole and phylon for cushioning
Zoom Air unit in sole
Large selection of colors
Could be more sizes to pick from (only youth sizes available currently)
Shoes are a bit narrow (maybe order a larger size than a regular shoe worn)
The Nike creators have outdone themselves with this model of basketball shoe for youths. The KD 8 features super lightweight Flyweave construction and a Zoom Air unit in the sole.
Read more
Brand
Zoom Air is unique to Nike creations and is present in several of their footwear offerings. The Youth KD 8 is one of them. It gives a superior, cushiony feel when walking or running, but its real quality is felt when landing from a jump. It greatly lessens the jolt of impact on the soles and midsole and also decreases the shock to the knees and spine. Nike certainly continues to develop sports equipment with the health and well-being of the user in mind.
Materials
This air unit consists of tightly stretched fibers that quickly rebound after impact for the entire life of the shoe. It creates a feeling of landing on an air pocket when the foot hits the floor. If that was not enough, the KD 8 also has Flyweave for the upper section adding stability, durability, and strength to the life of the shoe. For added support and tighter grip, cables were added to the forefront for the laces to go through in addition to the normal shoelace holes. Add to this the huge selection of colors and patterns to pick from and you have a wonderful piece of basketball footwear masterfully crafted by Nike.
Fit
Although the Flyweave material is not new in creation, as its beginnings are in aerospace technology, Nike did implement it in their shoe construction with great success. Flyweave construction allows the upper material to not only be lightweight, but to give with the movements of the wearer. Woven materials are more flexible than standard fabrics, and thus make perfect coverings for athletic shoes.
9

. Hawkwell Casual Outdoor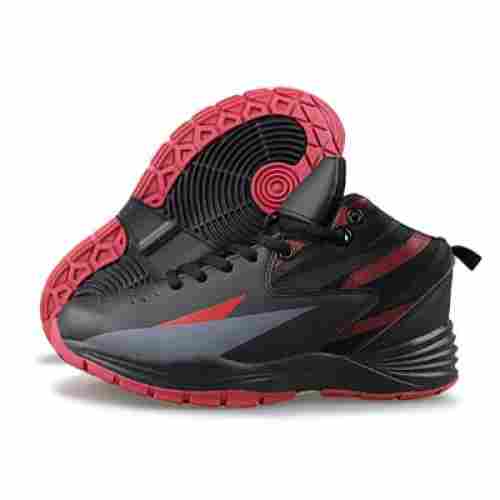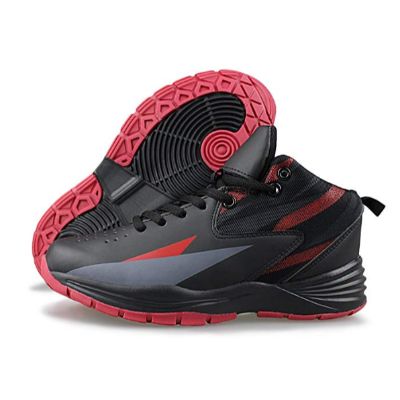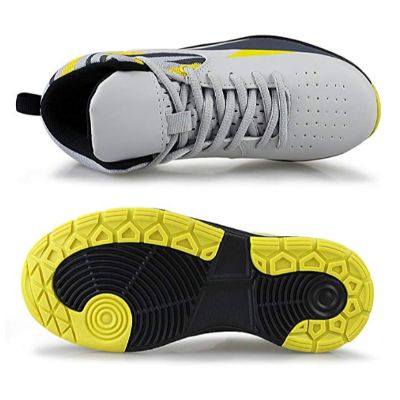 Durable
Great for games indoors and outdoors
Available in super cool bright colors
Affordable
The finger loop on the back makes it easy for younger children to put these on themselves
The collar is designed with extra padding and the inside is lined with a soft fabric for added comfort. These shoes are available in a variety of bright colors so your little one can truly stand out on the court.
Read more
Brand
The Hawkwell kids shoes are great for children who love to play basketball indoors and outdoors. The rubber soles are highly durable and will provide your child with an excellent level of traction wherever they play.
Materials
The perforations on the toe area give these shoes a high level of breathability. Priced under twenty-five dollars, we find these shoes to be super affordable as they are durable and designed for indoor and outdoor use.
Fit
The shoe laces will provide you with the reassurance that these sneakers will stay on your child's feet during the entire basketball game. The finger loop on the back of the shoe makes it easy for smaller children to put these on themselves.
Lightweight
9 different colors
High topped ankle support
EVA midsole for cushion and comfort
Keep foot securely in shoe
A little difficult to get on and off with the high top
These are a great choice for players that have sustained an ankle injury or are just looking for a little extra support there. Acting almost like a brace, these shoes keep their foot and ankle secured inside and protect against tweaks, twists, sprains, and breaks.
Read more
Brand
The AND1 Show Out is a reduced weight basketball sneaker. The midsole is made of EVA, resulting in plush comfort and superior support but without any added bulk or weight.
Materials
These shoes are meant to protect your child's foot and stabilize them. The high tops provide added support and structure for kids and the shoe manages to remain lightweight so they can still sprint at top speed.
Fit
These fit snugly and yet aren't so tight as to be uncomfortable. They help to stabilize players and support the areas of their body taking the most impact damage during practices and games. These shoes come in nine different colors and provide exceptional stability, especially for weak ankles prone to twists and sprains.
Criteria Used for Evaluation

Brand
Most basketball shoes, especially ones for children, are made by well-known companies like Nike, Adidas, Under Armour and FILA. These are names that consumers can depend on for quality and durability. They do command higher prices than unknown brands, but you do get what you pay for in the long run. These quality basketball shoes will not fall apart, come unstitched, or be a hindrance to your child during their activities. They are safe products that can be trusted and adored.
Materials
Because these shoes are all made by well-known suppliers, the materials used in the creation are of the best. Most are made of leather, mesh, and rubber materials to produce the quality shoe that parents can trust for their kids. Added support padding in the areas of the ankle and heel help make the basketball footwear the best it can be and most definitely the most comfortable. The superb stitching of all of the shoes listed can be seen in the photos along with the strong durable laces. These models are the best that the great athletic brands have to offer your little one for all of his or her basketball endeavors.
Fit
Shoes should fit your child as perfect as they can. Shoes too big or too small will cause injury to the feet. Even if frequent purchases are necessary every few months, it is worth having the shoes that properly fit your child.
Good basketball footwear can handle the many pivots, twists, and jumps that happen in this sport. Great ankle support is necessary from the cushioning provided by basketball shoe manufacturers. Basketball shoes must absorb plenty of shock to prevent injuries to the ankles and foot soles. This added support is not provided in regular running sneakers.
Most Important Criteria
(According to our experts opinion)
Experts Opinion
Editors Opinion
Users Opinion
By Default

Parents, Did You Know?
Basketball shoes are required for proper play in the sport. Simple running shoes are okay for playing and running, but basketball is more than just running. Basic requirements of good shoes for this sport are a good fit, strong support, and breathable materials.
Parents, Did You Know?
Sweaty shoes are not good for a couple of reasons. Moisture build-up causes fungus and disease of the feet if the shoes don't dry out quickly. Sweat can make feet uncomfortable during activities and cause injury if the feet slide in the shoes. Make sure the shoes are made from lightweight materials that can breathe well, such as mesh.
Other Factors to Consider
Age Range
The biggest concern with any item of clothing, especially for children, is the size. With shoes made especially for kids, the sizes are specified as Little Kid, Big Kid, or simply Kid. A few of the named shoes offered some Youth sizes too. The sizes generally run true to regular shoe sizes for kids, so it is best to purchase the size that the child normally wears. The Little Kids sizes run from 10.5 to 13.5 and then from 1 to 3. The Big Kids sizes go from 3.5 to 7. Most, if not all, of the shoes here have these size choices available in abundance.
Frequently Asked Questions
q:

What does the Big Kids' size mean? Is it for little kids or adults?

a:

Big Kids' size generally means 8 to 12 years old. In other words, they are not for toddlers or pre-kindergarten children.
q:

The sizes for children's shoes are very difficult to understand, especially since some manufacturers have different size measures. What is a general guide for kids' shoes when they say big kids' and little kids' sizes?

a:

In general, little kids sizes for the United States standard run from sizes 10.5 to 13.5 and then from sizes 1 to 3. Big kids size run from 3.5 to 7. For all of the featured basketball shoes here, we specify for which size type the shoes were intended.
q:

Are these basketball shoes for girls or boys, or when it says "boys'" does it means that they are only for boys to wear?

a:

All of the shoes listed can be worn by girls if the sole shape is contoured for their generally smaller feet. Girls usually have more slender feet than boys do, so that has to be kept in mind when purchasing boys shoes for girls. Their feet might move around in the shoe too much because it would be bigger than a girls' shoe. Several girls' basketball shoes are listed here as well. Naturally, all of the boys' shoes can be worn by boys. The girls' shoes would most certainly not be a good fit for a boy because of the foot shape and size.
q:

Do the shoes listed come in any other colors than what is pictured?

a:

Usually, they do. Some parents ordered shoes thinking they were getting the colors pictured, but a few received colors that were not listed. It is best to check with the manufacturer to see what is available before you buy if a certain color is needed. Make sure to look at all the thumbnail pictures, as all shoes featured had at least more than one color choice, but you must hover over the pictures to see them or click on each.
q:

Do most of the children's athletic shoe sizes run true to regular shoe sizes?

a:

Yes, the sizes more often than not run true to regular shoe sizes.
q:

Have there been any known complaints of the kids' basketball shoes featured coming apart, either the soles coming off or the stitching popping open? I really need dependable shoes that will at least last until my child has a chance to grow out of them first.

a:

No, all of these basketball shoes are known for their quality materials and superior stitching. They are all products of the top athletic name brands which are reputable for excellence. All of these models should still be in good shape (with moderate, usual wear) when the child has outgrown them.