10 Best Kids' Water Shoes for Boys and Girls Rated in 2023
last updated
Jul 20, 2019
If you thought getting your little ones to keep regular shoes on their feet was a challenge, just wait until the time comes for water shoes. Already, children like the chance to wiggle their toes and kick freely. Flying shoes and one-soled babies are hardly a rarity. Now take that fussiness and multiply it tenfold because with water shoes you're not only asking them to put on the dreaded footwear—but it's wet. Nothing is comfortable wet. Especially not shoes. (Those often aren't even really that comfortable when dry.) These 10 pairs of water shoes will make beach and pool trips a happy occasion. No scraped little feet on reefs, rocks, or pool bottoms. These water shoes will protect those 10 little piggies all the way home. No crying, no fussing, no one-shoed babies giggling while mom or dad looks for the match. Summer can be stylish and stress-free.
In a Hurry? The test winner after 22 hrs of research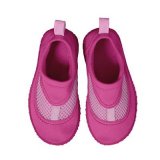 i play. 1-4 Years
Why is it better?
Breathable to prevent odor and dry quickly
Thick sole to prevent injury and enhance traction
They can be hand washed
Great fit so they don't come off while playing
In a
Hurry? Editors choice: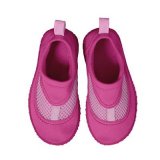 Test Winner: i play. 1-4 Years
13
Researched Sources
22
Hours Researching
18
Products Evaluated
Comfort
Ease of Use
Protection
By Default
10 Best Water Shoes for Kids Reviewed
Criteria Used for Evaluation
Comfort
When it comes to comfort, you want a shoe that is kind to the feet and one that will not cause any blisters to your little adventurer's feet. We understand that it takes time for blisters to heal, and we don't want your kids to miss out on all the fun. We also looked at shoes that are just snug enough to keep them from slipping off your child's feet as they play in the water.
We, therefore, recommended shoes with a soft insole, thick rubber soles, top covers, and Velcro for maximum comfort. Kids have a great experience when they are not distracted by washed-away shoes, painful blisters or water shoes that keep coming off.
Ease of Use
We understand that great water shoes appeal to the heart and if your child loves a pair of shoes, they will want to wear them everywhere. We, therefore, picked water shoes that are easy to clean, in a washing machine or by hand. We considered water shoes that can be aired out and dry quickly. A great pair of water shoes should dry quickly in a well-ventilated area so that they are ready to go for the next fun water event.
Protection
Although sometimes accidents are bound to happen, it's important that you choose a water shoe that offers maximum protection for your child. We recommended shoes that have thick rubber soles which are great for protecting your child from slipping and falling on slippery surfaces such as wet rocks, wet floors, and wet grass. Thick rubber soles also protect your child from hot surfaces such as hot concrete and hot sand. A great water shoe also protects your child from sharp objects that could cause serious injuries, especially at the beach. A thick sole should offer maximum protection so that your child can explore freely.

Parents, Did You Know?
While selecting and evaluating the best water shoes for kids and toddlers, we looked at three main strengths to determine which shoes were best for the little explorers. Our first consideration was comfort. One of the main objectives of wearing a water shoe is so that your child can be comfortable when playing both in water or on the playground.
Parents, Did You Know?
Finally, we looked at water shoes that you can use on the go. If you are planning on using the shoe during vacation, for example, it would be important to have a water shoe that you can use on a daily basis without worrying about wear and tear, bad odor or harmful bacteria that can cause foot fungus. A good water shoe should meet all set functions and still provide your little child an aesthetic value that promotes a shoe-wearing habit. A water shoe that includes great design, a variety of colors to choose from and those more likely to match your kids' outfits were a plus. After all, who says your kid's water shoes can't be as good looking as they are equally functional?
Parents, Did You Know?
Water play is important for your child's development. It helps them develop their motor skills, improve their socio-emotional skills and most importantly enjoy outdoor activities. Owning a great pair of water shoe allows your kids the freedom to explore numerous water adventures, all while providing maximum protection. Our list of water shoes meets the required balance between comfort, protection and beautiful aesthetic for incredibly fun activities.
Other Factors to Consider

Breathability
We also considered water shoes that have great breathability. A good water shoe should have great ventilation to let water escape and still provide material to protect from sharp objects. A shoe that dries well and has great breathability will keep away odor as well as discourage the growth of harmful bacteria that may cause fungus.
Safety
We also considered safety which is highly crucial during water play to avoid accidents. We were therefore keen on shoes that provide great traction, and those that can protect your child from rough surfaces, sharp objects, and hot surfaces. When children go out into the water, we understand they can come into contact with small obstacles that may harm or injure their tender feet. A water shoe that provides great protection is therefore very important.
Frequently Asked Questions
q:

Why should I buy water shoes for my kids instead of using regular shoes?

a:

Water shoes are pretty awesome! They offer a unique advantage over standard shoes and provide the necessary protection while your kids are playing in the uncharted water.
q:

Can these shoes pass for non-water activities as well?

a:

While this doesn't work for all non-related water activities, kids can also use a great water shoe for walking and other playground activities. Water shoes have some style and flair that will easily work with your kids' outfits and they can wear them to the mall, or anywhere else you go together. They can choose to wear them with socks or barefoot depending on the weather.
q:

How do I clean my child's water shoes after wear? Are they low maintenance?

a:

Water shoes can get smell pretty quickly! Many water shoes have removable insoles and pads. The quickest and easiest way to keep odors at bay is to give those pads some serious TLC. Some of these shoes can also be machine washed, just make sure you pay attention to any special instructions for heat settings and drying!
q:

My son has wide feet. Will these water shoes work for him?

a:

Yes. These water shoes come in different sizes for different ages–infants, toddlers, little kids, and big kids. Sizes are also available in small, medium, large and extra-large to fit wide, chubby and slim feet.
q:

My son hates dirt in his shoes. Will these shoes help keep dirt off?

a:

All water shoes will allow some dirt in as your child plays. However, the mesh material does a great job in keeping most of the dirt out. They are snug enough at the tongue and collar so you can easily adjust to help keep dirt and debris out.
q:

My child loves playing along the riverbed. Will these water shoes work there?

a:

Yes. These water shoes come fitted with an adjusting cinch or a Velcro closure to help you adjust them to a required fit to ensure that they stay on while your little champion is exploring.
q:

Why does my child need water shoes?

a:

Generally, when parents think about water, the first danger they associate with their children is drowning. Swim lessons are purchased, floaties are inflated, supervision is tightly scheduled. But even with all of these things in place, there are still other hazards that come with beach weather. Splashing around in the inflatable kiddie pool or in a tiled community pool might seem innocuous enough, but there are plenty of water-related activities that aren't in clean, smooth pools. Spending a day on the beach runs the risk of rocks and reefs. Kayaking requires some hiking and sitting in hot areas where feet might burn. Additionally, there are abundant bacteria out there, and especially on shared surfaces. Water shoes protect little feet from rough surfaces, hot surfaces, creeping germs, and all sorts of lurking hazards no one would think to consider. Snorkeling, body surfing, hiking—there are lots of incredible experiences out there waiting for your family. You just need the right equipment!