10 Best Shoe Inserts & Insoles for Kids Rated in 2019
last updated
Aug 16, 2019
For as long as there have been shoes, there have been shoe insoles and inserts. There are dozens of reasons why your little one may need shoe insoles or inserts. Having flat feet is a condition that almost all children will contend with at some point in their lives. Most kids develop a normal arch gradually as they age, but 5 percent of the population may require continued arch support throughout their teenage and adult years. Even as children, insoles with arch support can alleviate much of the pain associated with flat feet. Warming insoles for cold winters and odor-absorbing inserts can also be useful depending on your climate. After all, one of the worst smells in the world is stinky sneakers! Whatever your need, we hope that one of our Top 10 Best Shoe Inserts & Insoles will be the best "fit" for your little one!
In a Hurry? The test winner after 35 hrs of research
Spenco Polysorb Cross Trainer
Why is it better?
Made with a four-way stretch fabric
Forefoot cushioning provides fantastic support
The heel plug supplies extra shock absorption
For half sizes, order the next size down
Several choices for sizes
In a
Hurry? Editors choice:
Test Winner: Spenco Polysorb Cross Trainer
21
Researched Sources
35
Hours Researching
21
Products Evaluated
Comfort
Materials
Support
Fit
By Default
In Depth Review Top 10
Spenco Polysorb Cross Trainer
Envelop Full Length Absorb Shock
Footminders Pediatric Arch
KidSole Athletic Memory Foam
Powerstep Original Full Length
KidSole Neon Fix Premium
Spenco Polysorb Premium
WARMIE Premium Insoles
KidSole Flat Feet
KidSole Lightweight Gel Heel
Table of contents
Criteria Used for Evaluation
Expert Interviews & Opinions
Other Factors to Consider
Frequently Asked Questions
Sources
10 Best Shoe Inserts & Insoles for Kids
1

. Spenco Polysorb Cross Trainer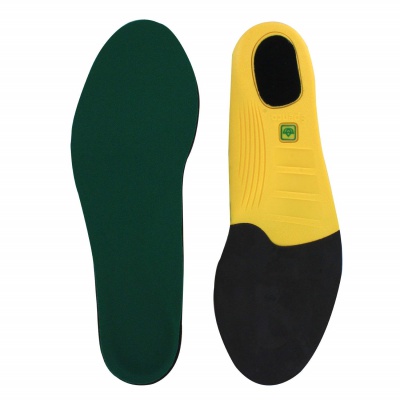 Made with a four-way stretch fabric
Forefoot cushioning provides fantastic support
The heel plug supplies extra shock absorption
For half sizes, order the next size down
Several choices for sizes
Sizes did not please some buyers
A few comments on these being uncomfortable
Are your preteens and teens starting to run through their shoes? Do you have to leave them in the garage or on the porch to air out? The Spenco Polysorb Crosstrainer provides support and eliminates smells. This insert is designed with silcore antimicrobials to control odor while a 4-way stretch fabric prevents blisters and EVA cushioning gives energy return to assist in high-impact sports. The Spencore material measures in at 5/32 inch, providing cushioning and absorption while your child runs, jumps, twists, and plays to their heart's content.
Read more
To give you support for your arches when participating in sports, try these wonderful insoles. The forefoot cushioning provides fantastic support and energy return when taking part in high impact sports.
Comfort
The great fabric that these insoles are made of is a stretch fabric with odor and bacteria control. They are also quite comfortable and can be worn on any occasion. Kids will appreciate this when playing sports, for dancing, and regular use all day long.
Materials
Feet will be achy and tired no more with these insoles made of a four-way stretch fabric. They contain an antimicrobial substance that controls odor and prevents blisters. They have polysorb foam and a heel plug for cushioning and shock absorption.
Support
Implemented Spencore material absorbs impact and shock giving maximum cushioning and comfort. Fabulous heel and arch support are delivered by the lightweight polysorb foam, plus the heel plug supplies extra shock absorption and cushioning in the heel.
Fit
The Spenco Arch Support Shoe Insoles come in different sizes in order to help you find the most comfortable pair for you little one. For half sizes in shoes, order the next size down. There are several choices for size, so you should be able to find your ideal fit.
2

. Envelop Full Length Absorb Shock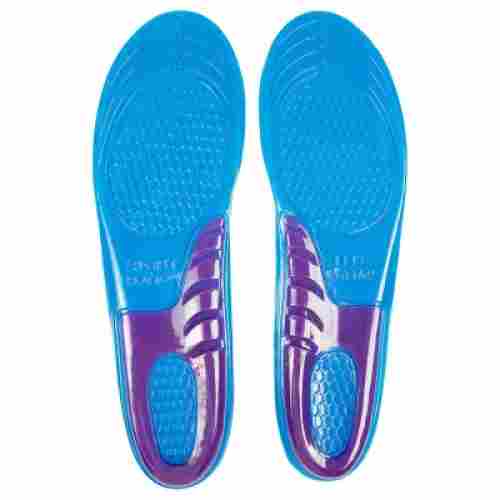 Provides all-day comfort for the forefoot and the heel
Can be cut to fit your shoes
Includes a textured base
Made of silicone gel that is durable and lightweight
Are washable and removable
A few say they move around in the shoes
Comments of not much arch support
The Envelop Gel Insoles provide all-day cushioning, comfort, and support. A honeycomb design absorbs the impact of each step and keeps pain and stress off of pressure points in the foot. These are full length, but can be cut down to size, and made from a lightweight silicone gel. A neutral arch keeps these inserts comfortable for any kind of foot shape and the ergonomic design is made to contour to your foot as you continue to wear it.
Read more
These have a honeycomb design that decreases sore pressure points as they absorb the impact of every step. These relieve pressure and pain from corns, spurs, and neuroma, and are wonderful for those that are on their feet all day long.
Comfort
These cozy insoles do much for the feet of those having problems due to blisters and discomfort. They relieve soreness, fatigue, and pain in feet that must go all day long in demanding sports, play, and everyday activities.
Materials
These insoles are made of durable quality materials. A textured base is included that grips the inside of the shoe, yet they are removable and washable. The top layer is a breathable, lightweight material that will kill odors.
Support
The contoured layer of gel supports the heel and delicately gives backing to the arch to provide added stability. The full-length insoles will relieve heel soreness, plantar fasciitis agony, arch pain, and decrease foot fatigue.
Fit
Try these well-designed foot companions for a fabulous comfortable experience. The versatility of these insoles is wonderful! They can fit well in boys' or girls' shoes, plus they can be trimmed to fit in shoes for perfect fitting.
3

. Footminders Pediatric Arch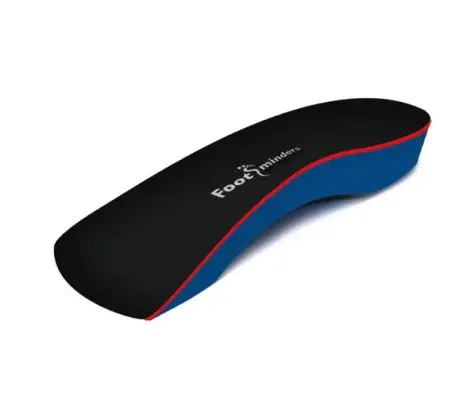 Relief for pain from low arches and flat feet
Made for all types of kids' shoes
Doctor recommended
Great for boys and girls
Gives biomechanical alignment
A few received two for the same foot – two left feet
Some found them bulky and uncomfortable
Footminders is one of the only inserts out there made specifically for kids. Podiatrists and Pediatricians recommend these for little ones between the ages of 4-9 and there are two different sizes available. Cushiony and comfortable, these insoles absorb impact and help to properly encourage healthy alignment and growth. Flat feet can mean an assortment of other lower-body issues as time goes on so get ahead of the game and give your kids a comfy, cushy head start with Footminders.
Read more
These supports are recommended for ages four to nine and are suitable for both boys and girls. They are made for all types of kids' shoes including sports shoes, school shoes, and dress shoes.
Comfort
Try these arch supports for kids that suffer from overpronation because they will help correct this problem quickly, easily, and painlessly as your child walks and stands comfortably during the day.
Materials
Footminders are a well know brand that takes pride in creating anatomically designed products made of what they call quality "foot-friendly" materials which are safe for children and allow breatability.
Support
They relieve discomfort and pain from low arches and flat feet. Overpronation is the inward rolling of the ankles and it can be very painful. If your child faces such problem, try these fabulous arch supports.
Fit
The fitting of these Footminders pediatric supports is wonderful. These are made especially for kids' feet of eight inches or less, so they will fit their shoe sizes well and be of the most benefit to their small feet.
4

. KidSole Athletic Memory Foam
Made from high-quality memory foam
Fits well in all sorts of shoes
Designed for growing feet
Perfect for active and athletic wear
Includes Micro-Bead Technology
May be high for the foot in the shoe
Some say it does not give much support for flat feet
KidSole is another company that makes inserts and insoles with little ones in mind. These athletic memory foam insoles are made to cup the heel and provide arch support. They come with custom guided cutting lines to make trimming them down to size a cinch. Microbead technology provides traction while your children wear them. Available in three different sizes, these are great for all ages and especially useful for active or athletic kids!
Read more
The KidSole Athletic Memory Foam insoles are truly remarkable product! Use them for boys' or girls' shoes to give that added support and comfort to make their feet feel great.
Comfort
The memory foam material that comprises these insoles are fantastic for kids' feet. They will give added comfort, support and coziness so kids can stay active and on the move all day long.
Materials
They are made from high-quality memory foam that will give maximum arch support and comfort. Use them for active wear because they include the Micro-Bead Technology for terrific traction.
Support
Even though these are specifically for athletic shoes, they will fit in any child's shoe type and give fabulous support from the memory foam material. Try them in cleats, tennis shoes, or dress shoes.
Fit
Made specifically for kids, they will fit any child size of the shoe from one to six-and-a-half. They have guidelines for cutting and trimming to custom fit shoes, which is extremely helpful for parents.
5

. Powerstep Original Full Length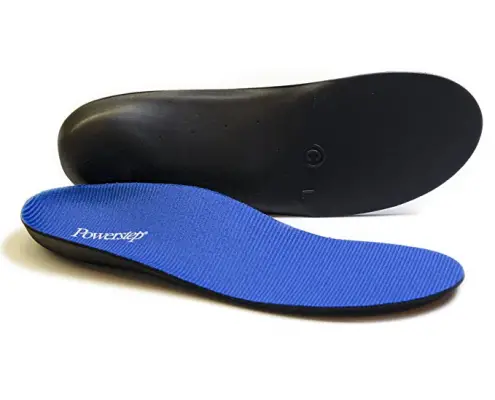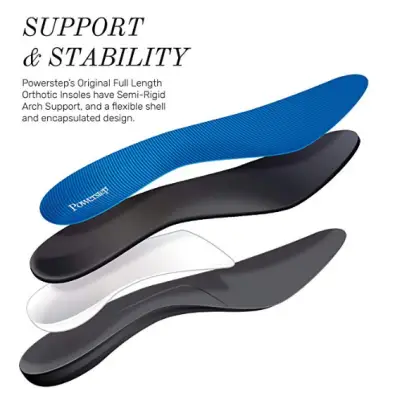 Made from 100% anti-microbial polyester
Created in the U.S.A.
Can be easily moved from shoe to shoe
No cutting or trimming is required
Gives full support and cushioning
Can be stiff and hard for some people
A few had issues with sizing
The Powerstep Insoles for Kids are meant to provide proper arch and heel support in youth sizes. They come in three different styles: Pinnacle Jr, PowerKids, and Kidsport. Poron cushioning provides targeted support that doesn't feel stifling. Made in a ¾ length cut, these inserts provide arch support for healthy alignment and longer-lasting comfort no matter where your child's day takes them.
Read more
Sometimes inserts and insoles cannot be moved to accommodate different pairs of shoes because they take the shape of the shoes. That is not the case with these wonderful insoles because they can be moved easily and without any issues.
Comfort
All sorts of activities can be enjoyed with flexible feet when these insoles are used. Try them while involved in athletic events, walking, or standing. They will not disappoint for comfort.
Materials
Powerstep are know for quality designs. These are made from 100% anti-microbial polyester and are made in the U.S.A. The full-length insole has an encapsulated design and a flexible shell.
Support
The feet are protected with these during athletic activities and extended standing or walking. They offer great support and keep your whole body in proper posture during movement.
Fit
No cutting or trimming is necessary to fit these insoles in shoes, and they can be easily moved from shoe to shoe. Because of the ultra-thin design of the insoles, they fit most shoe types.
6

. KidSole Neon Fix Premium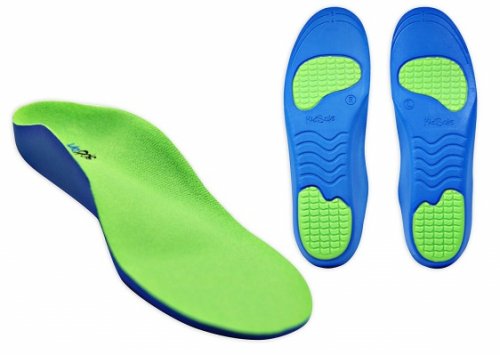 Made from quality medical-grade PU foam
Four sizes offered from toddler to larger kid
Designed to promote growing, healthy feet
Tailor made for kids
Recommended by foot doctors
Some say these are uncomfortable
A few claim they are too high in the shoe
The Kidsole Neon Fix is a Sports-specific insert manufactured with both agility and stability in mind. This orthotic insert molds over time to fit any foot. All bodies are unique! But all bodies also need a little love and support now and then and the PU foam helps to provide just that. Kidsole also provides an option for low-cut sneakers and flat shoes in their "Starry Shield Inserts". The Neon Fix is thick and made for kids who overpronate and need ankle and arch support.
Read more
These amazing insoles are highly recommended by foot doctors. The front of the foot and heel will be relieved while the arches are cushioned.
Comfort
Try one of the most relaxing and snug pairs of orthotic insoles ever produced. Children will be comfortable while they enjoy their favorite sports or just playing with no foot concerns.
Materials
They are made from high-quality, medical-grade PU foam for spectacular arch and heel support issues. Orthotic comfort is improved with the new revolutionary soft-step construction.
Support
The quality materials and construction of these insoles are incredible for the proper posture for kids. Using soft-step technology and PU foam, these truly offer anatomic support in shoes.
Fit
Four different sizes are offered from toddler to larger kid in these insoles that are best used for casual wear. They are designed to promote growth and healthy feet and are tailor-made for kids.
7

. Spenco Polysorb Premium
Made with memory foam
Stretch, antimicrobial fabric controls odors
Features Spencore material
The heel strike gives great cushioning
Wonderful for tired or stressed feet
Some say they don't last long
A few say they become flat after a few uses
The Spenco Kids Polysorb Premium is a memory foam insert that adjusts to customize all-over support for any foot. This full-length orthotic features a polyurethane molded base that absorbs impact and shock, keeping kids happier and healthier throughout active schedules. The spencore materials provides long-lasting cushioning and an additional heel strike helps take the brunt of the stress off of your child's heel.
Read more
The molded base and the Spencore material ensure that these insoles will supply much-needed shock absorption and cushion. Kids will love how these feel even after long hours of wear.
Comfort
The wonderful Spencore material provides the needed cushioning and absorption of shock that kids with flat feet or arch problems need. They truly turn every shoe into a comfort zone for your foot.
Materials
Not only are these great to make your feet feel good, but they have fabric on the top of them that controls odors and even prevents blisters. Foot fungus should never be a problem with these insoles.
Support
The shock is absorbed and the heels and arches are supported with the molded base. The heel strike gives great cushioning in the heel area in these insoles that are just perfect for feet that are tired or stressed.
Fit
This product can be implemented into casual, active or glam shoes and the different sizes allow for it to be enjoyed by many children. Try these if your child is having trouble with their arches or flat foot issues.
8

. WARMIE Premium Insoles
Made using 100% percent Australian sheepskin
Suitable for use inside slippers, boots, and shoes
Fleece is sewn onto sole made of top-quality and soft leather and felt
Thick pile and top-quality materials are built to last through many months or years of use
Sizing runs narrow and short, we recommend purchasing one size up for the best fit
Washing is not recommended
Need something warm for winter? The Australian Warmie Sheepskin Insert comes in adult sizes, so this is better gifted to teens, but it's a hit for the colder seasons! These are extra fluffy and make any pair of shoes seem all the cozier. Slip them into boots, tennis shoes, or slippers for a little added head and protection throughout fall and winter months.
Read more
Cold dry air will quickly dry out your skin and can cause chapping and split heels which can be very painful. Beyond the dry air is the issue of temperature. Our feet are more than just the foundations on which we walk, they are also our bodies temperature regulators. Despite their seemingly inexhaustible amounts of energy, regardless of the temperature, kids are even more susceptible to issues such as hypothermia and frostbite, especially during winter play.
Comfort
No matter how many layers of sweaters, coats, hats, and gloves we wear, if your feet are cold then the rest of you will likely be cold as well. These extra-warm shoe inserts are made of real sheepskin with a thick layer of heavy fleece that will keep your children protected from the cold in a soft and cozy environment.
Materials
These inserts are made of 100 percent genuine Australian sheepskin loaded with a thick pile of super-soft and fluffy fleece. It can also be used as a replacement insole, ideal for use inside of slippers or UGG-style boots to keep your little one's feet from rubbing against the uncomfortable worn-down shoe interior.
Support
Our little ones are not immune to the ravages of the winter season although sometimes they may appear to be. This leather base is stitched to a soft felt-like fabric to provide stability and warmth. These fluffy insoles are the perfect way to refresh a treasured pair of slippers whose lining has worn down over time!
Fit
The inserts can be fitted in conjunction with your child's existing shoe insole to provide an extra layer of warmth just for those extra-chilly days. They can be quickly and easily slipped inside any type of shoe, from slippers to boots, to provide a warm and plush base guaranteed to help stave off the winter blues!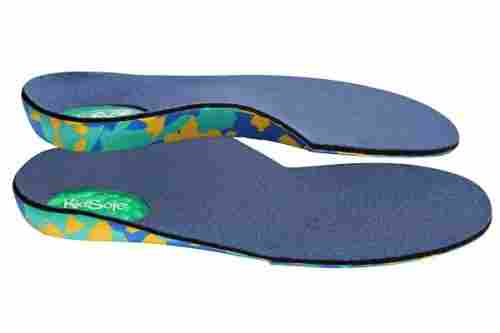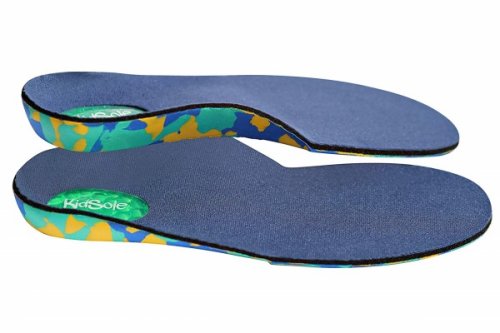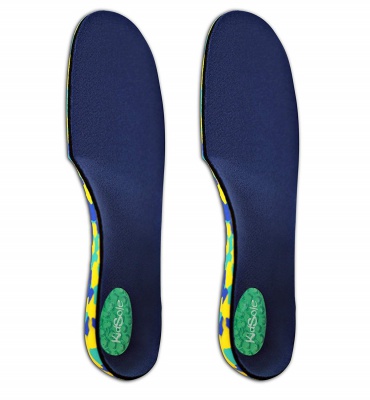 Specially made for children
Are washable and durable
Are trimmable with scissors
Will work for many shoe types
Kid-tested for quality and comfort
Complaints of sizing – too big or small
A few say the arch is too high
Kidsole's Camo Comfort Insert is specially created for children who need a little extra arch support. The EVA and memory foam and gel heel mean soft, strong comfort. Each pair of insoles can be easily resized for comfort and all inserts include a cutting guide to help make customization hassle-free. Kidsole also offers unconditional free replacement and free returns guarantees!
Read more
KidSole are a well-known brand when it comes to products of this type. You can rest assure that their products are properly analyzed before going on the market in order to have satisfied customers.
Comfort
The manufacturer states that these insoles have been tested by kids for comfort. All day coziness is provided by the ergonomic design, plus they will work in all types of shoes for play, sports, and dress.
Materials
These insoles are made of high quality materials that are washable and durable. The cushioning is well-positioned and the overall fabric is child-friendly, gentle on the skin and allows for breathability.
Support
They are tested for effectiveness and will relieve foot pain and pressure on the arch and heel. If your child has foot pain and is in need of some support, then these insoles for kids would be a smart purchase.
Fit
Plenty of insoles and inserts will fit kids' shoes, but these are particularly made just for children. They have the correct foot shape and length and will only need to be trimmed for the correct shoe size needed.
10

. KidSole Lightweight Gel Heel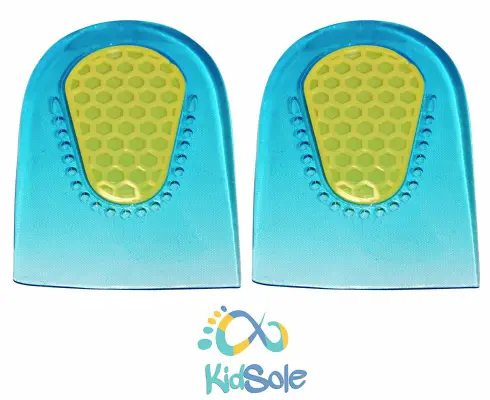 For sizes one to six
Made of synthetic TPR gel
Will aid in the healthy growth of feet
Will absorb shock and help with heel spurs, ankle pain, and fasciitis
Helps to maintain proper arch support
They may not stay in place well
Some say they make the foot too high
The Kidsole Sport Traction Insert is an orthotic that concentrates especially on the heel. The sport grip means kids can run and play and these inserts will stay in place. It's a half-sized insert, so it only covers the heel of your child's shoe and features revolutionary traction technology. This insert comes in two sizes and the gel keeps kids cool, comfortable, and supported!
Read more
Plenty of foot problems can be aided with these gel heel cups for kids. If your child has any painful foot-related issues, then try these gel cups for comfortable and happy feet.
Comfort
Inadequate shoes can cause plenty of discomfort. Whether your child has issues with heels, arches, or ankles, these will make their feet much more comfortable and help their feet as they grow.
Materials
These are made of synthetic TPR gel in a design that is slip-resistant. The materials are safe and durable. A healthy growth of feet will be aided for kids and teens with these high-quality cups.
Support
The KidSole gel cups will absorb shock and help those with heel spurs, ankle pain, and fasciitis. These will also provide proper arch support and help your children maintain a healthy posture.
Fit
Two sets are included in the package, and they are for sizes one to six for children. This will allow help for two pairs of shoes at one time, although these can be moved to other pairs easily.
Criteria Used for Evaluation
Comfort
Children need to be physically active and explore the environment. Therefore providing them with great shoes is crucial! However sometimes kids want the most colorful shoes, designed with their favorite characters and let's face it, they are not always the most comfortable ones, so they end up with improper posture, blisters even back pains. Comfort is the main idea behind all of these items. Inserts, gel cups, and insoles are all created to make your child's walking, running, and standing experiences better than they are with just the insoles that come with the shoes. We wanted to create a list with the best reviewed shoe insoles and inserts currently on the market, that have many positive reviews from satisfied customers in order to help you make the right choice for your little one. All of these products add cushioning and support for either ankles, heels, or arches, or a combination of these. No matter what choice you make, you can rest assure that with these comfortable companions, your children can run around enjoying every minute in their favorite shoes.
Materials
You want to invest in an item that is made of safe, child-friendly and long-lasting materials since children are known to get their shoes quite dirty while playing outside and they are an easy target for germs, especially if their shoes and insoles get wet. Each item we highlight is of high-quality fabrics that will last a long time and take much abuse from wear. The items are effective in the areas they are made for and will provide much-welcomed comfort to your child. These products should be changed often because of bacteria issues, moisture problems, and wearing down of the materials. Therefore it is always more convenient if the product that you are purchasing is made of materials that will last for a long time and provide proper breathability so the you child's feet can be healthy and bacteria-free. Fresh inserts, insoles, and gel cups will always give the best performance toward your child's comfort.
Support
Removable inserts are quite convenient so you can enjoy your favorite shoes without having to worry if they offer proper support. Previously known as a "foot orthosis," these early inserts were used primarily to aid in arthritis pain relief, orthotic correction, and even athletic performance. As technology advanced so did the insole, eventually creating the gel-like versions used for daily comfort that we know today. The terms insoles and inserts have been used for decades, often interchangeably, but there is a real difference between these two types of supports. Insoles are what we generally think of when we imagine this type of shoe liner. They are generally made of gel or foam and are available commercially in a wide variety. Typically purchased in a one-size-fits-all style, insoles are then able to be cut down to fit the appropriate size for your individual needs. They are generally used for odor absorption and daily comfort and have an average lifespan of six months.
Fit
Most of these inserts, insoles, and gel cups are specially made for kids, so they will not need any trimming to fit shoes. However, some of these products may need a bit of cutting to get the right size. It is important to buy new insoles that will conform to the child's shoe. Without the proper fit, the foot problems they already have will be greatly increased with ill-fitting shoe sole inserts and insoles. Great care should be taken when sizing these for your child, so they attain the best comfort from them. Inserts, insoles, and gel cups that we feature here are all easy to put in shoes and they provide relief for feet right away. Some trimming may be needed with scissors to get the most perfect fit in shoes, but that is the only thing to do before enjoying them. They should just slip in and some even have a bit of adhesion to hold them in place.
Most Important Criteria
(According to our experts opinion)
Experts Opinion
Editors Opinion
Users Opinion
By Default

Parents, Did you Know?
Originally designed in the late 1850s, the modern shoe used a built-in insole to provide stability and comfort. This was a big change to the world of shoe crafting as up to this point in time, shoemakers were still using the same techniques first created in the 14th century. Around 1856, a man named Lyman Blake invented the shoe-stitching machine which led to the creation of shoe factories and more modern shoe design.
Parents, Did you Know?
By adding insoles in the shoes, comfort is significantly increased and medical conditions can be largely reduced. Well-designed insoles may be smart when you need to consider additional arch support or are dealing with foot pain. Insoles provide an additional level of comfort and protection, protecting the foot from the hard surface. The experience of walking or hiking is an increasingly comfortable experience.
Other Factors to Consider

Physical Development
Both shoes inserts and insoles are extremely valuable items that will help with proper physical development during the early stages of life, when children need to grow healthy. Inserts are also known as orthotics and they differ from insoles primarily in that they are designed to be custom fit. Generally, you must visit a specialty shoe retailer and have your feet measured in a variety of different ways in order to receive a pair of inserts designed just for you. This perfect fit allows the orthotics to be catered to your individual needs. These inserts are created to correct physical maladies such as an uneven gait and improper posture which can cause pressure on the soles of your feet. Orthotics are also created to be more long-lasting than insoles and typically need to be replaced only once every five years. Providing children the right support for their feet is crucial in order to help them develop properly.

Value
The ultimate value in each of these items lies in all the medical benefits they offer. Pediatricians strongly advice parents to look for appropriate shoes and we can't always assume that every shoe designer will deliver a product that has been medically approved. These products are very valuable since they allow children to wear their favorite shoes, keep a healthy posture and avoid coming in contact with germs that might cause a foot infection. They are specifically designed to be easy to use and adapted to your own personal needs and styles, so your child can enjoy being active. These products are made of safe and quality materials which makes them quite durable and come at an affordable price, much cheaper that branded shoes which can often be uncomfortable. With that in mind, shoe inserts and insoles are a life-saving investment that might prevent blisters, discomfort and that horrible back-pain which adults feel later in life.
Frequently Asked Questions
q:

Is the arch supposed to hurt when you begin wearing supports in shoes and do your feet adjust to them eventually?

a:

Yes, to both of these questions. They will hurt when you first start to wear them because they are new to walk on, but your feet will get used to them. If you think it will be a problem, then break them in gradually. Maybe have your child bring another pair of shoes to school to change into if the ones with the inserts hurt too much.
q:

Do any of these inserts or insoles have a smell to them?

a:

No, they should not have any smells at all even though some of them are made of rubber material.
q:

What can you use to cut these inserts with? My scissors do not seem to do the trick very well.

a:

Try using very sharp scissors or a box cutter to get the proper size for your inserts. Always put something like cardboard under the insert before you cut. Start by cutting just a little bit and then try in shoes. Keep repeating these steps until you have the perfect fit.
q:

Can the inserts be used in more than one pair of shoes? I can move them to each pair when I want to wear them.

a:

This is not recommended because for one thing it is a lot of trouble to do this, and then you want the inserts to conform to the shape of the individual shoe. They will fit differently in each type of shoe, even if they are the same type, like sneakers. Various models will provide a different fit for the inserts. It is best to purchase a separate set for each pair of shoes.
q:

Are these products for people with wide feet? I do not see any indication or special markings for wide feet.

a:

If they do not say they are specifically for wide feet, just like shoes, then they will be too narrow for wide feet. You should not try to make them work because the foot will not be supported around the edges in the shoe.
q:

Do you have to remove the insert in the shoes to put in these supportive inserts or insoles?

a:

If you are putting in inserts, they will probably fit on top of the insert already in the shoe. For insoles, the shoe insert may have to be removed because they do have some arch support that may be too much when combined with the insoles you put in.
q:

Can insoles be cut to fit in the shoes? I know that inserts can be cut to fit because they are generally flatter than insoles.

a:

Insoles are not usually cut to fit. You should try to get the size for the shoe that would fit exactly. If it is just a little too big, then you may be able to trim a bit off the toe portion to fit in the shoe.
q:

Does it matter if you buy inserts for women or men?

a:

Because you can cut these to fit in shoes, no it would not matter if you had men's or women's inserts, just as long as there is enough material and they do not leave empty spaces in the shoes. Women will probably have to cut more off of the inserts if they are for men because they are generally longer and wider.