Footwear plays a part in the development of toddler's feet and gross motor skills. When a child is born their feet consist of mostly fat and cartilage. The cartilage in their feet ossifies and starts to become bones. If the foot wear that they are wearing is a poor shape or fit it will cause an issue with the joints and could restrict the growth, plus affect the natural movement as they are walking.
It is very important to make sure that the sandals that toddlers are wearing are supportive, protective, and are the best fit possible. Many different kinds of sandals on the market offer many features. These features are lovely, but you want to make sure that they provide the three bases before taking into consideration the added bells and whistles.
Our Top 3 Picks
Timberland Adventure Seeker

Our rating
Comfortable & Durable
Price:

See Here

Carter's Jupiter Boy's Sandals

Our rating
Great Traction Sole
Price:

See Here

Teva Tidepool Sport Sandal

Our rating
Adjustable Width
Price:

See Here

Sandals that provide great support have a good cushion system. The cushioning of the sandal should be flexible and leave room for the natural movement of their feet as they walk. This is not only important for comfort, but it also helps support their gait and strengthening the muscles in their feet. On the plus side a good support system also provides shock absorption and protects their feet as well.
Protection in a sandal can sometimes thought to be nonexistent, but the list below provides great examples of well construction sandals that protect little feet and toes. Also with protecting their feet they also provide great gripping power and are slip resistant. These are all important aspects of protection that a good baby sandal should provide.
A great fit is something that should be looked at in every pair of shoes that a toddler is wearing, but in sandals it can play a larger role because a loose or tight fit could greatly affect the support system and the protection that it can provide. Making sure that a well-constructed sandal provides toddlers with support/cushion protects, and fits well should always play a role in the sandal that is chosen. Below are 15 examples of great quality sandals that would be a great selection for any kid and toddler.
The Best Toddler Sandals Rated and Reviewed in 2018
Timberland Adventure Seeker Two-Strap Sandal
carter's Jupiter-C Casual Fisherman Sandal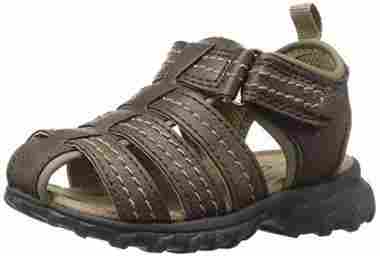 Teva Tidepool Sport Sandal
DREAM PAIRS Toddler 171112-K Lavender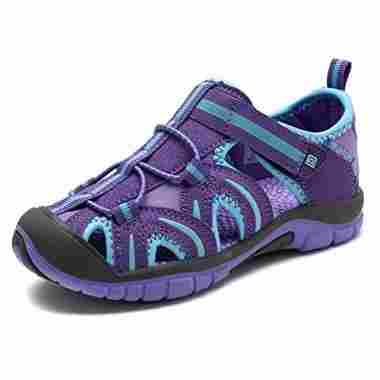 Femizee Girls Genuine Leather
OshKosh B'Gosh Jax Girl's Bumptoe Sandal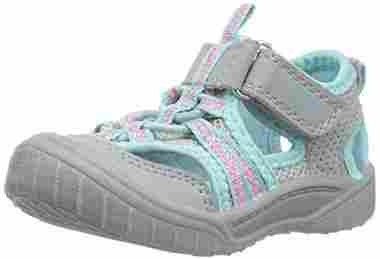 crocs Kids' Crocband II Sandal
Stride Rite SRTech Tulip Sandal
Nike Toddler Sunray Adjust Sandals
OshKosh B'Gosh Hax Boy's Bumptoe Sandal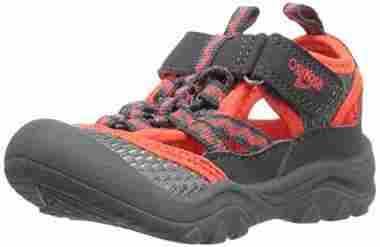 LONSOEN Leather Outdoor Sport Sandals
carter's Splash Athletic Sandal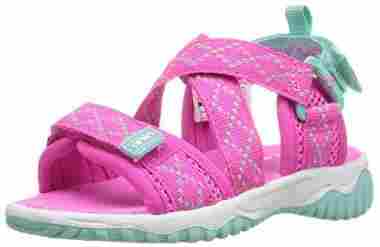 Nova Toddler Little Boys NFBS123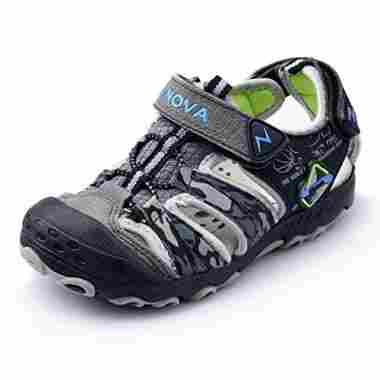 Hoy Shoe Salt Water Sandals
Merrell Hydro Junior Water Sandal Many Colors
Criteria Used in Evaluation of the Best Toddler Sandals on Our List
When creating the list for the 15 Best Sandals for toddlers and kids our experts looked at many different kinds of sandals and reviewed the reviews to determine what criteria parents were looking for in a sandal for their toddler. After lots of research it the criteria came down to comfort, support, and style. Once the list has been created with those being the main points of criteria, then the list is broken down to the 15 best by reviews. We want to offer nothing but the best for our readers and to make sure that happens we suggest not products that have a star rating of less than 3.8 out of 5 stars.
Parents want to make sure that their toddler's feet are well supported. It is not only important to make sure they offer support but they are comfortable as well. Comfort and support are the two most important things about sandals for toddlers. The style is something that adds to the breakdown of the criteria. This allows our experts to only suggest sandals that are great in all the categories.
Features that should be looked for in sandals for toddlers
The features that should be considered when buying sandals for kid/toddler are; support, protection, and fit. Parents should make sure that their toddler's feet are well supported and protected. It is something that is very important to their growth. Their little feet are growing and need the proper support to be able to allow them to grow in the most natural way. Footwear can be very uncomfortable and harmful to their feet if they are not the right kind for their feet.
When looking at the features of a good kids sandal you want to make sure the sole of the sandal is very supportive. Support is important to the growth of their feet and also allows them to be able to walk with a better stride. Next thing to consider is protection. Protecting their feet when wearing sandals can sometimes be hard. So selecting a pair of sandals that best protect their feet for the activities that they will be engaging in is the best way to make sure they are well protected. Lastly make sure that the sandal fits well. If they are too small it could cause pain and not promote growth. If they are too big they could rub causing blisters and be very uncomfortable. Having a toddler 'fitted' for sandals is something that really helps. There are many features that sandals offer, but making sure those features are the best for your active toddler is the most important.
Selecting the best sandal for a toddler
When selecting sandals for a kid or a toddler it is all about the fit and form and less about the fashion. Making sure that the shoes fit well and form well to their feet is the easiest way to make sure you are selecting the best sandals for your kid. There are plenty of sandals out there that are super cute, but are not always the best fit for toddlers. Then there are the sandals that fit well and are super cute. That is what you are looking for.
Shopping with a toddler can be tough enough, but finding just the right sandals can be hard. So make sure that you follow a couple simple rules before getting too frustrated with the situation. Always get them measured each time you purchase new shoes. This makes sure that a growth has not occurred since last buying shoes. Then make sure to make sure that the new sandals have some room for growth, but not too much for that will make them slide around. A good rule of thumb is a thumbs width should do the trick. Never buy shoes by size, always make sure to try them on first. Then find the right material for your sandal. Sandals come in lots of materials so make sure and do some homework on what would be best. Then just get in the groove and shop away.
Wearing shoes/sandals on toddlers and age
When babies first learn to walk it is very important for them not to wear shoes. Shoes can make them slip, stumble, and just get in the way. This is a rule to use when they are learning to walk at home or in an environment that would not cause harm to their feet. Once they have the walking down and start to walk outside the home or when out in about it is time to start thinking about they wearing shoes. Infant shoes are designed to protect and support their little feet, but you want to make sure they do nothing but that.
When babies are stable and ready venture out walking it is time to select their first walking shoe. Shoes that are designed for first walkers should offer just the right amount of protection, stability, and support. Function in babies shoes is the number one priority here fashion will have to come later. The shoe should offer a wide base, a quality material construction, and have superior craftsmanship. These are the feet they will walk on the rest of their life. It is very important to give them the best base that is possible when learning to walk in shoes.
FAQ
Frequently Asked Questions
Q: Should toddlers always have shoes or sandals on their feet?
A: Toddlers should only have shoes or sandals on their feet when it is needed. Like when they are outside or they need something to warm their feet. When they are first learning to walk it is important to make sure they have time to learn to walk without them. Shoes and sandals offer protection and support from the elements. When they are safe and able to walk without shoes or sandals it is important to allow them too.
Q: What is the most important thing to look for when buying sandals for a toddler?
A: When buying sandals for a toddler you want to make sure they offer; a supportive base, protection, and fit just right. These are the three most important features to review when buying toddlers sandals for the warm weather months.
Q: Is toe protection important in sandals for toddlers?
A: Toe protection is important for in sandals for toddlers when the activity that they are doing in the sandals require it. It is also a nice feature to have but it is not the most important feature.
Q: Should the sandals be slip resistant?
A: It is important for sandals to offer a slip resistant sole when you will be using the sandals in or around water. When water is present it is easy to slip and fall. When you have a slip resistant sole it helps prevent that from occurring.
Q: Where can I find the sandals that are on the 15 Best Sandals for Toddlers list?
A: The sandals that are listed on the 15 Best Sandals for Toddlers list can be found by clicking the link below the product. The link goes directly to Amazon where the sandals can be purchased.
Q: When should babies/toddlers start wearing shoes/sandals?
A: Babies and toddlers should start wearing shoes when they are ready to walk in conditions that require them to have to wear shoes. Protecting and supporting one thing that shoes/sandals provide for them so make sure that they are wearing them when the time comes, but they are not needed before that.