Parents want their kids to grow into responsible members of society. They dream of their babies turning out to be more successful than they ever were. As such, it is quite understandable why parents can get so anxious about how to teach their babies the right things in life.
Sassy Developmental Bumpy Ball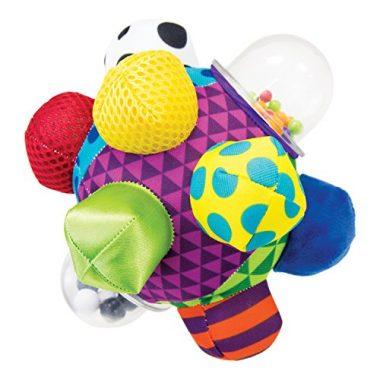 Age range: At least 6 months old
Age range: At least 3 months old
Age range: As early as 2 months old
Toy Winkel Rattle and Sensory Teether Toy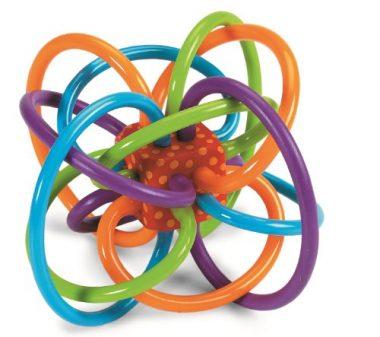 Age range: From birth to 24 months
Baby Einstein Take Along Tunes Musical Toy
Age range: At least 3 months old
Fisher-Price Rock-a-Stack
Age range: At least 6 months old
VTech Touch and Swipe Baby Phone
Age range: 6 months to 3 years old
Fisher-Price Brilliant Basics Baby's First Blocks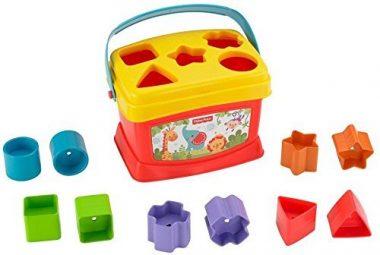 Age range: 6 months to 3 years old
B. Toys B. One Two Squeeze Blocks
Age range: 6 months to 3 years old
Laugh & Learn Click 'n Learn Remote
Age range: 6 months to 6 years old
Bright Starts Clack and Slide Activity Ball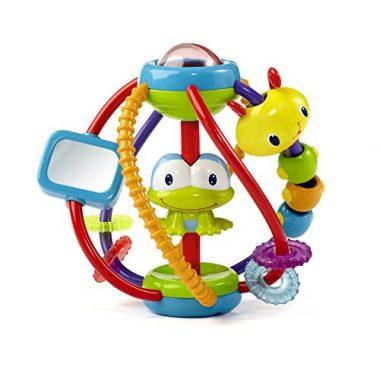 Age range: at least 6 months
Baby Einstein Star Bright Symphony Toy
Age range: From birth to 2 years old
VTech Baby Lil' Critters Moosical Beads
Age range: 3 months to 2 years old
VTech Turn and Learn Driver
Age range: 6 months to 3 years old
VTech Spin and Learn Color Flashlight
Age range: 1 to 3 years old
Criteria Used in Evaluation of The Best Cheap Baby toys
Being on  a budget doesn't mean you want to — or have to — skimp on the quality of toys for your children!  We know how priorities get straightened out pretty fast with young children!  We know how belts need to be tightened and pennies pinched! This is especially the case for young parents just starting out in life with a new family.  Naturally, the best investment will always be the time spent with the kids!  After that, will be the quality of the toys and activities provided.  We give the best offerings in both quality assurance and affordablity.  Not only does it cover all the bases in building socialization skills, maintaining relevance and enhancing motor skills, it gives the opportunity for deep bonding, mirroring and relating to parents in a new and fresh way!
BASIC RESEARCH
In all of the research there cannot be an overemphasis on the importance of proper guidance of your child in their formative years!  This is typically seen as the period from 0-7 years of age!  With the advance of technology, there are plenty of new toys, gadgets and inventions to choose from that will help.  While the blueprint remains the same as far as the neuropathy and development of your child's brain is concerned, there are so many options out there!  Our research has taken into account the life stages of the parents as well when it comes to affordability and time interacting with their children.  While the cognitive development brought on by many of these toys is good, parent-child bonding is crucial in complementing this development.  We took into the account the mechanics of the toys operation and the mirroring stage, leaving the rest of the process to remain organic.
Making The Right Choice
Of course, you will not be able to stay with your baby 24/7 so you will have to choose the right toy for your baby's developmental age. This is very important because you would want to stimulate the development of the correct skills appropriate for your baby's age. For example, before you can expect your baby to master fine motor skills, he or she needs to master his or her gross motor skills first. Additionally, the very first part of the body that develops is the brain and this progresses towards the limbs.
Now, in choosing your baby's toy, it does not have to be very expensive. Remember, the key is to provide sensory stimulation especially for very young babies. For older babies, you can start thinking about helping them develop their beginning problem-solving skills, hand-eye coordination, and spatial intelligence.
FAQ
Frequently Asked Questions
Q: I noticed a "baby smartphone" and a toy remote, are products like these a good example for kids?
A: That's a good question!  The reality is that we live in the cyber age — and in the world of the Iphone since 2007!  Like it or not, it's here to stay!  That said, these two items address a certain need, concern, and dilemma that some parents face.  They have devices in their homes that they use, but their children want to play with them!  So, imagine this, you just bought the latest Iphone X and your kid thinks it might be cute to drop it in the toilet to see what happens; or push a button deleting a custom app that you need!  So, problem is solved by us in offering an alternative to the real thing to keep your child happy!  Whether or not you buy the product is to your discretion as a parent.
Q: Can the Vtech flashlight  overstimulate my child so he won't sleep at night?
A: This is a possibility, but it is a unlikely!  Most kids when it's time for them to go to bed, are usually pretty tired.  It's usually been a full day with activities and hopefully lots of play time to get all of that excess energy out that won't make them antsy and up at night!  If anything, the flashlight should be the opposite, soothing and calming with it's pastel lights and slideshow.  One of the best ways to aid in getting to sleep would be to make the use of the flashlight part of a storytime ritual, and set it all up with a clear beginning, middle and end.
Q: How useful is it to buy a toy that speaks in three different languages?
A: Language is what shapes our understanding of the world!  In a way, the more languages we understand the more hues and colors the world takes on!  The point is simply to open the door for your child and spark his or her curiosity.  Now, will the Octoplush toy make your child a polyglot savant overnight?!  Our course not!  But, it will open the neural pathways and set the foundation for a larger view of the world!
Q: Why should I buy a toy floor mirror when I can just buy a regular one to use with my kid?
A: The Sassy Floor Mirror is probably about the same price or less for what you would pay for a regular mirror at a hardware or home and bath store.  That's one reason.  Other reasons could be the uniqueness of this toy mirror which is designed to keep your child more engaged and stimulated, not just with seeing his or her own reflection in the mirror, but also with being able to play with and fidget with some of the side accessories.  Even more importantly, get a positive self-awareness from witnessing themselves as they act out!  Also, there are the safety considerations that you won't have with an ordinary mirror.
Q: What sets the Winkel Rattle apart from other teething toys?
A: It's from a 38 year old company that's been endorsed by many and won several awards!  So, it has the status and the backing to be trusted for quality!  I think that one major factor is that this toy doesn't have any part of it that is unnecessary.  It's design is simplistic.  It has an intricate atomic shape and everything come from it — it's handles or appendages — are purely utilitarian and high quality.  It's minimalist design is what sets it apart, while still managing to stimulate your child, and not break the bank for your budget.
Q: Should I be concerned about the BPA status for any of these products?
A: With most of these products you don't have to worry about BPA!  They have undergone testing been certified against BPA.  We do recommend that all of these toys be used under supervision.  Specifically, the toys that were not designed to be put in your child's mouth.  Be diligent and do your own, thorough, research on each item, where it comes from and under what standards it was manufactured.  While we can't keep our child 100% free of toxins, we can do our best to keep the margin narrow.