10 Cheap Baby Toys for Parents on a Budget
last updated
May 16, 2019
It can be tempting to blow the bank account on your precious pea. We get it: they're adorable, and everything that they wear and play with is also adorable. Who doesn't want the best that money can buy when it comes to baby? The good news is, there are plenty of great, quality toys out there that baby is bound to love, and that won't put a strain on the monthly budget. Below, we've brought you the best of cheap baby toys. The price is low but you can set your expectations high with these top-rated products!
In a Hurry? The test winner after 42 hrs of research
Sassy Developmental Bumpy Ball
Why is it better?
Fully engages visual senses with color variety and aids in developing eye tracking with clear rattle
Subtle rattle sound forms awareness of consequential relationships, cause and effect
Textural variety strengthens tactile awareness and can double as teething toy
Can help form gross motor skills by rolling with the ball or attempting to pick it up
Very portable toy can be quickly thrown in a bag
In a
Hurry? Editors choice:
Test Winner: Sassy Developmental Bumpy Ball
31
Researched Sources
142
Reviews Considered
42
Hours Researching
38
Products Evaluated
Design
Entertainment Value
Value
By Default
10 Best Cheap Baby Toys Reviewed
1

. Sassy Developmental Bumpy Ball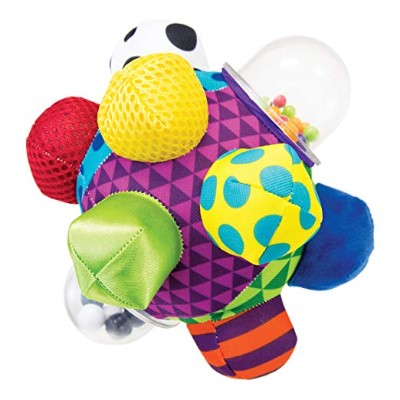 Fully engages visual senses with color variety and aids in developing eye tracking with clear rattle
Subtle rattle sound forms awareness of consequential relationships, cause and effect
Textural variety strengthens tactile awareness and can double as teething toy
Can help form gross motor skills by rolling with the ball or attempting to pick it up
Very portable toy can be quickly thrown in a bag
Stuffing can come out and non-machine washable
Colors not as pictured
Shake, rattle, and roll with the Sassy Developmental Bumpy Ball. This fun, colorful baby to is full of various sounds, shapes, and textures to keep your little one stimulated and cooing happily through play-time. The chunky bumps are easy to grasp and encourage baby to work their motor skills and hand-eye coordination as they grab at the ball and pass it between their little hands.
Read more
Design
The rattle sounds help to stimulate neural connections in baby's brain. Though the manufacturer suggests introducing this at six months, several users reported that children as young as two months were able to safely enjoy this ball and benefit from it. Bright and bold and full of a variety of fabrics and materials, this little ball is a fun sensory exploration exercise for baby each and every time they pick it up!
Entertainment Value
The first 6 months is a crucial time for your little one's developing brain and this brightly colored and rattling ball is the perfect mind stimulating companion. The different textures also help stimulate their sense of touch, and desire to explore the world around them. This is a toy that can benefit your baby from day one and continue to grow with them as they age.
Value
The bright colors help stimulate the eyes of your baby while its soft texture helps strengthen his or her tactile senses. It also provides excellent auditory stimulation.
2

. Baby Einstein Octoplush
Plays five short classical music pieces
Easily switches between the three languages
Buttons are sensitive and easy to push with baby's grip
Simple on/off volume settings
Super lightweight for a child to pick up
Buttons can get stuck and begin repeating colors over and over
Sound may malfunction altogether and stop playing music
Who would not love the soft blue-and-yellow huggable octopus that is the Octoplush? This baby toy comes complete with soft Baby Einstein melodies in 3 different languages – English, French, and Spanish.
Read more
Design
The Octoplush's wide smiling eyes and soft tentacles make for a perfect naptime companion in addition to being your baby's favorite plaything. The toy is designed to stimulate as many senses of your baby as possible.
Entertainment Value
Studies show that children are more adept at learning new languages than adults and it is never too early to introduce language skills to your baby. This cuddly companion can introduce your little one to simple word concepts in several languages and the soothing classical music is perfect for helping your little one nod off to dreamland.
Value
The Octoplush can help stimulate auditory, tactile, and visual perception in your young baby. It is soft enough to be included in your baby's bedtime essentials.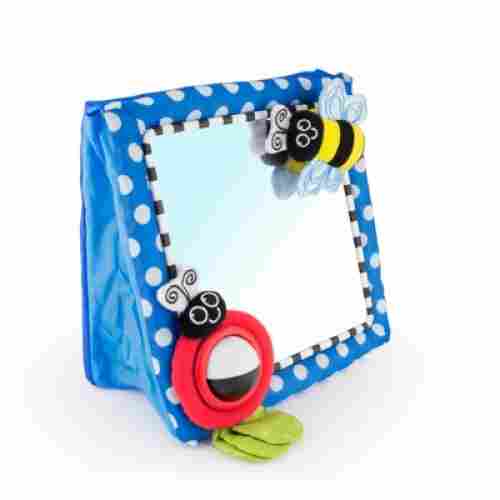 Encourages exploration, self-awareness and spatial development
Ladybug trackerball and bee accessory aid in tactile development
Folds easily for quick storage and access
Good toy for parent-child interaction and bonding time
Bright colors will keep baby engaged
Base is unstable so mirror may topple easily
Wavy reflection of mirror distorts true image
Remember what we said about your baby trying to memorize your face every time you cuddle up to him or her? The same can be said when your baby sees himself or herself in the mirror. With the Floor Mirror from Sassy, you can now make this activity more amusing. This floor mirror can be propped with its back stands.
Read more
Design
It comes with a ladybug whose body contains a 2-color ball which can be spun. The mirror also has the familiar yellow and black stripes of a bee which your baby can click or rotate.
Entertainment Value
One of the first senses of awe is when a baby first looks in the mirror and recognizes him or herself. This recognition is the building block for the rest of cognition when it comes to spatial awareness and social development. Playing with the tracker ball and bee accessories simply adds to the depth of awareness, in seeing themselves doing different actions. The easel makes for a convenient stand, but having the floor mirror laying flat can be just as beneficial an experience for your crawling infant.
Value
Aside from the fact that the mirror is a unique way of introducing your baby to his or her own looks, the interactive bee and ladybug additions can help further stimulate visual and tactile senses.
4

. Toy Winkel Rattle and Sensory Teether Toy
Introduction to pattern recognition and recall
Teething loops strengthen holding and grasping abilities
The teething loops are BPA-Free to protect your child's health
Develops fine motor skills from passing it between hands
Atomic multicolored design will keep children fully engaged
Babies older than 4 months may easily lose interest
Teething loops may not be firm enough for badly teething babies
The Winkel Rattle and Sensory Teether Activity Toy is a 2-in-1 baby toy designed to help in your baby's sensory development as well as getting through the discomforts of teething.
Read more
Design
This activity toy is composed of colorful rings that form a maze resembling the structure of an atom with the nucleus or the center being composed of a soft colorful cube. The cube is where little balls are confined to give it its rattling sound effects.
Entertainment Value
Many teething toys can either too boring or too over-the-top! With the toy winkel rattle, the perfect most sophisticated balance is struck! Not only do the teething loops double as handles for developing fine motor skills, central cube begins to form neural pathways that recognizes and recalls geometric patterns. If these things don't keep your infant endlessly engaged, the rattle effect certainly will. It is the safest and most educational teething toy out there at a super-affordable price!
Value
It is small enough to be handled like a ball. It is great for stimulating visual development for younger children and developing fine motor skills for older babies.
5

. Skip Hop Explore and More Musical Egg Shakers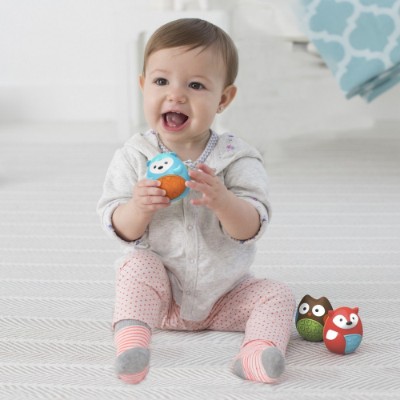 Includes 3 pieces with distinct sounds for each
PVC & Phthalate-free
Small, sturdy design fits perfectly in baby's hands
Textures surfaces help develop a sense of touch
Shaker sound is very quiet and plastic sounding
Packaging is not frustration free and may leave behind small parts if not completely removed
Babies adore shakers, rattles, coins, bells, and just about anything that can make a sound. While a lot of the choices our babies would make for their favorite noise-making toy aren't exactly the safest, the Skip Hop Explore and More Musical Egg Shaker Trio are here to become your little ones newest, noisiest playmates!
Read more
Design
These forest friends are here to bring some shake, rattle, and roll to playtime! Your child will be able to happily shake the easy to hold Fox, Hedgehog, and Owl toys while they jam away to the unique rattling sounds of each.
Entertainment Value
Composed of all baby-safe materials, there is nothing to fear when these shakers turn into teethers! The textured tummies and backs will also enhance your little one's developing sense of touch. The adorable little characters can take a licking, literally, and keep on ticking for years to come!
Value
These little shakers are the perfect little companions for your baby as they support the development of their eyes, ears, and those perfect little hands.
6

. Baby Einstein Take Along Tunes Musical Toy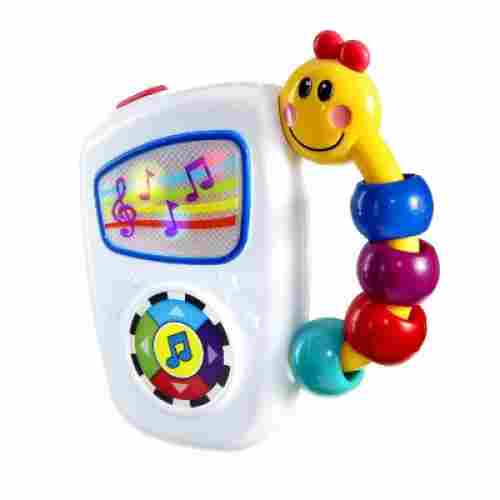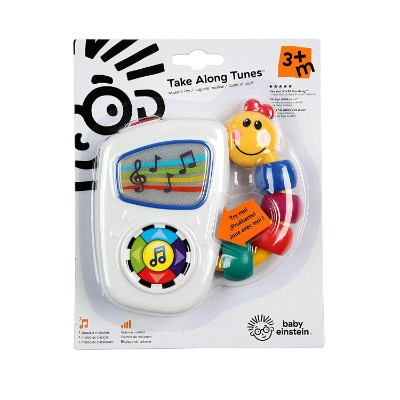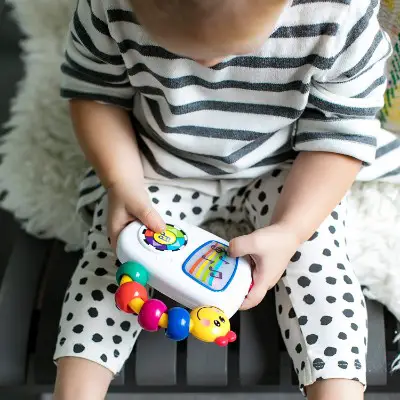 Classical music pieces run for extended periods to fully immerse the child
Large center button allows easy operation and develops causal relationships
Equipped with both volume control settings and on/off button
Perfectly sized for portability could fit in pocket
The semi-naturalstic smiley face on the handle develops socialization
Speaker on the back of device can get muffled when laying down
Beads on the handle can be too big for a child's hand to grasp and hold
Studies show that music is one of the essential keys to unlocking the full potential of the child's brain. Giving your baby the Take Along Tunes Musical Toy will help stimulate optimum brain development at an early age.
Read more
Design
Your baby will be able to conveniently hold the colorful caterpillar body that serves as the toy's handle. The musical toy comes with 7 classical and baby-friendly melodies that is accompanied by light effects from its colorful LCD.
Entertainment Value
Music supports the earliest stages of language development and there is nothing cuter than watching a baby giggle and coo along to songs! This delightful light up rattle combines two of your child's favorite things: fun and music, while also helping them edge closer to saying their very first words.
Value
The toy can function as your baby's MP3 player and rattle at the same time. Without the battery, your baby can simply shake the toy to produce the rattle effect. Put in the batteries and your tot may well be on his or her way to becoming the next Mozart.
7

. Fisher-Price Rattle 'n Rock Maracas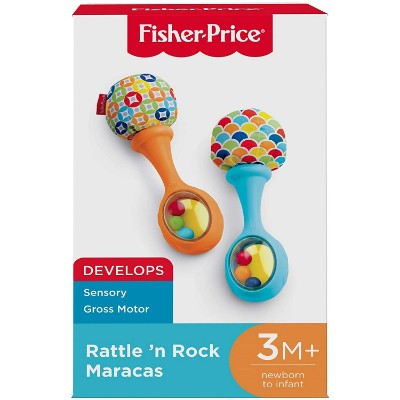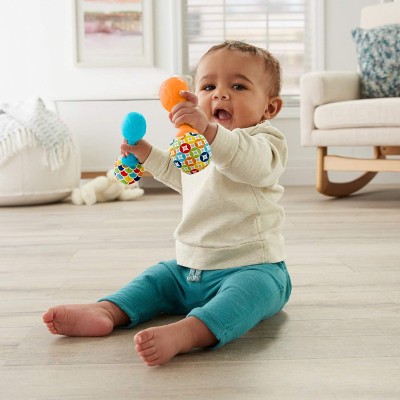 Two maracas included
Soft pom-pom ends
Bright and colorful
Makes rattling sounds
Easy for baby to grab
Tough to wash the soft pom-pom side
Get your little one rockin' and rattlin' with these darling Fisher-Price Maracas. Each set includes two maracas, sized perfectly to fit tiny hands so they can grasp and shake the night away. The colorful beads inside provide visual stimulus to children, while also making a run rattling noise when shaken.
Read more
Design
Colorful pom poms decorate these rattles and are super soft to the touch. All that grabbing and shaking produces strengthened motor skills--and also some fun beats! Dance along to get your baby playing and help them begin to understand cause-and-effect. Turn on the radio to baby's favorite song, and make a party out of it!
Entertainment Value
These maracas allow baby to work their gross motor skills. The grasping and shaking also helps to improve hand-eye coordination, and to establish the basic premise of cause and effect through sound and movement. Little ones will love the vibrant colors and soft textures as well, helping to stimulate those active baby brains.
Value
These are cute little noise-makers that aren't too loud or obnoxious. Baby might need a few months to grow into them, but around 6-8 months this will probably quickly become a favorite.
8

. B. Toys B. One Two Squeeze Blocks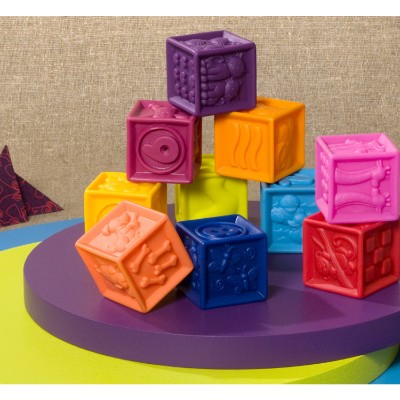 Indestructible design gives them endurance for all forms of play
Hand-sculpted and embossed makes them aesthetically pleasing
Soft plastic lessens the risk of injury due to sharp corners
Tend to keep their shape over time
Chewability allows it to double as a teething toy
Not rated BPA-Free
Item may not be as pictured
Babies learn best using their senses. However, it is also crucial to have a toy that your baby can use even when he or she is already a toddler. That is the aim of the B. One Two Squeeze Blocks.
Read more
Design
The set comes with 10 colorful, hand-sculpted, blocks that can be stacked, floated, and squeezed. Each block has reliefs of an animal figure and a number to aid in your baby's learning. The blocks are soft and squeezable and are made of safe materials so your baby can even chew on them.
Entertainment Value
Let's face it, just about any toy you purchase for your baby is going to end up in their mouth. So when you find a toy that is designed to be safely chewed as well as intellectually stimulating it's not surprising that you might see Wile E. Coyote-esque dollar signs light up in your eyes! These blocks give your baby's brain a boost while still getting the biggest bang for your buck!
Value
The animal and number relief on the blocks make for excellent tactile stimulation while the bright colors can help in visual development. The toy is soft and can be played with in your baby's crib, playpen, or even the bathtub.
Includes bright colors and shapes
Features 10 different shape blocks
Blocks can stack, be sorted, and dropped in a bucket
Bucket features shape sorting and easy to carry handle
Promotes shape and color recognition
Encourages early problem solving developmental skills
Top to bucket does not latch to stay on
Made from thin plastic
Sorting shapes, learning to identify colors, and stacking blocks are all the things that will keep your little one busy with this set of 10 shape blocks and carrying bucket. The bright colors attractive them to the activity and the sorting keeps them busy for some fun interactive playtime.
Read more
Design
Colorful, simple, and easy to use this set comes with 10 blocks; two sets of matching blocks with each set featuring a different color. The easy to carry bucket is simple to use and the lid comes right off making it easy for them to retrieve the blocks to play again.
Entertainment Value
For hours of endless fun, this simply designed block set is made to promote your baby's problem solving skills, encourage their development of shapes and color recognition, and just to have some stacking good times. It is simple enough for them to be able to engage quickly, but complex enough to allow them to come back to the activity day after day.
Value
Great set to be able to introduce color and shapes on a budget friendly nonnoise making a toy that does not require any batteries. It reinforces learning with a side of fun. It promotes milestone development while giving the little ones a simple task that is easy to repeat on their own.
10

. Sassy Wonder Wheel Activity Center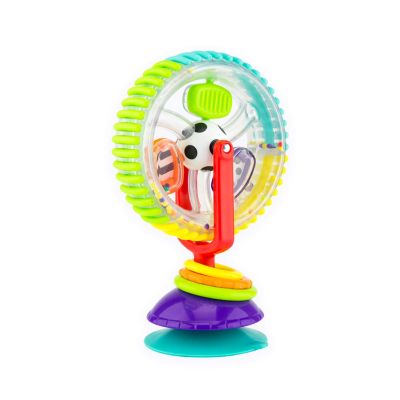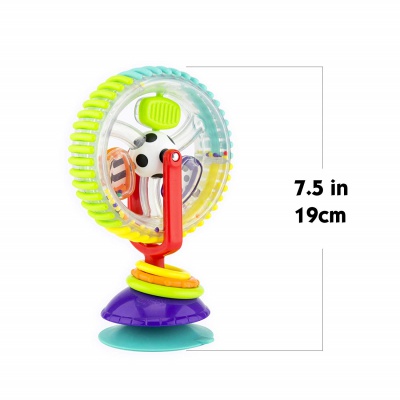 Includes spinning wheel, beads that cascade with wonderful bright colors
Spinning wheel is great for promoting the reaching skills
Oversized spinning wheel making it easy to grasp
Features many textures, tactile features, and suction cupped bottom
Encourages fine motor skills
Suction cup holds very tightly
Is not waterproof
Children love to spin things and this toy is no different. It is designed to be visually stimulating and to enhance their tracking skills.
Read more
Design
When designed the idea was to encourage babies to be able to tug at the wheel, bat at the centerpieces, and reach to spin the wheel. Each of these skills promotes the development of their fine motor skills while having a good time doing it.
Entertainment Value
Just because you can purchase this spinning wheel on a budget doesn't mean that it is any less fun. The quality is also there. It is a spinning toy that draws the attention of the little ones with several different features. With one large spinning wheel with texture and two small spinning wheel pieces in the center along with the cascading beans. From the sounds of the beans to the easy spinning this toy is a great opportunity for kids to have some fun.
Value
From babies to toddler days this spinning wheel with a suction cup on the bottom will keep the kids coming back time after time. It is one of those toys that the kids will enjoy still playing with even after they leave the baby stage. The entertainment value and motor skill building make this a great toy to allow them to have some fun while working on those important milestones.
Criteria Used for Evaluation
Design
In all of the research, there cannot be an overemphasis on the importance of proper guidance of your child in their formative years! This is typically seen as the period from birth to 7 years of age! With the advance of technology, there are plenty of new toys, gadgets and inventions to choose from that will help. While the blueprint remains the same as far as the neuropathy and development of your child's brain is concerned, there are so many options out there! Our research has taken into account the life stages of the parents as well when it comes to affordability and time interacting with their children. While the cognitive development brought on by many of these toys is good, parent-child bonding is crucial in complementing this development. We also took into account the mechanics of the toy's operation and the mirroring stage, leaving the rest of the process to remain organic.
Entertainment Value
Being on a budget doesn't mean you want to--or have to--skimp on the quality of toys for your children!  We know how priorities get straightened out pretty fast with young kids!  We know how belts need to be tightened and pennies pinched! This is especially the case for young parents just starting out in life with a new family.  Naturally, the best investment will always be the time spent with the kids!  After that, will be the quality of the toys and activities provided.  We give the best offerings in both quality assurance and affordability.  Not only does it cover all the bases in building socialization skills, maintaining relevance and enhancing motor skills, it gives the opportunity for deep bonding, modeling and relating to parents in a new and fresh way!
Value
Of course, you will not be able to play with your baby 24/7 so you will have to choose the right toy for your baby's developmental age. This is very important because you want to stimulate the development of the correct skills appropriate for your baby's age. For example, before you can expect your baby to master fine-motor skills, he or she needs to master his or her gross-motor skills first. Additionally, the very first part of the body that develops is the brain and this progresses towards the limbs.
Most Important Criteria
(According to our experts opinion)
Experts Opinion
Editors Opinion
Users Opinion
By Default

Parents, Did you Know?
That toys that present colors in a contrasting way help develop and stimulate your baby's vision. As they grow they can explore more colors when they are presented with toys with more contrasting colors.
Parents, Did you Know?
Always make sure that you read all the warning labels on a toy for your baby. Make sure that the toy is age and developmental appropriate before allowing them to play with any type of toy.
Other Factors to Consider
Sensory Stimulation
In choosing your baby's toys, they does not have to be very expensive. Remember, the key is to provide sensory stimulation especially for very young babies. For older babies, you can start thinking about helping them develop their beginning problem-solving skills, hand-eye coordination, and spatial intelligence. Each of the toys on this list have been researched to ensure that they will stimulate their sensory system and provide the them with the boost in development that all parents are looking for.

Social Development
As your baby starts to grow it is time to start thinking about their toys and how it will help them reach their next milestone. Even though babies do not seek out social play at this age you still need to be working with them towards developing the skills that they will need when the time comes. Most of the toys on this list can help you start to introduce how to play with others. Playing with a baby allows them to work towards some of their biggest social milestones like their first playdate, their first day of school, meeting their first best friend, and even attending their first sleepover. As you play with them and their toys you can often show them how to play with the toy or a new way of playing with the toy, then simply handing it to them and asking if they would like a turn. This socially engages them in the toy and allows them the opportunity to engage back with you. This will prepare to learn how to connect with others and join in when the play date comes.
Frequently Asked Questions
q:

How useful is it to buy a toy that speaks in three different languages?

a:

Language is what shapes our understanding of the world! In a way, the more languages we understand, the more hues and colors the world takes on! The point is simply to open the door for your child and spark his or her curiosity. Now, will the Octoplush toy make your child a polyglot savant overnight?! Our course not! But, it will open the neural pathways and set the foundation for a larger view of the world!
q:

Why should I buy a toy floor mirror when I can just buy a regular one to use with my kid?

a:

The Sassy Floor Mirror is probably about the same price or less for what you would pay for a regular mirror at a hardware or home and bath store. That's one reason. Other reasons could be the uniqueness of this toy mirror which is designed to keep your child more engaged and stimulated, not just with seeing his or her own reflection in the mirror, but also with being able to play with and fidget with some of the side accessories. Even more importantly, they get positive self-awareness from watching themselves as they act out! Also, there are the safety considerations that you won't have with an ordinary mirror.
q:

What sets the Winkel Rattle apart from other teething toys?

a:

It's from a 38-year-old company that's been endorsed by many and won several awards! So, it has the status and the backing to be trusted for quality! I think that one major factor is that this toy doesn't have any part of it that is unnecessary. Its design is simplistic. It has an intricate atomic shape and everything–its handles or appendages–are purely utilitarian and high-quality. Its minimalist design is what sets it apart, while still managing to stimulate your child, and not break the bank for your budget.
q:

Should I be concerned about the BPA status for any of these products?

a:

With most of these products you don't have to worry about BPA! They have undergone testing and have been certified BPA-free. We do recommend that all of these toys be used under supervision, specifically for the toys that were not designed to be put in your child's mouth. Be diligent and do your own thorough research on each item, where it comes from and under what standards it was manufactured. While we can't keep our child 100 percent free of toxins, we can do our best to keep the margin narrow.
q:

What are some other ways I can budget around baby's needs?

a:

There are lots of ways to cut back on spending, even with a baby on board! To begin with, consider cost-effective alternative to your essentials. Disposable diapers are definitely less hassle, but cloth ones are significantly cheaper (roughly a quarter of the cost when you factor in accessories and how often you're changing them). Opt out of expensive diaper changing pads and use a less expensive mat, maybe even one you have on hand already that is waterproof and easy to wipe down. With babies outgrowing their clothing so quickly, opt for a few important staple pieces (t-shirts and pajamas especially) in their current size and wash them often. Newborns are still processing much of the world around them, so there's no need for fancy toys for a few months. And when you do purchase toys, simple toys such as something to shake (a rattle) and something they can grasp (a soft doll or stuffed animal) are often sufficient enough to still be developmentally beneficial. There are also lots of online groups you can join wherein families give away their old baby items as long as you pay for shipping costs on it. Just make sure you always sterilize toys and other objects that might wind up in baby's mouth.