10 Best Baby Teethers Reviewed in 2019
last updated
Apr 28, 2019
On average, babies start getting their first teeth around 6 months, but other babies get them earlier, or much later. Some babies are even born with one or two white caps, which are called natal teeth. However, the most common time period for teeth are between 4 to 6 months, when babies are ready for pureed or small pieces of Stage 1 solid foods. But there's no need to panic if your baby's teeth are slow to come. For some babies, they may even go the entire first year without one tooth showing up! When they do appear, they normally start at the front, on the bottom jaw. The teeth at the back of the mouth will be the last to arrive.
In a Hurry? The test winner after 15 hrs of research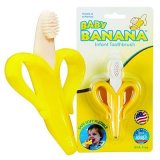 Baby Banana Training Toothbrush and Teether
Why is it better?
Promotes oral hygiene
Non-toxic silicone
Easy grip handles
Developed by a dental hygienist
Promotes hand-eye-mouth-coordination
In a
Hurry? Editors choice: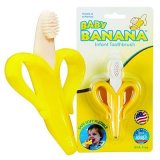 Test Winner: Baby Banana Training Toothbrush and Teether
13
Researched Sources
15
Hours Researching
16
Products Evaluated
Adjustability
Materials
Safety
By Default
In depth review top 10
Baby Banana Training Toothbrush and Teether
Bumkins Nintendo Silicone Teether, Game Boy
Silicone Teething Necklace - 12 Color Choices
Manhattan Toy Winkel Rattle and Sensory Teether Toy
Food Grade BPA Free Silicone Teether by Baby Elefun
Bright Starts Pretty in Pink Carry Teethe Purse
Safety First featuring Mombella Ollie Octopus Teether
BEBE Cookie Teethers & Gum Massagers, Hard & Soft
Ike & Leo Teething Toy Pacifier Clip / Teether Holder
Raccoon Teethers by Tulamama
Table of contents
Criteria Used for Evaluation
Other Factors to Consider
Frequently Asked Questions
Sources
10 Best Baby Teethers Reviewed
1

. Baby Banana Training Toothbrush and Teether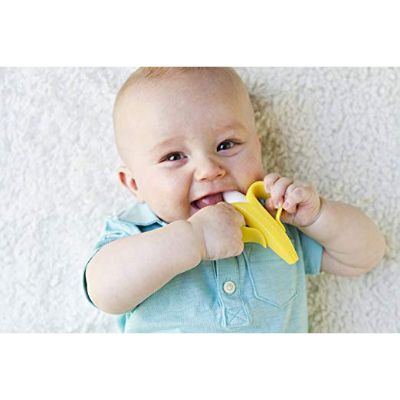 Promotes oral hygiene
Non-toxic silicone
Easy grip handles
Developed by a dental hygienist
Promotes hand-eye-mouth-coordination
Debris can get stuck in the bristles
May initially have slight "plastic" odor
This teether makes an unforgettable first impression on adults and babies alike, with its realistic peeled banana shape. But what's really unique about this product is the little nubs at the the top, which makes this a trainer toothbrush as well as a teething toy.
Read more
Adjustability
Baby Banana offers many different baby teethers, but the banana one is our absolute favorite! In addition to being able to tell exactly what it is, the handles are so wonderful for helping babies grip onto it, whether they're using it as a teether or a brush. Even as a teether, the little nubs can be quite effective at removing milk and food debris in between meals. While it's not a replacement for actual tooth brushing, removing food debris from teeth throughout the day is recommended by dentists for optimal oral health.
Materials
Baby Banana's inspiration for this teether and training toothbrush came from a dental hygienist, and since then, it has been recommended by countless parents and pediatric dentists. Designed for kids as young as 3 months old, it's excellent for early teethers, as well as late teethers, who will enjoy mimicking the brushing motions. By the way, you can use this with baby toothpaste, so it can serve as a real toothbrush for the first few months. Parents love how it goes right in the dishwasher afterwards, though it can just as easily be washed and dried, or sanitized with a steam sterilizer.
Safety
Honestly, there's not many ways to make teeth brushing fun, but no baby can resist gripping the bright yellow peel handles and brushing their teeth like mom and dad. And no matter how many times they want to practice brushing, you can rest assured that no BPA, latex, or phthalates are going in their mouths. The material, from bristles to peels, is made of 100% food grade silicone. It's dishwasher safe for easy cleaning, and freezer friendly for the days when babies need extra relief.
2

. Bumkins Nintendo Silicone Teether, Game Boy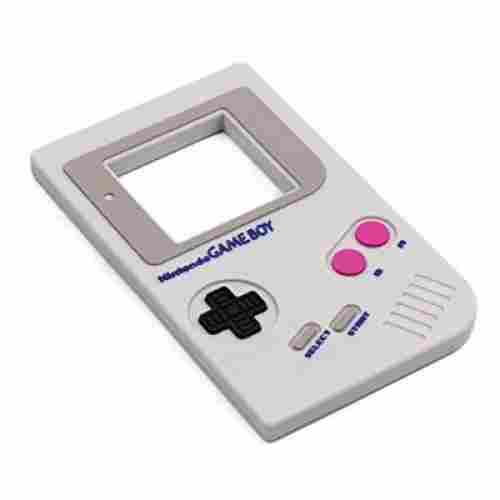 Contaminant free
100% food grade silicone
Can be frozen
Easy to clean
Fun, unique design
May be too stiff for some babies
Space around buttons can trap dirt
Countless parents have fond memories of the original 1989 Gameboy, so we were absolutely delighted to come across this Gameboy Silicone Teether. Of course, it's not just about how cool it looks. Believe it or not, the wide surface and the different buttons provide various chewing experiences for multiple levels of pain relief.
Read more
Adjustability
This teething toy is truly one-of-a-kind, and not just for its looks. We know that different hardness levels and textures provide different levels of pain relief, and that's very important since teething occurs over a period of many months. Some products offer you multiple teethers or toys in one pack, which is not a bad idea. But some parents are already overwhelmed with the number of baby products they have in their homes. A compact product like this Gameboy teething toyl provide the customized relief that your baby needs throughout the entire teething process.
Materials
In addition to soothing their gums, these textures are amusing, sensory-awakening experiences for your baby. Other functional elements include the ability to freeze for extra relief, and clean with either soap and water, or by placing on the top rack of the dishwasher. As with all Bumkins teething toys, this product is free of BPA, phthalate, PVC and vinyl, and made from 100% food grade silicone.
Safety
Bumkins main claim to fame are their unique, fun-for-everyone teethers modeled after Nintendo, Disney and DC Comics designs. You may already have lots of products from these companies in your home, but most of them are unsafe or inappropriate for you baby. When they reach out for those items, give them this Gameboy teether instead. In fact, this works as a fun baby toy even once the teething relief is no longer needed. Older babies can bend it and press the buttons, which are so helpful in developing their motor sensory skills.
3

. Silicone Teething Necklace - 12 Color Choices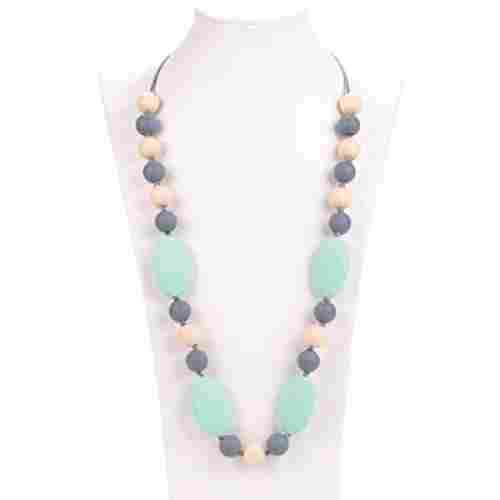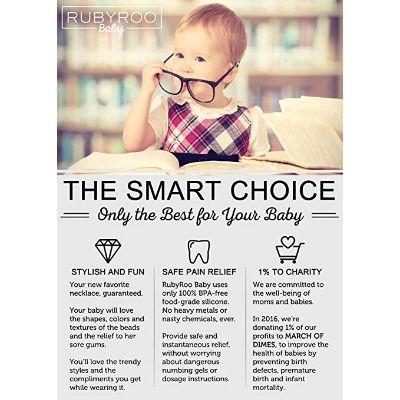 BPA free
100% food grade silicone
Can be frozen
Dishwasher safe
Breakaway clasp
High temps may damage clasp
Hair may catch in between beads
Many moms prefer teething necklaces over rings and toys, especially if they're breastfeeding. RubyRoo offers moms a stylish option in soft, beautiful colors like turquoise and coral.
Read more
Adjustability
So many moms give up on the idea of being stylish during the infant months. Even teething necklaces tend to look teething toys on a cord. RubyRoo set out to change that by creating a necklace that can stand alone a a statement piece. Moms say they constantly receive compliments when they have this on, since the beads look so authentic. Of course, safety and pain relief are the primary concerns, on which RubyRoo comes through with flying colors. Still, it's so nice to see something pretty that genuinely helps our babies!
Materials
These BPA free, 100% food grade silicone beads vary in shape and size, so your baby has plenty of chewing options to choose from. These also grow along with your baby, which is crucial when teeth are slow to come in. If your baby is having a particularly difficult time, you can stick these right in the freezer for extra soothing power. Freezability is a great option if you're wary about using teething gels or baby ibuprofen. During this time, your baby may also be extra picky about food, so RubyRoo gives you free access to their eBook, "Curry to Kale: 10 Baby Food Recipes to Help Prevent a Picky Eater."
Safety
Many babies are still being nursed when teething begins, so mommy's chest is where they feel safest and most comfortable. Teething necklaces give these babies gum relief in their favorite environment, but it's imperative that they're safe for both mom and baby. RubyRoo took the time to design a tight clasp that passes the pull test, with a silky-smooth cord that lies flat. Each bead is individually knotted for stronger and safer construction. All these factors give you peace of mind each and every time you slip on this fashionable necklace.
4

. Manhattan Toy Winkel Rattle and Sensory Teether Toy
BPA and PVC free
Dr. Toy's Best Classic Toys Winner
Exciting tubes design
Easy to hold
Quiet rattle
Not dishwasher safe
Rattle may get stuck at times
Babies can't resist touching, or putting this bright bundle of tubes in their mouth. That's a good thing, because this mesmerizing maze of tubes with a polka dotted cube in the middle is the perfect baby teething toy! For one thing, it's made for babies up to 24 months; most teethers are not recommended past the first year.
Read more
Adjustability
In addition to being Dr. Toy's Classic Toys pick for 2016, this product won the Oppenheim Toy Portfolio Gold Seal Award in 2013. That means it's been tested by trusted, independent organizations who agree -- this is one of the most interesting, innovative teething toys we've ever seen. Of course, innovate design doesn't mean much without durable construction, especially as babies advance into their second year. Thankfully, these tubes stand up to even the most rigorous chewers, and they freeze nicely for added relief.
Materials
This is a big, bright bundles of fun that looks like a toy rather than something functional. The tubes, however, do much more than amuse your baby. They're perfect for gripping with tiny fingers, and the layering from top to bottom means babies can achieve chewing satisfaction at any angle. Oh, did we mention, there's a rattle inside that cheerful red cube? It's no wonder babies love shaking these so much, long after their teething pains are gone.
Safety
The loops are soft and pliable, and free from BPA and PVC, so there's no need to worry about your baby using it for that long. Additional safety considerations include meeting strict standards set by organizations such as the U.S. Consumer Product Safety Commission and the European Union. While these factors are important to parents, a baby just wants something fun and soothing, which is exactly what they'll get with this whimsical, award winning teether.
5

. Food Grade BPA Free Silicone Teether by Baby Elefun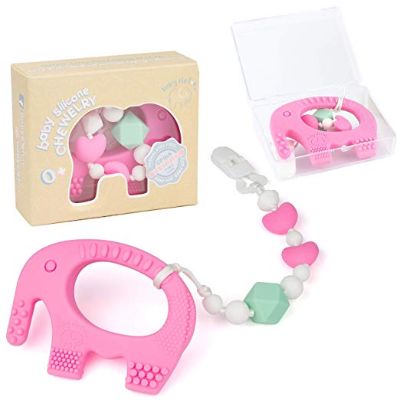 Free of BPA and soluble metals
USDA verified food grade silicone
Different teether options
Universal pacifier clip
LIfetime warranty
Clip can be difficult to open and shut
Teethers with pacifier clips are a great idea -- unless the clip isn't compatible with your baby's pacifier. No worries, because baby elefun's pink elephant teether comes with a universal pacifier clip! Although this toy is targeted at girls, we can't see why a baby boy wouldn't love this cute little elephant and the fun string of beads in various shapes and sizes.
Read more
Adjustability
The versatility of a ring-like teether, coupled with uniquely shaped and textured beads is really the standout feature of this product. Of course, the cute pink elephant design is helpful as well, but cuteness isn't worth much if the product doesn't deliver effective pain relief. With all its available chewing textures and hardness levels, your baby is sure to find soothing gum relief from baby elefun's Pink Elephant and pacifier clip set.
Materials
We've been talking about stylish teething necklaces for moms, but it's not a bad idea for babies to have a bit of style, too! This pink elephant teether is more modern and sleek compared to its counterparts, but it's still bright pink and adorable, so you know it's for kids. The attached beads are quite stylish as well, in their variations of pearl-like spheres and pink hearts, punctuated by a green square bead. This sort of design wakes a baby's sense in a whole new way, and looks great in the hands, or clipped onto a car seat/ stroller.
Safety
As the parent, you'll love knowing that it's made from USDA certified BPA free food-grade silicone, with no PVC, phthalates, lead, cadmium and other soluble heavy metals. Each bead is individually knotted for increased safety, and the plastic clip securely latches onto any pacifier. In addition to gum relief, your baby's visual and tactile senses will be stimulated by the pink, green and white beads. These, along with the elephant, give babies multiple chewing experiences for all their teething aches and pains.
6

. Bright Starts Pretty in Pink Carry Teethe Purse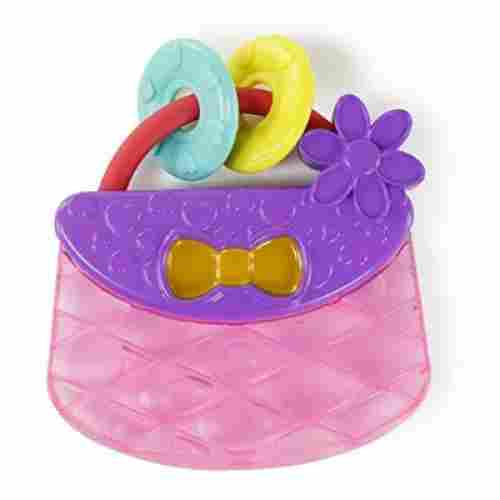 Soft and flexible
Adorable design
Movable beads
Easy to hold
Not freezable
Not dishwasher safe
Even people who aren't parents are familiar with Baby Einstein, a trusted leader in baby programs and products. Their love and understanding of babies can be seen in products like this purse teething toy, with its lovely pink and purple color scheme.
Read more
Adjustability
Honestly, we love just about anything from Baby Einstein, but this teething toy is just too adorable for words! Of course, we wouldn't choose something for your baby on cuteness alone, which is why we made sure of this product's safety and functionality as an effective gum soother. Still, it's nice to have an effective teething product that can function as a standalone toy once your baby is older. The beads are a great addition as well, for sensory stimulation.
Materials
The current trend seems to favor solid teethers, but water-filled teethers may be more appropriate for babies with sensitive gums. They also work well for very early teethers whose mouths are too small for many solid teething toys. The super flexibility of water-filled teethers makes it possible for babies to at least chew on the ends or specific sections, while being gentle on their gums. You should, however, only get teethers that are filled with nothing but water, like this purse toy from Baby Einstein. The flat, wide shape is helpful as well, since it allows babies to grip it securely in their hands.
Safety
The handle is accentuated with two movable and textured beads for visual and tactile stimulation. However, its most distinctive feature is the addition of water, which makes the purse extra squishy and chewy. Liquid filled teethers have been around for a long time, but many of them contain liquids with harmful chemicals. Baby Einstein's BPA free teether contains nothing but water for a safe, satisfying chewing experience. The water also makes the toy super soft, so this is a great choice for early teethers with extra sensitive gums.
7

. Safety First featuring Mombella Ollie Octopus Teether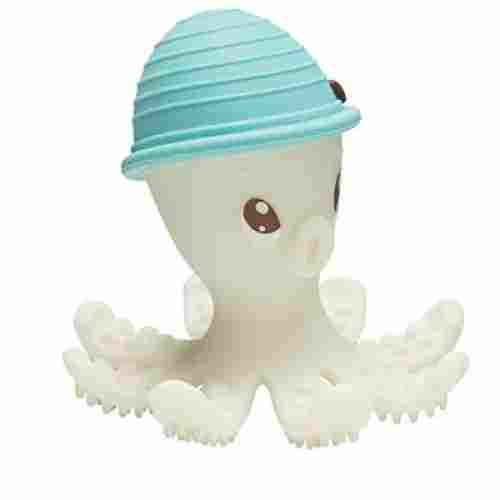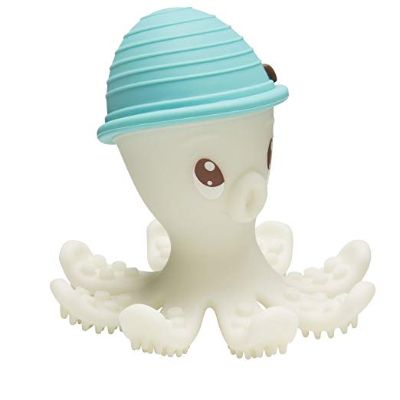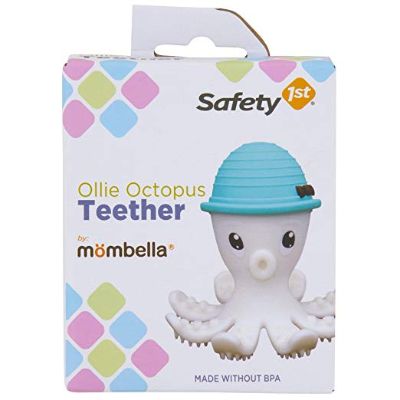 BPA free silicone
Hollow for extra flexibility
Varying textures
Dishwasher safe
Easy to hold
Hollow insides can trap drool and debris
This wide-eyed octopus with his powder blue beanie hat is possibly the cutest teething toy we've ever seen.
Read more
Adjustability
Leave it to Safety 1st to think of little octopus tentacles as teething aids! We love that these tentacles offer choking hazard-free, long-lasting relief, thanks to the clever design of flared out tentacles from a wide, round head. Many parents rave about how this is the only teething toy their babies want day after day, while other ones get tossed aside as babies lose interest, or find them ineffective as they progress to the next teething stage.
Materials
Some babies like intricate, complex teethers, while others like cute and simples ones. Ollie is a great balance between the two, with his wide-eyed expression, accentuated by a textured blue beanie, and of course, those eight curly tentacles. We've yet to find a baby who can resist Ollie's charms, especially when they get the instant pain relief from his nubby tentacles. Because it's so easy to hold, babies can chew on Ollie while sitting down, standing up, or lying cozy in their cribs.
Safety
This sweet little guy is made from BPA free silicone, and provides soothing gum relief for babies as young as 3 months. He can also be frozen for extra pain relief, and tossed right in the dishwasher for easy sterilization. Room-temperature or cold, Ollie's eight super soft and gummy tentacles offer consistent chewing for your baby at every angle. His big, round head is easy for tiny hands to hold, while the ridges on his blue beanie awaken their tactile senses. In spite of his gummy softness, Ollie is super durable and guaranteed to last through all the different stages of teething.
8

. BEBE Cookie Teethers & Gum Massagers, Hard & Soft
Free of BPA and other contaminants
Medical grade silicone
Multiple chewing textures
Bright color promotes sensory development
Detachable cord for strollers and baby carriers
Cord presents choking hazard
Right away, these are so adorable with their Oreo cookie shapes, but these baby teethers are much more than cute little toys. First, there's two of them -- one soft, one hard, so that your baby has two chewing options. This makes perfect sense, considering babies need a softer teether when their gums are sore and inflamed, then a harder chew when teeth start poking through. Second, the ridges in the cookie shapes have different soothing effects for relieving those aching gums.
Read more
Adjustability
The customization of textures is something you find in many teethers, but Bebe By Me was the first to come up with this unique cookie design for multiple hardness and chewing levels. This concept has been copied by many companies, but Bebe By Me's patented and trademarked design is completely unique to this product. In addition to their efficacy in relieving pain and discomfort, these teethers are made from the most expensive, high-end medical grade silicone used in Japanese labs and hospitals.
Materials
Bebe By Me's knowledge and consideration for how teethers are handled by both babies and parents is second to none. Even the attachable cords are made as safe as possible with breakaway clasps, although cords should definitely be removed if you are personally unable to supervise your baby. Another great thing about these cords is that they are flat and securely tied down, so you can use the set as a teething necklace if you're still breastfeeding.
Safety
This technology, by the way, is 100% exclusive to Bebe By Me, so you won't find this level of customization anywhere else. Finally, there's the material, which is medical grade silicone, 100% free from BPA, pthalates, latex, lead and other contaminants you don't want in your baby. With such careful attention to the safety and functionality of their products, it's no wonder Bebe By Me has been a trusted maker of baby products since 1985.
9

. Ike & Leo Teething Toy Pacifier Clip / Teether Holder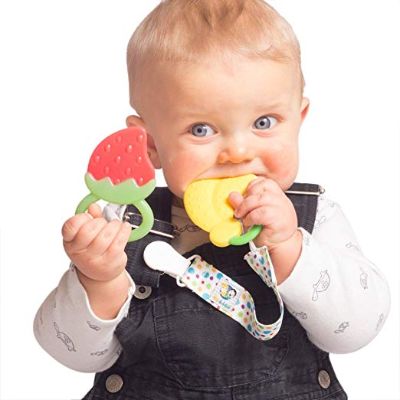 Sized for small mouths
Different shapes and textures
Secure and durable pacifier clip
FDA approved silicone
Surfaces tend to attract dust
Won't stay cold for long out of freezer
This outstanding teether toys combination set includes four silicone teethers, and a teether holder/ pacifier clip. The bright, cheerful teethers are in the shapes of fruits like grapes and bananas, so they'lll appeal to your baby right away.
Read more
Adjustability
Backups to your baby's favorite things are a must in this day and age, where we're constantly on the go. From the babysitters to other people's home to our children's schools, there's just so many places where things can get lost. That's not likely to happen with Ike & Leo's secure pacifier clip, but there's always an exception to the rule. With multi-packs like this, we always have a safe, clean teether on hand to soothe our babies.
Materials
Teether sets like this give you plenty of spares for the diaper bag, the car seat, grandma's house, or wherever else your baby goes. Let's face it, one of the worst things that can happen during teething is when that one special teether get lost or is left behind far away from home. Not only do you get 4 super soft, easy to grab teethers in one box, you get the nifty holder/ clip for added insurance. It helps too, that the cord is wide and silky soft, with a durable plastic clip that has survived countless toddler pull tests.
Safety
They are made from FDA approved premium food grade silicone, free of BPA, PVC and phthalates. While the fruit shapes may seem like mere "decoration", they actually provide varying sizes, shapes and textures to meet the needs of different babies. Each item is also completely lead free, as are all Ike & Leo products. The included signature pacifier clip will help keep the teethers in baby's hands, but if they do drop on the floor, they can simply be ran in the dishwasher for a quick steam.
10

. Raccoon Teethers by Tulamama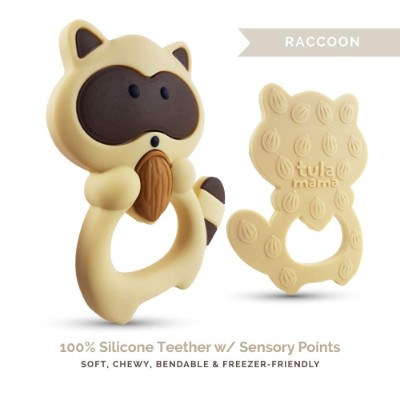 Soft, chewy teether made from food grade silicone
Designed to be easy to grasp and hold with little hands
Easy to wash, warm soapy water or top rack dishwasher safe
Attaches to pacifier clip to secure, keep from falling
Promotes the development of fine motor skills
Not molded from one solid piece of silicone
Hard to clean with gaps created from attaching the pieces together
From crying nights to whinny day's babies that are cutting teeth are having a rough enough time. So provide them with a soft chewing teether to soothe their gums and provide them some relief when you can. It also is a super cute raccoon design. Super cute design and the shape is easy for the little ones to hold. The soft silicone material makes a great chewing toy, plus being able to attach it to a pacifier clip makes it great for on the go.
Read more
Adjustability
Teethers are a great way to develop fine motor skills at a young age. The grasping the teether and placing it to the mouth develops the skill set and sets them up for being able to master other fine motor skills that require grasping objects and placing them in a certain place. Super cute design and the shape is easy for the little ones to hold. The soft silicone material makes a great chewing toy, plus being able to attach it to a pacifier clip makes it great for on the go.
Materials
If washing it is not your thing, it can also be placed in the dishwasher on the top rake. The teether can also be placed in the freezer for a cool soothing feeling. Constructed from a super durable silicone material that will last well through their teething period of life. The silicone it is created from contains no BPA or Phthalates plus is nontoxic. It is very safe and it great for the development of their oral and motor skill development. When the little ones are cutting their front teeth, middle, or the back molars this is an effective teether for the whole process.
Safety
Great quality teether that has been created from high quality silicone. This teether has been created from silicone that is so safe that they use the same grade of silicone for food items. The mold of the teether has been created with grips that are located on the back of the teether making it easy for little hands to be able to grasp and chew. It easily attaches to a pacifier clip. This gives them access to the teether and also keeps it safe from falling on the floor when they are not using it. The teeth can easily be cleaned with warm water and dish soap, thoroughly rinsed and it is ready to go.
Criteria Used for Evaluation
Adjustability
Versatility can be seen in many features, such as beads of different shapes, different grades of thickness and flexibility, and varying textures such as ridges and nubs. Our teether picks encompass one of more of these features to give babies a well-rounded chewing experience that will grow with them, even into the toddler years. Some of our picks are also appropriate for children with oral motor disorders or developmental disorders like autism. However, they should only be used for these purposes upon recommendation from a licensed pediatric specialist.
Materials
Premium grade silicone, i.e., 100% medical or food grade silicone is particularly important for water filled teethers since these are meant to be extra soft for very young, sensitive gums. However, water can leak from the unit if the material doesn't hold up time and time again. That's why we made sure to only select teething toys made from the highest grade materials. The combination of premium materials and sound manufacturing techniques is the key to making safe, effective products for all your baby's teething needs.
Safety
This is our first criteria for anything that goes in a baby's mouth. Having said that, "contaminant free" can mean different things, depending on standards and regulations from various consumer safety agencies within, and outside of the United States. We've tried to be as helpful as possible by stating each product's non- contaminants policy, but we did make sure to select products that are BPA free. Most of our picks are also free of contaminants like phthalates, PVC, lead and latex. Some even go so far as to avoid petroleum, which is admirable. However, being completely free of any and all toxins is virtually impossible.
In all honesty, deciding what is safest for your baby requires speaking with your pediatrician. He or she can make recommendations based on your baby's unique medical and developmental needs. Babies with certain conditions, for example, may need to avoid very specific contaminants, and perhaps even certain shapes and textures that can pose physical hazards Your pediatrician may also recommend specific cleaning and sterilization methods, such as boiling in hot water and air drying, rather than using the dishwasher.
Most Important Criteria
(According to our experts opinion)
Experts Opinion
Editors Opinion
Users Opinion
By Default

Parents, Did You Know?
Teething is arguably the most unpredictable process in a baby's development. Some babies are born with one or two teeth, others don't have teeth even by the first year.
Parents, Did You Know?
There's also no way to predict how long it will take your baby to have a full set of teeth from the time the first ones come in. That means your baby can go through many different stages of teething over a long period of time. Hence, versatility — specifically, adaptability — was one of our primary criteria when we looked at baby teethers and teething toys.
Other Factors to Consider
Durability
It's best not to underestimate your baby's strength, even at just a few months old. Early teethers may have fragile gums, but they can still gnaw through weak, poorly made toys. We want to assure you that we've chosen teethers with proven durability, thanks to innovative construction methods and durable materials. Solid constructions can come from numerous processes, such as individual knotting for beads, one-piece construction for loops and beads, or the usage of premium grade silicone.
Frequently Asked Questions
q:

Can these be used with teething gels?

a:

We certainly understand the desire for parents to give babies added relief through aides like teething gels. Baby teething gels can be rubbed on gums prior to giving your baby a teether. Depending on the shape of the teether, you may even be able to rub in right onto the surface. However, whether or not you should you use a teething gel is another question altogether. This has been a highly controversial topic in recent years, with reports of baby gels containing benzocaine, a common pain reliever in adult products for sensitive teeth. Benzocaine may cause a rare, but deadly condition in which the oxygen carried through the bloodstream is greatly reduced.

There are non-benzocaine formulations, even homeopathic gels that claim to be safe and all-natural. However, the FDA has found numerous ingredients in these formulations, such as belladonna — a known toxic plant. Ultimately, the choice to use a teething gel is up to you, but we recommend making an informed decision after speaking with your pediatrician. After all, we can't say that all teething gel brands are dangerous, and if anyone would know a safe brand, it would be your child's doctor.
q:

Are silicone teethers safer than plastic?

a:

As a general rule, we would advise going with silicone, although there are other FDA approved thermo polymers that can be made perfectly safe. The benefit to silicone is that's is extremely durable and flexible at the same time. It's also freezer-friendly and chills quickly. The safest, highest grade of silicone is medical grade, like Bebe By Me's cookie teethers. However, 100% food grade silicone has been approved by the FDA as being safe, especially when it's free from contaminants like BPA, phthalates and PVC.

This is another area where your pediatrician's input may be needed. Depending on your baby's overall health, he or she may recommend medical grade silicone, which has the advantage of being the same silicone used in hospitals. Your pediatrician may also recommend specific sterilizing techniques, since germ control is just as important as the grade of material.
q:

Would any of these teethers work for older kids?

a:

Quite a few of these teethers do work wonders for older kids with oral motor problems. They've even been known to calm down children with developmental disorder when they act out at home or in public. Of course, you should always get your doctor or therapist's approval beforehand, but we do know that The Sensory University's Chewy Tubes have been recommended by many developmental disorder specialists. The variety pack is particularly effective since each rod has a different thickness and texture. Kids with autism, for example, may need a really thick, meaty chew to calm them down when they're at peak frustration levels. In such cases, it's nice to have different chewing levels to fit your child's needs.
q:

Is it more beneficial to use a pacifier with these?

a:

Pacifier usage is a source of heated debate between parents, especially during teething. Proponents have good intentions, mainly giving the baby as many avenues of pain relief as possible. However, detractors argue that pacifiers cause dental problems such as overbites. While thumbsucking is the main culprit of overbite, the risk is still there with pacifiers.

Of course, there are risks with just about anything in life, so we would be inclined to recommend pacifiers if there were proven teething or oral care benefits. The problem is that there are no proven benefits to using a pacifier over, or in conjunction with a teether. Using frozen teethers and supplementing with small pieces of frozen fruit (as long as your baby is on solids) is just as effective as a pacifier. Plus, you won't run the risk of misaligned teeth with any of those options.
q:

Are solid teethers better than water-filled ones?

a:

The general answer is no, although it depends on your baby's specific needs. Water-filled teethers are extra soft and pliable, so a lot of parents feel they're safer for the beginning stage of teething. Then again, babies that start teething at 6 months or older can handle solid silicone teethers without any problems. By "solid", we don't mean hard or tough materials, which we definitely don't recommend for a baby. Soft, chewy silicone can still still be a solid unit in the shape of tubes, beads, etc. Furthermore, most teethers are hollow on the inside, so they're super gentle with or without water.

In conclusion, the current trend towards solid teethers seems to be more about convenience, since they can easily be sterilized in the dishwasher or even dipped in boiling water. While some sources claim that there are safe dishwasher methods for water-filled teethers, we do not recommend exposing water teethers to intense heat or cold. That's another issue as well; water-filled teethers are not freezer friendly. So it's really a matter of what works for you in terms of time and convenience, but one type of teether is not particularly better than the other.
q:

What is the best way to sterilize teethers?

a:

Sterilization methods depend on the type of teether, although most parents seem to prefer using the pre-wash cycle on their dishwasher, which steams the dishes prior to washing and rinsing. You can either use only the steam option to sterilize nothing but the teethers, or pull the teethers out from the top rack before your washer proceeds to the wash cycle.

Your best source of information is the manufacturer's instructions, which may recommend alternate methods such as hand washing with water and dish soap. This is generally the case with water-filled teethers since they can't be exposed to high heat. You can also use non-toxic baby wipes if the teethers have relatively flat surfaces or shallow ridges. We do, however, recommend checking with your pediatrician if your baby has special needs of medical conditions. They may advise alternate or additional steps, on top of the manufacturer's instructions.