10 Best Baby Teethers Reviewed in 2023
last updated
Oct 07, 2019
On average, babies start getting their first teeth around 6 months, but other babies get them earlier, or much later. Some babies are even born with one or two white caps, which are called natal teeth. However, the most common time period for teeth is between 4 to 6 months, when babies are ready for pureed or small pieces of Stage 1 solid foods. But there's no need to panic if your baby's teeth are slow to come. For some babies, they may even go the entire first year without one tooth showing up! When they do appear, they normally start at the front, on the bottom jaw. The teeth at the back of the mouth will be the last to arrive. Keep reading to learn what are the best baby teethers for your little one.
In a Hurry? The test winner after 15 hrs of research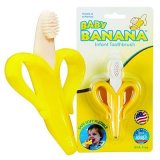 Baby Banana Training Toothbrush and Teether
Why is it better?
Promotes oral hygiene
Non-toxic silicone
Easy grip handles
Developed by a dental hygienist
Promotes hand-eye-mouth-coordination
In a
Hurry? Editors choice: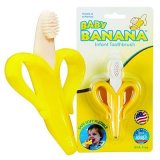 Test Winner: Baby Banana Training Toothbrush and Teether
13
Researched Sources
15
Hours Researching
16
Products Evaluated
Adjustability
Materials
Safety
By Default
10 Best Baby Teethers Reviewed
Criteria Used for Evaluation
Adjustability
Versatility can be seen in many features, such as beads of different shapes, different grades of thickness and flexibility, and varying textures such as ridges and nubs. Our teether picks encompass one of more of these features to give babies a well-rounded chewing experience that will grow with them, even into the toddler years. Some of our picks are also appropriate for children with oral motor disorders or developmental disorders like autism. However, they should only be used for these purposes upon recommendation from a licensed pediatric specialist.
Materials
Premium grade silicone, i.e., 100% medical or food grade silicone is particularly important for water filled teethers since these are meant to be extra soft for very young, sensitive gums. However, water can leak from the unit if the material doesn't hold up time and time again. That's why we made sure to only select soothing gelsand teething toys made from the highest grade materials. The combination of premium materials and sound manufacturing techniques is the key to making safe, effective products for all your baby's teething needs.
Safety
This is our first criteria for anything that goes into a baby's mouth. Having said that, "contaminant-free" can mean different things, depending on standards and regulations from various consumer safety agencies within, and outside of the United States. We've tried to be as helpful as possible by stating each product's non- contaminants policy, but we did make sure to select products that are BPA free. Most of our picks are also free of contaminants like phthalates, PVC, lead and latex. Some even go so far as to avoid petroleum, which is admirable. However, being completely free of any and all toxins is virtually impossible.
In all honesty, deciding what is safest for your baby requires speaking with your pediatrician. He or she can make recommendations based on your baby's unique medical and developmental needs. Babies with certain conditions, for example, may need to avoid very specific contaminants, and perhaps even certain shapes and textures that can pose physical hazards Your pediatrician may also recommend specific cleaning and sterilization methods, such as boiling in hot water and air drying, rather than using the dishwasher.
Most Important Criteria
(According to our experts opinion)
Experts Opinion
Editors Opinion
Users Opinion
By Default

Parents, Did You Know?
Teething is arguably the most unpredictable process in a baby's development. Some babies are born with one or two teeth, others don't have teeth even by the first year.
Parents, Did You Know?
There's also no way to predict how long it will take your baby to have a full set of teeth from the time the first ones come in. That means your baby can go through many different stages of teething over a long period of time. Hence, versatility — specifically, adaptability — was one of our primary criteria when we looked at baby teethers and teething toys.
Other Factors to Consider
Durability
It's best not to underestimate your baby's strength, even at just a few months old. Early teethers may have fragile gums, but they can still gnaw through weak, poorly made toys. We want to assure you that we've chosen teethers with proven durability, thanks to innovative construction methods and durable materials. Solid constructions can come from numerous processes, such as individual knotting for beads, one-piece construction for loops and beads, or the usage of premium grade silicone.
Age Range
When your baby starts to teeth it is a great time to start to introduce them to teething toys. The toys provide them with relief from teething pain and also give them a sensory stimulation exercise that is great for their oral development. Most babies begin to teeth around four to six months old. This is the perfect time to start handing over the toys and providing them with other options as well. There are some many different types of teethers on the market. Your little one is sure to find one that they love.

Value
Teethers are an important part of the development of your baby. They provide them with many valuable experiences at that age. Making sure that you provide them with teething toys is important to also help relieve some of the pain that they are experiencing. After a good teething toy is enjoyed it is very important to be able to easily and effectively clean the materials. These teething toys will spend a lot of time in their mouths so making sure they stay clean is important. The most effective way to clean teething toys is to select toys that can be placed in the dishwasher. This is a great place to get them clean and it simple enough for parents.
Frequently Asked Questions
q:

Can these be used with teething gels?

a:

We certainly understand the desire for parents to give babies added relief through aides like teething gels. Baby teething gels can be rubbed on gums prior to giving your baby a teether. Depending on the shape of the teether, you may even be able to rub in right onto the surface. However, whether or not you should use a teething gel is another question altogether. This has been a highly controversial topic in recent years, with reports of baby gels containing benzocaine, a common pain reliever in adult products for sensitive teeth. Benzocaine may cause a rare, but the deadly condition in which the oxygen carried through the bloodstream is greatly reduced.

There are non-benzocaine formulations, even homeopathic gels that claim to be safe and all-natural. However, the FDA has found numerous ingredients in these formulations, such as belladonna — a known toxic plant. Ultimately, the choice to use a teething gel is up to you, but we recommend making an informed decision after speaking with your pediatrician. After all, we can't say that all teething gel brands are dangerous, and if anyone would know a safe brand, it would be your child's doctor.
q:

Are silicone teethers safer than plastic?

a:

As a general rule, we would advise going with silicone, although there are other FDA approved thermo polymers that can be made perfectly safe. The benefit to silicone is that's is extremely durable and flexible at the same time. It's also freezer-friendly and chills quickly. The safest, highest grade of silicone is medical grade, like Bebe By Me's cookie teethers. However, 100% food-grade silicone has been approved by the FDA as being safe, especially when it's free from contaminants like BPA, phthalates, and PVC.

This is another area where your pediatrician's input may be needed. Depending on your baby's overall health, he or she may recommend medical-grade silicone, which has the advantage of being the same silicone used in hospitals. Your pediatrician may also recommend specific sterilizing techniques since germ control is just as important as the grade of material.
q:

Would any of these teethers work for older kids?

a:

Quite a few of these teethers do work wonders for older kids with oral motor problems. They've even been known to calm down children with developmental disorder when they act out at home or in public. Of course, you should always get your doctor or therapist's approval beforehand, but we do know that The Sensory University's Chewy Tubes have been recommended by many developmental disorder specialists. The variety pack is particularly effective since each rod has a different thickness and texture. Kids with autism, for example, may need a really thick, meaty chew to calm them down when they're at peak frustration levels. In such cases, it's nice to have different chewing levels to fit your child's needs.
q:

Is it more beneficial to use a pacifier with these?

a:

Pacifier usage is a source of heated debate between parents, especially during teething. Proponents have good intentions, mainly giving the baby as many avenues of pain relief as possible. However, detractors argue that pacifiers cause dental problems such as overbites. While thumbsucking is the main culprit of overbite, the risk is still there with pacifiers.

Of course, there are risks with just about anything in life, so we would be inclined to recommend pacifiers if there were proven teething or oral care benefits. The problem is that there are no proven benefits to using a pacifier over, or in conjunction with a teether. Using frozen teethers and supplementing with small pieces of frozen fruit (as long as your baby is on solids) is just as effective as a pacifier. Plus, you won't run the risk of misaligned teeth with any of those options.
q:

Are solid teethers better than water-filled ones?

a:

The general answer is no, although it depends on your baby's specific needs. Water-filled teethers are extra soft and pliable, so a lot of parents feel they're safer for the beginning stage of teething. Then again, babies that start teething at 6 months or older can handle solid silicone teethers without any problems. By "solid", we don't mean hard or tough materials, which we definitely don't recommend for a baby. Soft, chewy silicone can still still be a solid unit in the shape of tubes, beads, etc. Furthermore, most teethers are hollow on the inside, so they're super gentle with or without water.

In conclusion, the current trend towards solid teethers seems to be more about convenience, since they can easily be sterilized in the dishwasher or even dipped in boiling water. While some sources claim that there are safe dishwasher methods for water-filled teethers, we do not recommend exposing water teethers to intense heat or cold. That's another issue as well; water-filled teethers are not freezer friendly. So it's really a matter of what works for you in terms of time and convenience, but one type of teether is not particularly better than the other.
q:

What is the best way to sterilize teethers?

a:

Sterilization methods depend on the type of teether, although most parents seem to prefer using the pre-wash cycle on their dishwasher, which steams the dishes prior to washing and rinsing. You can either use only the steam option to sterilize nothing but the teethers, or pull the teethers out from the top rack before your washer proceeds to the wash cycle.

Your best source of information is the manufacturer's instructions, which may recommend alternate methods such as hand washing with water and dish soap. This is generally the case with water-filled teethers since they can't be exposed to high heat. You can also use non-toxic baby wipes if the teethers have relatively flat surfaces or shallow ridges. We do, however, recommend checking with your pediatrician if your baby has special needs of medical conditions. They may advise alternate or additional steps, on top of the manufacturer's instructions.