You can feel it, the chill is in the air and that crisp breeze that never seems to let up has finally arrived. It's winter! This is that time of year when everyone looks forward to the holidays, family, baking and sweet treats, and, well… The weather. What once was fun and exciting suddenly becomes concerning and worrisome when you're a new parent and responsible for a newborn. Snow can make everything feel ten times chillier and more frigid and that's something you'll protect your baby from at all costs, and we don't blame you. The last thing you want is for your baby to feel like they're chilly or cold when it comes to a season that should be filled with warmth and comfort. In order to protect your family' holiday joy, we've taken it upon ourselves to seek out the best snowsuits out there for your baby.
Keeping a child warm is especially important during their first few years because their bodies are still getting used to each environment and season. While they are fully capable of maintaining their own internal body temperature, that doesn't mean that harsh winter air won't be a shock for them. Snowsuits are designed to not only keep your baby warm but to protect them as well. When a freezing wind starts whipping up and flakes start flying through the air, you'll definitely feel more comfortable with one of these on your list. We've included options for both boys and girls, both of which include various linings, closure options, and even various patterns and themes. Surely, you'll find something that's worthy for your little on when snowman season comes around.
10 Best Baby Snowsuits Reviewed
1. Columbia Boys' Snuggly Bunny
Microfleece is becoming more and more popular now that it's fantastic qualities are finally being talked about and we're happy it's made its way to child
clothing
. This jacket is superior when it comes to warmth as well as comfort.
Expand to see more
When first buying a snowsuit, it's important to remember that cotton is one of the enemies of moisture. That's why you'll find that most winter jackets are crafted from materials that are either waterproof or will repel moisture in order to keep you warm and dry inside. This suit uses polyester in order to block out rain and snow and keep your baby as dry as possible, which is the most important thing when temperatures drop below freezing. Columbia is a well-known brand when it comes to winter wear and this jacket uses a method called an Omni-Shield in order to produce a quick-drying, impenetrable fabric that retains heat while locking out water. It's also resistant to stains and is very breathable so your baby won't feel stuffy or constricted.

Benefits
Columbia is a well-known brand name in many homes and their reputation exceeds the level of excellence we look for when it comes to products such as this. With their reputation comes the promise of longevity which is exactly what you want to look for when it comes to the best for your baby.

What We Like About It
The arms of this suit are lined with microfleece which holds in as much warmth as possible while the exterior polyester helps to keep out moisture. In the snow or rain, or even in single-digit temperatures, this is a dynamic duo when it comes to braving the winter.
Pros
The exterior is polyester
Lined with microfleece
Comes 12 different styles
Well-known winter wear brand
Omni-Shield technology
Cons
Microfleece does not extend throughout the entire suit
2. iXtreme Expedition Puffer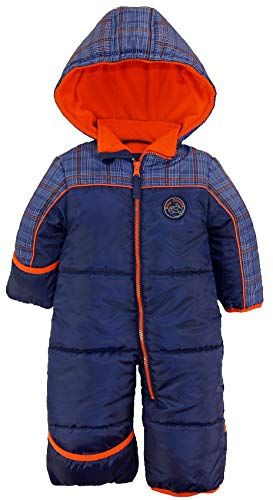 For extremely cold-weather locations, your baby's comfort is one of the first things on your mind when winter comes around. This bunting is intended to block out the coldest of wind chills, making iExtreme an excellent and worthy household brand name.
Expand to see more
This is a great affordable option for your little one. If you're looking for something that will do the trick and still be high-quality without the massive price tag, iXtreme is an excellent company to check out. This
pram
is comparable in every way possible to some of the larger brand names out there and has many, if not more, of the same features. This suit is completely fleece-lined which is the best option when it comes to keeping your baby warm and also has an elastic hood as well as elastic around the hands and feet of the jacket. This ensures a proper fit and prevents any part of the jacket from riding up and becoming uncomfortable or inefficient when it comes to warmth. It also has a front-zipper which makes getting this jacket on and off a breeze, especially when it needs to be taken off in the car or while you're inside.
Benefits
The wind is a large part of why winter days are so chilly and frigid. The wind chill can make a sunny day feel as though it's below zero and this suit helps to block out harsh winter winds. The fleece lining helps to retain heat so that your baby won't feel a thing.
What We Like About It
While many jackets don't cover tiny hands and feet, this jacket has a "foldover" option. This allows you to partially cover your little one's most susceptible body parts on days when it's just too chilly to have anything exposed.
Pros
Completely fleece-lined
Blocks the wind
Has a "foldover" feature
Front-zipper allows for easy on and easy off
Water-resistant
Cons
It's thinner than many snowsuits
3. Columbia Girls' Snuggly
We haven't forgotten about all of the beautiful baby girls out there that need to be kept warm, too! Columbia makes a jacket specifically for them as well, with all the same high quality that goes into the little boy's jackets.
Expand to see more
This is a perfect little suit for your little girl! As we said before, Columbia is a widely-loved brand and has been very successful when it comes to winter wear for the entire family. If you've never owned any of their products before then let us be the first to reassure you that quality and longevity is their top concern when it comes to winter coats. This bunting is comfortable, cozy, and capable of protecting your baby from the winter winds that threaten to drive down already freezing
temperatures
. The polyester is top of the line when it comes to severe wind chill and this suit, as a whole, is designed for even the most brutal of winter storms. With a down filling inside and Omni-Sheild technology, your baby will be protected from any number of winter elements.
Benefits
The sizing is often something that trips many parents up and becomes a frustrating process to figure out. Columbia ensures a proper fit with enough room to fit a secondary layer of clothing on those extra chilly days.
What We Like About It
This suit is designed to be worn in temperatures as low as 20-degrees Fahrenheit meaning it can handle a significantly low wind chill. That's great news for places that experience a raw, bitterly cold winter as well as those that experience more mild, yet chilly, weather.
Pros
Insulated with down filling
Polyester stops the wind chill
Designed for temperatures as low as 20-degrees Fahrenheit
Properly fitting
Long-lasting and durable in any weather
Cons
The hood has no drawstring attached
4. U.S. Polo Assn. Girls' Pram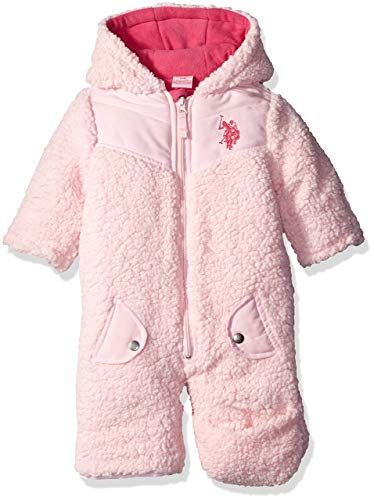 U.S. Polo Assn. was once known as a clothing brand that was more about fashion than winter wear. That has all changed and now, they've created a pram that's worthy of any snowstorm. It's cuddly, warm, and just looks like a toasty snow shield of a jacket.
Expand to see more
If options are more your thing then this pram should absolutely be on your list. Not only does it look like an absurdly comfy, super sweet winter coat, but it also looks like something we'd love to curl up and fall asleep in... It's just too bad it doesn't come in adult sizes! This pram comes in two different options; one that has a polyester exterior and one that has a fleece-lined exterior. This isn't just any type of fleece, though -- It's polar fleece, which means it can stand up to even the harshest of winters. This is a great option for tiny babies who need some flexibility and breathability when it comes to their snowsuits. It can also be used on its own as a type of bodysuit but will feel heavy after some time. It's light enough that an additional layer of
clothing
can be worn underneath but it's insulated enough that it can handle low wind chills.
Benefits
With ten different styles to choose from, U.S. Polo Assn. has no shortage of options for parents who like to see what's out there aside from the traditional snowsuit. These are warm, cozy, and will comfort your baby just as much as they'll keep her warm.
What We Like About It
The addition of the polar fleece is a nice touch when it comes to these suits that would otherwise just be uninsulated, full-body jackets. They're designed to be cute but also for maximum comfort and heat-retainment power.
Pros
Adorable and stylish
Comfortably-fitting
Cozy enough for long-term wear
Lined on the exterior and interior with polar fleece
Ten different styles
5. Columbia Boys' Frosty Freeze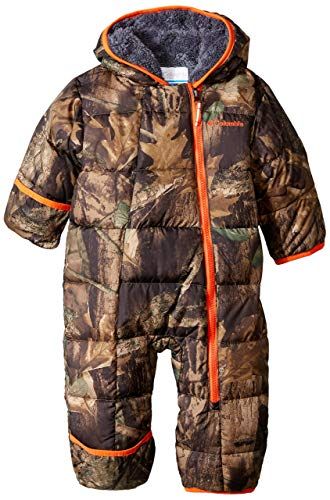 This bunting has been pumped up quite a bit to withstand freezing conditions and all types of precipitation. With a water-resistant polyester exterior and a fleece-lined interior, it's nearly unstoppable.
Expand to see more
The name of this bunting says it all and you can't really go wrong with a "Frosty Freeze"-ready snowsuit. A bunting, by nature, is designed to keep the cold chill out in every way possible and it's intended to provide full-body coverage. You'll notice plenty of Columbia coats on our list because of the simple fact that they work and are one of the leading brands out there. This bunting is
intended for tough winters
and is maxed out in nearly every way possible. It's filled with a down lining that will help tremendously to insulate your child's snowsuit and keep as much warmth intact as possible. Additionally, the polyester exterior that's classic of Columbia brands helps to stop wind chill in its tracks and with keep moisture out.
Benefits
With eight different suits to choose from, you'll have your choice of style as well as comfort. Not all snowsuits are created equal and when it comes to a bunting, you're gaining everything that you'll sacrifice with a lesser brand.
What We Like About It
These are intended for heavy-duty winters with enough insulation and exterior protection to stand up to the toughest of snowstorms. If hefty is what you're going for when you live in a cold-weather state, then water-resistant fabric and a fleece-lined interior are exactly what you want.
Pros
Fleece-lined
Eight different styles
Polyester exterior keeps out the cold
Water-resistant
Durable and heavy-duty for snow and ice
Cons
The exterior can become slippery if used in rain or heavy snow
6. Leveret Quilted Barn
This winter baby suit is classy and elegant but don't let that fool you. It's also intended to withstand substantially cold winters while keeping your baby wrapped in warm fleece.
Expand to see more
If you're familiar with our site then you've likely seen Leveret on here before because they are a brand that we trust and love. What you might not know is that they also create snowsuits that are just as high quality as the rest of their clothing line and offer comfort like no other. If you're looking for a thicker snowsuit, then consider Leveret as your go-to for heavy-duty comfort. This suit might not look like much from the outside but it's fully lined with fleece and features a quilted exterior that protects from moisture and the cold. The other difference you might notice between this and some other jackets is the addition of buttons on the front rather than just a zipper. This ensures a comfortable yet versatile fit in case you want to add another layer to your baby's wardrobe for the day.

Benefits
Leveret is the brand that you want to cherish forever because all of their clothing, no matter whether it's outdoor wear or indoor wear, is so precious. Even these snowsuits have an air of elegance and charm to them but don't let that deceive you -- They're intended to take a bit hit when it comes to cold weather.

What We Like About It
You'll have a choice of five different colors, all pastel and somewhat neutral. Each jacket is minimal yet cute, making it perfect for parents who don't want something ostentatious or over the top.
Pros
Quilted exterior is a great defense against the cold
Lined with fleece inside
Five different pastel colors
Comfy and warm
Machine-washable
Cons
The buttons are not the most efficient in keeping the jacket closed
7. iXtreme Girls' One-Piece
iExtreme is back again and this time they have a snowsuit that's worthy of snowman building in any type of weather. This is the type of jacket your child will grow into and make plenty of warm winter memories in.
Expand to see more
Now, this is something that really looks like a snowsuit. This is the type of coverall that you'd pull on when it's time to go sledding, skiing, or even walking outside during a brisk winter day. For your baby, this means comfort and warmth in spades. The iXtreme Snowmobile is built tough for harsh winters when you just can't seem to find something durable enough to outlast the wind chill. With a front zipper and a "gator" closure, there's no chance of any spare snowflakes making their way inside your baby's suit, nor is there a chance of them feeling the wind, either. The entire suit is filled with polyester for complete water-resistance and thorough insulation, complete with elastic openings that fit securely around your little one's arms and legs.

Benefits
The cinched waist of this suit ensures a proper fit and will be snug to your baby's body regardless of what layers they have on underneath. It's designed to fit over their outfit for the day and is super thick for the most heating power possible.

What We Like About It
Pockets are everything, right? Just ask any woman who suddenly discovers pockets in her favorite dress! This can be useful when it comes to babies and kids as well, especially when they have so many things to carry such as pacifiers, snacks, toys, etc.
Pros
Polyester-filled
Water-resistant
Provides a snug fit
Comes with pockets
Double-closure
Cons
It does not come in any sizes smaller than 12 months
8. At The Buzzer Boys Fleece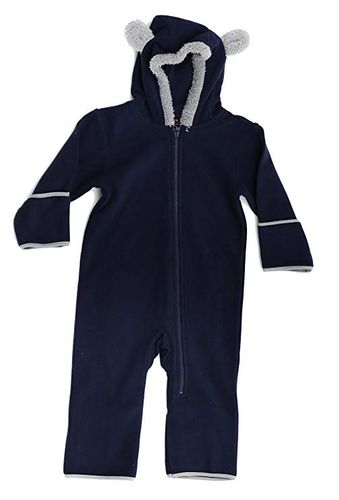 This lightweight fleece option is perfect for lighter winter or days when a full padded snowsuit isn't necessary. It's cute and even comes in plaid so your baby will be all ready for the holidays, too!
Expand to see more
This lighter version of a snowsuit is designed to be layered with an existing outfit in order to provide full-body protection. The fleece interior and exterior is similar to what you'd find in fleece
pajamas
, meaning your baby will feel cozy and warm all day long. It's breathable and lightweight and won't contribute to that heavy feeling that many babies don't like. For the utmost in comfort and warmth, this bunting has foldover features to cover your baby's tiny hands and feet so they're not exposed. At The Buzzer truly thought of everything when it comes to making sure that your baby boy is comfortable no matter what the weather. Another unique feature of this bunting is the Sherpa-style trim that you'll find adorning the hood. It keeps snow and rain off of your baby while still encouraging that feeling of coziness, comfort, and warmth that will naturally soothe your baby.
Benefits
With seven different styles to choose from, your baby will look great in anything from solid colors to festive plaid. These suits are the equivalent to snuggling into a warm, cozy fleece blanket and will soothe your baby while keeping them toasty.
What We Like About It
Having a lighter option on days when it's not so cold out is great news for warmer-weather locations. Alternately, they're also easy to take on and take off which makes diaper-changing a breeze.
Pros
Lightweight and breathable
Fully fleece-lined
Comfortable and warm
Lighter than many snowsuits
Seven different styles
Cons
The sizing runs a bit large
9. Pink Platinum Girls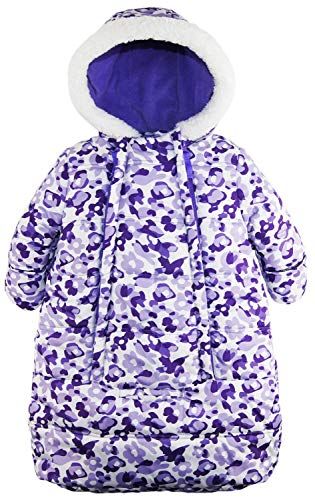 You'll get a pair of perfectly matched mittens with this snowsuit but that's not all it comes with. You'll also receive the promise that your baby girl will be cozy and warmed tucked away in a blanket-like jacket.
Expand to see more
Not every snowsuit needs to look the same and Pink Platinum is one brand that took their own (awesome) liberties with baby girl fashion. You'll notice that this suit has the appearance of a potato sack, but it's really quite brilliant -- Rather than tiny feet hanging out of a jacket, this little number keeps your baby's legs and feet tucked away and hidden from that cold winter air. With a sealed bottom that remains closed when it's time to brace the elements, this suit is innovative and smart. It's also a puffer-style jacket which means that your baby will be protected and warm for long periods of time. It features a front zipper for easy access and is completely lined with polar fleece for the most advanced in winter warmth. It's both wind and water resistant, making it the perfect option for your baby all winter long. In fact, they may never want to take it off!

Benefits
While this unique suit comes with plenty of features, there are still a couple more to note. It's warm on its own but Pink Platinum also includes mittens to provide even more warmth. This is a great asset to any winter wear, especially when the snowsuit doesn't cover your baby's hands -- That won't be a concern with this one!

What We Like About It
Last but not least, another outstanding feature of this smart winter wear option is the addition of a seatbelt hole. Normally, you'd be stuck taking your baby's parka or jacket off in order to fit them into their seat and prevent slipping, but not with this option. Instead, simply put the seatbelt through the hole, buckle, and your baby is ready to go.
Pros
Includes a pair of mittens
Fully insulated
Bottom closure for extended warmth
Seatbelt hole for ease in the car
Front zipper for easy access
Cons
There are only two sizing options
10. Aivtalk 3 Piece All In One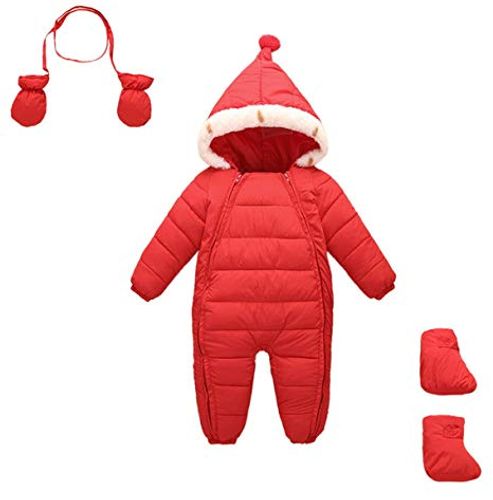 What's better than getting one amazing snowsuit? Getting a snowsuit, a pair of adorable mittens, and a pair of cute little
booties
, of course! Aivtalk has thought of everything when it comes to keeping your baby fully protected during the winter months.
Expand to see more
When it comes to braving that snowstorm, you can't be too careful with your baby's warmth. Aivtalk knows that and has designed a romper that is fully intended, and ready, to take on virtually any time of cold element. This romper is 100% cotton which we did say was the enemy of moisture, but check this out -- This romper is actually water and wind resistant. How is this possible? Because of its treated exterior layer, of course! This smart little romper makes the best use of cotton and down to provide warmth from the inside out while the exterior, reflective material helps to keep moisture out. The word from parents is that this material is nearly impenetrable when it comes to playing out in the snow which means you're erring on the side of safety when it comes to winter warmth. The term "all in one" pops up in this post too which means there must be more, right? There is! Your baby will also get a special pair of mittens as well as the cutest baby booties to keep their feet warm as well. Talk about leaving no stone unturned!

Benefits
The polyamide fiber that makes up the exterior of this snowsuit is what keeps any and all moisture out. It's also what holds warmth in and promotes strong insulation that simply can't be beaten by competitors.

What We Like About It
Each one of these rompers features a cozy ring of cotton fluff around the hood which only adds to your baby's protection. Protecting their face is just as important as covering the rest of their body and this hood is sure to keep away any lone flakes or freezing rain.
Pros
Water-resistant exterior
Comes with mittens and booties
Cotton and down insulation
Fluffy hood for face protection
Thick and durable
Cons
Some parents found mostly cotton with not very much down filling inside
Criteria Used in Evaluation of the Best Baby Snowsuits
We can't stress the importance of knowing exactly what the weather is like before you embark on any journey with your baby. Winter can be unpredictable and as such requires a level of protection that can sometimes only be achieved with a snowsuit. These jackets are designed to provide full-body coverage while keeping your baby warm and protecting them from all the elements — snow, rain, wind, and Arctic-like air. Once we realized how important it was for babies to be protected from all of these things, we took it upon ourselves to begin our research. We searched far and wide, from brand to brand, in order to find the best snowsuits that your baby would not only like, but love. There were many factors that went into our decision and we're going to let you in on just a few of the important ones.
When starting off, it was easiest to direct our attention to suits that came from a reputable brand. When it comes to winter protection, the brand makes all the difference — Just ask any avid skier or snowboarder. It's because of this that we based a large majority of our search on the best brands that were out there before finding individual suits for boys and girls. This led us to some of the top sellers as well as the top-rated products in their category. Once we'd narrowed our list down to a manageable number of brands to sort through, we began looking at the features for every individual coat. Was it insulated or lined with something that would keep a baby warm? Was it durable? Waterproof? Would it cut the chill and break any wind that happens to be whipping around? Does it have a hood and will it cover hands and feet? Does it come with any extras? Would it be comfortable for long-term wear? Was it breathable? As you can tell, there were many questions to be answered.
Once we'd successfully answered them all, we moved onto what was perhaps the least important thing on our list: Style. When it comes to a snowsuit, more than anything, you want it to be efficient. Style and color usually follow after the fact when it comes to that. It was this final checkpoint, however, that allowed us to come to a solid list of ten products that we think you and your baby will love. We were able to find the cutest, most comfortable, and most efficient snowsuits out there that will have your baby prepared for a full-on blizzard if necessary.
How to Properly Fit a Snowsuit
A suit that's intended for snow should provide a snug fit but without being too tight. If you can fit a layer of clothes underneath and still comfortable put it on your baby, then you have a good fit. It's helpful to occasionally go a size up if you are worried about it being too tight; otherwise, you can experiment with light layers until the coat fits more comfortably. If images of Ralphie's brother from A Christmas Story are coming to mind, then you probably have the wrong type of suit. We don't care what anyone says — No child should have to waddle around in a suit that looks like the Michelin Man, as amusing as it was.
Are Gloves and Hats Necessary?
This is entirely up to you. When it comes to babies, they lose much of their body heat through their heads. We consider a hat to be a necessary part of any baby's winter wardrobe, especially when dealing with freezing conditions outside. Babies don't sweat as an older child would and instead they begin to feel clammy and warm to the touch. This is usually a sign that they're too hot and this is how you can figure out how layered up they should be. Alternately, babies won't necessarily shiver when they're cold, either — If their skin feels slightly cool and they begin to develop redness on the back of their neck or have cold hands and feet, you can be sure that their exterior temperature is off. Therefore, use your judgment but always keep a hat close by. If anything, keep the hat and provide them with a light jacket instead.
How Cold is Too Cold?
If it feels too cold for you, it's likely too cold for them. When the wind chill falls below zero, you should keep your baby inside as much as possible. These aren't the days they'll enjoy being outside or going on walks. However, that doesn't mean you need to keep your baby outside throughout all of the winters and, in fact, you shouldn't. As long as the wind isn't too unbearable and the temperature is above zero, you can bundle your baby up — hence the snowsuit! — and head outdoors for a bit. It's good for babies to get fresh air as it'll keep them from getting stuffy and allow them to get some natural vitamin D as well. We'd say a rule of thumb is above zero, avoid snow and freezing rain, and if they wind is too much on your bare face, it will undoubtedly be too much for them.
How Long Should a Snowsuit Be Worn?
Snowsuits aren't designed to be treated like regular jackets. Because of the fact that they are so thick and heavy, they're intended for use in the snow or during inclement weather. Similar to how a park would function, these suits are intended for very much the same purpose — to keep your baby warm and snug when walking around outside or traveling from the door to the car and back. While in the car, you can remove the snowsuit and tuck them in with a blanket to prevent a misfitting seatbelt and prevent them from overheating. While inside, you can take off their suit and instead swaddle them or put them in light layers to keep them from getting a chill. These suits are a means of protection from the elements and not necessarily a constant winter coat. Not all babies will need this type of hefty warmth on every winter day so use your discretion.
In Conclusion
A parent's judgment is usually the best when it comes to what your baby needs. We do all that we can to provide the best products to choose from when it comes to your baby but, ultimately, you choose what's right for them. If you happen to live in an area where you see plenty of snow and frigid conditions then you really can't go wrong with a snowsuit. All in all, they'll help to keep your baby warm, cuddly and cozy while also protecting them from any type of precipitation. Most importantly, they'll act as a buffer against wind and prevent your baby from feeling the freezing effects of a low wind chill. Not to mention, they'll look positively adorable!
FAQ
Frequently Asked Questions
Q: How should these be washed?
A: You can wash them just like you would any other clothes! They should do fine in a washing machine and dried on the "low" setting the prevent any type of shrinking. You can also air-dry them but make sure there's enough circulation to prevent coats from smelling damp or mildewy.
Q: What's the proper type of weather and/or temperature to break these out for?
A: If you're cold, then your baby will undeniably be much colder. If it's snowing or you have freezing rain conditions, a snowsuit is almost a no-brainer. If it's sunny but chilly, you can probably skip the suit that day. However, if its windy with a windchill in the single digits or negatives, definitely bundle them up and make good use of that suit. It all depends on the weather and temperature conditions.
Q: How should I go about getting the proper size?
A: Since most snowsuits are worn over layers, we'd suggest going a half or full-size up. Each "summary" section will specify whether or not the fit is accurate, runs small, or runs large.
Q: Can these be worn over other layers?
A: Yes! They absolutely should be. Snowsuits are designed to protect your baby from the elements but aren't necessarily a substitute for other layers or for a general jacket. It's always a good idea to dress your baby in light layers during the winter because you'll never know when they'll get too hot or too cold.
Q: Can I exchange this if I get the wrong size?
A: As with most clothing items, exchanging it should not be an issue as long as you send it back ASAP. Many companies have return policies or money-back guarantees which are specified in the "summary" section of each product.
Q: Will these cover my baby's feet as well?
A: These jackets are full-body but they're not designed to cover hands and feet as well. While we have included one product that comes with a hat and mittens, you should intend on layering any part of your baby that is exposed, just in case.