10 Best Juices for Kids to Drink in 2019
last updated
May 20, 2019
As parents, we all want our children to be healthy. One way to start is by monitoring what products you give your child when it's time for a drink. In order to have a healthy body, your child needs proper nutrition and hydration to help grow big and strong. Children play hard and need plenty of energy to fuel their growing brains. Fruit juices and other healthy drinks can be a terrific addition to your child's diet and even help provide them with certain kinds of vitamins and minerals that they'll need to help gain a stronger development. While of course, whole fruits are often preferable, fruit juices or fruit-flavored waters all have a good place for your child when it comes to a healthy diet!
In a Hurry? The test winner after 13 hrs of research
Mamma Chia Organic Vitality Squeeze Snack
Why is it better?
Omega-3s
Complete protein
It contains a good amount of fiber
Non-GMO
Gluten-free
In a
Hurry? Editors choice:
Test Winner: Mamma Chia Organic Vitality Squeeze Snack
15
Researched Sources
197
Reviews Considered
13
Hours Researching
16
Products Evaluated
Flavors
Ingredients
Value
By Default
In Depth Review Top 10
Mamma Chia Organic Vitality Squeeze Snack
NOOMA Organic Electrolyte Drink Variety Pack
IZZE Sparkling Juice, Peach
Juicy Juice 100% Apple Juice
Core Organic Fruit Infused Beverage Watermelon Lemonade
NOKA Superfood Blend
Purity Organic Juice Drink Strawberry Paradise
HONEST Kids Organic Juice Drink
V8 Original 100% Vegetable Juice
Apple & Eve Berry Bert and Ernie Fruit Juice
Table of contents
Criteria Used for Evaluation
Other Factors to Consider
Frequently Asked Questions
Sources
10 Best Juices for Kids Reviewed
1

. Mamma Chia Organic Vitality Squeeze Snack
Omega-3s
Complete protein
It contains a good amount of fiber
Non-GMO
Gluten-free
Chia seeds take some getting used to Small amount at 3.5 oz
No refrigeration required! A perfect on-the-go healthy snack with a lot of great tastes available.
Read more
Flavors
A perfect way to soothe a sweet tooth with a snack that fits in a purse or any bag. The chia seeds add satisfying crunchy goodness to these flavorful treats. Mama Chia comes in a great variety of flavors including Green Magic, Blackberry Bliss, Cherry Beet, Wild Raspberry, Strawberry Banana, Mango Coconut. Non-GMO, no sugar added, gluten-free, Vegan, and Kosher.
Ingredients
Few calories, no added sugar, Omega-3s, complete protein, and fiber: these are more nutritious than most meals. Squeezable pouches of organic fruits, chia, and vegetables. No sugar added and only 70 calories, there are 1200 milligram of Omega-3s and protein in every serving.
Value
With 4g of fiber, 2g of complete protein and 70-80 calories per pouch, it's hard to imagine a healthier snack. Mama Chia is certified USDA organic, full of antioxidants, gluten-free and vegan
2

. NOOMA Organic Electrolyte Drink Variety Pack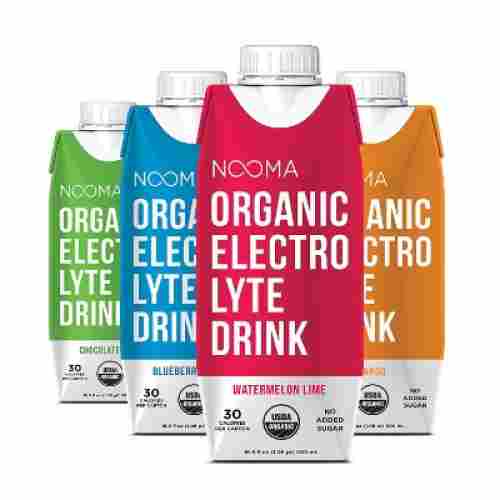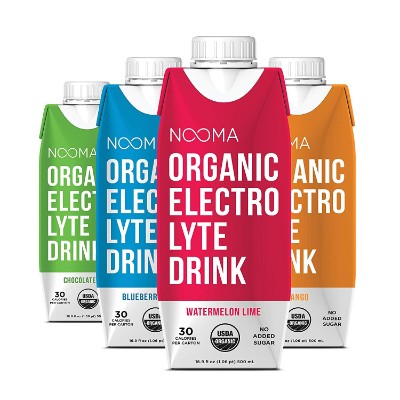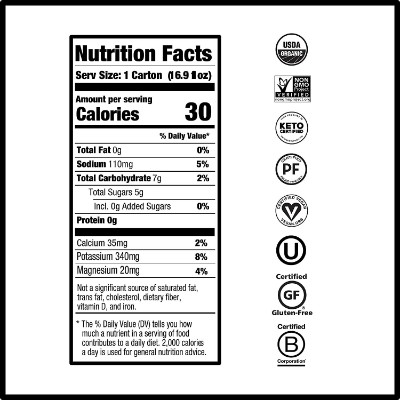 No sugar added
Non-GMO fruits
Gluten-free product
Certified Organic Juice
Tastes better cold
No kid sizes
Light and refreshing flavors, especially for a sports drink. Unusual flavors and incredibly healthy.
Read more
Flavor
Kids can choose from Blueberry Peach, Chocolate Mint, Mango, Watermelon Lime, or get the variety pack.
Ingredients
These 5 grams of sugar are just the right amount to provide an energy boost after play. Coconut water is antibacterial and antiviral which makes it a great way to protect and contribute to healthfulness at the same time.
Value
NOOMA is Certified Organic with no added sugar and only 30 calories. This is an excellent alternative to sugary sports drinks. NOOMA is a plant-based organic beverage made with coconut water and natural sea salt to provide the right hydration and electrolytes for after sports play. Calcium, sodium, and potassium replenish reserves after a workout.
3

. IZZE Sparkling Juice, Peach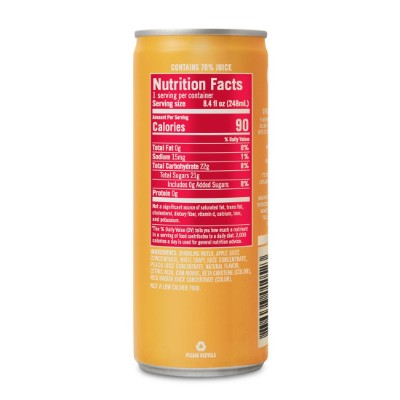 70% fruit juice plus sparkling water
No added preservatives or sugars
Makes a great soda alternative
Comes with 24 cans that are 8.4 ounces each
Can be too tart for some children's tastes
Cans may arrive with sticky residue on the outside and need to be washed
These delicious fruit drinks are a much healthier alternative to soda and so refreshing that you may find yourself drinking more than your kids!
Read more
Flavors
These delightful fizzy drinks come in an easy to open metallic can that does not impart any metal flavoring onto the juice and is available in large 24 pack. Stock up for school lunches, field trips, or even just a hot summer day and give your kiddo a drink that stops the soda whines and gives their body the healthy energy they need to get through their day!
Ingredients
This juice utilizes sparkling water to give it the classic fizz that kids love. No added sugars or preservatives are used making it one of the healthiest carbonated beverages on the market. The taste is the perfect blend of sweetness with just a hint of tart.
Value
Crafted from 70% pure fruit juice, IZZE Peach Sparkling Juice is a delicious and healthy alternative to stop your little one's soda cravings in their tracks!
4

. Juicy Juice 100% Apple Juice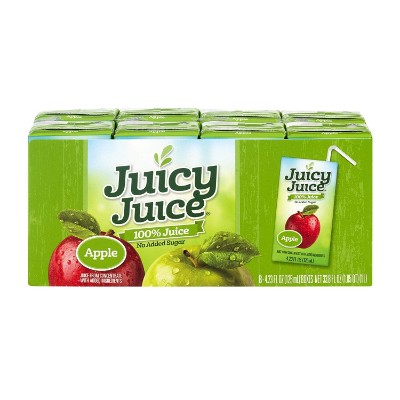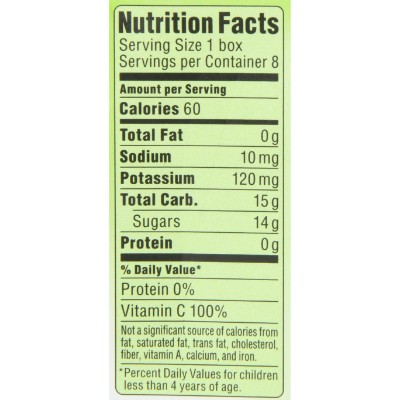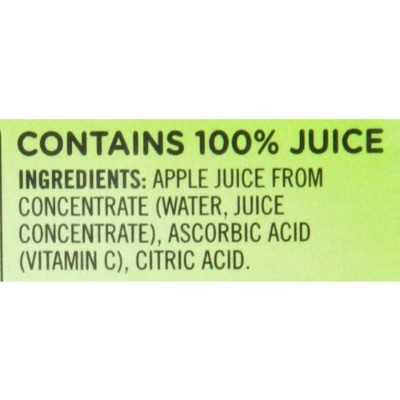 100% apple juice
No added sugars, sweeteners, or preservatives
An 8-ounce serving provides 120% daily vitamin C needs
Gluten-free and all natural ingredients
May be smaller than expected, 4.23 ounces NOT a full 8-ounce size
Boxes can be crushed or leak during shipping
Juicy Juice has been making healthy fruit juice products since 1977. The 100% apple juice is their most popular flavor and continues to bring a nutritious juice option to children today.
Read more
Flavor
These juice boxes are small enough to toss into your child's lunch or pull out for a snack and you will always have the peace of mind knowing that there are no sugars or sweeteners to contend with. Only the pure refreshing taste of apple juice.
Ingredients
Made of 100% all natural apple juice, Juicy Juice brand juice boxes are designed to provide your toddler with just the right amount of drink by coming in a smaller 4.23-ounce size. Fortified with extra Vitamin C, it takes just two servings for your child to receive over 120% of their daily Vitamin C needs.
Value
Small enough for little hands and fingers but big on healthy value, these juice boxes are a delicious way to make sure your little one is getting all the Vitamin C that they need!
5

. Core Organic Fruit Infused Beverage Watermelon Lemonade
Low sugar
Non-GMO
Antibacterial, antiviral
Fruit and vegetable juices
Antioxidants
Flavors more for adults than kids
No small juice packs
Light but tasty flavors with coconut water and white tea for added health benefits this fruit infusion is a great low calorie, non-sugary drink for a snack. Great with meals, too.
Read more
Flavor
Core Organic Fruit drinks are made with coconut water, white tea solids, fruit and vegetable juices. A wide variety of flavors including Blueberry, Peach Mango, Pomegranate Blue Acai, Strawberry Banana, Tropical Coconut, Watermelon Lemonade.
Ingredients
Great flavor with hardly any calories, Core Organic Fruit Infusions are great for hydration with coconut water and white tea adding to the nutritional value. With a limited effect on blood sugar levels, this beverage is safe for diabetics and kids with problems maintaining healthy blood sugars.
Value
Core Organic Fruit Infused drinks are full of antioxidants with only 5 calories per serving, 9g of carbohydrates and less than 1 g of sugar. It's USDA Certified Organic, fat-free, Non-GMO, gluten-free and Vegan.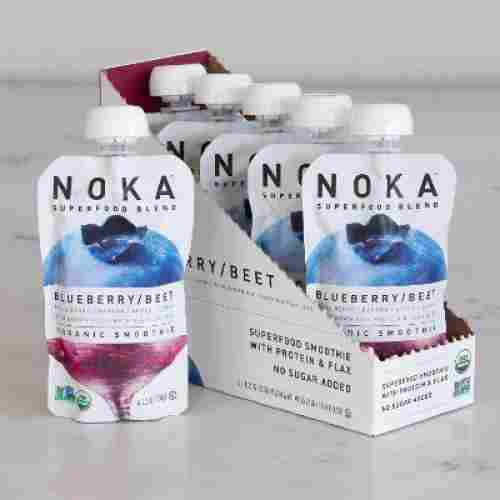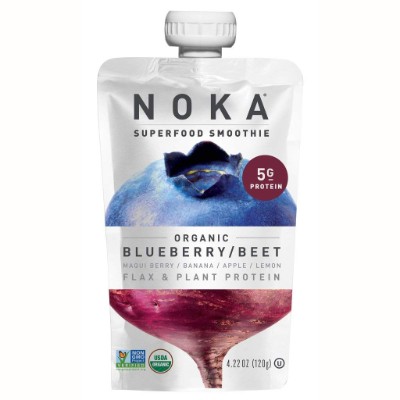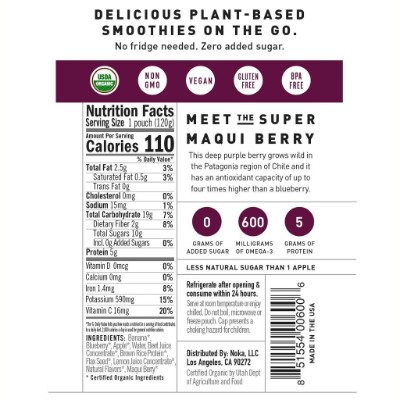 Non-GMO fruits and vegetables
Soy-free product
Vegan proteins only
Dairy-free
Unusual flavors for kids
Consistency of baby food
A perfect pairing of flavorful fruit and superfoods in a delicious smoothie that needs no refrigeration. NOKA Superfood Blends are better than dried fruits or a nutrition bar for breakfast or a snack. A healthy snack with enough nutrition to replace a meal on the run. Not necessary to refrigerate though it is better when cold.
Read more
Flavors
This blend provides 4g of protein, 600mg of Omega 3 essential fatty acids and only 110 calories.
Ingredients
This smoothie has no added sugar and is vegan, gluten-free, soy-free, dairy-free, non-GMO and has no artificial preservatives. A delicious way to give your kids superfoods like flaxseed, maqui, goji and camu berries.
Value
A vitamin-packed fruit and vegetable smoothie with vegan protein and brimming with vitamins and nutrients. A tasty and nutritious drink that needs no refrigeration. Superfoods aren't always a taste treat, but NOKA Superfood Blends are healthy, sweet and good to eat.
7

. Purity Organic Juice Drink Strawberry Paradise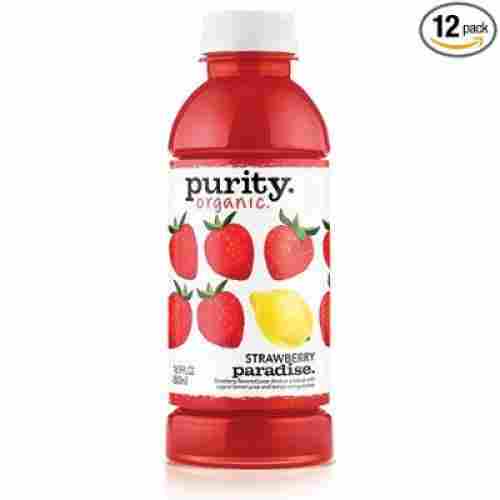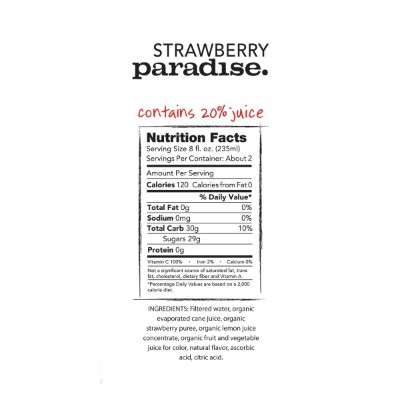 Certified USDA Organic fruits
Gluten-free product
Kosher foods only
Non-GMO product
No small kid sizes
Evaporated Cane Sugar
No preservatives but plenty of variety in flavors. Not tiny bottles, the 16 - 17 oz bottles are enough to quench a real thirst.
Read more
Flavors
This is a refreshing, simple drink available in a variety of flavors like Apple, Lemonade, Orange, Orange Mango, Peach Paradise, Watermelon Strawberry, Cranberry Cocktail, Green Tea with Honey, Black Tea with Raspberry, Black Tea with Peach, and Black Tea Unsweetened.
Ingredients
Purity Organic Strawberry Paradise is a sweet blend of pureed organic strawberries, a touch of lemon juice and a hint of sugar in a delicious, non-GMO, kosher, gluten-free drink.
Value
A good source of Vitamin C and a little vitamin A with a great refreshing flavor. Purity Organic Strawberry Paradise supplies hydration and energy without caffeine or sodium.
8

. HONEST Kids Organic Juice Drink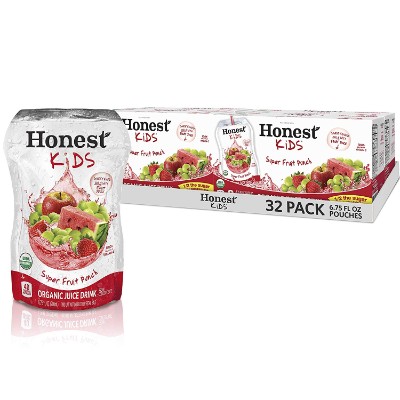 Perfect for children that can't eat too much sugar
Much healthier for kids compared to other brands
All natural ingredients
Low sugar/ low calories
Delicious
Straw is hard to punch into the juice box
Some reports of no flavor what so ever - just water with a hint of flavor
With no caffeine, a touch of citric acid to bring out the tartness of the fruit, Honest Kids Organic Juice Drinks are the perfect pick me up for active kids. After play, after school and with lunch, these are an ideal source of hydration.
Read more
Flavors
Organic juice and natural flavors, Honest Kids Organic Juice Drinks are a bright spot in any day. With flavors like Apple, Berry Lemonade, Cherry, Grape, Tropical Tango, Superfruit, and Slushy there's something here to please every child's tastes.
Ingredients
These contain only ½ the sugar of the leading kid's drink but all the essential nutrients we expect in a fruit juice. The organic ingredients placed into every tetra pack of the Honest Kids offer a sense of security in the juice that our kids drink. The use of natural sweeteners is also remarkable.
Value
With a natural sweetness and plenty of vitamin C, this is the right choice for kids who enjoy fruit flavors when they need hydration. Convenient packaging is the right size for lunch boxes and little hands.
9

. V8 Original 100% Vegetable Juice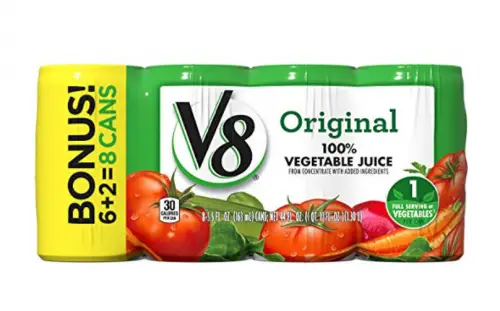 Has no preservatives or artificial flavors
Has no added sugars
Has 1 full serving of veggies in just one can
Good for making your kids big and strong
Tastes like tomatoes so not all kids may like the flavor
Can be too acidic for some kids
Born in 1933, V8 was created to make sure that people were getting enough vegetables in their diet… with a great taste. Now, that taste (and nutritional value!) has been passed down to kids as they start to fall in love with V8 Original 100% Vegetable Juice.
Read more
Flavors
V8 Original 100% Vegetable Juice is 100% that - pure vegetable juice. That means there is no added sugars, no artificial flavors, and it tastes like - you guessed it - veggies. Kids will love being able to drink their veggies instead of having to eat items like brussel sprouts at dinner. This juice has all natural flavors and tastes like tomatoes, so even the pickiest eaters will enjoy it.
Ingredients
This juice is great tasting and made of 100% vegetable juice. That means there is no added or artificial flavors or colors, no preservatives and it is non-GMO. Additionally, the V8 Original 100% Vegetable juice has 1 full serving of veggies, as well as antioxidant vitamins A and C… all in just one can! This can make your little ones big and strong!
Value
Kids will love the bright red color of the V8 Original 100% Vegetable Juice. This juice is refreshing and has a full serving of veggies in just one can, so little ones can get their vitamins in after a long day of school, tests, sports games or playing.
10

. Apple & Eve Berry Bert and Ernie Fruit Juice
Made of 100% juice
There is no added surgars
Juice is calcium fortified
Has one daily serving of Vitamin C
Some kids might not like berry flavor
More expensive than some brands
Starting in 1975, Apple & Eve started with one hope: to provide families across America with healthier, better-for-you juices. The company has done just that with its many different types of fruit juices, but with the new Sesame Street Line, kids will love seeing their favorite characters on their juice boxes. Bert and Ernie Berry is sweet and healthy, so kids will love it!
Read more
Flavors
The Apple & Eve Berry Bert and Ernie juice boxes will delight children of all ages with its sweet berry flavor. With a mix of different berries, this juice is a packs a punch of flavor that any kid will like - even if they don't like fruit or super sweet drinks. It really is the perfect juice for any home, occasion or environment.
Ingredients
These juice boxes are perfect for lunches, snacks or on the go. They are made of 100% fruit juice - this one made of berries. There is no added sugars or flavors, so parents do not need to worry about all that processed gunk in their kids systems. Plus, just one juice box has a daily serving of calcium!
Value
This purple pink color will inspire kids as they drink it. Kids will love seeing Bert and Ernie looking back at them when they drink this, or when they are prowling the juice aisle at the grocery story with parents. Just be sure that little ones don't dump multiple packs of this delicious fruit into the shopping cart!
Criteria Used for Evaluation
Flavors
Juices come in a variety of flavors and formulations. However, if we are to make sure our kids stay healthy while having a go at their favorite drinks, we might as well give then any of these 10 best juices for kids to drink in 2019.
Fruits are commonly higher in sugars than vegetables and other foods, but they're paired with pectins and dietary fibers. This allows the human body to metabolize the fructose more slowly, releasing that energy evenly over time. When fruits are juiced, the fibers are often separated from the drinkable product.
For just that reason, dietary fiber is highly desirable and just a bit rare, but we found a few products that made the grade. Juices that are low carb, lower sugars are the best choices to make. Most of our selections were made with no sugar added though a few used a touch of organic cane sugar to boost the sweetness.
Ingredients
We already know that sugar-laden sodas and carbonated drinks are an extremely poor choice for healthy children and even trying to maintain keeping our children healthy. Avoiding these is tricky, and juice companies have capitalized on this awareness to make their products the "healthy" alternative, the "wise" choice that parents can make. Sadly, however, many people fail to find similar but infinitely better products that their children can enjoy without the additional additives and food coloring used to lure consumers.
The worst juices for children contain the highest amount of added sugars and the least amount of real fruit. Companies spend millions of dollars advertising, trying to draw children to these products and they're becoming more and more successful at it. By using cartoon characters, cute names and kid-friendly packaging all goes into the marketing to try and recruit your child into the sugar water clan of quick tooth decay and poor nutrition. Toss that healthy eating lifestyle out the window.
Value
When it comes to nutritional values, we looked for juices that have a lot of potassium in and very little sodium because this is the right body fluid balance needed for any active bodies for proper hydration. It is a necessity for muscles and nerve functions and maintaining any kind of proper blood pressure as well. Most juices provide a good dosage of vitamin C which is important in developing a terrific immune system, healthy blood vessels and growing strong connective tissue, teeth and bones. Some of these juices also bring along vitamin A, magnesium, folate and calcium too. A juice product with iron helps oxygenate tissues in a healthy body. Protein is also enormously beneficial, and we found a few juices on our list has this too.
Nutrition is very important for the survival of any organism, humans included. We won't be here if not for these very small microscopic substances that form the very foundation of our existence. While grown-ups can derive their nutrition from a variety of sources, children are a different matter simply because they haven't been exposed yet to a variety of tastes and flavors which can affect their nutrition. There are nutrients that all children must consume as these are considered to be the basic building blocks of their development. Understanding these nutrients for the growing years is essential to our caring for them.
Most Important Criteria
(According to our experts opinion)
Experts Opinion
Editors Opinion
Users Opinion
By Default

Parents, Did You Know?
Protein – All cells in our body require protein as this macronutrient is the fundamental building block of all things. Without it, cells will not be able to produce daughter cells and tissues will not be formed. That's why it is always a good idea to get juices or any food item that is rich in this macronutrient to help ensure optimum growth.
Parents, Did You Know?
Calcium – Part of growing up is playing. Whether it is running or jumping or hopping or simply walking, we all need sturdy and strong bones to help minimize the effects of compression. We need a strong skeleton to support the muscles and the other organs of the body. And this is where calcium can be a very particularly great addition to our kids' drinks. While milk is the best source of this mineral, there are now many juices that have been fortified with calcium.
Parents, Did You Know?
Iron – Not your Tony Stark kind of mineral but iron is a very essential mineral necessary for the synthesis of hemoglobin, a molecule that carries oxygen in the blood and brings this to the different cells. It is also the same molecule where carbon dioxide sits in on its way outside the body. All cells require oxygen. Without iron, it would be almost impossible to deliver oxygen to the cells.
Parents, Did You Know?
Vitamin A – Kids first learn about their world through their senses. And one of the most important senses is vision. It allows us to see everything around us so that our brains can try to interpret these visual cues. Vitamin A is thus crucial for the optimum development of children's vision.
Parents, Did You Know?
Vitamin C – There are many benefits of vitamin C. Aside from a boost in the immune system, it's also important in strengthening the different cells of the body as well as in the establishment of stronger teeth and bones.
Other Factors to Consider
Age Range
While supplying your kids with whole fruit is ideal but not always practical, organic juices with real flavors and no additives can be a great substitute or alternative than giving your child something that's basically pure sugar. Active children need hydration and juice can supply them with that, along with lots of vitamins and minerals, maybe a little protein, fruit sugar for energy, and even a small amount of fiber.
It's best to introduce juice in stages. For children from the ages of 1 to 3, it is recommended that the limit of juice that parents give their child is four ounces per day. From ages 4 to 6, it's said to be limited between four to six ounces each day. An eight-ounce serving per day is plenty for children from ages 7 to 18. You can also use pure water to dilute juices and make them last longer without losing the original nutritional value. Parents always need to make sure that their children drink plenty of water.
Frequently Asked Questions
q:

Where can I purchase these?

a:

All the products that are listed above can easily be purchased directly from Amazon. Most of the products price range is listed less on Amazon than it is elsewhere.
q:

Why are some of these so expensive?

a:

Some of these are pricier than others, however, some simply have a higher price because of the amount that is being offered. It's important to check how many bottles/boxes are included in a product listing to avoid overspending or over-ordering.
q:

Where can I find the best prices?

a:

The products on this list can easily be found on amazon.com. However, if you are searching online or in stores for the best prices, it's important to just research thoroughly to find those top prices.
q:

Why do the links take me straight to Amazon?

a:

For consistency purposes, we've limited the links to Amazon. This does not mean that they are not available anywhere else though. For simplicity and flow reasons, we have condensed some of the titles–the links help you better see the full names of the products.
q:

Are there more flavors of products than just the ones stated in the titles of the products?

a:

Yes. For simplicity, straightforwardness and flow reasons, we have omitted the entire list of flavors that each product has in the titles. Most of them, however, do have it listed under their mini-reviews. The best option to find out more information is to click on the links to find a full product listing that is being offered.