Gardening is a great trade to be able to introduce your kids to, but gardening equipment that adults use can be too large and unsafe for kids. This is where this list comes into play. It offers a list of the Best Garden Tools for Kids. These tools are safe for them, are easy for them to handle, and are designed with them in mind. From pretend play to real garden tools this list is sure for have something for every little gardener on your list.
10 Best Garden Tools for Kids in 2019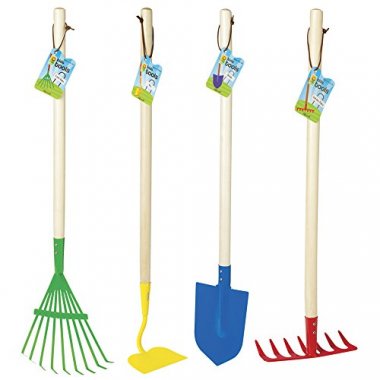 Learning Resources New Sprouts Grow It!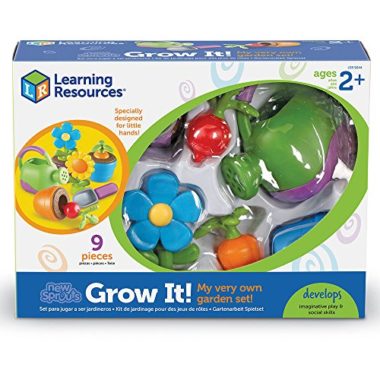 Age Range: 4 to 10 years old
ROCA Home Early Learning Guide
Age Range: 3 to 12 years old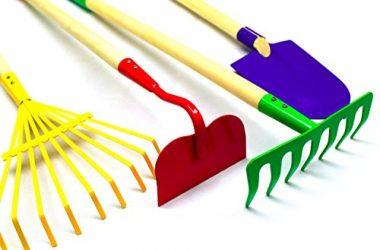 Age Range: At least 7 years old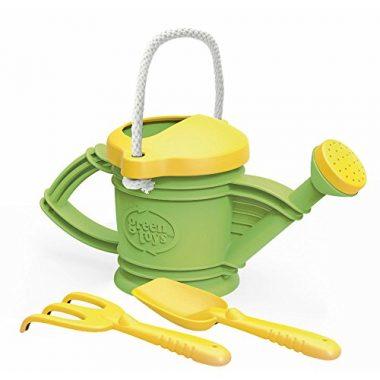 Age Range: 18 months to 10 years old
G & F Products Soft Jersey Gloves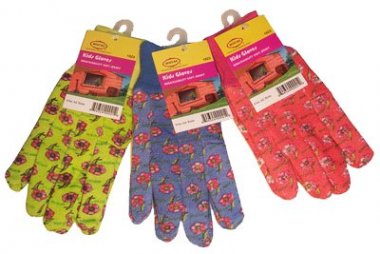 Age Range: 3 to 8 years old
Age Range: At least 4 years old
G & F Products with Tote Rake Shovel
Age Range: At least 5 years old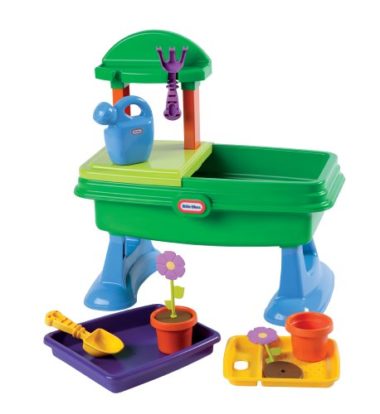 Age Range: 3 to 5 years old
Age Range: 4 to 10 years old
Criteria Used in Evaluation of the Best Garden Tools for Kids
In this age of technology, it is more important than ever to be sure the kids spend some time out of their chairs in front of the television and outside enjoying the sunshine and fresh air. Physical activity helps keep them healthy and gardening is good for relieving stress and improving mood.
Kids can develop new skills and learn about science and nature at the same time.
They can learn to identify birds and insects that come to visit. They can discover the difference between the new little seedlings and the weeds around them. Maybe after growing a few vegetables, they will even enjoy eating them!
We look for gardening kits that give children the best learning experience. Of course, the best kit is going to be dependent on the age of the child. Younger children benefit from kits that have lots of tools for them to discover and experiment with. Children who are a little older will enjoy gardening tools that are just like the grown-up version, but in a smaller size to fit their tiny hands.
The best kits will have tools that are sturdy with special attention given to avoiding sharp edges. They should be colorful and fun. If they are painted, the paint needs to be nontoxic. There needs to be a sturdy canvas bag, wagon or toolbox to keep them in.
What Determined the Best Kids Garden Tools on Our List
Our primary concern in choosing the products to include on this list was the safety of the kids' garden tools. These must not, in any way, bring harm to our precious little ones. We would like them to appreciate what it's like to work with grass, plants, insects, critters, and, of course, the Earth. It is for this reason that the products we included are, first and foremost, toys or have toy-like features. This provides the element of fun in the gardening activity while retaining the functionality of the tool it represents.
It was, therefore, important for us to look at the developmental appropriateness of such gadgets. We believe that older children will require more realistically designed instruments complete with more complex functions while younger children should be provided with simpler designs with simpler functions. This also goes hand-in-hand with the overall safety of the tool as older kids will already have the capacity to understand basic safety guidelines whereas younger children will be dependent on our supervision.
It was equally imperative for us to consider the company's reputation or credibility. While we did consider the product's consumer satisfaction rating, we had to correlate this with the soundness of the various feedback and comments from customers. These must jive. More importantly, these must both point to the classification of the product as a great kids gardening set.
Benefits of Gardening for Kids
Gardening is not just an activity that is enjoyed by adults. With the right encouragement and continuing motivation, kids too can develop a liking to this outdoor activity. And why would you want your kid to be involved in such "dirty" work? Well, there are many benefits of gardening for children. Here are some of them.
It encourages the use of all of the senses which can help in the enhancement of sensory processing and integration in the brain. This forms the foundation of optimum cognitive development.
It fosters healthy eating habits especially if kids have been involved in the planting, growing, and harvesting of fruits and vegetables. They know that these foods must be good and healthy since they were the ones who planted and grew them.
It refines the development of children's fine-motor skills. When kids garden, they have to use very-fine-motor movements to place seeds into the plots. They will also need fine-motor skills to pull out weeds and pick fresh fruits from their stems.
It's a great way to introduce children to scientific concepts especially biology, botany, zoology, chemistry, and even physics. They may not realize the principles yet but with the correct instruction in class, they soon will.
It teaches kids to be responsible especially in caring for their plants. From watering them to removing weeds and debris, it takes a great sense of responsibility to care for another living organism.
These are just some of the many benefits of gardening for children. The list can go on for miles.
The garden is a marvelous place to be, where kids can explore and discover a lot of things. With the 10 best garden tools for kids in 2019, you are essentially giving them the right implements to further their learning needs.
You May Also Like
FAQ
Frequently Asked Questions
Q: Are the metal tools good for any age child?
A: The metal tools are good for kids around maybe 4 years old or older, but the younger kids may be better with plastic ones since they aren't as heavy for the smaller hands.
Q: Would a gardening kit be good for a high-anxiety child?
A: Gardening has been known to improve moods, calm the spirit and help with anxiety so it might not only be an acceptable activity but a beneficial one as well.
Q: What is STEM that was mentioned in one of the descriptions?
A: It stands for Science, Technology, Engineering, and Math. It is important because these areas are prevalent in our lives and the future economy. The gardening tools can foster an interest in science.
Q: So a gardening kit could be a good teaching tool?
A: Yes, it can help them develop their fine motor skills. They can learn how to garden their own food which may help them learn healthier eating habits.
Q: What age group are the gardening kits best for?
A: The gardening kits are best for kids over 3. The plastic kits are good toys for younger kids though.
Q: Will my child benefit from using fake gardening tools?
A: Yes, of course! It is best for kids to start young in the garden, and seeing how most young children will not fully comprehend the specifics of gardening, starting them young and introducing them to the tools and process of gardening will have a significant impact on their futures when they remember what they were taught as youngsters in the garden