10 Best Garden Tools for Kids Reviewed in 2019
last updated
Sep 17, 2019
Gardening is a great trade to be able to introduce your kids to, but gardening equipment that adults use can be too large and unsafe for kids. This is where this list comes into play. It offers a list of the Best Garden Tools for Kids. These tools are safe for them, are easy for them to handle, and are designed with little children in mind.
From pretend play to real kids garden tools this list is sure for have something for every little gardener on your list. So next time your kid wants to help out in the garden, introduce them to some of the cutest accessories they can use to stay safe and have fun while planting some new seeds in the backyard.
In a Hurry? The test winner after 35 hrs of research
Toysmith Big Set
Why is it better?
Real wood handles with quality metal tool heads
Can be hung up
Perfect size for kids
Encourages responsibility
Gives kids a chance to help with yard work
In a
Hurry? Editors choice:
Test Winner: Toysmith Big Set
22
Researched Sources
35
Hours Researching
18
Products Evaluated
Educational Value
Safety
Design
By Default
10 Best Garden Tools for Kids Reviewed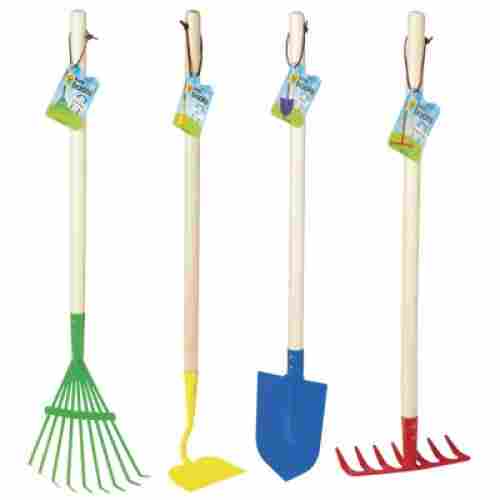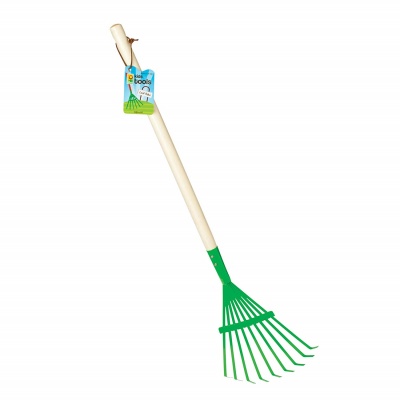 Real wood handles with quality metal tool heads
Can be hung up
Perfect size for kids
Encourages responsibility
Gives kids a chance to help with yard work
They're easily broken if not taken care of
What's a little gardening without real-life gardening tools? This Big Kids Garden Tool set comes with everything your little one needs to help you do all of the yard work. While it can often feel like a chore to them, the gifting of their own personal gardening tools can help them feel empowered and ready to take on a day in the yard.
Read more
Design
Each one of these tools is created with high-quality materials and come complete with wooden handles and a string to be hung up in the garage or on a wall in the basement. The set comes with a spade, rake, hoe, and leaf rake; perfect for tackling yard work in the spring, summer, or fall! The smaller size of these garden tools makes them perfect for kids who are always looking to help out, and even for kids who aren't. It's exciting to get your first tools and even if they're only for the garden, these serve as a worthy right of passage.
Educational Value
They'll feel a sense of maturity knowing that they have their own tools to help mom and dad in the yard doing all the things they see grown-ups doing, only now they can do it with tools that actually fit their tiny hands. Having their own garden tools will teach kids a sense of responsibility and make doing chores fun and exciting.
Safety
These tools properly fit your child's hands and are all designed with child safety in mind. Recommended for ages 5 years and up.
2

. Learning Resources New Sprouts Grow It!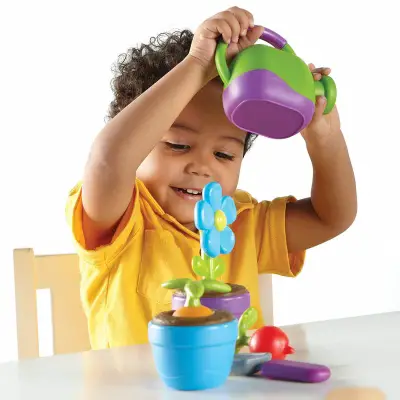 Pretend garden set with flowers and vegetables
Set includes mix and match planting pots, shovel, and watering can
Features bright colors, soft pieces, and durable design
Perfectly designed and sized for little hands
Encourage pretend play
Set includes items that are small in size
The paint used on flowers can clip easily
Playing in the garden is not all about growing fruits and vegetables. It is about growing their imagination and creating their personality. This garden set is full of imagination building toys. They are able to plant, grow, and see the 'fruits' of their labor right before their eyes.
Read more
Design
Each set has flowers and vegetables, a watering can, three planting pots, and a shovel. The flowers can be mixed and matched plus they are super colorful. There are two flowers, a carrot, and radish vegetables, plus the plants. The planting pots have been filled with playtime dirt that looks real without all the mess of real dirt. All of the flowers and vegetables can be placed in any colored pot. The design is perfect for their little hands and growing imaginations.
Educational Value
Pretend play is a vital part of imagination building exercises for children. From playing with toys to playing with friends building their imagination helps develop their love for learning. Planting the seeds in this set will build their skills and have fun doing it.
Safety
It is durable, constructed from soft plastic, and easy to hold. The set has been designed for little ones that are older than two years old. Keeping your kids active outside and inside can be tough, but using their imagination with this learning garden set is easy. They will do all the hard work themselves.
3

. ROCA Toys STEM Learning
Real gardening tools for kids
Each tool is perfect kid size
For indoor or outdoor play
Set includes kid-friendly shovels, rake, gardening bag, watering can, and seeds
Boosts development of fine-motor skills
Tools are smaller in size, they are recommended for smaller children (ages 3 to 5 years old)
Handles of tools are very chunky and hard to grasp
Everything that your little one will need to discover gardening has been included in this set. They are perfectly sized tools that are ready for them to enjoy.
Read more
Design
The set includes two different types of shovels, a small rake, a gardening tool bag, watering can, and their first set of seeds, plus a STEM learning guide. The STEM learning guide helps parents learn about how to promote nature and animals to their little one. Get your kid off their tablets and get some dirt on their hands with this all-inclusive gardening kit for kids.
Educational Value
When scooping up, putting seeds in the dirt, and watering the seeds, children are able to boost their fine-motor-skill development. It takes a lot of control and strength to be able to perform all the gardening tasks that it takes to plant a seed. As children become more and more interested in gardening, they are able to develop better control over the hand movements that it takes to use the shovels and rakes, helping to really improve their development quickly.
Safety
The set can be used indoors to plant simple herb gardens or used outdoors learning how to plant a home garden. All the tools have been created from kid-friendly materials and are ideal for their little hands. Each of the metal tools has had all the edges rounded ensuring that nothing will be sharp.
4

. G & F Products 4-Piece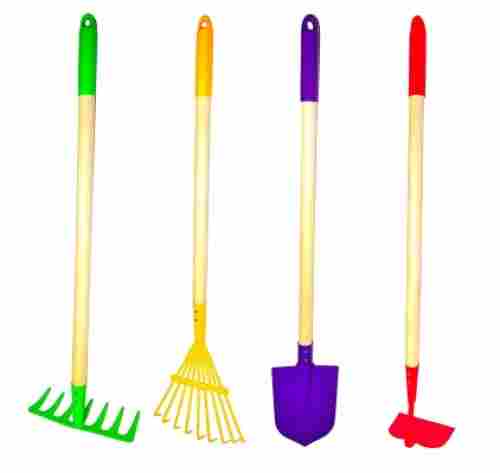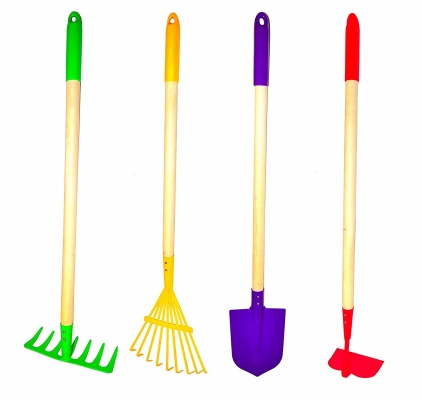 Tools made of wood and metal, not plastic
Great size for toddlers
Comes in cute colors
Encourages kids to get outside
Silicon handle is not always connected securely
Are not made at a workable angle
Instead of slouching or even sitting tilling the soil, it is more efficient to do things standing up. And this is where the G & F JustForKids 10018 Kids Gardening Set can help.
Read more
Design
This set of tools includes a rake, a spade, a hoe, and a leaf rake complete with their elongated handles for more efficient handling. The handle is made of highly durable solid wood to give your child a firmer grip while swinging these gadgets in the air before striking them on the ground.
Educational Value
These tools are a perfect complement to a good set of small hand tools. They are sturdy and well glued together. Kids will enjoy getting outside and enjoying some physical activity.
Safety
The functional heads of these instruments are made of premium quality metal and are combined with the solid wood handle using G & F's patented Enhanced Binding Technology, ensuring that the union between wood and metal is kept and safeguarded. Because of the metal component of the JustForKids 10018, these are primarily intended only for older children and should never be allowed to be used or handled by younger kiddos.
The overall length of the tool, which is about 27.5 inches, also adds to the risk of accidents in instances where the gadgets are used by younger children or kids who may not have adequate control of their motor skills. Nevertheless, this is not to say that it doesn't pose a threat even to older kids. That's why G & F provided an extra protective cap on each piece of the JustForKids 10018 to guarantee safety even for older children. With this set, your kid will soon be planting his or her own vegetables.
5

. Green Toys Watering Can
100% fully recycled plastic
Encourages kids to help care for our planet
High quality and sturdy
Easy to wash
The yellow top is hard to get on
Water can sometimes leak
Life forms in the garden, especially plant life, are inherently dependent on water. Even desert-hardy plants like cactuses require moisture in the air to thrive. They store this in many of the sacs inside their bodies to ensure all of its functions proceed normally. It is within this line of thinking that any form of watering system is a very important aspect of gardening and landscaping. Such is the message being conveyed by Green Toys' Watering Can Toy.
Read more
Design
The prints used in all of its labelings are made from soy ink, further improving its eco-friendliness. The Green Toys set comes with a fork and a shovel in addition to the yellow and green watering can. Kids, especially young ones, will have a great time watering the different plants and blooms in mommy's garden. It's going to be useful for some beach fun as well.
Educational Value
How is the Green Toys different from other brands? Well, if you're the type of person who cares about his or her environment, then this is the one to get for your kid. The Green Toys is actually a complete toddler gardening set constructed of 100 percent fully recycled plastic which significantly reduces its carbon footprint by eliminating the need for the production of high-quality plastic from raw materials.
Safety
This toy helps to support the planet by being made from recycled products while encouraging kids to help take care of the planet at the same time. It is durable enough to provide many hours of outdoor fun. Not to worry though, as the company has undergone rigorous testing for its products and have been certified to be free from PVC, phthalates, BPA, or any other external coatings.
One size fits all
Breathable material
Stretchy jersey fit
Four different designs to choose from
Boys might not be the biggest fan of the flower theme
You never realize how important gloves for gardening are until you're without them. Gloves are really an essential part of heavy-duty gardening for some and for a list of good reasons. For starters, they keep your hands clean when you're pushing dirt aside.
Read more
Design
For kids, glovesfor protection are extra important because of all these things and the G & F gloves are just perfect for the job. They're one size fits all, breathable, and even come in four different designs!
Educational Value
The gloves are useful for protecting little hands, they don't really have much educational value, except for teaching little ones to stay safe and protected.
Safety
Since your hands are the true main tool in gardening, it's important to keep them safe, especially when they're little hands. These gloves offer breathability during the summer months while also providing enough padding to protect tiny hands and fingers. As much as kids love playing in the dirt, you never know what might be around or in your backyard garden. These gloves keep little hands safe while still keeping them comfortable, and not turning kid's hands into a sweaty mess.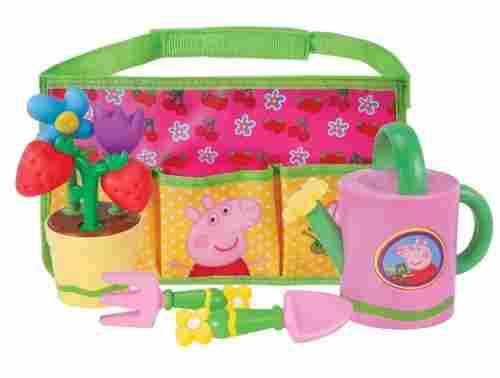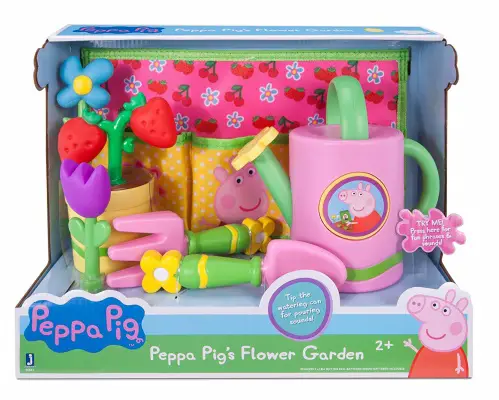 Adorable and fun
Tools can be used outside
Comes with a case to carry everything in
Watering can produces real watering sounds
Perfect for Peppa Pig fans
Batteries might need replacement often for the watering can if repeatedly used
Any fans of Peppa Pig out there? Oh boy, have we got gardening set for your little one!
Read more
Design
Aside from being positively adorable, this Peppa Pig set comes with a shovel, tiny rake, watering can, a fake plant with the cutest little strawberries, and a carrying kit to put it all in. Kids will be delighted to have this gardening set as their first and it'll inspire them to have a garden just like their parents. The Peppa Pig theme comes through pretty strongly with this gardening set and is sure to be a hit with lovers of the show. It's bright and colorful and even though it's a toy, there's no reason these tools can't really be used outside to help out in the garden. It's a great starter kit for toddlers who don't yet know complex gardening, and with it, they'll have no problems wanting to spend time outside with you.
Educational Value
Although the watering can isn't real, it does make real noises! All kids have to do is press on the front or simply tip the can over to hear real water noises -- It'll inspire them to have a garden of their own for sure.
Safety
Even though the watering can is electronic and isn't capable of holding water, the rest of this gardening set certainly stands on its own. It'll be great for younger kids who want to help out outside but are just a tad too young and will give them the chance to dig in the dirt and get their hands dirty while still feeling involved in gardening.
Metal tools with wooden handles
Good value for the price
Cute carrying case that is sturdy
Perfect child-sized
Edges might be sharp
Not big enough for a little older kids
If you think the G & F JustForKids 10018 is really cool except that the handles are exceptionally long for gardening chores that require you to be seated, then worry not as G & F has an answer to such an issue: the JustForKids 10012 Kids Gardening Set that already includes a trowel, a hand rake, and a shovel.
Read more
Design
The three implements are beautifully carried in a colorful and fashionable tote bag that can really turn heads. The choice of neon green for its handle is beyond our comprehension except perhaps for the intent of drawing attention to the beauty of the bag. Well, if you're really going to pay attention to the tote bag, it really is a very stylish, very fashionable bag for storing gardening implements. In fact, it's too posh to be used in the garden.
Educational Value
Children love this kit because it is just their size. The tools are metal and strong enough to help mom in the garden while enjoying some fresh air. The handles are shorter so kids can use them while sitting down if they want, and at the end of the day, the tools fit back into the very fashionable canvas bag.
Safety
The 10012 comes with a lovely wooden handle plus a very sturdy and super durable implement that surely resembles the tools that moms and dads use. You can now go gardening with your kids and everyone will be having a really great time.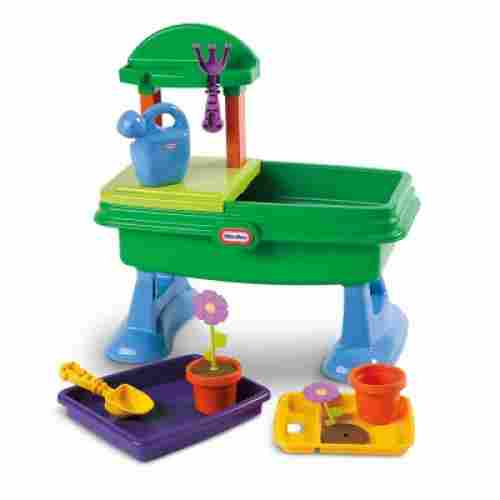 Gardening table created just for kids
Features a basin for dirt or water with easy drain plug
Tabletop design for multiple children to play at once
Lid for basin fit over half for a work area
Less mess and more fun, easy cleanup, and storage
The table does not stand very high
Drain plug comes out of the hole easily
This is where the gardening and kids garden tools time gets fun for the little ones. From a table to the ground this set is great for kids that love to play outside with dirt or kids that are playing indoors with pretend dirt.
Read more
Design
The design is versatile, can be used in any place you would like. From planting flowers to watering them, then watching them grow this table is great. The basin on the table can hold water or dirt. It features an easy to drain plug that is built right into the design. It even comes with a watering can that really works. The table top design of this product is great for more than one kid at a time playing. The one side has a half-sized cover that allows some kids to plant on the work surface while others play in the dirt or water on the other side. There is even a place to hang the hand tools when they are not in use, plus once the basin has been drained it can be used to store the accessories.
Educational Value
Gardening with little ones can be messy. This garden table is the perfect solution. It features a place for the dirt, water, and all the mess. Then when it is time to clean up it is easy. Everything from the set either hangs up or fits into the basin. It makes gardening with a toddler even more fun.
Safety
The set includes the garden table, a shovel, a rake, 4 pots for the flowers, soil discs, a tray, a tray for sifting, and a working watering can, all very durable and safe for young kids. From pretend play to real-play this garden table is great for any inspiring little gardener.
10

. Liberty Imports Wagon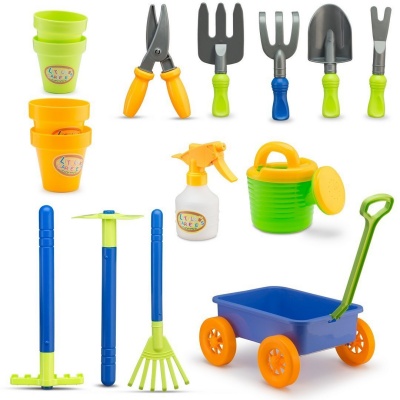 Eight different gardening tools
Comes with flower pots
Vibrant colors
Tools are made for tiny hands
Not sturdy enough for actual gardening
The Little Garden Tool Box of Liberty Imports is simply phenomenal, don't you agree? Well, just when you thought it couldn't get any better, Liberty Imports now showcases its Garden Wagon and Tools Toy Set for Kids. This could very well be the best children's gardening set you could ever find as it comes with more functional backyard implements.
Read more
Design
Like the Little Garden kids gardening set, the Garden wagon also comes with a hand rake, a fork, a clipper or shears, a spade, and a wrench. Also packaged into the set are 2 sets of large and small flower pots complete with a spray bottle and a watering can. Also included in the Garden Wagon are a standard rake, a pick mattock, and a leaf rake. What's really amazing is the wagon that is used to carry all of these implements.
Educational Value
If you're not amazed by this, then perhaps none will. Whether your kid will decide to use these implements in your backyard or at the beach or perhaps even in your neighborhood children's area, chances are he or she will be having a blast playing make-believe with this superb kids gardening set. The Garden Wagon is a very unique way to revolutionize the way your child appreciates and enjoys a day in the gardens.
Safety
This is a wonderful product to encourage outdoor fun for 2-3-year-olds. The small size is just right to make them feel included in your gardening experience. The vibrant colors make this toy a lot of fun in the garden. It can also be used for the beach or sandbox. When the play is done, the wagon provides a convenient way to get everything hauled back to the house.
Criteria Used for Evaluation
Educational Value
Kids can develop new skills and learn about science and nature at the same time. They can learn to identify birds and insects that come to visit. They can discover the difference between the new little seedlings and the weeds around them. Maybe after growing a few vegetables, they will even enjoy eating them!
It encourages the use of all of the senses which can help in the enhancement of sensory processing and integration in the brain. This forms the foundation of optimum cognitive development. It fosters healthy eating habits especially if kids have been involved in the planting, growing, and harvesting of fruits and vegetables. They know that these foods must be good and healthy since they were the ones who planted and grew them.
It refines the development of children's fine-motor skills. When kids garden, they have to use very-fine-motor movements to place seeds into the plots. They will also need fine-motor skills to pull out weeds and pick fresh fruits from their stems.
It's a great way to introduce children to scientific concepts especially biology, botany, zoology, chemistry, and even physics. They may not realize the principles yet but with the correct instruction in class, they soon will.
It teaches kids to be responsible especially in caring for their plants. From watering them to removing weeds and debris, it takes a great sense of responsibility to care for another living organism.
Safety
Our primary concern in choosing the products to include on this list was the safety of the kids' garden tools. These must not, in any way, bring harm to our precious little ones. We would like them to appreciate what it's like to work with grass, plants, insects, critters, and, of course, the Earth. It is for this reason that the kids garden tools we included are, first and foremost, toys or have toy-like features. This provides the element of fun in the gardening activity while retaining the functionality of the tool it represents.
It was, therefore, important for us to look at the developmental appropriateness of such gadgets. We believe that older children will require more realistically designed instruments complete with more complex functions while younger children should be provided with simpler designs with simpler functions. This also goes hand-in-hand with the overall safety of the tool as older kids will already have the capacity to understand basic safety guidelines whereas younger children will be dependent on our supervision.
The best kits will have tools that are sturdy with special attention given to avoiding sharp edges. They should be colorful and fun. If they are painted, the paint needs to be nontoxic. There needs to be a sturdy canvas bag, wagon or toolbox to keep them in.
Design
It was equally imperative for us to consider the company's reputation or credibility. While we did consider the product's consumer satisfaction rating, we had to correlate this with the soundness of the various feedback and comments from customers. These must jive. More importantly, these must both point to the classification of the product as a great kids gardening set.
All the toys we included have great design value. All are made especially safe for young children, without sharp edges and choking hazards. They are all colorful and vibrant so kids can stay interested. They're all of great quality and are rated to last you a long time.
The garden is a marvelous place to be, where kids can explore and discover a lot of things. With the 10 best garden tools for kids in 2019, you are essentially giving them the right implements to further their learning needs.
Most Important Criteria
(According to our experts opinion)
Experts Opinion
Editors Opinion
Users Opinion
By Default

Parents, Did You Know?
Gardening can teach young children to appreciate the nature around them, to develop a set of useful life skills and set tons of healthy eating habits.
Parents, Did You Know?
Through gardening, children can understand where their food comes from. With the toys featured on our list, children can learn in a fun way.
Other Factors to Consider
Age Range
We look for gardening kits that give children the best learning experience. Of course, the best kit is going to be dependent on the age of the child. Younger children benefit from kits that have lots of tools for them to discover and experiment with. Children who are a little older will enjoy gardening tools that are just like the grown-up version, but in a smaller size to fit their tiny hands.
Frequently Asked Questions
q:

Are the metal tools good for any age child?

a:

The metal tools are good for kids around maybe 4 years old or older, but the younger kids may be better with plastic ones since they aren't as heavy for the smaller hands.
q:

Would a gardening kit be good for a high-anxiety child?

a:

Gardening has been known to improve moods, calm the spirit and help with anxiety so it might not only be an acceptable activity but a beneficial one as well.
q:

What is STEM that was mentioned in one of the descriptions?

a:

It stands for Science, Technology, Engineering, and Math. It is important because these areas are prevalent in our lives and the future economy. The gardening tools can foster an interest in science.
q:

So a gardening kit could be a good teaching tool?

a:

Yes, it can help them develop their fine motor skills. They can learn how to garden their own food which may help them learn healthier eating habits.
q:

What age group are the gardening kits best for?

a:

The gardening kits are best for kids over 3. The plastic kits are good toys for younger kids though.
q:

Will my child benefit from using fake gardening tools?

a:

Yes, of course! It is best for kids to start young in the garden, and seeing how most young children will not fully comprehend the specifics of gardening, starting them young and introducing them to the tools and process of gardening will have a significant impact on their futures when they remember what they were taught as youngsters in the garden.