A favorite children's television program that parents are probably all too familiar with is Peppa Pig. For those just learning the tales of this English character, you'll learn that their adventures are wonderful to help spark your child's sense of adventure, curiosity and their creativity. With Peppa Pig and her friends, your child will explore their imagination, motor skills, and social skills. Below we came up with a list of the highest rated, best quality, Peppa Pig items that we know your little one will love acting out their favorite scenes with!
Our Top 3 Picks
Peppa Pig Deluxe House

Our rating
Fully Furnished
Price:

See Here
Peppa Pig Tea Time Role Play

Our rating
11 Piece Tea Set
Price:

See Here
Lights & Sounds Family Home

Our rating
Includes Figures & Furniture
Price:

See Here
Our Picks Of The Best Peppa Pig Toys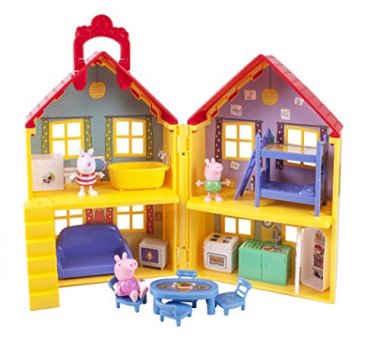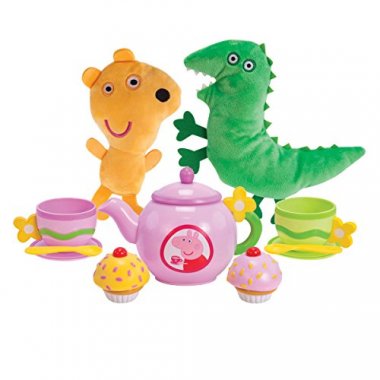 Lights & Sounds Family Home
What I Want to Be 8-Figure Pack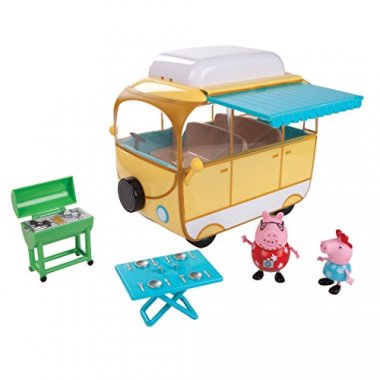 Princess Castle Deluxe Playset
Cra-Z-Art Travel Magna Doodle
Criteria Used in Evaluation of the Best Peppa Pig Toys
When coming up with our top ten list above we knew that it wasn't going to be an easy task. We looked at everything from customer reviews, how educational each toy was, safety, to quality. We wanted to make sure that each toy on our list matched every single section of our criteria. We wanted nothing but the best of the best of Peppa Pig and we made sure with extensive research that we found it. One thing we particularly paid close attention to was how educational each toy was.
Parents always want to make sure that the toy their child is playing with can be beneficial to their child. With Peppa Pig each of these toys will help enhance fine motor skills, inspire their creative side through pretend play or acting out their favorite scenes along with the show, and they'll even help improve your child's social skills. Peppa Pig will often partake in silly adventures and has many friends with different personalities, this will also show your child the power of teamwork, and why working with a team is important.
We know that you're here simply because your child loves Peppa Pig. By now you probably even have a few episodes of the hit show memorized. Whatever the occasion is on why you're shopping whether it's for a birthday, holiday or simply because you know it's something your child will be excited about, we've got you covered. We have the highest rated quality items that the market has to offer from this hit television show. We're sure you will find exactly what you're looking for. Please check out our top ten list above that we think is nothing but the best of the best of 2019.
Benefits of playing with characters from a TV show
When children play with characters from a TV show, it helps develop both their mental and physical developmental milestones. Mentally it helps develop their emotional and problem-solving skills. When they are playing with the characters from their favorite TV show, they are able to act out scenes from the show. These scenes work through dialog that demonstrates communication between two people or among a group. Then it also helps them with their problem-solving development. During shows, there is usually an issue that the characters face and the show displays to children how to handle the situation in an appropriate manner. They are able to learn from this.
Playing with characters is also a way to develop strong physical skills as well. When playing, children develop their hand-eye coordination and fine motor skills. These are both important skills needed throughout life. They are used to write, drive, and even eat. When they are able to develop these skills through playtime, it gives them lots of practice unknowingly. Playing with character toys from a TV show is a great way to help children develop both physically and mentally.
Encouraging the development of fine motor skills through playtime
When you encourage children to engage in play time, you help them develop their fine motor skills. When they use their fingers and hands to complete an activity, this helps develop strong motor skills. These motor skills are used when taking off their socks or tying their shoes, for example. It is very important to develop strong fine-motor skills through play time.
Other activities that help develop strong fine-motor skills are finger painting, playing with characters and moving them along or in out of an object, or coloring. These are all great activities that practice those skills while children are also having some fun. When they are able to learn and have fun they are more engaged and the experience will benefit them more.
Peppa Pig and her family
Peppa Pig and her family are a family of pigs from the Nick Jr. hit animated TV series. The family consists of a mother, father, daughter, and son. The names of all the characters of the family are simple like the mother is Mummy Pig and the father is Daddy Pig. The son in the family is George and the daughter of the family is Peppa Pig.
The show also includes other characters as well. The characters are also other animals with simple names like Danny Dog and Zoe Zebra. These are all friends of the family. The show demonstrates activities like the children playing in the park, riding their bikes, and new siblings entering families. Through the show, children are able to learn how to handle these situations and how they are playing out through the characters. This is very helpful in developing strong emotional and social development skills.
FAQ
Frequently Asked Questions
Q: What is Peppa Pig?
A: Peppa Pig is an animated British TV series featured on the Nick Jr., network and mainly geared to preschoolers. The show features a pig named Peppa, and her family, along with other animal friends.
Q: Who created Peppa Pig?
A: Peppa Pig was created by Astley Baker Davies. The show made its first appearance on May 31, 2014, and was not accepted by the public. It was not a hit until it made its second appearance in 2015. The TV series is played all over the world.
Q: Where can I find the toys on the 10 Best Peppa Pig Toys list?
A: The Peppa Pig toys that are listed on the 10 Best Peppa Pig Toys can be found on Amazon. Each of the items has a link directly to Amazon below the picture. When you click on the link it takes you directly to Amazon where you can purchase the item from them.
Q: Are all the toys on the list of the 10 Best Peppa Pig Toys safe for my 3-year-old?
A: The toys on the list of 10 Best Peppa Pig Toys are all safe for a 3-year-old. Some of the items do feature smaller pieces, so it is recommended that you check the manufacturer's safety rating as well. It is always a good idea to double check a toy with small parts before giving it to a child.
Q: Why is playing with characters from TV series so fun for kids?
A: It is fun for kids to play with characters from TV series because it helps inspire their imaginations. When their imaginations are inspired, they are learning and understanding social interactions. This often brings children to a happy place.
Q: How much screen time is too much screen time for a 2-year-old?
A: It is recommended that children 2 years of age or older have no more than one hour of screen time a day. This includes both times on a tablet or smart device and watching TV. Keeping screen time limited helps develop healthy habits for young children.