10 Best Tonka Trucks for Kids & Toddlers Rated in 2019
last updated
Aug 10, 2019
Derived from the Dakota Sioux's word for big ("tanka"), Tonka Trucks are nothing if not big fun. Kids of all ages love to play with them for hours and hours of enjoyable imaginative fun. Both girls and boys get in on the action with the many types of trucks and building equipment vehicles that this well-known manufacturer has been making for many generations.
While the process and materials have changed over the years of creating these marvelous wonders for little kids to engage in magical play, the reliable strength of the product and the realistic details of the vehicles are just as excellent as ever. Below, you'll find ten of the best in quality and most frequently reviewed Tonka trucks online by highly-satisfied customers. These toys have been vetted for quality, safety, and kid approval, so you know the whole family will really dig them–pun intended.
In a Hurry? The test winner after 39 hrs of research
Classic Steel Mighty Dump
Why is it better?
Strong enough for rough play
Good value for the price
Lifetime guarantee
Functional bed to gravel and sand
In a
Hurry? Editors choice:
Test Winner: Classic Steel Mighty Dump
20
Researched Sources
39
Hours Researching
16
Products Evaluated
Durability
Entertainment Value
Design
Physical Development
By Default
10 Best Tonka Trucks for Kids & Toddlers Reviewed
1

. Classic Steel Mighty Dump
Strong enough for rough play
Good value for the price
Lifetime guarantee
Functional bed to gravel and sand
Is only partially steel constructed
Tonka is delivering in its usual classic style with this "basic" little tonka dump truck. We say this because the external design is basic while the construction is anything but. The wheels, undercarriage, and chassis are composed of high-quality plastic.
It is guaranteed for life, and a manufacturer's warranty is available upon request. The durability is both a plus and a must. The minimum age for this is two years. Now, just take into consideration the way that two-year-olds treat their toys and other objects -- EXACTLY.
This is where the benefits of steel construction come into play. Its durability allows this last for a lifetime, as promised; and can even turn into a collector's item down the road. It has many quality assurances.
Read more
Durability
If you want a product that will last a lifetime, this one is it. Just as in the old days, the yellow truck bed is made of sturdy rust-proof steel; it is full loadable and retracts up and down for hauling and dumping.
Entertainment value
Children will be busy for hours with the loading and dumping activities that this marvelous truck can provide. They can haul many things including their other toys, sand, dirt, gravel, and rocks or just ride it on various terrains.
Design
This ideal truck design follows many of the same models and standards that have given Tonka the strong reputation that it gained decades ago and still maintains. Strong materials and excellent construction make this an outstanding toy.
Physical development
Children will gain many capabilities and talents in simple play with such a toy. Driving, loading, and unloading it will exercise their eye to hand coordination, dexterity, imagination, muscles strength, balance, and motor skills among others.
2

. Funrise Steel 4x4 Pickup Truck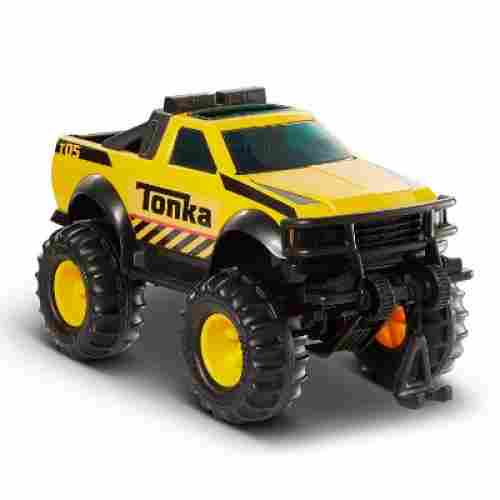 Classic 4 x 4 designed Tonka Truck
Constructed from heavy steel for great durability
Design includes working winch for towing
Durable, sturdy, and guaranteed for life
Best suited for children three years old or older
Winch designed with plastic and not steel design
String from a winch on the front is hard to keep rolled up
Off road adventures start here! This Tonka truck has a classic steel design and features the shape of a 4 x 4 truck that is ready to take on any terrain that comes its way. The truck has been designed to be able to go on all the most awesome adventures with your little one.
It will take on the trails, the sand, the dirt, the rock, and so much more. It is a great truck that has been designed to be perfect for little ones that are three years old and up.
Read more
Durability
When Tonka builds a truck they build it tough and this truck is no expected to the rule. The steel construction makes the truck super sturdy and durable. It is built Tonka tough and has been guaranteed for life. Just like the real 4 x 4 trucks on the road, this design is ready to take on any adventure that the little ones will take it on.
Entertainment Value
The truck even features real working mechanics which make it super fun for the kids. The 4 x 4 has been designed with a real working winch that is just perfect for towing along with getting that truck out of places that it is stuck. When the truck out on an adventure and its friends need a tow it is great there to show them how it is done. The classic truck design is amazing enough for the little ones, but this working winch makes it that much cooler.
Design
Perfectly designed for the little ones in your life that are three years old or older this Tonka 4 x 4 classic truck that has been created from steel is the most durable truck on the market. It provides kids with a toy that is designed to go on their entire off road adventure. Through ditches, through mud puddles, through grassy yards, this truck will be there go to toy for having fun. The working winch makes it even that much cooler.
Physical Development
Playing with metal tonka trucks on the ground or at a table allows children to be able to developmental meet all their fine motor skill milestones. The pushing of the truck, the spinning of the wheels, and working the winch make this the perfect toy to help perfect those skills.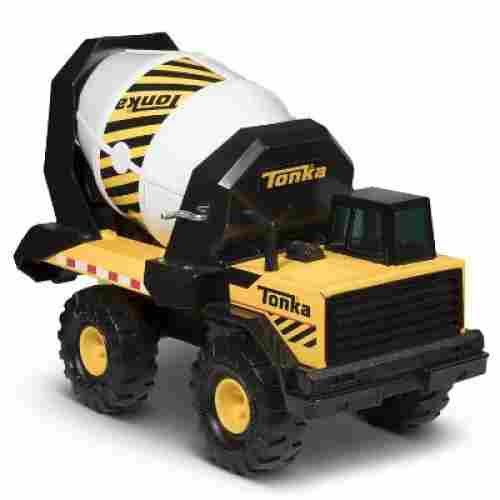 Cement Truck designed with steel and plastic construction
Features rotating barrel with a hand crank
Great for indoor or outdoor use
Includes lifetime guarantee
Encourages the development of great finger dexterity
Cement chute in the rear of truck breaks off easily
Hand crank for barrel is not covered in any material, metal rod sticks right out the side of the truck
Mixing cement is no joke and this cement mixed by Tonka trucks has been created to handle that task and more. The cement mixer toy has been constructed to last. Designed with steel it is tough and ready to handle any job that your little one has for it. From working the sandpit to moving dirt this cement truck is ready to take on the project.
Read more
Durability
When this cement tonka truck was created it was designed to last. It will live through even the toughest projects that the kids can put it through. Playdate, working days, and show 'n' tells the steel construction of this cement truck is ready to take on the task. The company believes in their product so much they have provided each of the products with a lifetime guarantee.
Entertainment Value
When the construction crew shows up at the sandbox this cement truck will be leading the pack. It is the perfect addition to the toy collection and will entertain the kids for hours. The working cement mixer is controlled by a handle that can be turned to rotate the barrel. This works just like the ones that the kids see at the construction sites.
Design
The cement truck features a rotating barrel that is fun and entertaining. It is controlled with a hand crank that is easy to use and provides a design that is interactive and functional. From the steel construction to the working parts kids are sure to enjoy working the construction site with their friends with this new addition to the fleet.
Physical Development
Working the handle the control the rotating barrel on this cement truck is a wonderful practice for finger dexterity. The kids enjoy using the cement truck during regular play sessions and will great practice in each and every time. Meeting those milestones is fun through play with toys like this cement truck.
4

. Steel Classic Quarry Dump
Steel construction makes it easy to clean
Good proportional size for a preschooler
Perfect gift for rambunctious children
Can be used as an educational tool
Might be smaller than pictured
This is a play on the old school tonka dump truck that can often be seen from the 1970s and prior. It's more in line with the types of toy trucks that Tonka originally modeled and designed -- but, still just as relevant for today's kids, as well. The Tonka logo and stickering are prominent, and it comes with their quality lifetime guarantee.
This is an ideal push toy for kids on the playground or just playing pretend in the backyard. The old school design can also give your child an introduction to the history of how construction equipment has evolved over time.
This truck strikes the perfect balance between the oversized mechanical cranes and bulldozers that Tonka has an operation and the more palm-sized toys that are on the market. This is a simple, straightforward toy for imaginative play.
Read more
Durability
This tonka dump truck is built to last with a steel chassis and bed. The tires a flexible plastic, which should stand up for quite a few years.
Entertainment value
As one of the classic toys that Tonka still makes after many years of inventing other models, this Quarry Dump Truck is still quite popular with kids. It has a smaller bed and build but will keep imaginations and hands happy for hours.
Design
The steel dumping lifts and retracts for functional and realistic play with sand, dirt, gravel, marbles or any other small object that your child can get creative with.
Physical development
In loading and unloading this incredible play vehicle, your child will improve their motor skills, imaginations, dexterity, and cognitive talents in deciding what to put in the truck and where to take it for adventures.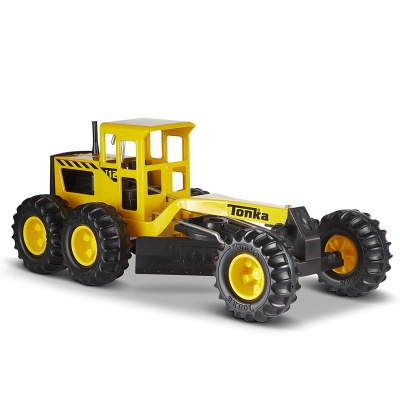 Functional blade moves vertically and horizontally
Rubber tires get good traction in dirt and sand
Lightweight steel with no sharp edges
Manageable size for young children
Will rust if left in the weather elements
The superb authenticity of this toy vehicle is phenomenal. It even has the fine details of the blade for grading. The chassis is all-steel construction, and the blade grader is made functional through a lever system that can be accessed through the cab window. It introduces your child to the variety of heavy equipment available, particularly since this isn't an easily identifiable vehicle that your child might recognize.
Anyone could easily think that this is trivial, but the socialization-factor comes into monumental play. Not to mention the benefits of it as a tool for learning spatial awareness and consequential actions. With tonka toys you can never really beat the realistic design. They were, and are, built tough -- so, getting thrown around and dirty is the perfect replication of its real-world counterparts.
Read more
Durability
Functional and tough, this is one toy that your child will have for many years of enjoyable play. Mostly built of steel, it can withstand much rough play and not show early signs of wear.
Entertainment value
Driving a toy vehicle is super-fun, but this amazing product allows the child to also grade the surface where it drives. In sand, dirt, rocks, or pebbles, it will provide much excitement and thrills in exploration.
Design
It's side to side motion enables your child to smooth out light terrain coming in its path. The product dimensions are 17x8x7 inches and it weighs a little over two pounds, which makes it the perfect size, and not too cumbersome for a toddler.
Physical development
Operating the grader and driving the vehicle will do many things for the child at play. Their motor abilities, coordination, balance, and imagination will be greatly enhanced and exercised.
Engages the child in imaginative play
Lever and push action develop overall strength
Tightly bolted construction for the scoop
Durable easy-rolling tracks
Plastic tracks could slip off easily
This sturdy steel bulldozer could move some tough mud any day. It has a workable blade that is somewhat unique in that it is manual. That is, your child can directly lift and guide the motion with their hand. The benefit of this, aided with push action, makes very few obstacles insurmountable.
The tracks have deep treads and grooves for the moderately rocky terrain. For parents, the blade only fractionally reaches the surface of any floor to avoid potential damage or scarring of hardwoods and linoleum. We enjoy its ease of use. There are no complicated levers.
Read more
Durability
You will not have to worry about replacing this sturdy vehicle no matter how rough your child is with his or her toys. It is built tough to withstand much wear from long and strenuous play.
Entertainment value
This terrific model would be a good accompaniment for a dump truck or other type of vehicle, especially if more than one child is playing. The bulldozer is functional in collecting substances or items and unloading them again.
Design
It is also very straightforward in its function and design as nearly every child can pretty much identify a bulldozer on sight. This is probably one of the first vehicles they will learn and recognize.
Physical development
The easily recognizable bulldozer model with the manual scooping blade helps with hand-eye coordination, motor development, and developing arm and grip strength in youngsters.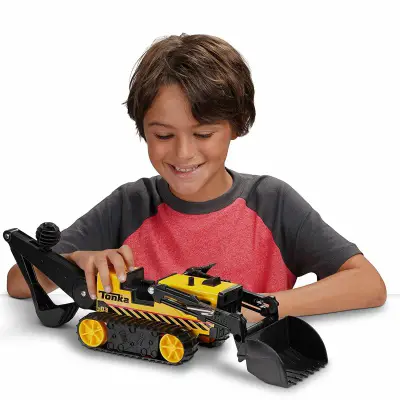 Can be used in conjunction with the dump truck
Encourages right/left brain spatial awareness
Durable to be used in snow and red clay soil
Realistic cab and wheel designs
Item may be smaller than pictured
The virtue of its design is in its multifunctionality. The lever system for the front scoop is conveniently sized for a child's hands and fingers to easily manipulate, while the backhoe crane operation has a large graspable knob for lifting and retraction. In addition, it remains faithful enough to specifics to give a faux operational panel and realistic-looking plastic gear treads.
Tonka also makes it easy with levers and handles that have just enough given and take for a child to manage. This makes up a great series of tonka toys vehicles. It can easily form part of a fleet if your child so wishes. With the realistic cab control panels, all it takes is a few Lego action figures blended in for hours of imaginative play.
Read more
Durability
Even though some of the parts of this item are constructed of strong plastic instead of the usual durable steel, it is just as long-lasting and tough for rough play in many types of environments.
Entertainment value
Make-believe could never be more fun, enticing, and operational than with this highly-functional product. This is one of the larger scale toys made by Tonka at 17x5x8 inches, plus it has more abilities for imaginative play too.
Design
The scoop and backhoe with their operational controls add to the functionality of this Tonka vehicle that kids can drive almost anywhere. Its tough construction and realistic features make it a very appealing and cherished toy.
Physical development
The dual function of this toy vehicle can enhance the mechanical aptitude of your child; their problem-solving abilities will be boosted through something as simple as wondering which apparatus would be most useful for what job.
8

. Toughest Mighty Dump Truck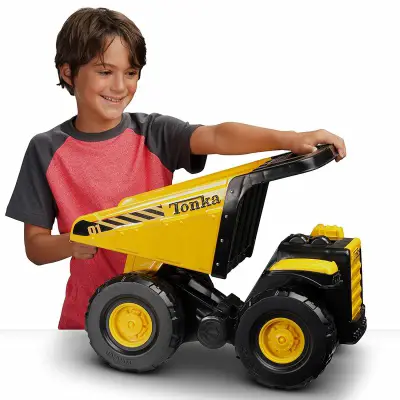 Functional wheels
Movable truck bed actually dumps load
Sturdy steel construction
Largest dump truck toy available
Holds up under rough play
Not completely made of metal; plastic wheels and cab
Built Tonka tough, this steel dump truck is ready to do the heavy lifting! It features a movable bed for easy dumping, and functional, rotating wheels. Simply lift the bed to slide the day's collection out, then roll the tough vehicle along to gather its next load. Award-winning for its easy use, innovative design, and steel construction, this truck is at the top of its game. Imaginative play lets children express themselves creatively while working on other social skills such as conflict resolution and empathy.
Plus, the mechanics of the movable bed give children a chance to hone motor skills. This dump truck is sturdy enough that it can actually hold little ones who want to ride in the truck bed. It's large enough to fit them too. Although it isn't a ride-on toy, it certainly can be used for similar purposes during playtime. You won't find another dump truck toy quite this big or durable.
Read more
Durability
Proven to hold up under rough play, this dump tonka truck is most suitable for children ages three and over. It can easily hold the weight of a small child but should not be used for such purposes.
Entertainment value
All of the possible usual activities of dump trucks can be performed well with this larger vehicle model, plus it has a handle to make dumping the heavy or light load much easier for the operator.
Design
Guaranteed for life, this tonka toy is built sturdy and made to last, as well as being backed by its manufacturer. Tonka claims this to be one of the biggest models available on the market, and certainly, it is pretty large.
Physical development
Strength, muscle development, and motor skills will all be exercised at play with this outstanding truck. Cognitive abilities and the imagination are included too in the many promoted talents of truck play.
9

. #93931 Classic Steel Backhoe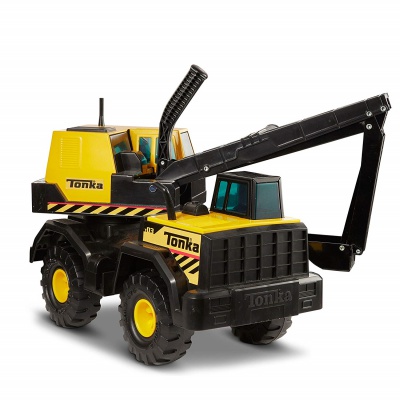 Dual handle attachment for the arm
All-steel build of the arm, bucket, and cab
Holds up well if left outdoors
Durable enough to dig-up rocky soil
Develops hand and arm strength
Can be quite expensive
Plastic handles make it hard to direct
This is the largest model that we highlight on this list, at 19x8x14 inches. While this can be purchased for children that are little over three years of age, it is probably more appropriate for older kids -- or, else a very mature three-year-old. The sturdy construction of this item allows it to dig pretty hard and deep, with an extended metal arm and bucket that has two handles attached for greater leverage.
The rotating cab on which the arm is attached is also of heavy steel construction. Tires are made of durable rubber with the Tonka logo on the fender and hood. It is durable enough to even pick up more rocky terrain, as well. It's a perfect complement to any of the line of metal tonka trucks.
Read more
Durability
This probably has the largest ratio of metal to plastic in the line of Tonka toys in our listing. This is what makes it superior from all the rest in getting the job done.
Entertainment value
There are certainly many operations to perform on this incredible vehicle product. digging, dumping, rotating the cab, and driving are the main activities that will keep kids enchanted for hours of productive play.
Design
This is a product that is highly functional in that the metal construction of the arm and bucket enable actual excavation of soil. It is one of the few Tonka products that can do so much and work so well with the other vehicle models.
Physical development
Turning the cab and cranking the arm of the backhoe will give kids opportunities to use their finger dexterity, hand-eye coordination, and motor abilities as they imagine all sorts of various construction situations and building sites to work in.
10

. Retro Mighty Dump Truck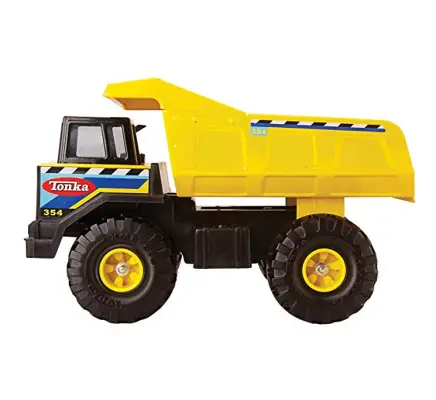 Partial steel construction
Solid, mid-sized truck
Functional thick plastic wheels
Truck bed actually dumps its cargo
Durable and long-lasting build
Not all metal like older models; has some plastic parts
The Retro Classics line from Tonka features the vintage aesthetic of the classic trucks mom and dad grew up with while incorporating modernized steel construction to uphold the quality we all equate with Tonka. Ready for some major hauls? This dump truck is. You can move the bed up and down to unload your haul, just like a real dump truck. This toy is roughly 16 x 12 x 10 inches, making it large enough to hold other toys and items, without being overwhelmingly big. This fabulous toy holds up under rough play and is a great gift for the tiny truck lovers! Kids will have a blast engaging in role-playing, as they pretend to move the rubble around their very own construction site! This truck is a great size for little ones to move around smaller toys or some rubble outside.
Read more
Durability
The sturdy toy is built for longevity, and it's modeled after Tonka's more classic, vintage styles of construction vehicles. Both parents and children will delight in handling and using this wonderful retro dump truck.
Entertainment value
Driving, dumping, and hauling is a big part of real construction sites that kids can imitate easily with this outstanding vehicle of their very own. Many hours can be spent in just these simple tasks that entertain little kids so well.
Design
It's designed with a combination of tough steel and plastic pieces, with the bed and part of the cab made of metal, while the wheels and rest of the base are a strong plastic frame.
Physical development
These vintage tonka trucks are a great way for children to exercise motor skills and dexterity, while also practicing creative expression and enhancing their imaginations. Sometimes it is the simplest toys that can provide the most pleasure.
Criteria Used for Evaluation
Durability
Tonka trucks are probably the toughest toys you will ever find for sale. They are mostly all steel in material and have excellent designs that are so realistic and functional. These vehicles can stand up to much wear and use in many sorts of environments and terrains, plus they wash easily without rusting or showing signs of depleting. Your little one can enjoy these sturdy and long-lasting vehicles for many years to come and will most likely pass them on to their own kids or other family members.
Entertainment Value
There are all sorts of tasks and chores that can be accomplished by using these fabulous vehicles when playing. All of the products listed can be driven over many types of interesting terrains and used to perform the different tasks of each capability they possess.
Whether it is dumping, hauling, loading, excavating, or towing, your child will love all of the entertaining activities that they can do with these superb vehicles. Both boys and girls will delight in all these tough items can do and explore.
Design
Tonka vehicles are special because of the durable construction, strong materials used, realistic features, and simple functions to perform in general play. Whether your child has one of the dump trucks, the backhoe, the crane, or the tow truck, the excellence of the Tonka build is apparent even without the brand name displayed.
Parents have come to expect outstanding value from this brand and rightly so since they build tonka tow trucks that are designed to expand little minds and exercise their physical abilities too.
Physical Development
There are so many abilities and skills that kids will develop with the simple play of these incredible vehicles from Tonka. As they drive the toys and use the various abilities of each, their physical talents will be improved greatly. Hand-eye coordination, finger dexterity, fine and gross motor skills, imagination, cognitive abilities, muscle tone, strength, and balance are some of the many benefits of playing with such terrific playthings.
Most Important Criteria
(According to our experts opinion)
Experts Opinion
Editors Opinion
Users Opinion
By Default

Parents, Did you Know?
Always remember to visit any troubleshooting sites if you have a problem with these trucks or be on the look-out for tutorials on YouTube for easy DIY solutions.
Parents, Did you Know?
In the past, Tonka did have all vehicles constructed from only metal but, now that's less cost-effective and may pose greater dangers to child safety.
Other Factors to Consider

Brand
The company was originally founded as Mound Metalcraft in 1946 and intended to sell gardening implements. When their building's former tenants contacted them about the possibility of selling toys, they thought it might make a nice side business to help supplement their original intent. Little did they know that the toy industry was about to become their main source of income.
Over its many decades of success, the company has produced a variety of other toys, including dolls, robots, and the infamous Pound Puppy line of the 1980s. Whatever their other endeavors, you'll find that even today, when someone says the word "Tonka," most people immediately associate the company with their iconic yellow trucks and construction toys.

Ease of Use
You will not have to educate kids on how to use these excellent truck and vehicle models because it just seems to be a natural part of childhood. Once they start using them, it will be hard for them to put them down for the day. The dump trucks are the most straight-forward of all the products listed that can simply be driven for exciting play.
Each toy has at least one or two functions that it performs with the help of little hands and the simple levers and pullies. These are specifically designed to be easy to operate and fun to use for long playing hours.
Frequently Asked Questions
q:

Are any of these toys made of all-steel construction?

a:

All of them are composed of some steel construction, but not 100 percent constructed of steel. Much of it varies with each product for the amount of metal construction is used. Invariably, all of them have rubber tires and/or a plastic fender. It can be a mix-and-match build. Typically, the cab and chassis of a particular vehicle is metal.

As in the case of the dump truck, the flatbed is metal. With the crane, typically the cab is metal. One crane listed has an entirely metal constructed arm and bucket.
q:

Is the steel rust-proof?

a:

Officially, it is not known to be rust-proof. If you keep any of these toys out in the elements all-season or for months on end, they are probably bound to develop some rust. That said, we recommend that once playtime has ended outdoors that the tonka trucks be brought inside.

These are items are also pretty easy to clean-off, air out and dry to prevent rust. Also, there are many water and rust-proofing treatments you can use. When all else fails, Tonka offers a lifetime warranty that any parent can fall back on if necessary.
q:

How durable are the plastic and rubber parts?

a:

The plastic and rubber used in these vehicles are of the highest quality. At the same time, you must be aware of the natural limitation of plastic and rubber. They are not as durable as steel. As with the previous question, if left out in the elements for too long, the rubber may begin to mildew and rot.

Or the opposite, which is to dry out and crack. We recommend taking the very best care of the products as possible in order to get the most out of them.
q:

What is covered by the lifetime warranty?

a:

The warranty is for items produced after 1989. Usually, there is a circular stamp on the product, and it covers only manufacturing errors. It does not cover flaws that come about due to rust, everyday wear and tear or destruction.

This does not mean that there is no lee-way with a particular seller or a generous window of time for a refund or exchange. The best bet, though, is always to take preventative measures when using these products and to want to maintain their shelf-life.
q:

What can I do about replacement parts or if anything gets broken?

a:

Tonka vehicles are pretty durable products, but there can be some issues once in a while. For instance, if you're even mildly handy, many things that may arise could be easily handled on your own. For instance, some of the lever pulley systems occasionally get gummed-up.

That fix may just require a screwdriver and some twine for replacement. Another complaint is that some of the treads slip off, but these can easily be put back on track and reinforced with an adhesive if necessary.
q:

Are these the best prices available for Tonka products?

a:

Tonka has always prided itself on its craftsmanship and durability, so it's not going to be easy to get any of these products on the cheap or for a song. Sometimes, they are collectibles which makes their value increase exponentially. So, trust us, unless you inherit a toy, these are the best price points currently on the market.