10 Best Kids' Plates & Dishes Reviewed in 2019
last updated
Aug 20, 2019
Mealtime is such an important time in a child's day. It is a learning experience for them as they learn how to feed themselves. They also learn about good nutrition and the importance of eating a balanced diet. We hope that they can also learn that meals can be a wonderful bonding experience and a time for families to communicate and spend quality time together. In this informative buying guide, we feature the best and the most frequently reviewed plates and dishes for kids to help them gain the skills needed to feed themselves. Parents love these particular products and would purchase them again based on the excellent ratings. We rate them in the criteria of materials, design, durability, and ease of use for you to help you decide the perfect set for your own child. Join us in exploring the adorable top items of kids dishes and plates.
In a Hurry? The test winner after 57 hrs of research
Bobo & Boo Bamboo 5-Piece Dinnerware
Why is it better?
Phthalate-free material is FDA-approved and food safe
Shatterproof and dishwasher-friendly
Eco-friendly bamboo is renewable and sustainable
Includes bowl, plate, cup, spoon, and fork
In a
Hurry? Editors choice:
Test Winner: Bobo & Boo Bamboo 5-Piece Dinnerware
26
Researched Sources
57
Hours Researching
23
Products Evaluated
Materials
Durability
Design
Ease of Use
By Default
10 Best Kids' Plates & Dishes
1

. Bobo & Boo Bamboo 5-Piece Dinnerware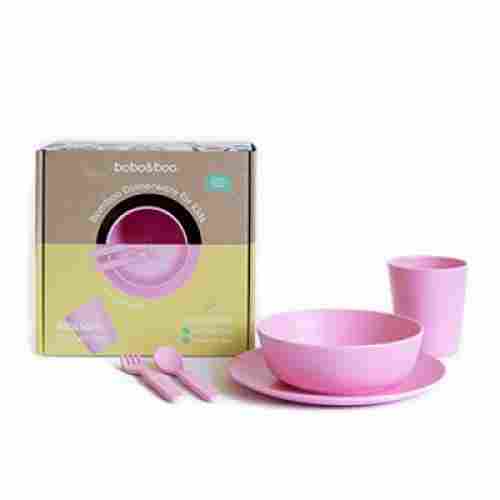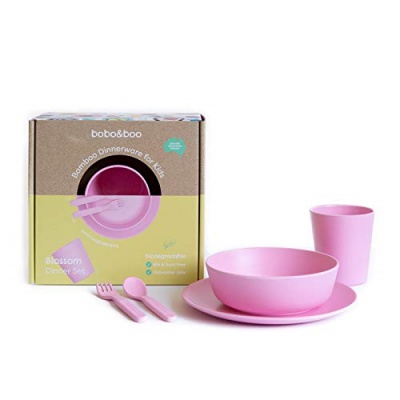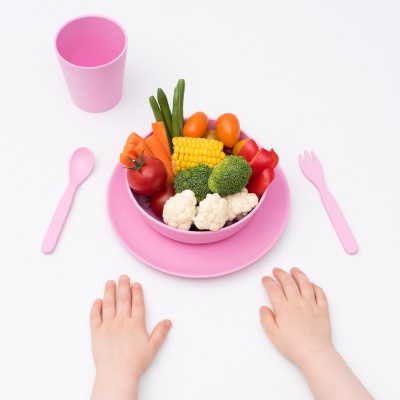 Phthalate-free material is FDA-approved and food safe
Shatterproof and dishwasher-friendly
Eco-friendly bamboo is renewable and sustainable
Includes bowl, plate, cup, spoon, and fork
Not microwave-safe
May crack from repeated drops or throws
The BoBo and Boo Dinnerware Set includes five safe and stylish pieces with which your little one can enjoy their favorite meals! It comes in seven beautiful colors and each set includes a fork, spoon, bowl, cup, and plate! Renewable and sustainable, plus made from natural bamboo, this set is eco-friendly and child-friendly. Plus, the easy and elegant design is nice on adult eyes! Timeless, lightweight, and versatile, this set can be used for years.
Read more
Not only is the dinnerware set gorgeous, but it can also help reduce your carbon imprint. Eco-friendly bamboo materials are used to create all parts of this set and are fully sustainable and renewable. The dishes are just as safe for your little one as they are for the planet, containing no BPA, phthalates, or other toxins. If the worst happens and something does break, bamboo is entirely biodegradable so you can toss it right into your compost pile instead of a landfill!
Materials
Made of all-natural bamboo, this set has been designed to be durable enough to withstand the many temper tantrums and fickle nature that can accompany our little one's mealtimes and will hold up to drops and throws.
Durability
Perfectly sized for little fingers to grasp, the matte finish also provides an anti-slip grip that can help prevent drops and spills! So, say goodbye to Daniel Tiger and hello to Bobo & Boo!
Design
The gentle pastel colors of this set are the perfect way to keep a sophisticated look (bye-bye Elmo plates!) while still being kid- and Earth-friendly!
Ease of use
This beautiful collection includes all of the pieces that your little one needs for any meal and comes in several gorgeous pastel colors that are completely dinosaur- and princess-free!
2

. Bumkins Suction Silicone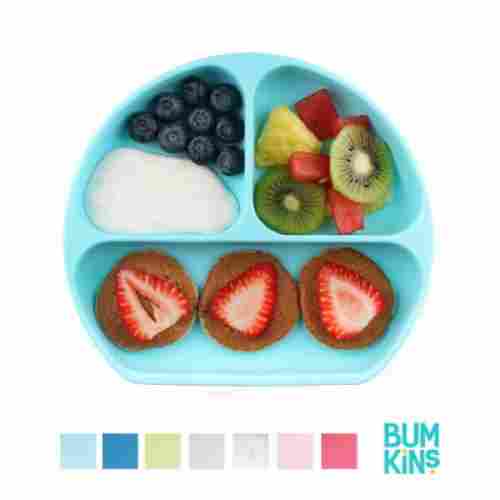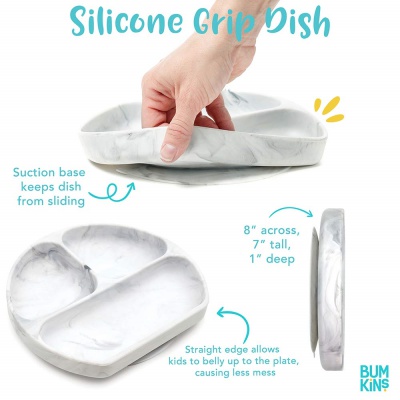 Constructed from high-quality, food-grade silicone
Stain-resistant and dishwasher-safe
BPA-, phthalate-, PVC-, lead- and vinyl-free
Strong suction cup base fits most high chair trays
Portioned correctly and aids in utensil learning
Base may not prevent children from lifting the plate
The Bumkins Silicone Grip Dish is ready for whatever your child might throw at it—and yes, we know they probably will try to throw this plate too. That's why this sectional plate features a suction cup on the bottom to attach it to your baby's food tray and keep it right where it's supposed to be. Made from 100% food grade silicone, this tray is safe for your children to eat from and can be microwaved without any problems. It's durable, it's low maintenance, and it comes in 28 versatile styles, including fan favorites like the Batman, Dinosaur, Mickey, and Legend of Zelda designs.
Read more
This plate features three deep and separated sections that are just the right size for all of your toddler's little portions! Each section utilizes a high straight edge to help your child push their food onto their fork or spoon, encouraging utensil use. The real boon of this plate, however, is hidden underneath. Best of all, since the entire dish is made of high-quality silicone. The next time your kiddo decides to chuck their bowl of carrots instead of eating them, plop one of these suction plates down on their tray instead and revel in never having to scrub orange out of white carpet again!
Materials
Made from FDA-approved food-grade silicone, this dish is entirely kid-safe. Toss it in the freezer, the dishwasher, the microwave--there is no place this plate cannot go!
Durability
The entire bottom of the dish is encompassed by a large suction cup that attaches the plate directly to the table top to keep your little Hulk from tossing it! There is no risk of it cracking or shattering if your infant supervillain does manage to yank it free!
Design
The high sides of the individual sections encourage utensil use which is ideal for fine-motor-skill development and control as well as food confidence.
Ease of use
Measuring in at 8 inches across by 7 inches tall, it has been designed to comfortably fit on most high chair trays and can also be used on wooden table tops without damaging the finish.
3

. WeeSprout Silicone Divided 3 Pack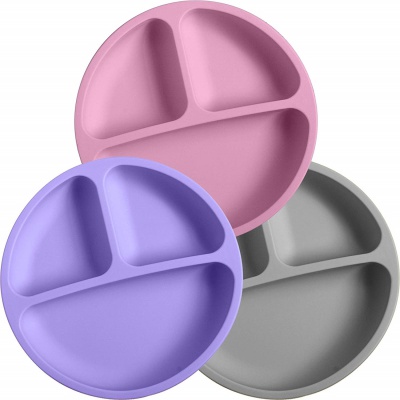 Comes in your choice of three bright colors
Practically unbreakable design
Has toddler portion sized sections
Stack easily for simple storage and travel
Wash these with a mild detergent so they don't retain soapy taste
WeeSprout's 3-piece divided baby trays are 100% food grade silicone and perfect for picky or messy little eaters. These trays are microwave-safe, dishwasher-safe, oven-safe, and freezer-safe. They come in a variety of solid and vibrant colors that draw little eyes in. Best of all, they're virtually unbreakable! Plus the silicone is a nice texture for young hands, and it's a little softer than most plastics, meaning it's less likely to cause injury or be weaponized during a tantrum. It's available in 12 different color combinations and is quick and easy to clean.
Read more
There are seven different colors of these plates, so choose your three favorites. The package of three divided plates comes in an attractive box that would make an impressive baby shower gift. These plates are virtually unbreakable, made with premium quality 100% silicone. The plates come in fun, bright colors that will not stain and stack easily for easy storage. These are perfect for an afternoon family picnic, guaranteed to bring lots of smiles to your little one.
Materials
The premium silicone substance that constitutes these dishes is safe to eat off of and durable to last for years of use. choose your favorite color for your set, or pick one that matches other food containers you may have for the child.
Durability
These dishes are extremely durable. They are microwave, dishwasher, oven, and freezer safe. In addition, they cannot be broken by kids because they are made of tough silicone material.
Design
Sectioned for toddler portions, these divided plates are ideal for little ones to learn how to feed themselves. The unbreakable silicone material ensures that they will last a long time for good use.
Ease of use
These plates are made by parents with parents in mind, so they have a good grasp of what you need when it comes to your toddler. unbreakable and long-lasting are important features of dishes for kids.
4

. Ikea 36-Piece Assorted Colors
Microwave and dishwasher safe
Made of durable plastic
Compartments have nice, high edges
Six complete sets of dishes
Shows some wear and tear if used daily
The IKEA 36-Piece Dinnerware Set is perfect for children that have outgrown their baby/toddler dishware but still want something fun, colorful, and safe. This set includes bowls, plates, cups, forks, knives, and spoons in red, orange, yellow, green, blue, and violet. There is one set in each color of the rainbow and flatware and silverware are all BPA-free, microwave-safe, and dishwasher-safe. Made from polypropylene, it's durable, it's colorful, and it's a joy to bring out for family dinners!
Read more
It is easy for picky eaters to divide their food with these dishes, so each food type does not touch another one. The high edges keep the food on the plate when kids are having fun feeding themselves. The knives are serrated and easy for children to use to cut their own food. Watch them feel proud of being independent. These dishes are super durable and easy to clean whether you would rather clean them by hand or put them in the dishwasher.
Materials
Sturdy plastic that is good to use in the microwave is the material that these sectioned dishes are made of. Children will only care about the colors and the interesting designs as they eat their food.
Durability
Dishwasher-safe and so easy to care for, this lovely assortment of dishes for kids will last a long time for them to enjoy. Even if they are used daily for long periods, this product will hold up nicely.
Design
This set of dishes will come in handy for large families as it comprises six complete sets. They are perfect for camping or would work great for a children's party as another suggestion for use.
Ease of use
These dishes are the right size to be used with small kid hands. They will truly feel like they have their own special utensils to imitate what they see the adults do at the dinner table.
5

. ezpz Happy Bowl One-Piece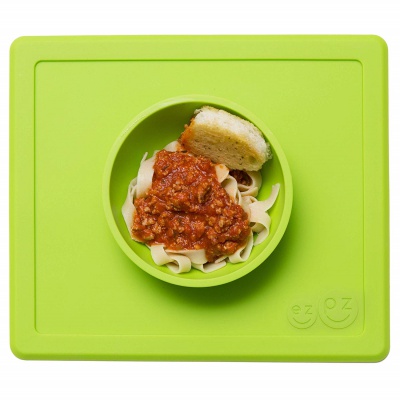 One piece with attached bowl and placemat
Suctions to the table or any flat surface
Design promotes self-feeding
Set is dishwasher and microwave safe
Suction may be pulled up by older ones
The ezpz Happy Bowl is aptly named, as this little gadget takes much of the frustration out of meal time for adults. An all-in-one placemat and bowl, it helps to keep messes contained and make them easy to clean up. The placemat suctions to any flat surface to reduce tipped flatware and is dishwasher and microwave safe. It's free from harmful chemicals and toxins, it helps promote autonomy, self-feeding, and motor skills, and it's made from high-grade, durable silicone.
Read more
It is perfect for all kinds of food and suctions to any flat surface. Practicing eating with this bowl will help self-feeding and develop fine motor skills. This place setting is durable and designed for kids over six years old. It is hypoallergenic and does not harbor bacteria or mold. You can heat the meals in the dish using your microwave and then stack them on each other to carry to the table--nice and convenient for a busy mom.
Materials
This place setting is BPA, BPS, PVC, latex, and phthalate free which makes it safe for kids. It is made from high-quality silicone, which is a long-lasting material that can withstand much abuse from kids.
Durability
The silicone substance that makes up this item is one of the most durable and sturdy materials that is used for kids' dinnerware. It is very easy to clean and care for also.
Design
This set is handy because it will not tip over, so the mess is more contained. It could even be used as a pet dish after your toddler grows out of it if you have a dog that likes to tip over their water.
Ease of use
It is so easy to go from refrigerator to microwave and then to the dinner table. This incredible product can do just that to make feeding a child so much easier and trouble-free.
6

. KidsFunwares Me Time Airplane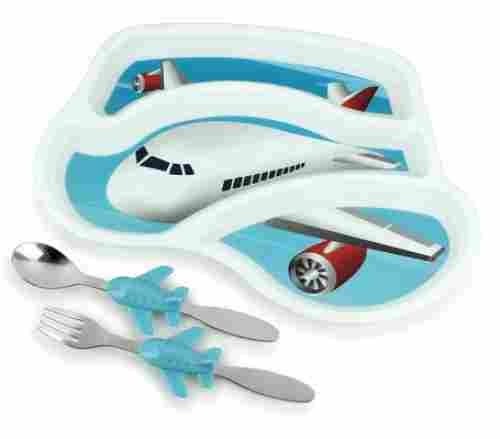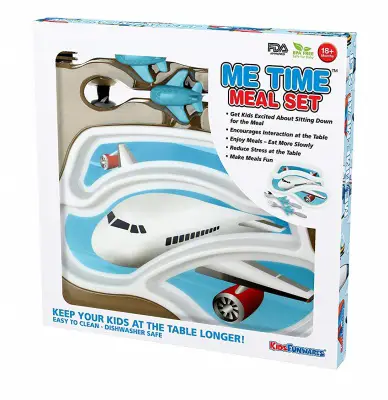 Three-piece set with plate, fork, and spoon
Dishwasher safe
Easy for kids to learn to feed themselves
Three divided spots to keep food separated
You cannot use this dish in a microwave
Looking for something a little more unique? The KidsFunwares Me Time Meal Set is a 3-piece dining set that's hard to miss. This adorable dinner kit features a sectional plate with curved edges to keep food inside, a fork, and a spoon, all coordinated under one theme. Choose from cool airplanes, beautiful mermaids, monster trucks, solar systems, unicorns, and more! The fork and spoon even feature a highly stylized and textured grip molded into figures that match the themes. These trays are dishwasher-safe, food-safe, and BPA-free.
Read more
The dish and utensils will spark your child's imagination, keep their interest, and keep them at the table longer to enjoy the family social interaction. The pieces are high quality 100% polypropylene which is dishwasher safe and will not fade after washing. It is a nice size and perfect for picky eaters who want to keep their food separated. The utensils have adorable little airplanes on them and are longer, so they are easier for your child to maneuver.
Materials
This set meets or exceeds safety standards by being BPA, lead, and phthalate free. Dishwasher-safe polypropylene material is the base substance for this item, so it is safe to eat from and touch.
Durability
It is fair to say that any type of dish or dinnerware that can be washed in a dishwasher safely is pretty tough and durable. This set will last your child a long time and look great even with daily use.
Design
Made to resemble airplane fun with the images of planes on the set of dishes, this item adds a new element to eating that can make it so enjoyable and exciting. Even little girls will love the fun images and colors.
Ease of use
This terrific plane set makes meals so much fun for kids. They will be encouraged to practice their eating skills and will stay at the table longer to enjoy family time just because of this wonderful product.
7

. Super Healthy Kids Healthy Habits Divided
Set of four plates
Sections are labeled with food groups
The tray has nice, deep compartments
Sturdy and good quality materials
The designs may fade easily
Teach your family about the food pyramid with the Super Healthy Kids Healthy Habits divider! This tray teaches children the importance of a balanced meal. The section for fruits and veggies is large, while the portions for proteins and grains are smaller. This durable, BPA-free plastic is dishwasher-safe and microwave-safe. It has no sharp edges or corners and the perimeters are raised enough to let kids eat independently without making a mess and while still keeping their food separate for picky eaters.
Read more
There are even nice pictures for examples in each compartment. The pictures will teach them how to be healthy before they can even read. You will be inspired to put together healthy meals for them at breakfast, lunch, and dinner. This package comes with a pack of four plates which will get your kids excited about eating healthy. They are made of safe and sturdy plastic that is dishwasher and microwave safe.
Materials
Some people may frown upon using plastic plates for kids because of the often-harmful toxins in them. no worries about that with these dishes as they are free of toxins and safe for children.
Durability
Since they are safe to put in the dishwasher and the microwave, you can count on having this product around for a long time to use for feeding the kids. They will learn more about the food groups as they get older.
Design
These plates are a fun way to empower your kids and encourage them to grow into healthy eating adults. You can instill the habit early with such fun and entertaining dishes at each meal.
Ease of use
This tray was designed by a knowledgeable dietitian for kids with compartments in just the right size for the correct portions of each of the food groups. It is important to see just how much of each is needed for proper nutrition.
8

. Qshare Portable BPA-Free
BPA free and FDA approved
Has strong suction to prevent spills
Made of food grade silicone
Raised bowl edges
May come unstuck if the edges are pulled up
The QShare Toddler Plates are uniquely designed to keep kids food separated, safe, and suctioned. These trays come shaped like cars, snails, and apples! You can choose from packs of one or two, and all flatware is made with 100% food-grade silicone, free from chemical offenders like BPA, PVC, BPS, and phthalates. It's stain resistant, features raised edges, and suctions securely to any flat surface to keep food from flying. Dishwasher-safe, microwave-safe, and freezer-safe, these trays are low-maintenance and high-quality.
Read more
It has a good, strong suction which will help the tray stay in place to reduce spills and messes. Your baby will not be able to throw their bowl, and mealtime will be much easier. It is small enough to fit on most high chair trays so it is perfect for toddlers. It is highly durable and is dishwasher, microwave, and freezer safe.
Materials
Silicone of food grade is one of the best substances for children's dinnerware and utensils. This cute plate is made of such material to be tough and safe for the child to eat from daily.
Durability
Safe for the microwave, dishwasher, and even the freezer, you can prepare meals in advance and move them quickly from the freezer to the table in just a few steps in the same durable bowl.
Design
The compartments in the dish are the proper proportion sizes recommended for toddler meals. This helps both parent and child know exactly how much food to give and in the right proportions for good health.
Ease of use
Resistant to stains and so simple to clean, you will love having this superb plate in your child's assortment of dishes. The strong suction on the bottom helps to keep the plate sturdy and on the flat surface when in use.
9

. Innobaby Din Din Smart Stainless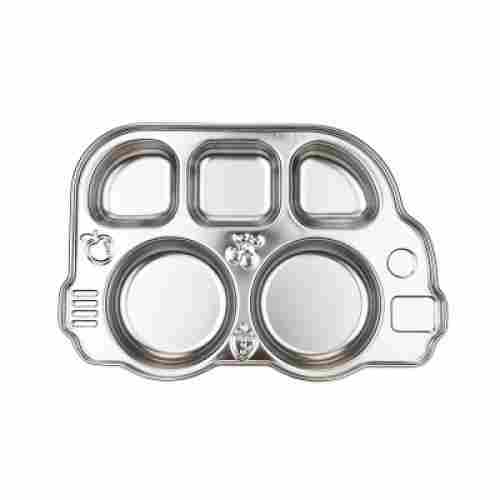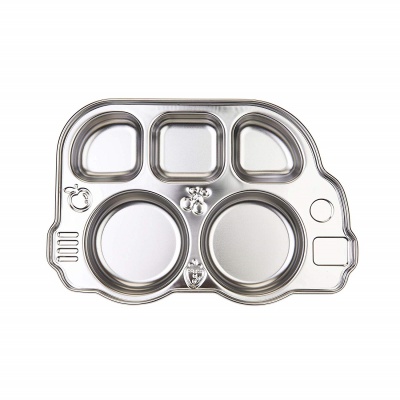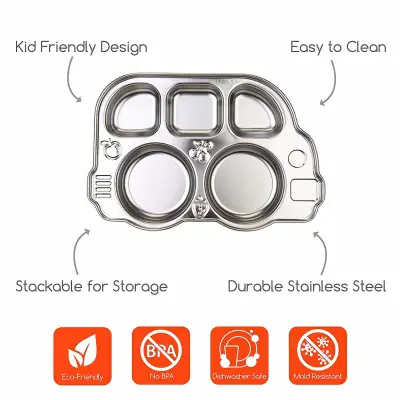 Made of highest quality stainless steel
Nice, durable construction which holds up under use
The plate is lightweight and can be used anywhere
Five compartments will keep food from touching
There is not a lid included with this plate
The Innobaby Din Din Stainless Steel Set includes one feature notably lacking from most of its competition: a lid. Keeping tupperware and flatware and silverware and drinkware can become cumbersome and take up too much space. This darling sectional tray keeps food separate, is made from nontoxic, food-grade stainless steel, and comes in four colors and packs of one or two. Set Baby's food out and when they're finished, simply slap the lid on the leftovers and throw it back in the fridge or pantry!
Read more
It is made with food-quality stainless steel of the very highest quality. This plate is in a familiar school bus shape and has cute little fruit pictures on it. The deep compartments will keep a picky eater's food types from touching each other. Stainless steel makes this plate super durable, long-lasting, and easy to clean. It also will not stain, rust, or crack, and there will be no food aftertaste. There are also no sharp edges. These plates are made by a small family business who keeps your children's safety in mind.
Materials
You just cannot beat plates and dishes made of stainless steel, especially for kids. They are long-lasting, tough, and safe with any type of food you decide to put on them for your child.
Durability
No matter how your child treats this fabulous product, they will not bend or break it. it is tough with the durable material to be usable for years of daily use and wonderful enjoyment.
Design
Your child will love the friendly bus shape with five different compartments to give the meal plenty of entertainment variety. You can invent a story to go along with the meal to make it more enjoyable.
Ease of use
We love how easy this fantastic child's plate is so clean, and it stands up against anything. It is the perfect plate to bring on picnics and is even good for the environment.
10

. SILIVO 10" x 7.7" x 1" Placement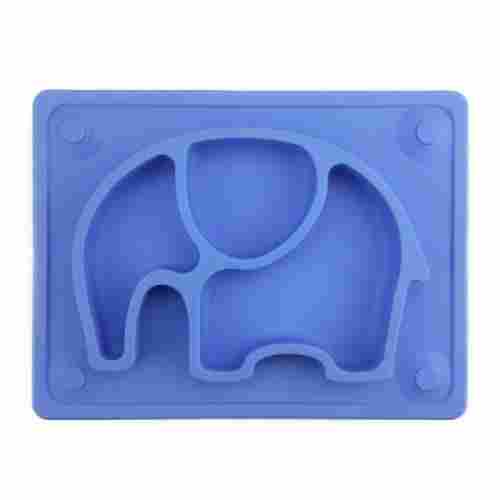 Cute elephant design comes in two colors
Made of all child safe materials
Easy to clean and dishwasher safe
Has deep compartments with all curved edges
Kids can pull up the tray if they are old enough
The Silivo Silicone Divider Trays are a simple, effective set for younger members of your family. Each four-pack includes a red, blue, green, and yellow tray, and each tray is divided into five sections, with a round bowl-like piece in the middle. Made from 100% food-grade silicone, these meet all FDA standards and are safe for little ones to enjoy. They're portable, they're stackable, and they're microwave-safe, dishwasher-safe, and oven-safe.
Read more
There are suction cups on the corners of the mat to keep everything in place while you take care of your kiddo. This is a nice, lightweight tray which is small enough to fit on most high chairs. It is made with 100% food grade silicone and easy to clean because it is dishwasher safe with all curved edges in the compartments. You can also use it in the freezer or microwave.
Materials
Food-grade silicone is one of the best materials you can get for kids plates and dishes. It is safe for them and safe for the food that it does not have a chemical reaction with some food types.
Durability
Having edges that are curved is not only important for child safety but also for the durability and longevity of the item. Products that are crafted well tend to last a longer time for the kids to love.
Design
The adorable elephant design will make your kids smile for sure. Boys and girls can choose their favorite pink or blue design to make their food time much more pleasant and fun.
Ease of use
This tray is wonderfully lightweight and compact. It is great to use, even when traveling since it will stick to any surface. This adds value to the product since it can be used in multiple places and settings.
Criteria Used for Evaluation
Materials
Finding the perfect dishes may depend on your child's age but there are definitely a few features to keep in mind. These dishes for kids are made out of a lot of different materials including plastic, silicone, natural bamboo fiber, melamine, or stainless steel. Your choice may depend on if you are focused on the eco-friendly option. You will want to note if the material is dishwasher-safe, microwave-safe, or if it can be used in the oven or freezer. Some materials are more porous. Some are more durable, and some might just match your kitchen better. All of these items are comprised of safe and long-lasting materials that can be used over and over again. The printed designs and patterns are not quick to come off in cleaning and using the products, so kids may enjoy them longer and more frequently.
Durability
Once your toddler has progressed from basic finger food, it's time to get them their own dinnerware. Flipping plates is a pretty common toddler behavior so finding a plate that is made of sturdy and safe material like plastic or silicone is ideal. Non-metallic silverware is also recommended once it's time to begin learning how to use utensils. Metal forks and spoons can damage your child's delicate gumline and can lead to more tears than eating. It is a fine line for parents to find items that are long-lasting and tough enough to use for a long period yet get some that are safe and fun for the kids to enjoy. We do feature some very good plastic dishes and plates that are extremely fun for kids and quite durable as well. Everything does not have to be silicone or stainless-steel in form.
Design
Younger children will love eating with their favorite characters, favorite animal or some other fun design. Older children may enjoy having their own kid-sized dishes which resemble the classic style their parents use. You can even have fun with letting them help choose. You will want a design that encourages your child to be happy participating in meal time. If they get the chance to do it themselves, this helps them gain self-confidence and independence. It will help avoid power struggles and bad behaviors. You can also let them control how much they eat and let them stop when they are full. You will notice that a good bit of the featured items are sectioned. They are even divided into the correct proportions that children should eat of those types of foods. This is to help parents when they are preparing the food and for kids to begin recognizing exactly how much of each food group they need to consume daily.
Ease of Use
Once your child gets a little older, they will start practicing with utensils. This is when having non-skid or suction on the bottom of the plate is handy. Having good suction on the plate helps to keep a younger child from picking it up and throwing it off his tray, creating wonderful new kitchen decor. For an older child, it keeps the plate steady while they are learning to scoop food. Rounded edges and deep compartments also help in this process, making it easier for them to capture the bites. Having a plate that has the dividers in it will help with picky eaters who don't like their food types touching each other. In a way, this is really good for them to do, as it helps them separate the food types into the various food groups. You can be encouraged to offer them a complete diet from the different food groups and offer them choices of what they like to eat. It is a good idea to put at least one choice you know they will like and possibly introduce another choice for them to discover. These products are all user-friendly and made to be easy to care for, especially for busy parents who do not have a lot of time to care for hard to clean or use dishes.
Most Important Criteria
(According to our experts opinion)
Experts Opinion
Editors Opinion
Users Opinion
By Default

Parents, Did you Know?
Teaching your child to feed themselves can be one of the most challenging...and one of the most rewarding moments in your parenting life. Providing them the proper tools to learn self-care is one of the best ways that you can prepare them for the future. It takes much patience and understanding to do it well for the best results.
Parents, Did you Know?
Plates and dishes have been around since at least 600 AD when the Chinese discovered the process for making porcelain. They are an essential part of the household and teaching kids how to use them is an essential adventure in parenting. It is also fun and exciting to teach them skills that will last a lifetime.
Other Factors to Consider
Age Range
Learning how to self-feed is one of the first, and biggest, milestones that our little ones overcome. It is also one of the milestones that we, as their parents, look forward to, for the most part, because it is so visually obvious. While our children are constantly growing and constantly learning from the moment that they are born, most of their early development is subtle and gradual. Making that transition from bottles and breastfeeding to eating at the table can be a very exciting time in your family's life. The dishes and plates featured in this beneficial buying guide are for the youngest of eaters in the early toddler years to the little kids age group of about six or seven years old. It is at that time that older kids will want to use more traditional dinnerware that the rest of the family utilizes also.

Physical Development
Kids usually begin with finger feeding, just using their hands to experience getting food to their mouths all on their own. This process actually helps them with practicing their hand and finger coordination and hand-eye coordination. They develop tactile processing skills when they learn that feeling sticky, warm or slimy on their hands and face is okay. Having a fun plate to eat from is a good motivation for them to practice. They have to discover where their mouths are and how to maneuver the food there without looking. It develops muscle memory and can make for some great photo ops. All of these highlighted products will encourage food and self-feeding exploration during feeding times in kids of all ages. The cute designs will get them excited to try new foods and reach out for them and taste what you give them.
Frequently Asked Questions
q:

What is melamine?

a:

It is a type of plastic resin (to simplify the chemistry involved) which is used to make anything from dinnerware to floor coverings. It is popular because it is light and durable. The downside is that it should not be used in a microwave.
q:

How can I get rid of the silicone smell on dinnerware?

a:

Soak the dishes in a mixture of one part white vinegar and two parts water. Let it soak for 30 minutes and then wash it thoroughly with a sponge. That should help.
q:

What does BPA stand for?

a:

BPA stands for bisphenol A. It is an industrial chemical they use in making resins and plastics. They are doing a lot of studies on it, but it is believed that it may seep into foods and cause health problems with the brain.
q:

What is PVC and is it dangerous?

a:

PVC stands for polyvinyl chloride. It is durable and lightweight. There are arguments on both sides as to whether PVC is dangerous or not, so it would be wise to do some research. Most, if not all the dishes we have listed, do not contain PVC.
q:

What is the phthalate we are supposed to watch for?

a:

Phthalates are a group of chemicals added to some plastics to make them softer, transparent and more flexible. New research has documented its negative health effects. The majority of these products are free from this toxin and other common ones that are usually found in such items.
q:

At what age should kids start learning to feed themselves?

a:

Your child may try to start using utensils as early as 13 months and most have figured it out by about 18 months. Around this age is probably a good time to let them start experimenting using their fingers to explore and try out new foods on their own and start introducing them to using a spoon.