Best Baby Spoons & Forks Reviewed in 2019
last updated
Aug 20, 2019
There comes a time when your baby is ready to join the table fun and enjoy the world of eating solid food. This can be such a fun time for everyone involved. A lot of fun, but it can get a little messy at times. When introducing babies to their first foods, many parents choose to start with pureed food. This is when it is time to start investing in baby spoons and forks for the little one. The market for baby utensils is vast and they all promise to deliver nothing but the best experience. With any baby product, you always need to make sure that you are careful about what you buy. Safety is first and then the functionality is next. So, to help with the confusion we have created the list for you. Below are the best baby spoons and forks on the market; researched and reviewed.
In a Hurry? The test winner after 48 hrs of research
9-Piece Stainless Steel
Why is it better?
Real silverware, in just the right size for kids
Package features 2 complete set; fork, spoon, and knife
Constructed from high quality stainless steel
All utensils are rounded and no serrated blade on the knife
Boosts hand eye coordination skills
In a
Hurry? Editors choice:
Test Winner: 9-Piece Stainless Steel
20
Researched Sources
48
Hours Researching
18
Products Evaluated
Comfort
Materials
Design
Ease of Use
By Default
10 Best Baby Spoons & Forks
1

. 9-Piece Stainless Steel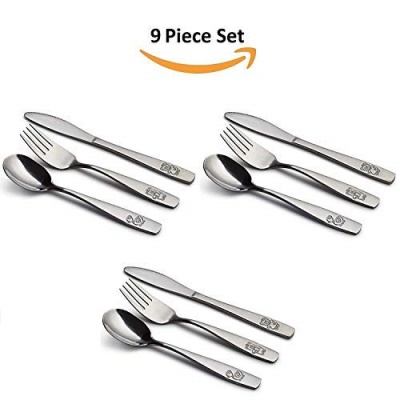 Real silverware, in just the right size for kids
Package features 2 complete set; fork, spoon, and knife
Constructed from high quality stainless steel
All utensils are rounded and no serrated blade on the knife
Boosts hand eye coordination skills
Fork has a sharp edge on the sides
Best suited for children that have already been eating with baby friendly utensils
Complete with nine pieces, the GlossyEnd Stainless Steel Kids' Cutlery Set includes three sets of forks, knives, and spoons. All silverware includes a cute little animal engraving at the bottom (a duck and two bears). The fork tines are rounded so as not to be hazardous and the knives are dulled down to safety and non serrated, meaning kids can use them and parents can stop worrying. These are made not to bend, chip, rust, or scratch, and they're dishwasher safe.
Read more
To clean the silverware, simply place it in the dishwasher or wash it by hand. The pieces have been designed to make mealtime exciting for the little ones and are just the perfect size. It still looks like the silverware that their parents use every day, however. The spoon and fork ends have been rounded for added safety, and the knife features a non-serrated blade. Make every meal fun with these forks and spoons created just for them.
Comfort
Eating with a fork and spoon is an excellent way to boost hand-eye coordination. The movement of getting the food on the fork or spoon then moving to the mouth is a wonderful way to test their skills them building them up each time they are able to use them. The reward is in the dinner.
Materials
They have been constructed from stainless steel and are super durable. With the non-scratch surface and being free of rust, dent, and breaks, this silverware is safe and does not contain any hazardous materials.
Design
What a cute set of silverware. The kids really love that they look like the silverware that the adults use but are just the right size for their hands.
Ease of use
The tines and the spoon edges have been made especially for little mouths and fingers, so they do not get hurt. These dinnerware pieces look just like regular adult items but are kid-friendly and simple to use.
2

. Grabease First Self-Feeding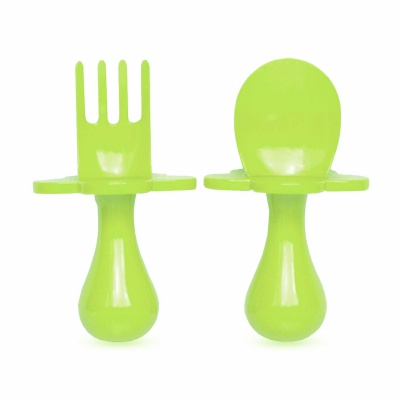 Utensils created to aid in self feeding
Features barrier for added choking protection
Constructed from BPA free and nontoxic plastic materials
Created to suit little hands and their natural grasp
Promotes self-confidence
Fork is small and size, hard to get food onto and up to the mouth
Do not hold up well in the dishwasher
Ellie & Nooli's GrabEase Utensils are perfect for little ones learning how to feed themselves. Each set comes with two anti-choke, BPA-free utensils: a fork and a spoon. The handles are large and rounded to make them easy to grab and utilize, even for little hands. The decorative cloud acts as a barrier to prevent choking, as children will not be able to fit these utensils in their mouth past a safe distance. They're also easy to clean and they come in ten different colors!
Read more
Each of the utensils is created to be proportional to their hands and formed to be able to let them grasp in a natural way. The movement and grasp are the most natural hand feeding motion that a utensil can give them. It has been constructed from BPA free and nontoxic plastic and features a barrier on the that does not allow them to be able to choke themselves when exploring with the world of learning how to eat. It is a great way to get baby learning how to eat on their own while ensuring that they are safe and can enjoy the new adventure with great quality tools.
Comfort
East to hold and grasp in tiny hands, you will be glad to know that these utensils have stoppers to prevent choking. They will not fit far into a baby's mouth, which is a precaution that must be taken with infants and toddlers.
Materials
The plastic materials that comprise this perfect set of utensils for first-timers are free from toxins to be completely safe for infants and toddlers to use on their own. Parents will appreciate the extra care that went into the making of this product.
Design
The design of this set of spoon and fork is great. They are easy for the little ones to grasp and the choking barrier allows them to explore with eating without parents having to guide the utensil up to their face and back down.
Ease of use
Self-feeding is a skill that really promotes confidence in little ones. Building their self-confidence at a young age is very important in raising a strong and independent child. Self-confidence also benefits children both physically and mentally throughout their development.
3

. Comcl 100% Silicone Soft-Tip
Microwave safe
Spoon works well with pureed foods
The soft tip prevents bruising of gums
Easy to clean and doesn't stain from overuse
The stem of the spoon is too malleable and droops
Ola Baby's Soft-Tipped Training Spoon is an innovative and unique design when it comes to silverware. This silicone training spoon is flexible, durable, and chemical-free. Shaped a bit like a sprout, it helps to promote self-feeding in babies but avoids the hazards of pointy edges and hard plastic or steel. Made with a wide base, this spoon also stands upright on any flat surface, avoiding it gathering bacteria from spilled food or dust. Each set contains two spoons that are dishwasher-safe and freezer-friendly.
Read more
It has a flat base that allows for a standing placement on any surface without tipping. The material is bendable and composed of food grade silicone; both BPA-free and dishwasher safe. This training spoon encourages self-feeding at a young age, as early as six months old. This is great because the little one can focus on motor skills such as finding their mouth. It is entirely safe, so you don't have to worry about them possibly hurting themselves.
Comfort
Being able to fit comfortably and correctly in a child's hand is an important task for children's utensils. It is at this time that they are learning how to grasp and hold items in their hands to perfect their movements.
Materials
This spoon encourages self-feeding as early as possible. The fact that it is soft enough and made of food-grade silicone already enable it to transition naturally from its teething function to an eating utensil.
Design
The flat base of this product increases its dependability and usefulness to the child. the pieces will not tip over when stood on a flat surface, so it will remain in place when the child needs it again.
Ease of use
The soft silicone material is bendable to be flexible to the needs of you and your child. such utensils are needed to train kids how to feed themselves well for a skill they will use throughout their lifetime.
4

. The First Years Take & Toss 16 Pack
Comes in five different colors
Can double as a coffee stirrer or sugar spoon
The plastic is strong enough to scoop solid food
The small size makes it ideal for portion control
The spoons are smaller than pictured on the site
The First Years Take and Toss Flatware includes sixteen pieces in a variety of fun colors. With eight spoons and eight forks, you won't have to worry about washing your sparse sets over and over between meals. These pieces are durable enough to be used again and again but also affordable enough that you don't have to sweat losing them. If you need disposable items for on-the-go meals, these are a solid option! Textured handles make it easy for toddlers to grip and this set is dishwasher-safe and chemical-free!
Read more
The long handles enable parents to gain enough leverage to feed and scoop up excess food around the baby's chin. It also makes it harder to slip out of your grasp. The product is durable and can be used multiple times; or, simply tossed when out in public or in a hurry. It's very convenient for on the go and should last for months depending on how well taken care of they are. With these, you have the option of re-use as many times as you see fit, so they can last for upwards of six months or longer.
Comfort
The comfort gained with the use of this utensil set is for the parent or feeder of the child. they are specially designed to fit in the hand well and add flexibility and dexterity to your feeding schedule.
Materials
Made from a tough reusable plastic substance, parents and kids will love the feel and toughness of this item. You get so many in the pack to use over and over again, so they will last for a long time.
Design
Made for parents to feed the child easily, these long-handled utensils are unique and fun to use for feeding the infant or toddler. the fact that they are so economical and reusable just increases their attractiveness to purchase.
Ease of use
The price of this product is unbeatable. The fact that they are so cheap can enable parents to several packs if so desired. This should last a household for at least a year.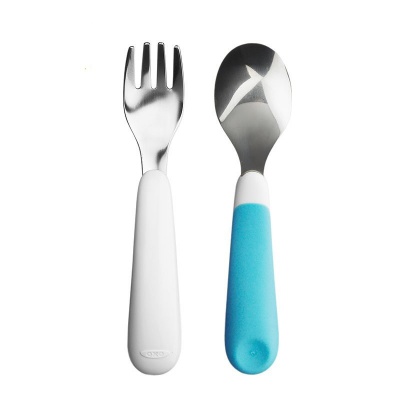 Large enough handles to no slip out of hands
Highly-functional cutlery that won't injure
The fork is curved to make it easier for transport of food to the mouth
Complements entire line of OXO baby products
The product does not come with a travel case
The OXO Tot Training Fork and Spoon Set looks like grown-up-ware but is totally kid-friendly. Grippy, non-slip handles are easy for young and inexperienced hands to hold. Stainless steel provides durability and keeps these pieces BPA-free. The fork tines are designed to be effective but not pointy or dangerous and the spoon is extra deep to help kids scoop and keep their food as they eat. Every set is dishwasher safe and they come in plenty of different colors, too!
Read more
The tines on the fork are functional and with rounded edges to prevent injury. The spoon has a deep bowl for easy scooping and the ability to hold liquids. It is constructed of a composition of stainless steel with BPA, Phthalate and PVC free materials. These utensils can be used in conjunction with the OXO tote plate and divided plate -- both with removable training rings. In total, this can make a complete set of OXO products.
Comfort
The shape and design of this set make it so comfortable and simple for the child to use on a regular basis. They will not slip and are comforting for both the mouth and the hands.
Materials
Stainless steel construction of these utensils is not only easier to keep clean and long-lasting, but it also better prepares the child for the real items they will use in the future.
Design
These are a good training set to get children used to handling their own silverware and helping them to more accurately mirror the behaviors of their parents when they are eating food.
Ease of use
Scooping liquids in a spoon is a daunting task for kids to learn in their early years. The spoons in this set make it easier for infants and toddlers because the base will hold liquids well.
6

. Gerber Graduates Neutral Colors 3-Count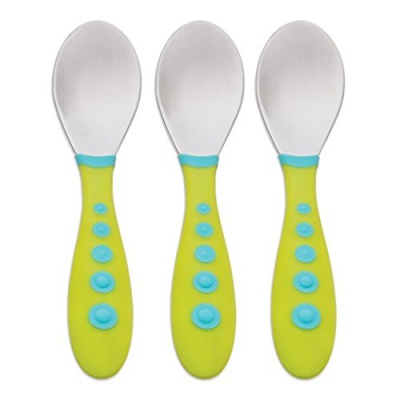 It comes in pink, blue or green color combinations
They have an easy support feature for resting gently on surfaces
Comfort grip handles are ideal for 18-month-old
Helps to develop gross and fine motor skills
These spoons are too shallow to hold any liquids
The Gerber Graduates Kiddy Spoon are made to keep germs and mess from frustrating your schedule. The soft handles are the perfect size for toddlers and the stainless steel tips are easy to clean, hygienic, durable, and chemical-free. These spoons come in great gender-neutral colors and are dishwasher-safe. Each set includes three spoons so you can make it through three meals in a day before you have to wash them.
Read more
In addition to this, the rest easy support on the reverse side of the handle prevents the bowl of the spoon from getting in contact with bacteria-laden surfaces. The bowls are made of strong stainless steel. Three spoons in all are included. They come in a lovely green and blue pastel color making them gender neutral.
Comfort
A comfortable grip is all the child needs from the eating utensil to gain his or her independence in becoming a self-feeder at mealtime. The notches on the handles of this item aid the child greatly with this.
Materials
Silicone seems to make up the bulk of materials that are used to feed babies and small kids because of the durability and longevity of the substance. It is also one of the safest materials available for such purposes.
Design
This is a very good quality product for the price. The handle grips well with the easy rest support; and, it's just the right size and depth to use for Gerber baby food products.
Ease of use
The strong handles are sized perfectly for children's hands at .69 x 4.5 x 8.8 inches. This will enable greater hand strength and endurance for self-feeding and gaining the ability to be self-sufficient feeders.
7

. BabieB Soft-Tip First Stage Silicone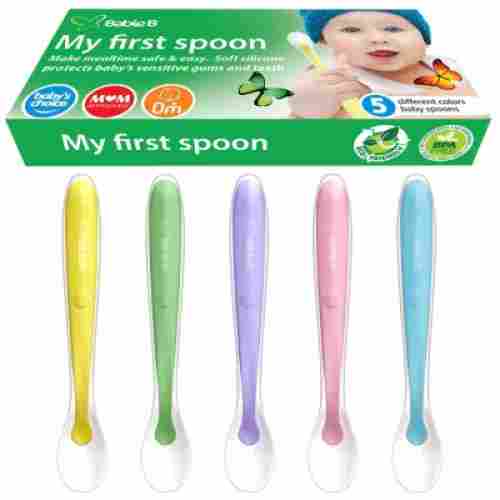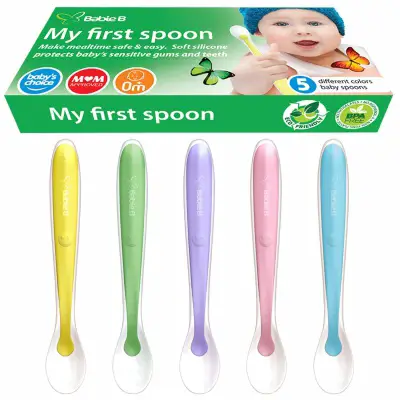 They are durable enough to withstand sterilization
Silicone material won't discolor over multiple uses
Small bowl of the spoon is perfect for scraping food from crevices
Product is good for teething babies
The spoons do not hold enough food in a single serving
BabieB's My First Spoon is a soft silicone spoon made to feed baby the perfect portions. To keep them from choking, these spoons are designed to be slightly more shallow. A soft grip allows your child to comfortably handle their own spoons when they're ready and they're long enough to make feeding easier on the parents' wrists. They're meant to be hand washed and carrots will stain them, though they won't impede upon the quality or functionality of the spoon.
Read more
The soft silicone goes easy on the gums of teething babies. The ergonomic handles help in preventing any hand or wrist pain that can occur. This product is BPA-free. The Best Baby Company offers a waterproof bib as a complement to these spoons and gives a thorough product description with illustrations. This makes it more convenient for parents. The company has taken great care in its product line as far as educating parents to all the possibilities that their product has to offer.
Comfort
Parents will not have to worry about writ pain when feeding the infant multiple times a day with this product. The long handles and ergonomic handles help with this daily ritual of feeding.
Materials
Silicone is the manufacturer's choice of substances when it comes to making feeding implements for kids and infants. This is a wonderful material that lasts a long time and is soft for the child to put in their mouth.
Design
Designed to be much easier and enjoyable to feed your child, these soft-tip utensils are some of the best that are currently being offered. They are perfect for both the parent and the child for feeding.
Ease of use
Feeding an infant or a toddler is actually much easier with utensils that have long handles to grab. The parent has more flexibility in the wrist when going from the feeding bowl to the child's mouth and back again with such a spoon.
8

. Munchkin White Hot 4-Count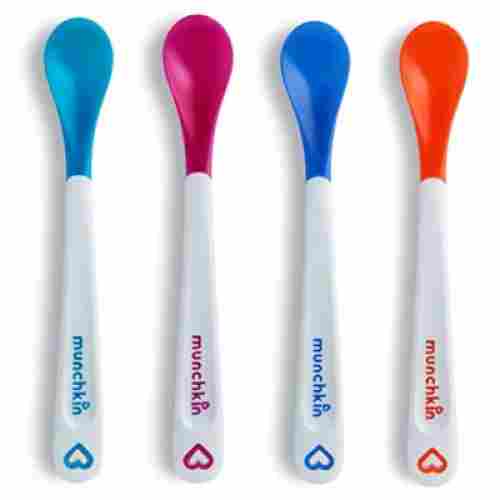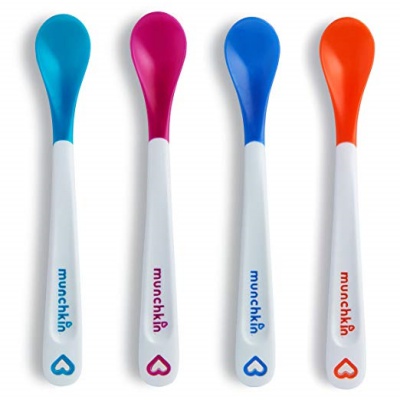 It will remain dishwasher safe when placed on the top rack
Good for learning self-feeding
Can double as a dog feeder or administering meds
Lightweight and good width
The bowl is slow to change colors in hot temperature
Munchkin's White Hot Infant Safety Spoons help you determine the perfect temperature and portion-size for your little one! The tip of the spoon will turn white like the handle if baby's food is too hot. And the spoon is designed with a shallower dip so as to avoid feeding them too much at once and risking choking or dribble. They're chemical-free, dishwasher-safe, and designed with long handles to make high chair feeding a more comfortable affair for all involved. Each set contains four spoons.
Read more
The bowl is sized perfectly for comfort with soft tips. The long handles of the spoon are good for high chair feedings. It is composed entirely of non-toxic materials ensuring that it has no lead, PVC, BPA, or phthalates. The patented white-hot technology system alerts when the food is too hot in order to prevent the scalding of a baby's mouth since it might be harder to gauge by sight alone. This is a good product in helping to gauge the appropriate temperatures for your baby's food. Often the adult palate has become desensitized and can't detect what might be too hot for an infant.
Comfort
Long handles are more comfortable and flexible for the parent when feeding, and the soft tips of the utensils are better for the child. their soft teeth and gums will not be harmed with such items.
Materials
You will not have to worry about toxic materials in this set of feeding utensils. It is free of the usual onslaught of harmful substances that often plague children's dinnerware in one form or another.
Design
The white-hot technology is implemented for this product to help parents gauge the temperature of the food contents better. If the food or liquid is too hot, then the material will change color.
Ease of use
The soft tips and the long handles make feeding a child in a high-chair or elevated seat much easier for the parent. They can stand or sit to feed the baby without having to be at a disadvantage.
9

. OXO Tot Set Soft Silicone Teal
Contouring allows for the entire serving to be fed
Good enough balance to remain steady on bowls and plates
Construction enables the scraping of containers more easily
Handles are short enough for self-feeding
Does not come with a case for traveling
OXO Tot's Feeding Spoons are best for babies in their high chairs. These soft silicone sets feature two spoons ergonomically shaped to make scooping easy and to be kind on the wrists of parents. The contoured handles make for easier angles and the stainless steel keeps these spoons durable so you can use them again and again. They come in three colors, are gentle on baby's mouth, and are chemical-free!
Read more
The stainless-steel bowls have a soft silicone coating for your child's comfort. The handle is contoured for ease of feeding. And, the shallow bowl helps to limit portions, particularly if your child is a fussy eater. The combination of stainless steel coated in silicone gives these spoons the firmness to scoop up some of the firmest solid food items. At the same time, it retains its purpose of protecting infant gums. This is a good complement for other OXO baby products, such as the Baby Blocks Food storage containers that also come in matching colors.
Comfort
Parents will love the plastic handles on this set of dinnerware for kids because it is comfortable to grip and hold for feeding time and preparing meals. The bowls are coated as well to be easier to handle.
Materials
Plastic handles and stainless-steel for the rest of the product gives the sturdiness needed for a long-lasting item and the user-friendly tips to be comforting for the hands.
Design
Shallow bowls and contoured handles are the main features of this set of dinnerware for infants and toddlers. Manufacturers try to make such daily-used products very user-friendly and easy to manage.
Ease of use
You will find that having bowls and utensils coated with silicone and plastic are so easy to keep clean and serve from. They will not hold any flavors or odors when foods are left in them for a while either.
10

. Bambusi 5-Pack Bamboo
Detachable bowls make it easy to wash
The bright colors will keep your child interested and engaged
Handles are bacteria-resistant to prevent illness
Silicone prevents food staining
Bowls can be too large to fit in a baby's mouth
Bambusi's Bamboo Baby Spoon Set is a five-piece kit for first-time eaters. Babies can chow down in comfort with these food-grade silicone tipped spoons. Organic bamboo handles make these utensils germ-resistant and lightweight so baby can eventually hold them up all on their own! They come with five colors in each set, are chemical-free, and the detachable heads make them extra easy to wash.
Read more
The bacteria-resistant bamboo is solid and sturdy with a removable, food-grade, silicone bowl. These are great for travel and can be attached through a ring attachment in the handle. The bamboo is naturally dishwasher safe, without the fear of melting the way plastic tends to. The all-purpose design and neutral colors can make this the perfect gift for baby showers, birthdays and other occasions. And the bamboo handles are environmentally sustainable. We like that this is a traditional, sensible and simple product. The bamboo construction is environmentally sustainable, and the silicone will keep your baby safe from toxins.
Comfort
You will be comforted in knowing that you are doing the best for your child in purchasing such a set of dishes and utensils for your baby to use. the materials are high-quality and long-lasting for the best care.
Materials
Bamboo and silicone are the main substances used to create this lovely assortment of dinnerware for kids. Bacteria is less of a problem with such materials that can be a huge threat to children when eating.
Design
Although the bamboo has special properties to aid with bacteria, it is also very pleasing to the eye. Both you and your child will love the look and feel of the bamboo substance as you enjoy the quality time when feeding.
Ease of use
You can quickly place these pieces in the dishwasher when you are finished feeding the child, as they are safe to use in the machine. Parents will appreciate how simple clean-up is with this remarkable set.
Criteria Used for Evaluation
Comfort
The comfort when using these utensils and dinnerware sets is felt by the parent and the child. most of these items are plastic or covered with silicone substances to be soft and flexible for the baby's teeth and gums. They will love the feeling in their mouths of these enjoyable materials when they are getting their food. Parents will love the long handles on the spoons that can make feeding easier. You can stand or sit when feeding the child with such utensils because there is extra leverage and wrist flexing possible.
Materials
Stainless-steel, silicone, and plastic make up the bulk of the products listed here, as they are not only free from the usual toxic chemicals, but they are durable and easier to use. Manufacturers realize that infants and toddlers will be using these products on a daily basis, so they need to be tough and reliable. These sturdy items will last at least until the child grows out of them and is using regular utensils to feed themselves.
Design
Why do you need special spoons and forks for your baby when you have a whole kitchen full of silverware? Usually, the typical sized spoons and forks are just too deep for babies to feed on. Not only do they make the job hard to tackle, but they are not safe to hand to them when they start self-feeding. So, to make the process easier, safer, and less frustrating for everyone, it is time to purchase the best baby spoons and forks that you can find. These features products have wonderful designs that fit into your lifestyle perfectly.
Ease of Use
Long handles, silicone tips, and flexible materials all make feeding an infant or little one so much more enjoyable and simple. These pieces can all be put safely in a dishwasher unless we mentioned that it cannot, so clean-up is easy and quick. By being able to use these utensils over and over, you eliminate the need to keep repurchasing new ones for feeding time. The more durable ones may be much more expensive at first, but they will pay off in the long run with their long life and dependability.
Most Important Criteria
(According to our experts opinion)
Experts Opinion
Editors Opinion
Users Opinion
By Default

Parents, Did you Know?
These instruments for eating go far back. In ancient Egypt, there were ivory spoons, rock and flint spoons, and bone spoons. Ceramic ladles were used in Neolithic Sardinia. In China, they were made of bronze in the beginning and had a sharp protrusion for the dual function of cutting.
Parents, Did you Know?
Did you know that during the Middle Ages in Europe, the nobility would only feed their children with silver spoons? They knew back then that silver is a natural antibiotic. This was one of the many reasons that children of the wealthy not only survived infancy more often, but they also had a tendency to be larger and stronger than the poor.
Other Factors to Consider

Compatibility
Depending on the color and style of utensils that you choose for your child, you should be able to match these designs well with what you already have for kids' dinnerware. Most of them have a choice for colors or patterns to be very compatible with other products your child may like and want to use.

Value
You will notice that some of these products are quite a bargain with plenty of pieces in a set. This gives you the chance to use them over and over again without putting much strain on just a few items. These are all the best products of this category as judged by customers who loved them and recommended them online in their feedback and ratings. They also have the most reviews out of all offered products online, which is one of the main aspects of our choices for this buying guide.
Frequently Asked Questions
q:

Can silicone become too pliable from overuse?

a:

From what we can gather, this is not usually the case. Most of the silicone used is both food- and medical-grade. Medical-grade silicone is built to last and withstand use for years to come. That said, this doesn't mean that precautions aren't necessary. When items are put in the dishwasher too often, the structural integrity of them can become compromised by excess heat. This is also the case when sterilizing objects, too. So, if possible handwash your items and air dry them more frequently than opting to throw them in the dishwasher all the time.
q:

What can I do to avoid discoloration or odors on the baby spoons?

a:

The material that it is composed of can be a major factor in it. Certain plastics, rubbers, and silicones have a tendency to absorb colors and smells from what they come in contact with over a long period of time. If you want to avoid it altogether, just use metal utensils.
q:

Is it reasonable to buy more than one set of spoons in bulk?

a:

Yes, it is highly reasonable! The prices for many of these bulk items are a song--less than the price of an Egg McMuffin. So, buy as many sets as you want or need. Some of the brands themselves suggest that they are disposed of and replaced regularly.
q:

Should I always avoid metal utensils with an infant just learning to eat solids?

a:

Not always. It's a judgment call since many generations of adults didn't have the benefit of rubber or plastic spoons. It all about your child's comfort and attempting to avoid the possibility of injury. Once they're past the teething phase, it may be more feasible to use some more sturdy silverware with rounded edges. There are also metal spoons and forks that have a silicone coating. In this way, you can get the firmness of metal without the pain or jab.
q:

Are there any specific travel feeding sets I can buy?

a:

There are plenty of options on the world wide web. As we know, there's something out there that can match whatever your heart desires! But, all these things come at a price. Are you willing to pay it? We know that most parents, young ones, in particular, tend to be on a budget. We recommend going cheap and becoming a DIY parent. There are plenty of carrying cases that are sold separately. For a small price, bulk spoons and forks can be purchased and taken along in a travel case. Much of this is for the best since even the most sought-after items can go out of fashion with time.
q:

Is a bamboo-handled spoon better than plastic?

a:

We're not sure that one is "better" than the other. Both have their unique benefits. Since plastic is more malleable, there is the advantage of shaping the handles into more ergonomic designs to ease the burden of fatigue that can possibly lead to carpal tunnel syndrome. Also, plastic doesn't give splinters the way that wood and bamboo have a tendency to do. On the flip side, with bamboo, there is less of a risk of absorbing BPA or other toxins into your bloodstream, which a continual worry when handling plastic. We do offer an excellent bamboo product that has been treated and combines the traditional style handle with a safe, soft, gum-friendly silicone bowl.