Breastfeeding is a beautiful task that can sometimes be challenging. Especially when you're wearing clothes that make it difficult. Adding a few nursing tops to your wardrobe will make feedings a lot easier. Nursing tops are designed to provide easy access for your child without sacrificing comfort. Many nursing tops will even provide you both with privacy, thus making it less stressful to breastfeed in public. The term "nursing top" may not sound that appealing, but take a look at the list we complied. We have included 10 of the best nursing tops that will not only make breastfeeding and pumping easier but will also still allow you to look stylish.

10 Best Nursing Tops Reviewed
1. Free To Live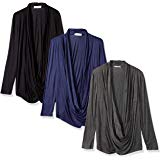 Expand to see more
The Free to Live nursing top will allow you to breastfeed comfortably. This pullover is lightweight, long-sleeved, and designed with a criss-cross opening. While the criss-cross opening does require you to wear a shirt underneath, it makes breastfeeding super-easy. The fabric can easily drape over your child, thus providing you with privacy. This pack of three comes with black, blue, and gray tops. With three different colors, you will be able to wear it with any outfit.

Benefits
Made in the USA, these tops are composed of 95 percent rayon and 5 percent spandex. The blend of rayon and spandex provides a soft comfortable feel against your skin as well as your child's. The fabric also gives the top the ability to stretch, thus making it easy for you to put on and take off.

What We Like About It
With three different tops included in this package, you can have a shirt for every outfit and you are getting more bang for your buck. The soft, lightweight fabric makes it easy for you and baby to be comfortable during feedings.
Pros
Lightweight
Fabric is soft and stretches
Provides privacy while nursing
Includes three different colors
Cons
Shirts are different lengths
2. Undercover Mama Black & White
For an on-the-go option, it's a great idea to consider a tank top that can be easily hooked onto an existing bra. This ensures a proper fit each time while also providing tons of versatility when it comes time to feed your little one.
Expand to see more
This tank top is interesting because of its unique design. It's a strapless tank top that can be easily hooked onto any existing bra or nursing bra in order to be just as easily removed later on for breastfeeding. While it is a bit more obvious, it can be worn underneath a jacket or light button down in order to conceal the fact that it has no straps, instantly making it just an adorable camisole top. This shirt can also be worn underneath other clothing since the material is rather thin, which makes it a great year-round shirt as well. It's made of mostly cotton with a bit of spandex to allow for a stretchy, flexible fit, which puts it in good running for being one of the most comfortable post-pregnancy shirts you've ever worn!

Benefits
You get a bundle deal with this tank top and will receive one black and one white tank top. This means good news for your wardrobe, your clothing options, and your wallet!

What We Like About It
This is by far the easiest shirt to throw on and walk out of the door with and it definitely provides comfort where it's needed. Not to mention, it'll always be sitting in just the right place since it'll be attached to a bra that already fits you well.
Pros
Easy to wear
Can be hooked and unhooked quickly
Light enough to wear underneath other clothing
Comfortable fit
Allows for a stretch fit
Cons
The sizing runs a bit small
3. Smallshow Women's Hoodie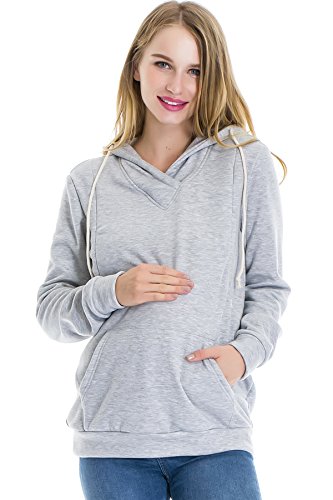 Expand to see more
The Smallshow Women's nursing hoodie will keep you warm during the colder months, especially when you are breastfeeding. Thanks to the concealed side zipper, the world will think you're just wearing a regular hoodie. When you're ready to breastfeed or pump, simply unzip the side zipper. When purchasing, you can choose among 20 different color options and patterns to give you a stylish relaxed look.

Benefits
The inside of the hoodie is lined with fleece to provide your body with extra warmth during the winter. The hoodie is composed of 60 percent cotton, 35 percent polyester and 5 percent spandex, thus making it soft and durable. Hand washing is strongly preferred but you can occasionally wash this on cold when needed.

What We Like About It
With the concealed zipper, you will be the only one who knows you're wearing a nursing hoodie. In fact, the stylish and casual look of this hoodie will allow you to wear it in and out of your home.
Pros
Designed with a concealed zipper for breastfeeding
Super-soft
Available in over 20 different colors
Casual style makes it easy for you to wear it in a variety of settings
Cons
Hand washing is strongly preferred
4. Bearsland Sleeveless
These tops are cute, fashionable, and don't resemble a maternity shirt in the least. You would hardly believe how easy it is to breastfeed while wearing one of these, though, which is exactly why they're perfect for the fashion-forward mama.
Expand to see more
Not only are these tank tops absolutely adorable, but they're also great for literally any body shape and size. The ruffled design helps to flatter and accentuate all the great parts about your body while still providing enough coverage to be modest. The floral design adds a delicate, feminine touch and without seeing how it works, you'd never know this is a maternity shirt designed for breastfeeding. The top ruffle lifts up to reveal a low-cut sweetheart neckline, making it easy to simply roll down and feed your baby. Breastfeeding can be done discreetly and without any type of complications with this shirt -- It really doesn't get much simpler! It's a great top for going out in as well which means you don't need to panic or stress over what to wear for a night out.

Benefits
The straps on these shirts are adjustable which can be a tremendous help when you're breastfeeding. You'll be able to customize the size via the strap while the shirt itself allows for some extra stretch to it.

What We Like About It
Did we mention this comes in a three-pack of shirts? That's right! Not only will you have one pretty shirt for nights out, you'll also have two additional ones for daytime errands as well as just lounging around the house.
Pros
Adorable shirt design
Comes in a pack of three
Adjustable straps for proper fit
Fits well on any body type
Makes breastfeeding east and discrete
Cons
The shirt is somewhat shapeless which some women might not like
5. Caramel Cantina 3 Pack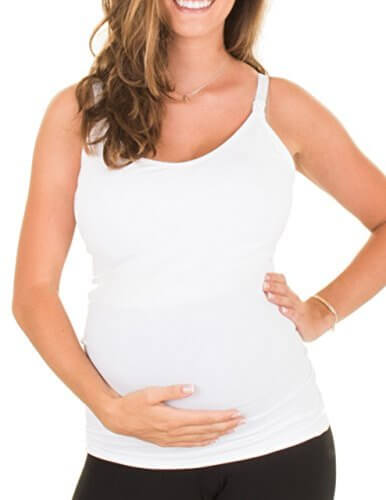 This tank top is simple yet comes with a few welcome features that you'd want to see in every nursing top. A built-in bra, for starters, really puts this tank top relatively high on our list.
Expand to see more
You no longer need to worry about a nursing bra and shirt with this two-in-one on the scene. The Caramel Cantina Nursing Cami is the shirt that breastfeeding dreams are made of, featuring a built-in bra that provides structure and support while also including optional panel clips that can be easily unhooked when it's time to feed. The combination design of this tank top makes it so easy to use while also being functional for your day-to-day life. It can be worn to bed as an easy way to breastfeed in the middle of the night or early in the morning or worn outside the house when you know you'll need to feed your baby at some point. It's comfortable, subtle, and looks just like a normal shirt. The fabric blend of this shirt is also a great thing to note, and since it's 8 percent spandex, it will allow for a much more stretchy fit, giving you all the flexibility you need.

Benefits
While this cami is perfect for nursing, the stretchy material also makes it a great top to wear during your pregnancy. The basic color and design of the cami make it possible for you to wear it all year long. Style it with a kimono during the summer or a cardigan during the winter. The panel clips are so easy to unhook that you can do it with one hand, which is great because you will more than likely have your baby in the other.

What We Like About It
The built-in bra in this tank top is a huge benefit because it provides comfort in spades. It can be frustrating and somewhat uncomfortable trying to figure out which shirts work with which undergarments and this shirt eliminates the battle.
Pros
Comfortable and has a stretch fit
Comes in a pack of three
Various color options
It can be used quickly and easily when breastfeeding
Can be worn while you're still pregnant
Cons
The fabric is rather thick which can be uncomfortable in the summer
6. SUIEK 3PACK Cami
We have to admit, these camis are totally adorable. They're designed for sleepwear but are just cute enough to be worn outside the house as well. Not to mention, the drop-down panels are easily concealed for the utmost modesty in a shirt.
Expand to see more
These are the stretchy, comfortable, breathable, shaping shirts that every mom hopes for after she gives birth. SUIEK has taken a design that's feminine and pretty and found a way to turn it into the perfect top for breastfeeding; with the simple addition of a hook enclosure at the top of each strap, you can go from elegant nightwear to breastfeeding mama in no time. While this shirt is incredibly comfortable to sleep in, it's appropriate enough to be worn around during the day as well when you need to go out. Chances are, it'll be so comfortable that you'll never want to take it off! With a lace racerback design and subtle fitting around the waistline, these shirts will quickly become your new favorite thing to wear. They're a great option for moms who aren't looking to forgo fashion for comfort since these camis have the benefit of both.

Benefits
While this cami is perfect for nursing, the stretchy material also makes it a great top to wear during your pregnancy. The basic color and design of the cami make it possible for you to wear it all year long. Style it with a kimono during the summer or a cardigan during the winter. The panel clips are so easy to unhook that you can do it with one-handed, which is great because you will more than likely have your baby in the other.

What We Like About It
Aside from the drop-down cups, these shirts look no different than any other loose camisole. They're comfortable enough to be worn at night while still being pretty enough to wear around the house during the day.
Pros
Slightly stretchy
Beautiful lace racerback design
Pretty and feminine style overall
Drop-down cups make breastfeeding easy
Great to sleep in for early morning feedings
Cons
The sizes run a little big which means the shirts can be a bit baggy
7. Smallshow Short Sleeve
They're simple and basic, but they work. For an easy shirt to throw on and dress up, the Smallshow nursing tops make for a great t-shirt option when all you're feeling is jeans and some sneakers.
Expand to see more
For new moms who don't want too much fuss as far as their clothing options go, these t-shirts are definitely right up your alley. They're just your basic tee with varying color options and a pull-up panel that allows you access to breastfeed easily. They're soft, comfortable, and not too heavy, making them ideal for hot summer months. Smallshow says it best, these shirts are reliable, comfortable, and "basic." When you're not up for doing much matching as far as your outfits go, these shirts can become a great go-to on lazy days when you want to go out and wear something simple or just lounge around the house. They make it incredibly easy to breastfeed on the go and look super cute with jeans or leggings. The sizing can be challenging to get right so it's best to follow the accompanying size chart, but the great news is if they are too big or small, you'll be able to return them and get a new size no problem.

Benefits
For a comfortable but loose fit, these t-shirts are perfect for moms who don't want anything overly complicated in their maternity wear. They come in various different colors which still gives you plenty of options without all the fuss.

What We Like About It
The simplicity of the design and the basic color options make it easy for you to get dressed in a hurry. These short sleeves shirts can easily be matched with any pair of shorts or pants you decide to put on. The pull-up panel provides easy access and a comfortable breastfeeding experience for you and your baby.

Pros
Comfortable and stretchy
They allow for easy breastfeeding
Basic style for easy matching
They come in various colors
The size chart is helpful in knowing exactly what you're getting
Cons
Breastmilk can stain the fabric
They stretch out fairly easily
8. bamboobies Yoga Seamless
Just because you're breastfeeding doesn't mean you have to stop going to the gym! There are some great sports bras out there that are specifically designed for active lifestyles, and the bamboobies Nursing Bra is one of them.
Expand to see more
This is one for all of the active moms out there. While you normally wouldn't go out to run errands in a sports bra or top, this nursing bra is designed to be part activewear as well. From the outside, you would never guess that this is a nursing bra and instead simply just looks like gym wear. It comes with removable bra inserts that can be used during workouts and when it's time to breastfeed, simply pull them out. To make things even easier, this bra also features drop-down cups that allow you to breastfeed on the go or even as soon as you get home. There's no need for quick changing or finding something else to wear with these! The racerback style makes the nursing bra itself extremely comfortable to wear and takes some of the weight and pressure off of your shoulders, which can be really helpful to prevent headaches, back or neck aches. It's a stretch fit that caters to most body types and it can be adjusted as needed. This is one sports bra that should be in your arsenal if you're an active mom.

Benefits
It's rare to find a sports bra that offers the option for breastfeeding without making it obvious what the bra was designed for. This nursing top is simple yet does its job efficiently and discretely, while not taking anything away from its style.

What We Like About It
We love that you can go straight from yoga practice to breastfeeding with this nursing bra. It can also be worn comfortably under regular shirts as well, making it super versatile all-around.
Pros
Comfortable fit
Provides structure and support
Easily adjustable
Racerback style helps to alleviate pressure
Comes with optional bra pad inserts
Cons
The padding can sometimes move around or roll up
9. SUIEK Cami Summer
Fashion doesn't disappear when you're breastfeeding and the SUIEK Nursing Tank Top totally proves that fact. It's elegant, flowy, and super cute for going out when you know you'll need to breastfeed at some point.
Expand to see more
If it's from SUIEK, you know it has to be good, right? This tank top is a much more simple version, with a long, flowy bodice that allows for the most comfort possible. This top would be great when worn especially during summer because the fabric is designed to simply hang loose -- Not cling to you and become sticky. This top allows for easy breastfeeding with a pull-up panel that's hidden on the side and covered by a front panel. It's somewhat more elegant than your average tank top while still being casual, which makes it a great option for days out as well. If you're worried about sizing, this is also a great style to consider since it is so loose and flared out toward the bottom. It also comes in several different colors so in the event that it does become part of your daily wardrobe, you won't need to worry about looking the same every single day. It's a great overall nursing top for moms who want something stylish, elegant, and not too casual.

Benefits
The side panel on this shirt allows the pull-down section to be completely concealed which will give you some confidence while wearing it. It looks just like a normal tunic shirt which makes it a great go-to when you want a bit of flair in your everyday outfit.

What We Like About It
There's no need to dress up your outfit when you're wearing a shirt as pretty as this one. It's a great way for new moms to feel empowered in their maternity wear without feeling like they're restricted to only wearing t-shirts and complicated nursing bras under their regular clothing.
Pros
Extremely comfortable
Discrete and hidden pull-down panel
It comes in several different colors
Fashionable and stylish
Great for first-time moms
Cons
You'll most likely need to size up
10. Hotouch Round Neck
You know what they say: Save the best for last, right? If you're all about comfort and a comfy tee, Hotouch definitely has you covered. These t-shirts make breastfeeding simple while making you feel like you're not really wearing anything maternity-style at all.
Expand to see more
Anyone who is a fan of t-shirts knows that jersey material is the absolute best. It's super stretchy, durable, and insanely soft and comfortable! We were happy to find that Hotouch has taken a traditional, fitted tee and turned it into a solid maternity option for moms who plan on breastfeeding. This shirt is probably one of the most stylish options we have on here because it simply just looks like a double-layered t-shirt. It comes in 15 different color options so technically, you could have one for every day of the week for two consecutive weeks if you wanted to. It's so comfortable and easy to use, we wouldn't even blame you. To use it, all you do is simply lift the inner panel up to easily breastfeed, then tuck it back into the actual shirt when you're finished. It's fast, simple, and no one will even realize what this shirt is intended for.

Benefits
This tee can be worn while you're pregnant as well which is a testament to how much stretch it really has. It'll easily fit over any baby bump and when you've given birth, you'll be all ready to breastfeed with a shirt that's designed to make it easy.

What We Like About It
The color options really help this shirt to sell itself. There's literally nothing about it that would seem like anything more than a stylish t-shirt, and it would go with something as simple as a pair of jeans and sneakers or as fancy as a pretty skirt and flats.
Pros
Incredibly comfortable jersey material
Comes in 15 different colors
Makes breastfeeding simple and easy
Can be worn as a maternity shirt during pregnancy
It looks just like a regular t-shirt
Cons
It needs to be dried on the lowest setting or air-dried
Criteria Used in the Evaluation of the Best Nursing Tops
There's a lot to consider when it comes to post-pregnancy clothing and that's why we're here. It's our job to seek out the most comfortable and stylish options to make your postpartum recovery and transition into motherhood the absolute best that it can be. That's why we've graded each and every one of these nursing tops based on several different factors that we feel truly make a difference when you're breastfeeding. For starters, you'll always want something that's super-comfortable. For new moms, breastfeeding is a totally new experience and you might initially have to sit in a position that's unusual for you, which is why comfort matters. Whether it's the texture, fit, or style of the shirt, you want something that will allow room to breathe, a flexible fit, and some degree of stretch or give to it.
Additionally, you'll also be looking for a shirt that's somewhat inconspicuous. Nursing bras aside, nursing tops can often be somewhat outdated and obvious when it comes to their use. The shirts we've added to this list all appear to just be regular shirts on the outside so that you can feel totally comfortable wearing them outside of the house. You should be a proud mama, and you shouldn't let maternity wear stop you from being the baby-birthing warrior that you are! The great thing about these shirts is that you'll have plenty of style and color options to suit your personality.
Ease of Use
Many of these shirts either have hidden flaps or an easy way to pull them off the shoulder for ease of access while breastfeeding. This was a big factor on our list because the last thing you want to do is be out and struggling with your nursing top. When it is feeding time, we tried to find the best tops that would allow you to breastfeed as easily as possible without having to worry about access. Ease of use also accounts for how simple it is to use in public and how much privacy and modesty it allows, and we've made sure to take the time to ensure that every nursing top on this list provides you with versatility as well as comfort in that area. Breastfeeding isn't as simple as many people think it is and your shirt should make it as simple as possible.
Style and Fit
You should love the clothes you wear! We went ahead and said no to boring, run-of-the-mill shirts that looked like just something you would find on any rack, and said yes to shirts that were cute, stylish, and fun. Comfort obviously helped our decision on some, but most of them would make a great daytime outfit. It was important to us that you knew our choices stemmed from believing moms should be confident and glowing, no matter what clothes they put themselves into. If we can help you achieve that just a little bit easier, then we know we've done our job well. Not to mention, we've pretty much made it our mission to ensure that maternity wear can be fashionable and trend…Take that, outdated clothing!
Summer mamas, we're looking at you! We understand how unbearable it can be in the summer when it's time to feed and you're doing nothing but sweating, which is where tank tops save the day. Not only are these super-comfortable, but they're also easy to use when it comes to breastfeeding. The corners of each shirt work via a simple hook enclosure that allows you to discreetly detach them whenever your baby is hungry. These are perfect for long summer days when you have to wear something that's practical and won't make you too hot but also allow you to be a mom. The tank tops are also designed to be a bit longer so you won't feel self-conscious about wearing them since everything will be perfectly covered and fitting just right.
Affordability
We always try to include a wide range of prices when it comes to finding the best products for you, your family, and your baby. Clothing prices tend to be somewhat stable but occasionally nursing tops can be a bit more pricey simply because they're designed for a specific purpose. However, many of these tops come at a great price and even offer you the option to buy them in bulk if needed which is a great bargain. Keep in mind as well, these tops are intended to last for quite some time, meaning you can use them again, should you decide to have another baby. All of these shirts are durable (they're designed to be worn around babies, after all!) and will hold up extremely well through multiple washes and wearings. And hey, they're so comfortable and cute that you might just love wearing them, period!
Pull-Down Panels, Drop-Down Panels, and Confidence
When going through this list, you'll notice that many of these shirts feature various options for breastfeeding, including panels that can be either pulled up or dropped down to allow breastfeeding access. Which one you choose really depends on what you're comfortable with and the design of the shirt, but they're both equally as effective and will do the job. This versatility allows for the success of various maternity shirt styles which we thought was very important when it comes to finding breastfeeding tops that not only work effectively but also make you feel a little more confident. Motherhood is a beautiful and amazing thing but many times, women may feel like they're not able to show off their bodies or wear clothing that is feminine or elegant. Well, we did our best to prove that notion wrong! Just because you're pregnant or having a baby doesn't, in any way, mean that you can't be wearing clothing that makes you feel empowered and attractive. Many of the shirts on here are designed to make breastfeeding easier but also to outline and show off your natural curves and accentuate great features. Maternity wear should be fun and fashionable not boring and shapeless, which is exactly why we chose to go with shirts and camisoles that would allow breastfeeding to become an easy activity without you having to sacrifice your personal sense of style.
FAQ
Frequently Asked Questions
Q: What's the difference between this and a breastfeeding shirt?
A: There isn't any! Both are the same, just a different name. The only thing you'll notice that varies on this list are the types of nursing shirts–some have panels in different places while others allow for a hooking and unhooking claps to reveal drop-down panels.
Q: How does the sizing run on these shirts?
A: There should be charts to accompany every shirt option but as always, we suggest ordering a size up if you're unsure. Sizing often runs small online, and many of these can afford to go a size up or down and still fit perfectly fine.
Q: How comfortable are they to wear long-term, over the course of the entire day or on trips?
A: These shirts are designed for comfort as well as a good fit. Many of them have a decent amount of stretch to them, ensuring that you'll be able to move around and do all the things you need to do without worrying about any kind of tightness.
Q: Will these be discreet or will I need to wear another shirt over it?
A: These shirts are discreet enough that you can wear them without it being obvious that they're nursing tops. Each shirt has something different to offer in the way of both comfort and style.
Q: Are they high-quality?
A: Yes, each of these tops has been made with a cotton blend that provides flexibility and fit. Many have adjustable straps or room in the waist to provide for optimal comfort. They're not prone to ripping or heavy wear and tear.
Q: How wide is the opening in the nursing bra/shirt?
A: These shirts are designed to stretch, so the opening will vary based on the size you choose. However, they will allow for a bit of extra room but if you're worried, definitely size up.