10 Best Bottle Warmers Reviewed & Rated in 2019
last updated
May 20, 2019
In the days of old, parents had to heat baby bottles on the stove in a small pot of water. This method may still be used today, but manufacturers and modern technology are making parenthood much easier with electric bottle warmers for their busy lives. Most of the models on the market today are simple to operate because you just plug them in, fill with water, and set the temperature control. They will sound an alarm when the bottle is warmed or stop heating and just keep the bottle warm when you are ready to use it. The models we highlight here can also warm baby food jars and sterilize bottle nipples and pacifiers.
In a Hurry? The test winner after 114 hrs of research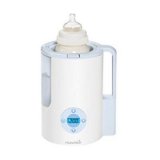 Munchkin - Precision Digital
Why is it better?
It can be easily cleaned
It can accommodate bottles of all sizes
It is very easy to use
Warmer doesn't waste time since it quickly heats up baby food
In a
Hurry? Editors choice: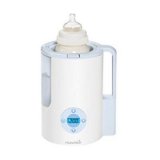 Test Winner: Munchkin - Precision Digital
150
Reviews Considered
114
Hours Researching
10
Products Evaluated
Brand
Design
Effectiveness
Price Range
By Default
In depth review top 10
Munchkin - Precision Digital
The First Years Night Craving
Chicco NaturalFit
Boon Orb
Munchkin High-Speed
Philips AVENT
Dr. Brown's Deluxe
The First Years Quick Serve
Tommee Tippee Closer to Nature
Kiinde Kozii
Table of contents
Criteria Used for Evaluation
Other Factors to Consider
Frequently Asked Questions
Sources
10 Best Bottle Warmers Reviewed
1

. Munchkin - Precision Digital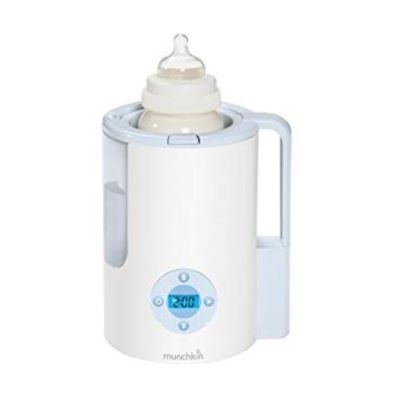 It can be easily cleaned
It can accommodate bottles of all sizes
It is very easy to use
Warmer doesn't waste time since it quickly heats up baby food
The reservoir can suffer from leakage
The Precision Digital bottle warmer is another great warmer available on the market today. The warmer can evenly and quickly heat bottles which aid convenience and enhances user experience
Read more
Brand
It comes with a digital memory timer which is easy to use and effectively keeps track of your last setting. This saves time as you do not need to input the same commands every time you operate the bottle warmer. Complementing all of this are the adaptor ring which aids in warming smaller jars and bottles and the life-out basket which helps convenience.
Design
The device's reservoir fitted in the warmer eradicates the need of measurement and numerous bottles can be warmed with just a single fill. Additionally, the bottle warmer's operation is based on a safe steam-warming which aids in the preservation of nutrients and is secure for breast milk.
Effectiveness
If you are in search of a warmer which is sleek, safe, efficient and offers both bottle and food jar warming capabilities, then this is the best choice for you and your baby.
Price Range
This warmer comes at an above average price in comparison to all the other warmers (on this list and beyond) that offer the same feature. Still, it depends on your personal budget if you'll like this or not.
2

. The First Years Night Craving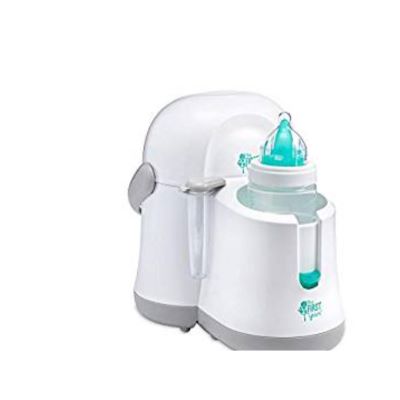 Small size is designed to help fit into small areas without compromising the effectiveness
Can be employed to warm several bottles
Product drives an excellent price
The product is highly functional in its main use
Lack of storage for other bottles
This is definitely one of the finest baby bottle warmers available today. Astounding features, reliability, and of course affordability are just a few of the properties this bottle warmer can boast of. The device consists of a bottle warmer situated in the front specifically designed for steaming and heating a little pot of water where a baby bottle can be lowered into and a cooler at the back designed to fit 2 baby bottles. The heating aspect of the baby bottle warmer employs a little water pot whereas other baby bottle warmers make use of a reservoir-based steaming system
Read more
Brand
This means the baby bottle warmer is easier to use than numerous others and especially cost-effective to run since there aren't any other complications/devices. It provides bottles at optimum temperatures.
Design
This is coupled with the removable cooler that is capable of maintaining lower temperature for a maximum of 8 hours and warming chilled bottles in a short amount of time. Moreover, this bottle warmer can also be used to sterilize pacifiers, and heat up baby food jars amongst other things.
Effectiveness
If one is searching for the very best baby bottle warmer and cooler currently available, the first years craving bottle warmer and cooler is the device. Buyers are provided with convenience and expedite baby feeding at every use of the product. In addition, the price asserts the warmer's position as an exceptional product that's fit for even individual operating on a tight budget.
Price Range
This baby bottle warmer comes at a reasonable price. Moreso when you consider the features that are being offered to the consumer. Essentially, this baby bottle warmer can be enjoyed by parents seeking a capable bottle warmer that's budget-friendly.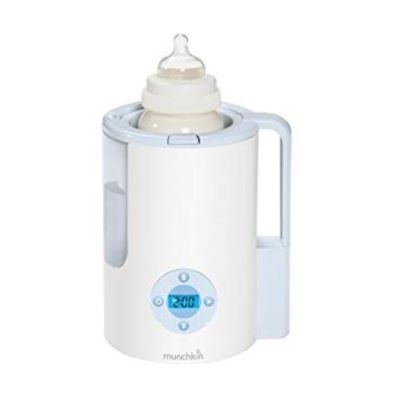 It can be cleaned with ease
It aids in preserving milk temperature for as high as an hour
With the gentle heating feature, the nutrients in the milk do not get damaged
It has a single switch which can easily be utilized in controlling the bottle warmer.
The Bottle warmer comes with only one setting
In regards to ease of use, the Chicco NaturalFit warmer is one of the easiest baby bottles warmers to utilize. Basically, all you're required to do is to place the bottle in the warmer and turn the dial. The device seamlessly takes over from there and delivers good results
Read more
Brand
The Chicco NaturalFit warmer is a food and bottle warmer which places emphases on safety and health. It is one of the highly eco-friendly warmers on the market today and can be cleaned with ease making it a great choice for any home. Couple these with the functions and slightly friendly price and it is suitable enough for a buy.
Design
The warmer ensures that both jars of baby food and bottles are kept warm for as high as an hour. Additionally, this baby warmer comes alongside an automatic off feature. This is useful if ever you do not remember to switch off the warmer while feeding your baby or you get carried away with chores.
Effectiveness
Another feature that was appreciated about this bottle warmer is the timer delay setting which you can adjust. You can set it to a time that you consider safe and adequate enough for the bottle to be sufficiently heated.
Price Range
This bottle warmer does not come so cheap, neither is it that expensive. Essentially, it stays in the middle where it's a bit suitable for individuals on a budget. So, if you want the benefits provided by this bottle warmer and your budget allows it, then this is a great choice to consider.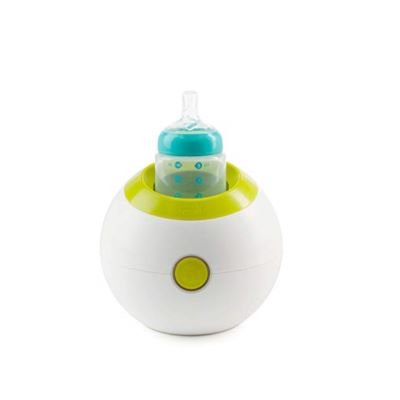 Warmer is reasonably priced
Bottle warmer easily heats up baby food
It comes in a stylish design
It comes with a blue-light indicator
It has an automatic off feature
It makes no audible signal when warming is done
The Boon Orb bottle warmer is a product that is functional and stylishly constructed. Luckily, that stylish design (comes in white) doesn't compromise any advantage since the baby bottle warmer takes up minimal space in the home. The warmer also comes alongside an extra basket which provides you with the capacity to slot in little jars and pull them out with ease.
Read more
Brand
This option is a reliable and stylishly designed bottle warmer which can efficiently aid in warming meals for your baby. It is very secure and comes alongside an anti-dry heating device as well as an auto-off feature. In addition, its price is reasonable and is very much an incentive. This, in turn, makes this warmer a great addition to any home in search of a convenient and high-quality bottle warmer.
Design
It, additionally, has a tube which can be used to measure water in the event that the warming chamber needs to be filled. The device creates steam which ensures the bottle of your baby is efficiently heated without the creation of hot spots.
Effectiveness
Continuing, the product has a blue light which serves as an indicator alongside an auto-off feature which aids in putting off the device as soon as heating is done. The warmer was produced without the use of any harmful substances which ensures it is safe for you and your baby (PVC free, BPA and phthalate free).
Price Range
This warmer comes at an affordable price. Hence, for parents in search of a stylish and quality warmer on a budget, this might be worth having a look at before making your next purchase.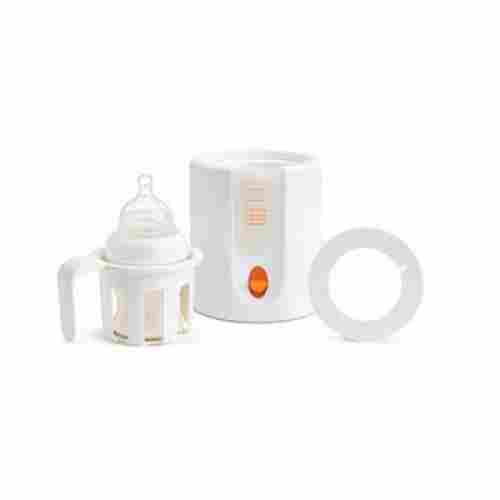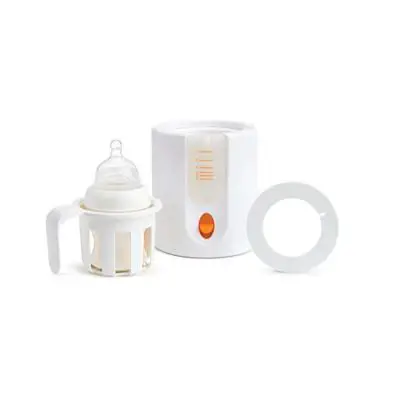 The bottle warmer ensures the container is not left with any hot spot
It comes with an auto-off feature
It is very budget friendly
It has the capacity to warm numerous bottles simultaneously
It has the capacity to accommodate bottles of various sizes and shape
This warmer cannot accommodate drop-in bottles
This is a distinct warmer that you can purchase on the market today. It is produced using steam warming technology which will assist you in evenly and quickly warming your baby's meal. The device aids in warming meals for your baby without it losing its nutrient which is unlike a regular microwave. That, in itself, is an incentive for mothers to purchase this warmer.
Read more
Brand
If you are looking for a product which is budget-friendly and can serve a home with more than one baby comfortably, then this device is worth having a look into. It has the capacity to speedily heat bottles to the ideal temperature and provides value for every penny spent even at its cheap price.
Design
The warmer comes with an indicator that informs you as to when the baby's meal is done heating. The auto-shutoff feature also ensures that regardless of how long you leave the baby's bottle or food in the warmer, it does not overheat. This is very useful in the event that you get carried away by activities around the home.
Effectiveness
Additionally, the bottle warmer also comes with an adaptor ring to ensure that bottles of various sizes and shapes can fit in with ease. In turn, this is great if you have more than one baby in your home and you want to warm their milk or formula at the same time. For enhanced convenience, it also comes alongside a cup for measuring and with its compact size, the device can be set up in any corner of the house without hassles.
Price Range
The price of this baby warmer makes it a comfortable fit for even individuals on a budget. And this is without considering all the features you stand to benefit from it. So, if you are in search of a quality baby warmer that comes at a very affordable price, then this is definitely the best choice for you.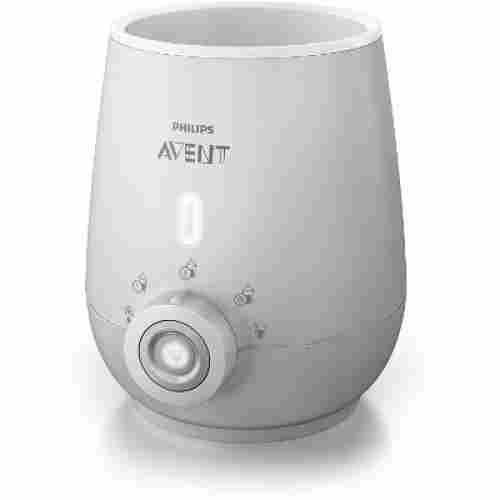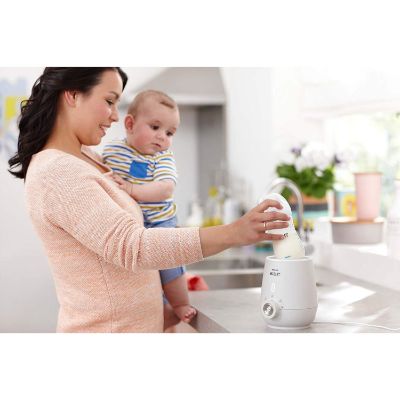 The device is very durable as a result of the high quality of the baby bottle
It warms food jars, milk, and breast milk quickly
It is ideal for traveling because it can easily fit into any kind of space available
The bottle warmer can easily be utilized
With time, you may require larger bottles
The Philips Avent bottle warmer is one of the functional warmers that can be utilized in the home. The size of the warmer is very small, ideally shaped and needs a really minimal space. As a result of this, it can perfectly be placed in a cabinet, kitchen counter, in the nursery, or your bedside. It has the capacity to be utilized alongside a majority of the food jars and bottles sold on the market today. Additionally, it can accommodate all cups, bottles, and food containers produced by Avent
Read more
Brand
Also, the warmer is ideal for breastmilk as it can be carefully utilized in melting food and breastmilk without issues. This means is more secure than utilizing a microwave. The device also comes with a factory fitted sensor which automatically switches off the warmer to avoid complications and overheating.
Design
Other than this, the heating system is very safe and fast and it requires less than 4 mins to warm ounces of milk. With that said, food and milk can be equally heated without the production of hot spots and this is because the warmer continuously circulates milk whilst heating it.
Effectiveness
If you are in search of a bottle warmer that can be utilized with ease, then this product is definitely the best bet for you. It is extremely easy to use and all that is required is the addition of the bottle and some water—followed by turning the dial and putting it on.
Price Range
The Philips Avent option does not come that cheap when compared to other devices. Regardless, if you are looking to enjoy what this baby warmer has to offer you, and you don't mind making a little investment, it is a remarkable choice and it is worth every penny spent
Average price
Easy operability
Short waiting time as it easily warms up milk
Multiple bottles can be warmed before you need to refill the water
The basket allows for the use of different bottle sizes
The design seems a bit delicate
This model is available with an LCD control panel, and according to many (including us), is one of the reasons that makes it user-friendly. And of course, this is all complemented by a few buttons, which promotes user experience
Read more
Brand
If you are in search of a versatile baby warmer that does not cost too much and provides you with a range of functions, then this device is a really great choice for you. Though, for the former, price, as always, differs from individual to the other.
Design
The bottle warmer comes with a blue water reservoir, which isn't too large. Still, according to our tests, its size is large enough to fit the needs of most users. Supporting this feature is the design of the reservoir which is transparent. This helps monitor the water-level and thus, acts as an indication as to when the reservoir needs to be refilled.
Effectiveness
The way it operates is via steam. And its impressive efficiency (cold water to hot water in short time) is mainly why it's present in this list. A distinct feature of this product amongst many is its adjustable basket. Alternatively, the product's versatility is sure to impress as it can be adjusted easily to the bottle size desired.
Price Range
This item is priced slightly above the average affordable range. In other words, if you have a budget a little above average then it may be worth checking out this baby warmer.
8

. The First Years Quick Serve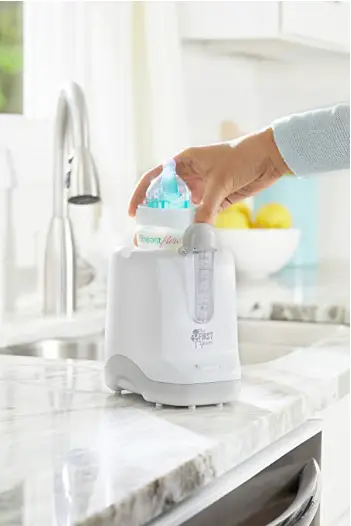 It has an automatic shut off feature
The speed at which warmer heats up food is excellent
Value for money is exceptional
It can be utilized with baby food jars as well as bottles
It has a very simple design
Bottle warmer comes with only a single setting
The First Years is a warmer which is simply designed to function alongside baby bottles that come in diverse sizes. Heating, as we tested is easy and stress-free since all you need is a small amount of water and the product completes the rest.
Read more
Brand
First Years Quick Serve is very fast at getting milk heated up. This has a benefit in cutting down the need to leave babies waiting for too long before feeding them. Hence, if you are searching for a simple, versatile, and budget-friendly warmer then this is worth looking into.
Design
When the heating is done, the light instantly goes off to serve as a notification and in the event that you are caught up with other chores or your baby when it is finished, the warmer has the capacity to go off automatically. The warmer comes alongside a basket which in turn means that the warmer is capable enough to heat more than one bottle of baby food.
Effectiveness
Furthermore, the warmer is very simple and straightforward. It does not have numerous heat settings and this supports the product's ease of use. Still, do note that there is no defrost mode or multiple heat settings. So, if you need a warmer with more sophisticated technology, this may not be for you.
Price Range
This bottle warmer is very affordable and is great for parents who require a warmer but are on a tight budget.
9

. Tommee Tippee Closer to Nature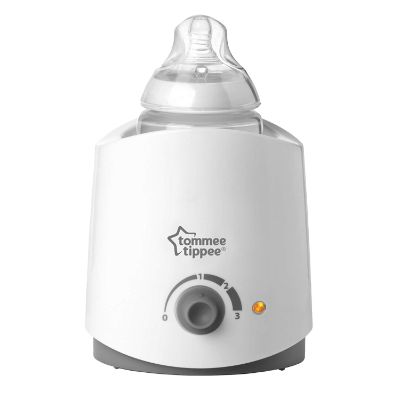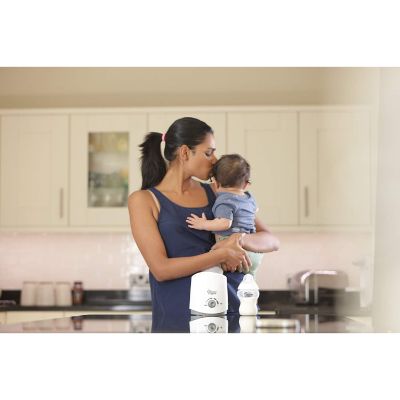 It rapidly warms milk bottles
It has a compact size which will fit well in any nursery
It is very easy to utilize
There is no storage space available for bottles
This is another great warmer by Tommee Tippee and one of the remarkable things about this warmer is that it can be utilized with ease to warm food. It is quite simple to set up and using it is quite fast as well. The device requires less than 5 mins to effectively heat jars of food, breast milk, or formulas
Read more
Brand
Tommee Tippee's closer to Nature electric bottle and food warmer, aids in securely, and quickly warming food in less than 5mins. Also, the temperature dial and display dial can be easily utilized and is a great choice for parents who are in search of something straightforward that delivers.
Design
It can also easily fit all available sizes of bottles created by Tommee Tippee and can accommodate most of the other kinds of milk bottles efficiently. In addition, the warmer comes in a very appealing and compact design which most parents and babies alike would love.
Effectiveness
The temperature of the warmer can be regulated as all that is required is just to turn the dial. Essentially, it is really a great choice for anyone since it's an excellent performer.
Price Range
It can also easily fit all available sizes of bottles created by Tommee Tippee and can accommodate most of the other kinds of milk bottles efficiently. In addition, the warmer comes in a very appealing and compact design which most parents and babies alike would love.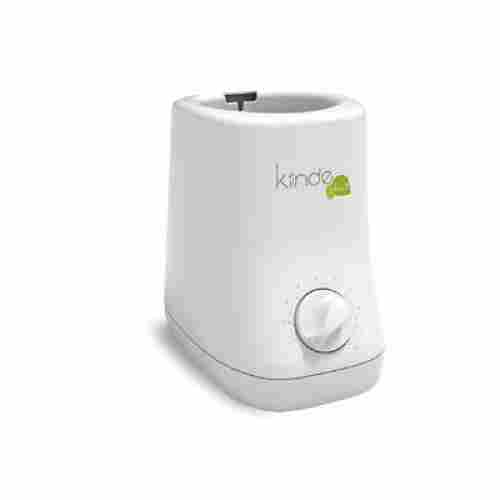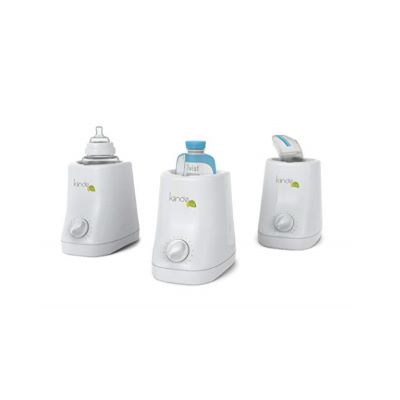 It is easy to utilize anytime you desire to warm breast milk for your baby
It has a minimum temperature for warming and this aids in the preservation of antibodies and nutrients in the infant's meals making it ideal for utilization
It warms the bottles of babies rapidly, conveniently, and consistently
It is not as durable as users may desire
Kiinde Kozii is a bottle warmer which aside from being easy to utilize, also aids you when you have inadequate or no space to utilize. It will aid in warming your baby bottles fast and because of the compact size of this device, you can easily save space in a tight room whenever you require getting your baby bottles warmed. In terms of looks, this warmer does not differ from other devices but its method of heating is different. The device makes use of flowing warm water to heat food and milk gently as opposed to steaming or boiling.
Read more
Brand
The Kiinde Kozii warmer is unique and comes with a hidden water reservoir alongside safe heat technology. It is ideal for both safety and health and can also be utilized with ease. So, if you are in search of a bottle warmer that stands out from the rest, then this is a warmer that is definitely worth looking into. That is, of course, if you can accommodate its price.
Design
The intuitive timer will keep you informed as to the amount of time left to prepare your infant's meal. Also, the auto-shutoff feature of the product aids in putting off the device when the time is exhausted. This aids in ensuring your milk or food does not get overheated even if you leave the container or bottle in the warmer for extended periods of time.
Effectiveness
This, in comparison to other traditional devices, ensures faster warming of milk. So, we can otherwise say that it functions as quick as most of the other usual warmers but provides a more enhanced result. In-depth (features wise), the chamber of the device is designed to take in any material regardless of the size of the food bottles.
Price Range
Although this option does not come that cheap when compared to other warmers, you could still purchase it if you're willing to spend a bit more cash. Simply said, the product is an innovative baby warmer that is worth having for you and your baby.
Criteria Used for Evaluation

Brand
Making use of a baby bottle warmer is a seamless way to suitably feed one's baby regardless of the time. Therefore procuring one is a wonderful idea. Nevertheless, questions remain as to what other services should a bottle warmer offer other than just warming the baby bottle, as its name implies?
To respond to this query, one's needs, as well as the baby's needs, must first be identified before proceeding to procure a baby bottle warmer. The following are a few of the deciding factors we considered after carrying out extensive research in selecting the best baby warmers.
Design
If varying bottle types and sizes are used, then versatility should not be left out when considering a bottle warmer. It's very ideal to get a bottle warmer suited to both wide and narrow mouth bottles consisting of different materials. A material limitation may suggest certain bottles are not compatible with a specific bottle warmer. So, we ensured that the products above can easily hold bottles of different sizes/types.

Effectiveness
This is the capacity of any prospective baby warmer to rapidly and consistently warm formula, breast milk, or baby food. Situations often arise, mostly in the dark of the night where the baby is hungry and breast milk or formula must be warmed quickly to placate the baby. The bottle warmer chosen must be able to warm up the milk quickly and continue to do this on a consistent basis. In that regard, the products above can be used.
Price Range
All of the bottle warmers on our top ten list are affordable for whatever your family needs. We wanted to make sure that we had a style that fit every families budget. These bottle warmers are long lasting which makes the value of the warmer worth it.
Most Important Criteria
(According to our experts opinion)
Experts Opinion
Editors Opinion
Users Opinion
By Default

Parents, Did You Know?
How easy is it to carry around and exactly how much counter space it takes up? This is an important factor to consider when procuring a bottle warmer. If it is a bottle warmer that is going to be for stationary use, perhaps in a nursery, then portability doesn't matter. Alternatively, if it is one that will be traveled with, portability is crucial to comfortably use the bottle warmer.
Parents, Did You Know?
aby bottle warmers that employ this heating technique do this by having water inside a reservoir heated to extremely high temperatures by a heating element such as a hot plate to provide steam. This is then used to heat up the formula or breast milk in a bottle.
Parents, Did You Know?
As the steam heat technology is faster to heat than water baths, the temperature of the exterior of the bottle is sure to rise to extremely high levels thereby needing a cool down period before being handled. High temperatures as such frequently come with certain risks which include burns, spillage of contents on the skin, as well as destroying important nutrients in breast milk. It is thereby important to note that steam heating doesn't always result in the even warming of the bottle's contents. In other words, temperature isn't consistent throughout the baby food. This result means thorough mixing and inspection is necessary to extricate occurrences of hotspots that are sure to hurt the baby.
Other Factors to Consider
Safety
In the hopes of avoiding the possibility of overheating, the heating system coupled with the technology employed in warming up the bottles must be considered when buying a baby bottle warmer. The majority of the widespread bottle warmers use either water or steam bath. Usually, overheating results in damaged or ineffective crucial nutrients in baby food and breast milk. The correct device is one that heats the bottles to temperatures akin to body temperature such as 37 Celsius. Any device with an abnormally high temperature (100°C for example) is one that should be steered away from, like breast milk, and baby foods are unsafe after being heated at that temperature.

Ease of Use
The selection of baby bottle warmer is one that should also be founded on its operating simplicity. It should be one that is not only easy to use but also easy to maintain. In summary, it should not be tedious nor time-consuming to understand, and thus, operate any time of the day, or at night when one is most likely a little groggy and sleepy. This condition should also be applicable to the cleaning of the bottle warmer.
Support
Water bath
Bottle warmers employing the water bath technology are typically endorsed as the best baby bottle warmers to be considered. Notwithstanding the fact that they have the tendency to be slower heaters, they do heat uniformly and consistently with no need for the extremely high temperatures often required in steam heat technology. Baby bottle warmers that use the water bath, heat formulas, baby foods, and breast milk gradually, with warm water dispersed around the bottle. This ensures critical nutrients and the necessary maternal antibodies are not damaged and are retained. Summarily, a little bit of patience is needed to use warmers that use water bath technology since they're slower than the other option.
Auto shut-off and timer features
When purchasing a baby bottle warmer, it is important to consider one designed with an auto shut-off feature that allows it to automatically switch off when the set temperature or time is exceeded. This is vital to evading the contents of the bottle overheating and thus, voiding some benefits on the part of the baby.
Frequently Asked Questions
q:

What is the best temperature for a baby bottle of formula or breast milk?

a:

The optimum temperature is 98.6 degrees F for baby bottles of formula or breast milk. Anything less than this may give the baby indigestion and any hotter will burn their mouths. You can test the formula on an open wrist. If it is hot there on the wrist, then it will be too hot for the baby. Older babies than newborns can tolerate cooler temperatures of formulas, so it greatly depends on the age of the child.
q:

Which of these warmers does not need electricity to work?

a:

The only one that is portable is the Tommee Tippee Travel Bottle and Food Warmer. This one can be used while in the car or away from home. It works much like a regular thermos but uses the lid as a holder where the hot water and bottles are put to warm. It is perfectly suited to the various sizes of popular baby bottles and food jars.
q:

Which of these warmers works for food jars too?

a:

Each of one of them can warm baby foods as well as the milk and formulas. Some of them even have a basket that fits in the warmer, so you can remove the warmed jars without burning your fingers on the jars or in the hot water. Pacifiers can even be sterilized in these units with the baskets.
q:

What is the point of the cooler with some of the warmers? Is this like a refrigerator that stays cold?

a:

The warmers with coolers prevent you from having to go to the refrigerator to get the food or formula, especially in the middle of the night. The coolers will keep bottles cool for up to eight hours and some of them hold two bottles. One of them uses ice packs to keep the bottles cool.
q:

What type of bottle can be put in these – glass or plastic?

a:

Glass bottles heat faster than plastic bottles, but both can be put in any of these warmers.
q:

Which warmers can be put in the nursery or the parent's room instead of the kitchen?

a:

All of these can be put in other rooms other than the kitchen. Most of them have a short electric cord, so they are usually put in the kitchen for simplicity. The portable one is great for the nursery and traveling. It is the Tommee Tippee Travel Bottle and Food Warmer.
q:

Do any of these have a light on the settings so they can be seen in the dark for night feedings?