He is the official mascot of The Walt Disney Company and has quite possibly the most well-known ears in the world. He is none other than the adored Mickey Mouse. Created in 1928 by Walt Disney himself, Mickey's film debut was in Steamboat Willie, and he has been a star ever since. He can be seen today on the Disney Channel on Mickey Mouse Clubhouse or walking around at one of the Disney theme parks. He has been loved for decades by children and adults and almost anything with his image on it sells rapidly.
Mickey Mouse has always been portrayed as a leader among the other Disney characters and therefore stands out among all of Walt's creations. He is smart and always happy, so he is a positive role model for young kids. For children everywhere he represents joy, togetherness, excellence, and trust. Toddlers recognize Mickey Mouse and will play with anything that looks like him. Adults, remembering their childhoods with Mickey Mouse toys, Disney cartoons, and The Mickey Mouse Club, collect items with his image for their treasure of Mickey memorabilia.
Our Top 3 Picks
Mickey & Minnie Birthday Parade

Our rating
24 pcs LEGO Duplo Set
Price:

See Here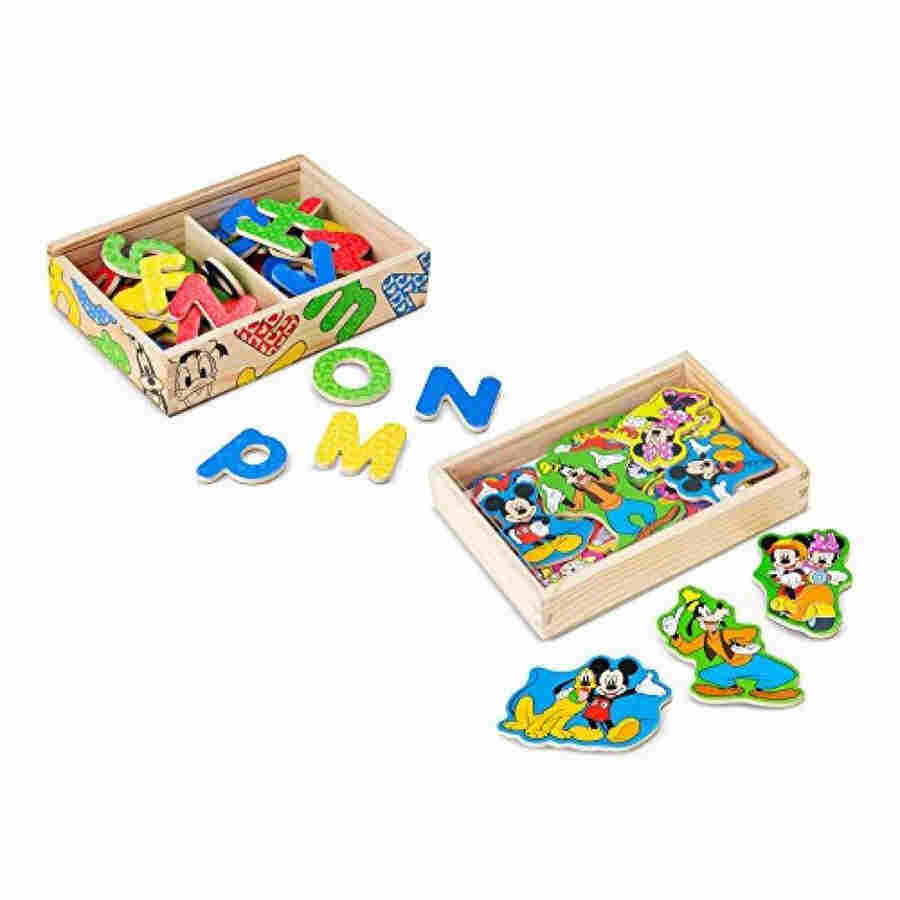 Mickey Mouse & Friends Magnet Toy

Our rating
High Quality Craftmanship
Price:

See Here

Disney Mickey Mouse Plush Toy

Our rating
Original Disney Merch
Price:

See Here

From the vast assortment of Mickey Mouse toys available today, we have selected the most popular choices among Mickey Mouse fans. All of the items have purposes in developing skills in even the youngest of children. Kids grow from the experiences they have with toys, and Mickey Mouse toys have plenty to offer for skills. They develop concentration, imagination, and confidence. The featured choices also help children improve motor, verbal, and dexterity skills while having fun at the same time.
Toys are how we learn valuable abilities at early ages and mature into the unique individuals we are to become. Although most of the toys we selected are ideally for the ages of two to six years old, anyone that has a fascination with Mickey Mouse will enjoy them. With his famous ears and his worldwide appeal, Mickey Mouse will live in our hearts forever as the most celebrated character of Walt Disney. Here are our choices for the best of the Mickey Mouse toys for kids in 2018.
The Best Mickey Mouse Toys for Kids Reviewed in 2018
Mickey & Minnie Birthday Parade Toy
Mickey Mouse & Friends Magnet Toy
Disney Mickey Mouse Plush Toy — 17"
Disney First Act Mickey Mouse Mini Guitar Ukulele
Mickey Mouse Fly N Slide Clubhouse
Crayola CW Overwrap Mickey Mouse Toy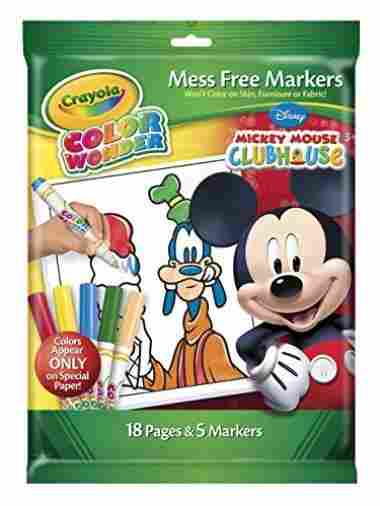 Fisher-Price Disney Mickey Mouse Clubhouse
Kiddieland Disney Mickey Mouse Clubhouse Plane Ride-On
Mickey Mouse Clubhouse My First Microphone
Disney Baby, Mickey Mouse Activity Toy
Mickey Mouse Clubhouse Wooden Tool Kit
The First Years Disney Baby Shoot and Store
Clubhouse Capers Erasable Activity Table Set
Melissa & Doug Disney Wooden Train
Play-Doh Mickey Mouse Clubhouse Set
Playhut Mickey Mouse Train
Disney Baby, Mickey Mouse Mini Jinglers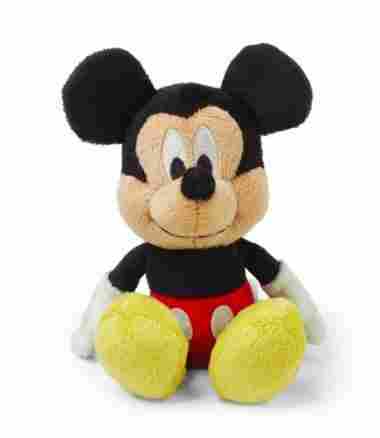 Disney Mickey Mouse My First Guitar
Just Play MMCH Mickey Hot Diggity Dog Plush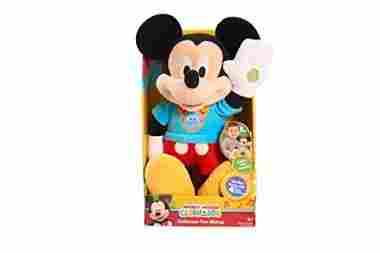 Melissa & Doug Disney Mickey Mouse Clubhouse Wooden Chunky Puzzle
Criteria Used in Evaluation of the Best Mickey Mouse Toys on Our List
Skills or Benefits of the Toys
Each toy for toddlers and young kids should exercise some skill or give them a sense of security or well-being. These Mickey Mouse items help kids improve their motor, concentration, verbal, finger dexterity, imagination, and confidence abilities, among others. Whether playing the musical instruments or sorting out the magnetic alphabet pieces, kids must use many talents to play with these items. Although toys are meant to be fun to play with, they do have the ability to enhance learning skills greatly. By just having multiple textures to touch and explore, such as the Mickey Activity Toy for babies, playthings impart on kids many experiences that advance them physically and mentally. All of these toys are not just toys; they educate the young user in ways that help them excel in life. We state the skills enhanced for each toy in the listing with the item.
Durability of the Toys
All of these Mickey Mouse toys were intended for babies, toddlers, and young children. The manufacturers created them with durability in mind because of their young users. Toys for this group must endure chewing, pulling, beating, and crushing, so they must be tough. The plush toys have quality, strong stitching and resilient fabrics; the musical instrument toys with thick buttons and the LEGOS are made of strong, hard plastic. All of the wooden, Melissa & Doug items are constructed of the highest quality wood and will last for a long time. Ride-on playthings, such as the plane and the Happy Hauler, are built to withstand the weight of the appropriate-aged child and take the normal punishment of play from this age group. Although young kids are small, they do put their toys through plenty of abuse with active, everyday play. These Mickey Mouse items are quality-made and enduring.
All Toys Are Unisex Items
Boys as well as girls can play with and enjoy all of the Mickey Mouse toys we feature. None of them are for only one gender in particular, not even the fire truck, toolkit or ride-on plane. Girls love these activities too, and sometimes grow up to use these items professionally, just like boys. Most, if not all, of Disney's toys for young kids are intended for all children in general. They want every parent and child to feel welcome to purchase and enjoy their creations because every child was thought of in the design.
Authentic Disney Items
Naturally, featured Mickey Mouse toys must have some evidence of Mickey on them, and all of these do that beautifully. Whether it is just a picture or design on the toy, Mickey is there to represent Disney at its best. Some of these toys have Mickey as a figurine that is included as part of a set, or as in the case of the big plush Mickey Mouse, he is the whole toy by himself. All of the items are genuine Disney designs, even though some do not say so specifically. Mickey Mouse is Disney's trademark, and he is proudly on or included in every toy listed.
FAQ
Frequently Asked Questions
Q: Are the images on the blocks of the LEGO DUPLO building set stickers? I want to make sure these are safe to wash in the dishwasher.
A: The images on the blocks are not stickers – they are printed on the blocks. They are very easy to clean.
Q: Is the Disney ukulele left-handed or right-handed? Also, can a strap be put on it to hold it on the shoulder?
A: It can be turned into a left-handed instrument by taking the strings off and replacing them in the reverse order. No, a strap cannot be put on the instrument. There is no place for it to hook on.
Q: Does the Clubhouse Plane and the Mickey Fire Truck come with batteries or do they have to be purchased?
A: Both of these come with batteries.
Q: Do the wheels turn on the Clubhouse Plane and does the seat lift up for a storage compartment?
A: Yes, the wheels do turn on this item, but the seat does not lift for storage.
Q: Does the Mickey Mouse Activity Toy play music and is it machine washable?
A: No, the toy does not play music. That would be a great addition to this toy, as it is for babies and would be perfect to lull them asleep. Yes, it is machine washable and quite durable. It will certainly last a long time.
Q: Is the Activity Table Set padded a lot on the top where the child would not be able to write on paper or have a cup of liquid for drinking or water paints?
A: The top of this table is just slightly padded, so a cup of water or drink will not topple and spill easily. Writing on paper should not be a problem either. The padding is not so thick as to make it bubbly to write on.