Introducing sidewalk chalk paint to kids and toddlers when their little hands are ready to hold the brushes is very beneficial to their development. Whether they are just painting everything in sight or writing and tracing their letters and numbers, the time outside playing in the fresh air is a great benefit. The variety of colors, using the brushes, and the interaction between others creates the building blocks that foster fine-motor skills and later, a strong academic career. Painting with sidewalk chalk provides kids with hours of endless fun which promotes learning, too. Most of you already know about the teachable moments that your kids benefit from, but some of the simplest experiences that you can provide your kids with have the most benefits. Turning any play time activity into a learning experience is great. Sidewalk chalk painting is no different than sitting at a desk and having them learn to try to write their letters and numbers.
While engaging in playtime with the sidewalk chalk paint, it gives parents the opportunity to work on many developmental skills. Using and gripping the brushes promotes the fine-motor-skill development and helps strengthen their hand muscles so they can properly hold a pencil when it is time to start learning to print. Writing out numbers and letters while talking about the colors is a great way to promote academic success. One of the best parts of it all is the pure joy that expressing themselves through art can give. Using art as a creative outlet and an expressive tool is something they can draw upon and use throughout their lives.
We have compiled a list of the best chalk paint sets on the market. This list has many different kinds of sets, refills, and packages that are available. This list offers a great variety of products that will guide parents in selecting a set that their kids will love.
The Best Chalk Paint and Markers For Kids and Toddlers
Mega Bloks RoseArt Sidewalk
Crayola 3-D Jungle Safari
POOF Color Crush Multicolor
Crayola Washable Sidewalk
Blami Erasable Neon 14 Pack
Crayola Washable Neon Sidewalk
Chalkola Fine Tip Pack of 10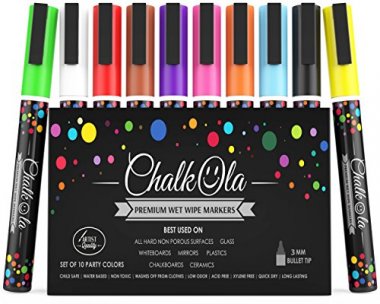 Chalktastic Glass Window Erasable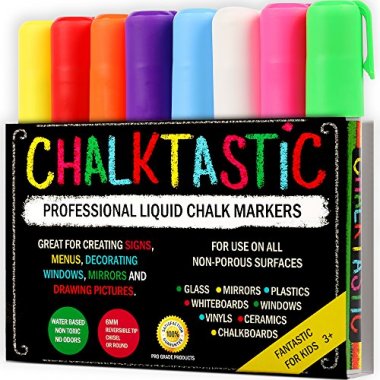 Cedar 12 Pack Reversible Bullet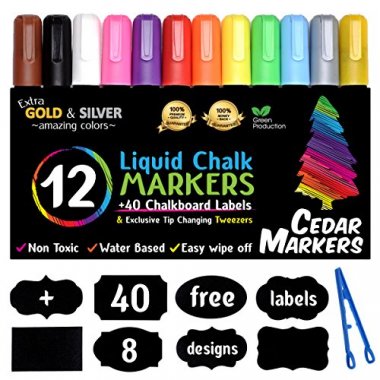 Creatov Erasable Liquid 8 Pack
Criteria Used in Evaluation of the Best Chalk Paint and Markers for Kids and Toddlers
Kids love art and being artistic can be a helpful thing for a child's overall development. When it comes to using chalk paint, a kid can explore this fun beneficial medium to their heart's content. Mainly because it is a type of paint that is designed for use by kids as young as toddler age. It is safe to use and is washable. As for the benefits of using chalk paint, here are the criteria for which we have discovered and wanted to cover through our list of products.
Motor Skills
While painting with chalk, a child will, of course, be working on their hand coordination and dexterity. If a child is doing this art on a vertical surface such as a chalkboard or a window, there are also opportunities to strengthen the muscles in the elbows and shoulders. When working on a surface such as a sidewalk, there is also the engaging of the leg muscles as the child kneels down or sits down on the sidewalk. If a child decides to create using the chalk paint such as hopscotch, even more, motor skills that will be engaged as well.
Cognitive Skills
While using chalk paint, a child will sharpen various avenues of their mind. Of course, a child will explore their creativity and their imaginations as the ideas flow forth. A child will engage their concentration skills as they work on achieving their particular project at hand. They could also go about learning more about problem-solving as they figure out what space they have to work with and trying to bring about the vision in their minds.
Visual Skills
Through the use of bright vibrant color of chalk paint, a child is already sharpening their visual perceptions. A child can also see how the colors come together and how chalk reacts to water to create a vibrant finish. A kid could explore which colors blend well together and they could also learn about which ones will complement each other. Through engaging their eyes in their work, a child will work more on their eye coordination.
Confidence Building
Through the artistic process, a child can feel a sense of accomplishment. When a child looks at what they created in chalk paint as a medium be it on a sidewalk or another surface, they tend to feel a sense of pride, they want to share their work with others. Through this a child could gain more self-worth, more confidence in themselves that they can accomplish other goals, or perhaps one day take their artistry to the next level by becoming a professional artist.
FAQ
Frequently Asked Questions
Q: Can chalk paint be made at home?
A: Yes, in fact, it is as simple as getting some chalk, crushing into a powder using a plastic bag, then placing it in a plastic container and adding water, and finally mixing the two together well. For those who want a more natural way to create chalk paint, it can also be done using baking soda, cornstarch, and food coloring.
Q: Is chalk paint really safe and nontoxic?
A: The products we included on this list are labeled to be nontoxic. It is important, however, when looking for a chalk paint for a child to use to find out if the product is non-toxic and this will usually be found on the packaging. If in doubt and not sure, then it's wise not to chance it, especially with kids who are toddler age. Making your own chalk paint is always an option. However, in doing so when using sticks of chalk, make sure that these too are labeled as being nontoxic.
Q: Can glow-in-the-dark powder be added to chalk-paint mixtures?
A: It would depend on the type of glow-in-the-dark powder and whether it would be compatible with the water that is added to make the chalk paint. Remember, chalk paint is water-soluble and it would be recommended that the glow-in-the-dark powder also be water-soluble. However, there is no real guarantee that the paint will actually glow.
Q: Is painting a sidewalk acceptable in all neighborhoods?
A: There have been issues with Homeowners Associations (HOAs) having an issue with this creative outlet for a child. If your neighborhood has an HOA, it might be advisable to check to ensure this would be acceptable. Some may not have a problem with this while others will not only have a problem with the sidewalk outside your home but even your own driveway if it is painted with chalk paint. If this is the case, there are other avenues, for example, letting a child have a piece of the backyard patio to explore their creative outlet. Another idea is to designate an area of the garage for the child to draw their pictures.
Q: Can sidewalk-style chalk paint also be used on a concrete wall or on a blacktop surface?
A: Yes, certain types of this chalk paint can be used on these surfaces as well. But keep in mind that it may not be too easy to get the chalk paint off once it is applied. So, before painting on one of these surfaces make sure that the desire is to keep the artwork for quite some time.
Q: How long will chalk paint last on a sidewalk with people constantly walking on it?
A: It will depend on a few factors. First of all, how much of the sidewalk paint is applied at the time of application; a thick coat tends to last a bit longer. Second, if the sidewalk has a whole lot of texture to it, chalk paint will last longer since it holds the paint in the crevices.
Q: Can chalk paint be used on a chalkboard or a cardboard box?
A: As shown above on our list, there are some chalk paints that do allow different types of textures which to use the paints on. However, it is important to look for this kind specifically. If a chalk paint says it is used for the sidewalk, odds are it isn't advisable to place this type of chalk paint onto a surface such as a chalkboard.
Q: Can using chalk paint be a fun family activity?
A: Definitely, not only is it advisable for a parent to supervise them as they participate in an art project such as using chalk paint but a parent can also interact with a child as they explore the fun of painting with chalk paint, and perhaps even help a child to create their creations. Chalk painting is also a fun activity for siblings. Just like creating murals and drawing pictures with friends could be a fun activity, siblings could also participate in this activity together as well. The same with playing games created on the sidewalk with chalk paint, another great way for quality time to be spent with the family.