10 Best Piñatas Reviewed & Rated in 2019
last updated
Sep 20, 2019
Pinatas are pretty much a birthday staple these days. Kids love getting to try their hand at opening fun, colorful pinatas to unload a treasure trove of candy and toys. Whether you're interested in a pull-string pinata or a classic pinata, you deserve a range of options to find the style that best fits your family. Below, we've gathered ten of the best pinatas on the market. Stock up on goodies to fill them with and get ready for some fun!
In a Hurry? The test winner after 30 hrs of research
Hello Kitty
Why is it better?
Well made
Pull string option
Cute Hello Kitty Design
Sturdy
Can hold about 2.5 pounds of candy
In a
Hurry? Editors choice:
Test Winner: Hello Kitty
20
Researched Sources
30
Hours Researching
16
Products Evaluated
Design
Entertainment Value
Ease of Use
Price Range
By Default
10 Best Piñatas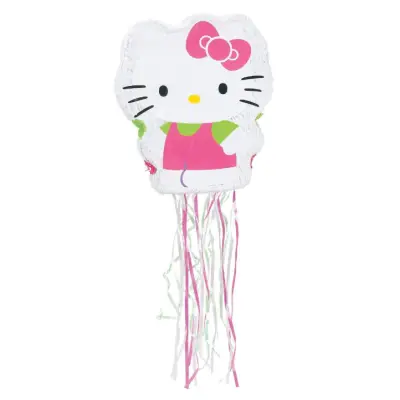 Well made
Pull string option
Cute Hello Kitty Design
Sturdy
Can hold about 2.5 pounds of candy
Poor packaging; some pinatas arrived damaged
Small/thin fill-hole, so it takes a while to put the candy and goodies in
"Hello Kitty, hello dear friend! Your smile is pretty as a flower that's in bloom. Love is in your heart, you feel so happy too, hey!" If this catchy little jingle rings any bells for you, you likely have a Hello Kitty enthusiast in the house.
Read more
Design
Surprise them on their birthday with their favorite Sanrio friend! The Ya Otta Hello Kitty pull-string pinata can be played with one of two ways: hit it like a traditional pinata, or use the strings at the bottom. One string will open the pinata to reveal the candy but all others are just loosely attached strings. This way you can keep the darling Hello Kitty pinata around for a few days after the party!
Entertainment Value
Pinatas are a great social activity for kids. It gets everyone together in a group and working towards the same goal. This Hello Kitty Pinata is the perfect party accessory for any feline fans out there!
Ease of Use
It's nice to have the option of pull strings if you want to opt out of a bat or stick. Plus this pinata is, by all accounts, sturdily made and ready to party with your sweet peas!
Price Range
This pinata is pretty moderately priced and is well made. The Hello Kitty design is cute and executed with detail; you're not getting a weird knock-off cat that looks out of proportion.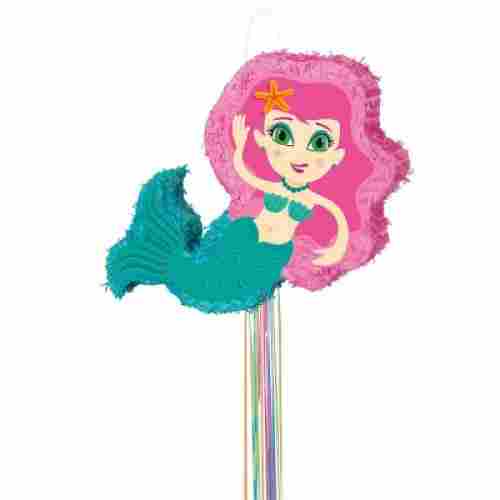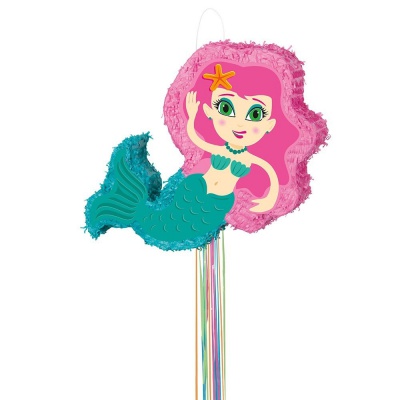 Pull-string allows for easy release
Comes empty so you can choose the filler
Highly detailed and colorful
Large size
Perfect for beach-themed parties
It can be tough to break open with a stick
She looks like an extra from the movie Aquamarine but she's actually filled with candy. This goodie-filled mermaid is sure to bring a splash of fun to any summer-themed party.
Read more
Design
Summer parties really are some of the best, but what happens when you want to bring a little bit of summer indoors during those cold winter months? This mermaid piñata is the perfect way to add a little splash of tropical fun to your child's party. This cute little Mermaid has all the features of a traditional seafaring woman, complete with bright pink hair and a vibrant teal tail. Even her facial expression is highly detailed and she's wearing a look that's almost as if to say, "Surprise! I'm filled with goodies". At least that's what we think, anyway! The unique aspect to this piñata is that you don't actually need to whack it -- There's a pull-string at the bottom that allows kids to release all of the candy in one hard tug. Don't worry, this piñata is definitely not an easy one to pop open... The string is designed to release the goodies hiding inside only when the string is pulled hard enough at the right angle!
Entertainment Value
There are multiple ways to release all the treasures hiding inside which is great for those parents who want to put their own goodies inside. It comes empty and with two options to expose the filler inside, you'll have free reign over what's hiding inside for your little ones.
Ease of Use
This fanciful mermaid is a ton of fun and super versatile for indoor and outdoor parties as well as good throughout any time of year. It's also incredibly age-friendly since the pull-string allows for little kid participation without dealing with a bunch of kids swinging sticks and potentially injuring each other.
Price Range
This mermaid pinata is averagely priced as it is under twenty dollars. The cute design and the included accessories make this a great deal.
Vibrantly colored
A popular theme for young kids
Can hold two pounds of candy
Larger than most products
Comes with a loop for easy hanging
It could be stronger in order to hold the maximum amount of candy
Did someone call the fire department? Because we think this decoration is on fire! It's sure to be a hit at any party, especially if you have fans of fire safety there. Firefighters are tres, tres cool.
Read more
Design
Whoa, talk about holding a fire truck's worth of candy! This brazen truck can hold up to two pounds which is much more than most parents need for one party, but it sure does allow for options. This is the ultimate in parties for little boys or even for girls who love playing with cars. The truck is incredibly detailed for being a decorative candy-holder and even features characters and a tiny dog, characteristic of old-school fire trucks. This bright red would catch any child's attention and we wouldn't be surprised if they simply won't be able to wait to tear into this vibrant rescue engine. The truck can be hung with a loop string that's found on the top and can be placed indoors or outdoors. It's the perfect addition to any party since it can hold any variety of candy you choose, included themed candies for parties and celebrations. You could even store tiny prizes in here since the weight limit is so allowing of heavier items!
Entertainment Value
This piñata is huge which means you can fit just about anything inside of it. That also means that it will be put to good use at larger parties and won't look small and inconsequential at rented halls or in large gathering rooms or spaces.
Ease of Use
The theme of firefighters is something that many kids fall in love with at a young age. It's neutral but also something that's fun, colorful, and easy enough to plan a party around. It also goes hand in hand with some popular children's television shows as well.
Price Range
Priced over twenty dollars, this pinata is priced above average. However, its large size allows you to fill it with up to two pounds of candy and small toys. Its high-quality design will elevate your child's firefighter party.
Affordable
Adorable kid-friendly design
Easy to carry and hang
Adding the candy is a stress-free process
This Bumble Bee pinata will be all the buzz at your child's next event.
Read more
Design
This kid-friendly pinata is designed in the shape of a giant bumblebee. With legs, antennae, wings, and a stinger it is made to closely resemble a real bee. The jumbo eyes make this an adorable party decoration.
Entertainment Value
Children of all ages will have a blast swinging at the bee. With it having a cartoon-like design, kids will even love playing with it.
Ease of Use
Designed with a handle, you can easily carry this pinata as well as hang it up. Filling it with candy is a stress-free process as the hole is easy to open and close.
Price Range
This pinata is priced below average is one of the most affordable on our list.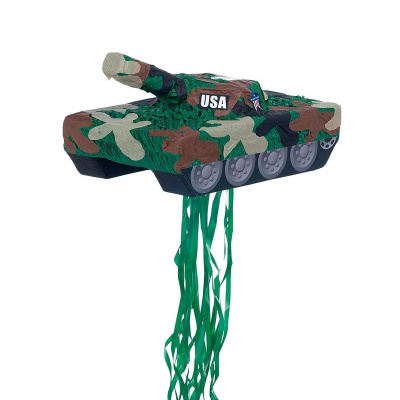 Durable
Fun tank design
Pull-string option
Can hold a moderate amount of candy and toys
Small fill hole, hard to find
Pull-strings don't always work
Roll out with this awesome Ya Otta Tank pinata! If you've got a little one that's all about the tank and army action these days, throw a themed party they'll love. This tank pinata is perfect for GI Joe parties, or even Toy Story ones (think of the little green army men).
Read more
Design
It measures about sixteen inches wide, six and a half inches high, and nine inches deep. It's a pull string pinata so you can opt out of a bat or stick if you feel that the traditional pinata customs might be a little too dangerous for a rowdy or really young group.
Entertainment Value
Pinatas can help to develop hand-eye coordination. Pull string pinatas are more about luck than athleticism or aim but they're also more age-inclusive. Toddlers might have a hard time swinging something heavy enough to break that pinata open but even tiny tots can manage a pull string.
Ease of Use
It's a cute, simple little tank. And if you have a child that is easily attached to their toys, you can keep the tank around for them to play with after the party as long as you're not smashing it to pieces.
Price Range
The Ya Otta pinatas are pretty well priced. They are a little small and they take a little longer to fill (unless you cut a bigger hole), but they're well made and will hold up under some rough play.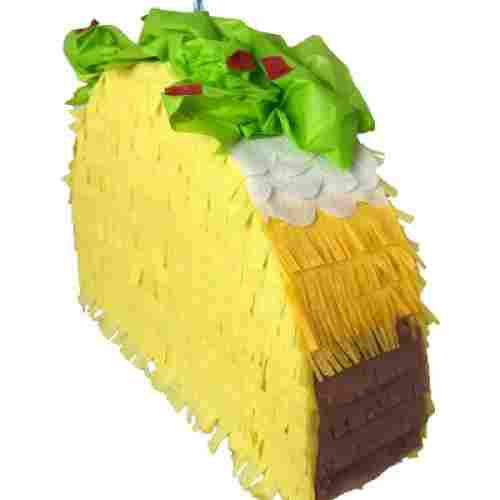 Twice the filling capacity
Easy to use
Poly twine will keep the taco in place
Made in the USA
Some reviewers feel it was too durable and hard to break open
Designed with plenty of space on the inside, this taco pinata is perfect for a variety of kid-friendly events.
Read more
Design
Handmade in the USA, this pinata comes in the shape of a giant hardshell taco. In fact, it is even designed to look as though it is filled with meat, cheese, sour cream, and lettuce. Equipped with poly-twine you will easily be able to hang it from just about anything. The durable twine material will keep the taco in place while children hit it.
Entertainment Value
Measuring in at 17.5" by 11.5" by 4.5", this pinata is larger than most. With it being bigger you can fill it with prizes, toys, and candy. Not only will children have a blast hitting it but they will have even more fun discovering what comes out of it. The high-quality materials used will allow children to take several hits before it starts to break.
Ease of Use
In order to fill the pinata with candy, simply find the attached ribbon. After finding the ribbon you will be able to pull open the hole and fill it with candy. The hole pops back into place when you're done filling it to keep the candy secured inside.
Price Range
This pinata is priced above average and one of the most expensive on our list. However, it has twice the filling capacity than most, is easy to use, and is created by a small family business.
7

. Dragon Aztec Imports Inc.
Super vibrant
Adorned with dragon-themed details
Holds up to two pounds of candy
Good for large groups
Doesn't break too easily
The green option looks more like a dinosaur
As far as the mythical and medieval go, dragons are definitely the top contender when it comes to driving home the theme. However, they are also represented in the Chinese culture as well, making this poppable party bag totally versatile.
Read more
Design
Ready to spice things up a bit? Dragons traditionally have roots in Chinese culture but this one finds its place with Aztec Imports Inc. as a fiery little dragon. In fact, the company claims you can "set the party on fire" with this dragon. While that's not something you want to do in a literal sense, it will definitely bring a sense of wonder and amusement to your child's party. When your little one walks in with their friends, their eyes will immediately widen at the sight of this crazy themed piñata, complete with tiny horns, large glaring eyes, and vibrant colors. You can choose either red or green and it's up to you to fill it with your child's favorite candies. It's a large dragon and can hold up to two pounds of candy, making it ideal for big parties.
Entertainment Value
This crazy cascading dragon holds all the magic and wonders that kids look for in that one party surprise. It'll be a crowd pleaser as well as a statement piece for any birthday party or holiday celebration.
Ease of Use
The vibrantly colored tissue paper that adorns this dragon is what makes it stand out in the center of a room. It can be used indoors or outside for a grand celebration and will have no problem taking center stage.
Price Range
This adorable dragon is available from a variety of different sellers. Depending on which seller you choose, this pinata can be either really affordable or expensive. With high shipping costs for every option, this pinata falls into the priced above average category.
8

. Blue Panda Unicorn 3 Pack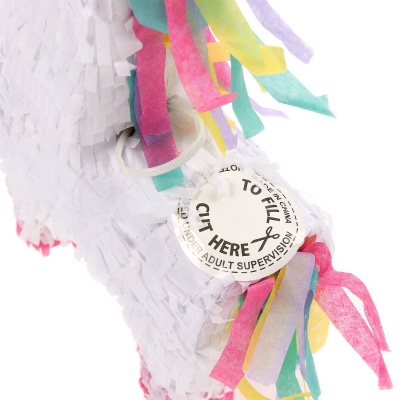 Three pinatas per pack
Cute unicorn design
Durable
Traditional pinata (no pull-strings)
Small
A little tougher to break open
These mini unicorns are full of magic! Constructed with white tissue paper, these authentic mini pinatas are a fun little event for any celebration. At 5.25" by 8.7", these little guys are extra cute and won't take up a whole ton of space while you wait to be able to hang them.
Read more
Design
They're strong so everyone can take a whack at them; they won't break open super easily and leave party-goers with a turn. Shaped like little unicorns, these are sure to add some spark and pizzazz to your special day.
Entertainment Value
These traditional pinatas help promote hand-eye coordination and motor skills all while being tons of fun! Children will learn to take turns, be patient, and enjoy their spoils for good behavior and teamwork.
Ease of Use
They're so little! That might not. Be ideal for every party, but it does give you the opportunity to set up multiple areas and have three rounds going at once, or cycle through pinatas in the same area until all party goers have a shot.
Price Range
These little guys are a great value. They're smaller, but you're getting three for the price of one, and they aren't cheaply made; they'll hold up while taking a beating.
9

. Reusable Party Goodie Gusher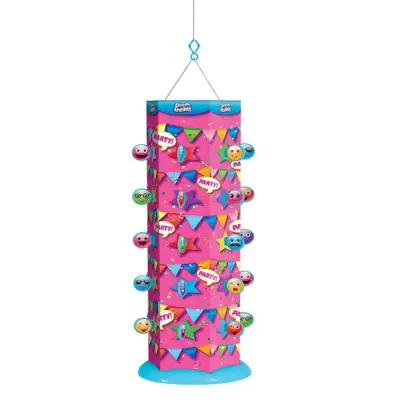 Reusable for multiple parties
Eco-friendly
No need for a bat or stick
Friendly for younger kids
Eye-catching
The cardboard can tear easily if kids pull on the tabs too hard
We'll bet you didn't know that you could be so eco-friendly when it comes to party favors, but it's true. This Goodie Gusher will continue gushing goodies until it completely falls apart, which isn't likely to happen anytime soon.
Read more
Design
The beautiful thing about modernizing traditional party games and favors is that they get much-needed updates that can help in a plethora of ways. Believe it or not, this is a reusable piñata that can be strung up for multiple parties and still be used just like it was the first day you opened it. This cute little pink cylinder works in a slightly different way than most piñatas, so let us explain. For starters, there's no need for a bat or stick in order to break it open. Rather, kids will take turns pulling the little tabs found throughout its exterior in the hopes of being the one to make it rain candy. It's playfully adorned with emojis which are relevant to the current generation and make it super trendy. It's perfect for all ages but works very well for younger kids who might not be old enough to swing a bat in the hopes of hitting their piñata.
Entertainment Value
This is a nearly accident-free way of enjoying all the traditional fun that comes with swinging a bat and releasing a wave of yummy candy. It's a safe and effective way to incorporate this fun tradition into your child's party without worrying about coordination and timing.
Ease of Use
The fact that this product is reusable is one of our favorite things. Not only is it eco-friendly, but it's a great way to continuously throw parties while having a great element of fun and something kids will surely love.
Price Range
This uniquely designed pinata is just a little bit more expensive than most of the others on our list. However, with its ability to be reused over and over again, this ends up being one of the most affordable options on the list. Not to mention it is safer as it eliminates the process of swinging a bat and it can hold up to five pounds of candy.
10

. Vampire Coffin Unique Industries
Great for Halloween
Stickless fun makes for a safer game
Can be filled with two pounds of candy
Features up to eight strings that can release candy
Spooky without being too scary
It can be challenging to fill
Stumped as far as how to provide entertainment for a Halloween party? Don't worry, we've got you covered! With candy and a bit of spook, that is. Muhahaha!
Read more
Design
There is absolutely no reason as to why candy can't come from a piñata rather than a bowl on Halloween! This vampire is super cool and just awesome enough to be deserving of your next Halloween party. It can be used any time of year for any type of horror-themed party and can be filled with up to two pounds of delicious candy. The product itself is shipped flat to save on space but is easily set up by pulling the colored strings on either side. The front of this coffin features a creepy-looking vampire that's been painted in stunning detail for something your kids will smash to bits, but wait -- They won't need to with this one! What do we mean by that? You'll notice a string coming from the bottom of the coffin. By pulling this string in just enough in just the right way, your child will be seconds away from a candy waterfall, no sticks necessary. Kids are going to have a blast taking turns pulling the string that's guarded by this eerie-looking vamp.
Entertainment Value
A stickless piñata is a safe one and we love that pulling a string is all it takes to send candy flying. It's thoughtful and inventive and definitely creates a safer environment for younger kids.
Ease of Use
We love that this vampire has been adapted to fit a specific theme and possibly even a specific holiday. It just goes to show that piñatas really can be found for any party and any celebration.
Price Range
This vampire coffin is highly affordable as it is available at a below-average price. Furthermore, this pinata can be reused for every Halloween or vampire-themed party.
Criteria Used for Evaluation
Entertainment Value
Most obviously, it's a fun game to play complete with great party favors that kids will be walking away with after playing it. However, piñatas are so much more than that. They're a means for social interaction and for getting kids involved because there's no particular skill needed in order to be the one to cover the room in candy. All you need is a good sense of direction and a lucky shot in order to be the "winner". That's the other wonderful thing about this game -- There really is no "winner", per se. Once the box is broken open and candy has spilled out, it's fair game for any around to jump in the middle and grab what they can. This is a game meant for celebration, not for competition, and that's part of why we love it so much. It will encourage kids to work together in order to achieve their goal which is, of course, getting all the candy possible!
Ease of Use
In order to determine what was "high quality" for products such as these, we needed to ensure that each piñata would last and wouldn't just explode on one hit. While there are products on here that are a bit easier to break into than others -- and have been listed as such in each summary -- there are plenty on here that provide quite a bit of a challenge. Overall, each of these items has been deemed worthy of a party and suitable for several rounds of smashing.
Design
You wouldn't be interested in something that doesn't look pretty, right? Right! That's why all of these options, whether colorful, traditional, or themed, have been evaluated based on their appearance as well. Each one came in a delightful design that we thought would be appropriate for any age, at any type of celebration.
Most Important Criteria
(According to our experts opinion)
Experts Opinion
Editors Opinion
Users Opinion
By Default

Parents, Did you Know?
The pinata is a fun activity for both children and adults. Precaution measures to be taken before using a pinata are ensuring that guests stand in a space far away from the pinata to avoid bystanders getting hurt by the one trying to break it.
Parents, Did you Know?
Pinatas are a historical symbol in Mexico. Pinatas are found to decorate children's birthday parties primarily in Mexico, but also in the United States. They are usually filled up with candy or toys and even fruit during the Christmas season.
Frequently Asked Questions
q:

What is the safest way to hang the piñata?

a:

Our suggestion would be to hang it from the sturdiest tree branch you can find or in a wide doorway. Most of the smashing should take place outdoors or in a larger space in order to prevent damage or injury to others. With a long enough line (such as cable or fishing line), it can be hung in the middle as well, if the cord is attached at either end to a point in the room.
q:

Where can I find tiny prizes to act as a filler?

a:

You can easily find filler products at places like the dollar store or a department store, but Amazon also has plenty of fun goodies if you search for "party favors".
q:

Is this safe for all ages?

a:

Yes! This is definitely a game that is age-friendly. Our suggestion would be to go with a product that features a stickless option in order to ensure that everyone can play and that there's no risk of injury.
q:

Would these be suitable for older kids as well, for example at a graduation party?

a:

Any of these would make a perfectly fun addition to any type of party. These products are timeless and ageless and are appreciated by everyone. Depending on what your filler is, they can appeal to a wide variety of age groups.
q:

Is it reusable?

a:

There is only one product on our list that's reusable, and it's produced by Goodie Gusher. This can be reused as long as it holds up and doesn't take on too much wear and tear and it's also stick-free for risk-free fun.
q:

How far should kids stand when someone is taking a turn?

a:

This is a great and important question. In order to maintain a safe distance, we'd recommend positioning kids in a circle at least four to five feet from the person who is taking a swing. It's suggested that you steer them in the right direction before giving them the okay, but every child should be alert and aware so that they can move, should the swinging become too far off-course.