Throw The Perfect Kid-Friendly Halloween Party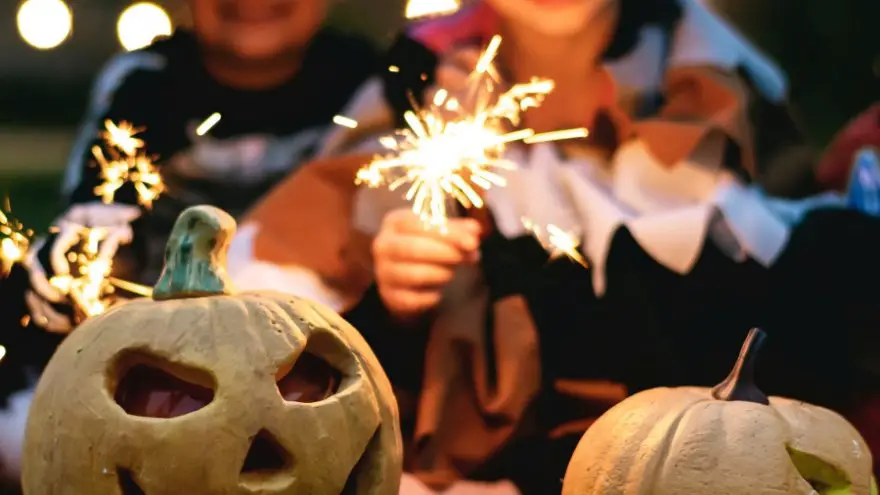 Halloween is right around the corner and you've probably started filling your calendar with seasonal, family-friendly activities. What better way to get your children into this season's spooky mood than throw a kid-friendly Halloween bash that everyone will love!
With all of the pins and ideas floating around the internet, there are so many ideas to choose from. We've rounded up a full list of our favorite Halloween games, recipes, decorations, and costumes – with just the right amount of spook. Kids and parents are bound to have a seriously witchin' time.
Invites
Show parents you're hosting a kid-friendly soiree right off the bat. Ditch the scary stuff, and enlist your kids in helping create adorable (and cheap!) rubber stamped invites. For an even easier and paperless option, create an e-vite!
Decorations
Now for the best part! Decorating. Instead of scary, think enchanting and mysterious! Gauzy spider webs, black spiders, pumpkins and cute fruit treats make for a fun, kiddo friendly setting.
Dry Ice
Place a block of dry ice in a shallow bowl of water in the center of a hollowed pumpkin to create a billowing foggy centerpiece. Just make sure to keep it up and out of reach of little hands!
Cheese Cloth
This super cheap fabric is an eerie alternative to that stick-to-everything spiderweb stuff. Make spooky spider webs by draping the cheesecloth around entryways, the snack table and above your mantle. You can even use it as a table runner! Buy it by the roll at your local craft store. Cut, snip and rub the cheesecloth between your hands to fray the edges. Glue black plastic spiders throughout your webs.
Games/Activities
Pumpkin Painting
Have your little guests create their perfect pumpkins without the mess of carving! Set up a craft table with washable paints, googly eyes, and stickers. Place the finished products up and out of reach to dry while the party continues!
Donut Eating Race
Tie a length of rope between two trees if you're outside, or on either side of a doorway if you're inside. String one doughnut per player onto a piece of ribbon. Then with the kids standing under the rope, tie each ribbon to the rope so the treats hang slightly higher than mouth level. ONE, TWO, THREE…go! The first player to finish their doughnut wins! No need to give prizes, they just ate them!
Ghost Toss
This might be the simplest game that ever existed! Just blow up a white balloon, draw on a ghostly face with a black permanent marker. You can either give each child their own balloon or break into teams to see who can keep their ghosts floating the longest!
Pumpkin Patch Stomp
Here's a pinata alternative that's sure to hold even the smallest of attention spans. You'll need orange balloons and green construction paper for the "leaves".  Before you blow up your "pumpkins", a stick wrapped candies or slips of paper with prizes written on them inside for the kids to discover once they pop! Play a fun Halloween song and let them stomp and pop away!
Tricky Treats
These wholesome make-ahead options for your party table spread will balance out all the candy and sweets your little ghoul will likely be filling their bellies with this season.
No Zombie Zone
Although the older kids might be into the gore factor, younger ones could get too frightened. Play it safe by staying away from the guts and brains. Instead, stick to the classics: silly witches, ghosts, and pumpkins.
Banana Ghosts
A halved and peeled banana with mini chocolate chips for eyes and a regular chocolate chip for its mouth makes for a sweet and easy treat.
Clementine Pumpkins
These are SO cute on a platter next to your banana ghosts! You can pre-peel these and stick a small piece of chopped celery in the top, or leave the peel on and draw a jack o lantern's smile on with a non-toxic black marker. Peel on, these make adorable take away treats!
Ghoulish Apple Grins
For this easy treat, you'll need red apples, creamy peanut butter, and mini marshmallows. Cut the apples into wedges and slather the peanut butter in between the halves so the red skins face outward. Place your mini marshmallows in the peanut butter to create your "teeth"!
PB&J Spiders
A spooky twist on a classic treat. Make your PB&J how you would normally and then use a spider-shaped cookie cutter to cut away the crusts. For a savory option – use turkey and cheese. Pile them high on a platter for little hands to help themselves.
Witches Brew Stew
Fire up the cauldron! Make a mild chili or chicken noodle soup ahead of time in a crock pot. When it's party time, just place the pot on the table and it will stay warm throughout the bash! Serve with cornbread or sourdough bread, easy peasy!
Mummy Juice Boxes
These adorable mummified treats are so worth the time to create. All of the supplies can be found at your local dollar store! You'll need Juice boxes, a roll of first aid gauze, a hot glue gun and googly eyes. Glue one end of the gauze to the juice box and wrap it up like a mummy. Finish with two googly eyes and you're done! Water bottles can also be used for a sugarless option.
DIY Photo Booth
Drape a black tablecloth in a corner of your house and deck it out with pumpkins and some of the Cheesecloth spider webs you made earlier. Stock a mini polaroid camera with film and encourage the kids to take photos of each other. They can take their shots home and you'll love seeing their point of view. Try to limit them to two photos each to save the film for everyone.
Music
The jams are so important in setting the scene for a not-so-scary good time. Create a kid-friendly playlist ahead of time. "Halloween Monster Jams" and "Stranger Things" soundtracks on Spotify are some of our favorites!
Your Costume
You've probably used up all of your creative energy on the kid's costumes (and this party) so keep it simple, mama! Top an all-black outfit off with a witch hat and you've got a quick, streamlined look!
Remember, have fun and don't stress!
Most Read