Sleeping bags are one of the most important gears for any hiker, camper, or any individual who simply wants to spend the night, or perhaps even day, closer with nature in the great outdoors. It's what protects the body from the cold surface of the earth regardless of whether one sleeps in a tent with thick canvas flooring or not. It's also what keeps some of the bugs and flying critters out. For kids, they don't necessarily have to be outdoors to need sleeping bags as these can serve as excellent tools during weekend sleepover parties as well as some backyard camping with their friends. For the most part, these tube-like coverings provide excellent insulation for the young fragile bodies of children. And that's why it's important to choose wisely when it comes to such an accessory as it can mean a lot to your kid's safety and overall health. Don't worry though, because we're bringing to you the 10 best sleeping bags for kids in 2017 that have been carefully selected for optimum insulation.
Our Picks Of The Top Sleeping Bags For Kids:
Wenzel Moose Boys 40-Degree Sleeping Bag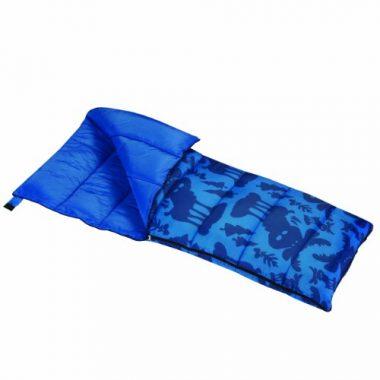 Size: 26 inches by 66 inches
Disney Minnie Mouse Slumber Bag Set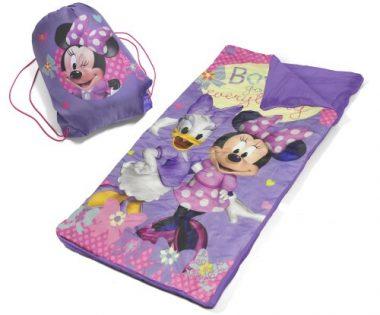 Size: 30 inches by 52 inches
Coleman Coleman Kids 50 Degree Sleeping Bag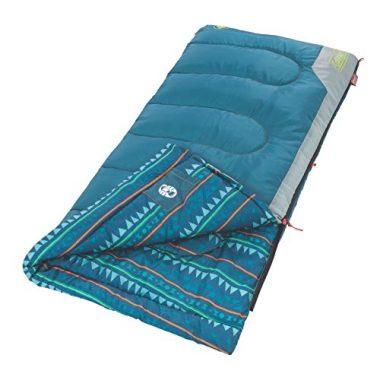 Size: 26 inches by 60 inches
Coleman Illumi-Bug 45 Degree Youth Sleeping Bag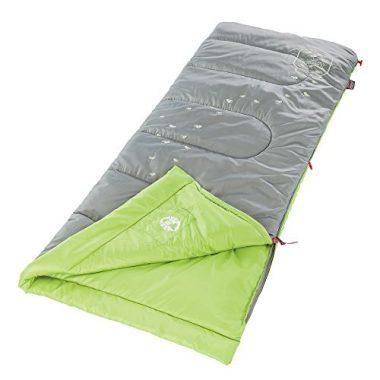 Size: 26 inches by 66 inches
TETON Sports Celsius Junior Sleeping Bag
Size: 26 inches by 66 inches
Melissa & Doug Sunny Patch Mollie Ladybug Sleeping Bag/Matching Storage Bag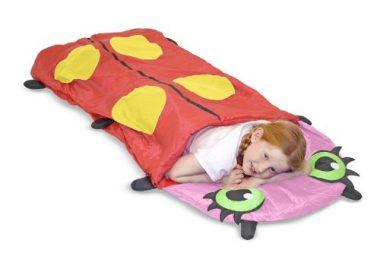 Size: 25 inches by 58 inches
Wenzel Backyard Sleeping Bag
Size: 26 inches by 66 inches
Disney Cars 2 Slumber Bag Set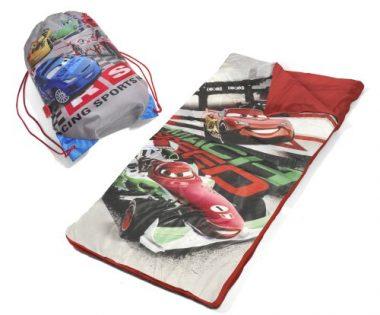 Size: 30 inches by 52 inches
Kelty Big Dipper 30 Degree Kids Sleeping Bag
Size: 27 inches by 68 inches
Olive Kids Trains, Planes & Trucks Original Sleeping Bag
Size: 30 inches by 66 inches
Criteria Used in Evaluation of the Best Sleeping Bags for Kids
Temperature Rating
One of the key features of any sleeping bag is the level of warmth it provides. This information is shared using a temperature rating. Those with a lower rating are designed for use in temperatures as low as that number. Since we know that some kids use their bags indoors only, we included those with a variety of warmth levels.
Kid Friendly Design
These bags aren't just tiny versions of their adult counterparts, they are meant to be fun! We know that your kids enthusiasm for an item relies on that first impression so we chose bags that will wow them. From recognizable characters to attractive colors, each bag on the list was chosen to bring a smile to your kid's face.
Ease of Use
We know that children love to do things on their own. We also know that sleeping bags, especially when rolling, can be frustrating. One of the ways we tried to limit that is to include bags that are easy for kids. For some bags that comes in the simplicity of the design and others it is the features. When selecting one for your child consider how they will be using it so that the end result is a pleasant experience.
Allergy Friendly
Getting a new sleeping bag only to discover that using it causes your kid's allergies to act up is a frustrating experience. We know that it's also frustrating to spend time searching for the fill materials on each bag only to discover it's not going to work. With that in mind we chose only bags made with allergy friendly materials for this list. You can browse it confident that there are no down options here.
What Determined the Best Sleeping Bags for Kids in Our List
Picking from the hundreds of choices for the plum of 10 really amazing kiddie insulated coveralls was tough since the parameters we had to work with were rather limited. We did, nonetheless, focus on the primary function of these gears: to provide optimum insulation especially if these products are used outdoors. We do understand that if the product is primarily intended for indoor use such as slumber parties, then insulation usually takes a backseat in favor of lightweight qualities. Nevertheless, the quality of the insulating material is a very important criterion for choosing the best products in this category. Additionally, it would be quite foolhardy to evaluate the quality of a tube's insulation if we're not going to look at the level of comfort it provides to kids. If the insulation is too thick, then kids will not be comfortable, too. If the insulation is too light, then kids might be unnecessarily exposed to cold. That wouldn't be good either. Moreover, the material used in the design and manufacture of the item was also evaluated for the kind of comfort that it brings. Some fabric materials are better at providing warmth while others are exceptional when it comes to smoothness and softness. We evaluated these, too.
We then looked at the integrity of the sleeping bag. These have seams where panels join together. These seams must have strong, durable stitching so they won't burst and create a gap in the insulating mechanism of the product. We also looked at the design of these products. We're talking about kids here so we thought it important that the product must have fun qualities that kids can appreciate. This can help provide for a more enjoyable use of the sleeping bag. Rounding up our selection process was the customer satisfaction score of each shortlisted product. Any product with an average of 4.2 stars or better were automatically included in the list. In cases where there was a tie, we looked at the percentage of customers giving the product 5 stars as well as the general theme of both their positive and negative comments.
Should You Go Synthetic or Down?
The fills put inside sleeping bags are crucial for ensuring the optimum level of insulation for any sleeper tube. In many cases you will have to decide between synthetic poly and natural down. To help you decide, here are the pros and cons of synthetic and down filling materials for sleeping bags.
Down pros – Since these are mostly feathers from ducks and other suitable livestock, some of the major advantages of using down sleeping bags include their lightweight properties, ease of compressibility, superb heat retention, longer lifespan if cared for properly, the ability to pack small, and wider range of comfort temperature.
Down cons – Unfortunately, such advantages can also have its negative consequences. Because the materials are sourced from animals, they are naturally more expensive. These are also quite difficult to dry once wet. And when they do get wet, they lose their thermal insulation capabilities. While they may be durable, they do require extra special cleaning and caring.
Synthetic pros – Made of polyester materials and other manmade fibers, synthetic sleeping bags are well known for their superb heat or thermal insulation capabilities regardless of the state of moisture of the fabric. This makes it super easy to clean as it actually dries a lot quicker than down fills. And because it is manmade, it is reasonably cheaper than its natural counterpart.
Synthetic cons – These types of sleeping bags often have shorter lifespan, however. They are also heavier and bulkier. Compared to down materials, their heat retention capabilities are not really that great.
The Bottom Line
Sleeping bags are designed primarily to keep the body warm and toasty. Or, as for kids, it can be a great way to have a splendid sleepover or slumber party as everyone can get comfy in their respective slumber bags. Get any one of the 10 best sleeping bags for kids in 2017 today and watch your child sleep comfortably and with a warm smile painted on his or her face. For a full outdoor adventure, also make sure you check out our list of top water bottles for kids. 
You May Also Like
FAQ
Frequently Asked Questions
Q: Can these sleeping bags be machine washed/dried?
A: Yes. Every bag on this list can be machine washed/dried. Be sure to pay close attention to the cleaning instructions of each individual bag when doing so.
Q: Would these be too warm to use indoors?
A: That depends. Some of the bags in this list are designed to be very warm. If you know you'll be using the bag mostly indoors, select one with a higher temperature rating.
Q: Do the sleeping bags come with a storage bag?
A: Yes. Every one of the bags in this list comes with a storage bag.
Q: Is the interior of these bags comfortable?
A: Since comfort is a personal standard, we know that there's no easy way to gauge it. We recommend you pay extra attention to the interior material listed on each bag when purchasing.
Q: Are these safe for use by kids with allergies?
A: Yes. All the bags on this list are filled with synthetic material. This makes them safe for those kids who are allergic to down.
Q: Can my child roll these bags independently?
A: That depends on your child's age. For younger kids you may need to demonstrate it once before they can do it independently. If independent use is a priority, look for the bags in this list with fabric loops that hold bags closed while storing.