10 Best Baby Sleep Sacks & Wearable Blankets Reviewed in 2019
last updated
May 28, 2019
Wearable blankets are one such example of products designed specifically for baby's (and your!) benefit. Wearable blankets, also known as sleep sacks, ensure that baby won't kick their blankets off in the middle of the night and wake up cold, nor will they wind up tangled in the excess fabric when they wiggle around to get comfy. There are varying thicknesses of material, so you can choose the blanket best-suited for your usual environment and temperature. They're easy to put on, they stay on, and they help everyone in the house catch some much needed zzz's. Manufacturers have constructed some amazing sleep sacks and wearable blankets that have customers raving about their outstanding designs and comfort. We feature the best-rated and the most-reviewed of these in this informative buying guide. Here are our top 10 picks to give you and baby some truly sweet dreams!
In a Hurry? The test winner after 44 hrs of research
HALO Micro-Fleece
Why is it better?
Lack of sleeves prevents overheating
Does not restrict leg movement
Allows easy diaper changes
Reminds parents to place baby on their back
In a
Hurry? Editors choice:
Test Winner: HALO Micro-Fleece
21
Researched Sources
44
Hours Researching
19
Products Evaluated
Comfort
Durability
Ease of Use
Style
By Default
In Depth Review Top 10
HALO Micro-Fleece
Love to Dream Original
HALO Winter Weight
HALO Plush Dot Velboa
Burt's Bees Baby Beekeeper
Winter Weight
Disney Dumbo Grey
Baby Deedee Sleep Nest
oenbopo Colorful Wrap
Carters Unisex Blue Paws
Table of contents
Criteria Used for Evaluation
Other Factors to Consider
Frequently Asked Questions
Sources
10 Best Baby Sleep Sacks & Wearable Blankets Reviewed
Lack of sleeves prevents overheating
Does not restrict leg movement
Allows easy diaper changes
Reminds parents to place baby on their back
Nights just got a little cozier with the Halo Sleep Sack. It is sleeveless and made out of 100% polyester microfleece, so your baby will stay warm but will not overheat.
Read more
The sleep sack comes in small, medium, large, or extra-large. The small appropriately fits babies who are 10 to 18lbs or up to 6 months old. The medium fits babies who are 16 to 24 lbs. The large will fit babies who are 22 to 28lbs and the extra-large will fit babies that are 26 to 36 lbs. Halo is the number one trusted choice of hospitals. You'll be able to sleep soundly knowing your child is resting safely. The embroidery on the front of the sleep sack serves as a good reminder to parents to put the baby on their back.
Comfort
This marvelous sleep sack allows your baby's hip to develop appropriately as it provides plenty of room inside for your child to move their legs. You do not want to constrict any movement at this critical age.
Durability
The microfleece of polyester material is soft yet durable to last until your child outgrows the size. it is simple to care for by being machine-washable and can be air-dried for the best care.
Ease of use
For easy diaper changes, you can unzip the sleep sack from the bottom. Not only will this blanket keep your baby warm and cozy, but it also ensures proper development by not restricting leg movement.
Style
This sleep sack comes in 36 different colors all with "Back Is Best" sewn in the top right corner. This design reminds parents to lay their baby on their back to prevent the common causes of suffocation.
2

. Love to Dream Original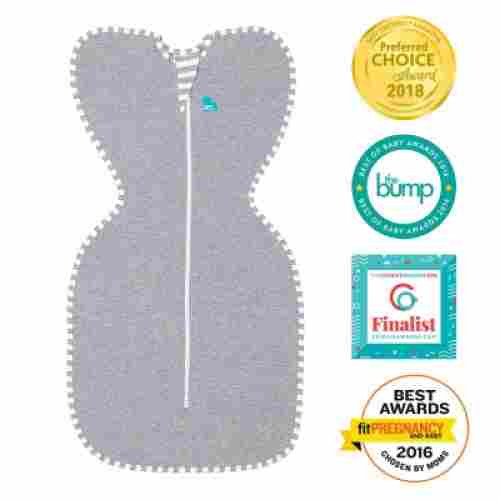 Allows baby to sleep with their arms up
Dual zippers
Available in different colors
No loose fabric
The Love to Dream Sleep Sack allows babies to sleep in their natural position. When you wrap your baby into a blanket, it restricts their arm movement.
Read more
When purchasing you can choose from 5 different colors and 3 different sizes. Extra small for babies who are 4.5 - 7 pounds, small for babies who are 6.5 to 13 pounds, or medium for babies who are 13 pounds to 18.5 pounds. Allowing your baby to sleep with their arms up, gives them the opportunity to self-soothe when they wake up in the middle of the night. They will self-soothe by touching their face and sucking on their hands. With their arms up, babies are less likely to roll over. The dual zippers make diaper changes in the middle of the night super easy as it allows you to change their diaper without removing them from the sleep sack.
Comfort
Your baby will sleep more peacefully as this sleep sack provides gentle pressure on their body. The unique design of this sleep sack is its most notable feature as it allows babies to sleep with their arms up.
Durability
Sleep sacks are long-lasting and usually outlast the infant stage that they are used. kids will outgrow these lovely sacks that are perfect for sleeping and lounging to keep the infant body warm and cozy.
Ease of use
The Dual zippers allow you to change their diaper without fully taking them out of the sack. This saves parents time and effort when making changes to the sleeping arrangements for babies.
Style
This excellent sleep sack allows babies to sleep with their arms up. It is made of 93% cotton and 7 % elastane. The lack of loose fabric reduces the chance of your baby suffocating.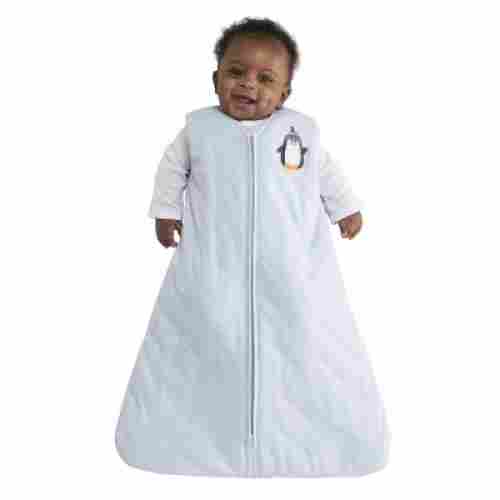 Warm, quilted material
Sleeveless to prevent overheating
#1 choice of many hospital nurses
Some proceeds go to safety of sleeping systems
Inverted zipper for diaper changes
Neck hole adjustments might be needed for smaller infants
Bundle up; "cause baby, it's cold, outside!" But with Halo's Winter Weight Sleep Sack (TOG rating 2.5), your little one is guaranteed a cozy night's sleep.
Read more
The Hip Dysplasia Institute recognizes Halo's design as "hip healthy", as it allows growing legs proper room to develop. Between the small and medium fits, Halo has babies from 10 to 24 pounds covered, quite literally. The founders of Halo lost their child to SIDS and have made it a central part of their mission to help prevent others from having to experience the same tragedy. A portion of every purchase goes towards partnerships with nonprofits that help educate parents about the safest sleep practices for their babies.
Comfort
Simply slip your baby into regular sleepwear, bundle them up in the sleep sack, and rock them to sleep. the immediate comfort is just that simple and quick to relax both you and your child.
Durability
With a 100% cotton outer and soft polyester fill, it's no wonder Halo's quality products are the #1 choice of 1,250 hospital nurseries across the nation. It is quality at its best for babies.
Ease of use
This fabulous product, designed for warmth, ease, and comfort, features an inverted zipper for diaper changing convenience, and a long, roomy cut with plenty of area at the bottom for wiggly little legs.
Style
It keeps baby warm, but prevents overheating, part of the money from your sale goes towards nonprofits, and the waving penguin in a beanie stitched onto the front is just plain adorable.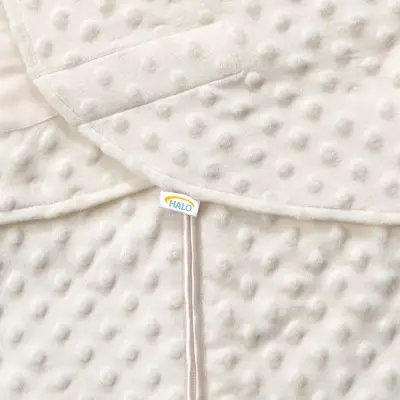 Adjustable Fasteners
Inverted Zippers
Allows three sleeping positions
Super soft
May begin to pill after a few washes
Halo is back with another high-quality product. The Halo Velboa Sleep Sack is 100% polyester.
Read more
You can tuck baby's arms in, allow them to sleep hands to face or allow one or both arms to be out. The adjustable fasteners securely keep your baby tucked in. The sack is roomy, thus encouraging proper hip development. Equipped with an inverted zipper this sleep sack guarantees easy diaper changes. The fabric is super soft allowing your baby to extra comfortable. The adjustable fasteners that provide three different ways for your child to sleep make this sack practical. It is sleeveless which will keep your baby from overheating.
Comfort
The roomy and soft fabric will comfort your infant into a relaxed state for their naps and nighttime slumber. The correct temperature will be obtained for good body warmth, as the arms are free in this sleeveless model.
Durability
Polyester is one of the best fabrics to use for warmth on infants besides cotton materials. This fantastic sleep sack is 100% polyester for ideal body heat retention that the baby cannot do for itself yet.
Ease of use
The sleep sack can be adjusted three different ways to ensure your baby is sleeping comfortably. Parents will appreciate the different configurations they can obtain with this highly-versatile garment.
Style
It is available in three different colors and has the signature "back is best" slogan sewn on. The textured polka dots on the outside add an adorable touch to the look of the product.
5

. Burt's Bees Baby Beekeeper
Bottom-to-top zipper for easy diaper changes
GOTS-certified, 100 percent organic cotton
Carefully sized for mobility and safety
Available in 10 colors and three sizes
Super-soft and cozy for baby
Sizing was a problem for some people
If you're keen on all-natural companies, you're probably familiar with Burt's Bees. This simple, trendy wearable blanket is no break from their usual adherence to safety, quality, and comfort.
Read more
Made from 100 percent organic, GOTS-certified cotton, the fabric is thinner and gentler on baby's sensitive skin. Burt's Bees is all about top-notch products made with ecological practices in mind. This sleep sack is ultra-plush and made from high-quality, certified, combed and ring-spun organic cotton. It will be comfortable on baby's sensitive skin and is engineered to be easy to get on and off without waking your sweet pea.
Comfort
Plush, carefully sized, and spun from 100 percent organic cotton, this sleep sack is comfy for baby while also being functional and hassle-free for mom or dad. Your child will relax fully wrapped in it for naps.
Durability
It's combed and ring-spun, cotton material resulting in premium softness, durability, and no-pill washing. Cotton is the first choice for baby clothing and blankets because of its superior softness and durability.
Ease of use
It is so simple to place your little one in this cozy sack for sleeping or napping to ensure their warmth. It is light enough to not be too warm and simple enough for parents to use quickly and easily.
Style
Attentively sized to ensure babies have free but safe mobility and equipped with a bottom-to-top zipper to make diaper changes easy, this sleep sack is carefully structured for everyone's convenience.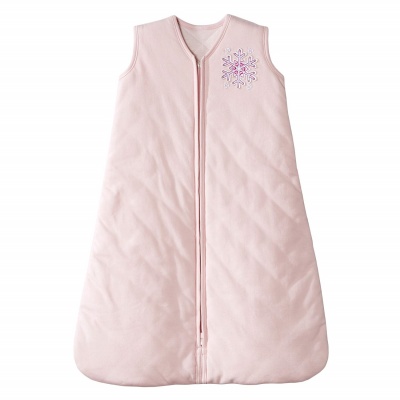 Unzips from the bottom
Sleeveless
Aids in hip development
Thick for winter nights
Do you worry about your baby being warm enough on those cold winter nights? You can stop worrying because the Halo Winter Weight sleep sack will keep your baby warm on the coldest of nights.
Read more
It is 100 percent cotton with a penguin sewn on. Not only is it super-soft but also really adorable. You won't have to worry about your baby overheating as the sack is sleeveless. You can purchase this sleep sack in blue or pink and in small, medium, or large. The roomy bottom encourages development for their legs and hips. With the sleep sack, you can say goodbye to loose blankets in your child's crib.
Comfort
The extra fluff on this sleep sack makes it ideal for the cold temperatures on winter nights. Since it is sleeveless, you don't have to worry about your child overheating and becoming fussy or ill.
Durability
Cotton material is one of the strongest and most long-lasting materials used for infant clothing and blankets. This item is made of 100% cotton to be of the highest quality and comfort.
Ease of use
The excellent sleep sack unzips from the bottom, so diaper changes are a breeze. There is plenty of room in the bottom for your baby to move their legs happily and to kick.
Style
Sleep sacks, like this one, are all the rage currently to make the lives of parents easier and to be safer for infants to use daily. Besides, nothing is cuter than a baby snuggled in one of these lovely sacks.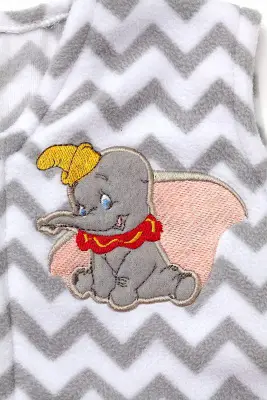 Comes in several adorable designs
Inverted zipper
Sleeveless
Encourages leg and hip development
Colors of fabric may fade after several washes
Your little one can now experience the magic of Disney from the comfort of their crib with the Disney Dumbo Wearable Blanket.
Read more
Your little one can remain warm throughout the night as it is impossible for them to kick it off. No loose blankets also mean no chance of your child getting twisted in them and suffocating. Both you and your baby can sleep peacefully as you dream of the wonderful world of Disney. The available patterns and Disney characters make this sleep sack absolutely adorable. Priced under $20 we find this product to be very affordable, as your child will be able to sleep in it peacefully for many nights.
Comfort
The superb sleeveless design prevents your baby from overheating as they slumber or nap. The wonderful sleep sack provides plenty of room for your baby to kick their legs around.
Durability
Wearable blankets last just as long if not longer than regular baby blankets because they are generally thicker and constructed more durable. This one certainly is with its cute Disney pattern.
Ease of use
The inverted zipper will keep you from having to take your baby fully out of the blanket when changing their diaper. This makes caring for the infant much simpler and pleasant.
Style
The adorable, soft blanket is available in seven different bold colors. Each terrific color has a unique pattern and a Disney character sewn on. It comes in two sizes of small and medium.
8

. Baby Deedee Sleep Nest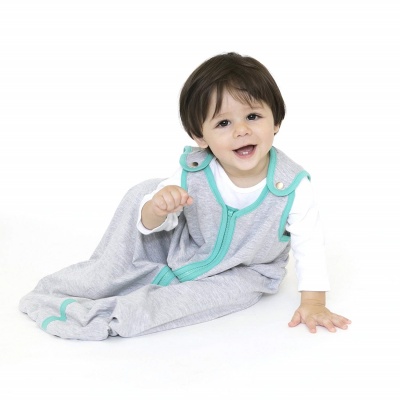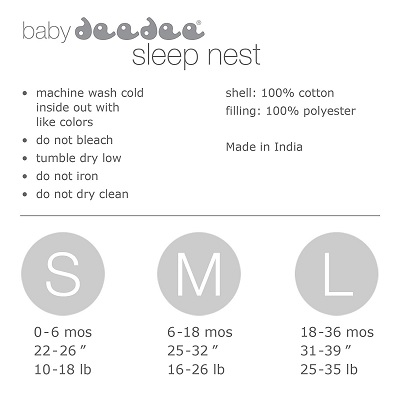 Lightweight fabric
Shoulder snaps
Zips from bottom
Available in 9 different colors
The zipper could be smaller
The Baby DeeDee sleep sack is a lightweight sleeper. Made of two layers of 100% cotton, your baby can snuggle into the soft fabric and sleep peacefully.
Read more
The lightweight cotton will allow your baby to use this on cool summer nights. The inverted zipper and the shoulder snaps provide a secure and cozy fit. Both the zipper and snaps are durable, thus allowing you to use this sleep sack for many months. We love that you won't have to struggle to put your child's arms through the holes, as the shoulder straps snap around the arms.
Comfort
The cotton used for this incredible product is super soft and lightweight, which allows you to use this during the summer comfortably. It will not be too hot or cumbersome to use for day or nighttime use.
Durability
Made of cotton to be very light and comfy for the child, this wonderful sleep garment will be one of your baby's favorites. You will love it because it is so long-lasting, sturdy, and well-designed.
Ease of use
You don't have to stress about trying to get your baby into this splendid sleep sack. Just lay it flat and place your baby on top. It is easy to provide comfort and warmth to your little one.
Style
This sleeper is available in nine different colors and can be purchased in a small, medium, or large. It is sleeveless so your baby can sleep with their arms over near their head.
Attached hood
Washer and Dryer Safe
Extra Soft
Classy modern design
Buttons can be a little tough to fasten in the beginning
Oenbopo took the classic sleep sack design and made it unique. This sleep sack is knitted from wool which is not only soft but will keep your baby warm.
Read more
It can be purchased in seven different colors and is perfect for newborns and babies up to one year of age. The attached hood provides extra warmth for your little one's head. It is washer and dryer safe. When you're ready to clean it, throw it in the washer and set the cycle to delicate. After the blanket has been washed in cold water, tumble dry it on low. The attached hood provides extra warmth for your baby. The wool and buttons will keep your baby secure and cozy inside.
Comfort
Constructed of wool, this lovely blanket design has a hood for the colder nights and days. The baby inside will be snug and warm, and parents will be so grateful for the incredible design and comfort.
Durability
Wool is one of the warmest materials that comprises baby clothing and blankets because of its long-lasting qualities and softness. With proper care when washing, you should be able to utilize this item for a long time.
Ease of use
The sack can be easily opened or closed via the buttons on the sides. When the buttons are not fastened, you can use this sack as a baby blanket. This versatility will come in handy all during the infant stages of the child's life.
Style
Use this terrific wrap as a blanket or as a sleep sack for the infant. it has buttons on the side to make it closed for the sack or leave it open to use as a lightweight blanket on warmer nights.
10

. Carters Unisex Blue Paws
Includes worry free tab
Washer & dryer safe
Variety of designs & colors to choose from
Soft fabric
Does not have dual zipper
Carter's Sleep Bag is 100% polyester. This particular sleep sack is white with an adorable lamb design sewn on the chest.
Read more
However, you can choose between 30 different colors and designs of Carter's Sleep Sacks. You can purchase a small for children 0 to 3 months or a medium for children 6 to 9 months. You won't have to worry about the zipper irritating your child's chin because this sleep sack is equipped with a worry-free tab. The fabric that goes over the zipper will also keep them from chewing on it. The worry-free fabric tab included on this sleep sack is great as it will keep your child from chewing on the zipper and having the zipper irritate their chin.
Comfort
Seeing as how there are sleeves on this product, your child will be warm enough wearing only a onesie underneath. Their entire body will be wrapped in comfort and warmth for the best protection.
Durability
Constructed completely of polyester fabric, this ideal sleeping bag for your baby will be in great condition when they no longer fit inside. It is made to outlast the growth of the child and can be handed down to younger infants in the family.
Ease of use
When it needs to be cleaned, just pop it in the washer. Manufacturers that make cleaning baby items so easy are welcomed by parents. There is just so much work to do in keeping their clothes clean. It is nice to see easy to use garments like this one.
Style
This is just like a personal sleeping bag for an infant made just to fit their particular small size. With the many designs and hues available, you are sure to find a few that you will want to have on hand.
Criteria Used for Evaluation
Comfort
One of the great things about sleep slacks is that they don't restrict your child's movement. Unlike blankets that are wrapped tightly around your baby, sleep sacks give your child the ability to move their legs freely. Babies love to kick and it's good for the development of their legs and hips. Sleep sacks also allow your baby to return to their natural sleeping position, which is with their arms near their head. You will notice that many of these designs are sleeveless to allow for this natural positioning. Manufacturers seem to have thought of everything with these wonderful products to keep both you and your baby happy.
Durability
One of the main aspects of baby clothing and blankets is the ability to last long enough to get a good amount of use from the item. We think that you will be pleased with the performance of all of these products we list here since they are all long-lasting and well-built. They are from some of the most popular name brands in baby blankets because of their superior designs and craftsmanship. With most of these, you will find that the blanket will still be in great condition when your child is finished with it. you can then give it to other family members who have babies or will soon have a baby that would like it.
Ease of Use
We recommend buying a sleep sack that is true to size as a snug fit will also eliminate excess fabric. Several of the sleep sacks have "Back is Best" sewn on the chest area. This serves as a great reminder to parents to put their babies on their backs. When babies sleep on their stomachs or sides, they are at risk of suffocating. There are sleep sacks that are made of lightweight material for the warmer months and warmer climates. You can also take comfort in knowing that these are all simple to wash and care for when cleaning. Machine washing is the easiest, but air drying may be more beneficial than drying by machine.
Style
By now you know the importance of sleep sacks. Seeing their importance and that your baby will use them often, we took making this list seriously. Through our research, we found sleep sacks that are safe, developmentally appropriate, and suitable for all babies. This list is full of sleep sacks that appeal to both boys and girls. There are a variety of patterns, colors, and designs of sleep sacks displayed throughout this list. Most of the sacks featured carry several different options of sizes. Whether your baby is a newborn or a toddler, there is a sleep sack on this list that is perfect for them. We are sure that you will want to purchase more than one to always have a clean one ready for changes and frequently occurring accidents. There is certainly plenty of variety to choose from with this assortment.
Most Important Criteria
(According to our experts opinion)
Experts Opinion
Editors Opinion
Users Opinion
By Default

Parents, Did you Know?
It is recommended that you have at least five wearable blankets or sleep sacks on hand that are dry and clean, so you can be prepared for leaky diapers and common accidents.
Parents, Did you Know?
It is strongly advised that you never allow your baby to sleep on a soft surface or in the bed with an adult or older child. Your baby should sleep in their crib, on their back.
Other Factors to Consider
Safety
Always safety is our number one priority! As discussed earlier, overheating is a common cause of SIDS. We made sure to have a wide variety of sleeveless sleep sacks on this list. Sleeveless sacks will keep your baby's body warm but also allow air to circulate through the armholes to keep them from overheating. If the sleep sack has sleeves, it is not recommended for your baby to wear long sleeves underneath it. Sleep sacks also eliminate the need for loose blankets in your child's crib. Once your child is secure in the sleep sack, they won't be able to kick it off. This eliminates the possibility of them getting tangled in loose fabric and suffocating.
Materials
Each of these excellent products is constructed of a durable, safe, soft, and comfortable fabric that will please your child and keep them warm and cozy. whether it is cotton, polyester, or wool, you can know that these are the best materials for warmth for those many naps and nighttime slumber sessions your child will enjoy. Polyester is used more often in items because it is lightweight and great for retaining body heat. This is something the infant cannot do yet on its own, so such materials must be provided to do the job. Cotton is the other lightweight and soft substance that works so well for babies. It is easy to care for and durable to withstand much rugged daily use. You just cannot go wrong with any of these outstanding products listed since they are made of these high-quality materials for comfort and warmth.
Frequently Asked Questions
q:

What should my baby wear underneath the sleep sack?

a:

This all depends on the temperature of your nursery. Typically, a cotton onesie works well; if your sleep sack is sleeveless go for a long-sleeved onesie. Different climates and surrounding will have a great bearing on what your child should wear too. Those in colder climates will have to dress warmer than those in more sunnier areas. Just use your best judgment and watch the infant closely for fussiness or overheating signs. They will generally let you know if they are hot, uncomfortable, or unhappy.
q:

Can I purchase a size larger so my baby can use it as they grow into it?

a:

We recommend purchasing the size that matches your baby's current size. Excess material can bunch up around your baby's nose or mouth and suffocate them. this would in effect be counterproductive to the idea of the sleep sack. It is supposed to be a form-fitted covering that does not pose a hazard or problem for the child to be entangled in. with a larger size for growth, you are defeating this intention and increasing the risk of problems. You should have plenty of wear with the correct size that is made for the child.
q:

What type of sleep sack should I use in the winter?

a:

Sleep sacks that have a higher TOG, and that are made of fabrics like fleece and Sherpa are perfect for the winter months or cold climates. There are a few models that are made of wool also that would be warmer than just regular cotton or polyester materials. You can also always put thicker clothing on the child before putting them in the sleep sack or wearable blanket to increase their body warmth retention inside the item. We do give the TOG ratings when it was given in the product descriptions for you to reference when purchasing.
q:

What is a TOG rating?

a:

TOG refers to a unit of measurement for temperature control/thermal resistance. It originates from an old slang word "tog," which referred to clothing, and therefore is often used as a standard in the textile/fabric industry. The scale starts at 1 Tog (meaning the item rated is suitable for winter conditions) and goes up to 15 Tog (meaning the item is best used during summer/in warmer climates). The ideal temperature for your nursery sits between 68 to 72 degrees, so keep that in mind when looking at TOG ratings for items you'll be using in your home vs. outdoors or traveling.
q:

How many stuffed animals can be in my child's crib?

a:

None! Loose blankets, stuffed animals, pillows, and soft bumpers can all be risk factors for suffocation when left in your child's crib. Use the toys for playtime and entertaining them or as mobiles hung above the crib for them to watch. Never leave an unattended baby with any of these objects. It is just not safe to do so. They will have plenty of time to enjoy and interact with stuffed animals in their childhood, so save them for this purpose. Infants do not need stuffed animals in their beds or cribs, so play it safe and leave them outside of the crib or sleeping area.
q:

When can my child sleep with a blanket?

a:

Small blankets become less hazardous to your child as they reach one-year-old. Until that time, it is not advisable to use them for infants because of suffocating concerns. If you are given baby blankets as gifts or presents for becoming new parents, then use them when holding the child. if a parent or adult is near, it is fine to use the blankets, but not when the child is left unattended with the blanket. Accidents can happen too quickly to make this worth using the blankets. When you go outside with the child or are holding them, it is a perfect time to use your beautiful regular baby blankets.