For parents who love to fish, seeing your kids fish for the first time is a magical moment in life. Passing the love of fishing down to the next generation is a skill that, once mastered, works as a hobby and a way to provide a food source. Whether you are fishing for fun or a hobby, the sport requires the same gear.
Adult fishing rods and reels can be heavy and complicated to operate. So buying a fishing pole for your kids is the best way to get the best results. On the market, they have fishing pole games that introduce very small children to the idea and teach them how to use a rod and reel. Most of the games include reels that are actually wound up and work the skill set needed to learn how to reel in a real fish.
Fishing poles for kids come in many sizes and are for different skill levels. Once the kids have mastered the fishing games at home, it is time to take them out on their first fishing trip. There are a ton of kid-friendly fishing poles on the market. These rods are shorter, made from lightweight materials, feature simple mechanics, and are generally less expensive than adult rods.
We have created a list of the best fishing poles for kids that are available on the market. The market features many rods and it can become frustrating weeding through them to find what you are looking for. We have already done the research and found the best. Here is the list; the rest is up to you.
Our Picks of The Best Kids' Fishing Poles
Fire Buggz Campfire Roaster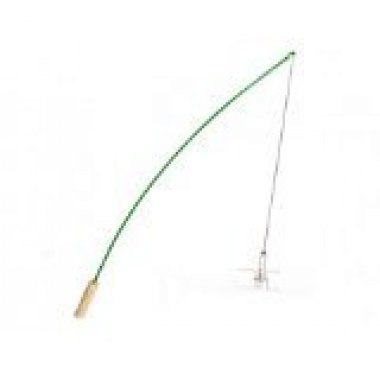 Learning Resources 11 Pieces
Battat Magnetic Fishing Set
TOLO Toys Funtime Fishing Bath Toy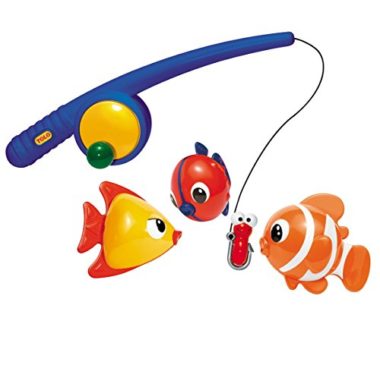 Small World Toys Sand and Water
Sougayilang Freshwater & Saltwater
Shakespeare 1363676 Disney Frozen
SYL Fishing 55 inches Light Weight
Criteria Used In The Evaluation of the Best Kids' Fishing Poles & Rods
When creating this list of the best fishing rods and poles, we wanted to highlight the main benefits that a child will get from learning how to use one of these. Here are a few of the main benefits for a child who learns how to use a real fishing pole and then puts it to use on a real fishing trip.
Motor Skills
Learning to control a fishing pole the right way has numerous benefits to the muscles and coordination of the body overall. In learning to fish, a kid will have to learn how to cast their line in the water correctly, reel the line in when necessary and balance on the shore properly so they don't fall in and scare the fish!
They will need to keep their arms still as they hold the rod, waiting for a bite. All these things will strengthen a child's hands, arms, and legs. It will also provide better hand coordination and dexterity.
Patience
If there is one skill in fishing that anyone taking up this sport will need to learn it is how to be patient. First, when mastering the proper technique for casting the line, a child will need to be patient and not become discouraged.
Once the line is appropriately cast, it could take hours before anything is caught and a the child will need to learn to deal with having to wait during this process. It will teach them that in life there are times when we have to wait, and in doing so, we have to be patient for our time to come.
In learning this virtue while fishing, kids will develop a skill that will take them through life, about how not to be impatient during long waiting periods.
Decision-making
Through fishing, a kid will learn how to make decisions. They will have to decide how far and where they are going to cast out their fishing line. The child will have to plan his/her movements and how to carefully go about each action so as to not scare the fish away,  damage their fishing pole or tangle their line. These are ways for them to exercise their problem-solving skills and learn something about making decisions on their own.
Bonding
A fishing trip is an ideal time to work on a parent-child relationship. After all, sitting around waiting for fish to bite is a perfect opportunity actually to talk. Somehow, just sitting there with nature all around can help a kid open up to his/her parents. It is an excellent way to create a stronger bond not only between a parent and child but as friends as well.
Appreciation
In a technology age where smartphones and laptops seem to have taken over, kids may lose an appreciation for the simpler things in life. A fishing trip is an excellent way to teach a child about how to live off the land, and actually, learn a skill that dates back thousands of years. The child will be able to understand what it's like to fend for themselves to catch their food to eat.
Educational
Learning to fish has its educational benefits as well. Not only will they learn the valuable skill of how to use a fishing pole, but there will be other educational benefits as well. A child will learn more about the food chain, and about how Mother Nature has provided us with many things we can eat to survive. A kid will also learn that food doesn't originate in a grocery store and that items such as fish are found in nature first.
FAQ
Frequently Asked Questions
Q: What is the right age to take a child fishing for the first time?
A: The right age to start teaching a kid how to fish on their own on an actual fishing trip is around the age of 3 to 5 years old. Before this, a child can be involved by observing the activity and they can also play with fishing toys that give them a chance to learn how to control a fishing pole before actually owning the real thing and heading to the lake to try their hand at the actual sport.
Q: Can an adult fishing rod be handed down to a child?
A: Although this may seem like a tempting thing to do to save money, fishing rods aren't one size fits all. Fishing poles designed for kids are smaller and lighter than the ones used by an adult.
However, if the child has an older sibling who is ready for a bigger pole, and the one they had is still in mint condition, odds are that this one could be passed on provided the child is comfortable using it. Comfort is key when using a fishing pole because when a child is comfortable with it, they will be able to learn to use it properly.
Q: What safety tips should be taught to a kid on a fishing trip?
A: The first thing to do is come up with a set of safety rules for the child to follow. That includes teaching them about water safety. Second, if the fishing is taking place on a boat, make sure to bring along personal floatation devices and teach the child how to properly wear it, not just for their well-being but also for your own.
Teaching a kid about the importance of proper casting and not swinging the pole around in every direction is also important. Remind them that a fishing pole is a piece of equipment, not a toy. Make sure the child is properly dressed for the fishing trip, with things such as boots, vest, hat, for example.
Last, but not least, consider using barbless hooks as they might be a safer option for younger kids to use.
Q: What other necessary supplies are needed on a fishing trip?
A: Of course, all the necessary fishing equipment is needed. As for what else would be required, it would depend on when the fishing occurs. If it is during a camping trip, then all necessary supplies such as food and water, have already been packed. Same with a picnic or hiking trip.
However, if it is specifically a fishing trip, then other essentials such as bottled water, and food will be needed. Bring along a waterproof bag such as a backpack to take carry other essentials, which might include sunscreen with quality SPF protection, sunglasses with UV protection, a cell phone, wallet, and a map. Insect repellant is another essential to as is a first aid kit in case of cut or scrapes.
Q: Can a left-handed child use a right-handed fishing pole?
A: There is no denying that a good portion of fishing poles, especially those designed for kids, are made for the right hand. Although, some we feature on our list have the ability to be used with either hand. So, in answer to this question, it would depend on how comfortable the child is in using their right hand. Even if they write with their left, they may still be comfortable using their right hand for other things such as lifting, pulling or throwing. If this is indeed the case, many of the kids' fishing poles would still work for the child even if they are technically left-handed.
Q: What if a kid outgrows their interest in fishing?
A: There is always a chance this will happen especially the older a child becomes. Their interests can change, they may want to spend more time with their friends and in school activities. They may not see this as something that they enjoyed doing any longer. Again, don't push them to go fishing, accept their decision. In time this could change back as sometimes kids go through rebellious ages, but eventually come around to wanting more quality time with their parents once more and going fishing certainly qualifies as such an experience.