10 Best Insect Repellants for Kids in 2019
last updated
Sep 17, 2019
Anyone who spends any amount of time in the outdoors knows how important a good insect repellent is to be able to actually enjoy the time they spend in the outdoors instead of being eaten alive by bugs! Not only are bug bites the worst thing to have to deal with after your done having fun outside, not having a good insect repellent can actually ruin your outdoor fun completely!
Nobody wants to be swatting away bugs constantly and scratching all day and night. That is where we come in! We worked hard to ensure these 10 products were not only safe for children, but actually worked, and worked WELL! Our children have even more sensitive skin than adults do most of the time so we always need to be sure we are being extra careful in protecting our children from uncomfortable and sometimes harmful bites.
In a Hurry? The test winner after 70 hrs of research
Avon Skin so Soft Bug Guard & Picaridin - Towelettes
Why is it better?
Customers report that this product has a great smell
A gentle formula makes this product excellent for sensitive skin
Towelette application allows for great coverage on skin - no missing spotsIndividual packages minimize mess
Picaridin formula makes this product very effective at keeping bugs away
In a
Hurry? Editors choice:
Test Winner: Avon Skin so Soft Bug Guard & Picaridin - Towelettes
52
Researched Sources
243
Reviews Considered
70
Hours Researching
15
Products Evaluated
Safety
Ease of Use
Effectiveness
By Default
10 Best Insect Repellants for Kids Reviewed
1

. Avon Skin so Soft Bug Guard & Picaridin - Towelettes
Customers report that this product has a great smell
A gentle formula makes this product excellent for sensitive skin
Towelette application allows for great coverage on skin - no missing spotsIndividual packages minimize mess
Picaridin formula makes this product very effective at keeping bugs away
Towelettes are very saturated with product
These towelettes' active ingredient is Picaridin, a popular and very effective ingredient in some insect-repelling products. Picaridin is a preferred repellent because it is effective, odorless, and doesn't feel greasy on skin.
Read more
Safety
Picaridin is one of the best bug repellent ingredients on the market - and it's 100% safe for you and your child. Individual packages make it easy to carry in a purse or pocket, and you won't have to worry about leakage - simply discard the empty package when you're finished using the towelettes! As easy to use as regular wipes, there's a much lower risk of missing a spot and giving bugs a feast.
Ease of Use
We all know Avon as a famous cosmetics company, but this product is more functional than fashionable! If you're searching for a product to keep you looking and feeling fabulous, you've come to the right place! These individually packaged Picaridin towelettes are the perfect accessory to beat the bugs this summer.
Effectiveness
These towelettes' active ingredient is Picaridin, a popular and very effective ingredient in some insect-repelling products. Picaridin is a preferred repellent because it is effective, odorless, and doesn't feel greasy on skin.
2

. OFF! Deep Woods Insect Repellent 6 ounce (Pack of 2)
DEET formula provides up to 8 hours of bug-free fun
Aerosol provides for easy application
Provides protection from mosquitoes, ticks, biting flies, gnats, and chiggers
This product is sweat-resistant, and doesn't need to be reapplied after playing
Aerosol spray method makes it easy to miss spots
We've all heard of OFF!, perhaps one of the most well-known companies for insect repellents, but did you know that it's child friendly as well? Providing up to 8 hours of bug-repelling power, your child will wear out well before this bug spray does.
Read more
Safety
This aerosol can - which comes in a pack of two - is formulated with 25% DEET, another favored ingredient in the world of bug repellent. DEET has been used safely for many years in concentrations between 5% and 100% (the higher the concentration, the longer bugs stay away). However, seek medical advice if you plan on using DEET on a child younger than two months.
Ease of Use
With up to 8 hours of repelling power per application, you won't have to worry about pausing your child's playtime to spray them again.
Effectiveness
OFF! Deep Woods Insect Repellent protects against many different kinds of bugs, making it way more effective than your typical mosquito spray!
3

. Sawyer Products Insect Repellent Lotion – 20% Picaridin
This lotion is effective for up to 8 hours against biting flies, gnats, chiggers, and sand flies, and effective for up to 14 hours against mosquitoes and ticks
Although this product has a lotion formula, there is no oily feel once applied
No harsh smells!Great size for travel
Excellent for fishing and hunting trips
Sold in a small bottle
Slightly more expensive than its competition
Since there's no residue or smell, once it's applied your child will forget it's there - and remain safe from many types of insects whether playing in the woods or fishing on the lake.
Read more
Safety
Although not at a very strong concentration, this lotion repellent is also used with the preferred ingredient - Picaridin. Additionally, this product is marked as an Amazon favorite for Picaridin insect repellents, and I'm sure it'll be one of yours too.
Ease of Use
Unlike many other bug repellents, this product is a lotion, and we're sure you'll love the difference. This Amazon choice product is easy to apply and made of Picaridin as well, so you can be sure your little one is safe from harsh chemicals and biting bugs while playing outside.
Effectiveness
20% Picaridin allows for 14 hours of safe, bug-free fun!
4

. Natrapel 12-Hour Mosquito, Tick and Insect Repellent

This spray keeps mosquitoes and ticks away for 12 hours, and other biting insects away for 8 hours
A small bottle makes it convenient to bring anywhere, and is TSA approved
This formula smells great!
Very effective against ticks and mosquitoes
Formula becomes less effective in humid, sweaty weather
We love this brand's small, easy to carry bottle and its long-lasting formula. A spray bottle provides great product coverage, and the ability to apply the spray to clothing as well as skin allows for a double-barrier, so you can have peace of mind while your child has a great time outside.
Read more
Safety
This multi-purpose formula can be used all over - and won't feel greasy or oily, or stain clothes! With a light fragrance and a gentle formula, you and your child can achieve a safe, satisfactory, and bug-free play time outside!
Ease of Use
This Natrapel spray bottle, full of 20% Picaridin formula, allows for easy application and guaranteed defense against mosquitoes and ticks you can use on skin and clothes! Keep the bugs away from your kid for good!
Effectiveness
A spray bottle provides great product coverage, and the ability to apply the spray to clothing as well as skin allows for a double-barrier.
5

. Sawyer Products Controlled Release Insect Repellent Lotion
DEET is encapsulated in a protein
Non-greasy and odorless
Sweat-proof
Protects against ticks and mosquitoes
Some reviewers do not like the consistency
Say goodbye to wrestling your kids down to get them properly sprayed. This lotion is odorless and non-greasy so little ones are happy to put it on and soon forget they're wearing it at all. Since it's sweat-proof, there's no need to reapply. This formula releases the DEET slowly throughout the day for the sake of safety and protects against ticks and mosquitoes.
Read more
Safety
This repellent contains 20% DEET. If you're worried about the percentage of DEET, it is gradually released throughout the day. The DEET is encapsulated in a protein that causes it to dissolve slowly.
Ease of Use
Your little one will be completely comfortable while wearing this lotion as it is non-greasy and odorless. When purchasing you can choose between 4 or 6-ounce bottles.
Effectiveness
This lotion will protect against ticks and mosquitoes. This sweat-proof lotion will provide protection for up to 11 hours.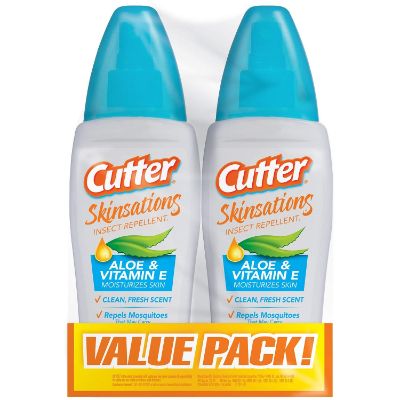 Lightweight
Non-greasy
Effective at keeping bugs away
Easy to spray
Some consumers felt that the formula being sold on Amazon is not as strong/effective as the one sold in stores
With a low percentage of DEET and a high success rate, Cutter Skinsations might be the middle-ground you're after. It repels mosquitoes, ticks, gnats, biting flies, fleas, and chiggers. Meanwhile, it softens the skin with aloe and vitamin E. The formula isn't heavy or oily and it's lightly scented to keep you smelling and feeling clean.
Read more
Safety
The CDC suggests using bug repellent to keep insects at bay, especially ones like mosquitoes, which have been known to carry disease with them. This repellent contains just 7% DEET and helps to keep kids safe from icky, uncomfortable bug bites. The fewer chemicals around little ones, the better, but we know sometimes natural remedies can be less effective against persistent bugs. Skinsations is the best of both worlds.
Ease of Use
The pump system allows for easy spraying and complete control over dispersing this formula. If you can't stand the oily feeling of most repellents or the smell of the heavy duty ones, this is a great in-between. You can wear it for hours and it doesn't feel sticky like its competitors. As a bonus, the Vitamin E and Aloe help to soften skin while you enjoy the fresh air, bite-free!
Effectiveness
Customers report that it's about as effective as many of the repellents out there that contain around 20% DEET, and Cutter Skinsations feels lighter and doesn't carry that nasty chemical odor with it. There has been some discrepancy with the bottles sold on Amazon though, so check the expiration date and carry a back-up if you're concerned about heading into mosquito-heavy territory.
7

. Cutter All Family Mosquito Wipes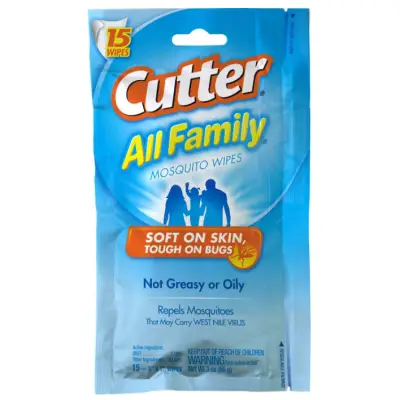 Perfect for traveling or keeping a pack in your purse or even glove box for unplanned adventures
Resealable package means they will still be good and moist even if you don't use them all at once
Amazon does not allow returns on this item
We can't think of a more convenient way to apply bug spray to small parts of our children's bodies, especially our really little ones! We would never spray any kind of repellent onto our child's face or at all because it could end up in their eyes or mouth - with this product that will never be an issue!
Read more
Safety
Insect repellent in the form of a moist towelette that doesn't stink like DEET even though there is a small amount of DEET in the solution the towelettes are soaked in is a huge win for the families and people of 2019! To me, that alone is worth the price of $5 for 15 wipes. Plus you get free shipping too!
Ease of Use
When this product was created it had to have been created with this specific purpose in mind, to be used on small children who you can't just spray because they either won't stay still or they are just too small. They also come in handy when it comes to protecting smaller sensitive areas of any person's body, or all over if you don't want to deal with that stinky, sticky bug spray scent and feeling that everyone dreads every spring, summer, and fall.
Effectiveness
Not only do these wipes protect you from mosquitos though, but they also ward off ticks, gnats, biting flies, chiggers, and fleas. Never again cut your outdoor time short or have to deal with uncomfortable itchy bites from the pests that you are exposed to when being outdoors.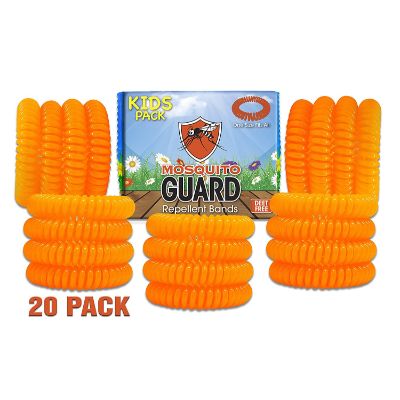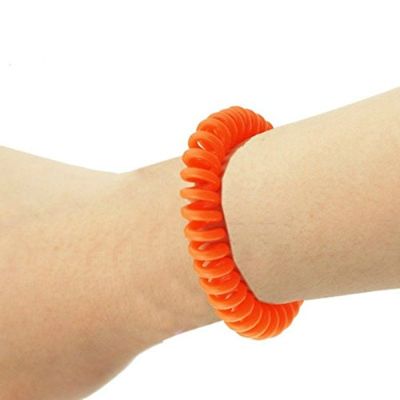 All-natural
Easy to use
No oily feel or chemical odor
Individually packaged and easy to travel with
Can even use on pets
Not completely effective, better for use in areas with few bugs
Not everybody responds well to chemicals. And no bodies (that we know of, exempting maybe Spider-Man) respond well to bug bites. So what's a parent to do? If you want an all-natural remedy that doesn't require coating your kid in repellent, you might want to look into bug bands! These wristbands are infused with natural scents that turn some bugs away. They're easy to use and there's no DEET involved.
Read more
Safety
Citronella, Lemongrass, and Geraniol make up this all-natural formula. So opt for another blend (the Lemon Eucalyptus Repel is an option) if you have allergies in your family. Otherwise, these bands are a great alternative to sticky, heavy repellents that are laced with large amounts of DEET, to which a few people have reacted poorly. It should be noted that DEET hasn't been proven to harm the nervous system, but some families still prefer to stay away from it due to the few cases of ill effects as well as the nasty odor and texture.
Ease of Use
One size fits all and each pack includes 20 individually wrapped bracelets. They're incredibly easy to travel with as there's no liquid involved and they're compact. Since they aren't greasy and they don't smell like chemicals, kids are less fussy about wearing them, as well. You can even easily put them on pets!
Effectiveness
There are mixed reviews about the effectiveness of these bands. The general consensus seems to be that they help to repel some mosquitoes and bugs, but you still will likely get bitten--just less than you would have with no protection at all. So if you are headed somewhere that the bug problem is light or moderate, you might be able to get away with these, but we wouldn't suggest relying solely on them if you'll be somewhere with lots of little pests.
9

. Repel Lemon Eucalyptus Insect Repellent, 4-Ounce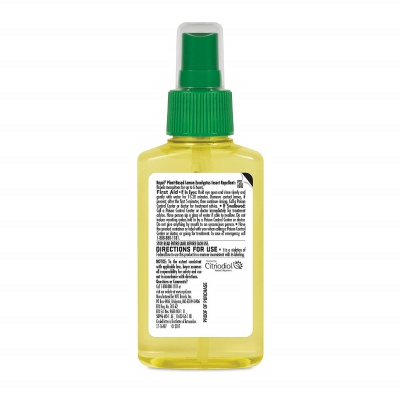 Spray-on method gives control over coverage
All natural ingredients
Deters mosquitoes, deer ticks, and other biting insects
Can be used on clothes and won't stain or damage any of your fabrics, bags, or gear
Doesn't last as long as its competition
Strong-smelling
If you're looking for an all-natural option, Repel is the go-to in many households. This spray-on repellent is made from lemon and eucalyptus, which naturally turns most insects away. It's chemical-free, but you'll have to reapply more often and it is pretty pungent. It won't stain or damage clothes and it's extra safe, however, so it all comes down to which purposes are your priority!
Read more
Safety
REPEL gives us a spray that can be used head to toe, with an all natural formula that repels many insects without getting in the way of having fun outdoors. Additionally, its natural ingredients make REPEL Lemon Eucalyptus Natural Insect Repellent an excellent and safe choice for your child's outdoor play time.
Ease of Use
A spray-on formula allows for controlled coverage, and its all natural ingredients are best for sensitive skin.
Effectiveness
This insect repellent will last 6 hours, and gives your child plenty of time to play before reapplication is necessary, and is a great all natural alternative to other pest-repelling ingredients.
10

. SALLYEANDER No-Bite-Me Cream Jar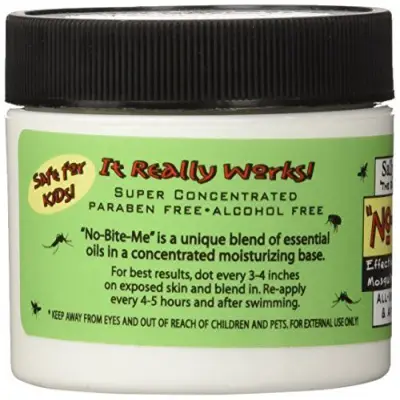 Non-greasy
Prevents bites and soothes existing bites
Easy to transport
Will not irritate sensitive skin
Strong odor upon application
Make sure you have the Sallyeander cream jar packed in your bag for your next outdoor adventure. This 2-ounce jar contains an all-natural cream that will protect you from black flies, ticks, fleas, and mosquitos.
Read more
Safety
Being composed of all-natural ingredients, it will not cause irritation to your skin. People of all ages can use this cream.
Ease of Use
The application is super easy. Simply rub the cream on exposed skin and reapply every four to five hours. It is non-greasy and easily absorbs into the skin.
Effectiveness
The small size of the jar makes it super easy to transport. The screw-on lid will keep the cream from spilling out into your bag. Not only will this cream prevent bug bites, but it also soothes existing bites.
Criteria Used for Evaluation
Safety
While you want your child to have fun during their first experiences outdoors, we know your top priority is to keep them safe, which is why every insect repellent listed above is child safe and worry-free. When doing your best bug repellent research, you may come across active ingredients that you've never heard of, or have been under discussion; here are some facts about what's in your child's insect repellent:
DEET is perhaps the most controversial ingredient used in insect repellents because its toxicity is still under investigation. However, DEET has been widely used and revered for a long time, and according to the American Academy of Pediatrics, DEET is safe for children as young as 2 months.
Our advice when using insect repellents that contain DEET is to apply only as frequently as the manufacturer recommends, apply away from your child's eyes, mouth, and hands (as it could rub off if they touch their eyes or put their hands in their mouth), and do your best to wash it off when you're finished using it. In contrast to DEET, studies about Picaridin have shown that it is safe, effective, and has less unpleasant qualities than DEET insect repellents.
Not only is it just as effective at keeping bugs away as DEET, but Picaridin is also odorless, and doesn't feel sticky, oily, or greasy upon application. Also, it is safe to apply to plastics, fabrics, and gear, as it won't stain or harm your belongings. Essential oils, like Citronella, Lemongrass, Geranium, and Cedarwood are often used in natural insect repellents. While it is advised not to use Peppermint or Eucalyptus oils on children under the age of 6 years old, and
Lemongrass on children under the age of 2 years old, any combination of these oils can assist in keeping the creepy crawlies of your child while allowing you sweet-scented fun. Although neither DEET nor Picaridin has shown any harmful side effects when used properly as bug spray, essential oils are a great alternative to the active ingredients in insect repellents.
Ease of Use
Each of the listed products above has aconvenient applicationwhether it be a snap-on bracelet, a smooth lotion, or an easily operated spray pump, we want to make sure you've got the simplest and quickest insect repellent process. We know you'd rather have the most time possible to be outside, playing with your child, so why slow that process down by spending to much time on bug spray? You can be sure your child will be covered with just a few simple sprays, a quick wipe, or an easy snap.

Effectiveness
When you're having fun in the sun, the last thing you want to do is pause playtime in order to reapply your insect repellent--that's why we've compiled this list with some of the longest lasting--but still kid friendly!--bug spray on the market. While the products on this list vary in terms of ingredients, we've paid close attention to the concentration of each; this determines how long your insect repellent is effective.
Each product can last anywhere between three hours and 10 days, giving you and your child the longest time possible to enjoy your hike, picnic, fishing trip, or a day at the beach.
Most Important Criteria
(According to our experts opinion)
Experts Opinion
Editors Opinion
Users Opinion
By Default

Parents, Did You Know?
Always read the label of the product that you're about to apply onto your kid's skin. Take note of current guidelines regarding the use of DEET especially if you have a 6 month old child as it is considered a big no-no.
Parents, Did You Know?
While some products are designed for kids, you are not supposed to let children below the age of 10 years to apply the product onto their skin themselves. Essentially, you're supposed to keep these products out of children's reach, even if it is intended for kids.
Parents, Did You Know?
Watch where you're applying the product. As a general rule, you are not supposed to apply these on broken skin as well as skin with signs of irritation or inflammation like sunburn.
Parents, Did You Know?
Always spray the insect repellent in an open and well-ventilated area. Do not attempt to apply it inside your motorhome or, worse, inside a tent.
Other Factors to Consider
Safety
Safety is a very important concern whenever we talk about products for children. Insect repellants may be sprayed onto the skin, but different children have different skin anatomies and physiologies that can affect the effectiveness and efficiency of the active ingredients of these products. That's why we only considered those bug repellant products that have been tested and duly certified to be safe for kids.
This is important because the chemicals that can present long-term dangers to our kids are as dangerous as the disease-causing agents that are brought about by these insects and bugs. So, the safety of the ingredients that are used in the formulation of the bug spray was crucial. We did include one product that may have a less-than-satisfactory safety profile. However, other concerns were factored into the decision to include it on our list, mostly related to its effectiveness which is the parameter that we next evaluated.
Capacity
A product's spectrum of activity was also determined to be important. It makes no sense to get a product that can protect kids against a single vector, although it may work if you go to a place where infections brought about by this vector are rampant. Traveling with several bottles of bug sprays is hardly our definition of efficiency, effectiveness, convenience, and practical sense. So, we chose products that are proven effective against a host of insects or bugs, especially with the threat of Zika in the minds of moms and dads all over.
Frequently Asked Questions
q:

Can I use sunscreen and insect repellent at the same time?

a:

Yes! Sunscreen and insect repellent will work together, just be sure to apply the insect repellent after the sunscreen to guarantee it will be most effective.
q:

Can I use this on my pets as well?

a:

It depends on the product! While DEET is safe for humans, it is toxic for animals. Picaridin has not been extensively studied for use on animals, but since essential oils are natural, you can use a few drops diluted in a carrier oil.
q:

Will these products protect against Zika-carrying mosquitoes?

a:

While it's difficult to tell which mosquitoes carry harmful diseases when they're biting your skin, these products are effective against mosquitoes in general, so as long as you use each product according to the manufacturer's instructions, your chances of contracting a mosquito-borne disease are minimal!
q:

Are these products safe to use every day?

a:

Yes! All of the products on this list are safe for children. When using products that contain DEET, be sure to wash them off when you're finished playing outside, but feel free to reapply each day it is necessary!
q:

Is insect repellent waterproof?

a:

It depends on the product! Some of them work well even when submerged in water - specifically the Citronella infused bracelets--but be sure to read the information on your insect repellent before going swimming or running through sprinklers to know whether it's necessary to reapply.
q:

Can I use these products if I am sensitive to smells?

a:

It depends on the product! Some essential oils--especially Citronella--can be a bit strong for those sensitive to smells, but insect repellents that contain Picaridin will generally be odorless, as long as there are no additional scents added to the formula.