10 Best Trampolines for Outdoor Fun in 2023
last updated
Jun 05, 2020
Is the sentence, "Stop Jumping on the couch" a common one in your household? It should be no surprise to you that children love to jump. With a trampoline, you can let your child bounce as much as they want and not have to worry about your furniture being ruined. In addition to protecting your couch, the trampoline also provides several benefits to your child.
Jumping will strengthen your child's muscles, stimulate their development, and provide them with exercise. After diligent research, we created a list of the ten best trampolines. Spare your furniture and fuel your child's love of jumping with one of the trampolines on our list!
In a Hurry? The test winner after 29 hrs of research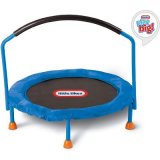 Little Tikes 3'
Why is it better?
Well constructed three foot trampoline
Perfect size for toddlers to release energy while indoors
Large jumping area for added stability
Balance bar helps to keep little ones upright
Metal and plastic construction for super durability and movability
In a
Hurry? Editors choice: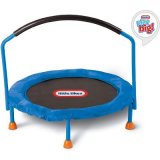 Test Winner: Little Tikes 3'
19
Researched Sources
29
Hours Researching
15
Products Evaluated
Durability
Safety
Physical Development
By Default
10 Best Trampolines Reviewed
Criteria Used for Evaluation
Durability
One thing we had to look at within the range and differentiation of each product was its construction and safety.  After all, trampolines initially belonged to the world of acrobats, aerial and trapeze artists!  Would any of them try to do jumps and flips without some thought of safety; and, when they landed if whatever was there would break the fall?!  
That's what we did--ranging from the Skywalker models that use a T-Model socket for extra durability (preferable to welding, which still leaves joints weak at the places they were fused together) to the Zupapa brand that submits to TUV ratings that are of the highest European standard.  All the products fall under the aegis of ATSM certification.  And, most of the large, spring-loaded models undergo and anti-corrosive treatment of the springs-- typically in the form of melding the galvanized steel either with ionized zinc or copper.
Safety
We continued on by giving one of the larger models more of a gymnasts safety feature in making it rectangular and providing even bounce technology.  All of the larger outdoor models come with netting with the Stratos exceeding the 6-8 pole standard required.  Even with the indoors toddler trampolines, very little is left to chance.
With the outdoor models focused on weight capacity and netting durability, the indoor/outdoor models for kids are designed to give that reliably catch-me-if-you-can low center of gravity that's essential.  Just to be safe, there's always a trusty handlebar to hold or lean on to if needed.
Physical Development
One of the major gripes of today's child development psychologists as well as a great number of parents is the fact that more and more children are becoming victims of obesity. While some may look at it as a purely genetic thing-–with both parents on the heavier side of things and all siblings are also on the overweight equation–child experts believe that it is a rather very sedentary lifestyle that is wreaking havoc in the young lives of children. There simply is too many calories being consumed at any one time yet too few physical activities to use up all of those calories. The end result is an overall net gain of calories that are translated into fat deposition leading to overweight, obesity, and a host of metabolic problems.
Research in the past few decades has already shown the fallacy of their being a separation between the body, mind, personality, and moods.  Just as we all know, and have experienced first or secondhand, the phenomena of "hangriness" due to a low hypoglycemic index, thus we can think of a kid that gets antsy, sleepy, or depressed from being cooped up for too long or having a lack of exercise in general.  While the level of stored energy and metabolic rate may go down with age, the benefits of an elevated heart rate don't.  Nor do the detractions of low mood and lethargy from a lack of adequate physical activity.
Most Important Criteria
(According to our experts opinion)
Experts Opinion
Editors Opinion
Users Opinion
By Default

Parents, Did you Know?
A lot of research has been carried out to investigate the correlation of how playing video games can lead to childhood obesity. A recent study revealed that American children are spending an average of 5 hours every day in front of computers; the numbers double on days without school.
Playing with computer games does have its benefits but one of the laments of child development psychologists is the lack of physical activity. Sure, they are using their fingers to manipulate their characters in the video game, that aids in cognitive stimulation and the development of their dexterity, visual-motor coordination, and quick reflexes, but that's not doing anything substantial in the continued development of their gross motor skills.
Parents, Did you Know?
That is why healthcare experts agree that toys such as bikes, pogo sticks, skateboards, rollerblades, hula hoops, and trampolines can play very important roles in the promotion of physical, mental, social, and emotional health among children. And we all know the many benefits of physical exercise in the human body.
Parents, Did you Know?
There's a number of benefits of trampolining not only for kids but for every member of the family. What started out as a simple way to pass the time outside and a fun thing to do when you get together with your friends has turned into a fitness trend for kids and adults alike. The first and most obvious benefit of jumping is its perfect cardio rating.
The use of a trampoline has been proven more efficient than jogging, 68% more to be exact, and is a great way for kids to stay in shape. By increasing cardio they're exercising their heart muscle, increasing their oxygen intake, and allowing their body to shed toxins. Sweat is a good thing especially during exercise, and they won't even realize all the good they're doing their body while they're busy trying to jump higher than their friends. As they get older they'll notice a significantly improved difference in their joint function and range of motion which can be attributed to routine jumping. It's also perfect for keeping weight in check and before you know it, your kids will be lifting more than you!
Parents, Did you Know?
People often don't realize how important cardiovascular health is for all ages. It's never too young to start thinking about your little one's future health and access to a trampoline can help you and them to get a headstart on that. Cardio helps to improve a range of different aspects of the body such as circulation, increased lung capacity, and blood vessel health. This makes it the perfect activity for parents to do with their children since you'll both be getting the health benefits that you need. Surprisingly, jumping can improve lymph health as well.
Parents, Did you Know?
With increased cardio activity, lymph nodes will both be prompted to and have an easier time metabolizing and increasing production in the body. In turn, this will eventually aid in things such as quicker healing, removing toxins that can be harmful and preventing serious illnesses and diseases. On a cellular level, it's been shown that jumping on a trampoline as a fitness activity can also increase mitochondrial cells and help regeneration. This is great for kids since they're so often exposed to the risk of infection and another sickness. By improving cell health, they'll also be strengthening their immune system via their physical fitness.
Parents, Did you Know?
In addition to all of the internal benefits that trampolining can have, it also helps to strengthen the child's muscles and their joint health. By preventing unnecessary pressure on parts of the body such as legs, feet, and knees, they're getting much-needed exercise while saving their joints and increasing muscle mass.
This can help in cases where arthritis or joint diseases run in the family since they'll have the option to build muscle while preventing a prolonged impact on their lower joints. Because of this, muscles are required from nearly every part of your body--including your core arms, and back. This can help kids find the balance by working with their center of gravity, and dramatically increase their flexibility by stretching and working all of their muscles at once. A strong core will make for better posture and less back and neck problems later on.
Other Factors to Consider
Sensory Stimulation
We can see how rebounding, or trampolining, is a benefit at all stages of life!  Not everyone can get cardio in the same way, so this is something that can be easy on the knees, unlike running or jogging.  As mentioned earlier, the elevated mood will help kids with the concentration in the classroom. Likewise, the same cognitive benefits can be seen in adults when it comes to memory recall. In both cases, the strengthening of tendons and bones will help in future prevention of injury.

Brand
Inherently tied to product features are the company's brand reputation and brand image. Sure a big name company can mean a lot of things but we had to look at their specialization. A small company that specializes in trampoline, we believe, is a lot better than a big name company that produces a vast array of products in addition to trampolines. Of course, this is not always the case and as such, we made sure that every indication of organizational credibility and trustworthiness are carefully evaluated.
Part and parcel of this evaluation is the feedback and reviews provided by customers and other consumers who may have already tried the product. This is important as the first-hand experience counts a lot in the determination of a product's inclusion in our list of the 10 best trampolines for really great outdoor fun.
Frequently Asked Questions
q:

How extensive is TUV certification?

a:

Pretty extensive!  It has plenty of time to perfect it's standard for the 150 years or so since its advent!  With time, it has become more tailored to the needs of each industry after it's expansion since the War and reunification of Germany.  Due to its expansion into satellite companies and deregulation of the markets, it has upped its game more for maintaining the gold standard of European and international safety compliance.  While it has had its ups and downs--as any company with such a long history will--for the most part it has been golden it's assessments.  As always, we suggest doing your own research on any product that interests you.
q:

Do the extra 12 poles on the SkyBound Stratos actually make any difference in safety?

a:

Well, Stratos definitely makes the promise of extra safety and durability, not just with the assurance of giving 4-6 extra security poles from the standard, but also in the number of other guarantees--such as the 10-year warranty!  So, don't just look at the poles, which may only be the icing on the cake!  The PVC foam and rubber on the poles add to it.  Look to the push pin bolt technology that keeps the structure more secure than welded joints.  Research the gold-plating and zinc ionizing process that prevents corrosion.  Take into consideration the ATSM certification and W-shaped rafters.  All of these add up to a possible standard of excellence.
q:

Is there any point in buying any of the indoor "kiddie" models?

a:

There might be if you don't want your house looking like a battleground!  We all know that kids can be rambunctious!  And, for better or worse, times have changed!  Kids have changed, and we can't just send them out to play with their friends for a couple hours like parents used to.  Same kids, different times!  The health benefits for trampolining, in general, are enormous.  But, if you understand the pure sense of well-being and peace that come from a happy and relaxed child, then the investments can be well worth it!
q:

How weather resistant are most of these trampolines?

a:

Most the ones that are advertised as outdoors pretty much will be with you for the long haul!  That said, there is, of course, no guarantee. Most, if not all, have the springs treated to lessen corrosion.  Also, most have UV protected netting to resist fading; the poles usually have some sort of foam covering and protection. It is known from one review that Zupapa's product has withstood a few winters. That's not to mention the fact that all of these companies tend to offer long-term warranties.

Most of the indoor/outdoor trampolines, we don't recommend keeping outdoors for very long.  They tend to be made of plastic and other materials that gather mold rather easily and can be hazardous to your child's health.
q:

Do I really need a gymnastics grade trampoline like the Skywalker rectangle?

a:

Of course you don't need it, that's why we offer a variety of products for your satisfaction! What you will get with the Skywalker is probably a little bit more assurance in knowing that this is a trampoline that professionals trust. A rounded surface can offer more opportunities to lose footing and fall in a way that a rectangle just won't. The even bounce technology just complements this in not allowing participants to bounce more askew to the side, or in any other uncontrolled manner.
q:

I keep hearing about how this improves lymph function, what difference does this make?

a:

The lymph system is probably the second most important part of our bodies after the endocrine. It is what helps to flush out impurities that accumulate over time. A clogged lymph system leads to all kinds of infections that you might not normally be susceptible to. Not only just colds and sinus infections, but the impurities also contribute to weight gain, cellulite, and acne. In older adults, an activity like trampolining may even reduce the risk of dementia and stroke that's also related in such a way.