10 Best Toddler Step Stools Reviewed in 2019
last updated
Sep 02, 2019
When you look around your house everything seems to be just the right height, but now imagine that you were 3 feet tall and needed to be able to use the bathroom sink and toilet without any help. Seems like a daunting task, uh? That's when step stools come into place. They are a great way to make a home accommodating for a growing toddler. Toddlers are busy little people that need things and are learning to use the bathroom on their own. So to make it more comfortable for them, step stools give them that added height that allows them to conquer the task. What are some of the Best Toddler Steps Stools? Here they are.
In a Hurry? The test winner after 19 hrs of research
Bumbo Black
Why is it better?
Lightweight
Portable
Sturdy
Slip-resistant
A portion of each purchase helps children in need in Africa
In a
Hurry? Editors choice:
Test Winner: Bumbo Black
21
Researched Sources
19
Hours Researching
17
Products Evaluated
Design
Safety
Portability
Price Range
By Default
10 Best Toddler Step Stools Reviewed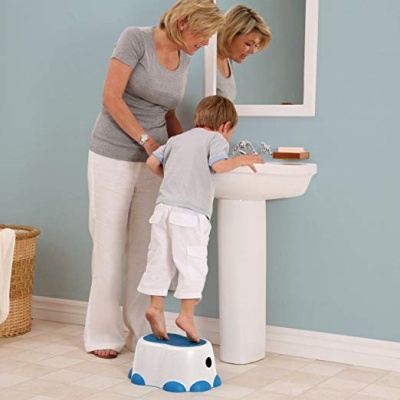 Lightweight
Portable
Sturdy
Slip-resistant
A portion of each purchase helps children in need in Africa
It is a bit short compared to other stools
Our top spot goes to the Bumbo Step Stool. This sturdy stool will be the perfect addition to your bathroom or kitchen to aid your growing child in learning to independently care for themselves.
Read more
Place it in front of a kitchen or bathroom sink to assist with handwashing. You can put it in the bathroom for toilet training or in the kitchen to have your little mini chief help with dinner. Buy one today so you can stop lifting your little one to the sink for every trip to the bathroom.
Design
This stool is available in a few different color schemes to match your home decor. You can be sure this stool will hold your child's weight for many years because it is weight rated to 110 lbs. This stool will provide years of use and should last through multiple children!
Safety
This stool has a slip-resistant top surface so your little one should not fall if it gets damp. It is also slip resistant on the bottom, so it shouldn't move while Johnny is wigging around helping to bake cookies on a Saturday afternoon.
Portability
This stool is easy to move, but will not budge while your little peanut is standing on the top. It has two holes that are used as carrying handles for easy movement. It is lightweight enough that your little one should be able to move it themselves starting at around eighteen months old.
Price Range
This stool falls into the lower price range for our list. It is a fantastic value because of the built-in safety features. You will be hard pressed to find a stool this safe and portable at this price point.
Non-slip top
Rubber feet
Easy to move
Sturdy
Easy to clean
The white top can become discolored with regular use
BABYBJORN is known for quality baby products. Their step stool has snagged our number two spot. This stool is packed with safety features! It will make trips to the bathroom or helping out in the kitchen much safer.
Read more
BABYBJORN has kept your child's safety in mind with each detail of this sturdy step stool. You will not be disappointed when your child uses this stool.
Design
The base of the stool is made of sturdy recyclable plastic and comes in a variety of colors to match your bathroom or kitchen. The feet of the stool have well-secured slip-resistant feet to keep the stool in place when in use.
Safety
This stool has not just one, but two non-slip surfaces to keep your tiny ones safe on any surface. The top of the stool is covered in a non-slip material so anywhere little Anne steps will be safe and slip free.
Portability
When your child has outgrown this stool, do mother earth a favor and throw it right into the recycling bin. This stool has raised sides for easy carrying, so it can help your child to foster independence in potty training or while preparing a snack.
Price Range
The price for this lovely stool is in the middle of the range for our list. You will be pleased with the number of features this stool offers at this price. Go and buy a BABYBJORN step stool today!
3

. Growing Up Green Bamboo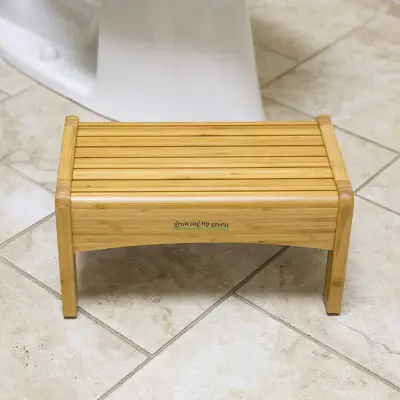 Sustainably made
Wooden construction
Rubber bottom feet
Slatted top for slip resistance
Easy to clean
Screws will need to be tightened periodically
Our number three stool is the Ginsey Home Solutions Growing Up Green Bamboo Step Stool. This beautiful wooden stool is sustainably made.
Read more
When you purchase this stool you are helping to preserve our precious environment. It is durable and very safe. This stool has one of the highest weight ratings of stool on our list for years of use. This is one stool you won't mind leaving in the bathroom or kitchen after your children are done using it daily. This product is also super easy to clean with a mild soap.
Design
The bamboo that this stool is made from is sustainably raised in a pesticide-free environment. It lives up to the Growing Up Green title! This sturdy stool can hold up to 200 pounds. The wood is beautifully finished and should match almost any decor.
Safety
The legs of this stool have rubber feet attached to the bottom so it will not move when someone is standing on the stool. You can feel comfortable when buying this stool because the company keeps the environment in mind when creating this product.
Portability
It is super easy to clean and portable. Your little one can easily move around this one pound stool to where they need to reach next. You will want to have a few around the house so you can use one to reach those top pantry shelves!
Price Range
The price point for this stool is a bit on the higher side for this list. The durability offered and environmental care that is taken when this stool is made make it a great purchase. When you purchase this stool you know you will have a beautifully crafted and useful addition to your home decor.
4

. Secure Home Dual Height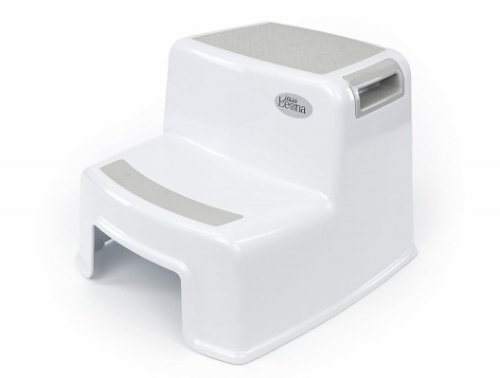 Safe
Durable
Easy to clean
Portable
Holds up to 150 pounds
Lower step is very narrow
The Dual Height Step Stool for Kids by Secure Home has the honor of being our number four pick. This stool offers versatility for a growing child.
Read more
This stool is great for families with multiple children of varying heights. It is packed with safety features. You will find your little one using this stool all over the house. This is one stool you and your children will love.
Design
The Dual Height stool has two steps so your child can use it for many years, as they grow. When they are just learning to potty train or wash their hands they can use the top step and as they grow they can choose to just use the lower step.
Safety
It is made of durable material and will stay put on any surface. It has non slip material on the top of both steps and rubber feet on the legs to keep it steady while your little one is standing on the top.
Portability
This stool comes equipped with two handles on the bigger step for easy carrying. It can be cleaned with mild soap or wiped with a cleaning wipe to keep it sanitary. Your little one can use the handles or the open front and back to carry the stool around the house.
Price Range
The price of this stool falls onto the higher side of prices for our list. The versatility offered to growing families makes it a great purchase. Children of all ages can use this stool! It is great for a growing family.
5

. DreamBaby with Aqua Dots
Sure-grip aquadot top
Rubber-grip bottom
Lightweight and easy to carry
Finger holes give kids the ability to move this themselves
Supports up to 175 pounds
Step is too short for some users still
Step on up with the Dreambaby Step Stool! This simple and effective little gadget helps kids reach all kinds of things: sinks, shelves, toys. They can even use it to climb up into bed if they need a boost! It's lightweight and super easy to move around plus it's small enough to be easily stored when not in use. It's sturdy, slip-resistant, and kids love the fun texture of the aquadot top!
Read more
Design
It's a small, simple stool that gets the job done. It's only one step and it comes with a textured surface to keep little feet from skidding. The bottom is lined with grips as well so you know it won't go sliding out from under them either. It holds up to 175 pounds and measures 12" wide, 7" deep, and 5" tall.
Safety
This stool has safety in mind. Both the top and the bottom have been fortified with slip-resistant material. It's sturdy and won't break easily, plus it holds a significant amount of weight so you don't have to worry about them growing out of it quickly. Adults might have a trickier time though, as it is pretty small, so don't count on using this yourself.
Portability
It's lightweight so it can travel between rooms easily and even ride in the back of the car. It's small as well, so children should be able to pick it up and carry it around themselves. The two finger holes on each side of the design makes the stool easier for children to grip and pick up all on their own.
Price Range
This item sits below the average price for our guide. It maintains a high-quality build though and is highly useful. But since it's straight to the point and skips the frills in favor of effectiveness, you won't see any mark-ups in price.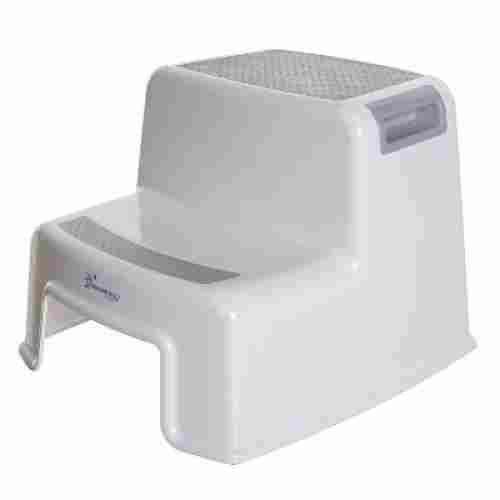 Two step heights
Non-slip surface and bottom grips
Easily portable with two handles on the side
Lightweight and easy to clean
Supports up to 175 pounds
Available in three different colors
Would be better to have more weight and width in bottom step for stability
Sticker all across the top step does not remove cleanly or easily
If you like the Dreambaby line but are looking for something with a bigger boost, consider the Dreambaby 2-Up. This step stool features two steps so kids can choose how high they climb. It comes in three different colors, it's enforced to make it slip-resistant, it's lightweight, and it's handy. Plus its weight limit suggests it can hold bigger kids too, so siblings can get some use out of this.
Read more
Design
Choose between a gray on white, aqua on white, and black on gray stool. The full top step and the lip of the bottom step are both covered in sure-grip dots to keep kids from falling, even if they're running around in risky business like socks. The base is also lined with rubber for sturdiness.
Safety
This step can hold up to 175 pounds in weight. It's stable and it's designed to stay put once you set it down. It's 14" total in depth, with the bottom and smaller step measuring 6.5" and the top step measuring 7.5". The bottom step is 5.5" from the ground and the top step is 10.5" high. The stool measures 13" across in width.
Portability
This step stool isn't just lightweight, it's literally created to be easily portable. Two hand-grips on the side make carrying it easy and are an improvement from the Dreambaby Aqua Dot's four little finger holes. This is easy for kids and parents alike to move around the house.
Price Range
This item falls right below the average of our guide. It's a sturdy structure that could last your family for some time to come so you don't have to worry about opting for a cheap alternative that you're ultimately going to have to throw out and replace quickly anyhow.
Two-pack of step stools
Features thick slip resistant feet
The first step and second step have gray slip resistant material
Comfortable and easy to stand on
Easy to grab handles and lightweight design for added portability
Stool design does not work well around the toilet
First step is narrow and does not work well to stand and reach from
Two step stools are always better than one, especially when you have a toddler roaming around the house. The two step stools included with this set are very helpful for toddlers in the kitchen, the bathroom, and even outside.
Read more
Stools are so helpful when you have a toddler in the house. It is super frustrating to be working with them and they need them to be able to reach the sink or the kitchen counter then realizing that the stool is not in the room. This two-pack of stools is great for making a home a toddler friendly and accommodating area. It has a slip resistant material that is constructed from a soft rubber. It is great for tractions and comfort when they are standing on the stool. To carry or move the stool around there are easy to grab handles to use. Its base of the stool has been constructed from PVC and BPA free materials and it is also stain resistant. It is easy to wipe clean.
Design
The lightweight design and the two packaged stools in this set make it a great choice for any house that is raising or hosting a toddler. The double reinforced base of this stool can hold up to 175 pounds. They also make for a great stool when potty training to access the toilet and sink.
Safety
Each of the stools features slip resistant rubber feet. This really makes for a good grip on the floor or ground. They do perform best when they are used on a clean and dry floor. On the first step of each of the stools, you will find a gray strip and then it is also on the top of the second step.
Portability
The simple design of these stools are great for anywhere in the home. The handles on the top part make it easy for the kids to carry and move around the house. The stool is lightweight making it easy for even the littler members of our family to be able to use the stools.
Price Range
This stool is at the very low end of our price range for step stools. The multitude of uses this stool offers make it well worth the higher cost. You will be amazed at how incredibly useful this stool will be in your home.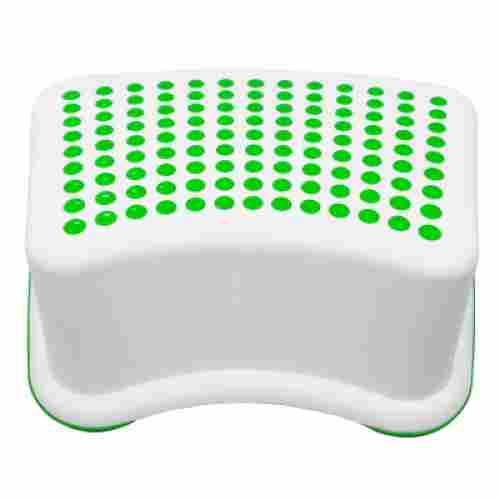 Non-slip top grips
Non-slip base
Sturdy design
Easy to carry
Easy to clean
It is a bit shorter than the average toddler stool
Tundra created our number eight pick, the Kids Green Step Stool. The stool is named the green stool because of the green anti-slip grips.
Read more
This stool is packed with needed safety features. It will meet all of the basic stool needs of your growing toddler. This stool is great for the bathroom and the kitchen. You will be pleased with the functionality of this stool.
Design
This stool is topped with a multitude of little green dots. This design makes the stool super easy to clean. The stool has a slightly curved design so it will fit easily around the base of your toilet for potty training. This is a great stool for your growing toddler.
Safety
Each dot is created from a non-slip material. The non-slip dots are slightly raised to allow water to run off of them creating an even safer surface for your toddler. The bottom of the stool has green rubber grippers to keep the stool steady on any household surface.
Portability
Your little love bug will be able to carry this lightweight stool all around the house to help you with cooking, cleaning, and even laundry. This stool is a great addition to your bathroom or kitchen.
Price Range
The price point for this stool is at the bottom of our list. It has great safety features that will ease your mind. Your toddler will be safe and secure when using this stool in the kitchen or the bathroom. It is an excellent value for the price you will pay.
9

. Fantasy Fields Froggy Thematic
Handcrafted wood construction
Durable design
Easy to clean
Non-slip surface
Beautiful hand painted design
The Froggy Thematic Kids Wooden Step Stool by Fantasy Fields is our number nine toddler stool. This stool is fancy and functional.
Read more
Do you appreciate whimsy and fanciful design? Are you looking to purchase a toddler step stool that is functional and beautiful? This Fantasy Fields stool is perfect for you. It will fit great in a girl or boys bathroom and is the perfect fit for girl/ boy siblings. This stool will stick around as a beautiful reminder of those tough toddler times for years to come.
Design
This stool provides your growing little one with two large steps for convenient versatility. It is hand painted with toxin-free high-quality paint for years of beauty. This whimsical piece is made from hand carved wood. The top opens up to create a convenient area for storage.
Safety
The entire surface is nonslip to keep your wiggly kiddos safe. This stool is the perfect addition to your home. The whimsey of this stool will have your children's imagination running wild while keeping them secured at the same time.
Portability
The bathtime stories that will be told about the frog and bug friends will stay with your children as they grow up to have their own families. It is a great portable piece to add to your kitchen, playroom or bathroom. This stool is the perfect fit for a growing family.
Price Range
The price point for this step stool is near the top of our list. Each stool is carefully hand painted. It is the only stool on our list that includes a lidded storage compartment. You will get a ton of use from this stool. It is a fantastic deal for a lovely hand painted step stool.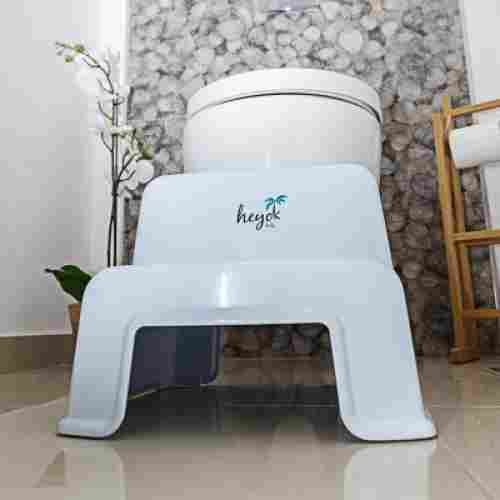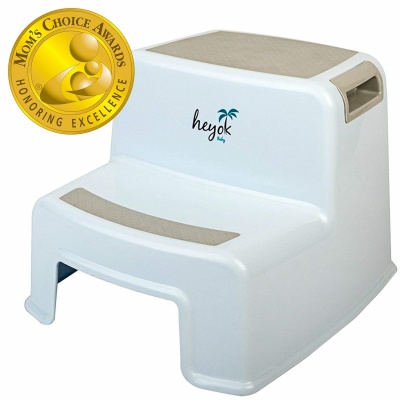 Training stool for toddlers with a weight limit of 220 pounds
Constructed from durable and sturdy materials
Features anti slip rubber feet
Rubber mats on each step for comfortability
Built in easy grip handles for carrying
Top step is not very wide for standing long periods of time
Anti-slip material on top step comes to lose
Safety is the number one priority of homes with toddlers and this stool has been crafted to perfection. It has been constructed from strong and durable materials that are BPA free.
Read more
The material is promised to never crack or bend when properly used by a toddler. It measures in at 14 inches deep, 10.4 inches tall, and 12.8 inches wide making it the perfect size for any bathroom or kitchen. The weight limit of the stool is 220 pounds so it can accommodate both toddlers and adults. It is just the right amount of height to get toddlers to the sink without being too high off the ground. With growing kids around the house and those independent minds step stools like this one are much needed.
Design
The stool is super sturdy and features a design that supports up to 220 pounds. This stool is great for toddlers and yet when you need it, it is right there for you to use. The durable and strong materials used to construct this stool will never crack or bend so it won't let you down.
Safety
On the bottom of the stool, you will find rubber feet that are anti-slip. Each of the steps features a rubber matting that makes it comfortable to stand on and also works as an anti-slip.
Portability
The stool is easy to carry around and great for the bathroom. The material that the stool has been constructed from is lightweight and transporting from the handles that are built into the sides of the stool is easy.
Price Range
The pricing for this stool is near the middle range for our list. Included with the stool is an e-book that features methods that help encourage your little one to use the step stool. This stool is a fantastic value for your money.
Criteria Used for Evaluation
Design
There comes a time in every toddler's life when they need to learn how to properly use the toilet by themselves and that is not an easy quest. Therefore manufacturers have cleverly designed unique helping products that will give them a little stepping stone when going for number 1 or 2. Help your child gain some self-confidence when using the toilet and invest in the right stepping stool. The overall design of the toddler step stool is really important since it represents not only the style but the quality of the materials, the durability, portability and the safety which the product can provide. We created a detailed list with some of the best-reviewed items and favorite stools amongst the customers in order to give you a more clear image of the products and help you invest in the right product.
Safety
Water, water everywhere! Bathtime, potty time, bedtime all of these times involve using water to clean up. Often times water will not only rinse the soap from your child's hands and body it will end up splashed and splattered all over the bathroom. This is why it is incredibly important that your toddler step stool has a non-slip surface to keep your child safe. Water can create slippery hazards and bathrooms have hard floors, this combination can be an accident waiting to happen. Each stool we have chosen has a non-slip stepping surface for your toddler's little feet. They also all have no slip legs so the stool will stay put on any regular household surface. Learning how to use the toilet should be a safe and stress-free experience for both the children and the parents as well.
Portability
Bathrooms can be small and cramped spaces. You may not be able to fit multiple stools into your regularly used bathroom. This is why we made sure the stools on our list can be moved by little people. Each one of our stools can be picked up or scooted across the floor by a small child so they can go from the toilet to the sink without issue. You can use it to teach your children how to brush their teeth on the sink and then place it beneath the toilet if they need to go for number 1 or 2. Portability also makes it quite easier to clean and maintain. A portable stool is also convenient in the playroom and the kitchen. Your little one can foster independence and make your life a little bit easier with a portable step stool.
Price Range
Welcoming a child into your family is the beginning of a life-long whimsical journey filled with many magical memories. But let's face it. It's a pretty expensive adventure and somehow it seems that every step of the way a new product is required for the child to learn and develop properly. We understand how time and energy consuming raising a child can be so we try to provide you with a list of these products in order to help you make the most convenient choice for your bank account status while still managing to find a valuable product. We also do a cost and value comparison, while you can find the actual price on the link of the product since brands tend to change their price tags from time to time. Since we haven't been sponsored by any of these products, you can rest assure that this list is quite fairly and accurately done.
Most Important Criteria
(According to our experts opinion)
Experts Opinion
Editors Opinion
Users Opinion
By Default

Parents, Did You Know?
Since children love to copy everything their parents do and they mostly learn by example, they will gladly use this stool to go to the toilet and feel like a grown up. It truly boosts their self-confidence and helps them practice their muscles so soon before you know it, your toddler will finish the potty training quite effortlessly and spare you great amounts time and energy.
Parents, Did You Know?
Picking up your toddlers every time you want them to brush teeth or go to the toilet can cause severe back pain so a little help from a stepping stool can prevent any type of spine and back mussels injuries. If you manage to find one sturdy enough to withhold your weight, you can even implement it as a part of your workout or use it to pick something from the higher shelves in the kitchen.
Other Factors to Consider
Durability
Children can be very hard on things, they like exploring banging on things and using them for unintended purposes. If you have an item in your home that is not sturdily constructed you can expect that it will most likely get broken or damaged in some way by an exploring toddler. We made sure that the stools on our list will withstand your toddler's shenanigans. They are all constructed of high-quality durable wood or plastic. Each stool has a solid base that consists of sturdy legs to keep your kiddo safe.
Maintenance
Germy grimy bathrooms are no place anyone wants to hang out. We made sure that each stool on our list is easy to clean so you can focus on getting your little peanut potty trained. Each stool on our list can be wiped down with a mild soap solution or be popped right into the bathtub for a quick rinse. Make sure that your stool is completely dry before your little love bug uses it again. These stools will make cleaning up potty messes easier on parents. After all, children make enough mess around the house, so every item that makes our life as a parent easier is definitely worth purchasing.
Frequently Asked Questions
q:

Does my toddler need a stool?

a:

There are many places in a typical household that a toddler can not reach. As your child gets older they will need to be able to wash their hands without assistance. They will want to use the toilet unassisted. You will want them to be able to reach a quick snack or get a cup of water on their own. This is where the properly selected toddler step stool comes in to save the day. With the proper slip resistant easy to move step stool in your home all of these tasks become easier for your toddler to complete without your assistance. With the right step stool around you can relax knowing that your little one can safely reach the sink or a snack.
q:

How does a step stool foster independence?

a:

All parents want their children to be able to complete a task independently. It makes our job easier and helps to foster confidence in our children. How can a step stool help? A step stool will allow your potty training child to use the big toilet safely. It will make reaching the bathroom sink to wash up a much easier task. You will no longer have to worry about your little one pushing and pulling chairs or other small furniture around the house when they want a quick snack.  Watching your little one become independent in daily tasks is a great joy for parents. The proper step stool will help your child gain independence earlier and become more confident.
q:

Can I or an older sibling use my toddler's step stool?

a:

The stools on our list have a variety of weight capacity ranges. The lowest weight limit is 98 pounds and the highest limit is around 200 pounds. This is the maximum amount of weight that the stool can hold at one time. If you are planning to use the stool in the pantry or to reach high cabinets or shelves around the house make sure to check the manufacturer's weight limit prior to purchase. The weight limits differ greatly because of the materials used in construction. All of the stools on our list are perfectly safe for your toddler or young child to use.
q:

Why does my stool need anti slip surfaces?

a:

Bathrooms and kitchens tend to get slippery quickly with small children around. Splashed water, dropped food, and spilled drinks can create sticky and hazardous messes. An anti-slip surface on your child's step stool can help to keep their little feet firmly planted on the stool. The stool should have anti-slip surfaces on both the top and bottom. Why should the bottom be anti-slip? You don't want the step stool to move around while your child is on their tiptoes in the pantry or at the bathroom sink. That would be a very dangerous time for a fall. The non-slip surfaces on your child's step stool work to keep them safe from falling and getting injured.
q:

How can a stool help with potty training specifically?

a:

One of the biggest obstacles to potty training, after your child gains muscle control, is their ability to reach the toilet. There are many small toddler size training potties available, but eventually, your little guy or girl will need to start using the big toilet. This is why you need a quality step stool. The right step stool can sit at the base of your toilet and allow your child to be at the proper height to sit or stand comfortably while using the big toilet.
q:

Why does stool height matter?

a:

The height of the stool you choose mattes because you will be using it in a variety of places. You need to take into consideration the height of your child and that of the stool. If your child is still young or on the short side of the growth curve you will want a taller stool. A taller stool will prevent them from always having to be on tiptoe to reach the sink or a snack. If you have a child on the taller end of the growth curve they may benefit from a shorter stool so they are not stooping to wash their hands or reaching too high on the pantry shelves. If you have multiple children of differing heights you might benefit from a multi-step stool. Yes, stool height matters. Use your judgment to pick the stool that best fits your family.