When you are expecting, anticipating the arrival of your baby is just as exciting for you whether it's your first child or your fifth. The one thing that can amp up that excitement is shopping for your new addition! It's a tangible way to acknowledge that he or she is really coming…and soon! Whether you are expecting a boy, a girl, or even multiples, you can never have too many onesies on hand! Onesies have been a baby staple for generations and have graduated from the plain white ones to that feature various colors, prints, graphics and sayings. They are extremely comfortable, colorful, easy to change in and out of, and can enhance the cuteness factor of any baby. We have compiled a list of our 10 top-rated onesies available on the market today. Our list is diverse, fun, and unique, just like your baby.
Best Baby Onesies & Bodysuits Reviewed
Carter's Baby Simple Joys
Carter's Baby Girls' 5 Pack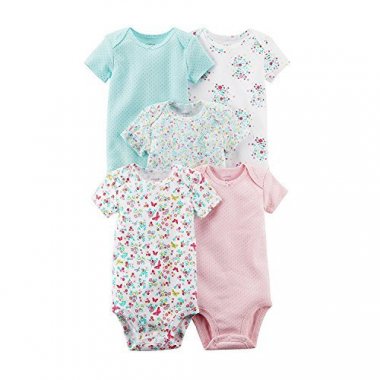 Touched by Nature Girls' Organic
L'ovedbaby Organic Cotton
Justice League Girls' 5 Pack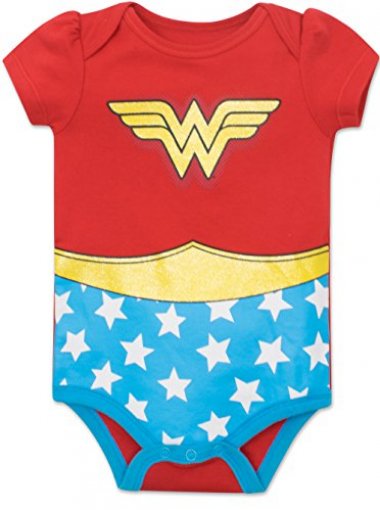 Burt's Bees Organic Short Sleeve
Criteria Used in Evaluation of the Best Baby Onesies on Our List
We know your baby is the most important person in your life, and we want you to know that we care, too. Plenty of research went into picking out not only the right onesies but the reasoning behind why they are right for you and your baby. From styles, to ease of changing, to fabric makeup and flexibility, we've thought about it all. Clothing your child shouldn't be something to stress over, and we've tried our best to make it a fun and unique experience, by finding a onesie that suits every fashion style and lifestyle. Below are listed the criteria that we've used to carefully and thoughtfully select every onesie we've listed above, and we hope that you'll be as satisfied with the results as we are.
Organic vs. Non-Organic Cotton
When it comes down to it, going organic is similar to going "green." It's a personal choice within your family, and whether one is better than the other depends on a parent's level of comfort dressing their baby in certified organic fabric or fabric that is 100 percent pure, but may not be organic. To us, there is no right or wrong here–just a personal choice, and we are happy to provide both options for a happy family and an even happier baby. Our list was comprised of the best onesies in both categories so that neither was left more superior than the other.
Cotton vs. Cotton Blend Material
The reason we had listed (mostly) 100 percent cotton onesies, is because it is non-allergenic. When dealing with a newborn baby, we think that the least reactive fabric is the better route, which is why any onesies listen above that are a cotton blend, tend to lean towards older baby ages. Just like going organic, the type of fabric you choose to wrap around your baby is your own. Our goal is to help you make the best choice!
Why Onesies?
The style of a onesie for babies is not, by any stretch of the imagination, a new concept. However, there is a reason they've stuck around for this long, and why the only thing that has changed is the style and design of them. "Normal" clothes for a baby, especially still in the infant stages, can be very restricting and uncomfortable. Granted there are clothes specifically made for newborn babies, but we view onesies as the most comfortable option. We've provided a style unique to every family and baby, and view more positive benefits than negative: They're easily layered for warmth as well as style (by adding pants, skirts, jackets, hats, etc.), comfortable enough to essentially live in, easily changed and cleaned, and efficient for any type of travel or weather.
FAQ
Frequently Asked Questions
Q: Do the variety-pack onesies come with all the colors/designs shown in the pictures?
A: Yes, all variety pack onesies are true to the images that are shown.
Q: Are these all 100 percent cotton?
A: All the onesies listed are 100 percent cotton unless otherwise specified in the Pros/Cons or Benefits sections.
Q: How should I wash this outfit?
A: Most cotton, as well as blends, are safer being washed in cold water to avoid shrinking, fading, discoloration, and general wear-and-tear. All can be machine washed.
Q: My daughter weighs 16 pounds, what size would you suggest?
A: All onesies differ based on the maker and size range. Sizing charts are available, the general rule is to go a size or two up just in case.
Q: I want to get this for a girl–is there any reason not to?
A: We specify based on the maker's title of "boys," "girls," or "unisex," but they can be worn for any gender!
Q: Should I buy a few sizes bigger than what my baby wears?
A: Yes, please do. If you buy the next one or two sizes up from what your baby wears this will give optimal wear time and save on your expenses. Babies grow rapidly and often times you can buy clothing a bit bigger and work with it until it is too tight to wear anymore.