10 Best Menstrual Cups Reviewed & Rated in 2019
last updated
Apr 14, 2019
We've all probably heard about the pink tax. If you're unfamiliar, we'll boil it down to this: as women, we pay more just to stay healthy and alive. One of the ways in which we see a great financial disparity is a woman's constant need for feminine hygiene products. If you're tired of being hit in your wallet again and again, all while trying to navigate the discomfort and inconvenience biology thrusts upon you each month, consider trying out a menstrual cup. Menstrual cups are small, soft cups you insert vaginally. They catch your flow so there won't be any leaks, can be worn during physical activities, and are reusable, cutting back significantly on what you need to purchase each month when Aunt Flow comes to visit. Take that money and put it towards your favorite snacks or a little pampering; we know you deserve it.
In a Hurry? The test winner after 35 hrs of research
LENA Small Pink
Why is it better?
100% medical-grade materials
Pain-free insertion
The sides are designed to grip easily
Can be worn up to 12 hours
Two different sizes for various flow amounts
In a
Hurry? Editors choice:
Test Winner: LENA Small Pink
25
Researched Sources
35
Hours Researching
18
Products Evaluated
Design
Age Range
Comfort
By Default
In depth review top 10
LENA Small Pink
Blossom Large Blue
Diva Cup Model 1
Lunette Model 2
Dutchess Set of 2
Athena
Pixie Small
Luna Set of 2
Bodybay Super Guarantee
Luna Set of 2
Table of contents
Criteria Used for Evaluation
Other Factors to Consider
Frequently Asked Questions
Sources
10 Best Menstrual Cups
100% medical-grade materials
Pain-free insertion
The sides are designed to grip easily
Can be worn up to 12 hours
Two different sizes for various flow amounts
The shape of the cup might make removal difficult depending on the shape of your cervix
For a solid beginner choice, LENA offers greatness as far as successful insertion and removal rates. It's safe, easy to use, and has a band of followers to back it up.
Read more
Design
It's appropriate to begin with a menstrual cup that has been rated as excellent for beginners to this life change. The LENA cup comes in two sizes; small, which is recommended for normal flow as well as beginners, and large, which is recommended for a heavier flow and for experienced menstrual cup users. The process is simple and once inserted, just like any other cup, somewhat of a vacuum seal is formed to catch any and all blood flow. LENA was voted the number one cup for beginners as certified by Cosmopolitan magazine, which means you won't need to stress about which brand you should go with for your first cup. LENA's unique design makes it easy to handle and insert with soft edges as well as rings that are designed to grip instantly to lock your cup into place. If you're worried about the materials used, don't be -- This cup is made from 100% medical-grade silicone as well as dyes. It's FDA-approved and designed for use up to 12 hours, which is an entire eight hours longer than your average pad or tampon is meant to be used.
Age Range
The LENA is great for women of all ages, from teens all the way up to adult women. It's simple to use and certified pain-free, which will calm the nerves of many a first-time user.
Comfort
The fact that this cup comes in two different sizes really offers a lot in the way of usage and flexibility. Each cup is designed for a specific flow which makes decision-making easy, and also provides you with exactly what you need every month.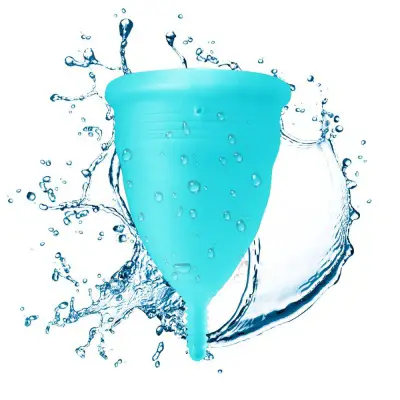 Features a slightly longer stem
Air holes make for an easier removal
The silicone is soft to the touch
Affordable
Flow can be measured throughout each cycle
The cup might be a little too soft and cause overflow on heavy days
Blossom has a great reputation when it comes to being comfortable. It's made with thinner sides to reduce that feeling of having something "down there", while also making removal a breeze.
Read more
Design
Blossom has a strong reputation as well when it comes to menstrual cups and beginners. Their design makes the cup easy to use as well as easy to remove, which is a concern many people have. The other great thing about the Blossom cup is its price; compared to others, it's incredibly affordable -- This makes it a wonderful option for newcomers who are still wary of menstrual cups, but want to give them a go without spending a fortune. This cup comes in two different sizes, a small and a large, both to be used depending on your age, size, and degree of flow. The stem of this cup is slightly longer than most, making removal a bit easier and helping to put your mind at ease once it's been inserted. The material used to create it is silicone and velvety to the touch, making it much more user-friendly as well. Another unique feature of this cup are its air holes -- These make breaking the seal of your cup much easier and, with a longer removal stem, pulling it out should be a mess-free breeze. It's truly magic as far as first-time users are concerned.
Age Range
When it comes to measuring your period flow, many people have mixed opinion. Some don't want to know, while others are comforted in knowing exactly how much they're shedding during each cycle. The Blossom has an easy-to-read measurement system embossed on the side so that in the event you do want to know, it's all right in front of you.
Comfort
We really love that this cup features some minor attributes that seem like nothing, but really make a big difference in the way of feeling comfortable using this for the first time. Small things such as a slightly longer stem, air holes for easy seal-breaking, and a measurement system really help to calm the minds of women who are totally new to this.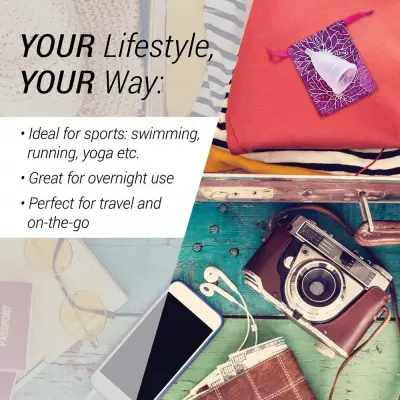 Leading brand worldwide
Very easy removal
Great for active lifestyles
The company takes pride in their eco-friendly impact
Two different sizes depending on your age range
The cup might be a little too big for some women
You've probably heard of Diva before since it's one of the leading brands of menstrual cups out there, but what you don't know is why. This brand prides itself on being eco-friendly as well as being one of the top cups for an active lifestyle.
Read more
Design
Even if you've never used a menstrual cup before, chances are, you've probably heard of the Diva Cup. This was one of the originals as far as new methods of flow control go, and it's been around that long for a reason -- This cup works, and it works well. Everyone will have their own preference but if you're ready and willing to commit to a solid cup, this is one great way to go. Diva has been producing these cups for 15 years, and for a steady 15 years, their feedback has been overwhelming good. The cup is designed to last up to 12 hours and is a stellar choice for women who lead highly active lifestyles. The cup remains in place through hours of physical activity which is something that's of concern to many women who play sports or work out often. It also holds up very well overnight which is where some menstrual cups will often fall short (quite literally). Since this cup is designed to last for so long without being changed, it remains one of the top choices in the entire world (out of 21 countries) for women who are considering making the switch. The first model, which is the one we have on our list, is designed for women who are under 30-years-old and have a smaller cervix, therefore requiring the cup to be slightly smaller in order to be comfortable upon insertion. Model two is for women over 30-years-old.
Age Range
Diva cup prides themselves on excellent customer service and their highly regarded reputation amongst women who are faithful menstrual cup users. Their design is simple, hassle-free, and won't leave you feeling like you're wearing something that just shouldn't be there.
Comfort
Leading an active lifestyle can sometimes be uncomfortable when you're faced with the choice of either a pad or a tampon, neither of which are always 100%. The Diva Cup will always come in clutch when it comes to catching your flow and you'll always be comforted by that first initial seal upon insertion.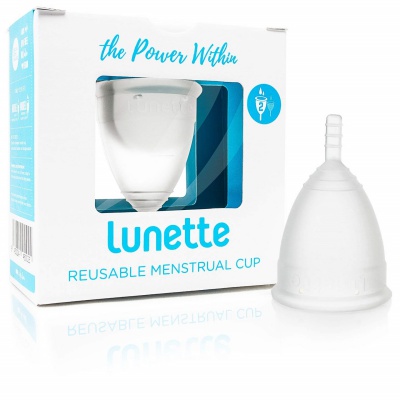 Big enough for heavy flows and post-birth periods
No leaks
Medical grade silicone
Safe to wear for up to 12 hours
No dryness, itchiness, or chemicals
The Model 2 is wider, and a lot stiffer, which some women found uncomfortable
Lunette has you in mind. With this Model 2 menstrual cup, you can live leak-free even during normal and heavy flow months.
Read more
Design
Lunette has you in mind. With this Model 2 menstrual cup, you can live leak-free even during normal and heavy flow months. The Lunette comes in six different colors, and each with a carrying bag for easy, hassle-free transport. Lunette's motto is "nicer periods, no strings attached!" and they deliver with this safe and simple design. It can be worn for up to twelve hours at a time, is made of medical grade silicone, and is odor free. It won't dry you out like tampons do, and is far more cost effective than having to replenish expensive feminine products every few months. And you can monitor how heavy your flow is with the built-in measuring lines. Additionally, menstrual cups are a more ecologically savvy way to go with the flow, so try Lunette for a happy, healthy way to handle those heavy months.
Age Range
Menstrual cups help avoid dryness, itchiness, and any chemicals with which tampons might come tied up. They're easy to use, better for the environment, and can be worn during physical activities without any leaking.
Comfort
Menstrual cups mean no more tampon runs, purses full of pads, or leaks staining your underwear. They're reusable, so you won't have to buy new products every few months. They're nicer on the environment, and on your wallet.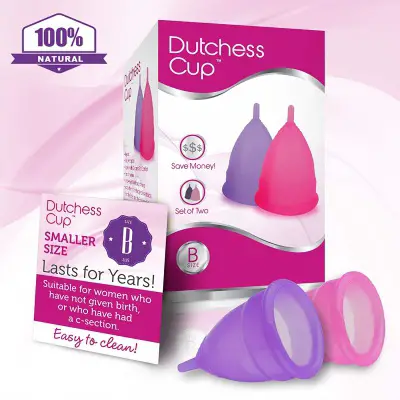 Set of two
Easy to sanitize and clean
Simple insertion
Two different sizes depending on your age
Colors conceal the contents
You might notice more of an odor with these as opposed to other cups
If an amazing deal is your thing, Dutchess might be the cup of your dreams. It's easy to use and is incredibly affordable -- You'll even get a backup for those "just in case" days.
Read more
Design
This is a great deal for women who have used menstrual cups and fallen in love or are looking for the best bang for their buck. For under twenty bucks, you can get two Dutchess cups with a free bag (sanitary and discrete!) which is an amazing deal. These cups are offered in two different sizes, with the smaller size (size B) being perfect for younger women and those who have not given birth or have had a c-section. These cups are completely safe and non-toxic, and free of phthalates, latex, dioxin, and BPA, making them an excellent choice for women who might be a bit more sensitive. They're comfortable to insert as long as you've selected the right size and removal is fairly simple as well. The great thing about having two is that you'll never be without one -- One can be left at home, while the other can be packed away in your purse or bag with the complimentary travel bag. Out of sight, out of mind, but you can take comfort in knowing that you'll never be without it. Plus, it's a lot quieter than unwrapping a tampon in a public bathroom!
Age Range
Having two menstrual cups for less than the price of one higher-end brand is a great option, especially for those who often forget to bring one along if they're expecting their period. This allows you to have options and if something happens to one, you'll always have a backup.
Comfort
We love that the Dutchess cups are very similar to the Lunette in size and shape, therefore they become a great bargain deal if you've already decided that works for you. They also come in two different colors, making your flow a bit more discrete and not as in your face as other clear cups.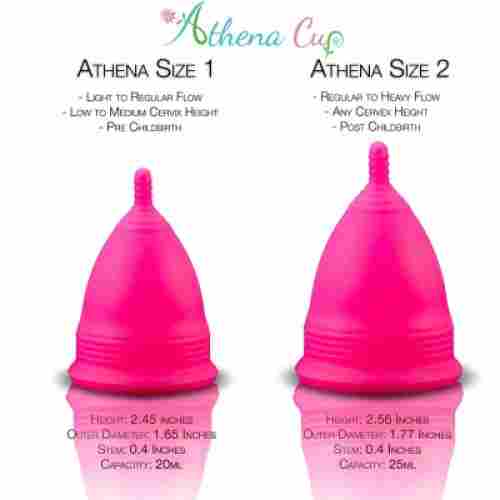 Soft and comfortable
Reusable
Comes in two sizes
Includes carrying bag
Environmentally friendly
The weight of the cup can increase as it fills throughout the day
It can be tricky to pop into place
Like the great Greek Goddess it's named after, the Athena cup is ready to strategically take on the blood bath and fight for wisdom and justice. --Well, okay, maybe there isn't much justice to be had when it comes to periods, but at least you can attack them wisely and carefully from here on out.
Read more
Design
Like the great Greek Goddess it's named after, the Athena cup is ready to strategically take on the blood bath and fight for wisdom and justice. --Well, okay, maybe there isn't much justice to be had when it comes to periods, but at least you can attack them wisely and carefully from here on out. The Athena Cup promises a lifespan of up to 15 years, and can save you an average of $80-$120 per year on feminine hygiene products such as tampons and pads. It's a more environmentally friendly solution, and simultaneously saves you the headache of constantly replenishing diminishing stocks. No more emergency drug store trips; the Athena cup is reusable and can be worn for up to twelve hours at a time. If you're not satisfied, contact them for your money back, or to exchange the product for a different size or unit.
Age Range
The Athena Cup protects against dryness, itchiness, and cramping, while also reducing the 20 billion tampons and pads entering landfills in North America each year.
Comfort
Athena is pretty serious about their safety and quality standards. They use high grade silicone and vegetable dyes to keep their products chemical free, and they audit all of their suppliers to ensure that they meet the company's rigorous qualifications.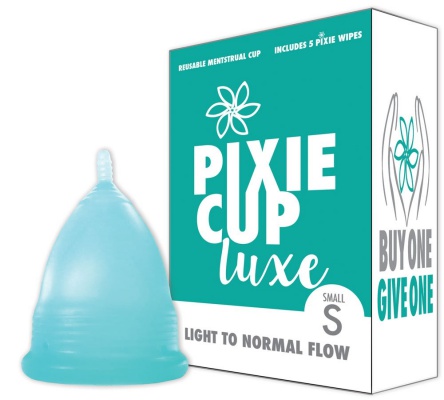 Comes with a detailed instruction booklet
Extra long stem for easy removal
Includes a carrying bag
Includes wipes for easy cleanup
100% satisfaction guarantee with full refund
This cup takes some practice to insert correctly
This cup is all about extra features. If keeping your cup clean on-the-go is your biggest concern, Pixie offers specialized wipes that are designed to take on any type of mess.
Read more
Design
The Pixie Cup is practically any woman's dream starter kit for her first menstrual cup. It comes with so many extras that we knew absolutely had to add it to our list, not to mention, you get more sizing options with this cup than you do with any other. It comes in small, large, and extra large, which are all varied based on the rate of flow of your period. This might be a good option for women who experience especially heavy flows because you won't have to worry about leakage. Each cup also varies in size from 1.9 to 2.4 inches, making it highly versatile depending on how high or low your cervix it and whether or not you've had children. While this cup has solid reviews, what we're most interested in is everything that it comes with. In this kit, you'll receive a pretty pink bag that's extra flash to store away your cup and keep it free of any dust, as well as -- we love this -- Menstrual cup wipes! That means that you can easily clean your menstrual cup on the go and easily in the comfort of your own home as well. You'll even have them on hand just in case things get a bit messy down there (which they might if you're a first-time user). This is an awesome addition and a nice thought on Pixie's part, and for even more added comfort, you'll get a full brochure with step-by-step directions that detail exactly how to insert, remove, and clean your menstrual cup.
Age Range
Pixie has truly thought of everything when it comes to making sure you're comfortable using their menstrual cup. Between the carrying bag, wipes, and instructional pamphlet, you'll be a pro at this in no time.
Comfort
Having wipes along for the ride is one of the greatest comforts when it comes to having your period. Everyone is familiar with that "gross" feeling that comes with your monthly friend, so having something to combat that is truly wonderful.
Soft but sturdy
Comes with two silk bags
Set of two cups
Easy insertion process
Won't feel stiff or rigid
It works better for lighter periods
Silk storage bags don't seem like a big deal until you've found your menstrual cup covered with lint because you didn't have one. Luna eliminates that problem and throws in an extra cup just in case.
Read more
Design
The Luna Cup is another brand that many women have probably heard of and its reputation is right up there with the Diva cup. They offer a set of two with randomly assorted colored silk bags for easy storage and safekeeping, which is always a nice touch for something you definitely want to keep sanitary. The cup itself comes in two different sizes, small and large, that you can use depending on what you're comfortable with and how heavy (or not) your flow is. You can wear this cup up to 12 hours and Luna prides themselves on having a top-rated, no-leak cup -- Meaning you're free to do any type of sports you want as well as sleep with this cup in and have no problems. They also value a cup that's of a medium stiffness; not being too soft or too hard and instead of falling somewhere in the middle. This is great for first-time users and women who don't favor cups that fall to either extreme. It's simple to use, easy to keep in, and a good basic menstrual cup.
Age Range
This cup shouldn't give you any issues upon insertion due to its structure and material. It's 100% medical-grade silicone just like every other menstrual cup, but it's designed to be flexible and strong at the same time.
Comfort
The silk carrying bags are truly a nice addition to this two-piece set. Silk will prevent any dust or fluff from sticking to your cups which leaves you with a sanitary cup, ready for us at any time.
9

. Bodybay Super Guarantee
Two cups for the price of one
Comes with a sanitary bag
Includes an instructional page
Extremely affordable
Easy to insert
The edges might be too firm or rough for some women
Don't be caught without an instructional manual; menstrual cups are relatively new and should all come with a how-to guide. Luckily, Bodybay cups do!
Read more
Design
Similar to the Luna Cup, the Bodybay Menstrual Cup also comes with a silk carrying bag to keep it sanitary. It also comes with a user pamphlet that explains, in detail, how to properly insert and remove it, as well as an additional backup cup. This set is extremely affordable and would be great to have as an extra or for beginning users since it's not very highly priced and is easy to use. For such a great value, you're getting a second cup at half the price with no increase for a larger size. Speaking of which, these cups are offered in both small and large sizes, so you have some variety as far as your personal needs and what's comfortable.
Age Range
The price is definitely one of the greatest things about these menstrual cups; you're getting an excellent value and much more for the price of what one cup would normally run you. They're also great quality, including several extras, and will last for years.
Comfort
Something many cups are lacking is a proper guide on how to use them. While the process may seem simple, in reality, it's nerve-wracking and can be a bit daunting when faced with it for the first time. The instructional booklet that's included with Bodybay is both helpful and comforting.
Form fitting
Thin and comfortable
Two different sizes included
Carrying bags included
Free of chemicals
Thin, so it takes some coaxing to get it open once inserted
Some customers complained that this is not the original LunaCup brand and design
Not sure what size is the right size? Try Luna, for starters. This set comes with two sizes, one meant for lighter to moderate flow, and one meant for normal to heavy flow.
Read more
Design
Not sure what size is the right size? Try Luna, for starters. This set comes with two sizes, one meant for lighter to moderate flow, and one meant for normal to heavy flow. Each comes with its own beautiful silky bag for carrying. Comfortable and capable of keeping you leak-free, Luna Cups sit right in that sweet spot between soft and firm, making it effective without it being agitating. It's less hassle than tampons or pads when it comes to keeping them stocked, and it won't leave you dry like tampons do when they absorb the natural vaginal fluids in addition to your flow. Luna offers a money back guarantee, and is one of the most popular and well-known brands when it comes to menstrual cups.
Age Range
You can wear your menstrual cup before your period even stars without worrying about dryness and irritation, so you won't have any accidents. This Luna set comes with two cup sizes so you can try each and decide what's right for you.
Comfort
They're comfortable and much thinner than a lot of other brands, meaning they won't feel very intrusive, if you even feel them at all.
Criteria Used for Evaluation
Design
The menstrual cup is a hygienic product that is made to prevent menstrual bleeding from leaking onto garments. The cups can be used for up to 5 years. It is considered to be a safe option.
Not to get too graphic, the menstrual cup is inserted through the vaginal canal and sits just below the cervix. It's designed to sit low enough so that you can use the stem to lightly tug for removal, similar to a tampon. The cup must be folded properly (there are plenty of diagrams and videos online showing this process) in order to be inserted correctly. If it's not inserted correctly, don't panic! Simply take it out and try again. It's a process of trial and error and may take a few tries before you eventually get the process down pat. A helpful tip is to get into a "runner's stance", or lunge, relax your hip and ab muscles, and carefully insert it. Once the cup is inserted, its job is to essentially bloom and form a seal around your cervix so that nothing can make its way out -- Exactly how a tampon works. This cup can be left in for up to 12 hours depending on how heavy your flow is. At the end of your desired time frame, in order to remove the cup, simply resume the stance that allows you the greatest range of motion, most relaxation, and comfort. Gently squeeze the sides of the cup to release pressure and break the seal, then use the stem to gently pull down on the cup to remove it as carefully and mess-free as possible.

Age Range
Menstrual cups are used by women and teenage girls on their menstrual period. The size of the cup that you choose depends on the size of the bleeding and the size of the cervix. The cups collect fluid inside the vagina.
This can be a bit tricky, but never fear! You can always consult with your doctor to help you with this. Finding the right menstrual cup size and shape for your body is relatively easy; it's as simple as feeling around and determining how much room is actually there to allow for a cup. Most women are fine with the smallest size available, however, if your flow is significantly heavier, you might want to consider a larger size. It can be a bit of trial and error but once you find the right one, you're good to go for years. The determining factors that will help your decision are the length and size of your cervix, the rate of flow, whether or not you've given birth and the strength of the muscles in your pelvic floor. As far as the cup goes, you might want to consider things such as the flexibility, stiffness, and capacity.
Comfort
Menstrual cups provide more comfort than a tampon. Namely, the cups can be reused and due to their size, can hold much more than a tampon.
Think about it. When you use a tampon, you're not only decreasing the natural lubrication that occurs during your cycle but by doing that, you're also upsetting your body's natural PH levels. This can cause things such as vaginal dryness, rashes, and irritation… All things that no woman wants to deal with on top of having her period. Tampons can also expose you to chemicals that aren't exactly great for your body, thus making you feel even worse. A menstrual cup is completely medical-grade material, absorption-free, and won't leave you feeling irritated, dry, or uncomfortable with a dry tampon in. This allows you to continue on through your normal cycle without upsetting your PH levels which is much healthier for you. Menstrual cups are also great at preventing potential leaks due to their airtight seal, can hold much more than your average pad or tampon can, and can be reused, which is saving you mass amounts of money by the end of each cycle.
Most Important Criteria
(According to our experts opinion)
Experts Opinion
Editors Opinion
Users Opinion
By Default

Parents, Did you Know?
When using the menstrual cup, blood is absorbed and leaking is prevented. However, proper use is to be ensured in order to prevent leaking when the cup is not inserted properly into the vagina.
Parents, Did you Know?
No health risks are associated when using menstrual cups. When inserted properly, menstrual cups are safe to use.
Other Factors to Consider

Effectiveness
There are many factors to consider when you've decided to make the switch from using pads or tampons to a menstrual cup. You probably have questions too, many of which we hope to answer when detailing the research we've done to provide you with only the best. This method of flow control for your period has taken not only social media by storm but is considered trending because of the fact that it's completely, 100% eco-friendly. Not only are you helping to maintain the natural homeostasis in your body by not putting something foreign in it, but you're also helping to reduce the amount of those foreign products that go into landfills. When it comes down to it, the risks associated with tampons far outweigh the risks of a reusable cup, which makes it a smart and healthy option. Let's go more in-depth into what you're actually doing when you make the switch.
Frequently Asked Questions
q:

Are these uncomfortable to wear?

a:

That all depends on the size of your cervix as well as the size of the cup. More often than not, a small size will be fine unless you've had children and have a heavy flow. It might take some getting used to, but many users find these cups to become much more natural than tampons over time.
q:

Does it need to be left in for a full 12 hours?

a:

Absolutely not. You can remove and empty these cups as often as you need to, up to five times a day if necessary.
q:

Can I use them if I have an IUD in?

a:

Yes. Since an IUD sits up in your cervix, strings should sit comfortably in your menstrual cup if anything, rather than coming down past the cup (which could be a more significant issue). To ensure that cups don't interfere with your contraception, make sure that you break the seal during removal by bending it into a C-shape rather than just tugging on the stem at the base.
q:

What if it gets stuck?

a:

This is a common concern and fear since many women have heard horror stories about menstrual cups (don't base your personal decision off of these!). While the cup can form a solid seal and feel like it's "stuck", chances are that what's actually happening is your cup is being sealed too high up in your cervix. In this instance, simply relax to lower your cervix, and push on the cup's sides in order to efficiently break the seal. If this happens often, you might want to consider using the next size up (large, in most cases) so that the suction remains lower.
q:

How do I know which cup is right for me?

a:

We're hopeful that our detailed guide with help you gravitate toward the cup that's right for you but when it comes down to it, if you're a first-time user, go with something that specifies "beginner". It's always good to look at the pros/cons as well because everything will have its upsides as well as its pitfalls.