9 Healthy and Easy Lunch Ideas for Kids at Home
Sending your kids off to school knowing they will have lunch provided for them certainly makes the day go by a little bit easier – but what about the days when the kids are home? Maybe you are homeschooling, the kids are homesick, or it happens to be the summer or a weekend. No matter the situation, if your kids are at home for lunch, it can be tricky to come up with healthy and easy lunch ideas for kids!
Coming up with dinner is already difficult enough for parents, but adding in lunch as well can get overwhelming. Thankfully, there are plenty of healthy lunch ideas for kids you can put together. 
We've compiled this list of easy lunch recipes for kids, and best of all, we've included some dairy-free and vegetarian options as well. No matter what type of diet you are on with your children, you have quick and easy options for lunches that will be nutritious and filling. In fact, you might as well make these lunches for yourself as well, they're all delicious and great for kids and adults! 
Easy Lunch Ideas for Kids for All Diets
1. Tortilla Pizza
Homemade pizza just got a lot easier – why not make a tortilla pizza? You can use whole grain tortillas to make this dish even healthier, and we recommend finding a pizza sauce or tomato sauce that is just tomato-based and doesn't have a bunch of added salt or sugar.
Spread the sauce on the tortilla, top with some of your favorite shredded cheese (mozzarella works great but use whatever you have in your refrigerator!) and stick it in either the oven or even a toaster oven if you've got one. Because the tortilla is much thinner this will crisp up and the cheese will melt in just a few minutes. Lunch will be on the table in no time! 
Recipe originally from: Kristine's Kitchen
2. Ham and Cheese Pinwheels
These pinwheels look incredibly cool, which is a helpful tactic when finding healthy lunch ideas for kids. Who wouldn't want to eat these ham and cheese pinwheels? Best of all, they're incredibly easy to make, especially considering that you can make a bunch of servings at once and portion them out for the week ahead. If you are into meal prepping, this is a great lunch meal prep option!
All of the ingredients get wrapped up in a tortilla – all you'll do is spread the layers of ingredients, roll up the tortilla, let it chill in the refrigerator so that it is easier to cut, and then cut your pinwheels! The first layer is a combination of cream cheese, shredded cheddar cheese (or another type of shredded cheese if you don't have cheddar on hand), a packet of dry ranch mix, crumbled bacon (which you can either cook and crumble yourself, or buy it pre crumbled from the store!), and some bell pepper. Spread that in a nice thick layer on your tortilla, top with a few slices of ham (or other lunch meat) and then roll it all up! 
This is a great way to get a nice mix of protein, veggies, and dairy all in one fun lunch. We think you'll love these as much as your kids, so be sure to save some for yourself! 
Recipe originally from: Chelsea's Messy Apron
3. Baked Chicken Fingers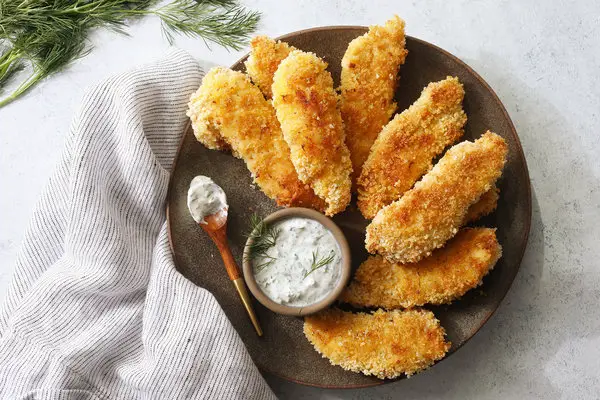 Of course, you can't go wrong when it comes to chicken fingers. What kid doesn't love them? This is a great lunch option if you've got picky eaters. Best of all, by making them yourself, you can be sure they are a lot healthier than either fast food options or even frozen options you find at the grocery store.
These chicken fingers get baked instead of fried, making them much healthier right off the bat. If you're concerned that these will take forever to make, thankfully you would be wrong! You'll first add a few seasonings to your chicken tenders (you can either purchase your chicken pre cut into strips, or do it yourself if you prefer) and then put the chicken into some flour, then into buttermilk, and then coat them with breadcrumbs. Spray them with some olive oil spray, or another cooking spray, and bake for about 30 minutes, flipping halfway through! 
This is a fun recipe and activity to get your kids involved with – they'll love dipping the chicken into the flour, the buttermilk, and the breadcrumbs. Definitely supervise them! You don't want your kitchen to turn into a mess, but let them have some fun with this! 
Vegetarian Lunch Ideas
1. Hummus and Veggies 
Hummus is a great vegetarian lunch option. Plus, it really doesn't get easier than this – all you have to do is put out the hummus, some vegetables, and any other items you use for dipping! While you can take the time to make your own hummus, there are also plenty of healthy options you can buy from the store. 
Carrots, cucumbers, broccoli, and celery are great vegetable dipping options. You can add in some grains by using pita chips, pretzels, or even pita bread as dipping options as well.
This is great for a quick, healthy and easy lunch recipe for kids that doesn't involve a lot of prep work or cleanup.  
Recipe originally from: One Lovely Life
2. Cucumber and Cream Cheese Sandwiches 
Remember going for afternoon tea (or seeing it on TV?) There were always cucumber and cream cheese sandwiches. Steal that idea and use it for lunches – it's a great, easy way to put a delicious lunch together! 
The key here is to cut your cucumbers nice and thin. You can use whole wheat bread instead of white bread to make this healthier, and can also opt for lower-fat cream cheese if you want. Be sure to cut the crust off the bread (it really does make it better when it comes to this type of sandwich), spread your cream cheese, top with cucumber, and enjoy! 
Recipe originally from: Weelicious
3. Avocado Toast
Avocado toast isn't just for millennials on Instagram – it's a seriously great healthy snack lunch option that is quick to put together. Best of all, you can customize this pretty much any way you want. We recommend a thicker bread for this toast that will hold your avocado nicely, but you can use anything that you like. Toast up the bread first to make it even crunchier and ready to hold the avocado. 
Mash up the avocado and spread a nice thick layer on your toast. Now it's time for toppings! You can either leave it just like avocado, or you can add some optional toppings like a little drizzle of olive oil, some salt and pepper, or even some red pepper flakes if your kids like spicy food. That's it! You'll have this on the table in just a few minutes. 
If you've got some avocado leftover, you can store it in your refrigerator for another few days. We recommend drizzling some lemon juice on it to help prevent it from turning brown. 
Recipe originally from: The Spruce Eats
Dairy Free Lunch Ideas
1. Peanut Butter and Jelly – On a Stick!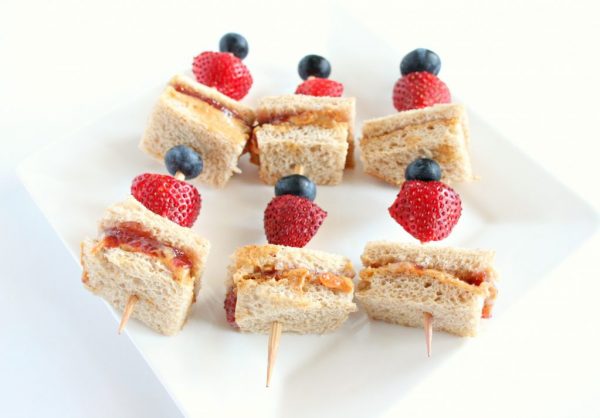 Peanut butter and jelly is the classic lunch food for kids, and while you can always go with the classic, you can also easily make this lunch even more delicious (and fun!) by making it- on a stick!
What is nice about doing it this way is that you can incorporate other healthy items like bananas, blueberries, or strawberries by adding them on the stick as well. Alternate bite-sized pieces of the PB&J with various fruits, placing them on wooden skewers to keep it all in place. This won't add much time to your lunch prep, but the payoff will be huge!
Your kids are sure to love how fun the lunch looks and will enjoy eating every last bite. This is also great if your kids don't always finish their lunches. Instead of seeing a whole sandwich that might look too big, there are smaller bites that are more manageable and fun. It's a winning combination! 
Recipe originally from: A Whisk and Two Wands
2. Pasta Salad
Do you have trouble getting your kids to eat salads? Here's a great idea-  go for a pasta salad instead! While it is not the same as an actual salad, it's a great way to introduce some veggies into a meal in a way that seems more appetizing to kids. Best of all, you can add just about whatever vegetables that you want in here, so whether that is based on your diet, or just what you happen to have on hand, you can make it work and turn it into a delicious pasta salad!
Things like tomatoes, basil, olives, and cucumbers tend to work really well in a pasta salad, but don't let that limit you. You can also create your own salad dressing or use a bottled kind to make this an even quicker recipe. Add in some pieces of meat to make it a bit more filling, or leave it out for a vegetarian and dairy-free option. If you don't need the salad to be dairy-free you could also add in some cheese if you wanted. Endless choices!
This is another great meal prep option for lunch. Make this salad in advance, chill it overnight in the refrigerator, and portion it out for delicious meals all week long for you and your kids! 
Recipe originally from: One Lovely Life
3. Pepperoni Rolls
Finally, when you think of pepperoni, you probably think of pizza, and when you think of pizza, you think of cheese. Well, turns out you can still enjoy pepperoni even if you are going dairy free!
These pepperoni rolls are a great way to enjoy the flavors of pizza without the cheese. You can also choose to make your own dough, or you could buy some pre-made from the store to save time. Roll it out, add the pepperoni, roll it up, and bake! 
Recipe originally from: Go Dairy Free
Wrapping Up
Making a healthy lunch for your kids doesn't have to take a lot of time. These quick lunch ideas for kids are delicious, but don't sacrifice nutrition! No matter the reason your kids are at home, you can whip up these delicious lunches for them. Even the pickiest of eaters will enjoy these lunches, and in fact, plenty of them you can have your kids help you make! 
We hope you'll enjoy these easy lunch ideas for kids. To make things even easier, we recommend creating a menu for the week in advance and planning out what you'll make. That way, even as the day gets crazy, you'll know exactly what you're making for lunch and don't have to worry about making another decision during your day. 
Most Read