10 Creative Easter Arts and Crafts for Kids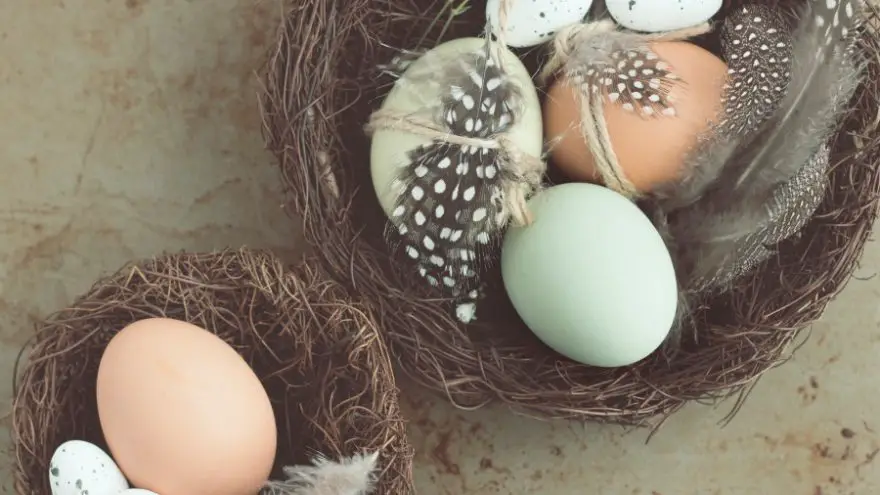 Easter is coming and it's that time of the year when you want to help your children make some arts and crafts for their friends, neighbors, their family, to decorate the house, to give out in Easter baskets and in general to make people happy. That's what kids enjoy the most is making their family happy and making people something memorable for holidays. Most kids are very family orientated and love to be with their families. This is why families are important to children and so are all the routines and holiday traditions that go along with their memories. This is something they will remember and be able to help their children make these arts and crafts and enjoy the traditions they learned so they may pass them down the line.
This one is more for toddlers and preschoolers and is called Toilet Roll Easter Chicks. Just take toilet rolls and have your child paint them yellow. Glue on some eyes and use tissue paper for the fur. Use orange felt and cut a nose in the shape of a carrot and glue on upside down onto the toilet paper roll. These are all supplies you can buy at an arts and crafts store except for the toilet rolls. Put the finished products into shredded newspaper nests. Everyone usually has some newspapers laying around their home for various reasons. It's a good way to recycle products too with this craft for Easter.
The next craft is called a Tissue Paper Easter Wreath which is good for kids to keep refining their fine motor skills. Buy various shades of pastel tissue paper at a craft store or "The Dollar Tree" and have your kids crunch the tissue paper for this wreath. Get some paper plates and cut out the middle and have your toddler glue the scrunched tissue paper on the plate and you can always add a tiny ribbon at the bottom and hang up their wreaths or they can give it as a gift for Easter. Preschoolers and toddlers have fun making these wreaths but older children can help with the project.
The third easter craft is to buy plastic eggs at The Dollar Store and have your kids paint them different colors. They can decorate them any way they want with using their creative minds. Kids that are 6 and up would be good at this because their motor skills are developed and this is a good way to combine critical thinking skills for decorating the eggs. When the eggs are finished, you can fill them with candy and put them in an egg carton. In addition, put these eggs in bowls and baskets around the house or have an easter egg hunt.
The fourth craft for Easter is called the Toilet Roll Peep which looks somewhat like a marshmallow peep. Get some paint and have your preschoolers paint the toilet rolls various colors that resemble the colors of marshmallow peeps, buy some eyes at the craft store and some orange felt or use construction paper that is yellow and cut the nose into a triangle. Have the kids glue on the noses and the result is pastel marshmallow peeps. Make sure no one eats these. Your kids can make a nest out of paper bags and put them around the house or give them as gifts.
The fifth craft idea is paper bag nests for the peeps that your kids are making whether they are chicks or marshmallow peeps. Just simply have your kids of all ages take paper bags, make sure they are the lunch boxed size and create some cool nests for all of the chicks and peeps they created. In addition, they can also use the nests for the eggs they painted and filled with candy.
The sixth craft idea for Easter are eggs made out of foil and tissue and decorated with different bling pieces and don't forget to have a punch on hand to punch a hole in the top of the egg to put a ribbon onto it. You can make the foil into an egg shape and have your child help cover the foil with pieces of tissue paper that they glue on the foil. The eggs can then be decorated with bling or small pieces of ribbon that you can glue on. When all is done, have your child punch a hole in the top of the egg and tie a piece of ribbon through the egg. You can have your kids hang these eggs around the house or give them as gifts. You can also make a small tree and have your kids decorate the tree. They can also decorate your shrubs outdoors if the weather is permitting.
The seventh craft idea for Easter is called the Easter Finger Puppets. Kids always love these little things. All you need are pipe cleaners and different colored small fur balls that come in bags at a craft store. Purchase some more eyes and add different kinds of noses to your pipe cleaner puppets. You can add some ears and have your kids swirl the pipe cleaners around their fingers so you can glue the top of the furball heads to the pipe cleaners. You can be creative with your kids and make all kinds of puppets like bunnies and chicks and even some of their favorite characters for rainy day projects.
The eighth craft idea for Easter is called Easter Egg Table Toppers. This project is for smaller children and they can enjoy themselves using Q-tips for painting small lines and dots on a piece of cardboard that is cut into the shape of an egg. The eggs can be painted in pastel colors and decorated with the Q-tip brushes. Cut one inch by one-inch cardboard pieces and glue the cardboard pieces into a circle. Cut slits into the cardboard and put the eggs into the cardboard holders. Have your kids paint all the cardboard pieces and do the Q-tip painting. They can also help with the gluing. Have your kids decorate the table and make Easter Egg Toppers out of them.
The ninth craft idea is to have your kids create Stained Glass Easter Eggs by using tissue paper and contact paper. All you have to do is have the kids cut the contact paper into the shape of an egg and tear little scraps of tissue paper that are multiple colors. You can use any craft pieces you have left over for this idea. The kids then take the pieces of scraps and glue them onto the contact paper egg and take the paper off the back of the contact paper and stick them on the windows in your house so the light shines through. Clear contact paper is the best to use to get the full effects of the colors.
The tenth and final easter craft idea are Toilet Roll Bunnies. Make sure to save your cardboard from your toilet paper when the paper is gone because there is quite a bit of crafting your kids can do with these rolls. Take blue and pink paint and have your kids paint the cardboard rolls. You can hit the craft store or any store that has an arts and crafts section because they all have bags full of popsicle sticks. Take two popsicle sticks and have the kids paint them blue and pink and use them for the bunnies ears. They can glue the popsicle sticks inside of the cardboard after the sticks are painted. Make sure you grab a big bag of craft eyes for people and animals from the craft store and have your kids glue on the eyes to the cardboard roll bunnies and use a cotton ball for their tails. They can always use two small white squares from felt or paper and glue these on for the teeth. Your kids can add these to all the fun arts and crafts you have taught them to make for Easter.
Most Read