10 Easy Spring Arts and Crafts for Kids of All Ages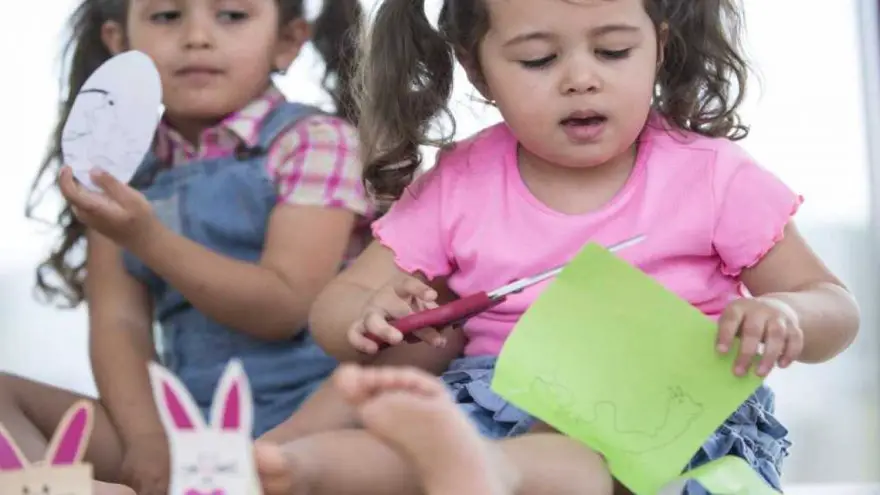 Sitting down with your kids to enjoy creating some new crafts is such a great way to bond, have some fun, and create some beautiful memories! Letting your kids express their creativity is so important and such an important skill for them to focus on from an early age. However, as fun as crafting might be, sometimes it's difficult to come up with the perfect crafting idea! There's nothing worse than having all your materials and motivation, and no idea of what to create! If you want to be creative but aren't quite sure what to create, we've got some easy spring crafts for kids for you to try out!
When crafting with kids, especially younger kids, you want to keep things easy. Too many items can get confusing, and let's face it, really messy. Avoid the huge cleanup and chaos and opt instead for easy crafts that you can do with your kids – no matter how old they are!
With warmer temperatures finally here, we are sharing our top picks for our favorite easy spring crafts. We're talking lots of color and influences from outside – cute animals, bright flowers, and more!  
10 Spring Crafts for Kids!
1. Paper Bowl Ladybugs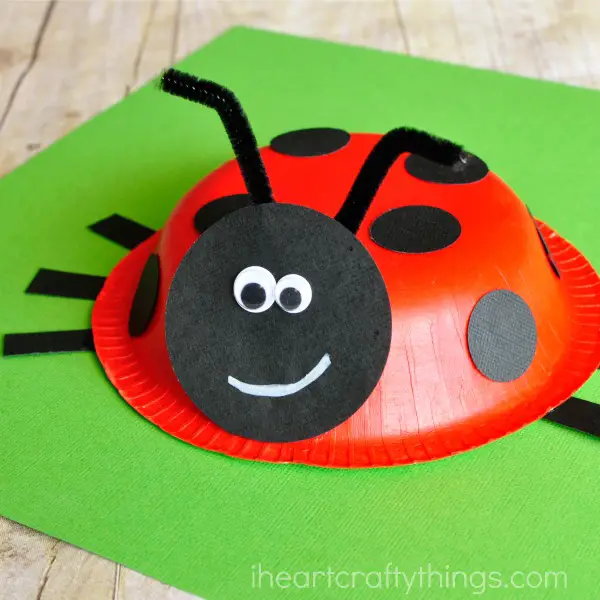 If your kids don't like bugs or insects, you at least know there is one bug that will be safe to create: The ladybug! Who doesn't love a ladybug? This is a super cute, and super easy spring art project! We love that this is a 3-D craft that you'll be able to have sitting out on your table all spring and summer long!
Best of all, you don't need a ton of materials to make these preschool springtime crafts, and plenty you can substitute in a pinch! Paper bowls are the main item needed here as well as some red paint. You can then use some black paper to form the rest of the body, or use black paint as needed instead! We do think the googly eyes are a must, though. They are just so cute! 
2. Q-Tip Daisies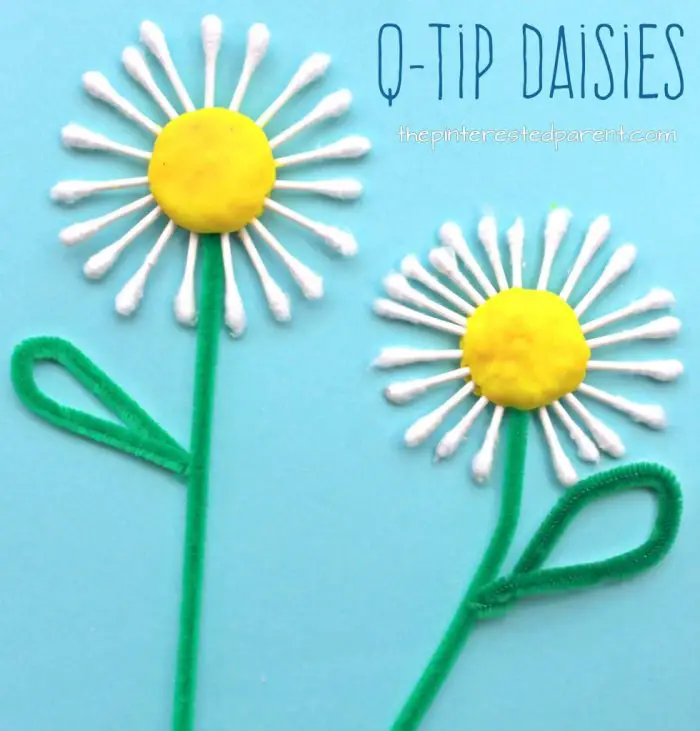 Here's a great spring craft idea that utilizes something that you likely have sitting in your bathroom drawer but never thought to use for crafting- Q-tips! In this simple craft, the q-tips form the petals of the flower. For a daisy you don't even have to paint them, but feel free to paint them different colors if you want a brighter, more vibrant flower!
The middle of the flower is made with play-doh in this craft, and who doesn't like playing with play-doh? Once you're done playing, grab a bit of yellow to form the center of the flower! Cut your q-tips in half, stick them in the play-doh, and stick a green pipe cleaner in the bottom for the stem. It really couldn't be easier!  
3. Pom Pom Caterpillars
For other cute and easy 3-D spring crafts for preschoolers, why not make some adorable caterpillars? For this craft you need a bunch of pom poms, some glue, and some googly eyes! We like that you can get pretty creative with this craft and make your caterpillar however you want. Let your kids pick which pom pom colors they want and how long and twisty they want their caterpillar to be!
Glue the pom poms down onto some construction paper (which you can cut out into the shape of a leaf to take this craft even further!) and attach some googly eyes to the head. That's it! The end result? Some seriously cute caterpillar creations that you can display all over the house! 
4. Flower Painted Mason Jars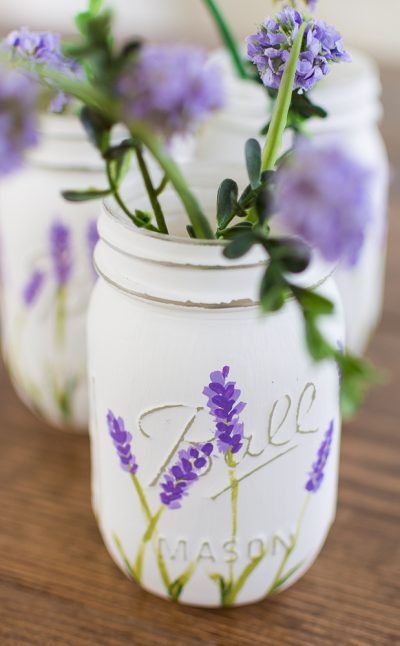 Mason jars have become so popular the last few years. We see them everywhere! If you've got some laying around the house (and we'd be willing to bet that you do!) Why not round them up and paint them for your next spring craft activity?
If for some reason you don't have any mason jars you can easily buy some from your local grocery store or craft store. While you can of course paint anything you want on your mason jars, we think these simple lavender flowers are such a great idea. They look beautiful, but they are so easy to paint! No matter what artistic ability you or your kids have, you can create these flowers. We promise!
Start by painting the mason jar white and then follow up with painting the flowers. To get more definition in your flowers simply use two different shades of green for the stem and two different shades of lavender for the flowers themselves. Simple, easy, beautiful!
5. Bubble Paint Flowers
Just the name alone of this spring craft will get your kids excited. Bubble paint? What a blast! This is such a unique and fun way to paint some flowers. You'll enjoy doing it too! You'll start by creating your own bubble paint which combines simple ingredients like dish soap, acrylic paint, and water. 
Once you've created the bubble paint, your kids get to come in and have fun by blowing bubbles into the paint! Once they've created enough bubbles, all you'll do is press some paper (thicker card stock will work best) onto the bubbles. You can do this just once, or several times. You can even mix colors as well. The choice is yours!
The end result is a more abstract large bloomed flower painting. Super unique, super fun, super easy! 
6. Egg Carton Bees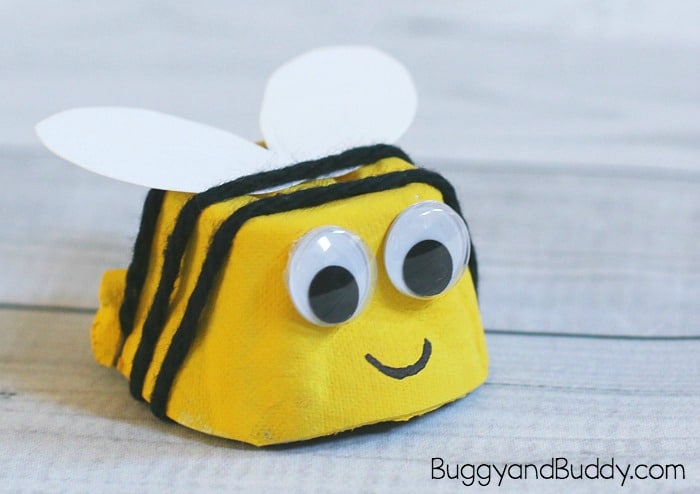 Could these be any cuter (or should we say bee?) Pun intended! This is a great spring craft that will also teach your kids about recycling. Make use of items you don't need anymore to make some cute crafts! In this case, use an old egg carton to form the body of your bee! Paint it yellow and then grab some black yarn to really bring the bee to life.
With some more paint and some googly eyes you can finish up your bee in no time at all! We love crafts that are also educational as well so be sure to talk to your kids about recycling while making your crafts. It's a two for one kind of craft, and we love it!  
7. Edible Rainbows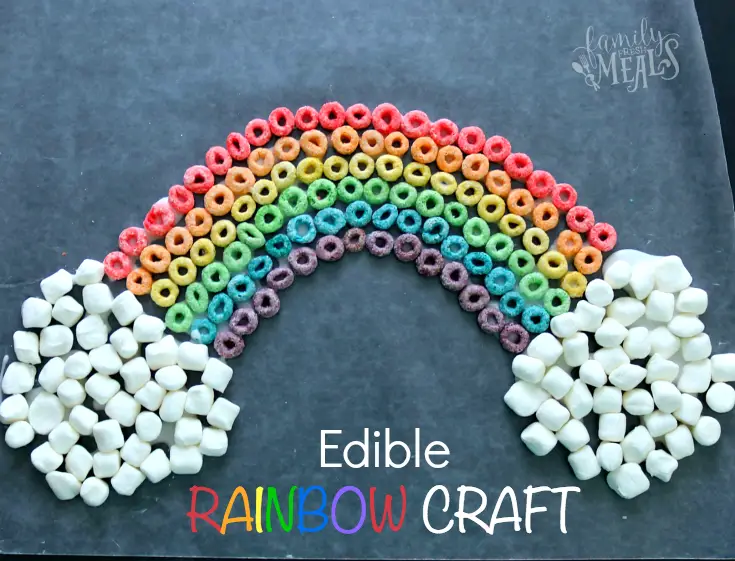 If you want a super simple craft that you can easily clean up when you're done, this is the one for you. Best of all, by clean up, we mean eat!! These edible rainbows are adorable, and best of all, they taste delicious. All you need is some cereal and some mini marshmallows! 
Fruit loops or a similar cereal work great for this craft. This will work for kids of any age, but is especially great for younger kids who are learning their colors! Have them sort the cereal into all the colors of the rainbow and then have them arrange them in order! This is a great craft that is so easy to do but will help your little ones learn a lot as well!
Best of all, after their hard work, they get a delicious snack as a treat! You can either keep the cereal loose, or you can make an edible glue made of milk and powdered sugar. Either way, by the end, you get to taste the delicious rainbow! 
8. Paper Plate Suns
There is nothing more cheerful than bright sunshine, and this craft will bring the sunshine to you! Whether you are stuck inside on a rainy day or for any other reason, you can still have some sunshine with this bright, easy spring craft!
Best of all, this is a great way to make some custom crafts because it features your childrens' hand prints! The main sun itself is made with a paper plate and some yellow paint, but the rays of sunshine are created from cutouts of your kids' hands! 
You can even have them add their name to the sun when they are done if you want and even hang the craft in their room! This is a great, easy little craft that will brighten up any room in your house! 
Craft originally from: Crafts on Sea
9. Tissue Paper Butterflies
Butterflies are another favorite insect that everyone loves to look at. Why not make your own? These tissue paper butterflies are super cute, but are also super easy to make! We also love that this is a craft that involves zero paint or glue. If you are feeling crafty but don't want to make a mess, this is the perfect craft for you!
With just some tissue paper, ribbon, pipe cleaners, and a pair of scissors, you can create cute little butterflies in no time at all! Fold the tissue paper accordion style, make some small cuts, tie together, attach your pipe cleaner to form the body and antennae of the butterfly, fluff up your tissue paper, and you're done!  
10. Handprint Cherry Blossom Trees
Finally, we love how adorable these cherry blossom tree paintings turn out! This is another fun, custom craft idea that uses your child's hand and arm to form the base of the tree! Cherry blossoms are some of our favorite trees, they are so beautiful! This is a great way to make some spring art projects that you will be able to display anywhere in your home. 
Best of all, this is another easy tree to paint. You do not need to be an artist to paint a cherry blossom! Outline your child's hand and arm to form the base of the tree and paint it brown. Then, go in with your shades of pink to make the blossoms. Just dab your paint brush– it really couldn't be easier! We recommend having a few shades of pink and white or red to add some more dimension to the blossoms. Add as many or as few as you want, and you're done!  
Wrapping Up
Are you feeling inspired now? We hope you are! These 10 fun, easy spring crafts for kids are perfect, no matter what their age is. From fun decor, to edible crafts (our personal favorites), painted creations, and 3-D options, there's something for everyone! Based on what items you have at home already, you can definitely make at least some of the crafts on this list, if not all of them!
What is your favorite type of spring craft to create with your kids? Do you also like the crafts you can gobble up when you're done making them, or do you enjoy displaying all your creations? Do you prefer animals, flowers, the weather, or something else? Let us know what inspires you, and as always, have fun crafting! 
Most Read