When is a Laptop A Good Idea for A Kid?
Like most kids these days, your toddler, elementary school child, or even baby is already familiar with the digital world of electronic gadgets like smartphones or tablets. By the age of 3, many children know their way around devices that for some us, still seemed like foreign technology only a decade ago.
Times are changing though. It's pretty common practice for young kids to toy around on devices that have more of a hands-on and handheld focus; but what about computers and laptops?
By the time your little one reaches kindergarten, they'll most certainly encounter computer use in the classroom. After all, this digital age requires that we all know how to use computers and laptops for practical purposes, and there's also a wealth of educational programs which exist only in the digital sphere.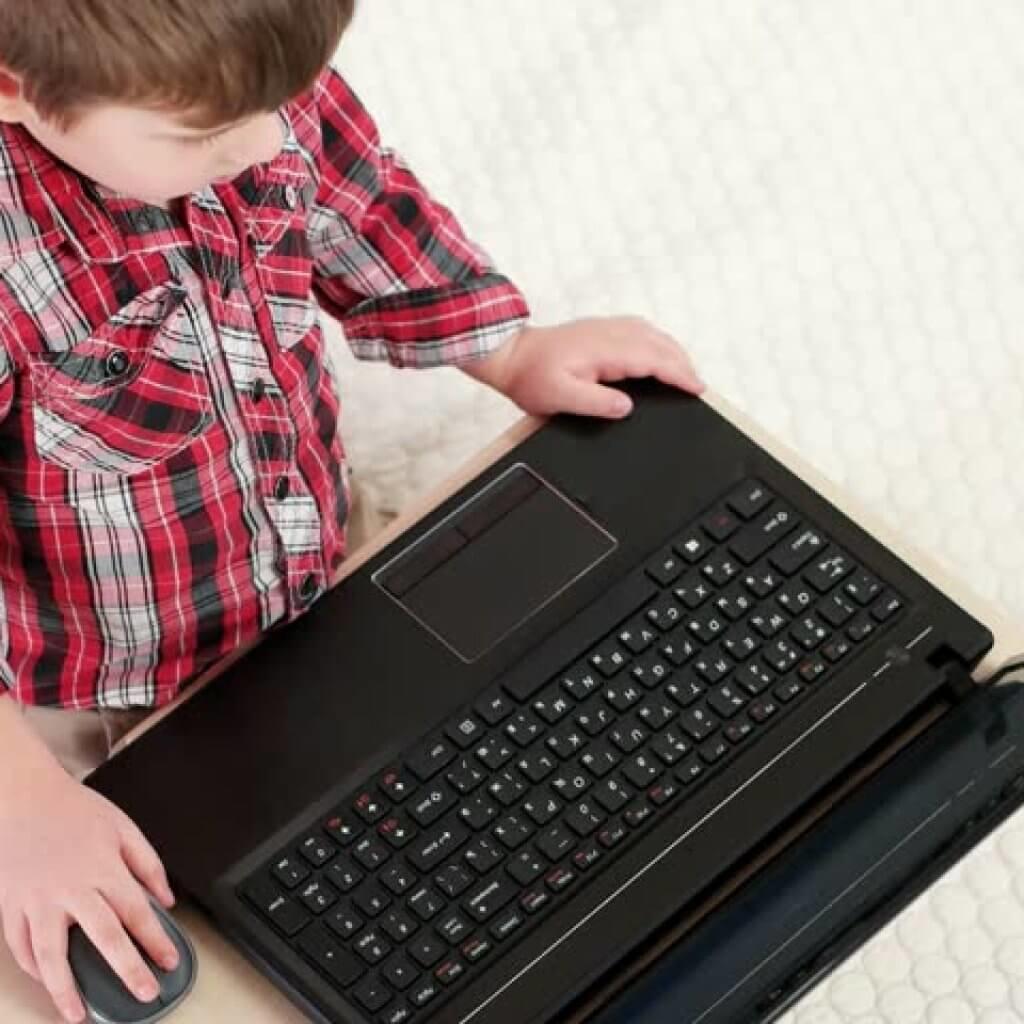 Whether it's number games or learning the basics of language and grammar—your kid is probably getting the information from a computer. And of course, once your kids gradually move up in elementary school, computers are a must for accessing all sorts of homework assignments.
Seeing as how the classroom exposes children to computers and laptops at a young age, it makes sense that you might wonder exactly when your child is ready for her own laptop. If you're not sure when the time is right, check out these tips that'll help you decide.
The necessary motor skills are important
Your toddler may be able to use a tablet or smartphone with ease, but those gadgets are also ones that are touchscreen friendly. Many laptops have touchscreen capabilities, but you want to make sure your child has the appropriate motor skills to perform tasks such as moving the mouse and typing on a keyboard.
She doesn't have to be a spelling wiz kid by any means, but she'll need to know how to use the keyboard before she has a laptop of her own. Otherwise she'll just be banging around on it without any real knowledge as to what she's doing.
Make sure she understands what she's learning on her laptop
The main benefit of your child having her own laptop (especially if she's a toddler) is the educational experience. Of course you want your kid to enjoy the entertainment of her favorite games and movies, but a laptop is much more than fun and games.
That said, does your kid know how to grasp what she'll be learning? You don't want to buy your little one a laptop just because she wants to be like mommy and daddy or any of her older siblings.
Sure, she'll have a lot of fun with her laptop, but there's not much sense in getting one just for the novelty of having a computer. Computers are an educational tool and if your buying one for your child, you should probably make sure she has the capacity to properly comprehend and absorb the material she'll be exposed to.
If she uses them in school, she can probably handle one at home
If you're main concern is that your 5-year-old kid doesn't know how to work her way around a computer, well you really shouldn't be concerned at all. It's perfectly reasonable that you would be hesitant to buy your kid something she doesn't even know how to use, but if your child is in kindergarten at the very least, then she knows how to use one just fine.
The digital world isn't one that's completely alien to your kid, so it isn't like you'll be purchasing something that's a total mystery to your child. Whether you realize it or not, by age 5 or 6 she already knows what she's doing.
Take into account the level of responsibility your child is able to understand
Seeing as how there really isn't any question as to whether or not your child knows how to use a laptop or computer once she reaches a certain age, you'll still need to consider just how well she'll take care of it and why she should do so. Computers are a wonderful and helpful tool for educating your child, so it's important she realizes it's high value is more than just a monetary one.
You might want to ask your child if she understands what it means to have her own computer. Does she comprehend that by giving her a computer of her own you're pretty much handing her the keys to a wide world of knowledge?
Not only is it important that your child learn about the responsibility of taking care of her own stuff, but it's important that she's able to grasp exactly what responsibility you're giving her. She needs to know what it is she's taking care of.You're saying to her, "I trust you to understand that the knowledge you'll gain from using your laptop is just as important—if not more so—as the laptop itself."
If you feel like your kid can understand why the thing you're giving her is important, there's a good chance she'll take good care of it. So, if you want to buy your kid a laptop, think of it as giving her a twofold lesson in responsibility. If she's ready for that kind of responsibility, she's
ready for the laptop.
Can your kid use the internet in a mature and responsible way?
If you're child is of elementary school age (especially on the upper end), she knows what the internet is. Having an understanding of the internet is different than your toddler's ability to understand the content she interacts with when using a laptop. Understanding the internet means understanding that you have open access to a whole world of information of all kinds
Managing what your child sees or doesn't see on the internet can be tricky business. Even if you use programs that monitor what your child has access to, that doesn't mean that her friend's parents are using the same amount of precaution. It's also a possibility that you don't know exactly what information to monitor.
Whether you like it or not, your kid's going to come across things that you may or may not deem age appropriate—or at least something that you feel your kid isn't capable of understanding on a level that isn't too upsetting given her emotional maturity.
Even if what your kid sees isn't necessarily mature content, she still might come across something she finds a little scary, or something that might make her feel a little emotionally distraught. Make sure you feel your kid is ready for all the information she has access too, even if it isn't purely oriented towards adults.
What type of laptop is best for your kid?
If you've already decided your child is ready for a laptop, you still might not know which laptop best suits her needs. Here's a few things you should take into consideration when looking for a laptop for your kid.
Size and durability
You want to make sure you kid is able to handle the physicality of whatever laptop you choose. Of course, strong durability is a must. Not many kids are very graceful whether they're a toddler or in elementary school. Make sure you get a laptop that will last.
The purpose of the laptop
When you're looking at laptops for toddlers the purpose behind the purchase is really pretty simple: your kid gets some early computer experience and it's a great all-around educational tool.
If your child is in upper elementary school or middle school, you might want to think a little more about what purposes she would actually use it for. For some kids gaming is important, for others it's movies or tv. Depending on what they'd like to do with their computer, you'll have to consider the various operating systems and capacities of the laptop.
Top- of- the- line laptops for kids
There are many laptops out there that are geared specifically towards children, all of which have appropriate sized screens and keyboards that meet the capacity of a child's motor skills and vision. Many of these models are excellent for both education and fun. Here's a few you might want to take a look at.
Fisher-Price Laugh & Learn Smart Stages Laptop
This particular model is perfect for easing your little one into the world of personal computers.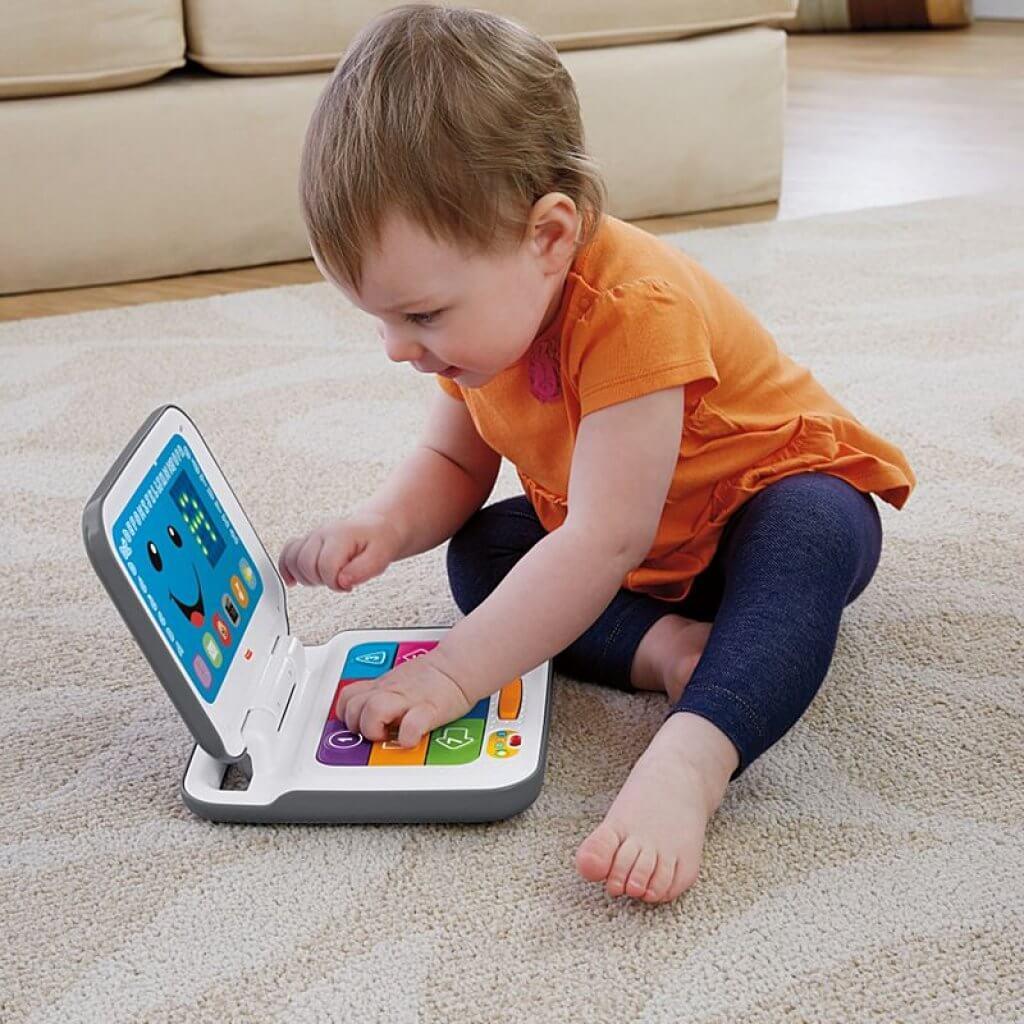 It has and LED screen and 9 different keys that your toddler can press—allowing her to see and hear a plethora of different songs about letters, phrases, colors, numbers, and much more.
It comes equipped with Smart Stages technology, so that you can set the learning level that is most appropriate for your little one.
Discovery Kids Teach n' Talk Exploration Laptop
The Discovery Kids laptop comes equipped with a realistic keyboard, LCD screen, and mouse. It also has 60 built-in games.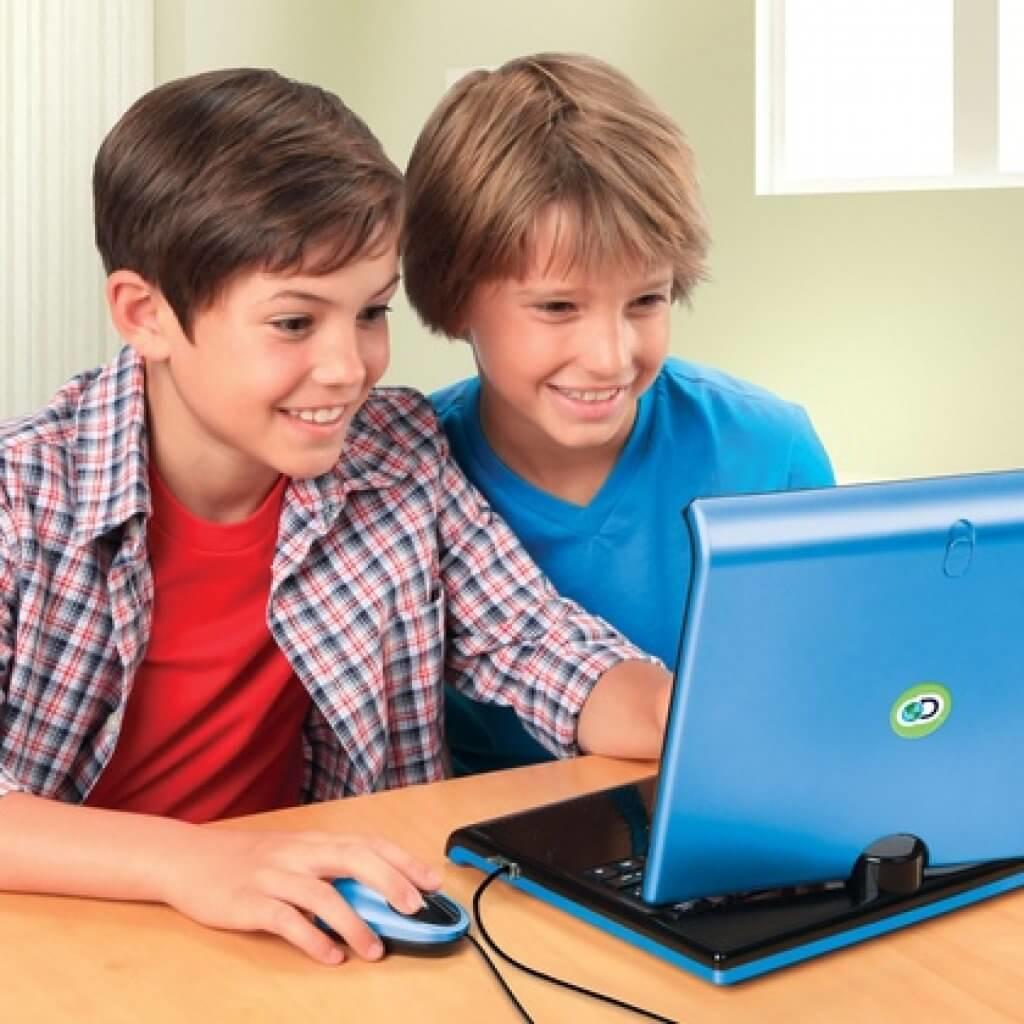 Because of the built-in games, you won't have to worry about buying any sort of additional software.
The games give your little one the chance to tackle a wide array of fun and challenging word puzzles, math games, and even music games. It's wireless and compact, so it's perfect for when you and your kid are on the go. It's great for kids ages 5-8.
VTech Brilliant Creations Advanced Notebook
This model is much like the Discovery laptop but it comes packed with a bit more.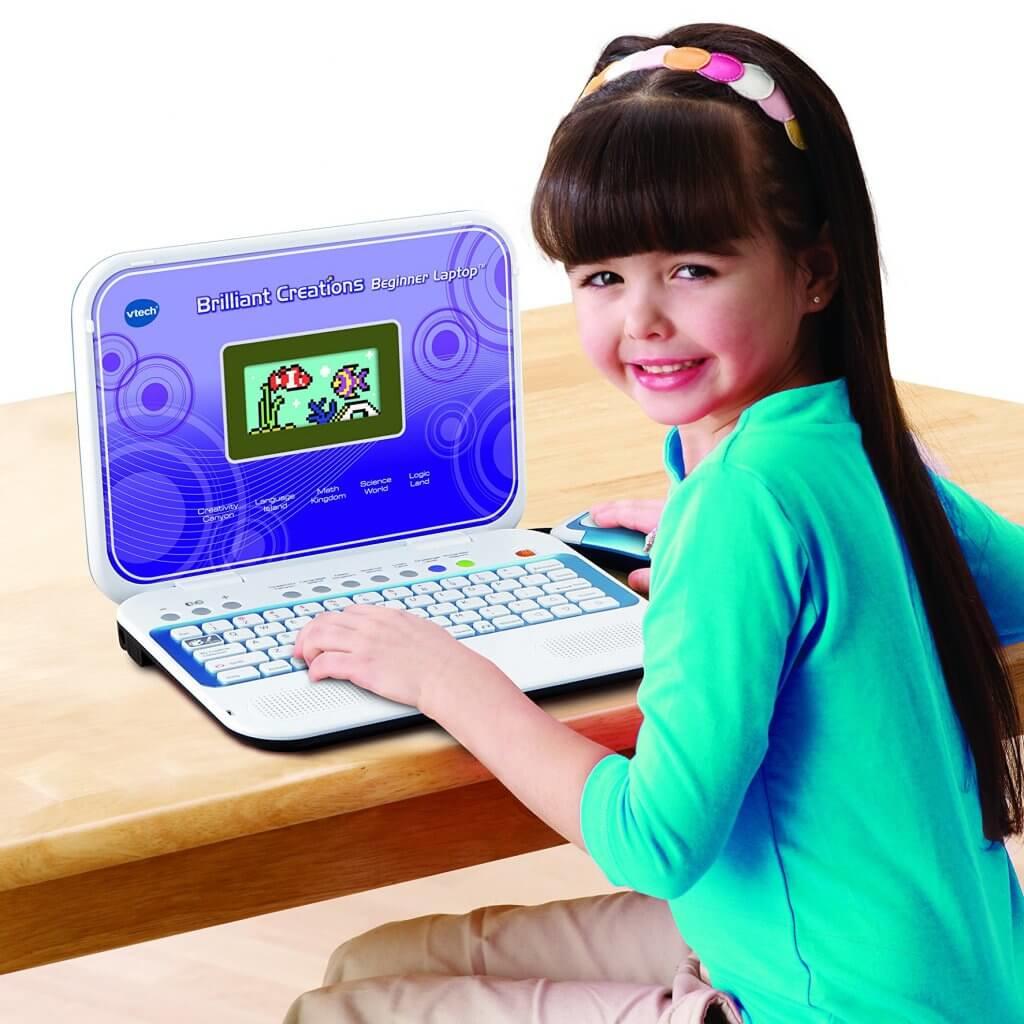 It has a 4.5 inches screen, and there are 120 activities—allowing your kid the chance to delve into the fascinating worlds of language arts, science, math, and even foreign language. It received the National Parenting Center Seal of Approval in 2012. Recommended for kids ages 5-8.
HP Stream 14
The HP Stream is a great laptop for your kid if you feel she's ready to move on to a computer with internet access, or her school requires that she has internet access in order to complete her assignments.
It's a 14-inch windows laptop, and it's perfect for streaming tv and movies and has great memory storage. It has a built-in HD webcam and microphone, and of course it allows your kid the ability to surf the internet safely and securely.
Venture Bravowin S
This is another great laptop for kids who need access to the internet. It's 10.1 inches, and It's also one of the most durable laptops on the market. It functions as both a tablet and a laptop.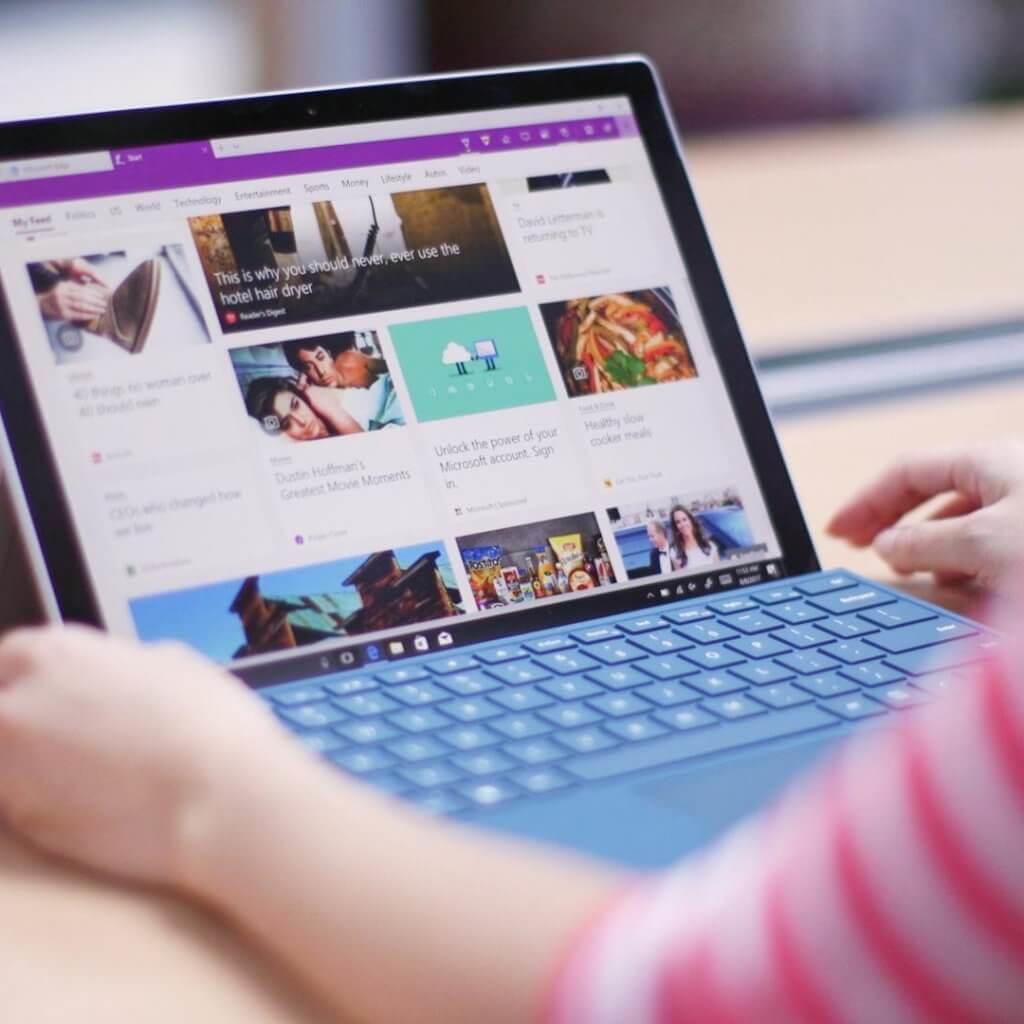 Of course, whether or not you feel your child is ready for laptop is up to you. There's certainly a lot of factors to take into account, but the market offers such a wide array of kids' laptops that you're bound to find something that fits the computer needs of your children.
Most Read