How to Encourage your Child's Sense of Humor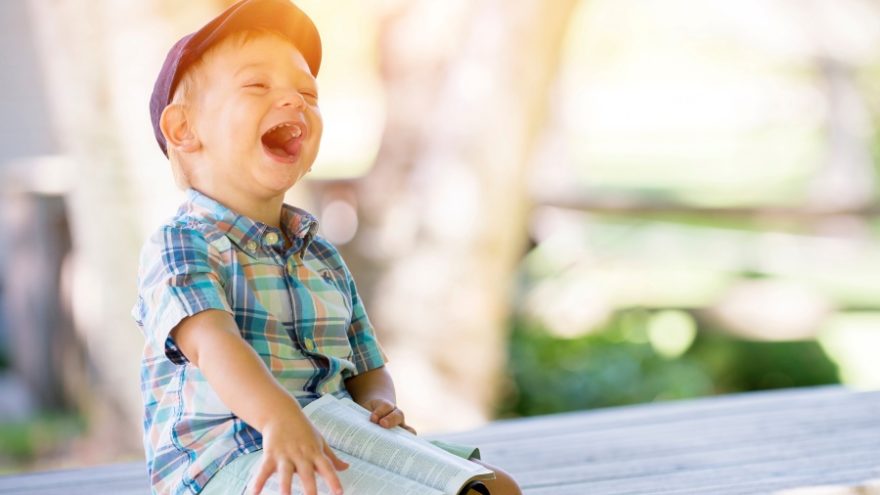 All kids have different personalities and some are introverted and some are extrovert. Some kids enjoy their imagination and deep thinking, while others always want to be the center of attention. Some kids find things funny, while others think it's a disaster. It's important you get to know what type of personality your child has so you can understand why and how you can introduce them to some good humor in their lives. If the kid across the street falls off his bike and your child laughs, then you have to tell them that this is something that is not funny. If your child comes home and tells you a knock-knock joke, then listen because this is the start of your kid's sense of humor. You can always take them to a small store that sells little joke cards and other accessories if they appear to be interested in doing something funny. There are always good joke books for kids according to their age that they could understand. As they learn to read, they can read the jokes themselves and tell them to your family.
The importance of laughter
Laughter is always good for all people young and old and it's important that you teach your child about humor because laughter is so important to our senses. Laughter also helps people bond and is a good way to teach your kids how to face life's challenges. Humor is not a gene but is something that is taught to us by our elders.
Did you ever wonder why you laugh or think something is funny? Do you ever start laughing over a memory out of nowhere? This is you noticing humor and this is how you can teach your kids how to see what is silly and funny. Parents can make funny faces or come out into the family room in silly clothes and kids will start laughing. You might also notice your toddler laughing at something he or she is watching on a learning TV show. This means your child is starting to notice what is funny to them. A good sense of humor is important because all people can benefit and use the outcome of humor to assist them on their path throughout life.
Encouraging their humor
You have to be happy, and teach your kids optimism and a good sense of humor will encourage greater confidence and problem-solving skills. Kids that have a sense of humor are popular and can roll better with the punches. They transition easier to changes in their lives and know how to handle people without using violence.
Laughter is good medicine which is an old saying and therefore people who laugh tend to be more healthy. They don't suffer from depression and bounce back easier from sadness. A sense of humor also decreases stress in our lives and the lives of our kids and helps keep the doctor away. Stress has been known to shut down the immune system and stop the digestive tract and having a sense of humor stops this from happening. Laughter helps with many ailments including chronic pain, heart problems and keeps our immune systems healthy.
What fun would life be without some laughter? You want to take your family on a vacation and bring the camera and the first thing you say is "smile". The family later looks at the family scrapbook or you might have a family movie night with pictures of the past and everyone laughs because someone or something is going to be funny on those pictures with the family. Therefore you are developing great family memories and teaching your kids to have a sense of humor.
As your kids grow up their sense of humor changes and an older one might tease a younger one or visa versa and suddenly there is arguing. It doesn't have to be this way if you teach your kids how to enjoy their sense of humor together in a kind way. Some babies start laughing as young as 4 months old and the older siblings along with the parents start laughing as well. This is a good way to introduce more humor and capture the moment. You and your kids start making silly faces to get the baby to laugh again. This is a good way to enjoy some bonding time and love mixed with laughter.
A small baby might not know what laughter is, however; they still notice a kind face. This is when they try and communicate with you by making funny noises and trying to talk in their own way. Babies enjoy your touch and learn to smile and laugh from the feel of your touch when it's soft and gentle. As babies start walking, they start to understand that when you make a silly face or a funny noise, this becomes silly to them.
Making them laugh often
Toddlers love little games like singing, patty cake and clapping with them. They also enjoy all the traditional baby songs you sing to them so they often will know that this is the time for fun and start dancing around with a parent. These are the years they learn to talk and listen to books and their favorite videos. Kids at this age also start doing funny things to get the attention of their family. They might grab your hat and put it on or get their coat on with their diaper if they think you are leaving. They are serious but parents and grandparents often find the serious antics of toddlers funny.
Kids increase their sense of vocabulary and humor as they start moving up the ladder in school. Their cognitive abilities develop more and they enjoy telling jokes. The older they get the more the jokes mature into different forms of fun with words.  Bodily functions become hilarious to them and anything that they can determine as "eewh" is funny to them as well. They start to see how people behave and public and may snicker in the car when someone is doing something funny. They also are old enough to enjoy the games at the school fundraiser and carnivals. This too can encourage school-age kids sense of humor.
The older kids get, they learn how to be clever, develop some wit and may become sarcastic at times with their humor. Remember it is never too early to encourage a child to learn about their sense of humor. Parents spend hours trying to get their babies to smile after the first smile. Parents become so excited during their kids birthdays and holidays and try to incorporate laughter and games into family parties.
Establish a limit
It's a good idea to teach your kids boundaries with humor as well. Make sure you teach them when they tell their jokes they are not using any ethnic type of jokes or racial slurs for laughter. People don't find these jokes funny and times have changed drastically so it's actually against the law to discriminate against others in public so make sure you as parents set a good example. In addition, tell your kids graffiti is also against the law in regards to making fun of different groups of people or even the law.
There are many things you can do as a family. Some have ugly Christmas sweater contests or even cool Christmas sweater contests. Whatever the choice may be, you can start some humorous traditions in your home and have fun with it. Charades are always fun and so is game nights with different card games or comedy shows. Whatever you choose to do make sure that the main goal you are focusing on is to teach your kids how to develop a good sense of humor because in the long run they will be healthier and live longer.