How to Plan a Kid friendly Wedding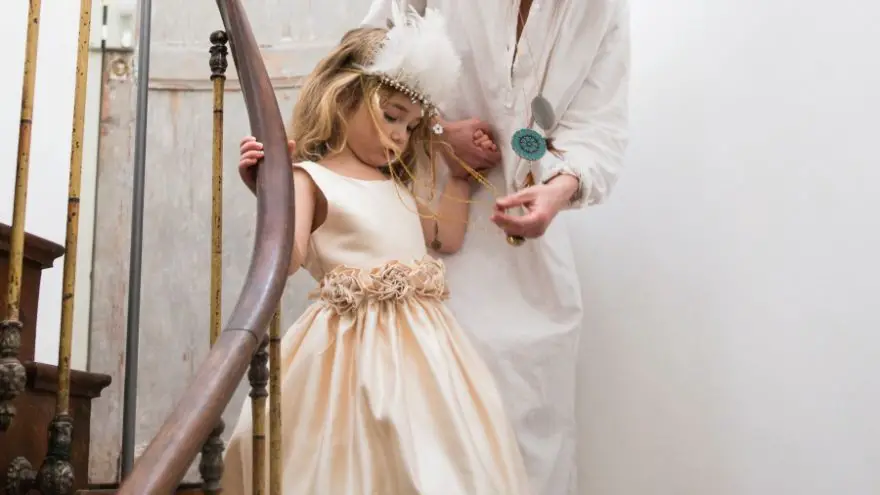 Marriage is a major family event and brings many loved ones together including children.  Traditions have changed so there are more blended families that are marrying and including their children in the wedding. Taking vows is a big commitment, especially if you are planning on having a church wedding because all religions take marriage seriously and in the Catholic faith, marriage is considered one of the seven sacraments. Whatever you and your spouse to be decide to choose for your wedding, make sure to include the fact that children are going to attend, even if this is your first wedding and you both have not started a family yet. Kids always love their favorite aunt and uncle and friends of the family, so they really get excited about being involved in the planning.
In past decades, parents usually hired a babysitter for a wedding event or they would beg their kids to behave so they could enjoy the wedding for a few hours as guests. Now there are new ideas, which can mean that children can be watched by a hired nanny at the wedding or have their own entertainment in a safe place at the wedding so everyone can enjoy the party. Here are some things to think about when planning a kid-friendly wedding.
Create a Kids Guest List
The first thing to do is to figure out how many children will be coming to the wedding, and if they are coming for both the church ceremony and the reception. Find out their ages, if they have any disabilities, allergies to food, etc. Keep this list separate from your adult guest list in order to make arrangements for kids meals and seating.
Review the Location You Chose
You probably are going to have to think about the kids, their ages, and needs and see if you have enough room to create a place for the children that are away from the ceremony and places where the speeches are held.
Remember that children's behavior is far worse when their parents are around, so this separation between kids and parents at your wedding has many advantages. This will make all guests feel at ease and your wedding will run smoother along with more peaceful conditions.
You want to look for a safe and quiet place as far away from the entrance and exit areas as possible. Some venues use green rooms that are perfect for children at a wedding. If your location doesn't include a separate room, create a kid's table as far away as possible from the same points that were discussed so you get the same benefits.
Think about Your Goals
You should think about the time of the year, whether it's going to be possibly hot in summer, or very cold in winter or in between, the time of your ceremony and reception, and the ages of all children attending. This is how you decide whether you need to create some space for the children. You can choose to do some lawn games, get a bouncy house or have some age-appropriate dancing space, you could have a Lego play area, crafts, and even a group painting of the wedding couple.
If you decided to have your reception during lunch time, then you would include an area for the kids, a later afternoon start has more space with the reception starting in the early evening. This would be more of a quieter space that is a calmer environment for kids.
Have a Lunchtime Wedding or include Children at the Ceremony only
Children behave better when they are not tired and also listen to their parents better. Your guests will have a much better time if you invite the kids to the ceremony during the lunch hour.
Age Appropriate Seats for Kids
Think about having the right seating for the right ages for kids. Children between 0 and one will be held by their parents or sit in a stroller or buggy. Make sure there is enough space in the aisles for the strollers.
Children between the ages of 1 to 4 typically should be placed on a rug far away from the altar, so they don't distract from the wedding ceremony. You can ask the parents to bring some of the younger children's favorite toys that don't make noise, books and some food that doesn't get them all messy.
Children 5 years old and up will usually sit on chairs or benches next to their parents.
Have Age Appropriate Food for Kids
Most venues offer kids meal at a cheaper price that is on individual plates and appropriate for kids between 4-5 years old and up. Toddlers usually do better with finger food that is on a platter or some additional finger food in the kid's area, so they can play and eat. When platters of food are shared, this is also a plus for kids that are being influenced by other children. If there is only a fruit platter and one child starts to eat, the rest will follow if they are hungry.
Include an Activity Book
This is an easy and inexpensive way to keep kids busy when you have some activity books made and include pencils, crayons or include a mini pack for each child. Get pencils and crayons that don't stain the table linen or their clothes.
Hire a Nanny Service
If you are expecting more than a few children at your wedding as guests, and if they are coming from other states or even abroad, this might be a time to call a nanny service.  There are many services out there with nanny's to watch the children at major events. A typical wedding package that cares for kids ages 3 months old in a safe environment includes on-site professional, experienced and trusted nannies to watch the little ones.  There is also crafts, books and games included. Outdoor games are included as well and other outdoor activities depending on your venue. A relaxing environment for the children is available so they can calm down. There are also nice little take home bags for the kids included with the nanny service.
Many of these nanny services can be arranged to suit your needs and they also have other options. They can help the flower girls and young boys get ready for their part in the wedding and care for them as well. Nannies will also care for the children during the ceremony and keep them calm and busy during the most important part of the wedding.  They also help to care for children and bring them up during the right times during the bridal party and family pictures.
Include Kid Friendly Music
Kids can get tired very easily when they start dancing. Talk to the band you hired or DJ about the style of music that is appropriate for your wedding and have them play some good pop for the younger generation so they can have fun dancing as well.
Include Wedding Favors
All kids love to take party favors home with them from any event and this includes your wedding. You might have presents for adults like teas and chocolates, but the kids will love something age appropriate.
Use Your Inner Child
Glow sticks are always a hit at a party, teepees, bouncy playhouses, dress up party, pinatas. Treats, toasts, and speeches for kids to give with their milk and cookies. You could have a kid's photo booth, face painting, beauty salon, etc. You can go all out for the kids as much as your heart desires. Just remember this is you and your spouse's special day so this is your joyous occasion and it should go off perfectly.