When it comes to the world of intrigue and discovery, your child is going to want to report whatever they find out into the world. Having little spies around the house can create endless possibilities for your children. It can introduce your child to a fun, educational style of play wherein you can introduce even more complex games and other toys as they continuously develop their investigative skills.
Having gadgets and gear is a necessity for your super spy, because it gives them the ability to communicate and observe secret worlds around their home that they might not usually have access to. This sort of play helps encourage your child to improve their observation skills for a more competent future.
Our Top 3 Picks
Chrono Bomb: Special Agent Edition

Our rating
Active Indoor Play
Price:

See Here
Spy Video TRAKR

Our rating
Cyborg Vision
Price:

See Here
Night Vision Goggles

Our rating
Infrared Attachment
Price:

See Here
Invisible Disappearing Ink Pen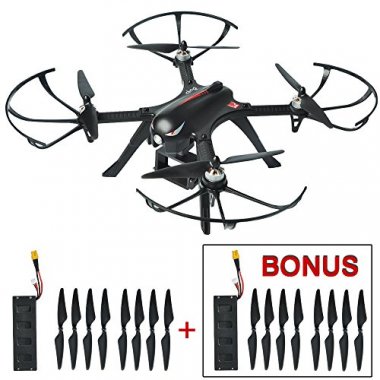 Project Mc2 Ultimate Spy Bag
Kidwinz Shock Proof Binoculars Set
Age Range: 8 to 12 years old
Ultimate Night Vision Goggles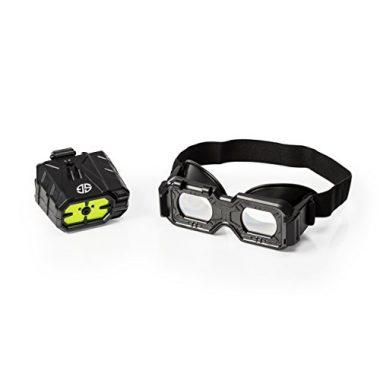 Age Range: 8 to 12 years old
Spy Gear, Mission Alpha Set
Age Range: 6 to 11 years old
Undercover Spy Case Detective Set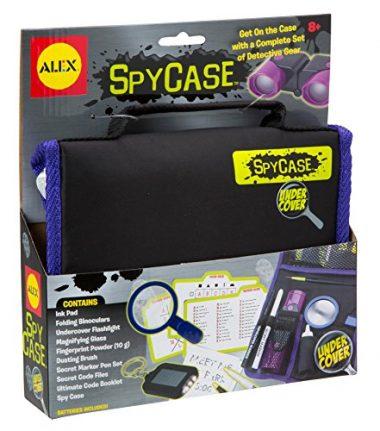 Age Range: 8 to 12 years old
Spy Alley Classic Family Board Game
Age Range: 6 to 11 years old
Ourlife kids Waterproof Camera with Video Recorder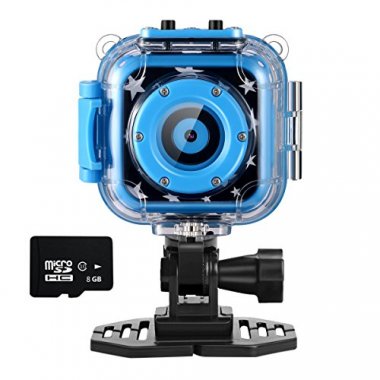 Age Range: 6 to 10 years old
Age Range: 6 to 10 years old
Criteria Used in Evaluation of the Best Spy Gear for Kids
Choosing the right spy gadget when there are hundreds in the market today is not exactly the easiest tasks for parents. That's why we're here. It took a lot of decoding and lengthy research to find the best of the best spy gadgets that your children will love to play with. When coming up with our list, we evaluated which products were really cool-looking and very realistic so that gadgets and gear can help children with their pretend play needs. We specifically instructed our team to look for any sign of developmental appropriateness as it would mean nothing to children if the spy gear won't teach them something or even help enhance one or several of their developmental skills.
Quality and safety
We know that parents are increasingly concerned about harmful chemicals affecting the health and wellness of their children. We also recognize the fact that parents want to get the most out of what they pay for, such that the quality of the product should never be compromised. When testing these assumptions, we read the reviews and feedback of parents so that we understood more of the usefulness of these gadgets and whether they are more than likely to recommend to other people to buy such spy gear for their children.
When it came to factor in our choices, we wanted to go a bit deeper into the motivations and selections of each choice for your child. These aren't just any toys to play with. Our products are some of the top-of-the-line spy gear accessories, if not slightly ahead of the curve even. Some of the most basic options on our list are the disappearing ink pens, and night vision goggles although there are many others to choose from.
Spy gear and technically unimaginable gadgets have been around for decades–since the beginning of the James Bond era! But, why are they so appealing? Many of the themes of exploration are touched on, for instance, the endless fascination that can be gained through the LED and night vision goggles. Whatever the gadget that interests your child, we're sure to have something on our list that will be exciting for him or her. It's perfect because it also helps not only physical exploration but also boosts your child's imagination play.
Traditionally, of course, children might want to play with action figures. In the absence of action figures, your child becomes the action figure. Research has shown that the toys children play with during their formative years, can impact their sense of belonging, self-esteem and self-confidence. Whether your child might not be literally a spy, soldier, prince or princess, we all understand the virtues of these representatives so we can think about a better future and a better world.
Basic Research
We wanted to make our spy gear as realistic as possible, while still bending the imagination and getting to the fringes while maintaining the basic sense of adventure and heroism within the child. The LED light feature is easily recognizable from many movies that involve mystery and darkness. The wireless communication will keep them plugged into the unseen without much confusion. The manufacturers have gone to great lengths to keep the toys basic, but intriguing, advanced, but simple.  With the magnification features of the spyglasses, sometimes with a zoom lens and colored tinting, or with the basic forensics kit, the seeds have been planted in a fertile imagination for handling deeper complexities in the future–from the Video TRKR to the Go Pro!
The Bottom Line
Role-playing is an important developmental tool for kids especially in terms of their cognitive and social competencies. By giving them the right tools to facilitate role-playing activities, you ensure their optimum development. With this list of the top 10 spy gear for kids, you're now in a better position to decide which of these you will be giving to your child this coming Christmas or even on his or her birthday.
FAQs
Frequently Asked Questions
Q: What if I'm not tech-savvy enough to relate to this for my child?
A: In our world these days, pretty much anything can be Googled, or there's a tutorial on YouTube! Trust me, if your child is interested and can learn, so can you. Ideally, these toys shouldn't just be for the children themselves.  It should provide greater interaction between parent and child, fostering their development, social skills, and reasoning capabilities.
Q: Why is spy gear so expensive?
A: You have to factor in the expense to the manufacturer. Most are like the latest technology in the adult world–whatever is new, fresh and hot is going to come at a price. Competitor's pricing sometimes drives market value, in addition to the cost of parts and shipping to the retailer.
Q: What do I do when the toy is no longer trendy or my child loses interest?
A: There's always a market for these items and there's probably an excellent resale value.  There's a buyer for every product under the sun! E-bay and Amazon aren't the only options, either! There are swap meets, estate, and garage sales!  It is suggested that some of these products be held on to longer, as the value may increase. Either way, it can be made into an activity where the entire family can get involved!
Q: Can I find additional accessories for these toys?
A: There are additional accessories for both the creative parent and the creative child!  Check the product information on Amazon to see whether the product offers additional accessories for purchase. We also want to encourage our buyers to not just rely on one retail seller or brand to give you all that you or your child might need. Get creative! There are so many ways that you and your child can even use household items as accessories. This helps to further the imagination of the child in seeing the extraordinary in the ordinary….might even give the adult fresh eyes, as well!
Q:  Would some of these be suitable for Halloween?
A: What better holiday could it be suited for!? In fact, this is one of the best examples of where creativity comes into play! Just mix and match items to have the best experience!  Use the Go Pro to record your trick-or-treating experiences. Act out your best scenario in the neighborhood. Use the night vision, the zoom lenses, and the LED to see further in those bushes for….some more candy!
Q.  Does a manufacturer's warranty come with these products?
A: While we stand by our products, each one is unique. We suggest that you ask your retailer before purchasing or call the manufacturer directly. The more popular brands should have a warranty. While this is possible, it is not a guarantee and may be few and far between. The best bet is to find the best resale value when the toy has outlived its usefulness.
Q: How old should they be for cameras and devices that require smartphones?
A: Use your own discretion, but most of the cameras and drones are recommend around 8 years minimum.
Q: Are the batteries Included?
A: Check each item, but drones and cameras often include batteries that are specific to the device and rechargeable. Some of the cameras use AAA batteries, but sometimes these are included with purchase.
Q: Can I limit/monitor their recording and surveillance?
A: Yes. Many of these devices include wi-fi connectivity and parental controls that will keep you at the helm of their investigations.
Q: Are these products multi-use?
A: For the most part, yes. Many of these devices are designed for younger or older users.
Q: What's the average flight time for a quadcopter?
A: The average flight time for quadcopters is around eight minutes, making any of the options available better than average by far.
You May Also Like
Best Magnetic Toys For Kids
Best Batman Toys For Kids