All aboard!
Train sets are a hot-ticket item, and there's no wonder why. Getting to build the tracks their favorite locomotives will then chug along is exhilarating for most kids. And good news for mom and dad: it's a developmental tool that will help them grow while they play. Train tables can be limiting in terms of world-building, but they do provide parameters that force children to be creative and logical in their problem-solving, as they figure out the best layout for their designated space. If you choose to opt out of a table and let them freestyle it with a train set and the floor, that's still a wonderful opportunity for them to work motor skills, as well as puzzle-solving.
From Thomas the Tank to the Little Engine that Could, there are ample locomotive characters out there that children go gaga for. Even generic train sets offer hours and hours of fun. Here, we've compiled a list of the top 10 train sets and tables on the market. Choose from classic tracks to kits with wild winding roads, depots, construction obstacles, and turntables. You and your child will have all of the resources necessary to make your own wacky, wonderful world with any of these sets. Whichever way you go about your play, you're on track for good fun.
Our Top 3 Picks
Conductor Carl

Our rating
100 Wooden Pieces Set
Price:

See Here
Hape Railway Play

Our rating
Play & Store Table
Price:

See Here
Melissa & Doug Table

Our rating
Multi-Activity Table
Price:

See Here
[/vc_column_text][/vc_column][/vc_row]
Conductor Carl Wooden Train Track Town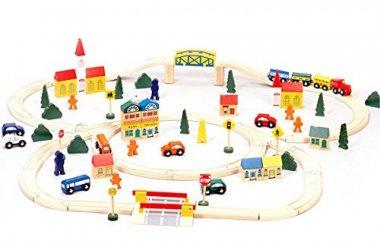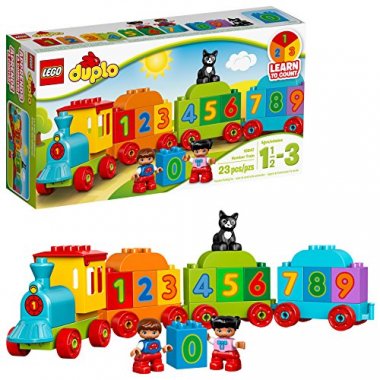 Melissa & Doug Deluxe Wooden Play Table
KidKraft Waterfall Mountain
Lionel North Pole Central Ready to Play
Melissa & Doug Deluxe Wooden Railway Train Set
ToysOpoly 12 PCS Magnetic Engines With 3 Bonus Animals
Canyon Road Train & Track Table
Age Range: 3 to 10 years old
Ride Around Train Set and Table
Age Range: 3 to 15 years old
Metropolis Train Table & Set by KidKraft
Age Range: 3 to 15 years old
Criteria Used in Evaluation of the Best Train Tables and Sets
Though purchasing a new train set can be exciting, it also becomes more of an investment piece because of the pricing. Most of these sets are above or near the $100 mark. Because of that, it isn't a quick and simple decision to make. So, before you go ahead and make the plunge to buy a new train track set, there are a few things you should keep in mind.
Compatibility
If you are looking to expand your train track set in the near future, it is helpful to know which brands make products that are compatible with other products. Tracks should fit together like puzzle pieces, but not all puzzles are the same. So, ensure that you know which puzzles fit with what pieces. Just because the brand is the same, it does not mean that the items are compatible or interchangeable.
Consider Sizing
Most train sets will be roughly the same sort of length and width. This, however, does not mean that all of them will fit all train tables. So, the best thing to do is to confirm the sizing before you make a purchase.
Safety
Most train sets are wooden. However, there are some that have magnetic, plastic or metal parts within the set. This might be why there are specific age limits for each set. Be mindful of those age requirements when purchasing the product. There might also be products that have smaller accessories that could be a choking hazard for smaller and younger children.
What to Consider When Buying a Train Table
Train tables are like any other playset that comes with so many features that can be quite overwhelming for the absolute newbie. Good thing, however, we have listed some of the most important things you need to consider when buying a train table for your kid.
Quality of the materials used 
Without question, you should always go for products with quality construction and design. Most train tables are made of wood so you can always look at it as a piece of furniture. As much as possible you should go for solid wood as these provide exceptional strength and durability which means you and your kid will be enjoying your platform for many years. The only downside to solid wood construction is that it tends to be priced a bit higher than other types.
You can also choose those that are made of fiberboards, particle boards, or even plywood. Their main draw is that they cost a fraction of the price of a solid wood, particularly a hardwood. Another thing going for these engineered wood products is that they are rigorously tested for strength and durability which meets both national and international product requirements.
There are also some manufacturers that incorporate a mixture of plastic and metal in their wooden designs.
Technically, the size of the train table is dependent on the size of the room where you are going to put it. Ideally, you would want a piece of furniture that stands in the center of the room with plenty of space around it so you and your kid can easily walk around. This helps ease the application of designs and the placement of other accessories on the playset. You will also have to consider the different accessories you are going to place. Some manufacturers can provide you with different sizes for the same model or variety of train table. At least, you'll have the size to your liking.
Inherent design of the table 
Most train tables come in a standard rectangular form, although it is not unusual to see other shapes like squares and circles. Some are even rectangles. It is not really the shape that matters but what is already included in the furniture.
Most come with printed landscapes to help kickstart the mini railroad-building project. Some also include starter sets that include toy trains and accessories like tracks, buildings, bridges, train stations and depots, among others. If you already have these things then you might want to just go for a simple design. If not, you may want to go with a product that already includes a starter set. Many come with specific themes, too. It can be a favorite kiddie train TV show, mountain scenery, or even the wild West.
Some also come with lids that can be used not only to cover the train table but also as an additional surface for children's activities like drawing, doodling, painting, and even solving some puzzles and building some craft toys. There are also those that have integrated storage compartments which is simply perfect for organizing the different elements of the playset.
We have already said that there are plenty of train table manufacturers out there. Most of those that produce high-quality ones come from North America and Europe, although it's not uncommon to find exceptional ones from Asia and other parts of the globe. However, it is really best to go for a brand that is well-recognized in the design and manufacture of high-quality train tables rather than risk getting one from a company with no known reputation for such things. For starters, you can always trust Step2, KidKraft, Fisher-Price, and Imaginarium to provide you with great kiddie play furniture.
Benefits of Train Tables
It is a well-established fact that young kids love playing with toy trains. With Thomas the Tank Engine and other kid-friendly train characters, toddlers and preschoolers can whip up their imagination riding and driving one of these famous vehicles. Now, what's a toy train set if there is no landscape for it to run through and around? That is why getting a train table is a must. Here are some benefits of train tables.
Enhances children's problem-solving skills 
It may not be readily evident but you can look at these playsets as oversized LEGO blocks that children will need to piece together to form a continuous loop around a central "village" or structure. You can see that kids will have to use their power of logic to place different sizes and shapes of tracks to produce a mini railway system for the locomotive to run on. They will ask themselves where to put the mountain, the forest, the bridge, or even the train depot and station. These are questions that require some answers. And this is the very essence of problem-solving. This is inherently magnified in cases where you have plenty of accessories and too little space. Kids will have to solve this problem by making sure that each piece gets onto the train table without causing chaos or derailment once the locomotive is up and running.
Empowers their creativity and imagination 
Children playing with train sets will have to use their imaginations in coming up with unique designs and layouts for their playsets. This is where some parents are quite apprehensive about playsets that already have built-in layouts. Instead of encouraging children to come up with their own unique railway design, all they have to do in such cases is to follow the suggested layout. In situations where the train table allows for some input from your kid, you can expect your child to come up with really crazy ideas about how to place the different pieces together. In fact, it is not uncommon to see elements of a roller coaster in the set up since this is viewed by kids to be really fun.
Fosters the more effective use of psychomotor skills 
Without a doubt, piecing the different train set components requires exceptional mastery of psychomotor skills. Kids' fine-motor skills must be well-developed so they can place even the smallest elements into their correct places. More importantly, children will require their spatial motor coordination so they can accurately place such pieces within a tiny space. Playing with train sets will help enhance the development of these psychomotor skills.
Safety Tips for Kids and Train Tables
Like all playsets and kiddie stuff, safety is a paramount concern. Here are some safety tips for kids and train tables that you may have to observe so your child can make the most out of his or her play time.
Make sure that the train table is placed in a room that has ample space to move about. If you place it in an area where your child can barely move around the platform, there is a tendency your kid will be bumping into things. If you can secure a minimum of 3 or 4 feet on all sides of the train table, that would be great. Otherwise, if it simply is too large for the room, maybe you need to relocate it to a bigger area or buy a smaller table.
Choose train tables that have rounded or smooth, tapered edges rather than sharp ones. If you happen to purchase furniture with an unusually sharp edge, you can cover this with a cloth or even a foam material. It would be better if you can sand it off, however.
Even if your kid has wooden toy trains instead of electronic versions, it is important to keep it clean always. For wooden blocks, you can clean them using a damp cloth that has been dipped in a solution of water and soap. Alternatively, you can use cleansing wipes to sanitize the wooden pieces before storage. For electronic versions, you may need to ensure electrical safety at all times. Make sure the batteries and chargers are all UL-certified. You don't want to start fires in your home because of a defective battery and charging system.
If you see any piece or component of your train table or toy trains that are already damaged or broken, make sure to apply an immediate fix. This is especially true for wooden pieces as splinters can cause cuts among children. If it can no longer be repaired or fixed, sometimes it makes more sense to discard it and replace it with a new one rather than risk injuring your kid.
Teach your kid to take care of his or her train playset. It is also important that they know how to pick up their toys and to store them in their respective places. This helps keep his or her play room generally clean and tidy, minimizing if not eliminating the risk of falls and resulting injuries. Providing your kids with toy boxes or compartments should come in very handy.
Building play train sets can be a lot of fun. If you have to choose the right train table for your child, make sure to consider the quality craftsmanship, its size and design, and the reputation of the manufacturer. Only by doing so can you ensure that your child will be able to further hone his or her problem-solving skills, imaginative and creative abilities, and psychomotor development. Additionally, like all playthings and stuff that kids use and play with, it is equally important to keep these train tables in pristine condition so they will be safe to play on. And with the 10 best train tables we've shared, you can now start embarking on a wonderful journey of train management with your kid.
You May Also Like
FAQ
Frequently Asked Questions
Q: Which sets offer the most track variations?
A: It's always more fun for everyone when the tracks can be configured into more than just a straight line. Thankfully, many of these sets offer track pieces that can be manipulated into endless varieties of routes and directions, including curves, complete loops and track switches. Some great sets that offer this ability include the Melissa & Doug Deluxe Wooden Railway Train Set, and the Conductor Carl 100-piece Wooden Train Track Set.
Q: Why are some of them in $90-$100 or higher price range?
A: The price range depends on the quality of the products and materials that are used in its construction. The material that is used in the making of the product can be very expensive if it is being shipped from overseas. There are some physical toy stores located around the country in which you can typically find the same product for a lesser price.
Q: Why does this list feature multiple items from the same manufacturer?
A: For the purpose of this research, we researched extensively to find the top products and brands. Some of these products have the same brand because that specific brand is highly regarded in the train table industry. Therefore their products are well-liked all around.
Q: How can I be sure of the quality of the product I am purchasing?
A: All the products on our list have been confirmed regarding their quality. However, to be extra sure, you can check out the product reviews on Amazon and other retailer sites. You can also find out the quality of the product by visiting local stores where the product is available and seeing how the product's quality is before you make a purchase.
Q: Why is the compatibility mentioned for most of the products?
A: As we mentioned in the Criteria portion, not each product is built the same. So, just as a heads up for you while you make your decision, we included the compatibility. Knowing this will allow you to know which other branded products will work with that specific product.
Q: Are these toys beneficial for my child?
A: Yes, these table sets are great for encouraging your child for imaginative play. It's also great for building their hand-to-eye coordination and fine-motor skills.