Gifts and toys for four year old girls are very important. These toys are an important part of making their imaginations come alive. As they turn 4 years old their storying telling, pretend play, and exploring really comes alive. They will start to play with friends and taking turns.
As their pretend play becomes more complicated and they learn to narrate fantasy and reality situations their toys and props around them become a vital part of the story. Toys allow them to explore their minds and the world around them. Deciding on the toys that are best for their developing minds can be a tough job. So, we have compiled a full list of the Best Toys and Gifts for 4 Year Olds Girls.
Our Top 3 Picks
Squigz

Our rating
Promotes Creative Thinking
Price:

See Here
Little Cosmetics Makeup

Our rating
Pretend Make-Up Set
Price:

See Here
Alex Toys Button Art

Our rating
Develops Creativity
Price:

See Here
idoot Magnetic Blocks Building Set
Play Tent Princess Castle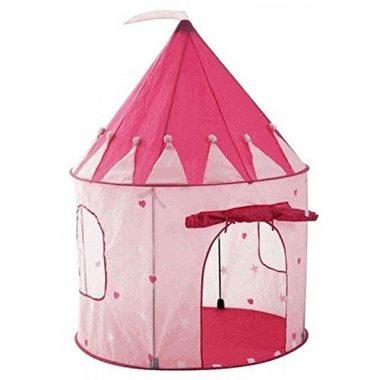 LeapFrog Scribble and Write
My First Flybar Foam Pogo Jumper
Little Hands My Giant Busy Box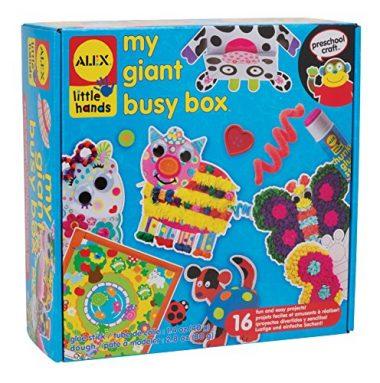 Little People Surprise & Sounds Home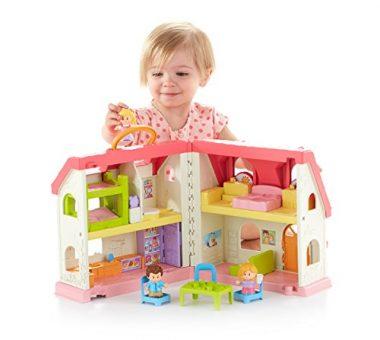 My Own Leaptop by iMachine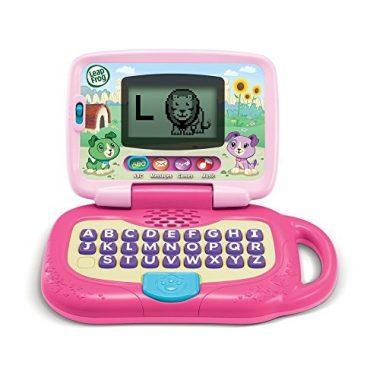 Little Apps Tablet, Black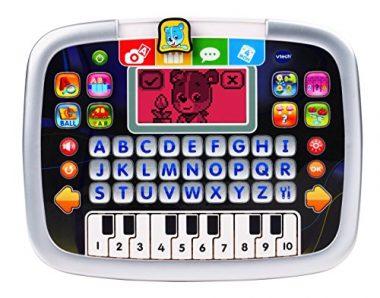 Little Tikes TotSports T-Ball Set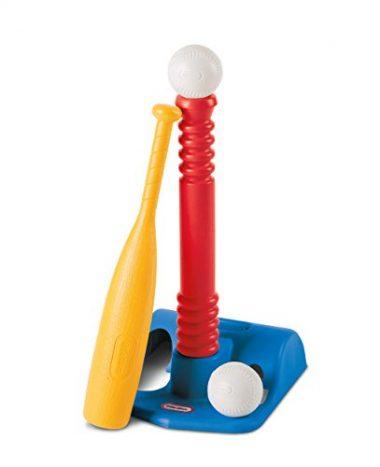 L.O.L. Surprise! Pets Series 4 (2 Pack)
Baby Alive Baby Go Bye Bye (Brunette)
3-foot Trampoline by Little Tikes
Drill Flower Power Studio
Pretend & Play School Set
Little Tikes Shopping Cart
Disney Princess Non-Toxic Peel-Off Nail Polish Set for Kids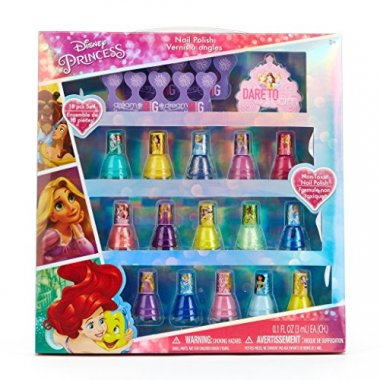 Crayola Color Wonder Mess-Free Art Desk with Stamps, Coloring Board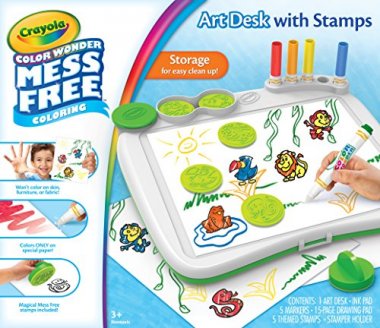 Criteria used to Evaluate The Best Toys and Gifts for 4 Year Old Girls
Compiling the list of the 20 best toys and gifts for 4 year olds is not a task that we take lightly. There are hundreds of hours spent reviewing and going through thousands of toys individually. We try and look at every toy that is in the age range for a 4 year old girl. We review the developmental skills it encourages and promotes while checking out the designs and how they are constructed. We only want toys that are well-constructed of quality materials and are safe to make the list.
The toys on the list also are reviewed by parents, child psychologists, and toys experts. We consider each of their reviews before putting any toys on the list. We feel sure that each toy on the list is a great gift or something any 4-year-old little girl would love to own.
Encouraging pretend and imaginative play
Encouraging pretend and imaginative play for 4 years old allows them to gain an understanding of the world. Using their imaginations lets them try out different social roles and create playtime sceneries that help them build upon the personalities that they are developing. It may even sometimes help a child get over a fear that they are experiencing. At the age of 4, pretend play can get pretty elaborate. They may even make up a pretend friend or have an extreme fantasy.
Imaginative play is an important developmental milestone in a child's life and encouraging it can give your child more opportunities to learn and establish the ability to play on their own. It also encourages creativity and makes things just fun. Watching them learn and think about the world during play is one of the best things you can do to encourage their development.
Developing gross motor skills is very important
Gross- and fine-motor skills are developing throughout a child's life. Working on different skills allows them to gain strength and confidence. Gross-motor skills are whole-body movements like walking, running, and jumping. Developing these skills help the child perform everyday activities. Gross-motor skills also include hand-eye coordination like hitting a ball or riding a bike. These are very important to the everyday movement of the body.
Through the cycle of life, a 4-year-old will get better and better at running and soon run faster and faster. Developing gross-motor skills is not only important for everyday activities, but they also maintain a child's ability to develop proper posture in their upper body and help with the development of fine-motor skills. Without the encouragement of gross-motor skills, children would have a hard time in day-to-day activities and development.
Toys that encourage 4 years old to play outside
When encouraging 4-year-olds to play outside, you are opening the door to their imagination and allowing them to explore and enjoy the simple things in life. Many children at the age of 4 are obsessed with all things that include screen time. Using fun toys and exploring along with your children can encourage them even more. Helping children to go outside and explore not only helps with developmental skills, but it also helps promote a healthy and active lifestyle.
Along with exploring and having fun outside comes the use of energy. Staying active and burning off energy at this stage of life is very important. There are a lot of fun things to learn about, explore, and share with children outside.  Encouraging and playing outside has many physical and mental developmental advantages along with burning up the energy they have.
How we shortlisted our popular list
Coming up with the 20 best toys for a 4-year-old girl is not easy. In fact, we have to spend hundreds of hours just going through each of the thousands of toys within the age range of 4 years old. We have to look at the appropriateness of the toy in relation to the developmental milestones of a 4-year-old girl. We also have to check whether the design and construction of the toy are of the highest quality and made of child-safe materials. It is also important to look at what other parents, child psychologists, and toy experts are saying about each of these toys. Lastly, we have to carefully consider the overall reputation of the toy maker.
The shortlisting of the 20 best toys is tedious. However, we feel pride in being able to share with you the fruits of our labor knowing fully well that you will also agree with our list.
The 4-year-old girl, her development, and the toys she loves
One of the most remarkable achievements of a 4-year-old girl is in her social development. She now values the importance of cooperative play more than ever. She prefers to share her toys with other kids as a way of expressing herself. As such, she begins to have a more realistic understanding of social relationships far more advanced than earlier stages. It is therefore imperative that toys be geared towards the enhancement of cooperative play during which the 4-year-old girl can actively share her playthings with other kids.
In order to facilitate these relationships, 4-year-old girls need to expand their vocabulary, their language, and their speech. They are already expected to be able to communicate and express what they feel and what they think about certain things. Toys that help expand their vocabulary and language skills are, therefore, crucial in the enhancement of their emotional and social skills.
Speaking of emotional intelligence, 4-year-old girls require active role-playing and dramatization to help them act out their fantasies while at the same time provide a means to expressing their thoughts and feelings. When little girls are able to do these, they develop a healthier self-concept which can lead to greater self-confidence. This, in turn, motivates the young girl to do more and keep on expanding her own little world in the best way she knows. Toys can help by making sure that she gets a boost in her confidence. Dress-up plays, drawing, sketching, and make-believe play can help in this aspect as 4 year old girls will be able to take full control of their environment.
Additionally, 4 year old girls are known to be highly inquisitive, always on their toes about finding something new. This also motivates them and helps build their self-confidence. Moreover, it lays the foundation for a healthier and more balanced emotional state. It is  crucial to choose toys that allow them to explore and discover something new and something that is closely related to the real world.
Cognitively, 4 year old girls already exhibit increased attention span. This makes simple craft toys and puzzles more appealing than ever. However, parents should still be quite cautious in giving them toys that require a significant length of time to complete. Their attention span may be increasing but it gets easily lost as well. The key, therefore, is to choose toys that are challenging enough yet easy to accomplish so that they will marvel at their achievements which, again, can help fuel motivation and self-confidence. Slowly but surely, you can then introduce more complex toys that require increased attention span.
On the physical side of her development, a 4 year old girl will already be running, jumping, hopping, and skipping all day long. Their hand-eye coordination and fine-motor skills are already well-established but it would still help to provide them toys that reinforce or enhance these motor skills.
It is therefore crucial to choose the most appropriate toy for a 4 year old girl's developmental needs. We are optimistic that our list of the 20 leading toys will help you identify the correct one for your kid.
FAQs
Frequently asked questions
Q: How do I find the toys and gifts on this list online?
A: Entering the name of the toy in a simple search engine on the internet will display lots of sites on which these toys are available for sale. Many stores are now embracing the e-commerce market so when searching for toys online make sure to visit more than one website. The search should return several pages of results and will be rather easy to find.
Q: How is the list narrowed down to just 20 items?
A: The 20 toys on this list are narrowed down and selected from parent reviews, child psychologists' input, and the opinions of toy experts. Each of the toys is reviewed for age appropriateness, toy material quality, and relation to the development of a 4 year old little girl. We listen carefully to our reviewers and only the best toys and gift make the list.
Q: Do these toys help with the development of a 4 year old?
A: All the toys on this list are reviewed with developmental skills on the criteria. When reviewed, the toys each have added benefits that specifically include what developmental skills are used, promoted, and encouraged with each toy. This is one of the most important features that we can offer on this list.
Q: Why do you want toys that encourage imaginative play?
A: It is important to encourage imaginative play because it develops the mind and its needs with physical development as well. When a child uses their imagination it allows them to role-play and act out scenarios. This helps develop social skills and is a vital component of childhood development.
Q: Are all the toys on the list safe for a 4 years old use?
A: All the toys on this list have been selected only because they are rated as age appropriate and safe for a 4 year old. Each toy put on the market by law has to have a safety rating clearly marked on the packaging on the toy. Every toy on this list has been checked to make sure that they are safety rated for any 4 year old.
Other Age Ranges
1 Years Old
2 Years Old
3 Years Old
5 Years Old
6 Years Old
7 Years Old
8 Years Old
9 Years Old
10 Years Old
11 Years Old
12 Years Old