Coloring is one of the best ways children can express their creativity out. The magic of arts and crafts is a wonderful hands on experience that your children will love. Crayola has been around for decades and they are always striving to find cool new ways to help put that artistic spark in your children's lives. We came up with a list of the most current and best rated products that Crayola has to offer to this day to help with your child's creativity development. We're sure your fridge will be covered in your family's latest artwork in no time.
Our Top 3 Picks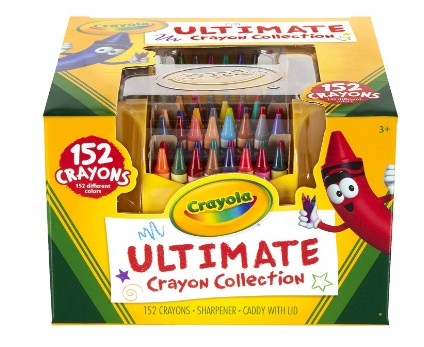 Crayola Ultimate Crayon Collection

Our rating
152 Classic Colors
Price:

See Here
Crayola Pip-Squeaks Washable Markers

Our rating
Marker & Paper Set
Price:

See Here
Crayola Create 'n Carry

Our rating
75 Total Pieces
Price:

See Here
Our Picks For The Top Crayola Toys For Kids
Ultimate Crayon Collection
Pip-Squeaks Washable Markers & Paper Set
Create 'n Carry 75 Piece Art Kit
My First Palm Grip Crayons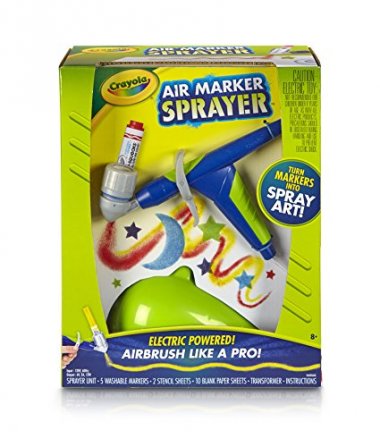 Washable Kids Finger Paints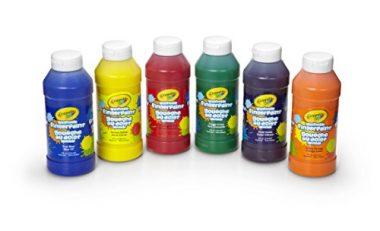 Age Range: 3 to 6 years old
Color Wonder Markers and Paper
Age Range: 4 to 15 years old
Age Range: At least 6 years old
Age Range: 6 to 15 years old
Age Range: At least 8 years old
Criteria Used in Evaluation of the Best Crayola Toys
The list of 10 Best Crayola Toys for kids was created by our panel of experts. The panel of experts consists of parents, toy experts, and child psychologists. The panel reviews products for their developmental appropriateness and their appeal to children. We want to make sure that any product on our list is age-appropriate for the target audience and allows them to easily create and learn from the activity. The goal of the panel is to suggest the best products with the criteria.
The list is then created with the best toys that have been made by Crayola and then narrowed down by developmental appropriateness and their appeal to children. Each of the toys was reviewed using this criterion and displayed above are the 10 best items that our panel reviewed and suggested for our audience. Each of the toys is not only age-appropriate and developmentally focused but are also useful and have been accepted by kids. We hope that you are able to pick a few great items from the list.
Benefits of introducing creative kits to kids
The benefits of introducing creative kits to kids are allowing kids to be kids. There are plenty of ways to introduce creative play to kids, but using kits allows them to explore their creativity and has many intellectual and physical benefits, too. Using kits created by manufacturers like Crayola is a fun way to allow kids to foster their creativity. The intellectual benefits of creative play help develop cognitive-development skills that foster kids' problem-solving skills, develop math skills, and sorting skills. These benefits are skills that they simply learn from using the creative kits and toys.
The physical benefits of introducing creative kits to kids include gross- and fine-motor-skills development. This is important because it teaches simple things like holding a crayon, using scissors and learning to create with your hands. These are all required physical developmental skills for school-aged children and introducing creative kits and toys to kids allows them to learn and foster those skills through play.
Developmental benefits of finger paints
Research shows that there are developmental benefits to finger painting. The benefits are both intellectual and physical. Finger painting is a great art activity that helps develop intellectual-developmental skills like sensory awareness, creative development, and helps them learn shapes and colors. Encouraging and allowing kids to finger paint is a great way to practice intellectual-developmental skills while they play.
The physical developmental benefits of finger painting include a sense of touch, fine-motor-skill development, and strengthens hand and finger muscles. The physical developmental skills learned through finger painting are great skills for the development of toddlers through school-aged children. It is an easy activity that has many benefits both intellectual and physical.
Encouraging kids to draw and create images on their own
Encouraging kids to draw and create images on their own inspires and encourages their creativity while building confidence and self-esteem.  When kids are encouraged to draw images using their imagination, it fosters their creativity and allows them to learn to express themselves with a positive outlet. This is great for their cognitive development and builds strong-minded children.
Drawing images and creating on their own also builds their confidence levels and self-esteem. It is very important to their development that their self-confidence is empowered. This allows them to become confident as they enter school and navigate their careers in life. Practicing drawing with your kids is a great way to foster their imaginations and work towards them drawing on their own.
What determined the top toys on our list
Choosing the best Crayola toys is never easy, simply because you are looking at a company that is already well-known for making high-quality coloring products for kids. As such, to come up with a shortlist, we had to modify our usual parameters for choosing our top and best products.
Because everything is made by Crayola, there should be no question about trustworthiness and the quality and safety of the design. What we did focus on, however, is the developmental appropriateness of these toys for the intended age groups. We also had to look at the toy's overall appeal to children and whether they would love the toy or not. We then looked at what parents have been saying about these toys so we will have an idea of their overall acceptability and usefulness.
Crayons, coloring, and your kids
Crayons and other coloring materials help introduce the idea of tools to children in the creation of something very colorful, creative, and fun. This can ultimately lead to the development of hand-eye coordination as well as dexterity and fine and gross motor skills. Coloring also helps develop bilateral coordination wherein one hand holds the crayon while the other holds the paper or art material where the colors are to be applied. This can help develop the kid's ability to write later on as he or she gains mastery of coordinating the different muscle movements of his or her hands.
Coloring also develops the muscle endurance of kids. They can color drawings and images for hours on end and this strengthens the muscles of their hands and fingers. This should help them develop the same endurance in writing as well as in other hand-related activities. You can think of coloring as a child's fun way of exercising the muscles of his or her hands. The more he or she uses them, the stronger they become, and the more useful they are when the time comes for them to perform other hand-initiated tasks like writing and drawing.
Using crayons to color images also help children with sensory processing. Unlike coloring with markers, coloring with crayons allows them to exercise their proprioceptive sense. This means that if they want a deeper or darker shade, then they have to apply greater pressure on the crayon. If they require a lighter shade, then they have to adjust the pressure applied to the crayons as well. This helps them enhance their sensory-processing abilities. Coloring also helps with color identification as well as color matching.
Coloring can also help children develop spatial awareness especially in making sure their colors don't go beyond the lines of the drawing or the image. This can help provide the foundation for spatial intelligence which is necessary when writing or using a page for a variety of purposes. This simply means that children will be able to make good use of the space that is dedicated for writing or drawing or any other purpose.
At the end of it all, coloring is such a fun activity. When kids are able to accomplish coloring a particular project, they naturally feel proud of themselves. They know that they have just created something that is inspired by their imaginations. Getting praise from mom and dad can also help boost self-confidence leading to enhanced self-esteem.
Playing with colors is not only a fun way to unleash a kid's creativity and imagination. It is also a very important activity for stimulating psychomotor, emotional, and cognitive development. This is why we are confident that our list of the 10 top Crayola toys will prove highly beneficial for your own kid.
FAQs
Frequently Asked Questions
Q: Are all the items listed on this list safe for a 4 year old?
A: Most of the items on the list are safe for 4 year olds. Under each product, we have listed the suggested age range. This is a suggestion from the manufacturer and includes their safety rating suggestion. It is important to keep in mind that you should always review the product and safety appropriate age before buying.
Q: Where do I find the items on the list online to buy?
A: All the Crayola items listed on our list also have links to buy them from Amazon. The link is directly linked to the product and clicking on it will take you right to the product. If you wish to buy it from another vendor then a search online using a search engine will display other places that the products are available froml.
Q: Are all Crayola products nontoxic?
A: All of the Crayola products that are listed on our top 10 Crayola Toys for Kids are safe and nontoxic. Safety is always a concern when allowing children to use products with their hands. We always check to make sure that all of the products are nontoxic and safe to use by children.
Q: Why is it important for toddlers to finger paint?
A: It is important for toddlers to finger paint because it helps development many developmental skills with one activity. It encourages hand-eye coordination, cognitive development, and encourages them to explore their imaginations. These are just a few of the benefits. It also allows them to also explore textures and stimulates their senses. There are many benefits of finger painting for both young and old people. It is a great calming activity.
Q: How was Crayola started and when?
A: Crayola was started back in 1885 and was known at the time as Binney and Smith Company. They sold specialized art supplies and were known for their brand of crayons. This is where the Crayola crayon was born. As the industry shifted, they starting focusing on home and art school art supplies and have been building the company ever since. The company name changed to Crayola in 1902 and has been a famous household name ever since.
Q: Do all toddlers like to color?
A: All toddlers do not like to color. Coloring is just like playing with cars. Some kids like to and others do not. It is always a great practice to encourage toddlers to color while learning to grasp a crayon. Coloring is a great activity that encourages and stimulates many developmental skills.
Q: How can I get them more interested in art?
A: The best way is to create with them. Draw with your child, and they will almost certainly become more interested in creating works of their own. If you yourself don't share the artistic flair, teach them about how their favorite cartoons are created.
Q: How do I get them to keep their creativity on the page?
A: If they only receive praise for the artwork that they create in the appropriate environments, they will be inevitably more drawn to working within the appropriate context.