Eight year old boys are becoming more competitive both physically and mentally. As such, it is crucial to choose gifts and toys that allow them to explore, experiment, and make full use of their new-found strength, stamina, and creativity. Choosing the best toys for 8 year old boys is therefore crucial for ensuring their optimum growth and development. When a boy turns 8 years old his mind and body are developing and he is no longer a young child. This can make it a difficult age to shop for. Many boys at this age stop liking the traditional toys and are ready to move into toys that can display their competitive sides. The development of their strength, stamina, and creativity should be able to be displayed through play. Choosing toys that allow them to display these new found skills and interests are ideal this also ensures growth and development occur during their childhood.
20 Top Toys & Gift Ideas for 8 Year Old Boys
Top 3
LEGO Chain Reactions

Our rating
Teaches Cause & Effect
Price:

See Here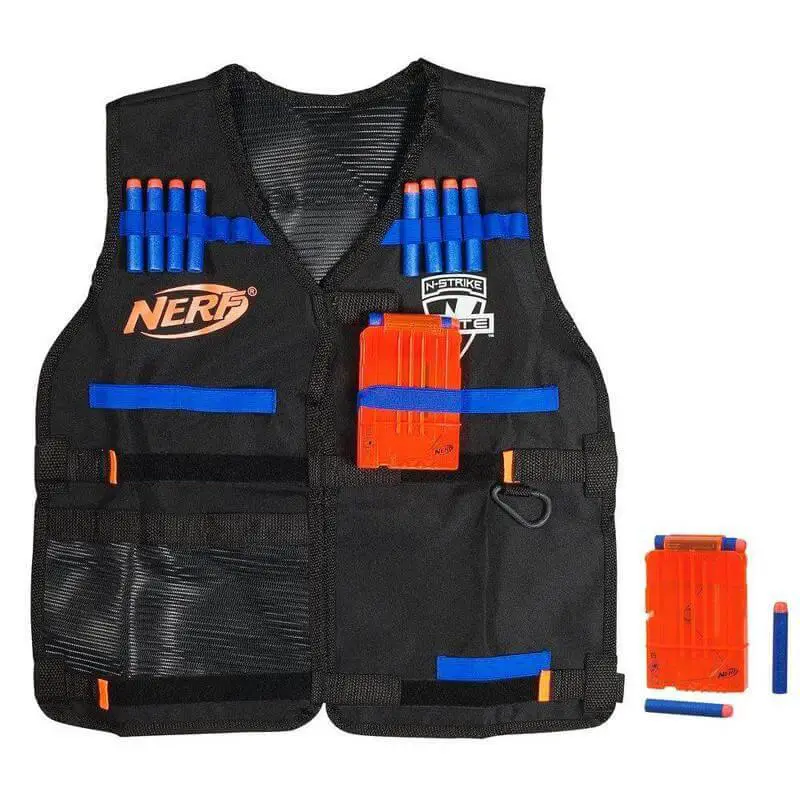 NERF Tactical Vest Kit

Our rating
Stores 12 Darts
Price:

See Here
Marky Blast Pad

Our rating
All-Ages Toy
Price:

See Here
LEGO Chain Reactions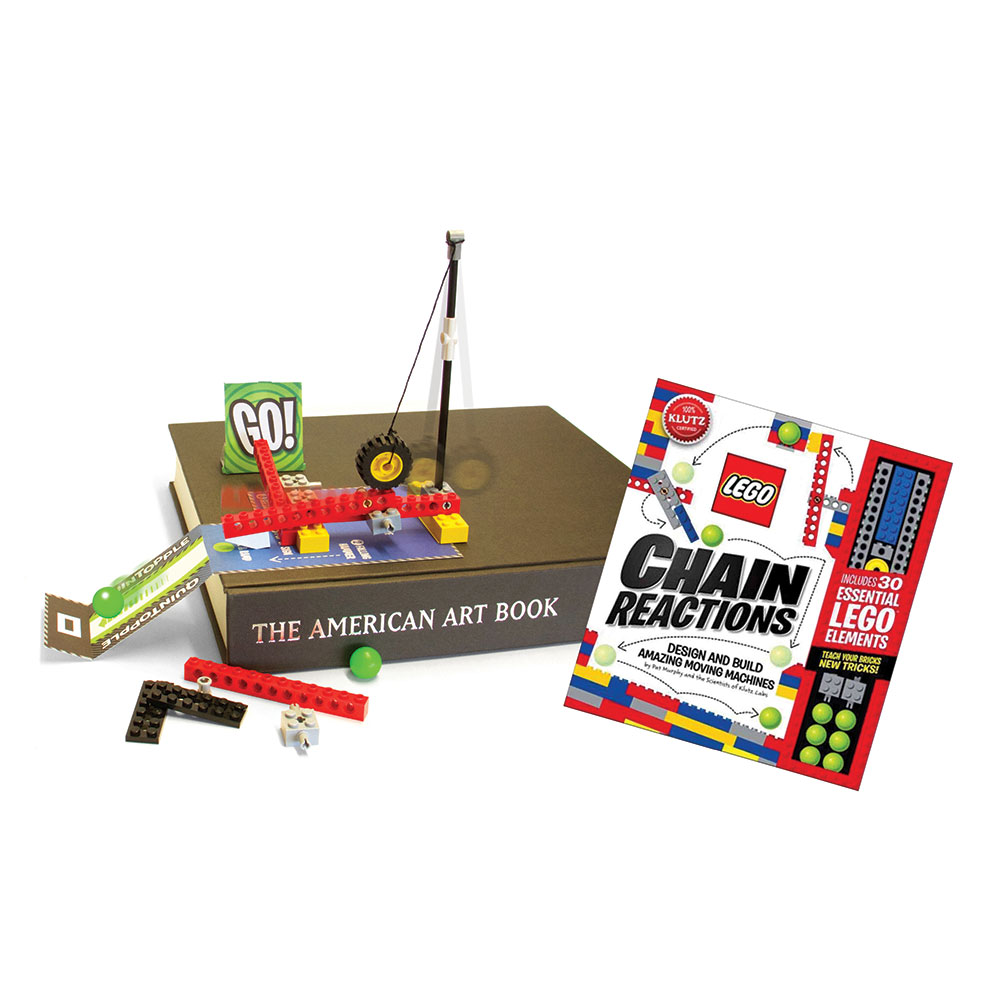 One thing leads to another and then another and another. This is called a chain reaction and bringing this theory to life is fun with this kit. The kit is designed with items and ideas for creating things that display chain reactions. Included is building elements, balls, string, ramps, pop up signs, a funnel, and flag. All these items work together with a 78-page book that features details step by step instructions with pictures to help you build these chain reactions. The designs are easy and the reactions are big. Together they create a world of wonder and the love for machines.
Benefits – The fascinating world of chain reactions is the ordinary place to explore. It gives eight-year-old boys a way to connect, create, and explore with experiments that create chain reactions. This kit plus some imagination will lead to endless hours of exploration and creativity.
What We Like about It – The really neat thing is that your child can make up his very own chain reactions. Once the designs out of the 78 page booklet is all mastered your kid will have a blast making his own quirky reactions! Probably even with a friend who also enjoys to build with Legos.
Pros
Easy to set up and really neat to reach the results for kids
Sturdy pieces since It is LEGO high-quality promise
You can work with the pieces to come up with your very own chain reactions atop what goals are instructed in the manual
Stimulates creativity while building

Promotes cognitive development through simple tasks to complex machines
Cons
Your kid is better if he is a bit older and can hold attention for a long span of time or has an established interest in playing with Legos
Set does not include all the pieces that are needed, outside resources required
N-Strike Elite Tactical Vest Kit by Nerf 

When fun filled competitive play is the goal this vest will allow a young boy to load up for his mission on the Nerf field of playing. This kit includes a Tactical Vest, ammo, and Quick Reload Clips that allow you to stay heavily armed when on the move. The vest features storage loops that can hold up to 12 darts and a storage area that fit 2 Quick Reload Chips. There is a pocket that allows you to store the blaster allowing you to carry extra firepower. The vest also offers an extra pocket for carrying whatever we is needed to complete the mission. This vest allows you to carry all the firepower and ammo that is needed to be right at your fingertips. With the [G6] N-Strike Elite Tactical Vest Kit, your will be ready for any battle.
Benefits – The vest is an excellent toy to help provide any child with the competitive make-believe play that helps with problem-solving skills and exploring their environment. The extra storage within the vest allows for the exploration of the art of preparing.
What We Like about It – It provides for an excellent make-believe play which can help facilitate the development of divergent problem solving skills and counterfactual reasoning. It is also useful for exploration and experimentation as 8 year old boys will be tempted to use the storage pockets for a variety of purposes.
Pros
Lots of storage
Adjustable fit
Fits securely
Easy on and off
Inspires make-believe play
Cons
Larger fit
Velcro straps can be hard to use
Blast Pad Missile Launcher by Marky Sparky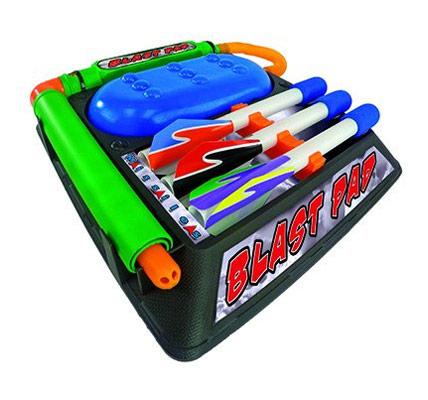 One of the essential developmental milestones of 8 year old boys is their increasing muscle strength. You can help them develop this further by giving them the Blast Pad Missile Launcher. The kit comes complete with a colorful launch pad kids can jump and stomp on to project one of three colorful foam-tipped "missiles" into the air. The Blast Pad Missile Launcher is a perfect gift for a fun and playful outdoor adventurer. As the missiles are launched from the pad and sore through the sky children will giggle with delight. The missile launcher is designed with a durable plastic that will create outdoor fun for many times to come. The simple yet sturdy construction allows everyone to be able to assemble it. The base is also a convenient place to store all the parts when not in use. The improved design of the missile allows them to fly higher than ever before.
Benefits – This is a perfect toy to keep a boy outdoors and engaged in play. To launch the missiles you have to use the jump blast pad. This is fun for all ages and encourages physical activities as well. This toy creates an excitement that they enjoy doing themselves. The design is not only well constructed but allows for storage of the parts. It can be neatly stored when not in use.
What We Like about It – The launcher relies on the strength and power of leg muscles. The sudden surge of pressure blasts the rockets into the air. It's thus great for strengthening leg muscles while developing their stomping precision.
Pros
Encourages physical activity
Develops coordination
Good for many age groups
Stores neatly away when not in use
New and improved designed missiles soar even higher
Cons
Small parts can be a choking hazard
Missiles can lose tips
Disgusting Science Kit by Scientific Explorer

Educating through games and toys is one of the best ways to develop a love for learning. This fun science experiment set teaches all about the body parts and takes it to a whole new level of gross. Through experiments and facts, kids are able to learn about what actually grows on their body and what by-products it creates. It takes science to the extreme which the kids just love.
Benefits – This kit offers an educational twist to science with fun experiments about the body. It will show kids what actually grows in their teeth and explanations on why it happens as well. With each experiment, your child's mind will start the "whats" and "whys" of the body while learning fun facts and engaging in fun factual play.
What We Like about It – It's a fun and interesting way of learning some of the processes that occur inside the human body. The kit helps foster exploration and the development of more complex cognitive processes.
Pros
Science education through fun play
Very entertaining
Fosters exploration
Learning of complex processes

Encourages sensory system learning style development
Cons
For older children only
Experiment directions with guidance from adult
(Like This? Then You May Want To Read: Best Science Toys For Kids)
Laugh-Out-Loud Jokes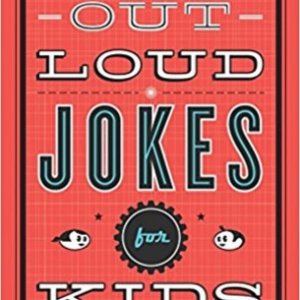 [easyazon_cta align="none" identifier="B00MJYDIGS" key="small-light" locale="US" tag="newmykid-20" title="LEGO Minecraft 21114 The Farm" ]
We can't think of a single person who doesn't love a good laugh, and eight is just the right age to be doing it! This book of Laugh-Out-Loud Jokes for Kids is perfect for the class clown or the funny child in your family. They'll be able to tell jokes that will have your entire family cracking up and then take their book to school and make their friends laugh, too. It's a good-natured book with plenty of hilarious material that will have them splitting sides in no time.
Benefits – Not only will this be a great hoot for your kids, it'll also help them to improve their reading skills. When a child is motivated to read a book that they genuinely enjoy, they'll be more apt to brush up on their verbal and literacy skills so that they can read more efficiently.
What We Like about It – This book is a real crowd-pleaser and it'll have your child cracking a smile with no effort at all. Every child loves a good joke and this book has plenty of them to go around.
Pros
Easy to read
Has great reread value
Good for the whole family
Will increase a child's confidence
Great source of entertainment
Cons
Some jokes aren't as funny as others and might get old after a while
Air Hunterz Z-Curve Bow by Zing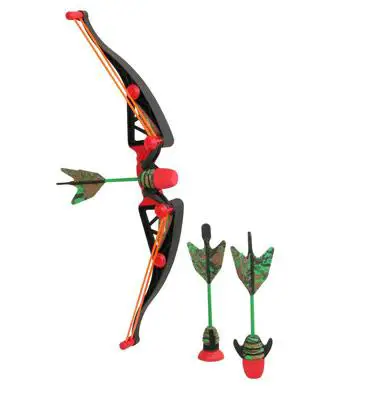 Aim high with this z shaped bow and arrow set. It is an action-packed toy that will send the kids soaring for the targets. The set features a super cool fast loading bow, two ultra-long and soft arrows that launch over 100 feet, one suction cup arrow that will stick almost anywhere plus a zip clip holder. With some fun and excitement, your eight year old boy will be hitting the bullseye in no time.
Benefits – Hand-eye coordination and fine motor skills play such a role in the development of young children. When we can give them fun toys like this bow and arrow set to develop and turn those skills into a fun game then it is fun for all. The bouncing arrows will have everyone chasing a good time.
What We Like about It – Pulling on the arrow prior to release requires arm muscle strength. It also requires absolute concentration and focus on the target. This toy is thus very beneficial in these aspects. Moreover, it's a great way to stimulate the imagination.
Pros
Made of soft foam
Great accuracy
Well construction
Easy to use
Develops and encourages fine motor skill development
Cons
Takes some arm strength
Indoor play recommended
N-Strike Elite Precision Target Set by Nerf

Have your son test his accuracy with this Nerf N-Strike Elite Precision Target Set. Included in the set is everything your little guy needs to get in some target practice. It comes with the Firestrike blaster, a colorful target and 10 suctioned cupped darts with sets of two different colors. This adds to the fun when you can show your competitive edge against an opponent. The target can either stand on its own or be hung from a door for hours of fun. The Firestriker features a light beam for added accuracy and fun. The darts actually stick to the target so you can see how well you are doing. This set will help improve the dart-blasting skill of any 8 years old
Benefits – Encourages the practicing of aim for fun or competition. With the darts being two sets of different colors it adds to the fun when playing with a friend. This promotes the interaction of two friendly competitors. The set includes a great target that the darts stick to and came be used independently or hung on something.
What We Like about It – The toy set helps encourage imaginative play. It can also be turned into a competitive sport with other kids to see who hits closest to the target. It helps in the enhancement of kids' precision and accuracy as well as focus and concentration.
Pros
Helps improve precision target shooting
Set includes everything need to play along or with a friend
Promotes friendly competition
Constructed of soft materials
Includes target that can be hung on a door or stood up on the stand included
Cons
Hard to pull back
Darts do not always stick
Creativity for Kids Grow 'n Glow Terrarium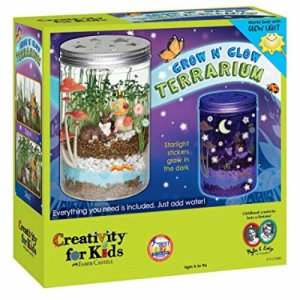 [easyazon_cta align="none" identifier="B002EWWW9O" key="small-light" locale="US" tag="newmykid-20" title="4M Doodling Robot" ]
Terrariums are definitely making a comeback with the recent surge in renewed love for plants such as succulents, which makes growing your own plants a big hobby nowadays. Any eight-year-old will be amazed to know that they can grow their own plants right from their kitchen window and this is a great kit to start them out with. Included in this terrarium is everything your child needs to grow plants on their own, only needing to worry about the correct amount of sunlight and water — It's that easy!
Benefits – You'll be able to learn very quickly if your child truly has a green thumb but the good news is, they really don't need it for this kit. Everything is simplified and they'll enjoy watching their fauna grow a bit each day.
What We Like about It – This might seem like such a minimal science-based gift, but it really teaches your child a lot about the care it takes to grow and take care of something. By the end of it, they'll be able to take pride in what they grew and have a sense of confidence.
Pros
Encourages a love for nature
Easy to grow
Fun to decorate
Simple to take care of
Will teach kids about photosynthesis
Cons
In rare cases, plants might have an issue growing at all
Djubi Classic by Moonracer

Is it a slingshot or a catcher's glove? Or both? Both, it is rolled all into one exciting game of catch. The racquets each feature a launching hook that slingshots the ball up to a 100 feet and then a net to catch the ball. Each of the racquets is ergonomically designed and offer the ultimate comfort level when it comes to a good game of catch. The set comes with two balls and two racquets. This is the perfect great game for eight year old boy to play with friends and family.
Benefits – This is a classic twist on the modern game of catch. It is fun and designed to be easy to use for all players. The unique design of the racket and ball give it a fun twist that is entertaining for many age groups. This fun outdoor activity encourages physical movement and helps with hand-eye coordination along with fine motor skills.
What We Like about It – It's not just for kids; even parents and other adults can join in the fun. It's great for encouraging physical activity while reinforcing hand-eye coordination and motor skills.
Pros
Fun and easy to use
For kids and adults
Encourages physical activity
Reinforces hand-eye coordination and motor skills
Ball floats in water
Cons
For outdoor use
Lightweight foam ball
Jenga Classic Game by Hasbro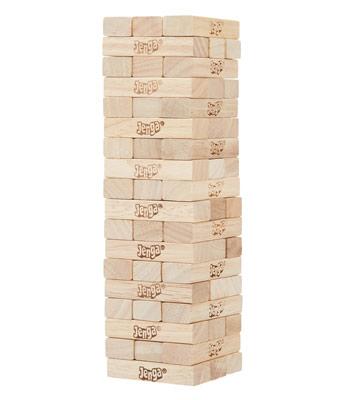 This is a game of mental skill and a steady hand that offers a challenge that any 8 years old would be willing to accept. Jenga is made up of 54 high-grade hardwood blocks. The starts with them being stacked up and everyone take turns removing a block. Once the user removes the block it must be placed on the top of the stack. Everyone takes turns until the tower comes crashing down. The sound of the tower crashing down is one of the funniest things about this game.
Benefits – The game of Jenga requires great mental skill, a steady hand, and a block balancing skill like no other game can offer. The suspense in each person's turn adds to the fun and then carefully watching them add the block back to the tower as it gets unsteady pulls you off your seat. This teaches you to stay calm, play it cool, and to stay steady.
What We Like about It – It's one of the best gifts you can ever give to any kid, 8 year old boys or girls, or any age for that matter. As long as they have excellent control of the muscles of their fingers and they can work out their strategies in which Jenga block to remove next, then the toy is a must-have.
Pros
Great for family fun night
For 1 or more players
Includes an easy to "put away" and clean up package
Promotes hand-eye and fine motor skills
Includes 54 wood blocks that have been crafted with precision
Cons
Packaging can become flimsy
Wooden blocks are unfinished
Deluxe Magic Set by Melissa & Doug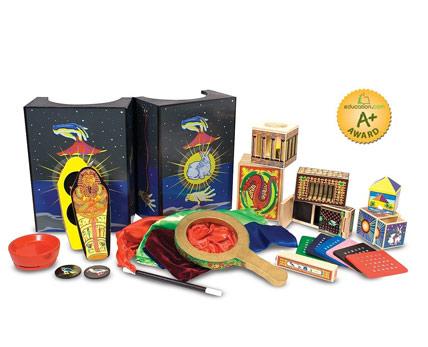 Bring your kids imagination alive and inspire their inner magician. This high-quality set is designed and built to last for countless hours of rehearsals. This set includes 10 of the classic magic tricks for your child to master. The easy to read and simple instructions are great for kids. The professional quality in each of these pieces allows your 8-year-old to practice, practice until they have the skills down to perform their first show. The tricks included in this set are the classic tricks that we see at almost any magic show.
Benefits – This super cool magic show kit brings the show to your living room. It will help develop the skill set needed to perform in front of others while encouraging self-confidence. Mastering these classic tricks also require hand-eye coordination that will only get better with time.
What We Like about It – It helps develop self-confidence especially when your kid has already mastered one or two of these tricks. Magic tricks require deftness as well as superb hand-eye coordination.
Pros
High-quality professional magic set
Easy and simple to read instructions
Made of solid wood
Includes popular classic tricks
Promotes building of self-confidence
Cons
Instructions for some tricks can be hard to understand, adult assistance is helpful

Some of the tricks are poorly constructed and paint quality is not great
Caster Board by RipStik

Why give your kid a self-balancing hoverboard that explodes when you can just give him the Caster Board? This groundbreaking caster board will bring the balancing skills that it takes to ride a skateboard together with creativity to explore tricks and the environment around your child. The self-balancing board is safe and easy to use. The physical activity benefits from this board are very important to a young boy's development. The fun comes when the special design of the board allows endless trick. The engineering of the deck with 360-degree inclined casters and the pivoting points create a unique motion is fun and thrilling.
Benefits – Designed for kids looking for a thrill this board combines the fun of snowboarding and surfing and brings it to land with wheels. It takes practice along with coordination and balance to master this new form of transportation. This exciting activity will allow any eight year old boy to show off his new tricks in no time.
What We Like about It – It's a skateboard and a snowboard, sans the snow, rolled into one. It's ideal for helping kids to master balance and coordination while at the same time giving them the opportunity to become creative in their tricks. In turn, this can boost kids' self-confidence.
Pros
Promotes physical activity
Designed to simulate the thrill of surfing or snowboarding
Fun twisting design
Helps fine tune balance
High performance board with the lightweight design
Cons
For outside or large indoor areas
Designed for children 8 and up
Epic by Perplexus

The Perplexus Epic is a neat crystal ball with a series of very complicated mazes incised. It has unexpected twists and turns that create a challenge. The object of the game, like most other puzzles is to get the small silver ball to the target. Flipping, twisting, and spinning the ball moves the silver ball along the numbered path. The hard part, it the ball can fall off the track, so keep your hands steady. It is a challenge that 8-year-olds love.
Benefits – This is a stimulating toy that using advanced problem-solving techniques and hand-eye coordination. It is fun for many age groups and is often enjoyed by the whole family. The series of mazes and puzzles are very complicated and the challenge encourages anyone intelligence.
What We Like about It – The toy is perfect for stimulating convergent problem solving as well as for improving spatial intelligence and hand-eye coordination. It also provides tons of fun for everyone.
Pros
Stimulates problem-solving techniques
Fine turns hand-eye coordination
Easy to carry and take along on trips
Helps children learn and play with strategies
Promotes three-dimensional relations development
Cons
Small parts inside ball (marble)
Ball can get stuck from time to time
Suspend Game by Melissa & Doug

An exciting game of balance that can be played right at the table. The game has been designed to have everyone hanging at the edge of their seats as they take their turn. Each turn players have a chance to balance the rubber tipped wires from the stand. The goal is to ensure that the whole thing does not come crashing down when it is your turn. This game is great for family nights.
Benefits – This game can be played alone and with a group, which makes it a great gift for any 8-year-old boy.  It helps develop hand-eye coordination while developing interpersonal skills, and cognitive skills. This game will not only appeal to the kids, but parents love the challenge, too.
What We Like about It – The puzzle helps improve kids' convergent problem solving skills as they attempt to figure out how to place rods to maintain perfect balance. This helps improve hand-eye coordination, fine motor skills, and spatial intelligence.
Pros
Development of hand-eye coordination
Uses interpersonal skills
Challenges the mind
Promotes balancing skills
Encourages social-emotional connections
Cons
Container poorly made
Has to be played on a very flat smooth surface
Matchbox 9-Car Gift Pack
[easyazon_cta align="none" identifier="B00CEQLJ8U" key="small-light" locale="US" tag="newmykid-20" title="Water Sports Water Balloon Refill Kit 500-Pack" ]
We all remember matchbox cars and all the different ways we'd take them outside and race them down the driveway or along decks in the backyard. Now, your child can too! This set of nine matchbox cars is perfect for the little car enthusiast. Whether he's playing solo or with some friends, you can be sure they'll have a ton of fun setting up races and finding out who has the better hotrod.
Benefits – These are the kind of toys that really encourage social skills. They're easy to travel with so your child can bring them to school or over a friend's house.
What We Like about It – EMatchbox cars will never get old because racing itself will always be a prominent sport. Any NASCAR fan will be thrilled to receive these as a gift.
Pros
Can be played with practically anywhere
Easy to travel with
Great starter set
Classic toy
Encourages social skills
Cons
There are no accessories or ramps that come with this set
(Hey! If You Like This, Then You Will Love: Best Water Toys For Kids)
4M Table Top Robot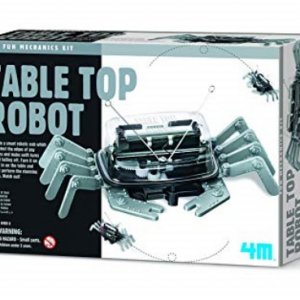 [easyazon_cta align="center" identifier="B00KXZC762" title="Cheerson CX-10 Mini 2.4G 4CH 6 Axis LED RC Quadcopter Toy Drone" key="small-light" locale="US" tag="newmykid-20" local-keywords-UK="Mini Pocket Drone RC Micro Quadcopter by Cheerson" local-tag-UK="mykidneedsthatu-21" ]
This little spider robot is exactly what your electronics-loving eight-year-old needs to keep them busy and encourage their love for robotics. It's a small robot and very simple to put together but will quickly become a pal to your child. It's cute, crawls around, and can even perform tricks! Not all spiders need to be scary, and this is perfect for a rainy day activity or a weekend project with family or friends.
Benefits – If you can be sure of anything, it's that this tiny robot will definitely teach your child about the basics of engineering. It's a great way to encourage critical thinking, logic, and reasoning skills.
What We Like about It – Anything that your child can put together and be proud of afterward is a win in our book. This little robot might seem small but shouldn't be underestimated – Which teaches kids a big lesson on how wonderful small things can be.
Pros
Easy instructions

The robot moves and does tricks

A fun project for a rainy day
Encourages several different areas of skill
Cons
The AA batteries are not included with this robot
Boy Craft Catapult Wars
[easyazon_cta align="none" identifier="B00WI0PJE2" key="small-light" locale="US" tag="newmykid-20" title="LEGO Star Wars Millennium Falcon 75105 Star Wars Toy" ]
If your child is interested in all things building, then look no further than this Catapult Wars kid by Horizon Group USA! It'll be tons of fun to watch your child construct his very own catapult and even more fun watching him take that first shot… Just make sure you're nowhere within reach! The kit comes with everything he'll need to make a cool toy and the instructions are super simple to follow.
Benefits – These building kits are becoming more and more popular and really teach kids how to be self-sufficient and crafty. A catapult might not seem like a fun toy, but it's more about the feeling of accomplishment a little boy will have once he sees the finished product.
What We Like about It – This catapult packs just enough power to be effective, but not really enough to be incredibly dangerous. It's safe for kids ages eight and up and gives them a sense of responsibility as well.
Pros
Easy to construct
Simple instructions
The kit includes everything needed
It's something to be proud of when it's finally built
Improves hand-eye coordination
Cons
Can be slightly dangerous if hard objects are used in the catapult
N-Strike Elite Strongarm Blaster by Nerf

If your kid already has the Elite Tactical Vest, you will also need to give him the N-Strike Elite Strongarm Blaster to complete his set. The blaster comes with a rotating barrel which can be flipped open to be reloaded with the foam-tipped darts. The blaster can shoot these darts up to 90 feet away.
Benefits – This well designed and easy to use dart blaster puts the performance in your hand. The speed and easy loading system make it fun to take into any Nerf battle. The blaster encourages imaginative and interactive play while enhancing focus and control.
What We Like about It – The toy is a perfect addition to other N-Strike products. It's therefore excellent for encouraging imaginative play. The blaster requires motor skills while targeting requires concentration and focus.
Pros
6 dart rapid firing
Easy to load
Shoots up to 90 feet
Quick open barrel
Encourages development of competitiveness
Cons
Requires batteries
Not accurate
Hamper Hoops by Wham-O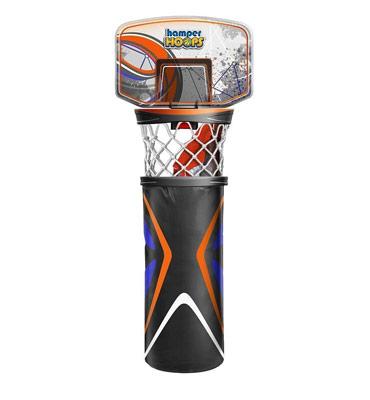 Nothing is better than turning boring old laundry into a fun game of basketball hoops with this hamper. The design of the basketball hoop hamper goes over the door and features a detachable laundry bag. With this fun game, it will turn laundry day into fun day. Getting the clothes out is simple with the bottom of the net unzipping and release right into a laundry basket. The set includes a backboard that is basketball-themed, a plastic hoop and nylon net, with a large laundry bag that is removable. Laundry day will never be the same for an 8 year old again with this toy.
Benefits – Getting an 8 year old interested in chores let alone, laundry can be a huge challenge. This great gift turns messy rooms into a fun time to make some hoops.  The over-the-door design is great for any boys' room and promotes make-believe play while loading up the basket.
What We Like about It – It's an interesting way to encourage your 8 year old boy to place his dirty clothes right into the laundry bag. We cannot think of a better way to do this than playing make-believe basketball with one's dirty and soiled clothes.
Pros
Easy to set up
Makes laundry chores fun
Promotes make-believe play
It is easy for kids to make the ball in the hoop
Hangs over the door and requires no installation
Cons
Large amounts of clothes at one time can get stuck
Rim is high
Prepared Microscope Slide Set for Basic Biological Science Education by AmScope

This set includes 25 prepared slides. The slides are of plants, insects, and animal tissue. This is a great set get an 8-year-olds biological education started. The samples are well preserved in cedar wood oil and then sealed. This prevents contamination and preserves the samples forever. Each slide is individually labeled for identification and is made out of optical glass that is clearly making it easy to view the samples. The set comes in a wooden storage box for easy transportation and to help protect during storage. For 8 year old kids who are naturally inclined to biological sciences.
Benefits – The 25 Prepared Microscope Slide Set is an unusual gift that promotes educational learning and stimulates curiosity. This is a fun gift to give a boy who already has a microscope and is looking for new things to explore.
What We Like about It – It's a very unique gift suggestion especially for kids who already have kiddie microscopes at home. This can help stimulate their curiosity for living things as well as help augment the learning of biology.
Pros
Science education through fun play
Great storage container
Individually labeled
Great collection to add
Well prepared
Cons
Slides can be sharp, handle with care
Need microscope to view slides
Special Edition Battle-Worn BB-8 by Sphero with Force Band
Special Edition Battle-Worn BB-8 by Sphero with Force Band
Robots are super cool and this robot is nothing less. The robot looks just like the character from the famous movie and features a durable polycarbonate shell. It is controlled by a Bluetooth connection from a smart device up to 30 meters away with a battery life of up to 60 minutes. The robot can push, pull, and drive. The robot comes with a free downloadable app for training its personality and displaying holographic recordings. This programmable robot is sure to make an 8 year olds day.
Benefits – Awaken the personality of the robot by using the compatible apps for this fun-filled toy. Programming and using a smart device is a skill that is desirable these days. Not only is programming this robot exciting, but it is also a skill that can be used to build on. First stop playing with this simple robot, next stop, the galaxy.
What We Like about It – This is a fun little robot with a big personality. It is sure to bring lots of laughs to your 8 year old and also yourself. This is a great gift that is easy to use.
Pros
Robots shell is constructed from polycarbonate

Battery life is about 60 mins

Features downloadable compatible app for a smart device
Promotes strong cognitive development connections
Encourages the development of fine motor skills
Cons
No battery replacement is available

Robot only recognizes obstacles by collisions
Criteria Used to Evaluate the Best Toys for 8-Year-Old Boys
During the development of an 8-year-old boy, there are physical and mental changes that take place. When choosing the toys to list above these physical and mental changes are taken into consideration and make an impact on the toys that are selected. We want to make sure the list consist toys that will grow and challenge any 8-year-old boy.
During playtime, 8-year-old boys should be using their minds and bodies. So, displaying toys on the list that bring those elements together is what we focus on. Some toys impact their bodies more while others inspire their minds to explore. We want to offer toys that keep both these in mind.
Toys that let them explore
This list is made up of toys that allow 8-year-old boys to explore the environment around them. Getting out and about is important for their physical and mental development. When they receive toys that not only encourage them but also inspire them to explore it is a win-win situation.  Some of the best toys on the market are designed with this in mind. Some of the toys above inspire them to explore with the toys themselves while others encourage them to explore with the people around them.
Exploring the environment can be done alone or with others. Through this list of toys whether the 8-year-old you are buying this gift for prefers to be alone or in a group there are things listed above for both. We keep both kinds of personalities in mind when completing the lists. The lists also can offer some toys that encourage children to come together and explore.
Challenging their skills
When toys for 8-year-olds are making the list one of the criteria they can be looked at is, "does it create a challenge of their current skill set?" When toys are challenging they are not typically labeled as "boring." Whether the toy challenges their mental or physical abilities the challenge is typically what they are looking for.
Buying a toy that is great and also creates a challenge can be hard. So, we take the guessing game out of gift buying. With a great list comprised of great mentally and/or physically challenging toys, you are able to select and read about them before making a decision. This allows you to buy the best gift for the 8-year old that you have in mind.
Encouraging healthy competitiveness
During the development of an 8-year-old boy, competitiveness is making its way into their daily lives. In school and at home they see competitiveness on daily basis. Using toys and teaching children to be a good competitor is a skill that can last a lifetime. Selecting toys that encourage and support healthy competition is a great way to support their growth.
With joining sports, playing a family game, or be selected to be in the local spelling bee children face competitiveness all around them. Using toys and interaction with people can teach them to be great competitors without having to put others down. A simple family game or bike riding competition is a great way to see how your child deals with this. We include many toys on the list to help demonstrate being a good competitor.
How the toys make the "list"
Toys make the above list for 8-year-olds by being age appropriate, safety rated, and fun for any boy of this age. We research the toys and they are selected with the help of a board of experts. We take the toy lists very seriously and only want to offer the best advice for gift buying. Each of the toys the list above are toys that offer both physically and mentally challenges for an 8-year-old boy. Along with the research and the advice the board we also take into mind the experience of the child. Many of the toys are tested by children and the experiences they have with them help us choose the best toys on the market.
We hope that you find this list not only helpful but something that you refer to each time you need a gift for a child. Our suggestions are well researched and the best suggestions that we can make.
How We Came Up With Our Most Popular List
If you are still thinking of gifts to give to your 8 year old boy, then you have come to the right place. Our team of dedicated researchers have scrutinized every gift idea and every toy that are intended for this age group particularly looking for their benefits on the overall development of the child. It is very important that these playthings will help children reach their full growth and development potential expected of this age. We also had to consider the quality of the design including the safety of the different raw materials used in the manufacture of the toy. Safety is an ever-growing concern among parents and as such we would not want to recommend any toy or gift item that can undermine this need. Additionally, we looked at the feedback of countless other parents and have listened to what they have to say. Of course, we also considered the trustworthiness of the manufacturers of such toys and playthings.
These steps we have taken ultimately led to the creation of our list of the 20 best toys for 8 year old boys, whether they are your own children or those of a relative or a friend. You will simply love these gift suggestions.
The Active 8 Year Old Boy and His Toys
If there is anything that best characterizes an eight year old boy, then that would be his increasing sense of competitiveness. This is very evident in his engagement in physical activities particularly sports. This competitive spirit will begin to show in the different social games and sports that they play with their peers. Their stamina and strength are now quite remarkable, fueling them to become more active. It is therefore important to provide toys that do not only encourage physical activity but also stimulate their competitiveness. Role playing games important in this regard.
Speaking of role plays, 8 year old boys will already begin carefully planning the different roles they have to play in a particular game. The objective is quite simple: to make the playtime activity more interesting and fun. As such, they will often experiment with a variety of ideas. Experimentation is best accomplished through trial and error, however. The good part of this method is that it is often complimented by the 8 year old boy's predictions and expectations. They are now beginning to show counterfactual reasoning, that type of problem solving where they have to answer the question "what if". This lays the foundation for more complex cognitive process such as scientific problem solving, hypothesis formulation, and even logic and critical thinking.
Eight year old boys already have the confidence to provide short yet meaningful answers to questions posed by an adult. Their speech and language skills are already sufficient for them to verbally express what they really mean. It is therefore important to provide toys and other gifts that will help them expand their vocabulary and further strengthen their language and communication skills. While playtime activities allow them to create their own lingo, it is in school where they learn new words as well as phrases on a daily basis. They require gifts or toys or playthings that are descriptive as possible so they can better improve their language.
It is important to understand that while an 8 year old boy may show that he is already confident on his personal abilities, sometimes, he may still be swayed by his peers as well as other external influences. Friendship issues will arise and this can be frustrating to kids especially of this age. It is therefore crucial to consider toys or gifts that will allow them to express their feelings and their thoughts in a more constructive way. Playing games is one hassle-free way of encouraging children to talk about what they have in their minds. It's one sure way to keep the lines of communication open.
A particular characteristic among eight year old kids is that they may already start thinking about what they would like to become when they grow older. This is the perfect opportunity to help children decide who they would like to be. This gives them a sense of direction and something for them to focus on.
The many developmental changes in this age range require a slightly different set of toys, gifts, and playthings. Choosing the most appropriate ones has never been this crucial. With our list of the most popular products for eight year olds, you can now choose the best one for your own little boy.
FAQ
Frequently asked questions
Q: What is the best way to find great prices on birthday gifts for 8-year-old boys?
A: The best and simplest to get the best price is to determine what gift you would like to give then starting browsing varies stores on the internet. You can also use a search engine to perform a search for the product and typically it will return results with a list of stores that have the item. Just start clicking away. If you would like to see and touch the item before buying, you can visit a local store and try out the item, before making your final purchase.
Q: How do you know if the gift you are buying offers the latest version, model, or technology?
A: This can sometimes be harder than you think. Using the internet is one of the fastest and easier ways to find information about a toy model and technology version. Each toy manufacturer has a website that contains information about their products, the technology used, and previous model/version listed on their site.[G101]  For more information about the products you can also contact the manufacturer. Typically each site lists the best ways to contact them.
Q: Are there toys on the market that grow with boys as they mature physically and mentally?
A: Many toys on the market now tend to be marketed to a larger age group range making them adjustable, have the ability to change challenge levels, and offer different skills that can be refined. When searching for a gift with these features the package label will contain the features of the toy. Look for toys with these specifications.
Q: How do I find safety ratings for gifts that I buy for children?
A: Toy manufactures follow strict guidelines that make them have to include a label on all new toys that specify an age group. All toys made after 1995 must comply with this standard. Like toys with small parts must always be labeled as a choking for children under 3. Each package will include this information right on the label and should be clearly marked.
Q: How do I know what range group a toy is best designed for?
A: When a toy is created it is marketed to an age group that it is not only safe for them to use but also is for their current their physical and mental capability. Toy manufactures label this information in the toy's description on their website along with including the information on the label for the store. You will find the safety and age suggestion on each toy on the market. The age suggestion is the market age group that the company designed the toy for and the safety age is a regulation saying that the toy is safe for children that age or above.
Other Age Ranges
1 Years Old
2 Years Old
3 Years Old
4 Years Old
5 Years Old
6 Years Old
7 Years Old
9 Years Old
10 Years Old
11 Years Old
12 Years Old