Oh boy, to the parents of every five-year-old boy who are struggling to find the right gift: We feel you! Five is an age that synonymous with a heightened level of physical activity, but it's also an exploratory age. Five-year-olds are notorious for having an insatiable curiosity and constantly wanting to learn about the world that exists around them. A child this age is also just beginning kindergarten, which means that they're either building on their education from preschool or just beginning to learn about things like shapes, numbers, colors, spelling, etc. It's a challenging age but also a fun one for boys, because you begin to discover all the things that you love doing. Whether it's sports, video games, building things, or being outdoors, the toys you gift to your child should reflect that as well. On the same token, if they haven't yet found something that they love, allow us to help!
In certain ways, it's easier to find a toy for a five-year-old because of the fact that they haven't had much time to really learn what they love. Some kids have which makes things much simpler, but a lot of kids are still learning whether it be through toys at school, toys at home, or what they see their friends playing with. The most important thing to keep in mind when finding a toy for your little boy at this age is to not purchase something that will encourage a short attention span. It's often challenging for five-year-olds to focus since they're easily distracted and want to explore everything, which is why toys that aren't too complex but still fun and interesting are always best. This is also a prime age for kids to start discovering nature and that's best done through their own backyard, which is why we've included toys for outdoor exploration as well. If your child is more of the indoors type, we've sought out the best toys for rainy days that will keep them entertained while also teaching them about various things such as technology, robotics, building, and, overall, increase their critical thinking skills. Any of these toys would be perfect, but we know each child is different which is why we've tailored our research to include all personality types and activity levels.
Our Top 3 Picks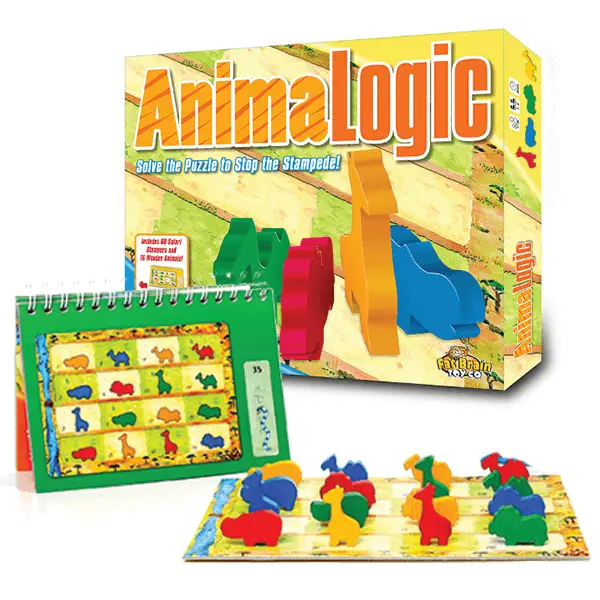 AnimaLogic

Our rating
High Quality Educational Toy
Price:

See Here
LEGO Construction Set

Our rating
LEGO Brand
Price:

See Here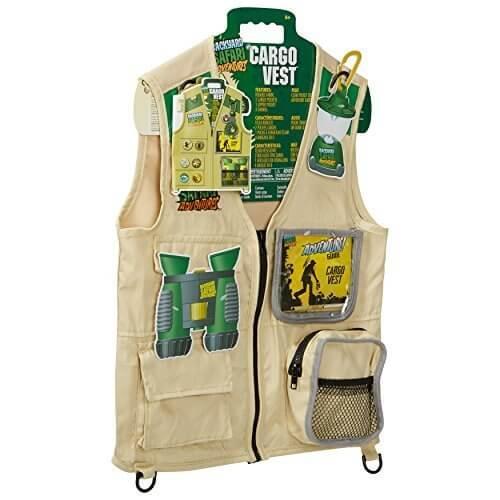 Safari Cargo Vest

Our rating
Velcro Enclosures
Price:

See Here
20 Top Toys for 5 Year Old Boys
Animalogic
If you are in the market for a highly educational toy. This is a great choice and made of very hight quality materials. Fatbrain utilizes the types of material in their toys giving kids and families long lasting durable toys. Hours of good educated play time with a total of 60 puzzles for your child to work through and complete. This is a winner for kids who play alone or would like to play with a friends. There are a total of 16 wooden educational animals. Coming with an ultra durable game board that is not easily broken even through years of play. Stimulates sequence matching abilities, your kid will have a blast matching the right sequences to get all of his animals across the river in good time.
Benefits – The board game Animalogic is ultra durable and will teach your child how to utilize images to create specific sequences and patterns with real wooden figures. This will spark a child's interest in architect later on in his life. By introducing the transfer of a visual image to a pattern of tangible objects.
What We Like about It – We like that pieces are made with such high quality wood and paint; the pieces are either red, green, yellow, or blue. This small variety of colors are just the primary colors which are extremely important as kids are introduced to primary colors when they are around the age of 5 years old.
Pros
Includes all primary colors in the set of the animals
Very high quality materials are used
There is a total of 60 wooden pieces to work with
Kids can pick up the concepts of this game very easily
Cons
Consumers would liked more instructions
LEGO Juniors Disney Cars 66573 Building Kit Bundle
This highly popular movie franchise has exploded onto the toy scene in recent years, and now your little man can join in the fun with this hands-on set that engages them while also challenging their building skills. Included are two beloved characters from the movie, as well as a racing platform and everything you need to build a miniature gas station. Some extra accessories are included to add realistic touches to the set as a whole, and the building blocks come in varied sizes for added interest.
Benefits – This set is designed to encourage problem-solving skills in young boys in ways that are age appropriate and fun. The key to any building set for five-year-old boys is to make sure that the final build is not too overwhelming, and allows your child to maintain a sense of independence while building. This awesome toy accomplishes all that and more.
What We Like about It – Included is an easy-to-follow guide that is meant to be read by both you and your child.
Pros
Popular Disney movie
Encourages hands-on play
Two different platforms
122 pieces total
Cons
Adult supervision needed
Small pieces can be a choking hazard
Cargo Vest by Backyard Safari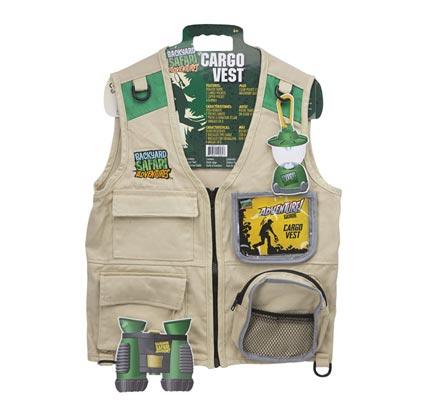 Five year old boys are already beginning to be very adventurous, a carryover of their exploratory days in toddlerhood. Give them the Cargo Vest by Backyard Safari and they can be playing make-believe Indiana Jones. The vest comes with a poly-twill fabric that provides a very rugged, realistic appeal. It has quite a number of pockets as well as a binocular and camping lantern as accessories.
Benefits – A love of nature is always a beneficial quality to cultivate in children during their younger years. With this vest, your little boy will have the tools he needs to have a deeper appreciation for the world around him. The nature of the product encourages curiosity and exploration, and has the potential to inspire a lifelong love of the great outdoors.
What We Like about It – Excellent for pretend play, the vest can be a great addition to your kid's wardrobe for dress-up and make-believe playtime activities. It helps in fostering imagination and creativity while at the same time helping with the emotional growth of children.
Pros
Inspires children in make-believe
Exploration of nature
Nurtures imagination
Good for trips
Cons
Needs motivation
Can get boring
One size only
Kids Army Camouflage Combat Vest by KAS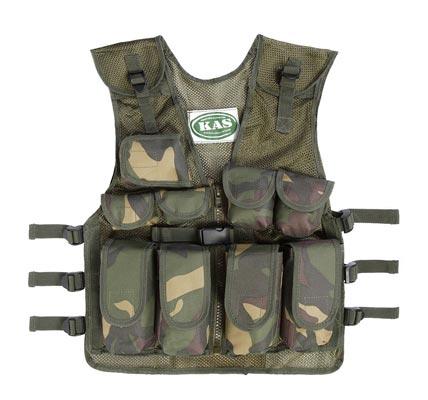 One of the essential characteristics of 5 year old boys is that they tend to mimic the behavior, and appearance, of adults in the real world. Now, they can pretend to be a Specialist in the Army or an operator of an elite unit with the Kids Army Camouflage Combat Vest. This comes with 4 large pockets to carry magazines of ammunition and 5 additional smaller pockets for small military items. It has 3 fully adjustable straps on both sides to allow for perfect fit.
Benefits – Your child will delight in being able to play Army Man in this adorable little vest. Whether it's Army or hunting, your little one will have lots of secret compartments to store his or her treasures.
What We Like about It – Make-believe play is a very important activity for boys of this age. The vest allows them to act out their fantasies especially if they are fond of FPS games on computers and game consoles.
Pros
Inspires play
Dress up fun
Lots of storage pockets
Fully adjustable straps
Cons
Not for young children
One size only
A Kick Scooter by Razor

We guess there is no better gift to give a very active 5 year old boy than a sleek and stylish scooter. With the A Kick Scooter, you boy will simply be cruising along the neighborhood in style. It comes with a very sturdy frame made of high grade aluminum often used in aircraft manufacture as well as a patented T-tube design that connects to the deck. Its ABEC-5-integrated urethane wheel bearings allow for smooth ride with a unique braking system.
Benefits – Little boys always love a physical activity that challenges them. This scooter is a safe way to enhance both their sense of balance and agility while still having tons of fun. Because it requires concentration while moving, it's a great way to teach your five year old boy about taking proper safety precautions and paying attention to where they're going.
What We Like about It – This kids scooter is sturdy enough to accommodate riders with weights up to 143 lbs. For kids, it's great for mastering gross motor skills, coordination, and balance, not to mention tons of joy and pleasure just cruising along.
Pros
Physical activity
Teaches balance
Agility
Lightweight
Easy storage
Cons
Can cause accidents
Only for older children
IQ Challenge Set by GamieTM 

Five year old kids may have only begun kindergarten classes but you can already help enhance their cognitive development with the IQ Challenge Set. This set of 7 toys include 5 pieces of puzzle balls, a wooden puzzle cube, and a metal puzzle, all designed to stimulate brain activity. Except for the metal puzzle, all other brain teasers in the set come with playful colors for added brain stimulation.
Benefits -This unique set of toys activates your child's natural drive to problem solve and come up with their own solutions to complex problems. The set is designed to present age-specific challenges that are beneficial to your child's sense of focus and critical thinking skills. And because there's more than one to explore, your little boy will have ample opportunities to explore their own mental abilities.
What We Like about It – It's a very unique way of stimulating brain development. We have tried some of the puzzles on adults and they surely loved it. Kids will surely like the colors and the way in which they have to think about how to solve the puzzle. 
Pros
Engages memory and problem solving
Manual dexterity
Promotes abstract learning
Vibrant colors to work with
Cons
Puzzles may be too difficult
May lose interest quickly
Super Sounds Soccer by Fisher-Price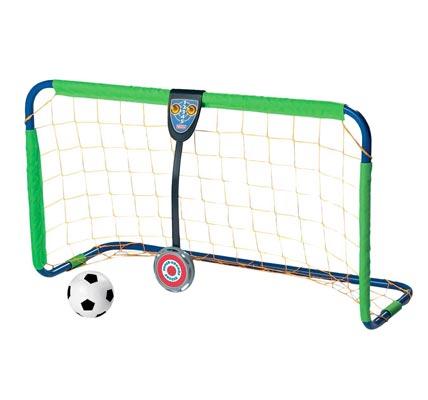 For the next Pele, Beckham, or Maradona, they need to take constant practice hitting the goal on target. With the Super Sounds Soccer, little boys will be able to practice their shots at the goal. The goal measure 2 feet by 3.5 feet and comes with a fully adjustable goal target that emits a very fantastic "Goal" sound once hit spot on by the football. Place the target towards the side for those corner placements or dead center for more accurate shot placement.
Benefits – This outdoor play set teaches children to cooperate on a team or can be fun for learning to aim at a target by him or herself. When they make a goal it praises them.
What We Like about It – It's a very great toy for training kids on how to work with their legs in kicking the ball to where they want it to go. This takes patience and skill as well as excellent leg muscle strength. 
Pros
Physical activity
Manual dexterity
Goal oriented
Two player game
Cons
Must be motivated
Needs batteries
Foam Maverick Pogo Stick by Flybar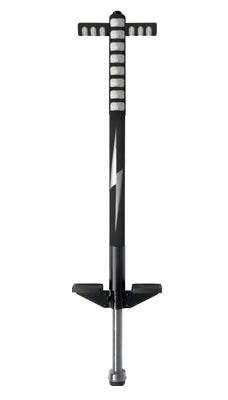 Kids are often fascinated with the way Tigger uses his tail to bounce around Hundred Acre Woods like a pogo stick. Your kids don't have to be like Tigger, they only need the Foam Maverick Pogo Stick to let them hop around the neighborhood. The pogo stick boasts of a metal frame that is safely covered in foam as well as a really sturdy and non-slip textured foot pegs. Additionally, the handle bar is also well-padded for optimum comfortable grip.
Benefits – Your child will enjoy jumping up and down on this pogo stick for hours. It teaches kids balance and promotes physical activity as well as the intensity needed for calorie burning all while having a good time.
What We Like about It – It's a great way to help enhance your kid's flexibility, coordination, and balance as well as gross motor skills. This pogo stick is manufactured by the same company that has been making them since 1918. 
Pros
Physical activity
Fun
Classic toy
Teaches balance
Cons
Older children only
Not playable in grass
Active Dodge Tag by Diggin

Wanna play dodge ball with your kids but with a twist? Instead of the ball bouncing off the bodies of kids, the ball of the Active Dodge Tag actually sticks to the vest itself so children will have countless hours of fun playing the great game of dodge ball. The set comes with 2 air-mesh vests and 6 colorful, soft, and equally safe dodgeballs. Kids wear the vest and they attempt to dodge the ball being thrown at them, specifically on the target on their vests.
Benefits – The great thing about this product is that it facilitates social skills and teamwork in your little boy. By getting them toys that require more than one player, they are better able to improve their ability to interact with different personalities. This is often the first step towards being an emotionally intelligent adult later in life that can find common ground with other people. Sport toys are also a great way to make new friends at such a young age.
What We Like about It – It's an interesting twist to a classic outdoor game. Helps facilitate development of agility, gross motor skills, hand-eye coordination, and excellent timing. 
Pros
Physical activity
Fun
Group participation
Teaches aim
Cons
You cannot buy more balls
Requires motivation to play
My First Mind Blowing Science Kit by Scientific Explorer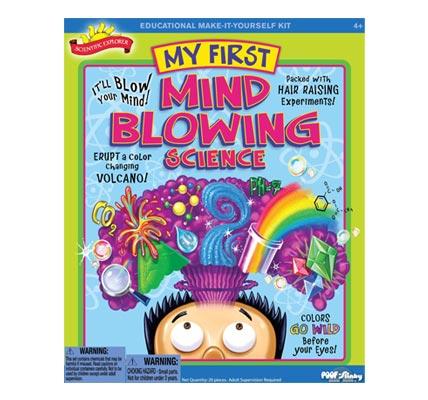 While kindergarten may only have very simple science subjects, you can help augment the 5 year old boy's interest in science with the My First Mind Blowing Science Kit. The set comes with a variety of safe chemicals for kids to experiment with as well as the tools and materials they will need to carry out the experiment. This included test tubes, measuring utensils, cups, sticks and a pipette. It also includes citric acid, vegetable oil, red cabbage powder, cornstarch, and baking soda among other things.
Benefits – Your child will love making his own science experiments with simple ingredients that can be found in your kitchen. This set promotes STEM (science, technology, engineering, math) skills and creates a world of possibilities for creations.
What We Like about It – It's a fun and safe way to conduct very simple scientific experiments. It's great for stimulating interested in science as well as help in the development of divergent problem solving skills. 
Pros
Enhances STEM learning
Promotes wonder and opportunity for growth
Makes science fun
Family time
Cons
Needs adult supervision
Will need more sets for more experiments
(Love The Thought Of Science Based Learning For Your Children? Check Out: Best Science Toys For Kids)
Milliard Car Rug Road Play Mat
A number one bestseller with an impressive five star rating on Amazon, this interactive product has the fun design your child needs with the safety you want. The brightly colored and detailed illustrations ensure your little boy will be fascinated for hours, and they'll also be learning about how local communities are dependent on reliable roads and freeways. And there's more than enough room for them to roll around and explore with more than thirty-two feet of space.
Benefits – By playing with this mat, not only will your little boy learn about how communities are connected, but they'll also get to learn about how they operate. Realistic numbers, signs, and symbols taken from the real world are dispersed throughout, so your boy will be getting a true picture of important road guides. This is a great way to give your child an early introduction to complex ideas, without taking away the fun or overwhelming them.
What We Like about It – This mat is made completely of high-quality memory foam, so you can rest easy knowing your child is safe from injuries.
Pros
Educational
More than thirty-two feet of space
Realistic illustrations
Comfortable and safe
Cons
LEGO City Demolition Starter Set by LEGO 

The 85-piece building toy from LEGO features a fully functioning and very well-detailed front loader as well as 3 toy figures that carry a jackhammer, a megaphone, and a sledgehammer. The LEGO City Demolition Starter Set is something that any 5 year old boy will love especially if he is fond of heavy construction and demolition equipment.
Benefits – This set will allow your child to enjoy creating and then playing with his or her own construction vehicles. With everything included it allows for the imaginative aspect of your child to shine while having fun.
What We Like about It – Lego Building toys are always very helpful toys when it comes to the development of a child's cognitive skills particularly his divergent problem solving skills as well as counterfactual reasoning skills. It's also great for enhancing psychomotor coordination and fine motor skills. 
Pros
LEGO brand
Built tough
Full construction set
Enhances play
Promotes sharing with others
Cons
Does not come with a container
If pieces are lost the vehicles won't work
Caterpillar Construction Mini Machine 5-Pack by Toystate 

Many 5 year old boys are fascinated with construction toys. You can now help them grow this fascination with the Caterpillar Construction Mini Machine gift set that comes with a bulldozer, a road compactor, a wheel loader, a dump truck, and a backhoe. All toys come in the distinct yellow color signature and logo of CAT heavy machineries and are made of high grade and non-toxic plastic materials.
Benefits – This set of plastic push around vehicles is really good for your favorite little builder. They inspire make-believe as your child hauls and moves things with them.
What We Like about It – It's one great way to stimulate interest in the building and construction business. The toy set can also be a great stimulus for hand-eye coordination, greater control of both gross and fine motor, and unparalleled creativity and imagination during make-believe play activities. 
Pros
Enhances play with imagination
Can be used indoors or outdoors
Caterpillar tough
Promotes manual dexterity
Cons
Child may haul tiny toys which are a hazard
They are plastic not metal
Toypedo Bandits by SwimWays 

Make pool time or beach activities more fun with the Toypedo Bandits. The colorful torpedoes can glide seamlessly under water for up to 6 meters or 20 feet. Each torpedo is numbered and comes with a unique hydrodynamic design to allow it to glide effortlessly.
Benefits – Provides depth perception skills and hand-eye coordination. Underwater search and find games will delight your child or children as they stay cool in the pool. These can help make swimming a fun pastime.
What We Like about It – It is one of the best gifts you can give to kids who are learning to swim. It allows them to race after the toypedo to help develop their stamina and endurance under water while at the same time provide a more fun and enjoyable time in the water. For younger kids, it can also be excellent for bathtub play. 
Pros
Promotes swimming skills
Enhances hand-eye coordination
Manual dexterity
Fun
Cons
Can be thrown and cause accident
Game can get boring
(Hey! If You Like This, You May Want To Read: Best Water Toys For Kids)
Big Dig Rideable working Crane
An Amazon's Choice item, this enticing toy has a reputation for inspiring hours of active play among both young and old. And the best part is, it won't break the bank! With a sturdy base that sits securely on almost any outdoor terrain, your little one can dig safely while still having fun. The all-metal frame means that this toy won't break down or snap from long-term use, and the two extended bar handles give your child something to hold onto as they dig. The bright yellow color makes it easy to spot from far away.
Benefits – The rotating seat and movable handles give your little boy the action he craves while encouraging him to think strategically about his next move. Boys love toys that can be manipulated or animated, so this realistic crane design gives them a true sense of movement and agility that also benefits their critical thinking skills. Because they're in control of the movement, they'll be challenged to figure out how to make it work.
What We Like about It – This is truly a toy that gives you not just months, but years of play; because it's capable of digging up everything from snow to sand, your child can play with it year round.
Pros
Affordable
Amazon's Choice
Sturdy base
Movable handles and seat
Cons
Triple Hit Baseball by Fisher-Price 

One of the most amazing sports you can ever teach children to learn to love is baseball. Who knows the Triple Hit Baseball you give as a present might be instrumental in the development of the next Babe Ruth? The baseball kit can be played 2 ways. One, the ball can be ejected from its base then your kid will have to time his swing to hit it. If this is very challenging, propping the ball on the tee will make it easier to hit.
Benefits – Your child will love learning to play baseball with this fantastic set. It includes a bat and ball plus a motorized pitcher. It can also be used as a tee for beginners, but more advanced players can get pitched balls up to 10 feet.
What We Like about It – This gadget is excellent for helping kids strengthen their arm muscles and help develop the perfect swing. Timing of the swing is also crucial especially when using the pop-up method. Using the tee will require absolute spot-on hitting. 
Pros
Made for both tee ball and pitched balls
Fun
Can be used alone
Hand-eye coordination enhancement
Dexterity
Cons
Child may grow in skill and get bored
Accidents from pitched balls
LEGO Classic Medium Creative Brick Box by LEGO 

With close to 500 pieces of building blocks in 35 colors, kids will definitely love the LEGO classi Medium Creative Brick Box. The set comes with 18 wheel rims and 18 tires including a 16cm by 8cm baseplate, 3 sets of eyes, and windows with frames. All of the building blocks can be conveniently stored in a cheerful yellow storage box shaped like a rectangular building block.
Benefits – This set is full of different LEGOs just waiting for your child to create. It comes with all different sizes of pieces, eyes, wheels, and doors. Your child will spend hours playing with these and making an imaginary world of his or her own.
What We Like about It – This is excellent for imaginative and creative play especially when shared with other children. It helps stimulate hand-eye coordination, spatial intelligence, and fine motor skills. More importantly, since it's an open-ended toy, the possibilities for creativity are endless. 
Pros
Comes with a plastic container
Has different pieces with endless opportunities
Fun
Classic toy
Cons
Not suitable for younger children
Pieces can get lost
Durable Walkie Talkies by Kidzlane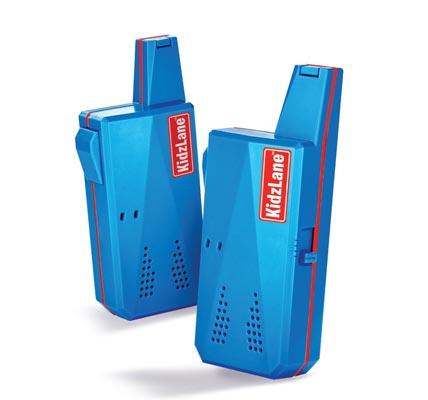 With an effective range of 2 miles, getting in touch with kids at play has never been this easy. The Kidzlane Durable Walkie Talkies is comprised of 2 units of handheld radio transceivers that can be continuously played with for up to 3.5 hours. When not in use, it can last 9 hours. The walkie talkies operates on 3 different channels so kids can designate a certain channel for some "covert action". You can view a full line up of cool walkie talkies for kids here.
Benefits – Your children will love these Walkie Talkies and you can keep track of them using them outside. There are three channels, and they can make your little ones play like police or firefighters. They have a two mile radius range. That way they can play hide-and-seek and have a blast.
What We Like about It – The toy set is a great tool for enhancing kids' language and communication skills while at the same time facilitating creative and imaginative play. 
Pros
3.5 hours of talk time, 9 hours of standby time.
Durable
Fun
Enhances outdoor and indoor play
Promotes team work
Cons
Some claim they stop working after the first try.
Batteries drain quickly
Keep Out Lock and Key Diary by Peaceable Kingdom 

Who said that diaries are only for girls? Boys also need to write their thoughts, secrets, doodles, and even wishes without having to worry about it getting out into the open. The Keep Out Lock and Key Diary is a wonderful-looking diary designed primarily for little boys. Resembling a heavily-chained and locked wood-and-steel box, the diary comes with a sturdy lock and key mechanism for absolute security. There are 104 pages allowing for tons of information to be written.
Benefits – This diary can be your child's best friend. By allowing your child the opportunity to record his or her thoughts, drawings or doodles you will be promoting the development of independence and self-awareness.
What We Like about It – It helps encourage writing and communication. This helps in strengthening gross motor skills especially in handling the pen. 
Pros
Cute design
Fun
Lined for writing
Stimulates creativity and self-reflection
Cons
Some claim the key and lock are cheap
Some have had the inside paper made backwards
Invincible Tornado Twister by Haktoys 

Boys love fun remote control cars. With the Invincible Tornado Twister, 5 year old boys will now have excellent control of a miniature off-roader. The multifunctional rechargeable radio controlled acrobatic stunt can comes complete with colorful LED lights and stunning music. It can run on almost any terrain and can perform a lot of stunts and tricks.
Benefits – This awesome car will do tricks, light up and buzz around at a breakneck speed for your child's entertainment. It is heavy duty and has a rechargeable battery inside. Children will love making it do spins and somersaults.
What We Like about It – The RC car is excellent for helping 5 year old kids to experiment with the different tricks and stunts that the off-roader can do. This helps foster the continuing development of kids' thinking skills. It can also help facilitate imaginative and creative play. 
Pros
Playful
Fun light up toy
Teaches hand-eye coordination
Durable
Cons
Batteries do not last long
A long time to charge up
2 Fold N Fly Paper Airplanes Kit by ALEX Toys 

With the advent of technology, many kids today no longer know how even a simple paper airplane can bring joy to children of yesteryears. With the Fold N Fly Paper Airplanes Kit, kids can now learn about the art of paper airplane making with colorful paper and stickers to add a new dimension to the plane. The kit also comes with a very easy-to-follow instruction pamphlet. If you would like to see more like this, then check out post on the best flying toys for kids.
Benefits – This set comes with instructions on how to build and fold all of the planes that are pictured and more! Watch as your child learns and then flies all of his or her new paper planes. This enhances manual dexterity and hand-eye coordination as well as patience.
What We Like about It – A timeless classic that kids should learn how to make, the toy is excellent for teaching hand-eye coordination, following instructions, and creativity as kids will get to design their own paper airplanes.
Pros
Fun to fold
Ease of use
Creative
Builds fine motor skills
Cons
Some claim instructions are small and difficult to read
Easy to rip and tear during creation
Criteria used to evaluate the best toys for 5 year-old-boys
Because of our high standards of evaluation, not every popular toy will make our list. We make our selections carefully. You have to consider safety, product ratings from other parents, experience with our children, and the manufacturer and country of origin when choosing appropriate toys for your five year old. It is always better to put safety first. We choose toys for you that are already tried and found entertaining, safe, and educational so you save time and energy. We've evaluated the manufacturer and found those that are well trusted with a good track record.
Our researchers have looked at reviews, comments and information on the age appropriate toys in order to see what serves the development of a five year old boy. It is vital to have the toys that are going to move your little one up into the proper milestones for his or her age. That's what our focus has always been next to safety. We take every measure to consider all of these points in our reviews for you.
Five Year Old Development and Age Appropriate Toys
Peer Importance – At five your child is all about their friends. They want to act just like their new buddies. This is an exciting time in their lives when mom and dad get to see the first signs of independence as peers become important. Choose toys that provide opportunities for teamwork, especially for siblings. Toys are what children use to make friends at this stage so having interesting and entertaining toys will help your child to obtain socialization skills.
Make-Believe – Another aspect that five year old boys will show is that they like to sing, play and dance about. They love make-believe and props. Your child will enjoy talking to you in full sentences and will understand what past, present and future tense means. At times they can be quite independent and fussy, but a good romp outside to play can run that out of them.
Creativity – You will want to buy toys that enhance their creative side and at the same time offer uninterrupted play by adults. Let your child make up himself as a police officer or Army man and pretend. Your child will build things and tear them down just to build something else. That's why blocks and LEGOs are a great toy for this age. They will wonder how things work at this point in their development.
Your little one is growing up fast and seeks creative outlets for all that energy. Consider toys that will help bring out the little creator inside of him or her. Then, watch as they come alive as they use blocks, costumes and playdough to make people, houses and be someone else just to entertain you.
Physical – Your child can run, jump, do a somersault, play hopscotch and stand on one foot for about 10 seconds. Toys can nurture these skills. Choose outdoor and indoor toys that require physical motor skills to fine tune your child's development.
How We Chose the Toys in Our List
Coming up with the leading toys for this age category is not easy but we do understand the predicament of many parents like you. As such, we have groups of researchers working round-the-clock to make a shortlist of all the toys that are developmentally-appropriate for 5 year old boys.
Moreover, we have to consider the toy's overall safety features and quality of design and workmanship in order to be included in our list. We also have to look at the credibility and trustworthiness of the toy maker as well as the feedback and reviews of parents who have already bought the toys for their respective boys.
Toys and Your 5 Year Old Boy
Because 5 year old kids are already entering kindergarten, the choice of toys should be those that can augment what they learn in school. These can include toys that allow them to create, to build, and to master the alphabet, numbers, shapes, and colors. More importantly, these toys for 5 year old boys must allow them to express themselves and help them refine the different skills that they learn from school.
Five year old boys can already run like an adult, perform broad jumps, tiptoe, balance on a beam, skate, and even jump rope. Their fine motor skills are already well-established by these time. Toys that allow them to make full use of these motor skills are thus very important.
Cognitively, 5 year olds may still live in a fantasy world. Sometimes, they get confused with what is real and what is a fantasy. They still don't have a firm grasp of logical reasoning and will often think rather naively. Their language skills are nonetheless beginning to reach school age levels. It is therefore very important to provide toys that can work well with the child's fantasies while at the same time introducing concepts of the real world so that he learns to narrow the gap between reality and fantasy. Toys that help strengthen his vocabulary should also help.
Five year old boys prefer make-believe plays as well as dress-up toys. They often mimic the action or behavior of adults and would want very much to be praised for their efforts and accomplishments. For them, cooperative play is becoming more important than solitary play. It is therefore important to choose toys that help foster these developmental needs.
Choosing the right toy for your easy-going yet very cooperative 5 year old boy is crucial to help ensure optimum development. We hope our list will help you find the best gifts to give.
FAQ
Frequently Asked Questions
Q: Will these toys help my 5 year old child to develop physically?
A: Yes! There are many toys that we have tested and approved of that can be used outdoors and indoors for exercise.
Q: How will I know which toy is the best for my child?
A: Only you know your child's interests but one idea is to take them through some of the toy aisles and show them the toys we have listed and ask him which he would like most. He or she can tell you at 5.
Q: My child is a bit small for some of the toys you've mentioned, what should I do?
A: If your son or daughter is small framed then pick toys that are right for his or her size and strength and forgo any possible toys that might cause an accident to happen to a bigger 5 year old.
Q: Why does my son or daughter play with something once and not go back to it?
A: This is normal. You will experience this quite often. Your child is bored and needs more of a challenge. Next time, try getting a toy that cannot be mastered so quickly.
Q: My child is not reaching these milestones like everyone else's and these toys do not look appropriate, what do I do?
A: Go see your Pediatrician and look at our other age appropriate pages for toys. If your child doesn't seem ready for say a pogo stick, but loves blocks that is normal.
Q: How do I choose which toy is best for my 5 year old?
A: You know your child. Observe whether he or she is more creative or more physically oriented. When you figure that part out, the rest is easy. You will choose toys according to that quality while supplementing other toys to help development in the other areas. Make sure to choose toys for your child's other skills that are engaging and fun. You don't want him or her to get bored too easily.
Other Age Ranges
1 Years Old
2 Years Old
3 Years Old
4 Years Old
6 Years Old
7 Years Old
8 Years Old
9 Years Old
10 Years Old
11 Years Old
12 Years Old
13 Years Old
Gifts for Teenage Boys