A Basic Guide on How to Sew Baby Clothes
Not every household in America is a two-income household. Many households may  have both parents and a baby, but only one income. So to be frugal and save money for the bills, why not try sewing or making your own clothes for your baby? It isn't such a far-fetched idea, and you don't need to hire a professional seamstress to do it. The fact that you may not know how to sew very well could cause a problem at first, but once you learn by researching or joining local sewing groups, it will become a lot easier and imagine the money you can save.
Most of these tips and tutorials require at least a basic understanding of how to sew. A good thing to keep in mind is that you can be certain that someone you know, either in your family or a friend of yours will be able to show you how to do a basic stitch, then you'll be on your way to sewing your child's clothes yourself. The possibilities will be endless, there won't be anything you can't sew, and you can be proud of the money being saved be by creating one-of-a-kind clothing.  
The Benefits
First, the benefits of why you should try to make your baby's clothes instead of having to buy new outfits every time he or she outgrows the last one. Then we'll move onto patterns and ideas.
Save money—who doesn't want to do that? Enough said.
Gaining knowledge—you can gain knowledge and maybe even turning your efforts into a career for yourself, it can happen.
Unique clothing—obviously, if you make your baby's clothes at home, they will be unique and once you get good enough, even more so. You'll also know for sure that no one else's baby will have the same outfit!
Shopping stress—most everyone knows that shopping for baby clothing is fun, but it can also be a daunting experience. There are so many choices on the market now for babies, that the stress of deciding what to buy can give you a headache and make you want to run from the store screaming. If you must go shopping, use the designs you come across as inspiration when making your own clothing.
Materials Needed
If you have a sewing machine or if you don't, you will still need the following in order to create your masterpieces:
Needles

Shears

Patterns from sewing books or online, the ones listed are from online resources

Materials such as pillowcases or fabric

An implement to measure with

Double fold tape

Extra fabric, better safe than sorry

Safety pins

Ribbon
These are the basics needed for any sewing project you are undertaking. They will vary some depending on the item being created. Therefore, following the tutorials below will give you exactly what you will need for the specific item that you are planning to make.
Pillowcase Dress
By clicking above, you will be redirected to the main page which includes a size chart that you can print for reference. The link for the tutorial to use is here.
By using a pillowcase that your child either no longer uses or has grown out of or you might have an extra laying around, you can create a really cute dress for your baby.
The one shown in the tutorial is for Easter, but you can adapt it any way you'd like. There is nothing wrong with your baby girl wearing a bunny dress all year long, and she will be so hopping adorable!
Baby Butt Pants
If you're wondering what 'baby butt pants' are, they are pants with a convertible bottom that aides in diaper changes. These are a pretty common item sold in clothing stores for various ages.
The link above will give you various patterns with tutorials included. Baby Butt Pants are so adorable and a much needed commodity for your baby and they help make your life much easier as well. Another perk is that you can make shorts too, for boys and girls.
Ruffle Sleeved Onesie
This ruffle sleeved Onesie is quite adorable. While you can leave off the ruffles so that you can make one for a baby boy, the ruffles make them even more adorable for baby girls.
Won't it be fun to make the Onesie, put your baby girl in it, take a bunch of pictures, and then see their reaction in a few years when you show them all the pictures you have of them as babies? Priceless!
Snappy Toddler Top
While there are tons, literally tons of dress patterns that are searchable and free, there are also some tops and bottoms that you can sew also. This little top is cute, easy, and can be made in various sizes just like the rest of the examples.
You could make the Baby Butt Pants and this adorable top and have a totally adorable and matching outfit! Have no fear, this top can also be a dress instead, and it is geared toward the novice seamstress.
Romper
A cute little addition to your collection, this romper can be worn from ages three months to three years, just by altering the size and amount of fabric used.  Every baby needs an adorable romper to 'romp' around in. Add ruffles, lace, ribbon, whatever your little heart desires!
Baby Sun Suit
Of course, a baby needs a sun suit! Just like they need those little swimmers pants when they want to play in the water. This tutorial for this is an amended version of the original that was posted a couple of years ago, making this one a little easier to do. You can see the original by clicking on the link provided by the author of this free tutorial.
Explorer Pants
Wow! How neat are these tiny explorer pants? Any little boy would look like the explorer he is when wearing these. Never heard of explorer pants?
So what, they're still cute as a button depending on what pattern you choose, although the pattern on the tutorial is one to consider.
They can be made for boys or girls, they are not gender specific. Use your imagination, and 'explore' the possibilities!
Kimono Set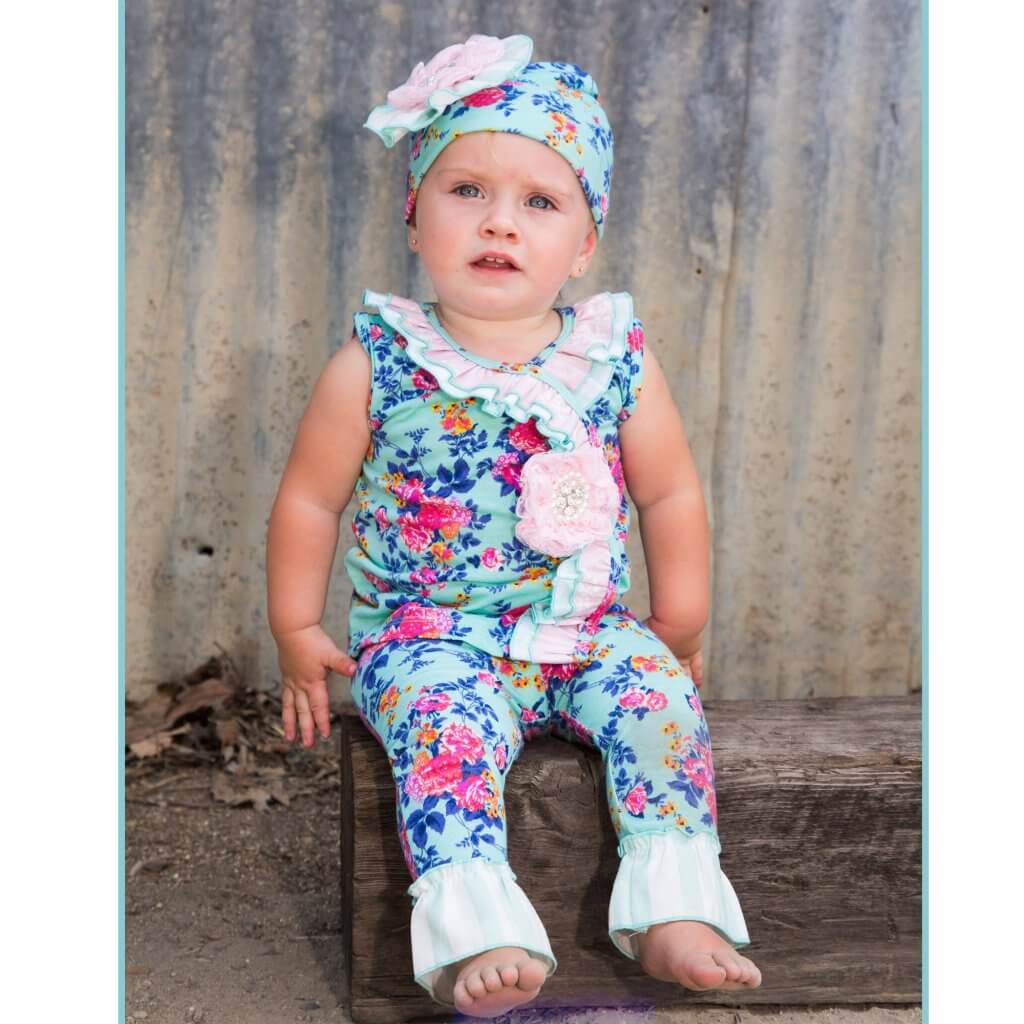 The pattern here includes both the top and a bottom, but you're welcome to just make the bottom or the top. It states the ages are 0-3 months for this particular set. Most patterns can be adjusted to fit your little one, whether they are a baby or a little bit older.
This one might be a little more difficult than some of the other, but it would sure be fun to try.
Keep in mind there are numerous other patterns available online and in sewing books, but these few should get you started with sewing your baby's clothes instead of giving the stores more money than they already have.
Do not get discouraged if they don't turn out perfect the first time around.
The only way to learn the craft of sewing is to learn through trial and error, one arm might be shorter than the other or one pant leg might be shorter than the other.
With time and practice, you will eventually be able to sew your own clothes and save yourself a lot of money and headaches.