20 Weeks Pregnant: Symptoms and What to Expect
Your Growing Fetus at 20 Weeks
You're officially halfway through your pregnancy! Woot Woot! At week twenty your baby is 6.5" and weighs around 10.58 ounces, which is the size of a banana.
Here's the 411 on what's happening this week
Before this week, your baby was being measured from butt to head. However your baby is now beginning to stretch his legs, so he or she will now be measured from head to toe.
Your baby's digestive system is growing.
This week they will develop meconium, which is your baby's first poop. It is a dark sticky substance that they will poop out shortly before or after birth.
Pregnancy Superfood for Week 20
Since your baby is the size of a banana this week, let's keep it simple and talk about bananas for this week's superfood. To ease morning sickness, we recommend eating smaller meals throughout the day. Bananas are great for when you need a midday snack or a second breakfast.
They are portable and affordable. Bananas are full of vitamin B6 which is crucial for your baby's central nervous system. Vitamin B6 assists in transporting oxygen to your tissues through the blood for both you and your baby.
The potassium found in bananas will help ease leg cramps and swelling. They contain iron which will help reduce the chance of you becoming anemic. The fiber in bananas will help ease constipation. Containing natural sugars, bananas will give you a boost of energy. Bananas can easily be added to your daily diet.
Eat them by themselves or slice them up and put them in your cereal in the morning. You can also easily add them to any smoothie.
If you're wanting to add a little more diversity to how you will include bananas into your diet here is a great recipe for banana bread. This recipe even includes healthy substitutions for butter, flour, and sugar.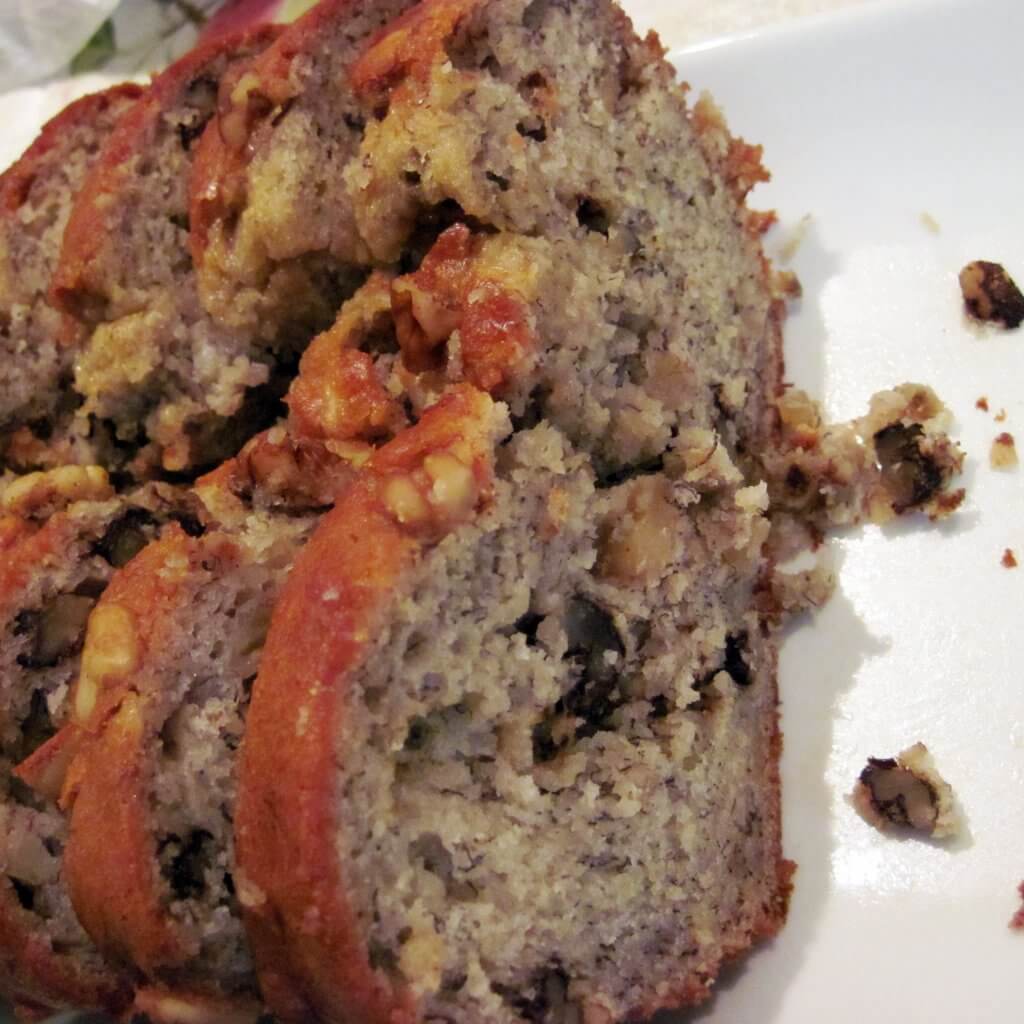 Coconut Oil Banana Bread:
Ingredients:
1 ½ cups of flour ( use either, coconut flour, oatmeal, almond flour, whole wheat, almond flour, or soy flour)
¾ cups of either honey, maple syrup, molasses, or agave syrup (We're replacing refined sugar)
1 /3 cup coconut oil, olive oil, or unsweetened applesauce( as a replacement for butter)
2 to 3 bananas, ripe
1 teaspoon baking soda
1 teaspoon vanilla extract
1 egg, beaten
pinch of salt
How to Prepare it:
Preheat the oven to 350. While the oven is preheating, mash the bananas until they are completely smooth. Stir in your replacement for butter(coconut oil, olive oil, or applesauce).
Mix in the salt and baking soda. Stir in the egg, vanilla extract, and your replacement for sugar and flour. Pour the mixture into a loaf pan and slide it into the oven to cook for 50 minutes.
You will know the bread is done when you stick a toothpick in the center and pull it out clean. You can also add chopped almonds to your banana bread for more nutritional value.
This next recipe is perfect for when you're rushing out the door in the morning or need a midday pick me up. We're making strawberry banana granola bars!
Strawberry Banana Granola Bars:
Ingredients:
1 teaspoon coconut oil
½ cup banana, mashed
⅓ cup skim milk
1 tablespoon honey
2 ½ cup old fashioned oats ( can use gluten-free option)
1 cup unsweetened frozen strawberries.
In order to make these delicious granola bars, you will need to begin by preheating the oven 300 F. While the oven is preheating use a nonstick cooking spray to lightly coat an 8" baking pan.
Grab a large mixing bowl and combine the coconut oil, milk, honey, and mashed banana. Mix in the oats and diced strawberries. Press your granola mixture into the baking and pan and slide it into the oven.
Your granola bars should bake for 15-19 minutes. When finished, allow the mixture to cool and then slice them into bars.
Top Tip for Week Twenty
As you begin to develop your baby registry talk to your girlfriends who are either moms or mom to be's.
Many women create really detailed spreadsheets about their baby gear and their registry, you may have a friend who has done that.
Their spreadsheet will give you insight on great products for your baby but remember every family is different.
Inspirational Message of the Week from Already Moms
"Kep celebrating your small victories, keep breathing through the moments you feel overwhelmed, and keep touching that belly! Before you know it, we will be there. And, they will be here." – Lauryn Hill
Big Efforts from your Co-Creator
Hey Dad to Be, we owe you a congratulations too! You have also made it to the halfway point of this pregnancy journey and if you have been following our tips you've made her journey a lot easier. This week we need you to help around the house.
She may be experiencing some swelling in her feet, so she doesn't need to be on them for long periods of time. Clean up around the house, do the laundry, cook a couple of meals. If you have never done any or some of these, it's time to learn. She may not ask for you to do these things, but it will mean the world to her when she sees you doing them!
This Art of Allowing
Alright lady, we told your partner to clean the house this week. Accept the help! You don't need to be on your feet for long periods of time. Also be understanding of the fact that your version of clean will be different than your partners. If this may be hard for you to handle, start with giving him the easy chores.
For instance, let him vacuum, do the dishes, and start the laundry. You can sit down and give the clothes that perfect fold when the laundry is done. Also, now that you have hit the halfway point you may be feeling a little anxious about the arrival of your baby. Communicate your worries with your partner, you're in this together.
Pregnancy Symptoms of Week Twenty
You're probably feeling pretty pumped about hitting the halfway point of your pregnancy and you should be! We hate to be the bearer of bad news but you will still be experiencing some of those annoying pregnancy symptoms. Here is what you will be dealing with this week.
Leg Cramps: You may experience more leg cramps. Stretching and staying hydrated may prevent them.
Vaginal Discharge: The amount of discharge you're producing will continue to increase until the day you deliver your baby. Don't worry, it's totally normal. Your body is working to keep the bacteria out. If your discharge turns yellow, green, or smells badly consult your doctor.
Swelling: Swelling of your feet, hands, and face may occur. If the swelling becomes severe, talk to your doctor.
High Libido: Finally a symptom you can actually enjoy! In fact, enjoy it while it lasts because in the third-trimester fatigue will be back.
Heartburn: Your baby is growing and crowding your digestive system, thus heartburn may occur quite often. Foods that are acidic and spicy may cause your stomach to hurt.
Shortness of breath: Your uterus is expanding and pushing against your lungs, which leaves you feeling short of breath. Remember to take it easy.
Cravings: Your appetite is in full force, and you may experience some interesting cravings. Remember to still eat nutritiously.
Your Body will Change and It's Necessary
Your uterus is now at your belly button and your baby bump is becoming even more prominent. Thanks to your hormones you may notice that your nails are stronger. You may also be feeling the baby moving around quite often!
Our Recommended Remedy for Week 20
Your feet are probably swollen and needing a little TLC. We already told you to take it easy this week, combine that relaxation with these foot soaks for some much-needed R&R! Your feet will thank you!
Lavander Foot Soak:
What you need:
5 drops of Lavender Essential Oil
1 cup Epsom Salt
2 Tablespoons of lavender, dried
Tubes or jars for the mixture
Combine the salt and dried lavender to a mixing bowl. Stir in the essential oil. Portion out mixture into jars or tubes. When you're ready to use, fill a tub with hot water. Don't fill it to the top, as you need room for your feet. Add your salt mixture and soak your feet for 20-30 minutes
Pomegranate and Mango Sugar Scrub:
What you need:
1 cup Sugar
Pomegranate and Mango Body Wash
Canning jar (4 oz)
Pour the body wash in the bottom of the jar until reaches about ¼ inch. Pour in the cup of sugar and stir. The sugar should be completely in the mixture. You can add more soap if needed. The consistency should not be too thick and not too runny. Massage the sugar scrub over your feet and enjoy!
Our Best Advice to Soothe The Uncomfortable
We're pretty confident that the foot soak and scrub will have your feet feeling nice. Here are some exercises you can do to ease the swelling of your feet and legs
Point and Flex
This exercise will improve your circulation as it restores mobility to your feet and ankles. The best part is you can do it anywhere. We recommend performing it while you are sitting in a chair. As you're seated, extend one leg outward.
One foot should be resting on the floor, and the foot of the extended leg should be elevated. Keep your back straight and your arms tucked at your side. Point your toes forward and away from you.
Hold for five seconds, and then bring your toes back and point them to the sky. Hold for 5 more seconds, perform 10 sets, and switch feet
Toe Squeeze
As you perform this exercise you will be increasing the strength in your toes and boosting your circulation. Place a cotton ball in between each toe and squeeze your toes together. Keep your back straight and abdomen tight. Hold the squeeze for five seconds and perform 10 sets for both feet.
Foot Rocker
This exercise is a lot like the point and flex, but you will also be working your ankles and calves while standing. Stand flat on your feet and perfectly straight. Rock forward onto the balls of your feet, pause, and then rock back to your heels and pausing after. Repeat this exercise 10 times.
Preparation for Motherhood
You made it to your halfway point. Treat yourself to a date night with your partner. You both deserve it
Start creating your baby registry.
Decide on whether or not you want to have a doula. A doula will not deliver your baby but will provide encouragement and information throughout at your pregnancy. They will continue to encourage you through labor and birth.
Week-by-Week Pregnancy Guides
1 Week
2 Weeks
3 Weeks
4 Weeks
5 Weeks
6 Weeks
7 Weeks
8 Weeks
9 Weeks
10 Weeks
11 Weeks
12 Weeks
13 Weeks
14 Weeks
15 Weeks
16 Weeks
17 Weeks
18 Weeks
19 Weeks
21 Weeks
22 Weeks
23 Weeks
24 Weeks
25 Weeks
26 Weeks
27 Weeks
28 Weeks
29 Weeks
30 Weeks
31 Weeks
32 Weeks
33 Weeks
34 Weeks
35 Weeks
36 Weeks
37 Weeks
38 Weeks
39 Weeks
40 Weeks
Most Read