Crib toys are truly wonderful. Other than keeping your baby entertained, they are your best bet for your little one's blissful sleep, and they come in handy when you want to put your baby down for a much needed recharge.
Crib toys are also highly important for visual stimulation, provide great entertainment and offer a soothing effect or teething relief for your baby. The features and accessories of crib toys also enhance the intellectual development of your child as well as their overall mental capacity.
As such, it's important for parents to know the best crib toys to gift their babies. We have compiled a list of 20 best crib toys in 2018 which can be great for you and your baby.
Our Top 3 Picks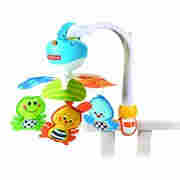 Tiny Love Take Along

Our rating
Pleasant Music
Price:

See Here

VTech Baby Soothing Ocean

Our rating
Ocean-Themed Graphics
Price:

See Here

Baby Einstein Sea Dreams

Our rating
Underwater Light Effect
Price:

See Here

Our Picks Of The Top Crib Toys For Your Infant:
Nuby Ice Gel Teether Keys
Baby Einstein Sea Dreams Soother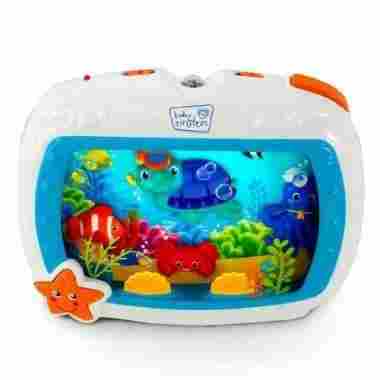 Fisher-Price Deluxe Kick 'n Play Piano Gym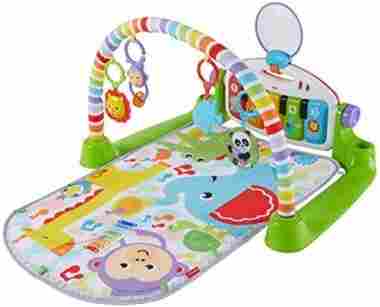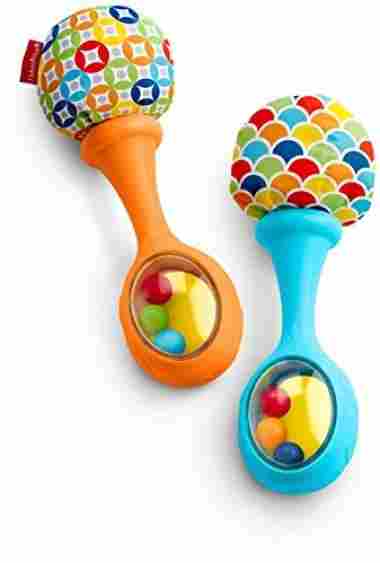 Tiny Love Meadow Days Sunny Stroll Stroller Arch
Classic Developmental Mobile
Sassy Developmental Bumpy Ball
Bearington Baby Lamb Blessings Snuggler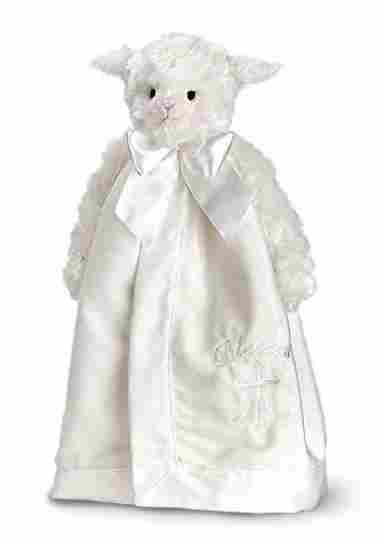 Infantino Spiral Activity Toy
Baby Cuddle and Sing Cody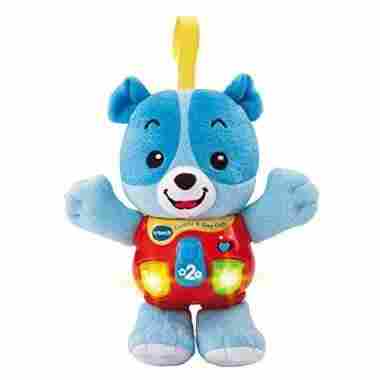 Tiny Love Sweet Island Dreams Mobile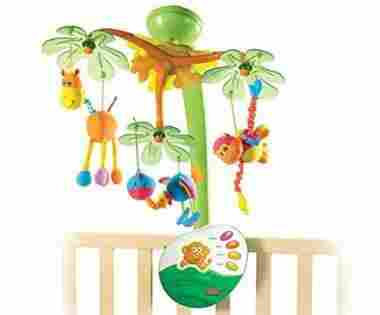 Tiny Love Soothe 'n Groove Mobile
Lil' Critters Soothing Starlight Hippo
Activity Puzzle & Crib Gallery
Baby Happy Lights Bear Play
Winky Lamb Stuffed Animal Plush Blanket
Criteria Used to Evaluate The Best Crib Toys that Will Keep Your Baby Happy
You want what's best for your baby and with all the options available in the world it can be challenging to find the right fit for your baby. You need to have peace of mind knowing your baby is being exposed only to the highest quality materials and that the activities you provide your baby with will provide them with most beneficial tools for their development and growth. The list compiled are some of the best quality and most highly rated toys for your baby's crib. Whether you are looking for something good for travel, or something to keep your baby company while you are doing household chores you are sure to find the perfect addition to your baby's little comfort zone. Your baby spends a lot of time in their crib and it is important they are provided with ample opportunity to stay stimulated and made to feel as though they have a constant companion.
These adorable options are sure to provide your baby with an aesthetically pleasing and relaxing effect to help them drift of peacefully to sleep or keep them interactive. While on the go it can be hard for provide your baby with the stimulation they need in order to ensure your day out together goes as smoothly as possible. There are a range of options on this list that are high recommended for travel as they can be attached to many baby furniture and travel products.
These items make a great gift idea or a perfect buddy for your baby. These will provide your baby with ample stimulation and a series of benefits helpful to your baby's growth a development. These crib toys provide visual and auditory stimulation. The images portrayed by these toys offer your baby the ability to relax and easily drift off to sleep. With many of these objects being made of soft materials, they will provide your baby with a comforting friend to help them wind down for bed. These items are versatile in that they not only provide support for your baby's sleeping habits but also in providing your baby with fun and exciting melodies providing them the building blocks for music exploration and enjoyment.
There are many options on this list unisex themed helping appeal to larger audience. There are however options suited perfectly for your little guy or little princess if you are looking for a more personal option. The age range for many of these products is newborn and infant. There are, however, a few options that can be considered suitable for your toddler.
Your baby also spends a good portion of their time lying on their backs or tummies. These crib toys will promote and inspire your baby to be interactive and involved in their play. Helping to speed up, not only brain development but also muscle development as they will be required to be in motion in order to keep some of these mobiles entertaining. When your baby has reached a certain level of muscle development these toys will provide them with a support system ( so to speak) to keep using and developing the muscle functions of your baby's little body.
The skills absorbed from these various toys are crucial for your baby's early development. These will provide your baby with fundamental building blocks to help support a solid foundation for healthy and happy functioning brain and muscle development. This leads to the support of a happy and healthy life built with a future meant for success.
How We Chose the Most Popular Infant Products
We understand the predicament of parents as well as other individuals who are searching for gifts or presents to give babies of their relatives and friends. That is why we have decided to do the tedious task for you. We have a team of dedicated researchers who studied each of the different crib toys available in the market today and determine their value in the baby's optimum development.
We also had to consider the overall design of the toy including its use of safe materials. Babies of this age have a knack of putting everything in their mouths so safety is a prime concern. Of course, we also have to check what other parents are saying about the crib toys. Lastly, we know you would want to get toys only from reputable companies so we also had to factor that in.
Infants and the Value of Crib Toys
The first 6 months of life is marked by rapid sensory and psychomotor development. Babies at this stage absorb, learn, and react to the different things around them using their senses. It is during this time that babies' brains are developing at a very rapid pace, a lot faster that many parents realize. The brains of babies are like a super-absorbent sponge that figuratively absorbs everything the baby sees, smells, touches, tastes, and hears.
These helps the brain establish connections with these experiences to form memories which can help babies feel a lot safer and more secure in their own little worlds. This also paves the way for familiarization with daily routines. They can be easily fixated to bright and moving objects. With growing control of their head movements, babies can stabilize their gaze following or tracking a certain object of movement. Their fixation on visual stimulus helps them establish focus and concentration. It is therefore crucial to provide babies, especially those in the first 6 months of life, crib toys that move and light up. It may also be helpful to provide toys that provide stimulation of the other senses especially in terms of tactile and auditory stimulation.
Babies also use their senses to recognize who their primary caregivers are so they know who Mom and Dad is. This is why it is very important to maintain close physical, visual, and auditory contact with your babies as this helps them form attachments, promote their sense of security and safety, and help build their trust and confidence in their selves. Crib toys that allow parents to join in the play can also be beneficial in this sense.
While it is true that the movement during the first month of life is purely reflexive, these are nonetheless crucial in the development of muscles. The very first sign that babies have already learned to develop a certain level of control of their muscles is when they are able to start supporting their own head. This is why mobiles, mirrors, and moving objects as well as sounds attached to the crib will encourage babies to lift their head strengthening their neck muscles. Toys that can be placed on the crib surface also help babies develop their core muscles as most of them will be lying on their tummies. Swatting and kicking movements will also strengthen their arm and leg muscles. So, giving them toys they can swat or bang or strike can definitely help in this aspect.
Crib toys that play soft melodies as well as fun phrases have been shown to help babies in their language development when they grow up. They may not talk to you now but they sure can communicate through their cries, their smiles, and even their body movements. It is therefore crucial for parents to keep on talking to their babies to help them not only develop an attachment with you but also help facilitate language learning and their listening skills.
The first year of life, particularly the first 6 months, are crucial to the optimum psychomotor, cognitive, social, and emotional development of babies. It is therefore very important to give them the correct toys. Our list of the 20 best crib toys can help you determine the most appropriate one for your kid. Be it gifts for babies of new moms or just simple presents for the little ones, we are optimistic our list is useful.
FAQ
Frequently Asked Question
Q: How is it good for my baby to have toys in his/crib?
A: You want your baby to feel comfortable in their crib. Crib toys will help your baby unwind and play a little before they fall asleep. Imagine how good it feels when your baby wakes up only to find a little toy to play with.
Q: Will crib toys ruin my baby's sleep?
A: While crib toys are similar to a playground for small babies, they will also help your baby drift off to sleep after a little play, just as you would drift off to slumberland after watching a little TV or reading a book.
Q: When is it safe for my baby to sleep with a stuffed crib toy?
A: The safest time for your baby to sleep with a stuffed crib toy is after his/her first birthday. At 12 months, your baby can easily roll over and move objects from their face.
Q:What is the age range?
A: These products are suited for newborns up to around two years.
Q: Are these items easy to control?
A: They all come with off on buttons as well ass volume. Many will time out on their own in order to save battery and provide your baby with a peaceful resting environment.
Q: Do these products come with or require batteries?
A: Yes, they all require batteries, they are either AA or AAA.
Q: Are these products made of hazard free materials?
A: Yes, the plastic in these products is BPA free.
Q: Do these items turn themselves off?
A: Yes, many of the these product are set on a timer that time out after so many minutes.
Q: Are these toys easy to clean?
A: Most contain battery packs so they may not all be washable, however all can be wiped down with soap, a rag and warm water.